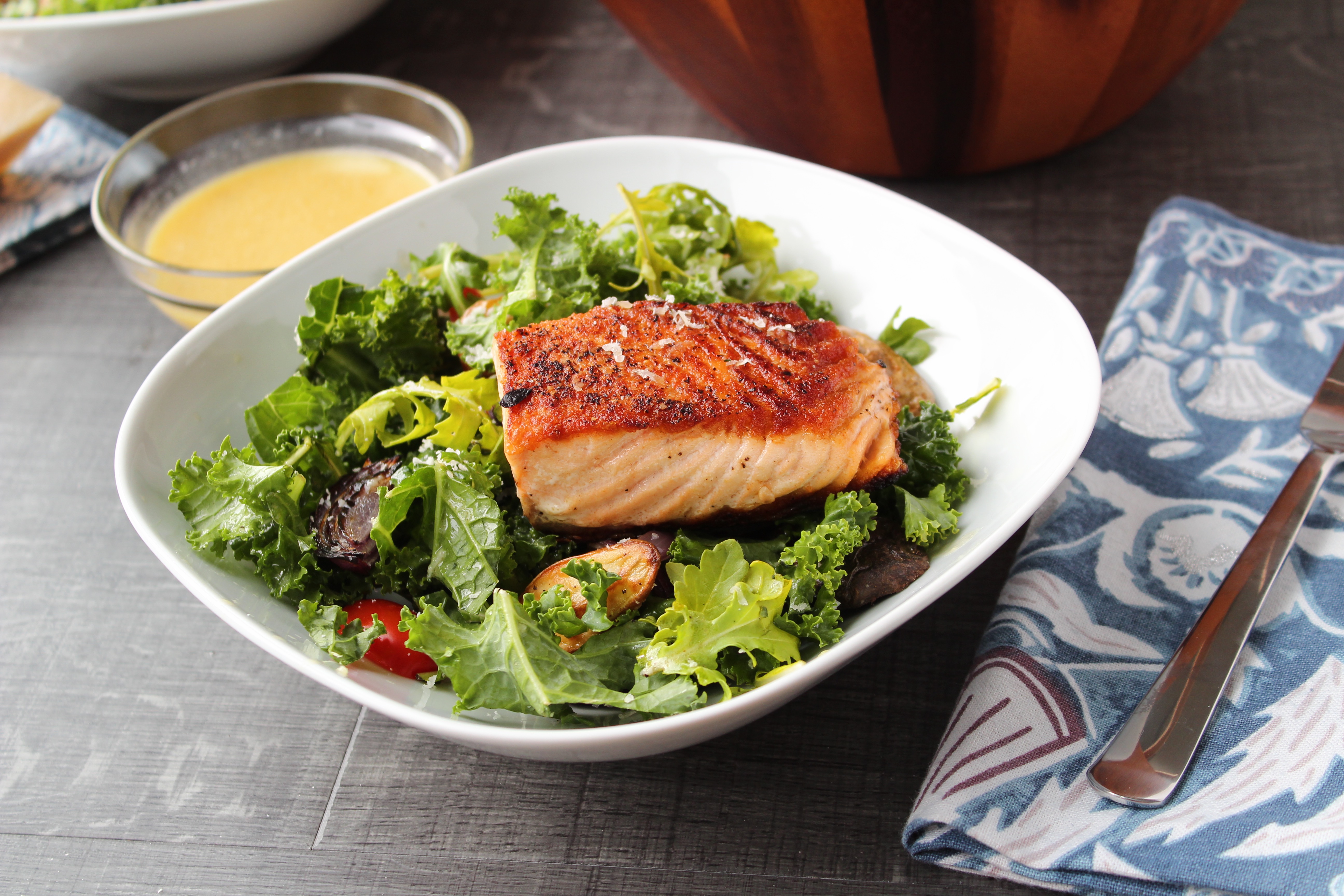 It feels a little weird to be all "welcome back blog here's a kale salad" but here we are.
To be fair, I happen to love salads. I do not view them as a form of food punishment, and many times my salads have more calories than, like, a burger (hi lots of cheese). However this is not one of those, and technically one could consider this a "detox salad" after a weekend of margaritas, tacos and movie popcorn.
Except that's dumb, so don't call this a detox salad. We're all adults, we know what our bodies do and do not need. And sometimes we need movie popcorn OKAY?! Instead, I prefer to call this a "hey no pressure, but you're kind of old now so maybe eat a kale salad once in a while" type of thing.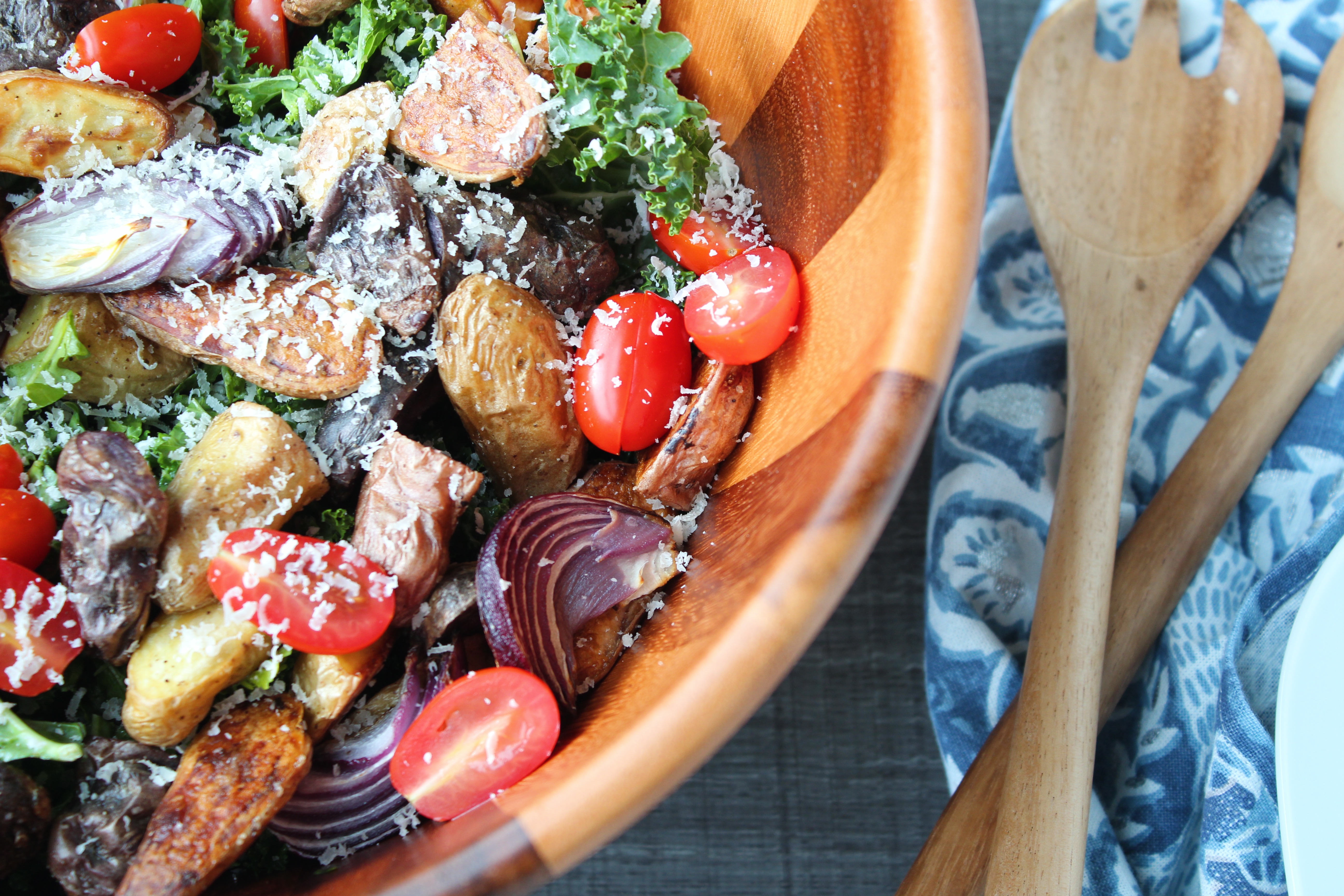 This dish holds a special place in my heart because potatoes and salmon are two of my absolute favorite, desert island, couldeatthemeveryday foods. Especially roasted potatoes and crispy salmon. Yessss.
It's also fairly easy to put together and totally customizable. Red onions too much for you? Use a shallot instead, or just leave them out completely. Literally can't stand kale? Use your favorite salad green, kids. Trying to cut back on potatoes? GO AWAY.
Kidding!
In all seriousness, while you could do without the roasted potatoes they really do add something special and hearty here.
But you could totally roast up any vegetable you like and throw them in here. It really is up to you. The dressing pretty much goes with anything, and the rest of the flavors are simple. If you're making this just for yourself (like I normally am), just scale back all the ingredients.
The dressing stays good in the fridge for a good week though so maybe make all of that and throw it on whatever you want later. LIKE ROASTED POTATOES MAYBE.
And that crispy salmon? I can barely talk about it. So good! I generally bake my salmon, but when I'm in the mood for crispy salmon, I go straight to a hot pan. It's a little extra work, but so worth it here.
So in conclusion, this is a TREAT. Go forth and eat this bomb kale salad (and maybe a taco right after if you must).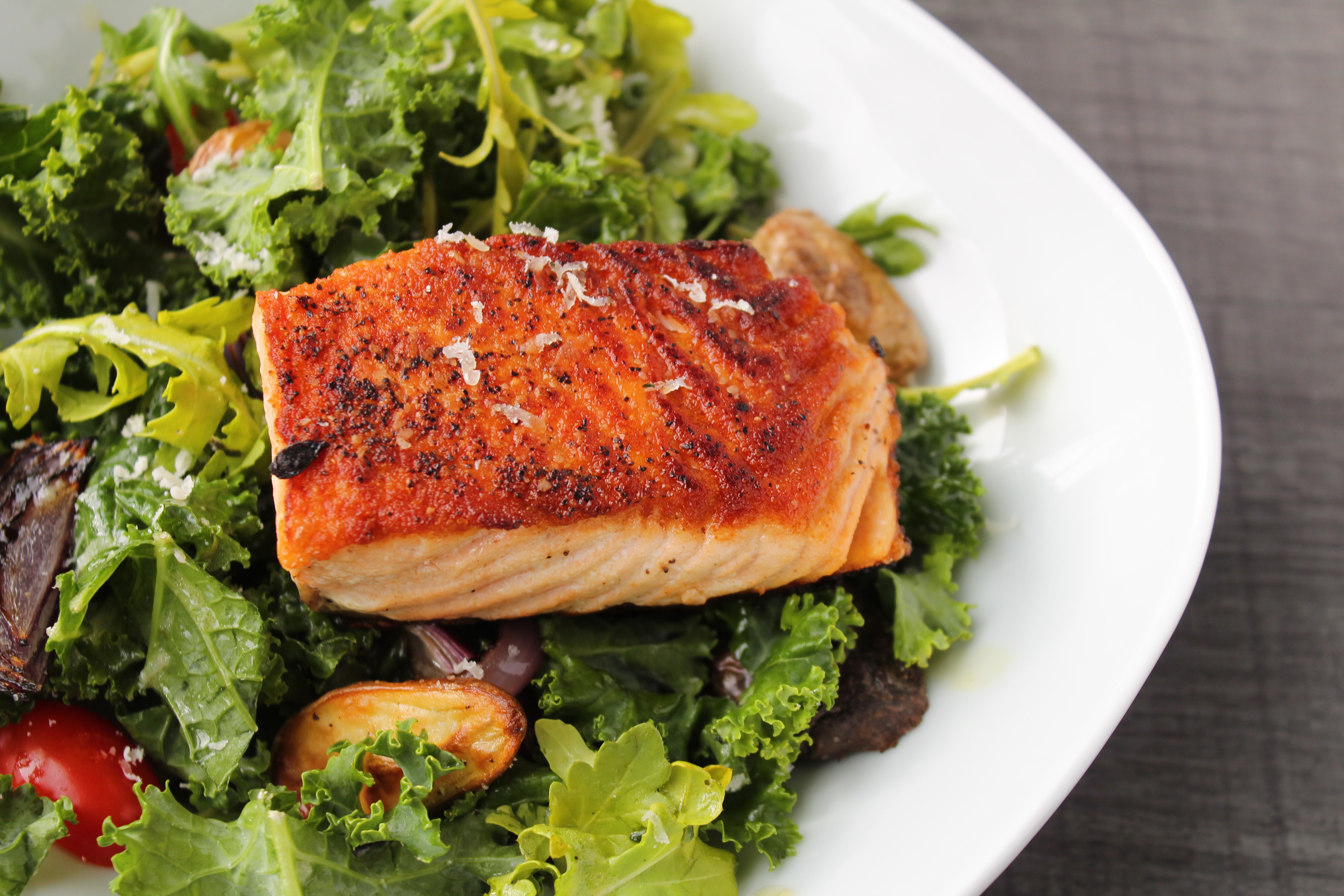 Print Kale salad with crispy salmon and roasted potatoes
Prep Time:

10 minutes

Cook Time:

30 minutes

Total Time:

40 minutes

Yield:

4
---
1

lb potatoes (I prefer fingerling or any other small ones for this)

2 tablespoons

olive oil, divided

1

small red onion, thinly sliced

6 cups

kale or any mix of greens (I threw in some arugula here)

10

-

12

cherry tomatoes, halved

¼ cup

parmesan cheese

1

lb salmon, cut into

4

fillets
Salt and pepper, to taste
For the lemon dijon dressing
1 tablespoon

Dijon mustard

1 tablespoon

agave or honey

1

garlic clove, minced

¼ cup

lemon juice

½ cup

olive oil
---
Instructions
Preheat oven to 400.
Halve or quarter potatoes and toss with 1 tablespoon olive oil, 1 teaspoon of salt and ½ teaspoon pepper. Bake for 25-30 minutes until roasted, flipping halfway.
While potatoes are roasting, cook salmon. Heat the remaining tablespoon of oil in a large frying pan over medium high heat. When the oil is shimmering, season salmon with salt and pepper and place salmon in pan (skin side down if you're keeping the skin on). Reduce heat to medium and sear until salmon is fully cooked, flipping once. This should take 8-10 minutes, depending on how thick your salmon is.
Make the dressing by combining the mustard, honey, garlic and lemon juice in a bowl or measuring glass. Slowly whisk in olive oil until dressing forms. Season with salt and pepper. Taste and make sure you like it - feel free to add a little more of anything to make it perfect!
Add kale to a large bowl and toss with about half of the dressing. Massage the kale with your fingers for at least a minute to help it soften. Add in remaining greens (if using), red onion, tomatoes, roasted potatoes and cheese. Toss to combine.
Divide into four bowls, top with crispy salmon and drizzle with remaining dressing (if desired).
---