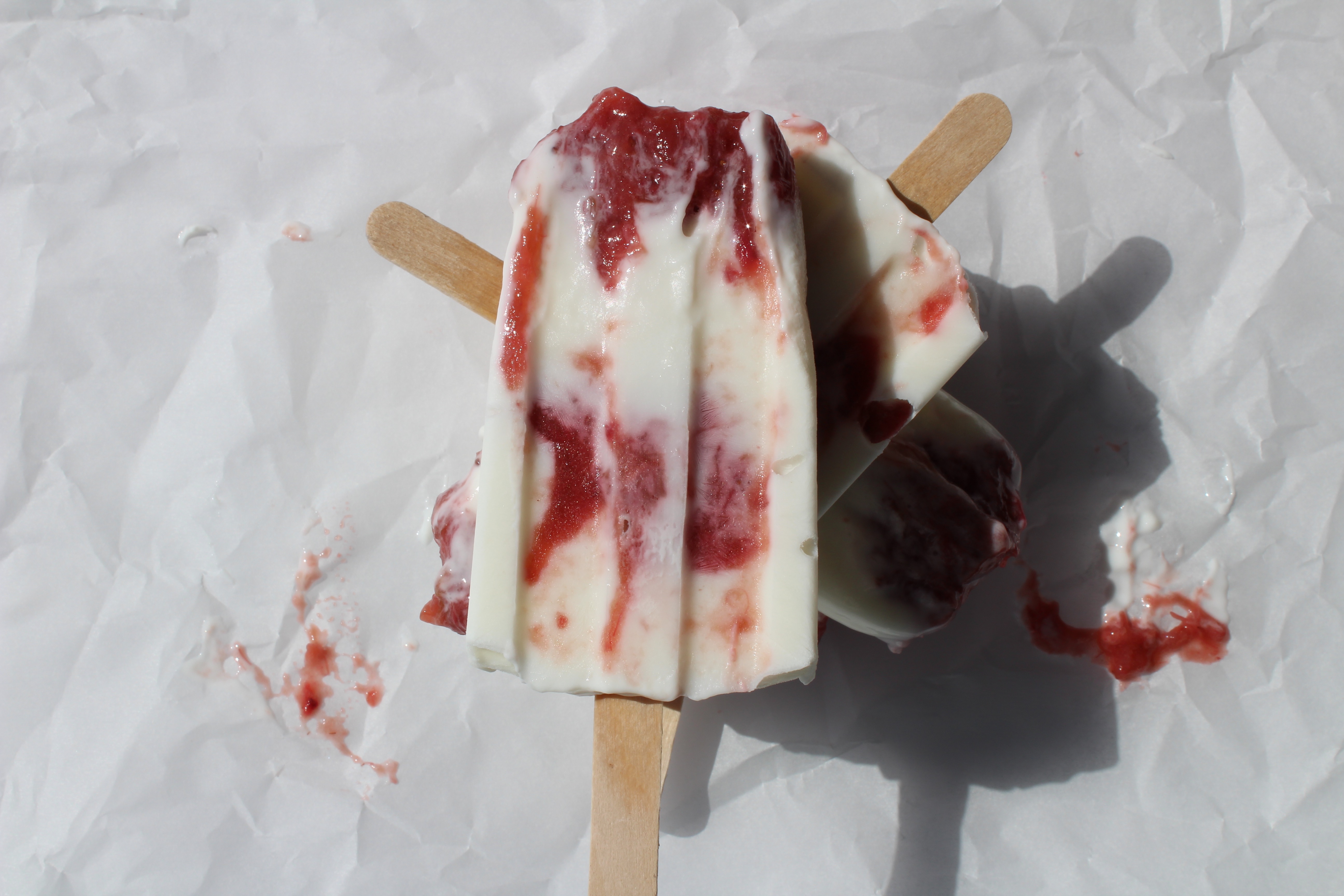 Your girl got herself a popsicle mold! And just in the knick of time, before I lost strawberry rhubarb season.
Probably otherwise known as just "rhubarb season." I guess.
I know it looks likes a big ol' mess, but I'm just so excited about this. Summer has BARELY started here in Seattle but I'm already living my life on a rooftop, rose wine in one hand and a homemade popsicle in the other. It's the best way to live and I intend on doing it until September. Maybe even October. Nobody can stop me!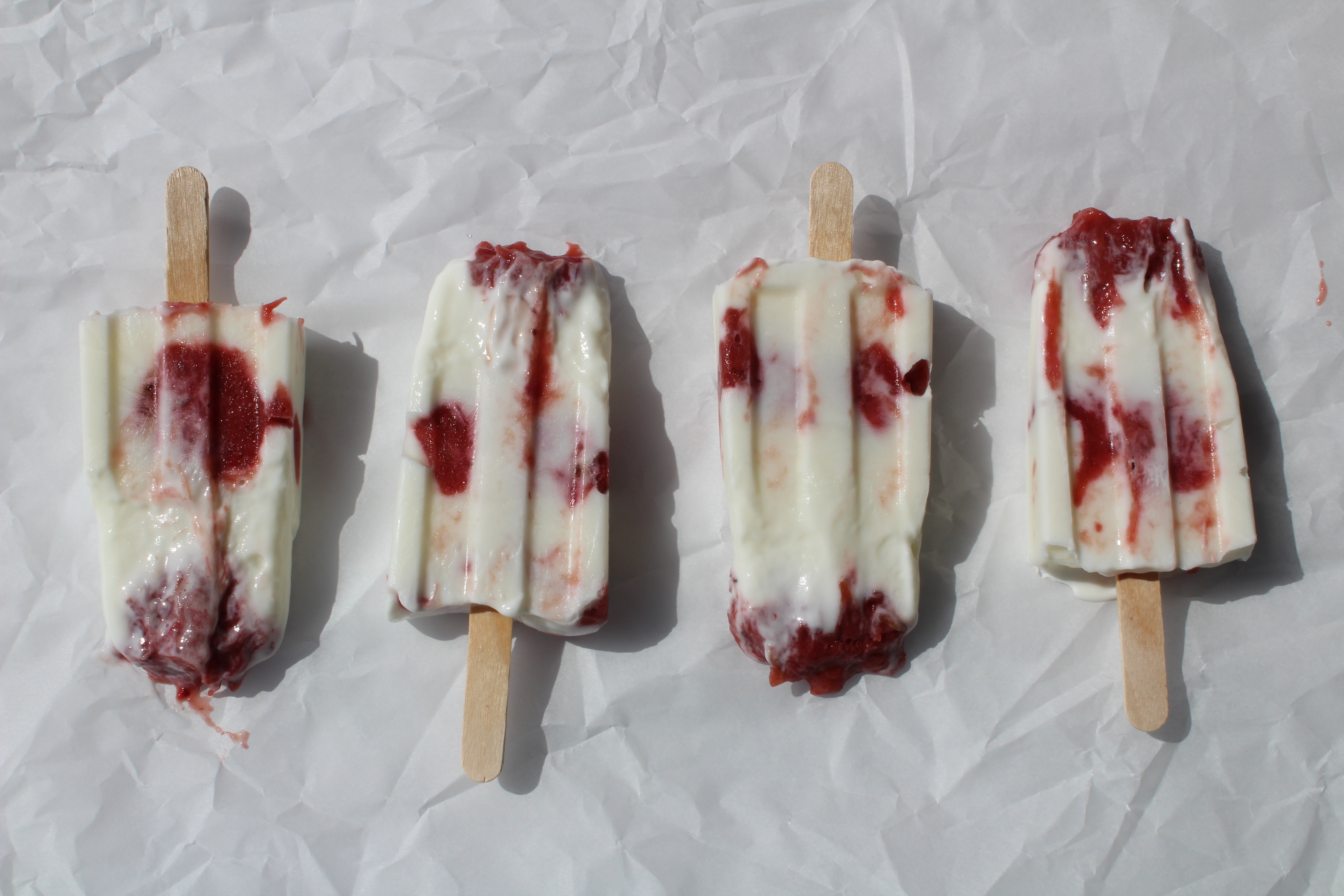 Despite this somewhat-aggressive insistence on having a popsicle in hand at all times, for years I kept changing my mind whenever I would get close to buying a popsicle mold (that $20 would then go to very important things like lipstick and gummy bears, of course). I finally bit the (frozen) bullet and got one, and now I can't stop thinking of ideas for homemade popsicles! Naturally, most of them are just frozen versions of my favorite cocktails so prepare yourself for that. But today we have yogurt! And fruit! Also some sugar. BUT YOGURT AND FRUIT TOO!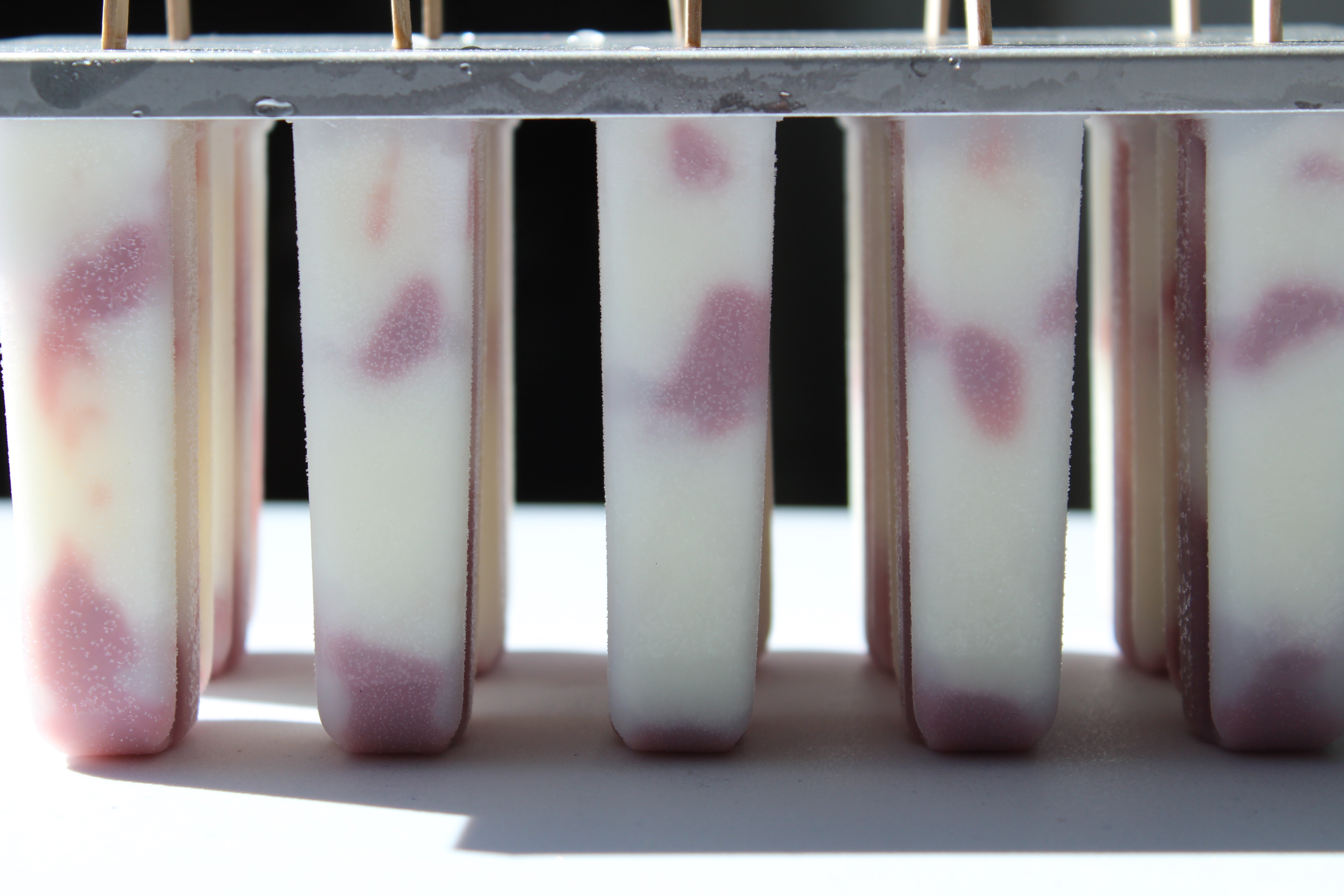 The rhubarb came into play only because I had been wandering around a farmer's market near my apartment for so long, passing the same stands over and over again empty-handed and realized I needed to get something before someone got tired of seeing my face not buy anything.
Basically, I bullied myself into some rhubarb (<--If you ever need a sentence to describe me, use that).
I can't remember the last time I heard someone talk about rhubarb without mentioning strawberries, sooo we're talking strawberry rhubarb here too. When I saw the recipe for the compote I knew I had to make it. If you make just that, and then bow out and just pour it over some ice cream before even thinking about popsicles I won't blame you. We should definitely be friends.
For the rest of you, don't worry - we can still be friends too. Just promise you'll come over and eat homemade popsicles with me all summer.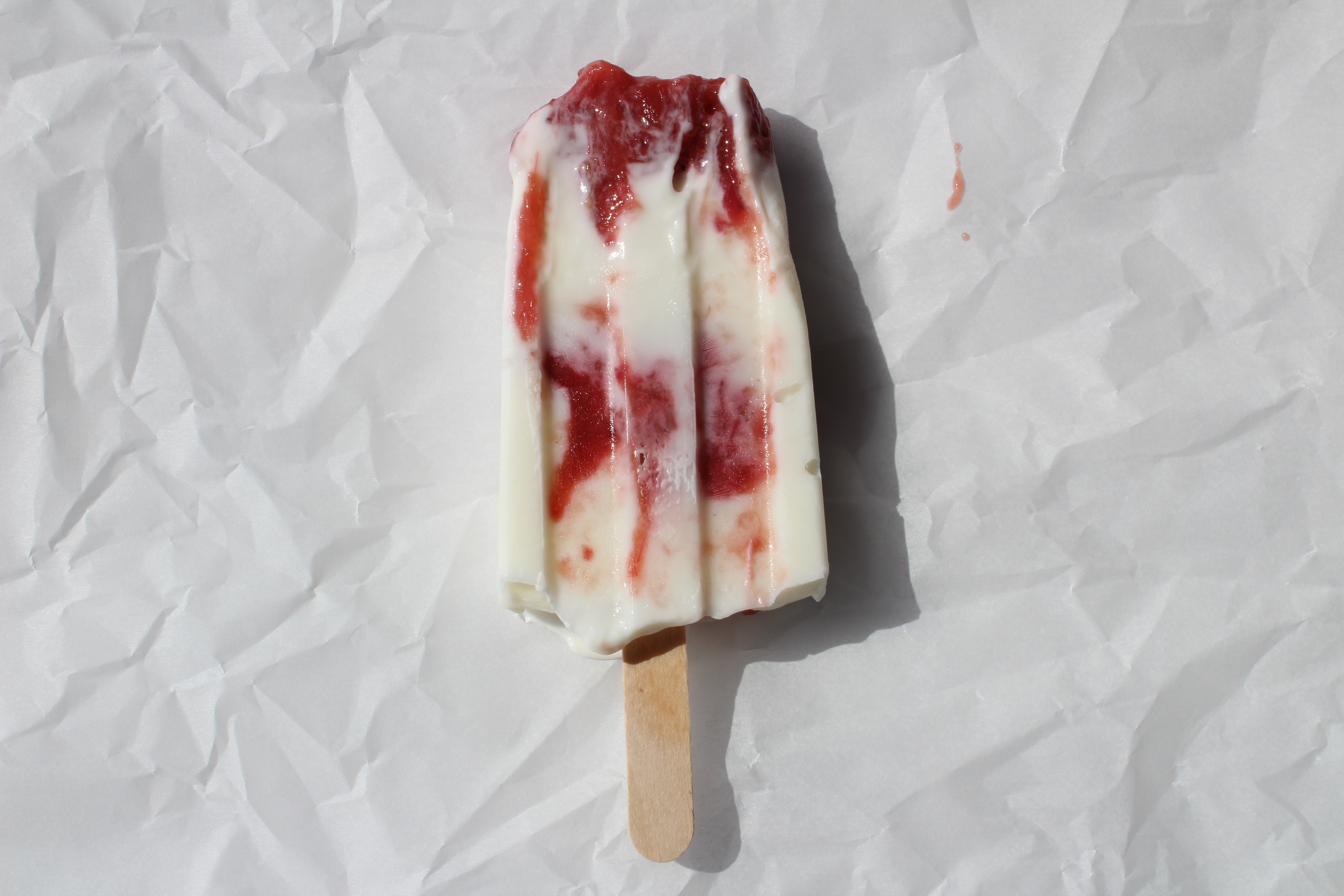 Print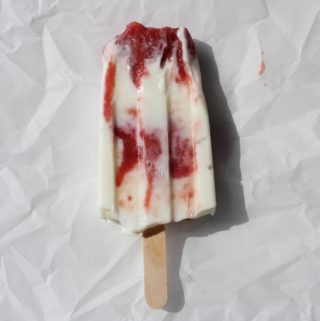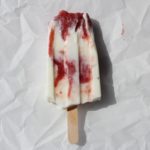 Strawberry rhubarb greek yogurt popsicles
Prep Time:

10 minutes

Cook Time:

6 hours

Total Time:

6 hours 10 minutes

Yield:

10

popsicles

1

x
---
Roasted strawberry rhubarb
2 cups

strawberries, halved

3 cups

rhubarb, chopped

¼ cup

maple syrup

¼ cup

sweet vermouth

1 tablespoon

balsamic vinegar

1 teaspoon

sea salt
Popsicle
2 cups

strawberry rhubarb compote
Zest from

1

lime

½ cup

water

½ cup

sugar

1 ½ cups

greek yogurt
---
Instructions
Make the compote:
Preheat oven to 350.
Whisk together maple syrup, vermouth, balsamic vinegar and sea salt. Pour over strawberries and rhubarb and toss well.
Arrange on a baking sheet and bake for 40 minutes.
Let cool completely and then blend, keeping a few chunks if you like.
Make popsicles:
Combine sugar, water and lime zest in a small saucepan and bring to a boil, stirring until sugar is dissolved. Simmer for a few more minutes and then remove from heat. Let cool completely and then whisk it into the yogurt.
For a layered popsicle, alternate layers of yogurt and compote in your molds leaving a bit of room in the top (for expansion). I love the way this looks, but be warned that the fruit is a bit tart so when you eat them later you'll have some tart bites and some sweet bites.
If you prefer a more consistently sweet frozen treat (understandable), just stir the compote into the yogurt mixture and then fill your molds..still leaving room at the top.
Freeze until solid, at least 6 hours. Enjoy!
Compote from Food52; popsicles adapted from Smitten Kitchen
---
Notes
If you have trouble removing these straight from the freezer, dip the bottom half of the mold into warm water for 20-30 seconds and then gently remove.
To store, you can either keep them in the mold if you have the freezer space. If you don't have the space (or, um, need the molds to make MORE popsicles), I like to wrap each one in plastic wrap or wax paper and then store them all in a large ziplock bag.
The compote will last in the fridge for about a week if you want to double the recipe to spoon over ice cream or yogurt (do it!!).