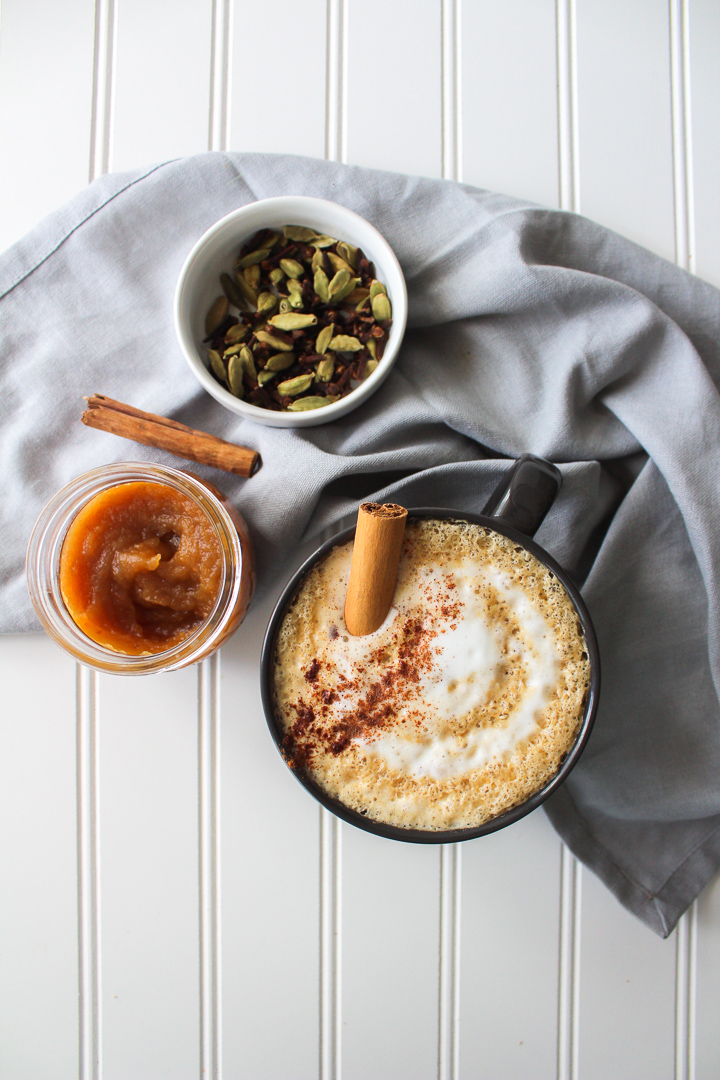 It's a two-for-one today! I made you apple butter, and then I put said apple butter in your coffee.
It's not weird. I promise.
This apple butter is extra special because I infused masala chai-ness into it. And not just the spices! I'm talking actual tea and everything. You start by simmering a few spices into apple cider and then steeping a tea bag in there for a few minutes. Once strained, you have the most delicious liquid to simmer your apples in. SO good.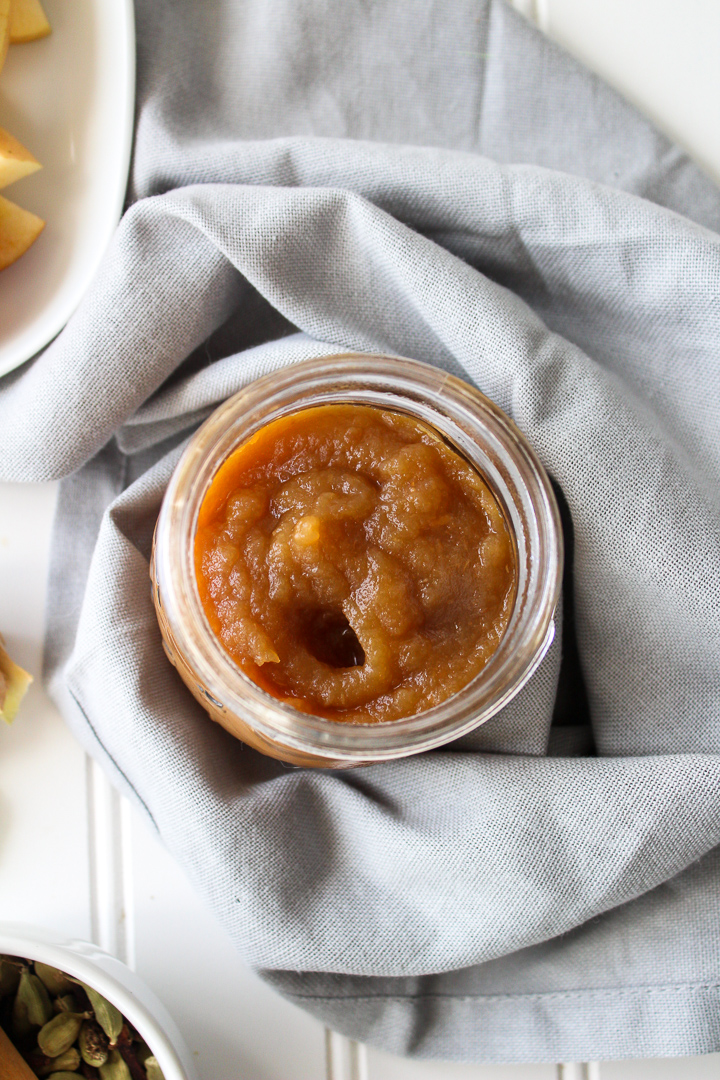 I like apple butter. I don't love it. But I like it just fine. So this small-batch version is perfect for me because I still get to experience the joy that is simmer apples on the stove for an hour, but I'm not left with a fridge full of apple butter that I inevitably get sick of (I'm a brat).
It's about an hour of cook time, start to finish, but most of it is hands off so 100% worth it in my book. And you'll be left with beautiful apple butter that will last for as long as it takes you to spread some on toast, swirl it into muffins or just eat it off a spoon. I currently have a jar in my fridge that's about 3 weeks old, and everything is perfect. (Still unclear if you should be like me though. So just trust your gut, okay?)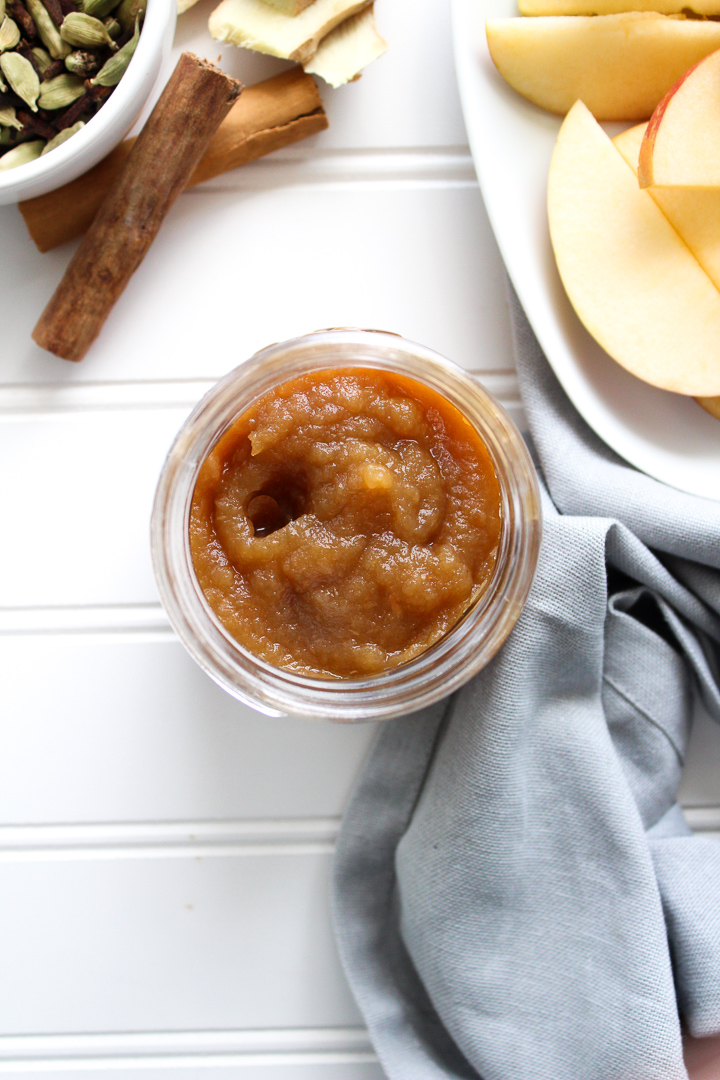 If toast, muffins and spoons aren't your thing (who are you??), then please, definitely, please try making a maple apple latte! Such a fun, cozy way to start your day. Or afternoon. Or evening if you come home from work and realize you just have a long night of more work ahead of you.
Not that I know anything about that. Sigh.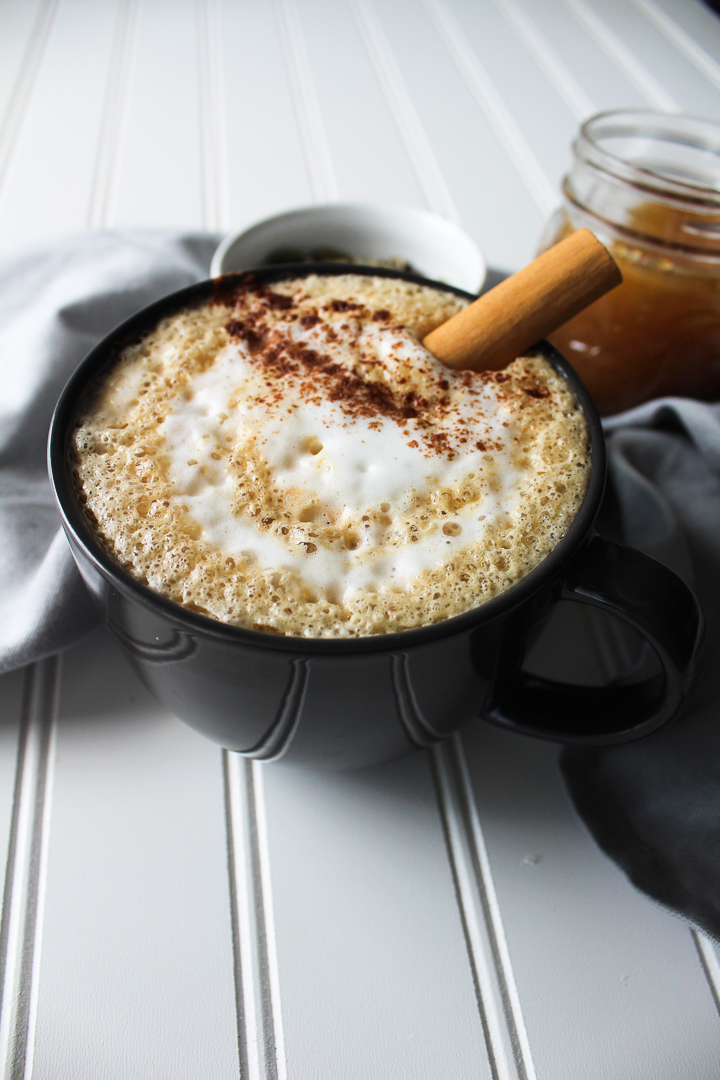 A little milk, a little chai apple butter, a little maple syrup and a little espresso. Yes yes yes yes. I love to use a hand frother to mix everything up, but I've got a couple ways to do it down below. Either way, just promise me you'll try an apple butter latte this year. PROMISE.
Happy put-apple-butter-in-everything season, friends!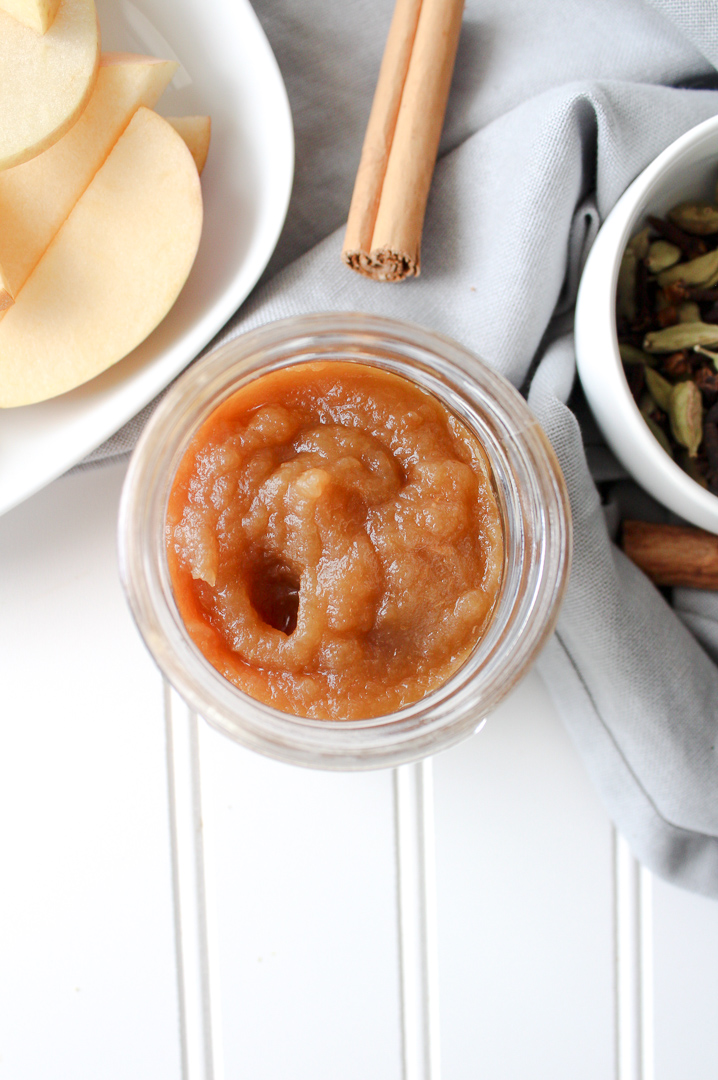 Print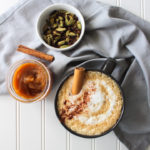 Cooking for one: masala chai-spiced apple butter + maple apple latte
---
Yield:

~½ cup apple butter / 1 latte
Masala chai-spiced apple butter:
½ cup

apple cider

½

cinnamon stick

5

cardamom pods

5

cloves

1

black tea bag

1

lb apples, peeled and chopped

1 tablespoon

brown sugar
Maple apple latte:
1 cup

milk (regular, soy, coconut, whatever!)

1 tablespoon

masala chai-spiced apple butter

1 tablespoon

maple syrup

1

-

2

shots espresso
---
Instructions
Make the apple butter:
Combine apple cider, cinnamon, cardamom and cloves in a small saucepan. Bring to a boil and then let simmer for 10 minutes. Add tea bag, turn off heat, cover pan and let steep for 5 minutes.
Remove tea bag and spices from cider (you can strain them out and then add the cider back to the pan OR just fish everything out with a small spoon like me).
Turn heat to medium, and add apples and sugar to cider.
Let everything cook and simmer for 1 hour, stirring every 20 minute or so to ensure nothing is sticking to the bottom of the pan. Taste and add more sugar if desired.
Use an immersion blender to blend until smooth (regular blender works too!).
Store apple butter in fridge.
Make the maple apple latte:
On stovetop: Combine milk, apple butter and maple syrup. Turn heat to low and whisk everything together to combine. Add espresso shot(s) and whisk again to combine. Pour in mug and top with ground cinnamon if desired.
With hand frother: Heat milk, apple butter and maple syrup on the stove or in microwave. Use frother to combine until apple butter is mixed in. Add espresso shots and mix until desired frothiness. Pour in mug and top with ground cinnamon if desired.
In blender: Blend (heated) milk, apple butter, maple syrup and espresso shots until frothy. Pour in mug and top with ground cinnamon in desired.