Healthy and comforting, this sweet potato dal is a fun take on the simple Indian lentil dish I grew up eating. Make this over the weekend for an easy meal prep option to eat throughout the week. Serve with rice or naan for a delicious and filling meal!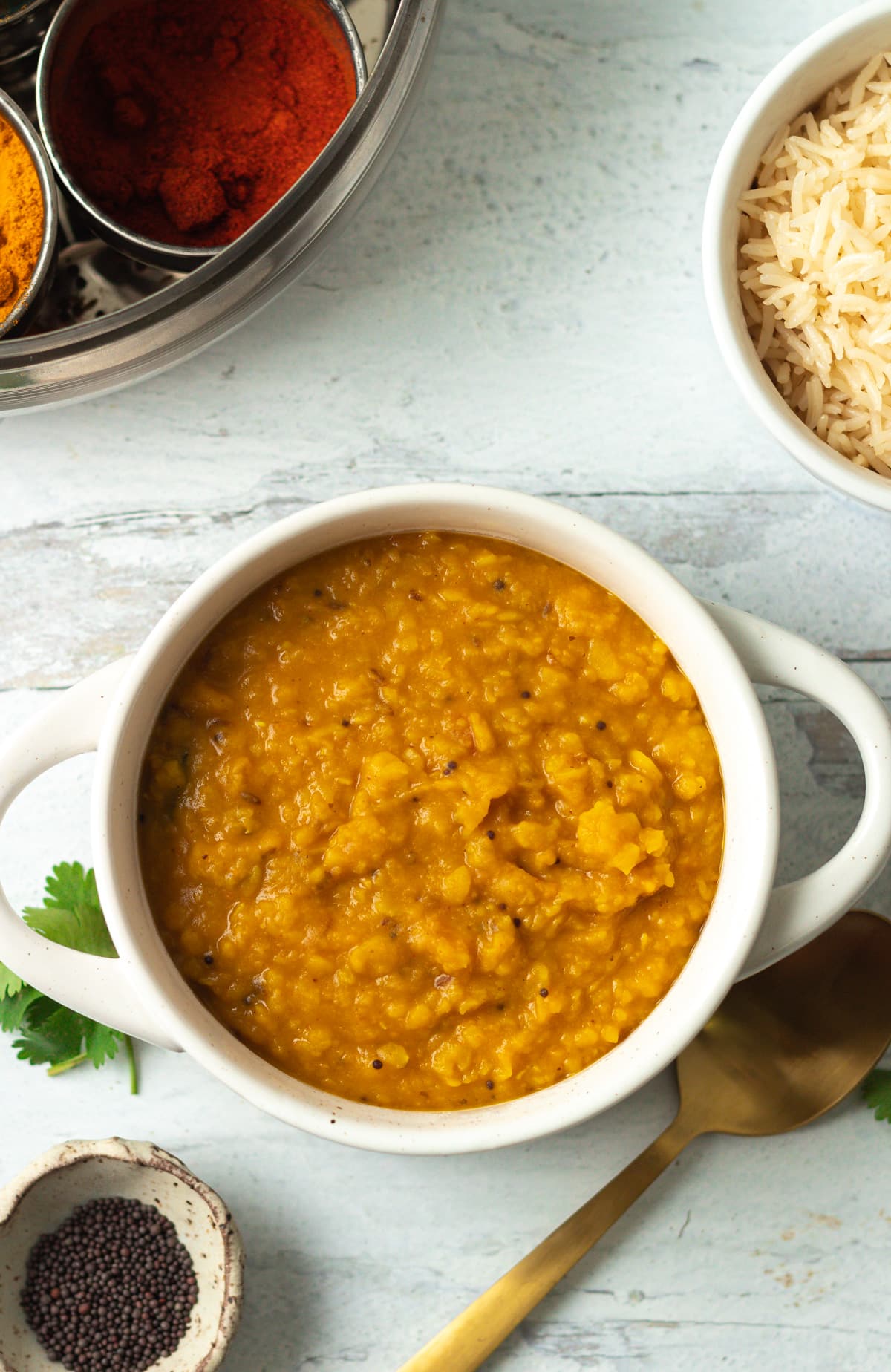 If you are looking for a healthy, comforting and super delicious meal, you've come to the right place.
A staple of Indian cuisine and in Indian homes, dal is an easy and filling dish. It can be served as a side alongside other dishes, or just top some rice with this dal and call it a meal. 
This recipe is based on Melissa Clark's sweet potato dal from her cookbook, Dinner. It's one of my faves, and I make this smaller batch version all the time!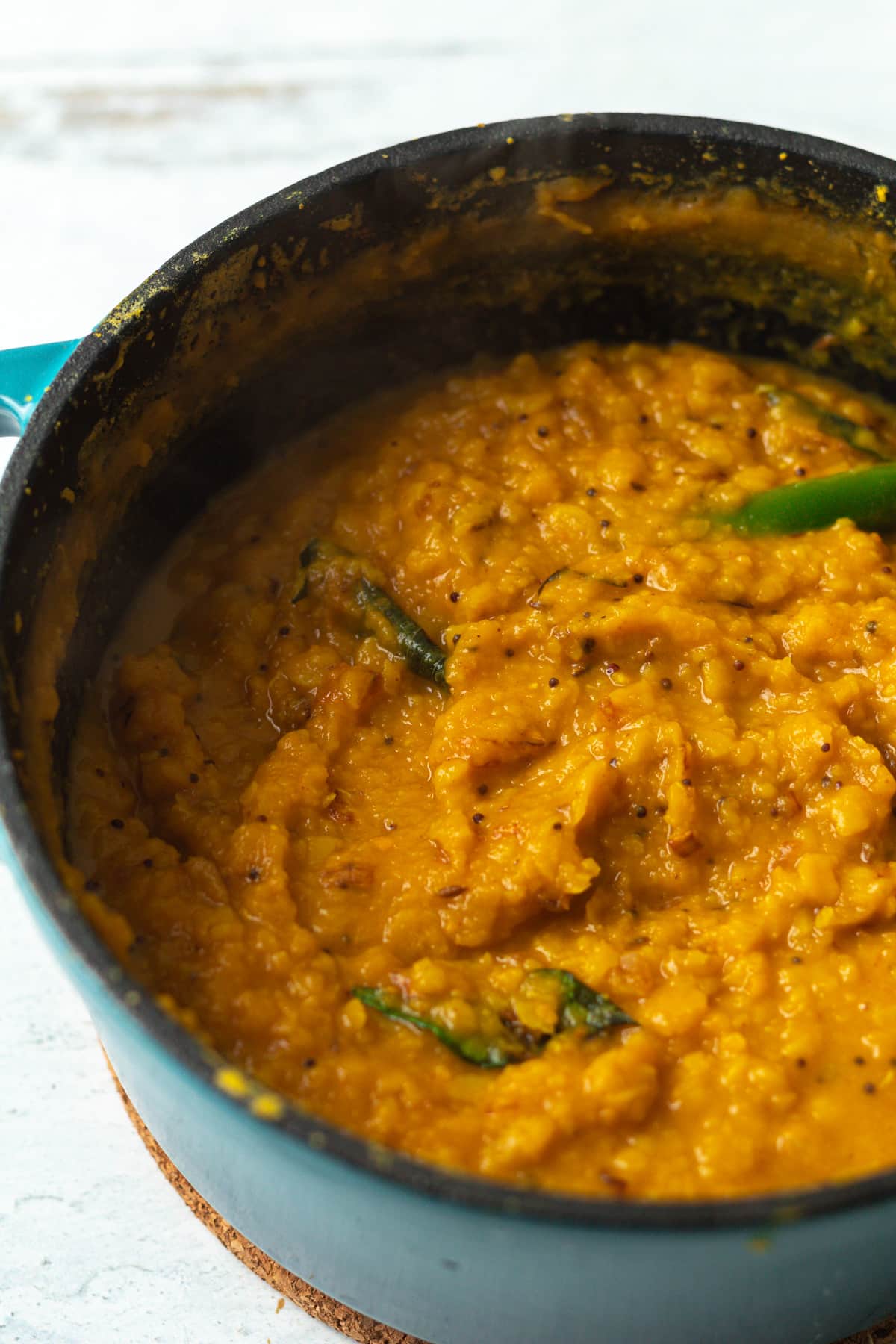 This is one of my favorite recipes to make for meal prep as it stays beautifully in the fridge (or freezer) and I happen to think it tastes better as it sits. Dal does tend to thicken as it sits, so just add a little water every time you warm it up!
If you're a fan of dal tadka or dal fry, or are just looking for a simple dal recipe, I think you'll love this!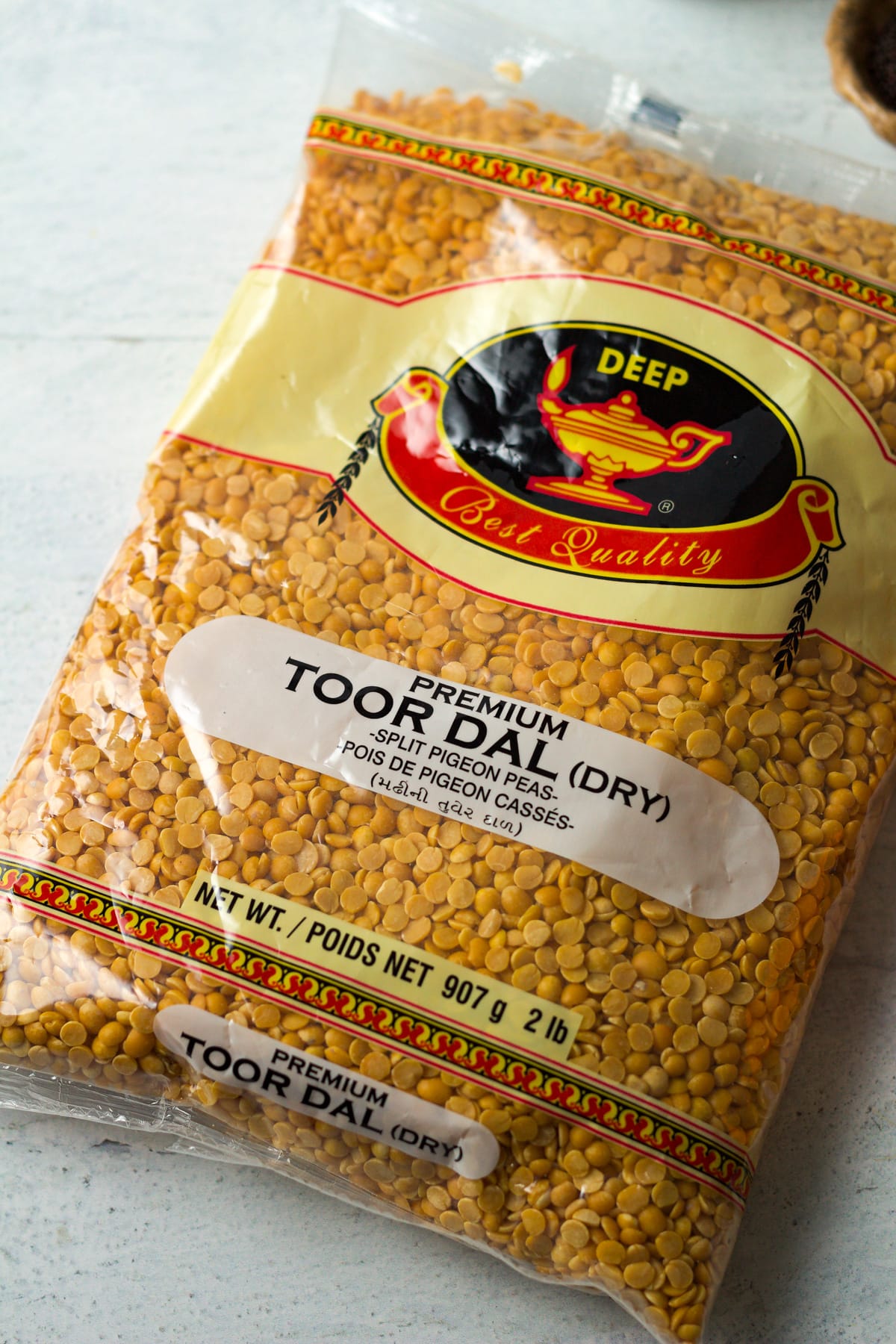 I cannot overstate how flexible this recipe is
What I love most about dal, and especially this sweet potato dal, is how you can basically mess everything up and still end up with a perfect and delicious end result. Some pretty basic ingredients come together to make something really special.
You can easily tweak the amount of sweet potato, onion and whole spices you use in this to suit your own tastes. While the potato does add a little sweetness, it basically melts away so nobody will know it's even there (I swear!). If you use a little more or less than the recipe calls for, it will still work.
If your lentils and potatoes look a little thick as they are simmering, just add some more water! Make sure to taste as you go and adjust your salt as needed as well.
If you want your dal to be spicy, add more kashmiri chili powder (or cayenne pepper - don't use regular chili powder!) or more green chili.
I like to keep this dal on the thicker and chunkier side, but you can make this a smooth as you want. Lentils not breaking down? Use a whisk to vigorously stir and mash them, or blend a portion of the mixture.
I generally make this on the stovetop as I don't mind waiting for the lentils to cook that way, but if you're in more of a hurry you can also cook the lentils and sweet potato in a pressure cooker or Instant Pot (directions in notes below).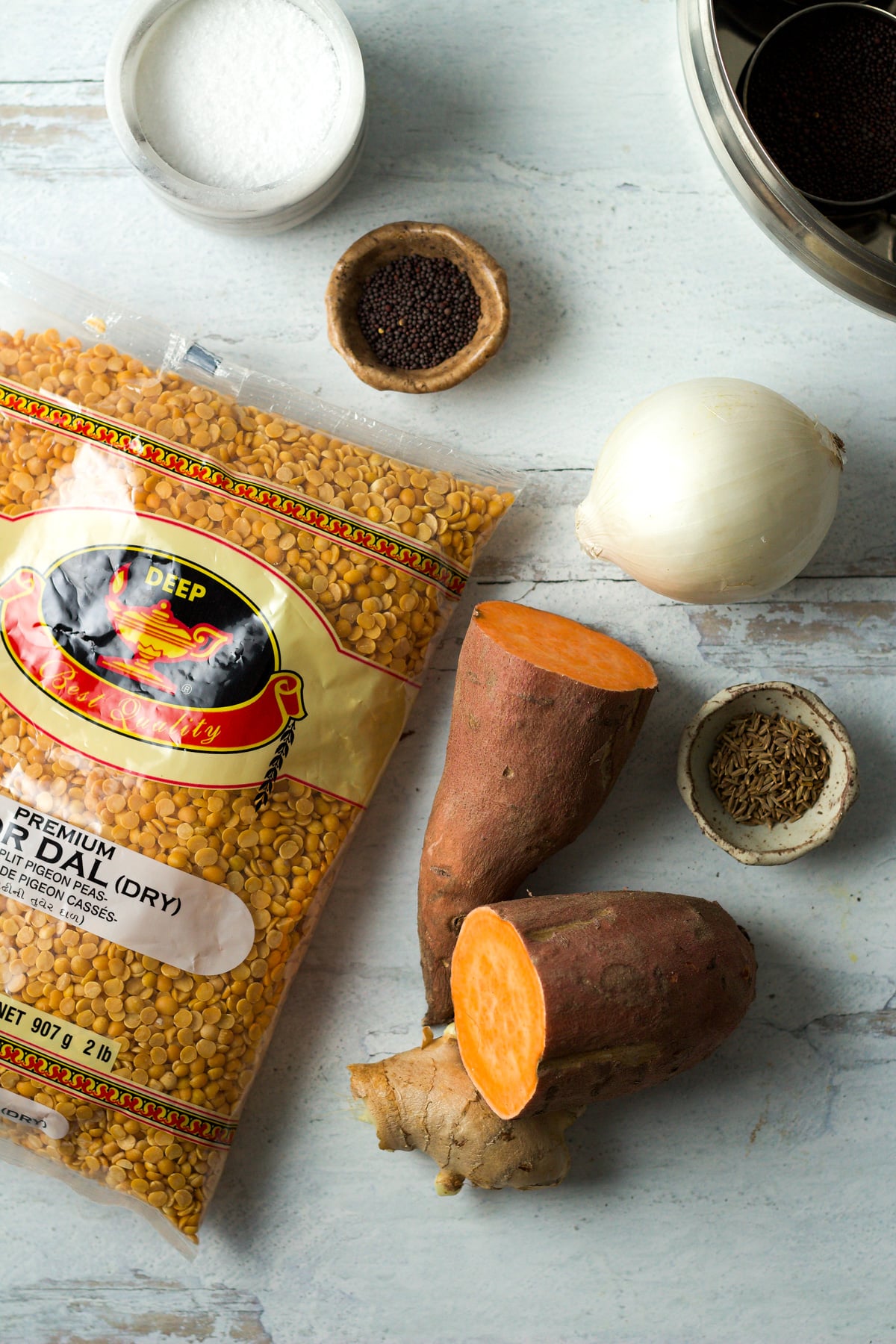 What you'll need
Dry lentils: Most lentils will work for this dish, but I would stay away from french or brown lentils. I generally use Toor dal or Masoor dal (both of which I get at the Indian store), but any sort of yellow lentils or red lentils work really well too.
Sweet potato: For this amount of dal, a small sweet potato is perfect. Once grated, you want about 1 - 1 ½ cups of sweet potato
Salt: For flavor!
Turmeric: You'll simmer the lentils with turmeric to add some flavor and color to the final dish.
Ghee: I love using ghee to cook the onions and spices, but a neutral oil will work as well.
Onion: I generally use a white or yellow onion, but red works too. If you have shallots those are a great substitute as well!
Ginger: I love the little sharp bite ginger gives in this dish. I like to grate it for ease, but you can also finely chop it.
Mustard seeds: You want to use black mustard seeds for this dish, not the yellow ones!
Cumin seeds: I highly highly suggest using cumin seeds, but if you're in a pinch you can substitute with ½ teaspoon ground cumin.
Red chili powder: I use kashmiri chili powder, but cayenne pepper will work too. Don't use the regular chili powder you likely have in your spice drawer - it's not spicy enough!
Green chili: This is optional, but I like to fry up a green chili with the spices. I use a serrano pepper, but if you can get your hands on the small green chilis those are even better. For even more spice, chop the chili instead of just halving it.
Curry leaves: Also optional, but awesome if you can get them (you can find curry leaves at Indian and Asian grocery stores).
Lemon: The final dish will be rich, creamy and just a touch sweet from the sweet potato. A little lemon juice helps to balance things out.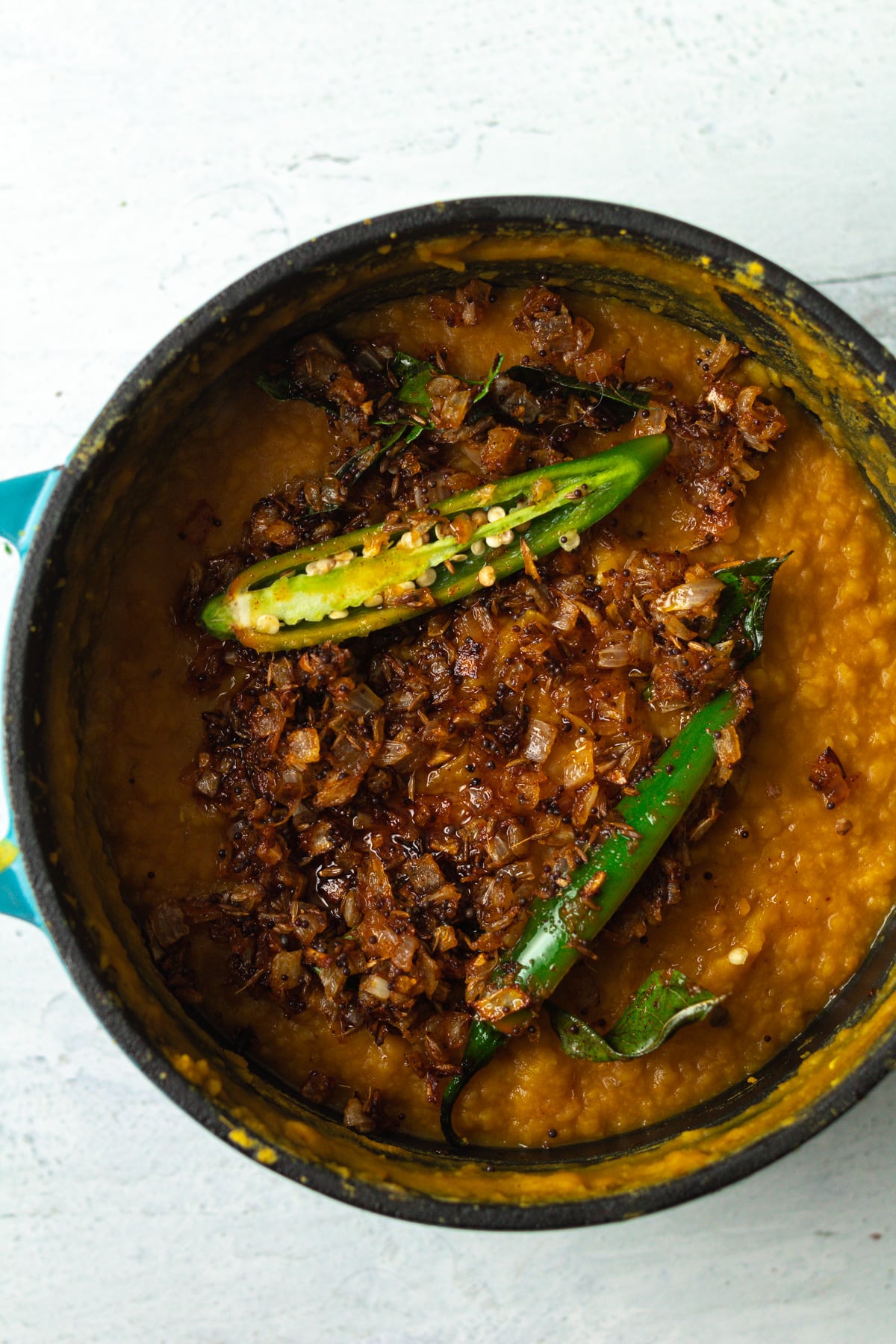 How to make this simple toor dal recipe
Bring lentils and water to a boil over high heat. Reduce heat, and then simmer lentils and sweet potatoes with salt and ground turmeric. This should take about an hour to fully break down, but could take a little longer. Stir occasionally to help break things up, adding more water as necessary. Once lentils are done, cover and turn off heat.
Saute onions in ghee until they soft, translucent and lightly browned. Then add your ginger, mustard seeds and cumin seeds and let everything cook until seeds start to splutter a bit, just about a minute or so. If using, you'll add your green chili and curry leaves at this time.
Add onion mixture to dal and stir to combine. Add chopped cilantro and serve with hot rice and/or naan or roti for dipping.
Dal + meal prep = match made in heaven
When I know I have a busy week coming up, I love to make a batch of dal to have on hand. It keeps really well in the fridge or freezer, and warms up easily on the stovetop or microwave. And the added sweet potato, while completely undetectable, adds even more nutrition which is always important during those crazy busy weeks.
You can also bulk it up as the week goes on, adding baby spinach, frozen peas or any leftover veggies you have in there. Or turn it into more of a lentil soup, with a mix of water and coconut milk to thin it out. Fry up a few more spices (mustard seeds, cumin seeds and curry leaves are great) and add to finish the soup.
Serve this dal alongside any sort of baji (Indian sauteed vegetables - recipes coming soon, I promise!!) for a great vegetarian meal or with your favorite chicken curry.
Tip: Keep some frozen Indian meals on hand and bulk up with this dal!
If you are new to Indian cooking, I think this is a great place to start. I hope you enjoy!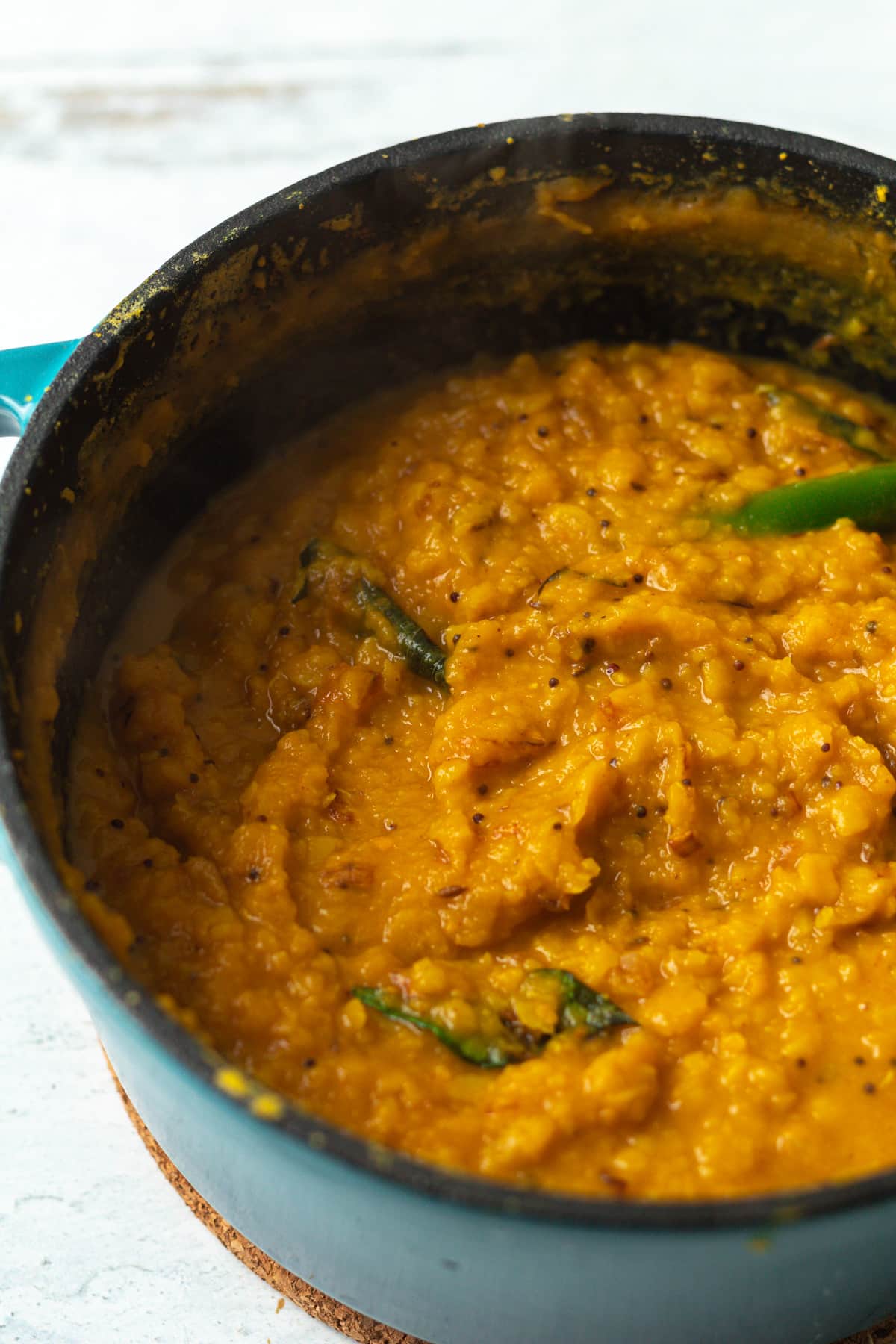 Print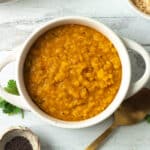 Small Batch Sweet Potato Dal
---
Description
Healthy and comforting, this sweet potato dal is a fun take on the simple Indian lentil dish I grew up eating. Make this over the weekend for an easy meal prep option to eat throughout the week. Serve with rice or naan for a delicious and filling meal!
---
¾ cup

dry lentils (I use Toor Dal)

3 cups

water

1

small sweet potato, peeled and grated (~

1

packed cup grated)

1 teaspoon

salt

½ teaspoon

ground turmeric

2 tablespoons

ghee or neutral oil

1

small onion, diced

2

-inch ginger, peeled and grated

1 teaspoon

black mustard seeds

1 teaspoon

cumin seeds

½ teaspoon

kashmiri chili powder OR

¼ teaspoon

cayenne pepper

1

small green chili, halved (optional)

3

-

4

curry leaves (optional)

½ cup

cilantro, roughly chopped

2 tablespoons

lemon juice
To serve: Basmati rice, naan, roti, etc.
---
Instructions
In a medium-sized pot, combine ¾ cup dry lentils and 3 cups water. Bring to a boil, then reduce heat to medium-low.
Add 1 small grated sweet potato, 1 teaspoon salt and ½ teaspoon ground turmeric. Simmer until lentils and potato break down and you get a stew-like consistency, about an hour. Stir occasionally to help break up lentils, mashing some up against the side of the pot as you stir. To help break them up even more, you can use a whisk to stir. Add more water as needed to keep the pot from drying up (I generally end up adding ½-1 cup extra water).
Once lentils are done, cover and turn off heat.
In a small pan, heat 2 tablespoons ghee or oil over medium heat. Add 1 small diced onion and saute for 10 minutes, until soft, translucent and just slightly browned. Add ginger and cook for another 2 minutes.
If pan is dry, add a little more ghee or oil. Increase heat to medium-high and add 1 teaspoon black mustard seeds and 1 teaspoon cumin seeds. Cook until seeds start to splutter a little. Then add ½ teaspoon kashmiri chili powder and, if using, 1 halved green chili and 3-4 curry leaves. Let cook for 1-2 minutes.
Add onion mixture to dal and stir to combine. Stir in 2 tablespoons lemon juice and chopped cilantro.
Serve with rice, naan or roti.
This dal will stay in the fridge for 7-10 days and freezes beautifully!
Notes
I use Toor dal (lentils) for this recipe, but you can use a mix of Toor and Masoor dal, or red lentils will work as well. Whatever you prefer to keep on hand. I'd stay away from french or green lentils for this one.
I don't find it necessary to soak my lentils, but I do like to give them a quick rinse.
If you find that your lentils aren't breaking down easily, you can take about a cup of the mixture and blend it to a smooth consistency. Stir that blended portion back into the pot. Alternatively, use a stick blender to blend until you get the consistency you are looking for.
For an even quicker dal, you can cook the lentils and sweet potato in a pressure cooker. To cook in an Instant Pot, combine lentils, sweet potato, salt, turmeric and water and cook on high pressure for 10 minutes. Let pressure release naturally for 5 minutes, then the rest manually. Stir vigorously to help break up lentils and potato. Continue with recipe as-is.
Prep Time:

5 minutes

Cook Time:

1 hour

Category:

Main

Method:

Stovetop

Cuisine:

Indian