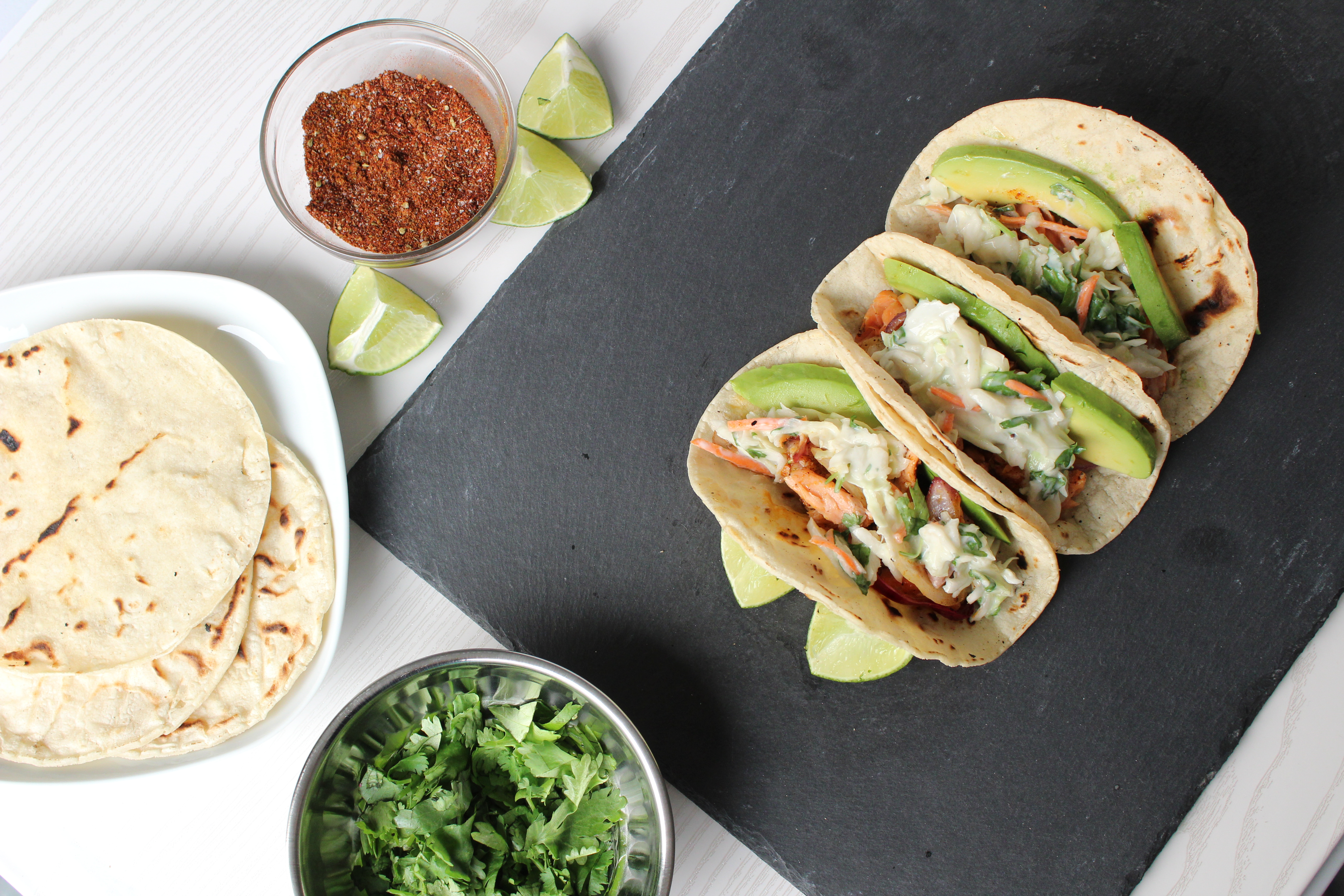 It's always a good day when I take two of my favorite things and force them together.
Salmon + tacos = TRUE LOVE.
I discovered slow roasted salmon a few months ago, and I can't quit it. It's absolutely incredible and my new favorite way to cook salmon. I've wanted to share it for a while, but turns out slow roasted salmon is not photogenic. There is no good side. It's borderline gross.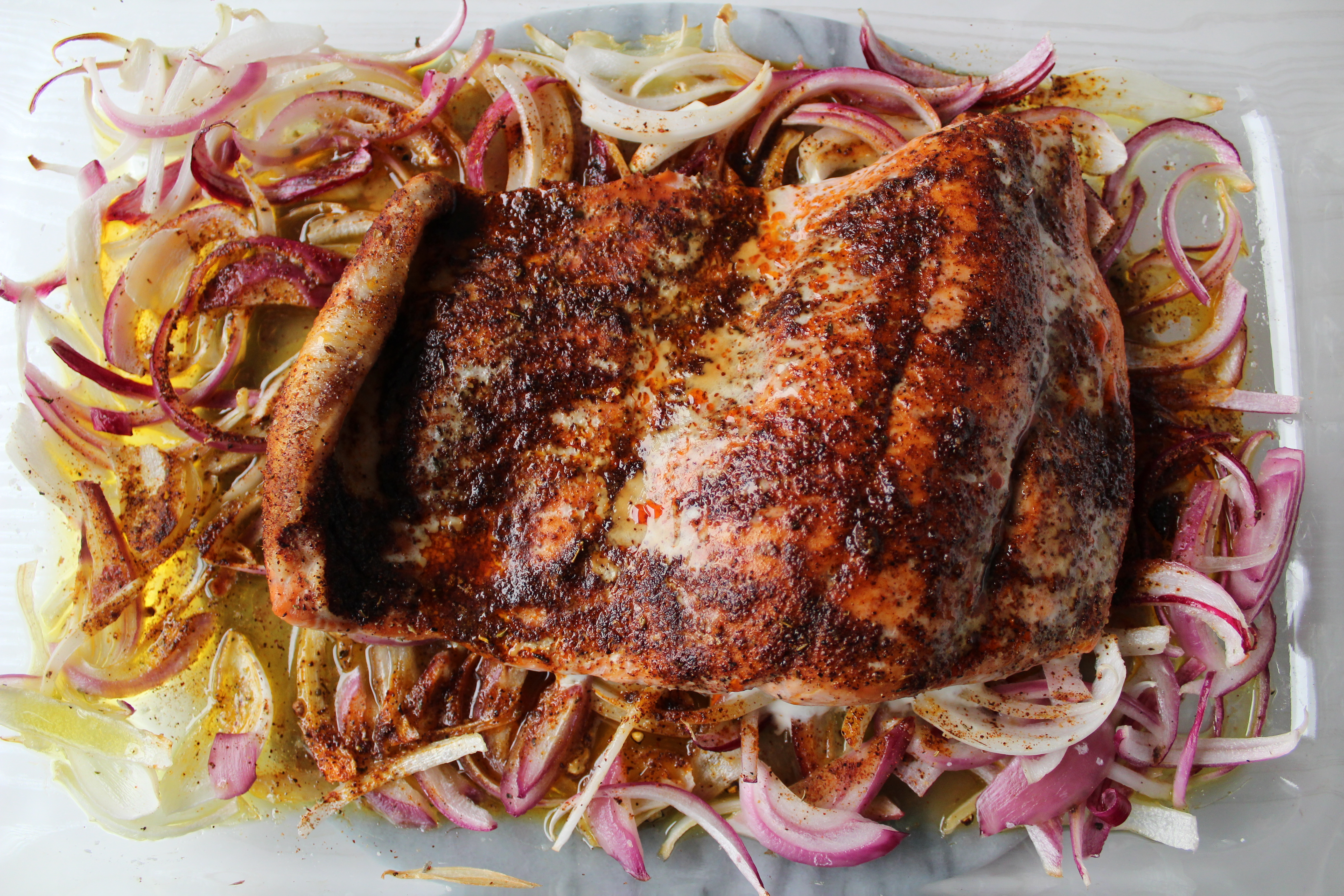 SORRY.
I tried a bunch of different things, and while they were all delicious, I just couldn't get past the photos. I'm fully aware of the fact that I'm no professional photographer, but if I look at a photo and don't want to eat/drink the subject immediately then it's not showing up here.
You know what I do want to eat immediately? TACOS.
It's no surprise I love most food in taco form, and this is no different. I also love that it's a fish taco that is NOT fried. As much as I respect a beer battered fish, sometimes I just want something a tiny bit lighter? So I can eat double the amount? You get it, right?
This is why we're friends.
The other good thing is that even though the salmon is "slow roasted" it's still fish, so it really doesn't take THAT long in the oven. If you get everything else ready while it's in the oven, you're looking at a meal that's done in under an hour. I don't know about you, but that's technically a weeknight dinner in my books.
But so is popcorn.
Let that serve as a reminder to take everything I say with a grain of salt.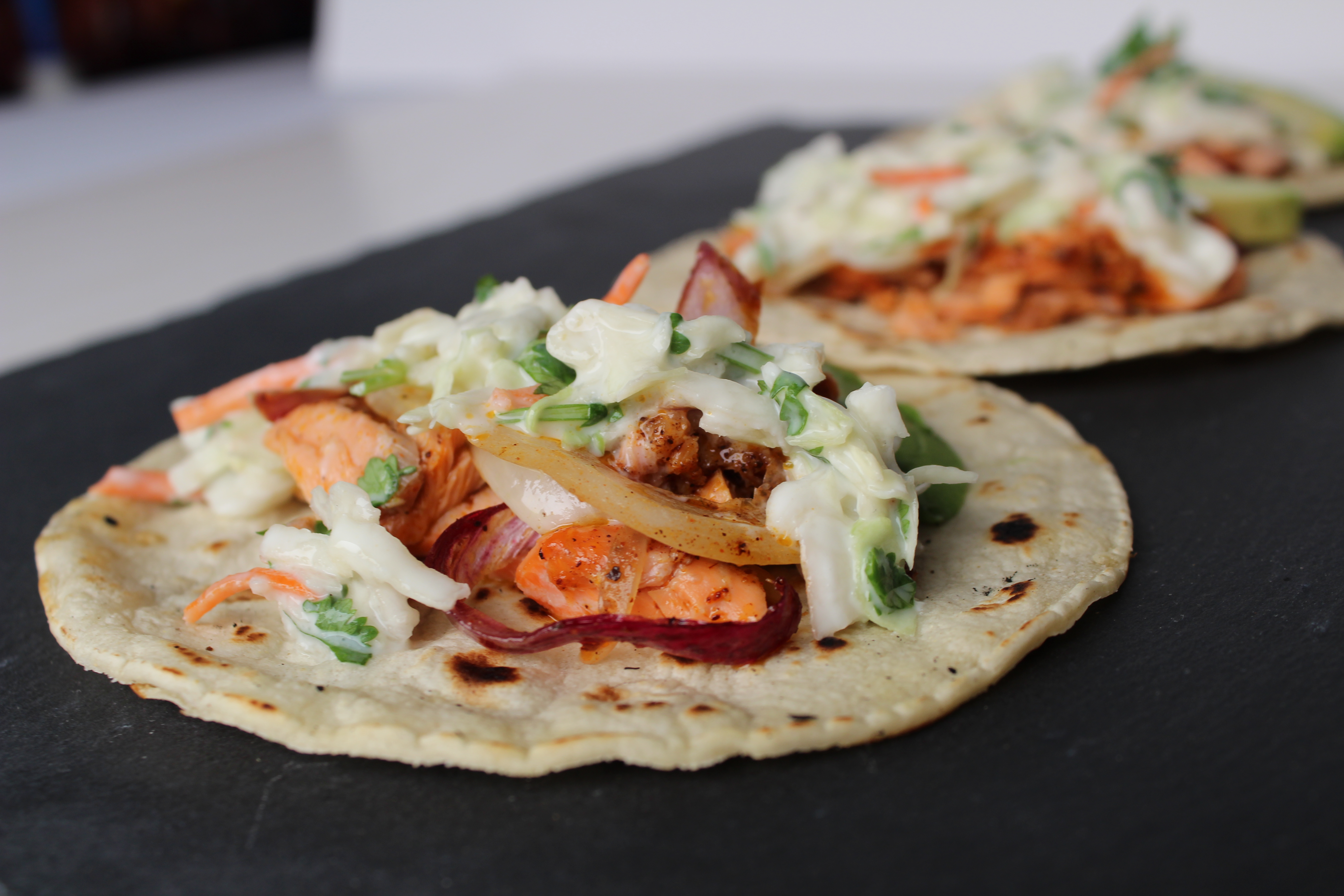 Slow roasted salmon tacos
Serves 4
Slow roasted salmon:
1 onion, thinly sliced
1 lb salmon, skinless
1 ½ teaspoon chili powder
1 teaspoon ground cumin
1 teaspoon salt
½ teaspoon smoked paprika
½ teaspoon garlic powder
¼ teaspoon oregano
¼ teaspoon cayenne powder
¼ cup olive oil
Greek yogurt slaw:
⅓ cup greek yogurt
¼ cup lime juice
1 TB honey
⅛ teaspoon salt
¼ teaspoon black pepper
½ cup cilantro, roughly chopped
3 cups coleslaw mix
Tacos
Corn or flour tortillas

Avocado
Preheat oven to 275.
Place onions in a baking dish or baking sheet and arrange into a single layer. Sprinkle 1 TB of the spice mixture on the salmon (both sides!) and lay on top of onions. Pour olive oil over everything. Bake for 35 minutes.
While the salmon bakes, combine all the slaw ingredients and set aside.
When salmon is done, let cool for a few minutes before flaking the fish with a fork. If you'd like, you can mix the fish and onions together in the pan.
To assemble tacos: Heat up your tortillas using your favorite method (I do it on a cast iron skillet). Top with salmon, onions, avocado, slaw and/or any of your favorite toppings!
Notes:
The spice mixture will make a little more than you need. Use the extra on anything! I love it on roasted potatoes, as well as chicken and shrimp.
If you don't like creamy coleslaw but still want the crunch, just toss your slaw mix with lime juice and a little olive oil and salt and pepper. It will still be great on the tacos.
If you have any leftover salmon, it will last in the fridge for a few days. Add it to salads or grain bowls for something new!