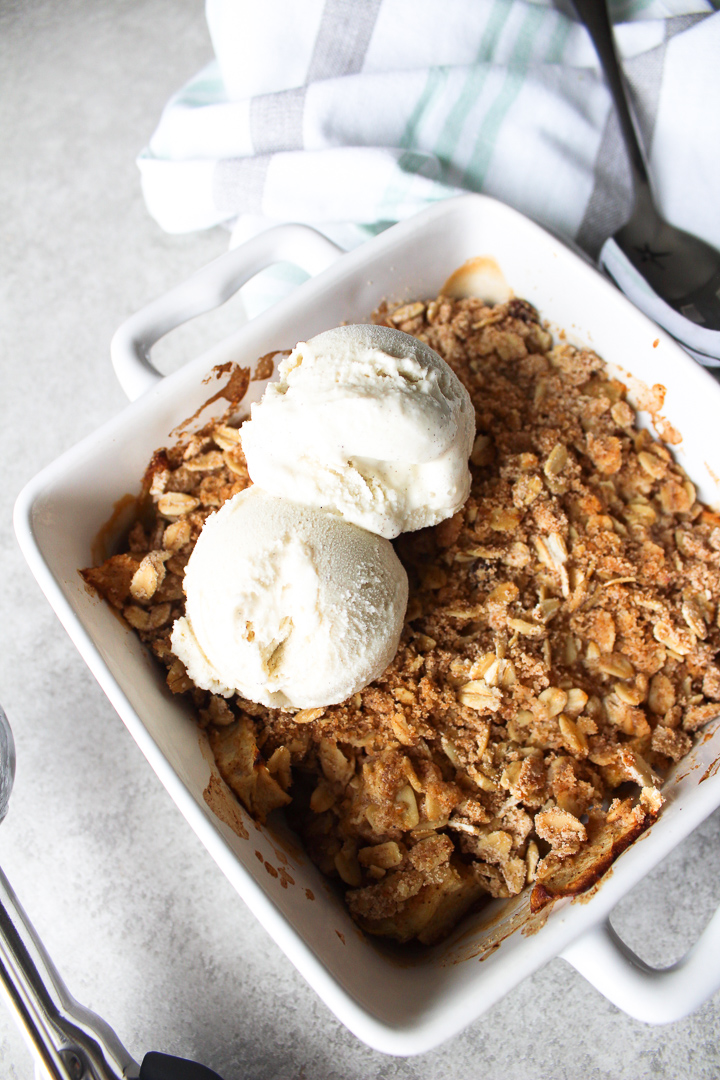 It's the best time of the year: FALL!
We got a little lucky in Texas this year and it actually cooled down a little bit this last week and it almost, kind of actually felt like Fall?! Normally it's still a hundred thousand degrees this time of year, so I assure you this is a big deal.
So while I probably won't be busting out my scarves anytime soon, I don't feel terribly crazy working on warm, cozy things in the kitchen.
Like this apple crisp! Just for you! Or me! Just for me!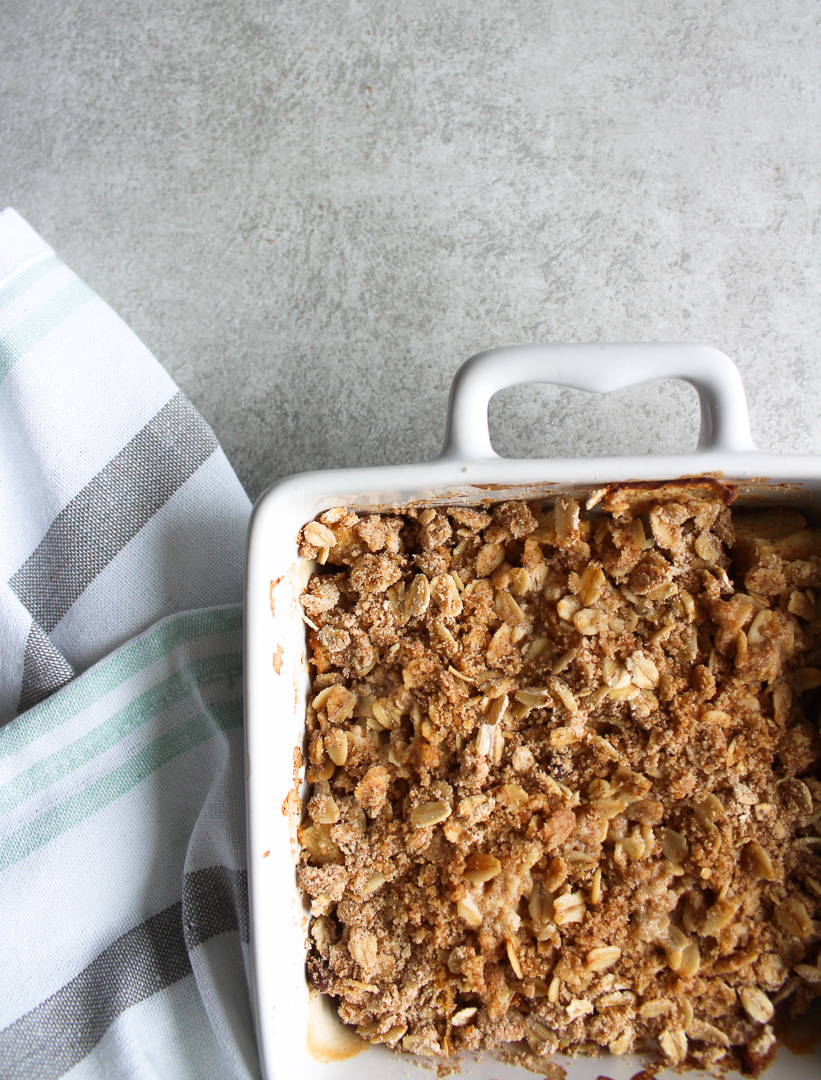 One little, perfect serving of apple crisp perfect for when you don't need to share dessert with anyone. Yes. A thousand times yes.
Apple/any fruit crisp in normal, large pan form is one of the easier things to make dessert-wise (in my opinion! don't @ me, bro). But in single-serving, one person size?? OH MY SO EASY.
One bowl. One small baking dish. A handful of ingredients. You can do it on a Tuesday! I promise.
My favorite part? This is not a dessert that you need to let cool before eating. It's a straight from the oven to the couch with a quick pit stop for some ice cream situation. You know those situations. They're good. Very, very good.
Happy Fall! Happy let's make fresh apple crisp whenever we want season!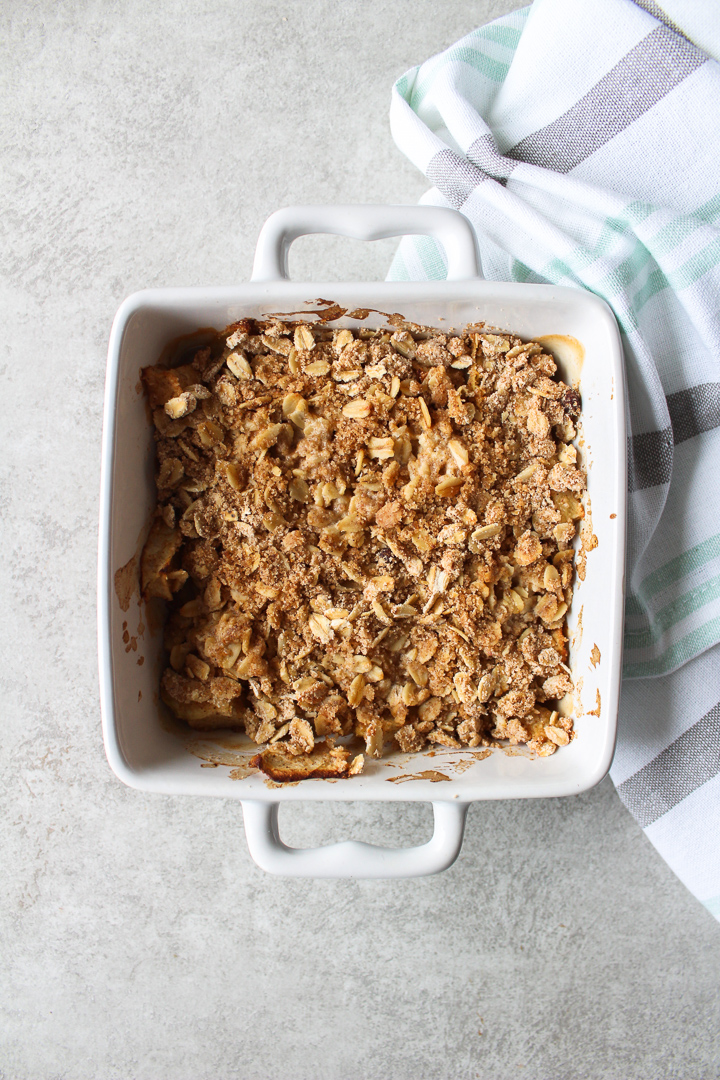 Print
Cooking for one: Apple crisp
---
Total Time:

30 minutes

Yield:

1

1

x
1

apple, peeled, cored and diced

1 teaspoon

+

1 tablespoon

brown sugar

1 tablespoon

lemon juice

1 teaspoon

+

2 tablespoons

flour

¼ teaspoon

ground cinnamon, divided

¼ cup

rolled oats

2 tablespoons

butter, melted
---
Instructions
Preheat oven to 350.
Combine apples, 1 teaspoon brown sugar, ¼ teaspoon cinnamon and lemon juice in a small bowl. Mix to combine.
Add 1 teaspoon flour and mix to ensure flour coats most of the apples. Transfer to a small ramekin or oven-safe bowl.
In the same mixing bowl, add oats and remaining sugar, flour and cinnamon. Mix with a fork to combine. Add melted butter and stir together, making sure everything is mixed well.
Evenly spread oat mixture on top of apples. Place baking dish on a baking sheet (just in case it bubbles over) and transfer to oven.
Bake for 25-30 minutes, until apples are soft and crumble is lightly browned.
Serve warm or at room temp, with ice cream if desired.
Prep Time:

10 minutes

Cook Time:

20 minutes