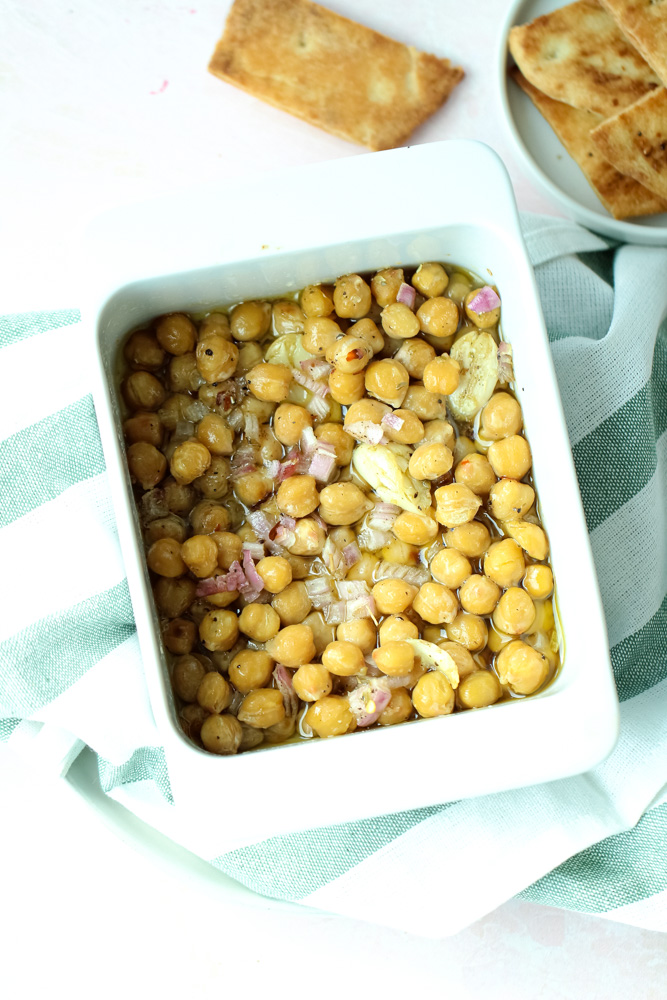 Print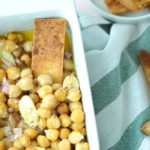 Braised chickpeas
---
Author:

Mansee

Total Time:

30 minutes

Yield:

1

1

x
Description
A super simple, comforting single-serve dish perfect for weeknight dinners. 
---
¾ cup

chickpeas, drained and rinsed

1

small shallot*, diced

2

-

4

garlic cloves, peeled and smashed

½ teaspoon

dried thyme OR 2 springs of fresh thyme

¼ teaspoon

red pepper flakes

¼ teaspoon

salt

3 tablespoons

olive oil + extra for pita/naan

1

piece of pita bread or naan
---
Instructions
Preheat oven to 375.
Combine chickpeas, onion, garlic, thyme, red pepper flakes and salt in a small oven-safe dish. Pour olive oil over everything and stir to combine.
Bake for 15 minutes.
While chickpeas bake, cut a piece of naan or pita into wedges or strips. Brush with a little bit of oil and sprinkle with salt. Arrange on a small baking sheet.
After 15 minutes, put pita/naan in oven next to chickpeas. Bake for 10 minutes, until chips are just crisp and chickpeas are bubbly and soft.
Let cool for 5 minutes before eating.
   Recipe adapted from Joy the Baker.
Notes
You can sub onion for shallot if that's all you have. You want about a ¼ cup of diced onion. 
If you don't want to make pita crisps, just bake the chickpeas for a full 25 minutes.
If you have some leftover oil, save it! It's delicious and can be used for another dish the next day.
Prep Time:

5 minutes

Cook Time:

25 minutes
I try not to play favorites here, but I'm not sure I can stop myself with this one because these braised chickpeas truly might be one of my FAVORITE cooking for one meals.
Which is so weird, because it's....braised chickpeas? Beans and oil?? What is happening?!
I first saw the recipe for braised chickpeas on Joy the Baker years ago, and have been making variations of it since. I started doing the single-serving thing over the past year, but truly didn't think I would share it here because...again. Beans. In. Oil.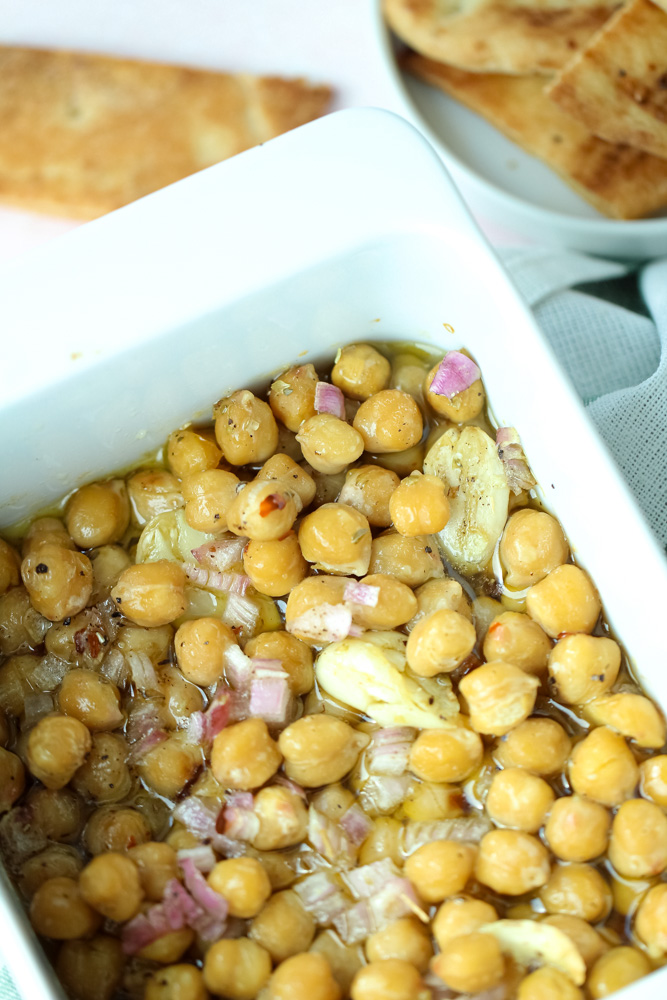 But honestly, the beauty of this one is that it tastes like so much more than the simple ingredients. It's completely weeknight friendly, and I'm 90% sure you have all the ingredients in your kitchen right now. Seriously!
I even started using dried herbs because I don't always have fresh on hand. But if you do have fresh, you can easily swap them out. And if thyme isn't your thing? Use rosemary! Oregano! Whatever you love will work.
The only weird thing about this recipe is that I'm asking you to open a can of chickpeas and then only use like half of them. So here's the thing, you could actually use the entire can and it won't impact the recipe that much - just add some more oil! You might have some leftover but they are perfectly good as leftovers the next day, so no worries there. You could also just reserve the extra chickpeas for salads, soups, etc. later. You have options, okay!
The original recipe calls for lots of crusty bread (four of my favorite words) to eat with these chickpeas, perfect for sopping up the super flavorful oil. As much as I love bread, I don't often have it around unless I'm using it for a specific recipe. But what do I always have around? Naan! In my freezer! Or maybe pita bread! So i just take one of those out, defrost it in the microwave and then eat that alongside these braised chickpeas. Perfect for sopping!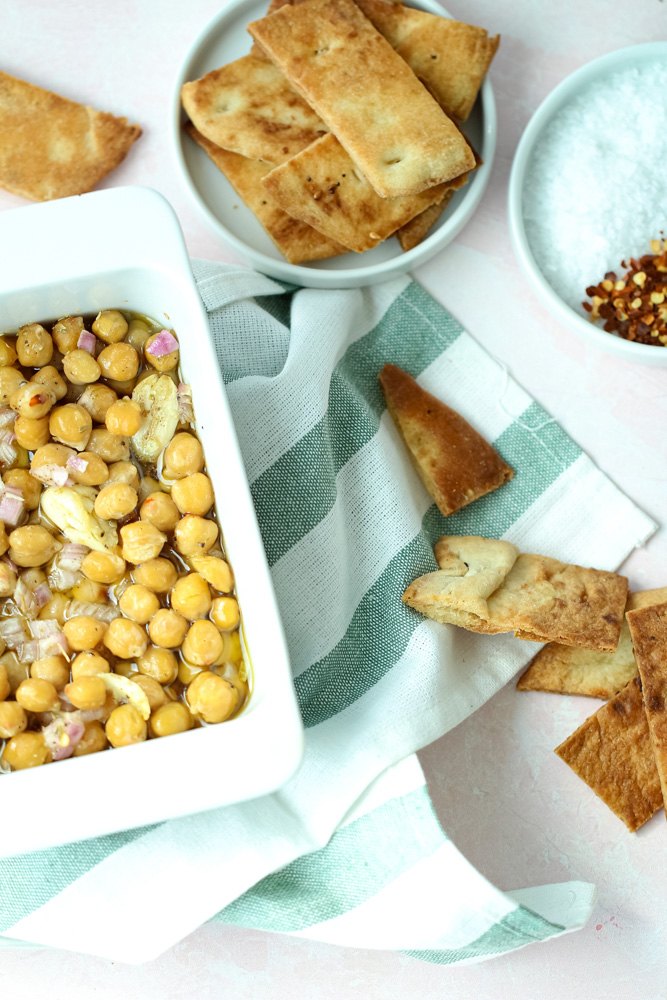 In this recipe, I show you how to make some homemade pita/naan chips alongside the chickpeas. But often times I just warm the bread up and eat it more like traditional naan. So good!
Beans in oil. It's a thing!