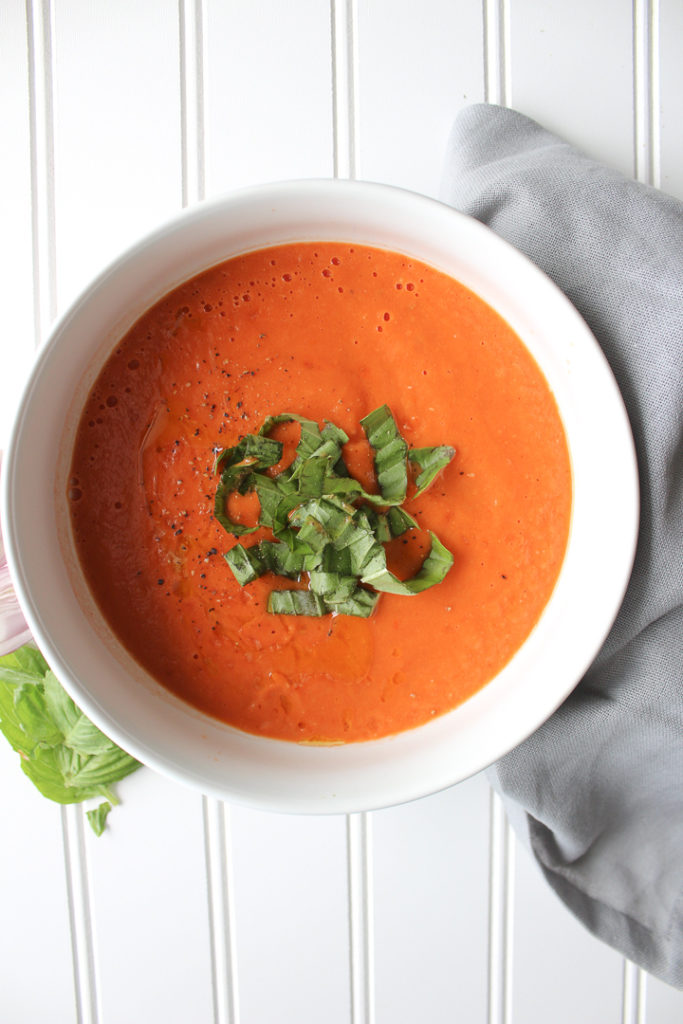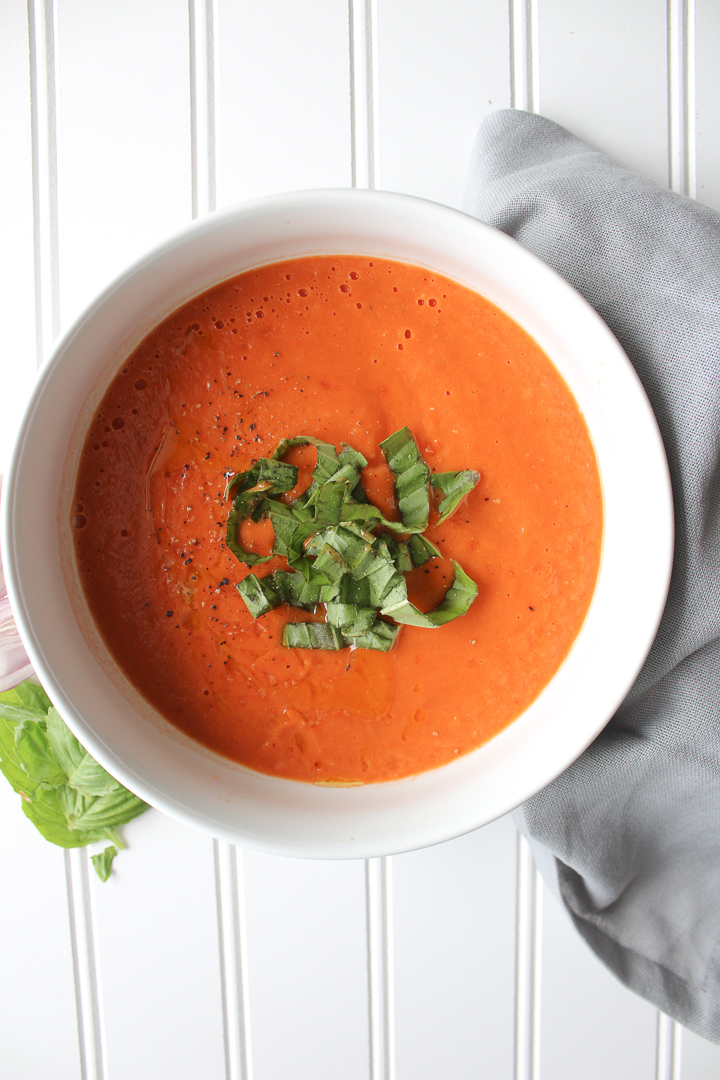 Print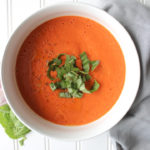 Cooking for one: Roasted tomato soup
---
Total Time:

30 minutes

Yield:

1

1

x
Description
A super easy, quick bowl of roasted tomato soup for one.
---
4

roma tomatoes (about

12 oz

), halved

1

small shallot, cut into

4

-

6

chunks

2

cloves garlic, unpeeled

2 teaspoons

olive oil

¼ teaspoon

salt

½ cup

vegetable or chicken stock

¼ teaspoon

sugar
Basil (as much as you want)
---
Instructions
Preheat oven to 400.
Throw tomatoes, shallot and garlic on a parchment-lined baking sheet and toss with olive oil and salt. Arrange tomatoes cut side up and roast for 25-30 minutes, until tomatoes shrink slightly and are caramelized on the bottom.
Let pan cool slightly, and then add everything to your blender or any sort of vessel for an immersion blender. Add sugar and blend, adding stock as needed until you get the consistency you like.
Taste and adjust seasoning as necessary.
Serve with a drizzle of olive oil and as much basil as you want.
Notes
- I almost always use roma tomatoes because that's just what I gravitate toward, but you can use whatever you like depending on the time of year and what kind of tomatoes you have access to. I sometimes toss a handful of cherry tomatoes on the pan as well if I happen to have them handy!
- If you don't have shallot, you can use about ¼ of a small onion.
- You might not use all the stock - just use as much as you need to get the soup consistency you love.
- If you like a creamier soup, feel free to add a little drizzle of heavy cream at the end.
Prep Time:

5 minutes

Cook Time:

25 minutes

Category:

Main

Cuisine:

Soup
Hi! Hello! Let's make ONE bowl of soup today!
When I decided I wanted to start sharing my favorite single-serving dishes, soup was never really on the radar for Cooking for One because I LOVE soup and if I'm going to make it, I always want to make a lot of it. A fridge (or freezer!) full of soup is a happy fridge (or freezer!) indeed.
Except.
Tomato soup. It's the one soup I rarely want because...well, I don't actually love the stuff. Warm tomato juice type things kind of weird me out, so the last thing I need is a giant pot of warm tomatoes waiting for me.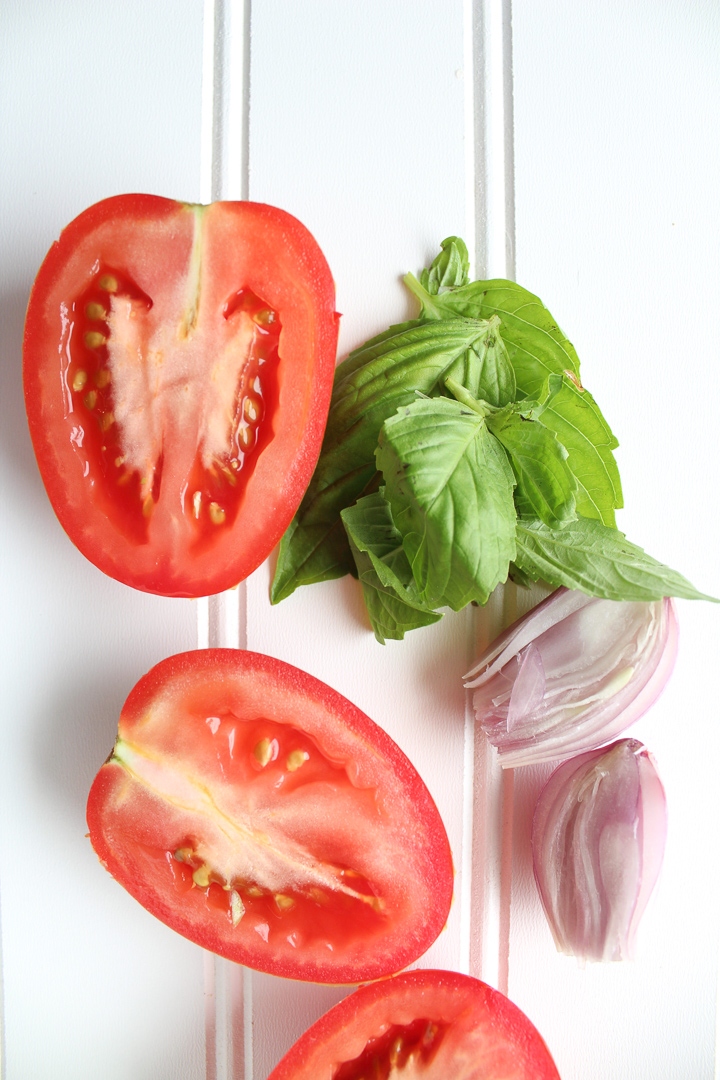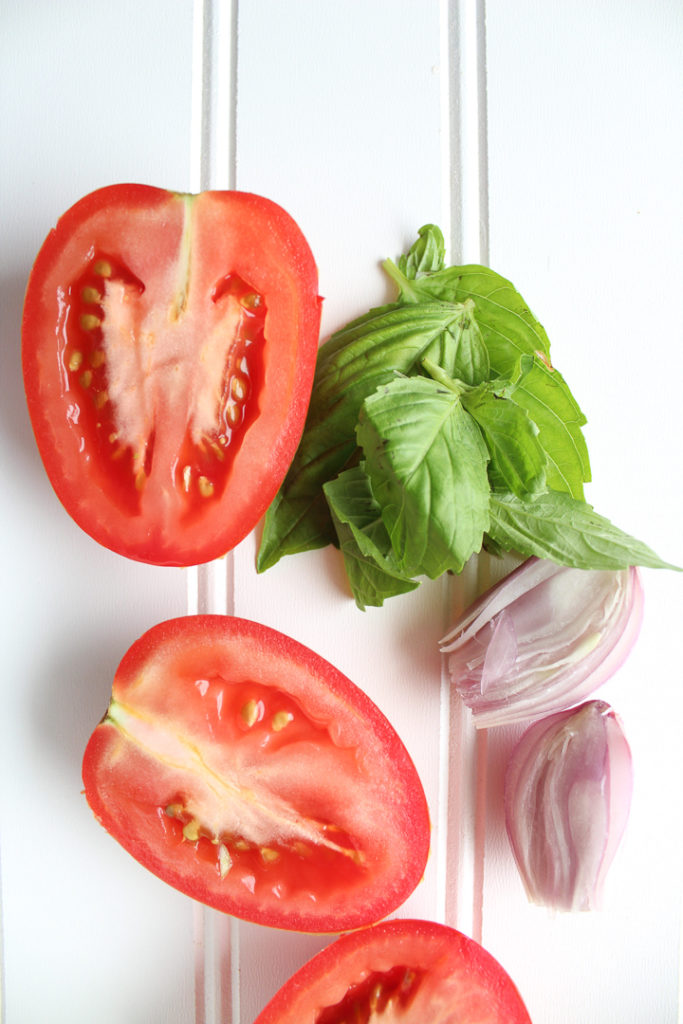 But listen, sometimes even I - the girl who puts tomato soup at the bottom of her soup list - suddenly NEEDS a creamy bowl. It happens. Generally when a gooey grilled cheese sandwich is involved (I am nothing, if not basic), so I knew I needed to work on finding a way to make a super easy, super one-bowl version of tomato soup.
The BEST part of this recipe is that pretty much everything is done in the oven, roasting to bring out the sweet, caramelized flavor we all know tomatoes are hiding within. I throw the shallot and garlic in there as well - because why the heck wouldn't I - and then it all goes straight from the oven into the blender! Or in my case, the handy dandy container my immersion blender came with! Blend it up with a little stock (if needed, juicy tomatoes can go a long way) and some basil and, kids, you're done.
Sometimes I pour it into a bowl. Generally I just eat it out of said handy dandy immersion blender container. All class over here, friends.