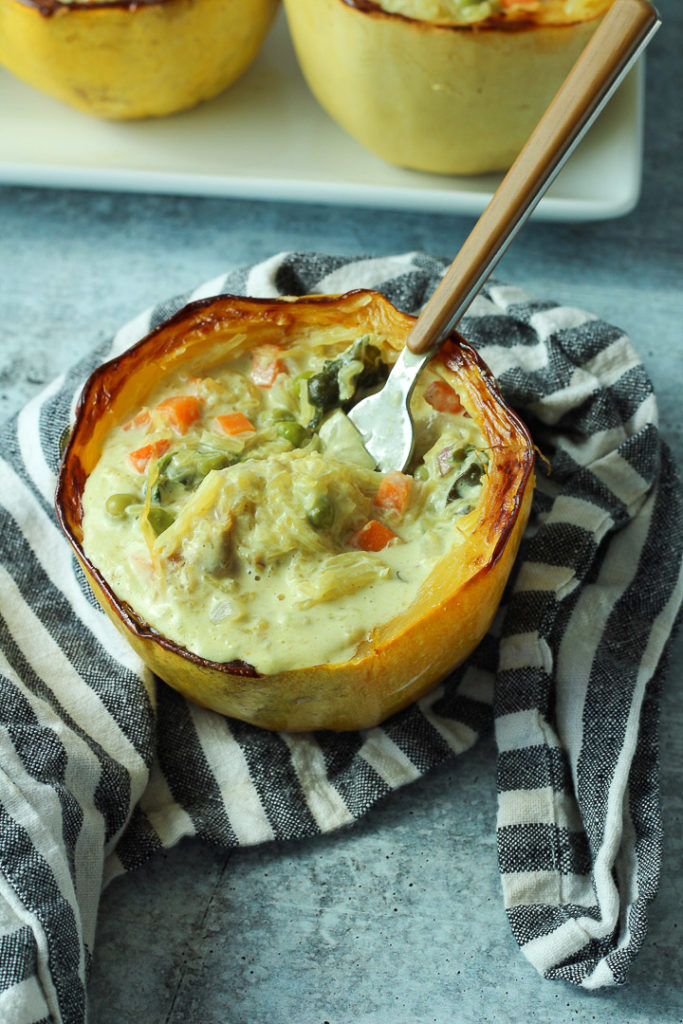 Print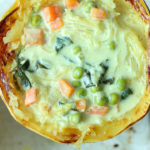 Green curry spaghetti squash bowls
---
Author:

Mansee

Total Time:

1 hour 10 minutes

Yield:

4

1

x
Description
A super healthy and delicious twist on green curry noodles. Prep the squash ahead of time to make this a weeknight-friendly dinner.
---
2

small spaghetti squash

2 tablespoons

neutral oil, divided

1

small onion, diced

4

garlic cloves, grated

2

-inches ginger, grated

3 tablespoons

green curry paste

1

can full-fat coconut milk

½ cup

water or vegetable stock

1 cup

frozen peas and carrots

2 cups

baby spinach

1 teaspoon

soy sauce or coconut aminos

2 teaspoons

rice vinegar

1 teaspoon

sugar (optional)
---
Instructions
Preheat oven to 400.
Carefully cut each spaghetti squash in half width-wise so you have two little bowls. Cut a tiny bit off each end as well so they each stand up perfectly. Scoop out all the seeds and stringy stuff.
Drizzle squash with 1 tablespoon of oil and sprinkle with salt and pepper. Arrange cut side down on a foil-lined baking sheet and roast for 45 minutes to an hour or until squash is tender.
While squash roasts, heat remaining oil in a medium-sized pot over medium heat. Add 1 small diced onion and saute for about 5 minutes or until onion starts to turn a light brown.
Add 4 cloves grated garlic, 2-inche grated ginger and 3 tablespoons curry paste and cook, stirring constantly, for another 2 minutes. You want the paste to deepen in color.
Pour in 1 can coconut milk and ½ cup water/vegetable stock and stir to combine. Bring to a boil, reduce heat and let simmer for 5 minutes.
Add 1 cup frozen peas and carrots and 2 cups roughly chopped baby spinach and let cook for another minute to warm through.
Turn off heat and add 1 teaspoon soy sauce, 2 teaspoons rice vinegar and 1 teaspoon sugar. Cover and set aside.
Once squash is done roasting, let cool for a few minutes and then use a fork to create "spaghetti strands."
To serve, you can do one of two things:

Add all the squash strands to curry and mix to combine. Divide among all the "bowls" and enjoy!
Keep strands in squash and pour curry over. Let sit for a minute to allow the curry to soak in a bit (to make it easier to eat).
Notes
You can prep the squash ahead of time and keep in the fridge until ready to eat. Just warm it up in a 350 degree oven while you make the curry and proceed with the recipe as normal! Doing this makes it PERFECT for meal prep and means you'll have dinner on the table in like 20 minutes.
Prep Time:

10 minutes

Cook Time:

1 hour
You guys know I love me a curry dish. I started this little vegetarian series with one (which you guys are loving by the way!! Love seeing your recreations on Instagram!), and now we're three weeks in and I'm honestly surprised there hasn't been 15 more.
But hey. Better late than never, right?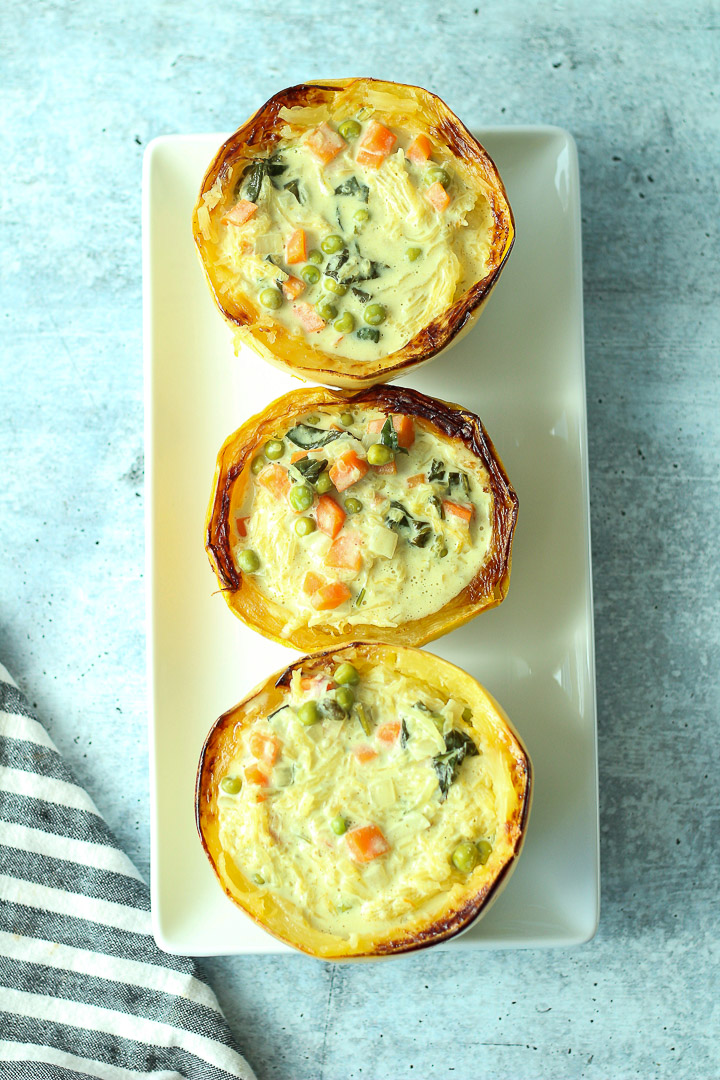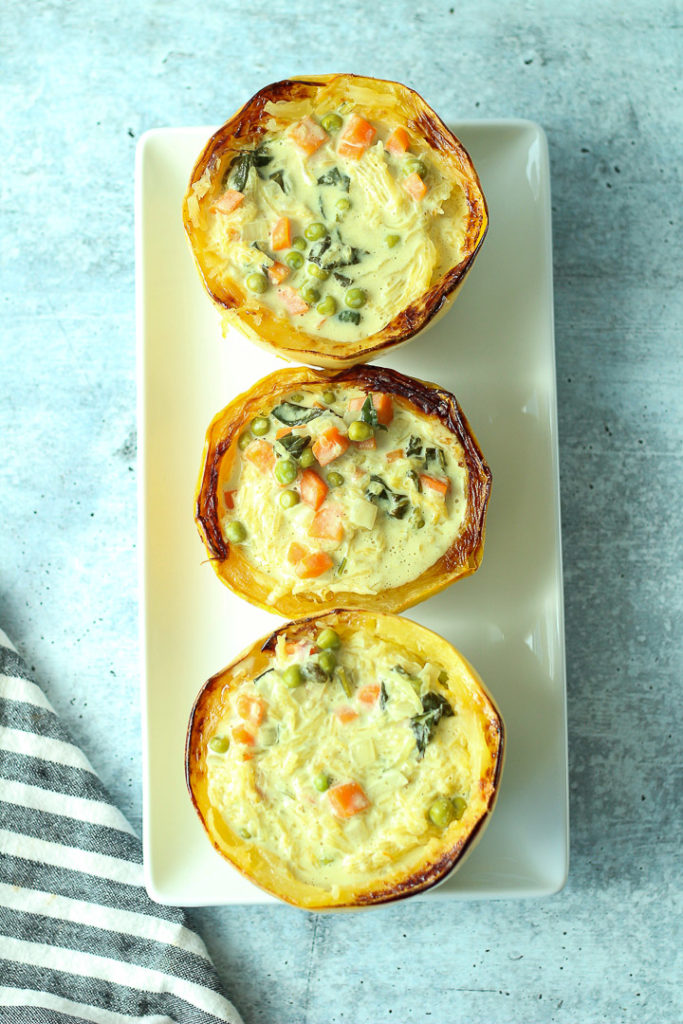 This fun recipe came to be when I found myself with a weird amount of spaghetti squash.
What's a weird amount of spaghetti squash, you ask?
Basically more than 1. I just don't eat them that much, even though I do like it just fine (I maybe even love it a little?)!
Rice is my normal go-to with curries, but I know many people love to eat one with noodles and I thought it would be fun to try this uber healthy version.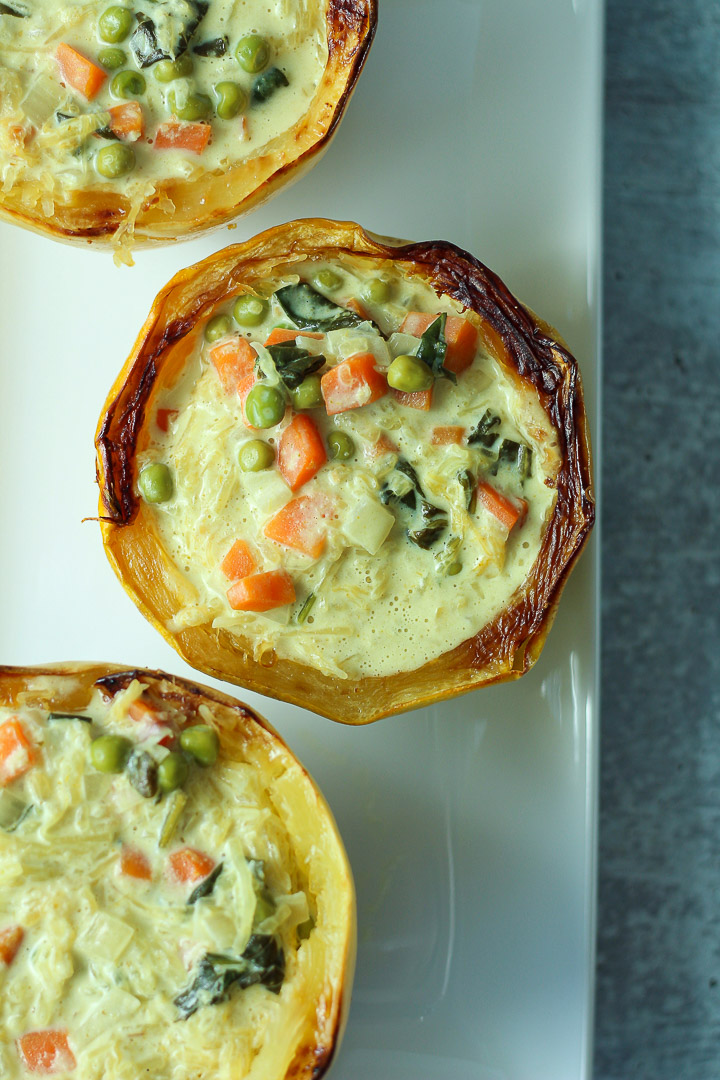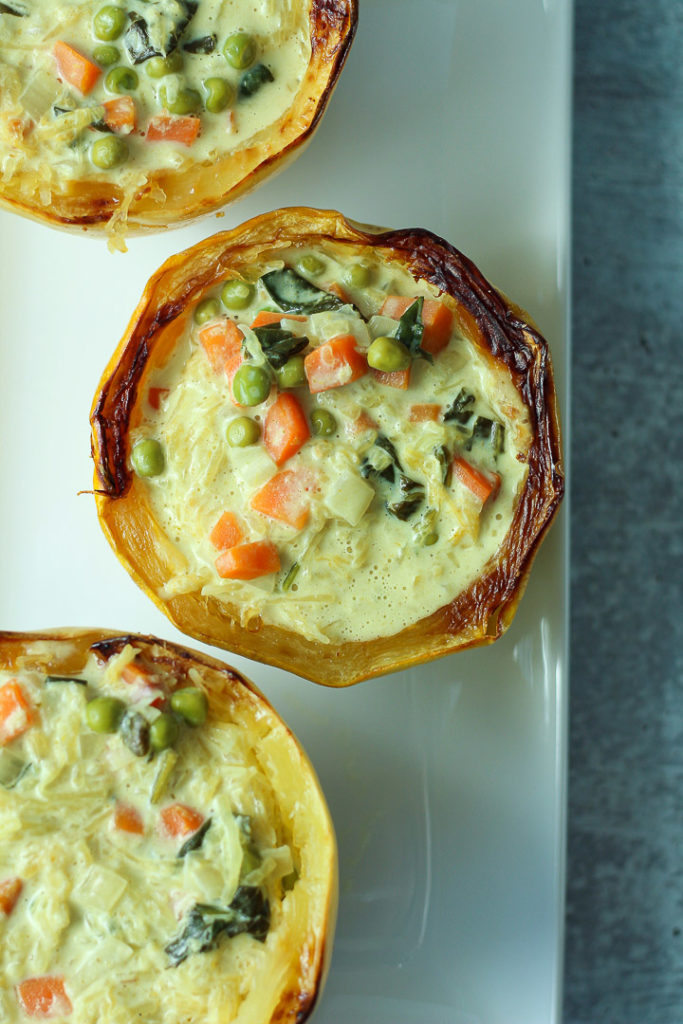 The curry itself is SO easy. Stupid easy. Like, there-is-no-way-it-comes-together-that-quickly easy. To make this super super weeknight friendly, I use a mix of frozen carrots and peas as the main vegetables here. But don't you dare let that stop you from adding your favorite vegetables here! Cauliflower, broccoli, potatoes (of any variety!) all work here. My only tip is to cut them on the smaller side and just simmer until they're all cooked through.
If you want to be a little extra, you can use the spaghetti squash halves as little bowls (so cute!) and just pour the curry in after you've raked through it to ge those strands of squash.
If you don't care about posting photos of your food on the internet, just mix it all up and serve it in a bowl. It's all good. So good!