Inspired by Spaghetti alla Nerano (aka Stanley Tucci's favorite pasta!), this spaghetti with zucchini recipe is perfect for a night where you want to treat yourself to something comforting and delicious. It's also a great way to get your vegetables in - there is a whole zucchini in this single-serve dish!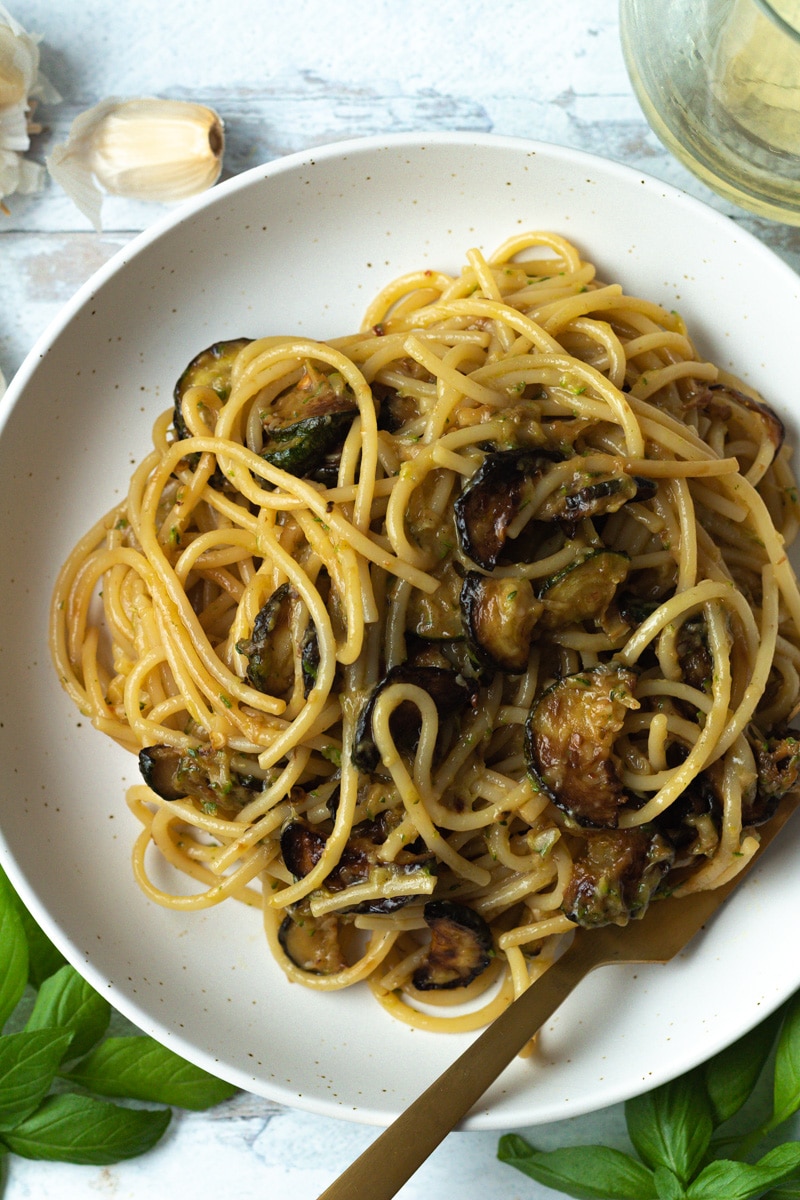 You know those recipes you hear about once, and then can't stop thinking about until you finally just get yourself in the kitchen and make it?
Yea, this spaghetti with zucchini recipe is one of those.
I, like probably many of you, heard about the inspiration for this dish when the delightful actor Stanley Tucci RAVED about Spaghetti alla Nerano he had in Italy on that show he did where he went to Italy and just ate to his heart's desire (hi dream job).
While I have done a fried zucchini pasta dish before, I wanted to make something similar but minus the deep frying for a single-serve dish.
And honestly? This is GOOD. I know it's hard to get the flavor of something deep fried without all the work, but I don't miss the extra frying here for even one second. The mix of sauteed zucchini, grated cheese, starchy pasta water and butter give this pasta such a wonderful creamy texture. It's amazing!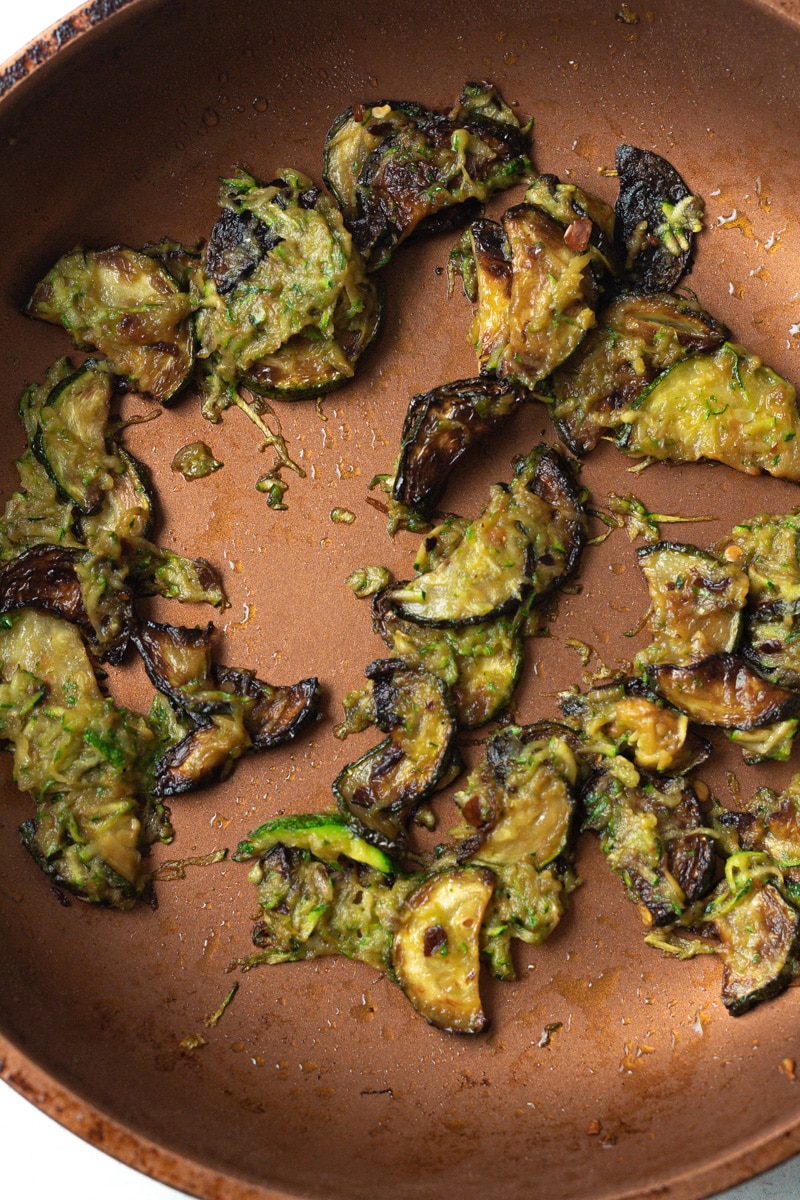 My little twists
Fake frying. As mentioned, we're not deep frying the zucchini here. Instead, thinly sliced zucchini are pan fried in just 1 tablespoon of olive oil. No need for cups of oil, paper towels for draining, etc. Easy!
Grated zucchini. This is optional, but I like to reserve about a third of the zucchini and grate it instead of slicing. I add that to the pan once the zucchini slices have started to become golden brown and then let everything cook together. The grated zucchini cooks all the way down and basically becomes a cream that coats the pasta so wonderfully!
Garlic. I don't think the original recipe for Spaghetti alla Nerano has garlic, but I like to add a garlic clove or two for fun (and flavor!).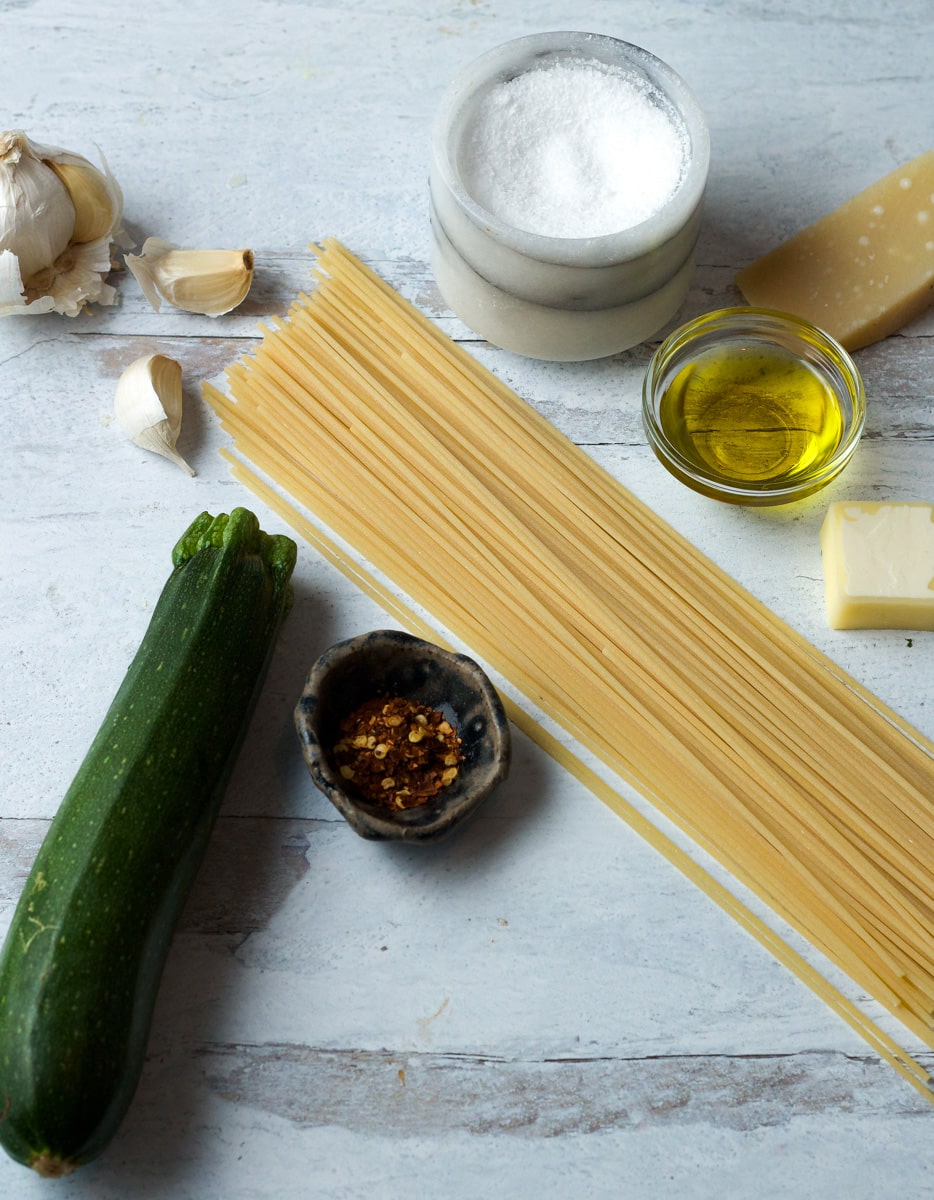 What you'll need
Olive oil: Just a tablespoon to cook the zucchini.
Zucchini: The vegetable cooks way down here, so I like to use an entire small-medium zucchini. Different sizes work here so don't worry about how small or big yours is. You can either slice into zucchini rounds or half moons (I prefer the latter for absolutely no reason).
Garlic: I use 2 cloves, but you can use more or none.
Red pepper flakes: I think this dish needs a little spice, but you can leave this out if it's not your thing.
Dry spaghetti: I think most of us have spaghetti on hand at all times, but other pasta will work here as well. I'd stick to long pasta like linguini or bucatini, but a penne is great too.
Grated parmesan cheese: You can use a mix of parmesan and pecorino romano if you want the extra flavor, but I almost always do 100% parmesan and never regret it.
Fresh basil: A few leaves torn on top for serving. Great if you have basil on hand, but not necessary to buy specifically for this recipe.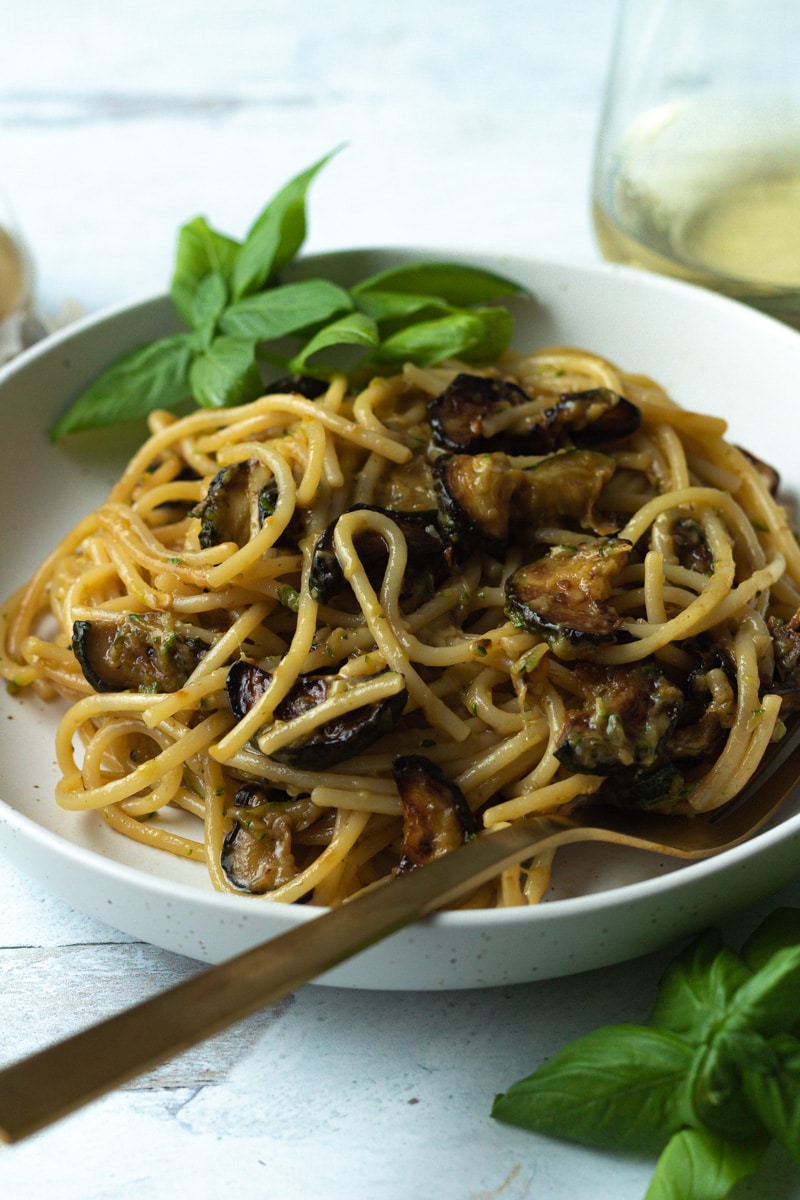 A quick weeknight meal
If you have these simple ingredients on hand, this easy recipe comes together pretty quickly.
Set large pot of water to boil. I do this first, before prepping anything else, so that the water is ready for me rather than the other way around.
Prep zucchini and begin cooking slices in frying pan in a single layer. Once they start to turn golden brown, add the grated zucchini, garlic and red pepper flakes. Cook over low heat until everything is golden brown and the grated zucchini essentially melts down and becomes creamy. If zucchini starts to get too dark, turn off heat while pasta boils.
Boil the pasta while the zucchini cooks down. I generally cook the pasta for a bout 7 minutes, but go with 2-3 minutes before the package instructions. Don't drain!!
Increase heat to medium under cooked zucchini and using tongs transfer the cooked spaghetti directly from water to pan. Add some pasta water, a little butter and parmesan cheese and toss over gentle heat until everything is emulsified and a creamy sauce starts to form.
Add more cheese and pasta water, as needed or desired.
Serve immediately with torn basil leaves (if using) and freshly cracked black pepper.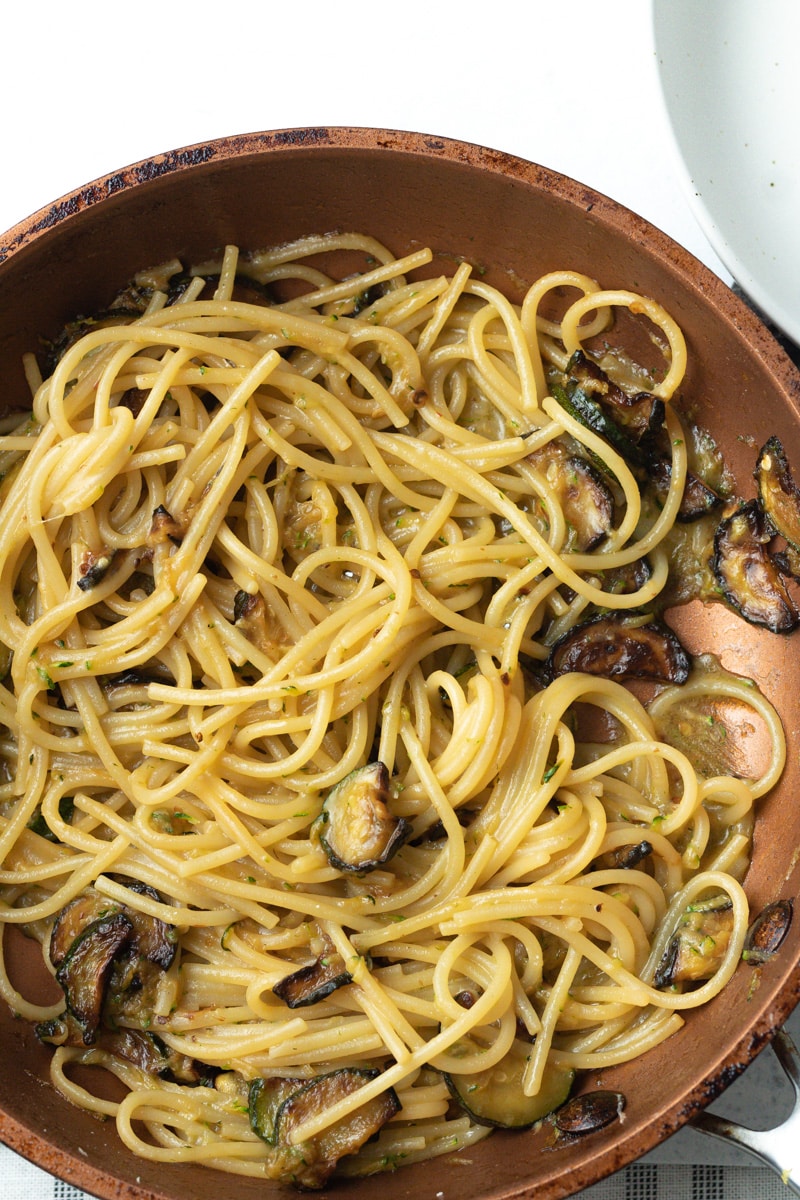 Looking for more pasta recipes?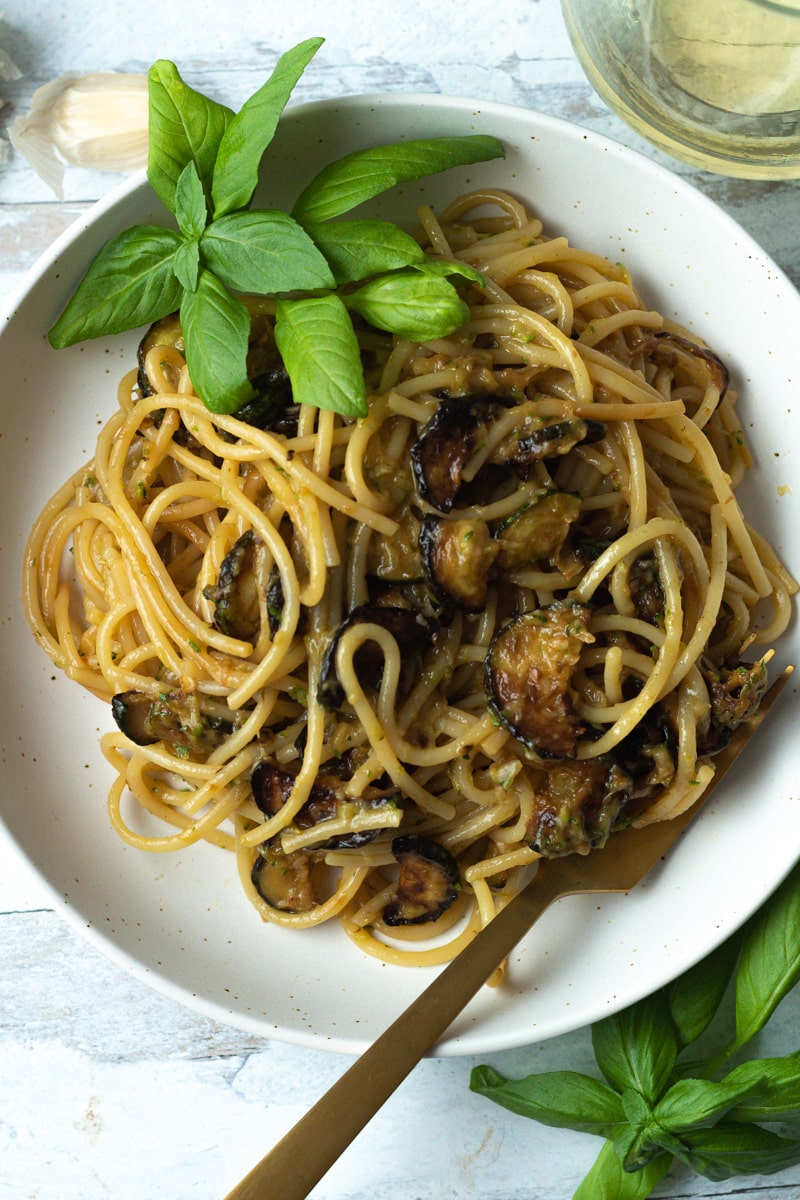 Print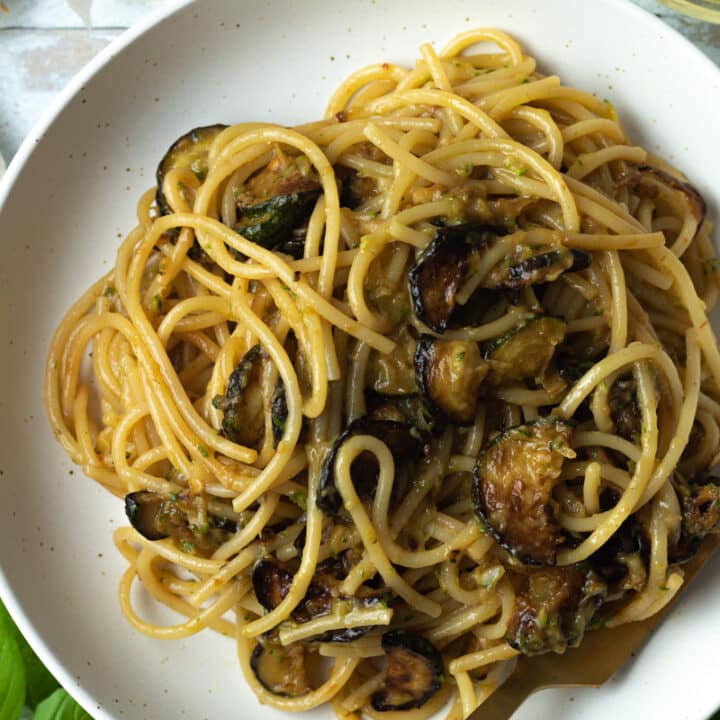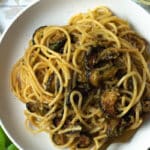 Spaghetti with Zucchini For One
Author:

Mansee Muzumdar

Prep Time:

5 minutes

Cook Time:

20 minutes

Total Time:

25 minutes

Yield:

1

1

x

Category:

Main

Method:

Stovetop

Cuisine:

Italian
---
Description
Inspired by Spaghetti alla Nerano (aka Stanley Tucci's favorite pasta!), this spaghetti with zucchini recipe is perfect for a night where you want to treat yourself to something comforting and delicious. It's also a great way to get your vegetables in - there is a whole zucchini in this single-serve dish!
---
1 tablespoon

olive oil

1

medium-large zucchini

¼ teaspoon

red pepper flakes

2

garlic cloves, minced or grated

3 ounces

spaghetti (other pasta shapes work too!)

1 tablespoon

butter

2

-

4

tablespoons grated parmesan cheese
Salt and pepper, to taste
Basil (optional, for serving)
---
Instructions
Fill a small-medium large pot with water, cover and set to boil. You want the water to be waiting for you so I always do this first.
While water comes to a boil, slice 1 medium-large zucchini into ¼-inch half moons. If desired, reserve about a third of the zucchini to grate into the sauce.
Heat 1 tablespoon olive oil in pan over medium heat. Add sliced zucchini and a pinch of salt (about ¼ teaspoon) and stir to coat in oil. Let zucchini "fry" in a single layer for 5 minutes, until they start to turn golden brown.
Toss zucchini, and add 2 minced or grated garlic cloves and ¼ teaspoon red pepper flakes. If you are using grated zucchini, add that at this time as well. Turn heat to low and let cook, stirring occasionally.
By now your water should be boiling,. Add about 2 teaspoons of salt to water and 3 ounces dry spaghetti. Let boil for 7 minutes, stirring occasionally to make sure nothing is sticking.
When pasta is finished cooking, increase heat under zucchini back to medium and use tongs to add spaghetti straight from boiling water to pan (turn off heat under pasta, but keep the pot nearby). Begin tossing spaghetti and zucchini to combine.
Add ¼ cup pasta water, 1 tablespoon butter and 2 tablespoons grated parmesan cheese and keep tossing to create a creamy, emulsified sauce. Add up to 2 tablespoons (or more!) cheese, if desired, and more pasta water a tablespoon at a time, as needed.
Once spaghetti is completely coated and there is little liquid left, turn off heat. Serve with torn basil, more cheese and freshly cracked black pepper.
Eat immediately!
---