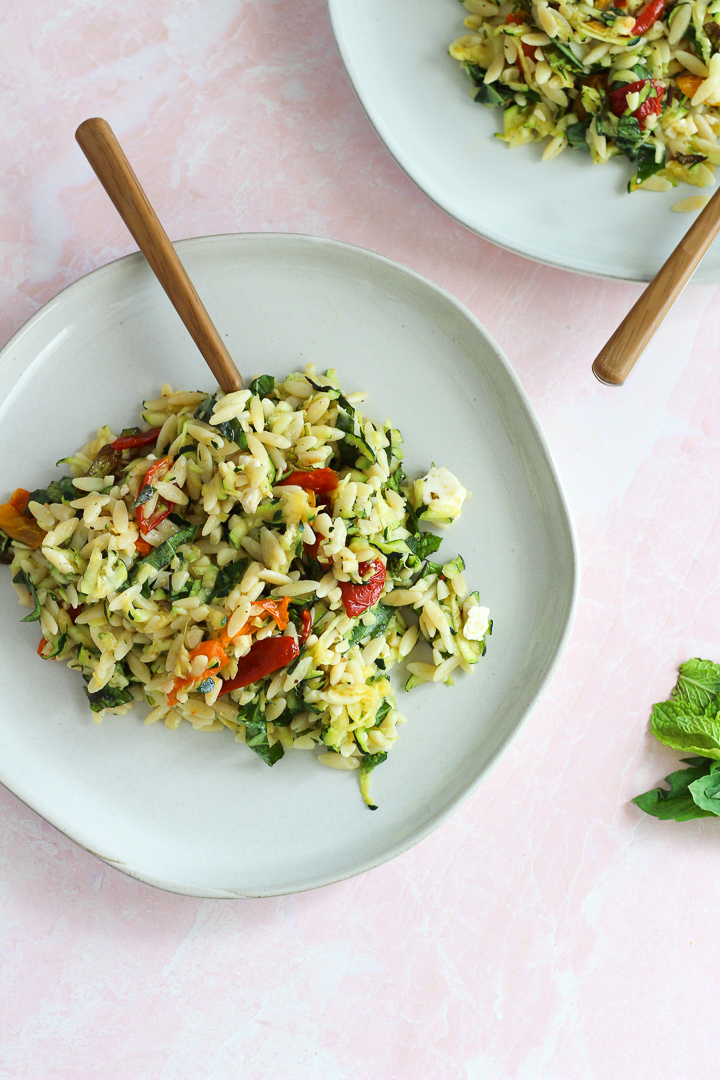 Note: Photos updated in 2019 🙂
Okay, it doesn't sound that exciting but I promise this dish is tasty.
So today (a Sunday), I was cleaning out my fridge and found not one, not two, but THREE pints of cherry tomatoes in various stages of life. One was new and shiny, one was half-full and just starting to turn sad looking. The last one had just a handful of small, wrinkly little guys.
I'm the worst.
I'm not proud, but this is my life. It's fine. I'm fine. The tomatoes are fine.
Anyways! I asked on Instagram if I should slow-roast them or make tomato confit, and slow-roasted won (full disclosure: I got impatient so I made the call after like 7 votes)!
If you've never had a slow-roasted tomato, you've missed out. I have a hard time describing them so I just say they are tomato candy. In reality, there is a umami sort of flavor that comes from sloooowly roasting little tomatoes at a low temperature. I talked about them with this pizza, but I could talk about them all day.
I remembered that I made this orzo dish weeks (possible months?) ago, but never got around to sharing it for some reason. It's so good and since I have a jar of tomato candy sitting in my fridge, I'm definitely going to make it again this week.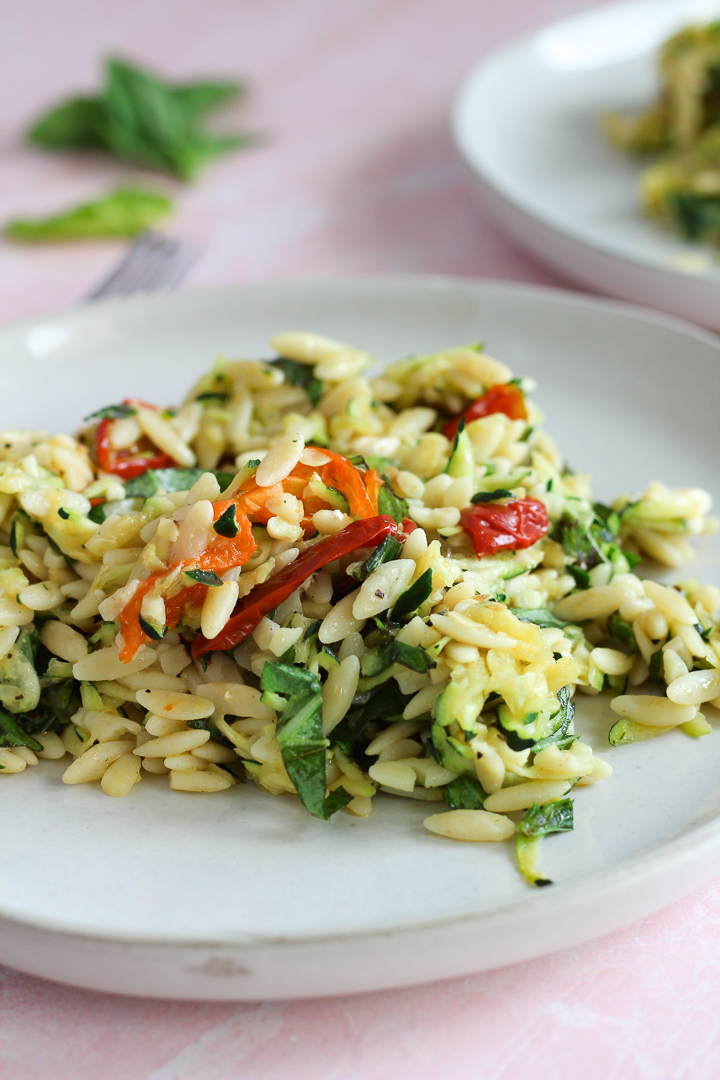 Also! Fun fact: it's one of those secretly healthy dishes. Just like these muffins, I snuck a whole bunch of zucchini in here. To be honest, it's more zucchini than orzo. But you'd never know!
It's also the EASIEST thing ever. You're not even making a separate dressing or anything - everything just goes into a big bowl and you toss away. It's perfect to make over the weekend and have for lunch throughout the week, but I also love it (like, a lot of it) for dinner this time of year when it's supposed to be Fall, but is still 85 degrees outside.
Womp.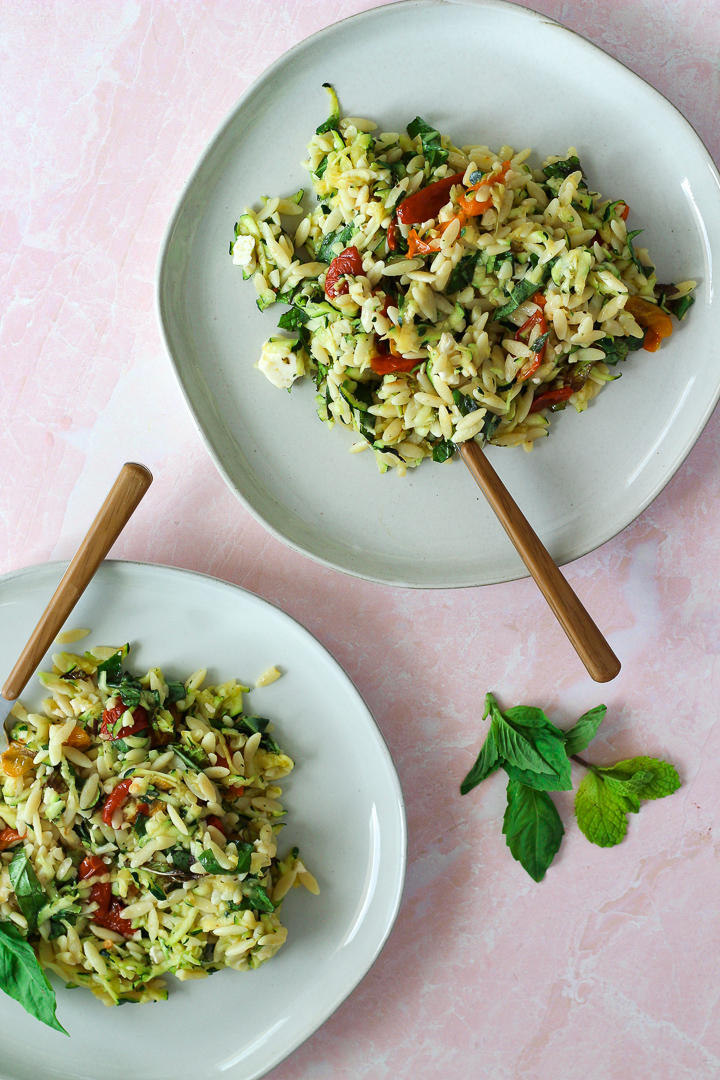 Print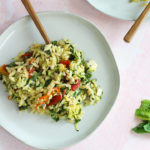 Orzo with slow-roasted tomatoes and feta
---
Total Time:

2 hours

Yield:

4

-6

1

x
1 pint

cherry tomatoes, halved

2 teaspoons

+

¼ cup

olive oil

1 cup

dry orzo

2

large zucchini, shredded

2 oz

feta, cubed

1 cup

basil leaves, chopped

⅓ cup

mint leaves, chopped

2 tablespoons

lemon juice

1 teaspoon

salt

½ teaspoon

black pepper

¼ teaspoon

red pepper flakes
---
Instructions
Preheat oven to 275. Arrange tomatoes on a baking sheet, cut side up, in one layer. Drizzle with 2 teaspoons olive oil and put in oven. Roast for 1 hour - 90 minutes, until tomatoes have shrunk and are to your liking. If you want them a little juicy, they'll be good in an hour. If you want them a little more chewy, let them go for the full 90 minutes (possibly longer).
While tomatoes roast, bring a pot of water to a boil. Add orzo along with a generous pinch of salt and cook until al dente.
Shred zucchini and transfer to a large bowl. I think it's fine to keep the moisture in this one, but feel free to squeeze the extra water out if you'd prefer.
When orzo is done, drain and add to zucchini.
Add feta, basil, mint, ¼ cup olive oil, lemon juice and tomatoes. Stir to combine.
Add salt, black pepper and red pepper flakes and toss again to mix everything together. Taste and adjust seasoning as needed.
This can be served warm or at room temperature, and definitely gets better as it sits!
Notes
You can absolutely cook the tomatoes faster if you don't have a long afternoon in front of you. Just roast them at 325 and start checking after about 30 minutes.
This is such a good meal prep dish because you can eat it cold, room temp or warm. Feel free to add roasted chicken or shrimp or even some chickpeas if you want to make this a little more filling.
Prep Time:

15 minutes

Cook Time:

1 hour 45 minutes