A great way to make turkey for a small crowd. This turkey breast is slathered in a delicious garlic-herb butter and roasted on a bed of onions. Use extra butter for rolls and caramelize the onions for this easy side dish!
Click here for the full 2020 Thanksgiving for Two menu!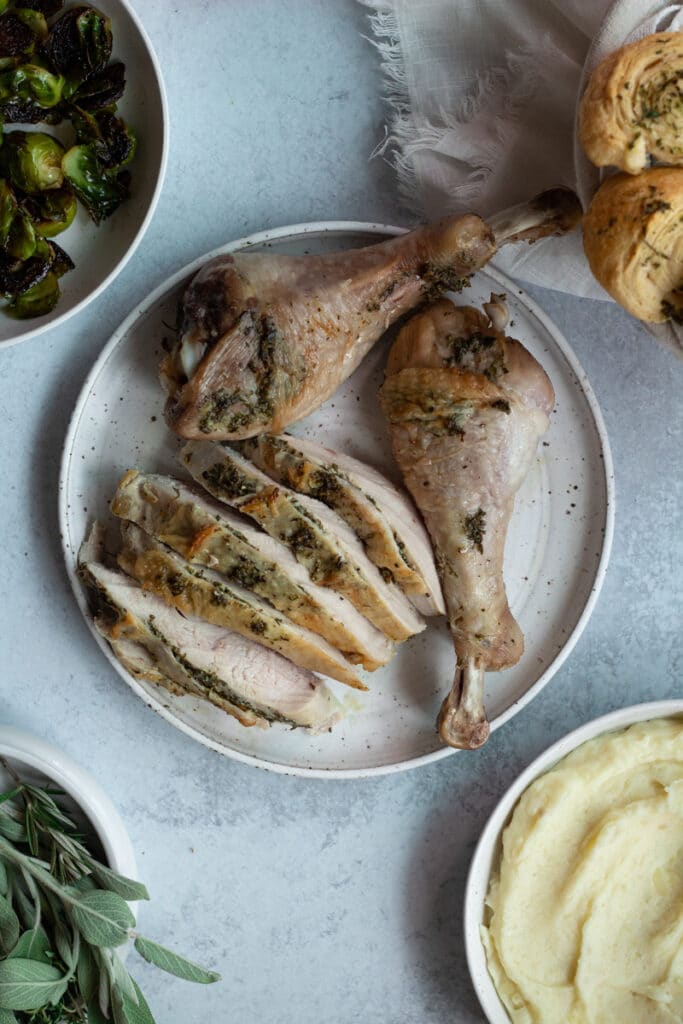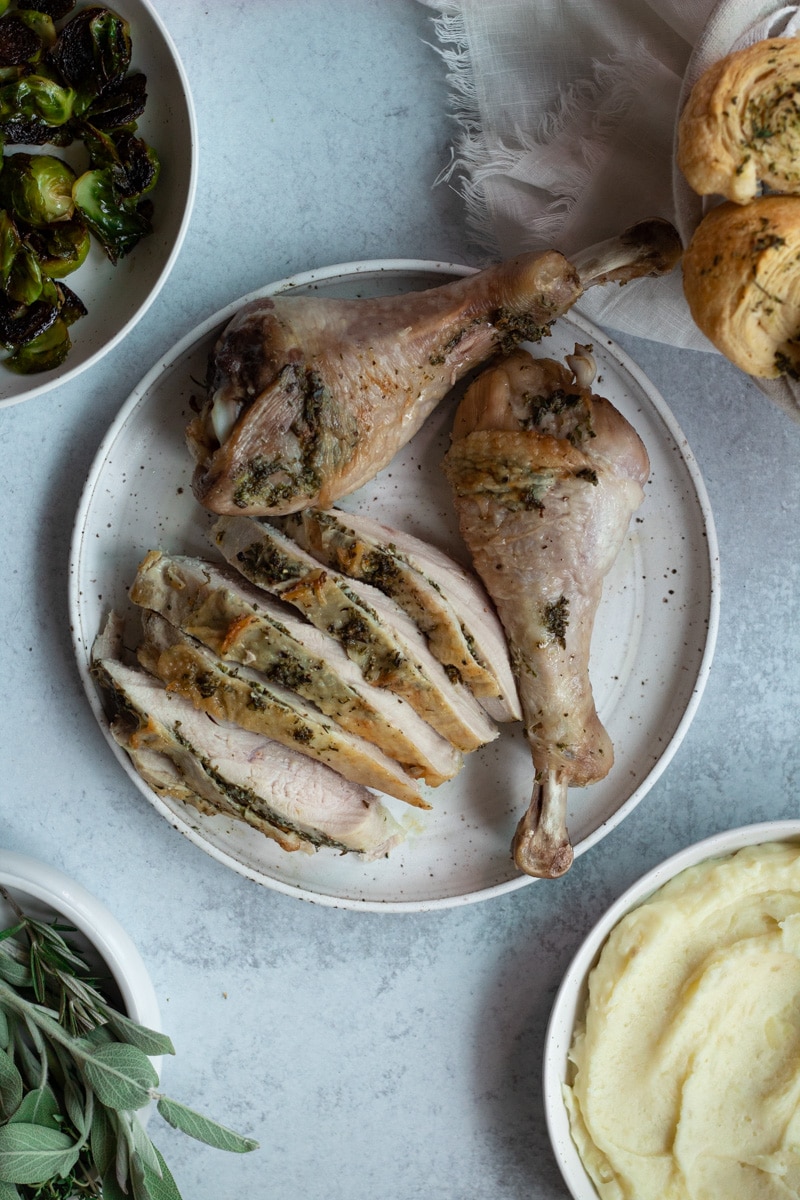 Print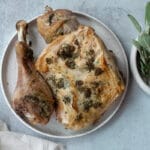 Thanksgiving for two: Garlic and herb turkey breast
---
Author:

Mansee

Total Time:

1 hour

Yield:

2

1

x
Description
A great way to make turkey for a small crowd. This turkey breast is slathered in a delicious garlic-herb butter and roasted on a bed of onions. Use extra butter for rolls and caramelize the onions for this easy side dish!
---
4 tablespoons

butter, softened

3

garlic cloves, minced or grated

¼ cup

minced herbs (I used a mix of thyme, rosemary, parsley and sage)

½ teaspoon

black pepper

2 teaspoons

salt

1

large onion, thinly sliced

1

split turkey breast (about

2

lbs)

2

turkey drumsticks (optional)

4 teaspoons

olive oil

1

package rolls/biscuits (or use your fave recipe!)
---
Instructions
Preheat oven to 450.
Combine 4 tablespoons softened butter, 3 minced garlic cloves, ¼ cup minced herbs, ½ teaspoon black pepper and ½ teaspoon salt in a small bowl. Use a fork to mash everything together until very well combined. Remove 2 tablespoons and put in another bowl to use for rolls. Set both aside.
Arrange 1 large thinly sliced onion in a cast iron pan or baking sheet. 
Place turkey on onions. Use fingers to carefully loosen skin from meat to form a little pocket. Season turkey all over with remaining 1 ½ teaspoons salt.
Spread butter mixture (minus the 2 tablespoons you saved earlier!) all over turkey, including directly on the meat - that's what the little pocket was for. Don't worry if the butter doesn't spread evenly, little butter and herb pockets are great. Lift up turkey and put a few dabs under the meat and on the onions.
Drizzle the entire pan with 4 teaspoons oil, with half on turkey and half on any onions that aren't covered by turkey.
Place in oven and immediately reduce heat to 400. Roast for 35-45 minutes, until meat is fully cooked (165 degrees).
Let rest for at least 10 minutes before carving. Serve onions alongside turkey, or use for this kale side dish!
Garlic-herb rolls:
Preheat oven to 350 (or according to package or whatever recipe you're using)
Arrange dough on baking sheet.
Melt reserved 2 tablespoons garlic-herb butter and brush

most

on biscuits/roll dough.
Bake according to package/recipe directions. Drizzle remaining garlic-herb butter as soon as you remove from the oven!
Notes
If you aren't going to use the garlic-herb butter for rolls, you can use 3 tablespoons butter, 2 garlic cloves and a little less herbs. Or use the whole amount for the turkey - it will be extra delicious!
Prep Time:

15 minutes

Cook Time:

45 minutes
You know what's weird? I didn't think I'd ever share a recipe for turkey on this here blog.
It's just not my favorite thing to cook, so while I have a BIG hand in getting Thanksgiving dinner on the table (mom and I are a dream team if I do say so myself), my dad is always in charge of the turkey. And I prefer it that way!
But this year I really wanted to play around with a smaller turkey dinner, so here we are!
And while the turkey is GOOD, it's what we're doing with the other components that I'm really excited about.
Bread is involved, of course.
And in an interesting turn of events, so is kale. HEALTH. You're welcome.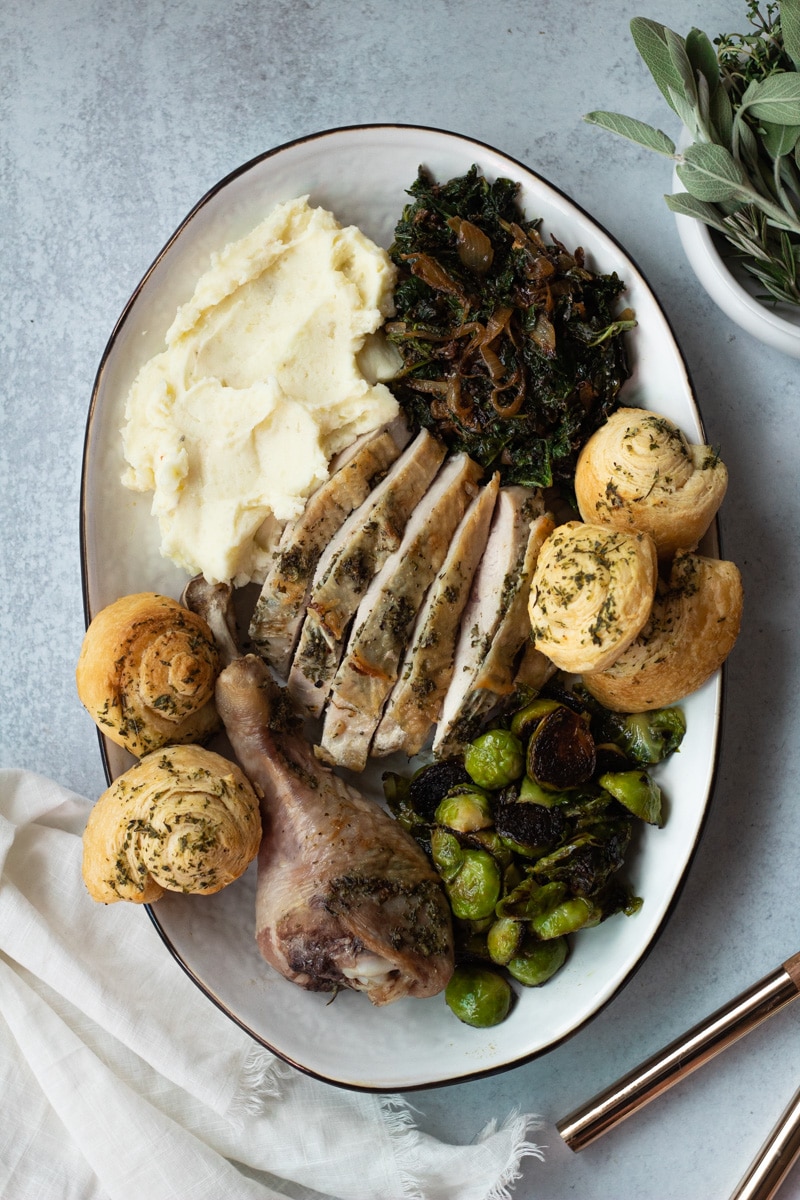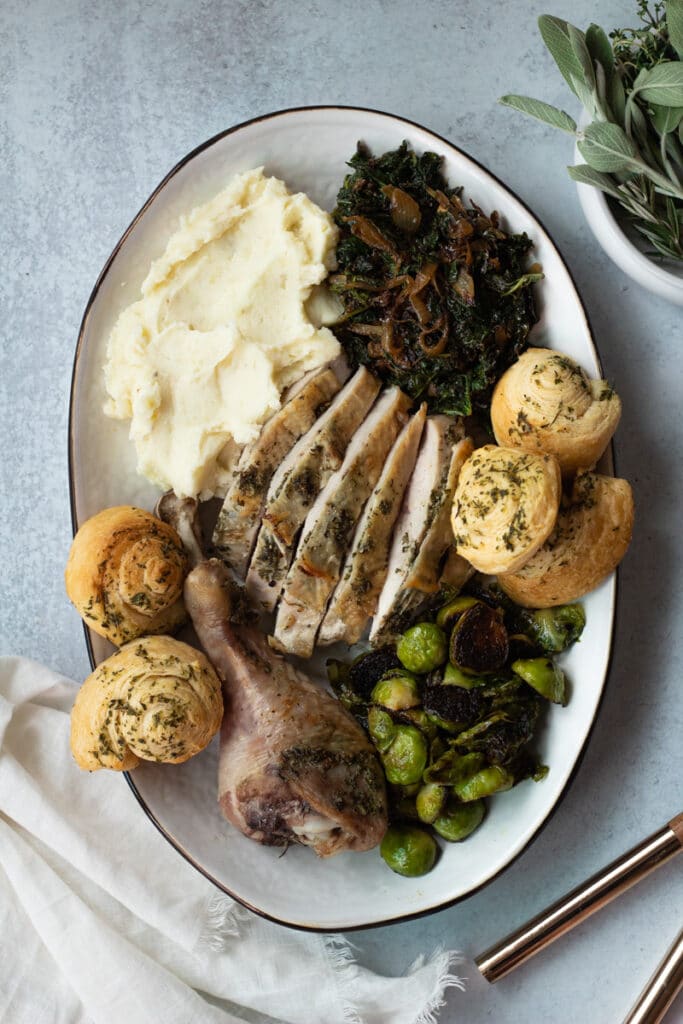 First things first
Garlic-herb butter! Most of this will be slathered on the turkey before it goes in the oven, while the rest goes on some (packaged) rolls to finish out the meal. Want to throw some in your mashed potatoes too? GREAT.
You can make this butter as garlicky and herby as you'd like, so by all means take my measurements above as mere suggestions. This is your Thanksgiving!
Softened butter obviously makes this process easier, but if you forget to take it out earlier just stick it in the microwave for a few seconds so you can easily mash everything together.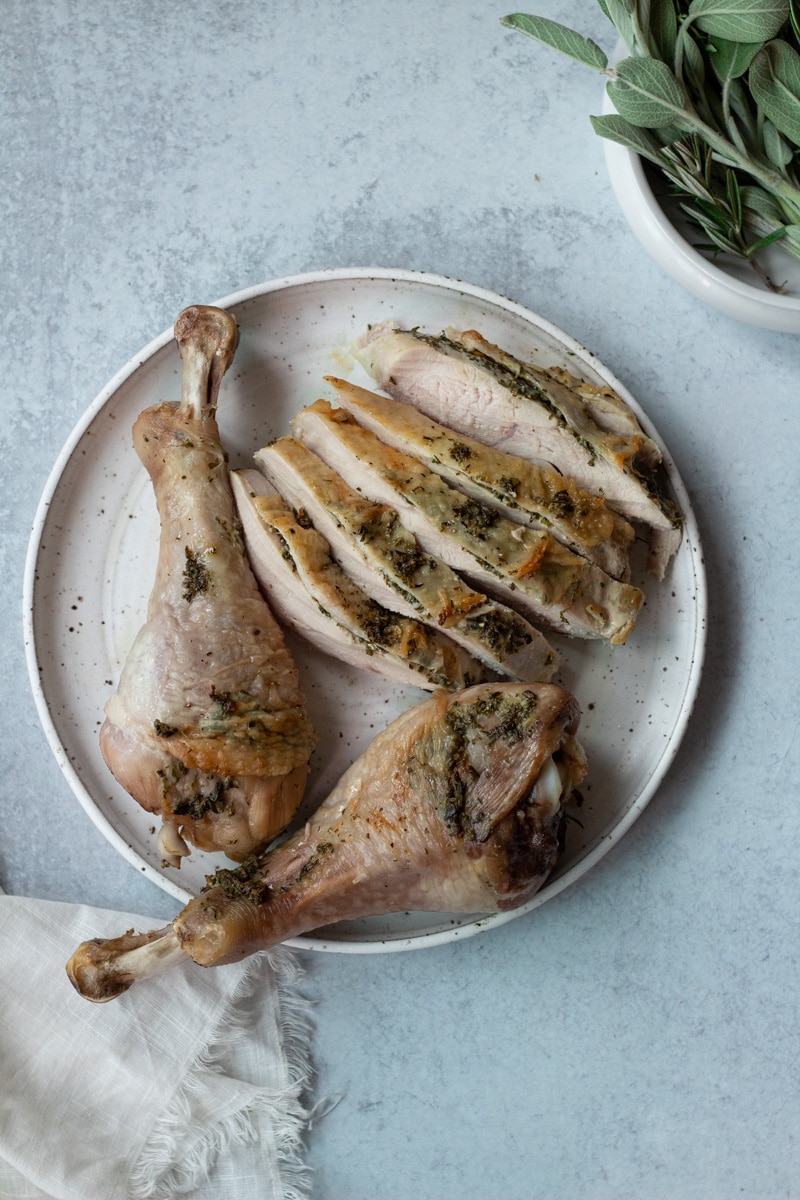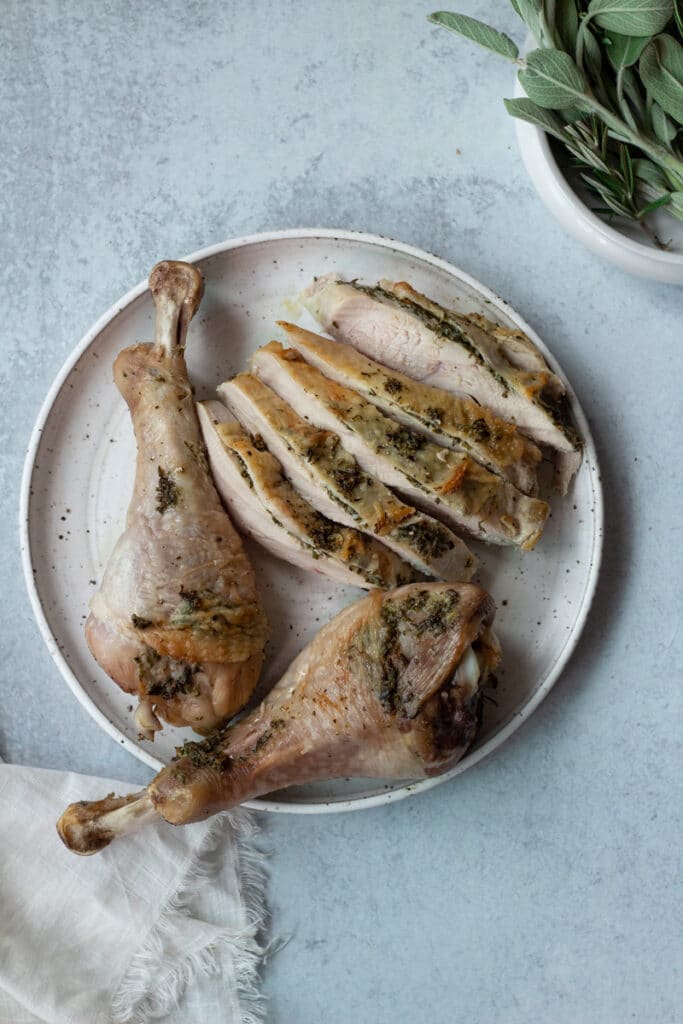 Turkey for two
While I'm definitely a dark meat girl, when it comes to making a small turkey for Thanksgiving, I knew a split breast was going to be my best friend. I can easily find it in my local grocery store, and it's the perfect amount for just a few people.
With that said, I cooked up some drumsticks here too so you can definitely use whatever cut you want. If you find some skin-on thighs, grab them! The basic process is the same but you'll just want to keep an eye on roasting times. I highly suggest grabbing a meat thermometer if you don't already have one.
The hardest part of this recipe is getting that butter all over the meat and skin, but just take your time and don't worry about being perfect. As you can see in these photos, I had some pockets of butter and herbs and that's just fine. It was still delicious.
Roasted onions
Roasting the turkey on a bed of onions is good for two reasons:
It lifts the turkey up a bit, allowing for more browning and you get some delicious onion flavor in there too
The turkey drippings (and butter) mix with those onions while everything cooks and OMG is it amazing. You can easily serve those onions alongside the turkey, or even mix them into a gravy if you want. OR do what I did and continue to caramelize them and then mix with kale and parmesan.
Don't forget to throw some of that extra butter on your biscuit/roll/bread of choice! It's a great way to zhuzh up store-bought rolls (because there was no way in hell I was making homemade rolls after the year we've had).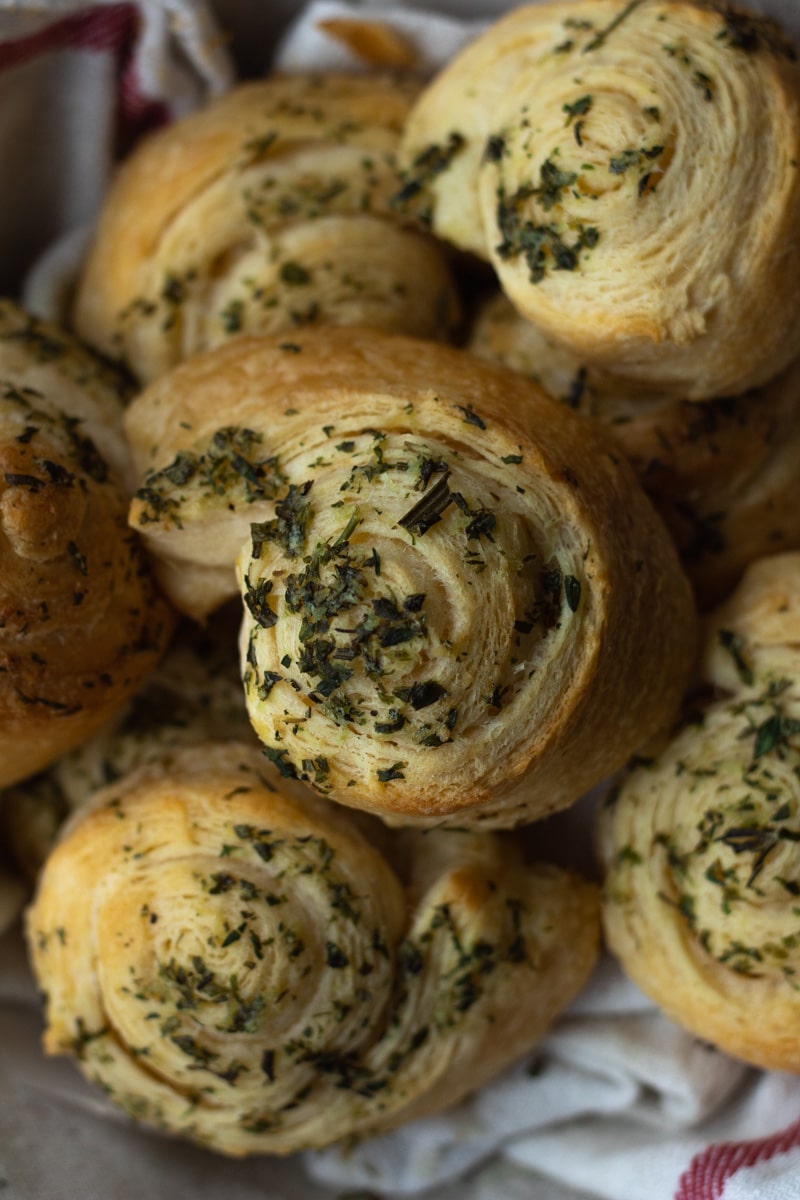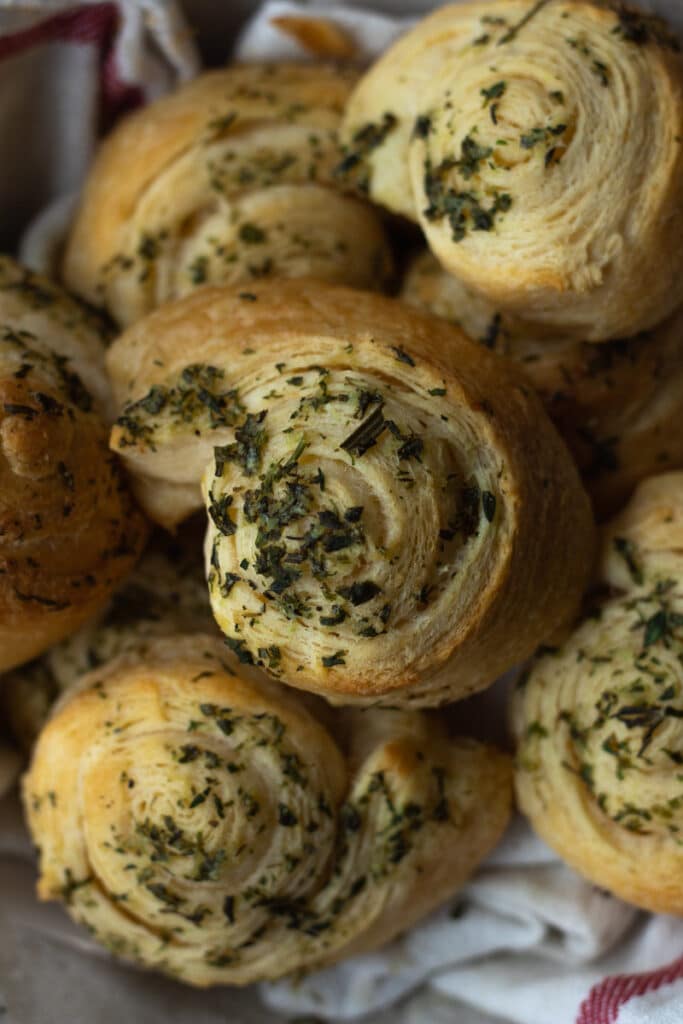 Again, you're welcome.