If you're looking for a smaller menu for Thanksgiving this year, look no further. This meal is perfect for two people or even one, with some leftovers. The best part? You won't spend ALL day in the kitchen!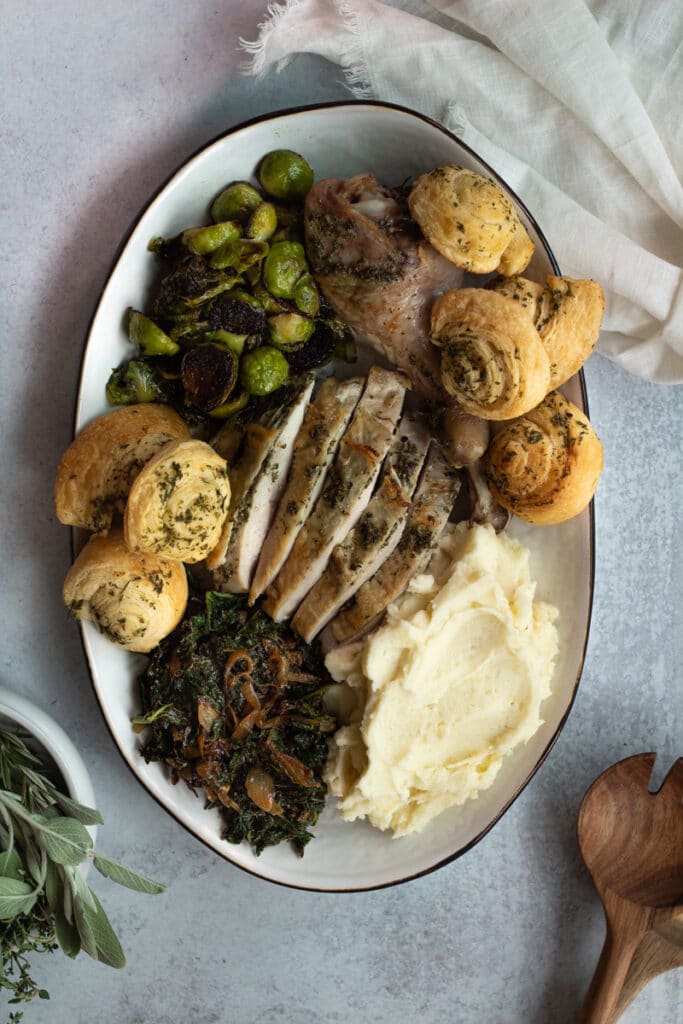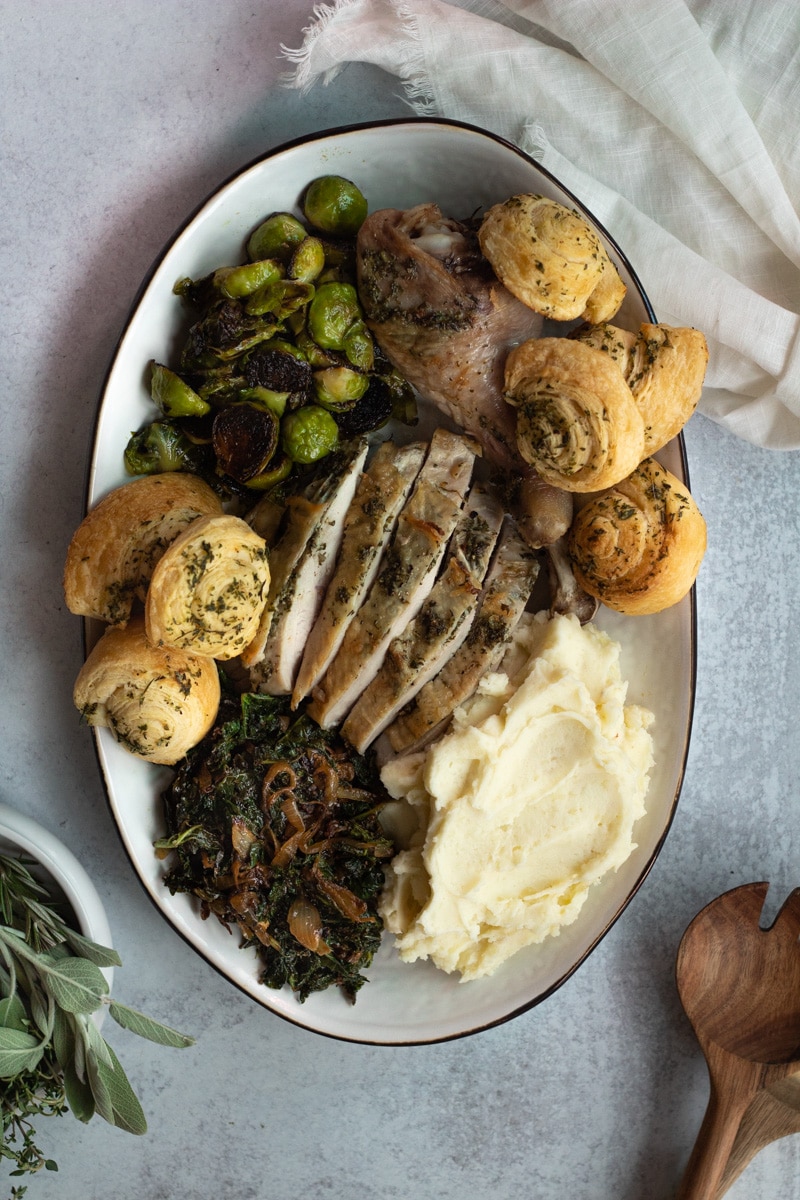 IT'S TIME.
I won't waste your time talking about how crazy this year was (but truly, it was) or how Thanksgiving is probably the last thing that should be on our minds (so much work to do), but you know what? It's my favorite day EVER and nothing can stop me.
So hi.
I will say, I know this year will probably look different for a lot of you. In that spirit, we're doing Thanksgiving on a smaller scale. Wheee!
I'm very lucky and will be able to be with some immediate family, but I know there are others who aren't able to see any family this year. But that doesn't mean you can't and shouldn't spend the day (I mean, not a full day) cooking and having fun. Everyone needs a good meal, right?
So we're doing Thanksgiving for Two this year. Alternate title: Thanksgiving for One + enough leftovers to bring you joy for another day but not make you feel like crap three days later.
Clearly we know why I went with the first one.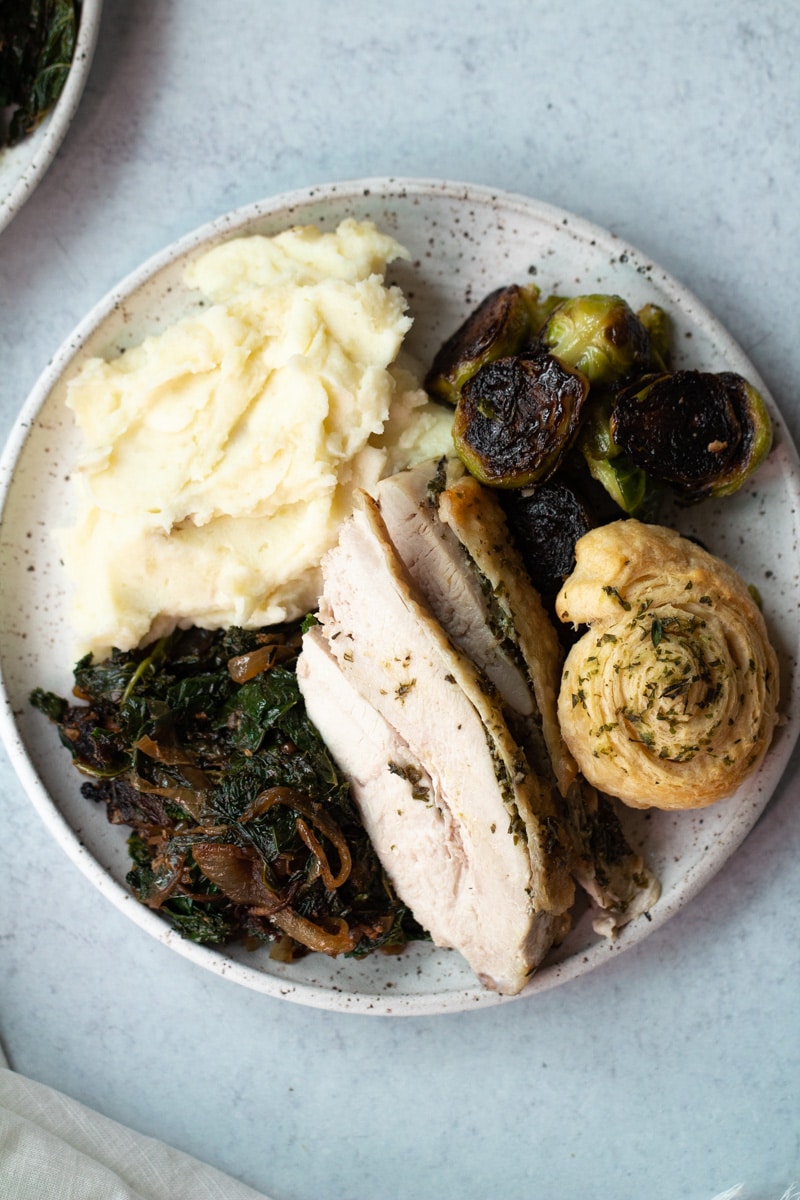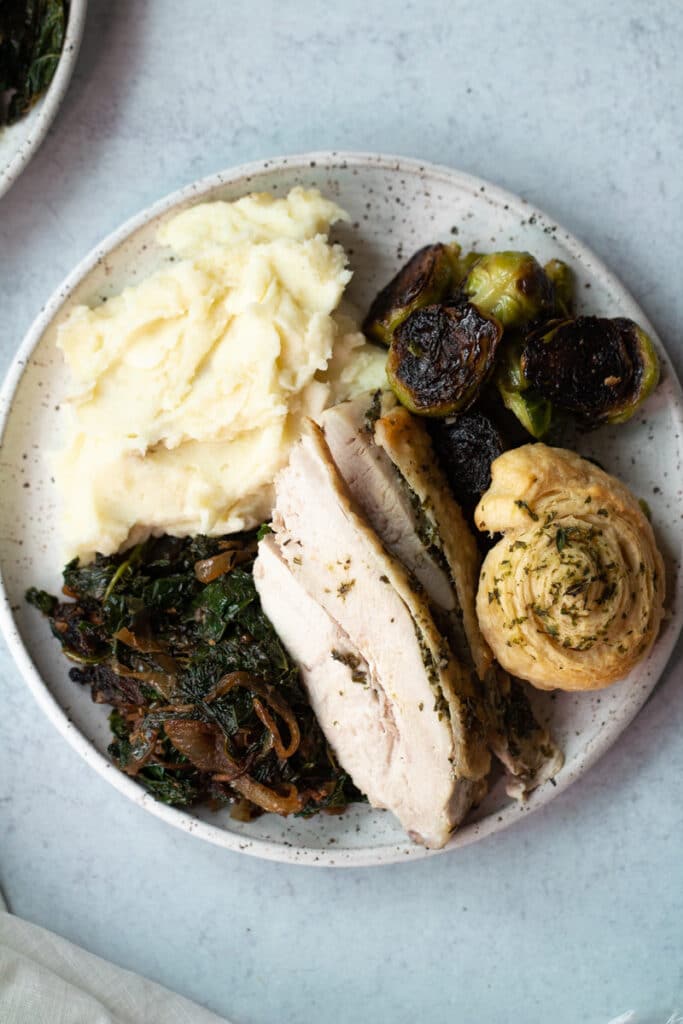 Here's the menu we're working with:
It's a simple menu, but still feels special!
A couple of things to note about these dishes
They are flexible: I tried really hard to make all of these dishes simple so (for the most part) you don't need to hunt down hard-to-find ingredients, and can easily swap things out if needed. For instance, forget what the recipe says and use your favorite fresh OR dried herbs in the turkey. Don't have white miso paste (arguably the one ingredient you might have a hard time finding)? Replace with balsamic vinegar or mustard for equally delicious brussels sprouts. After this year, we're all just trying to adapt, okay?!
The components work together: While you certainly don't have to make this whole menu, IF you do you'll see that the dishes work together. The garlic-herb butter that you slather all over the turkey is the same butter you'll brush onto rolls before you throw those in the oven. The onions the turkey roasts on are then caramelized and tossed with kale and parmesan. We're using everything up and it's a beautiful thing.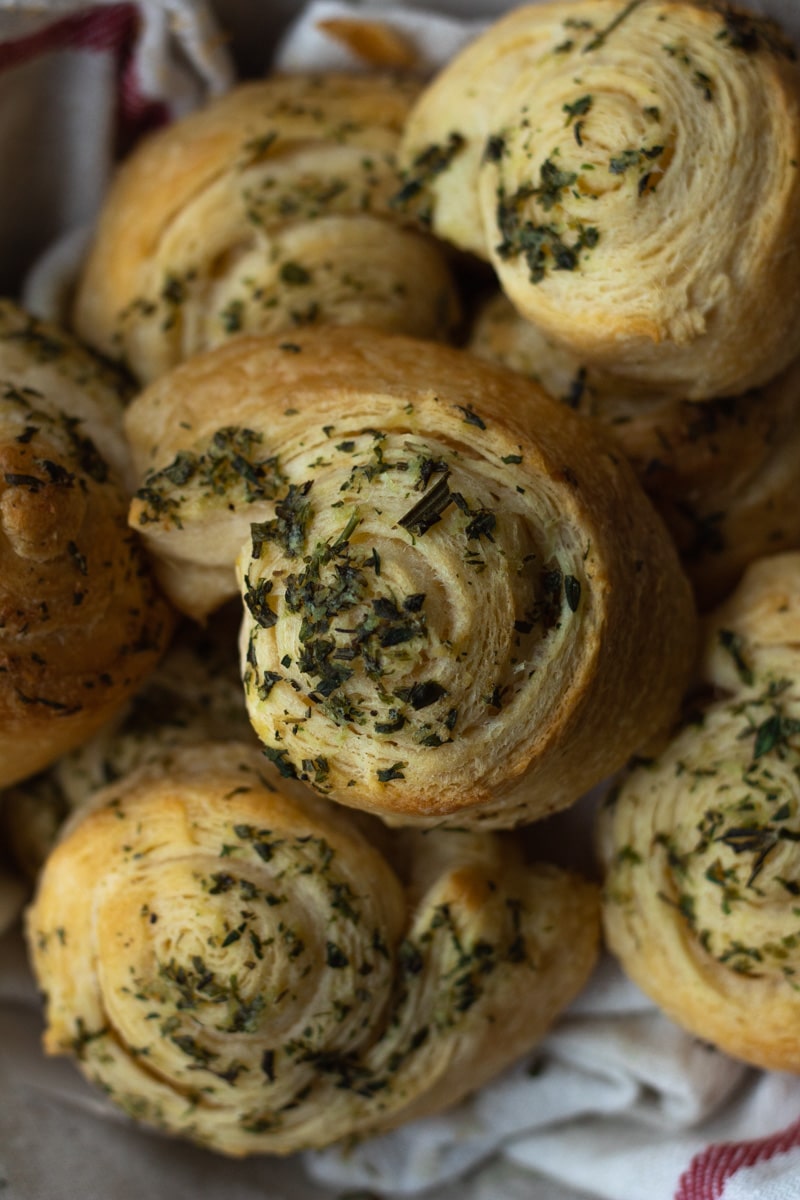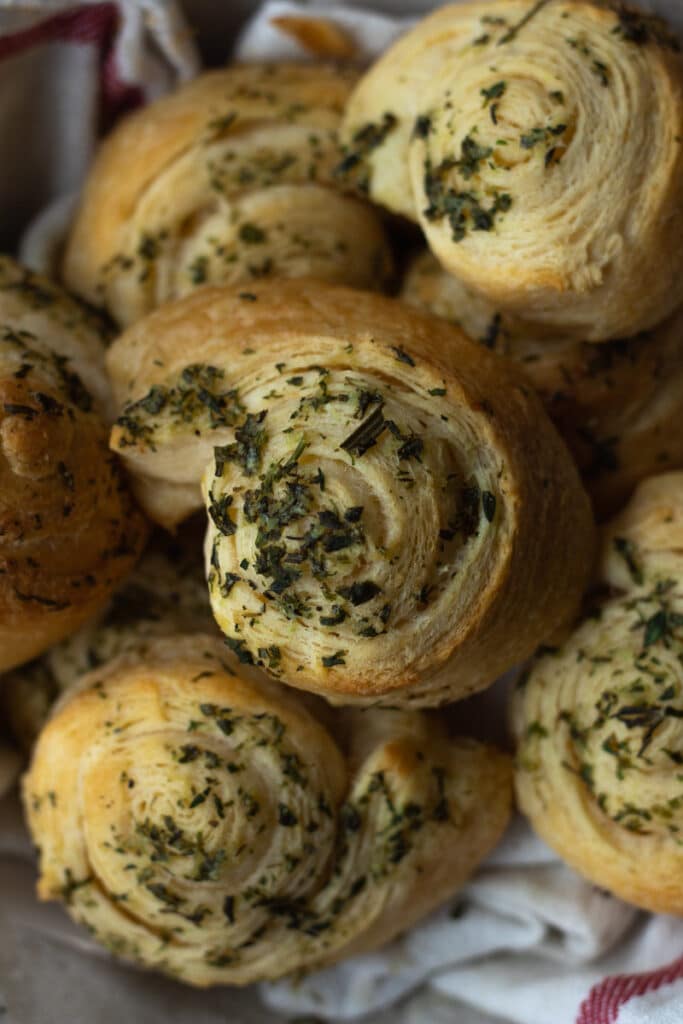 This meal is (relatively) quick: If you follow my timeline below, you should be in and out of the kitchen in under two hours. And a good chunk of that is just time waiting for the turkey to cook. For me, this is the perfect mix of only cooking for a few people while also getting the joy of spending time in the kitchen on Thanksgiving.
No pie: Pie is great, but I'm not great at pie. I was just born this way. So this year, instead of fighting with dough we're playing with pavlova! Not at all traditional, but one of my favorite desserts of all time. And it's topped with very Thanksgiving-like flavors, so I think I get a pass here.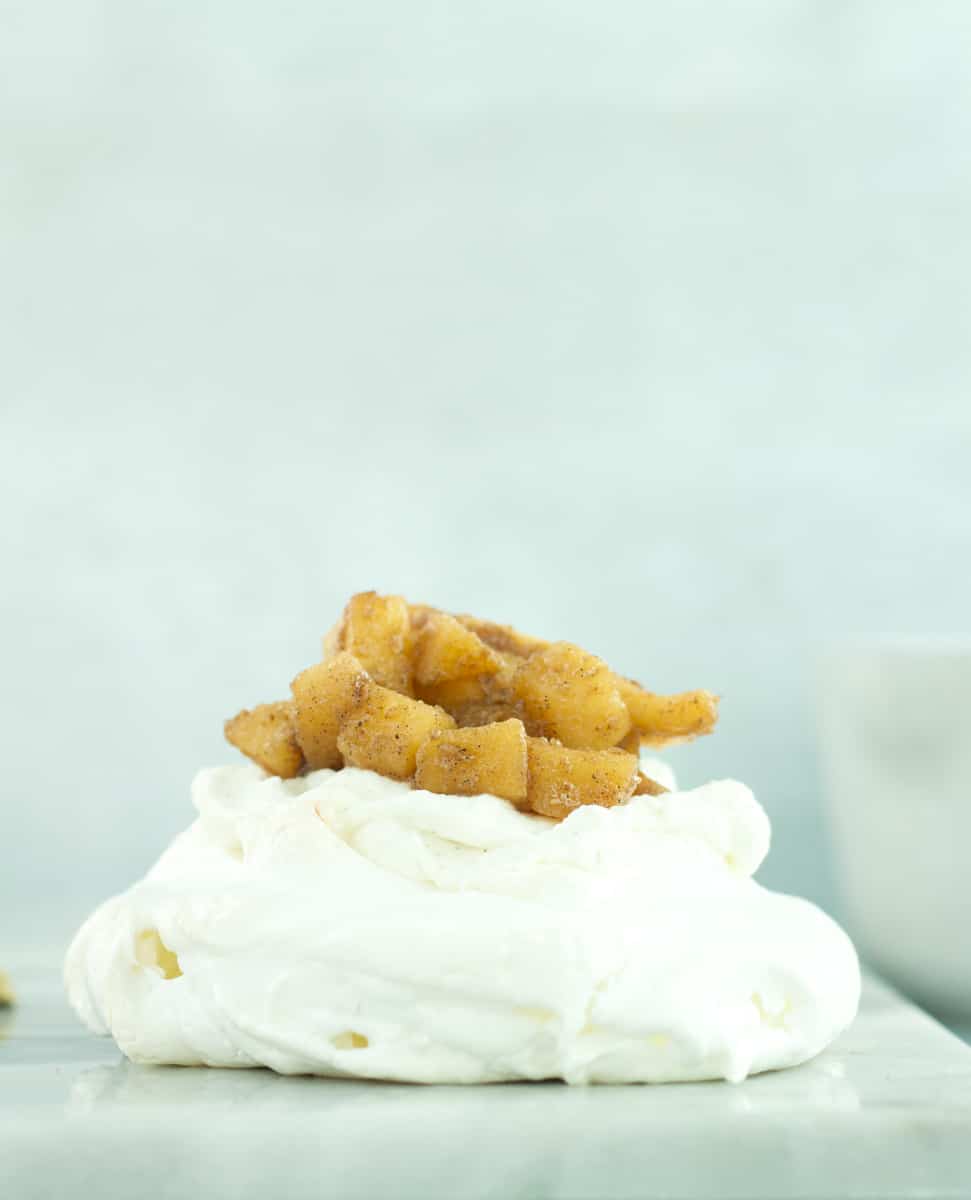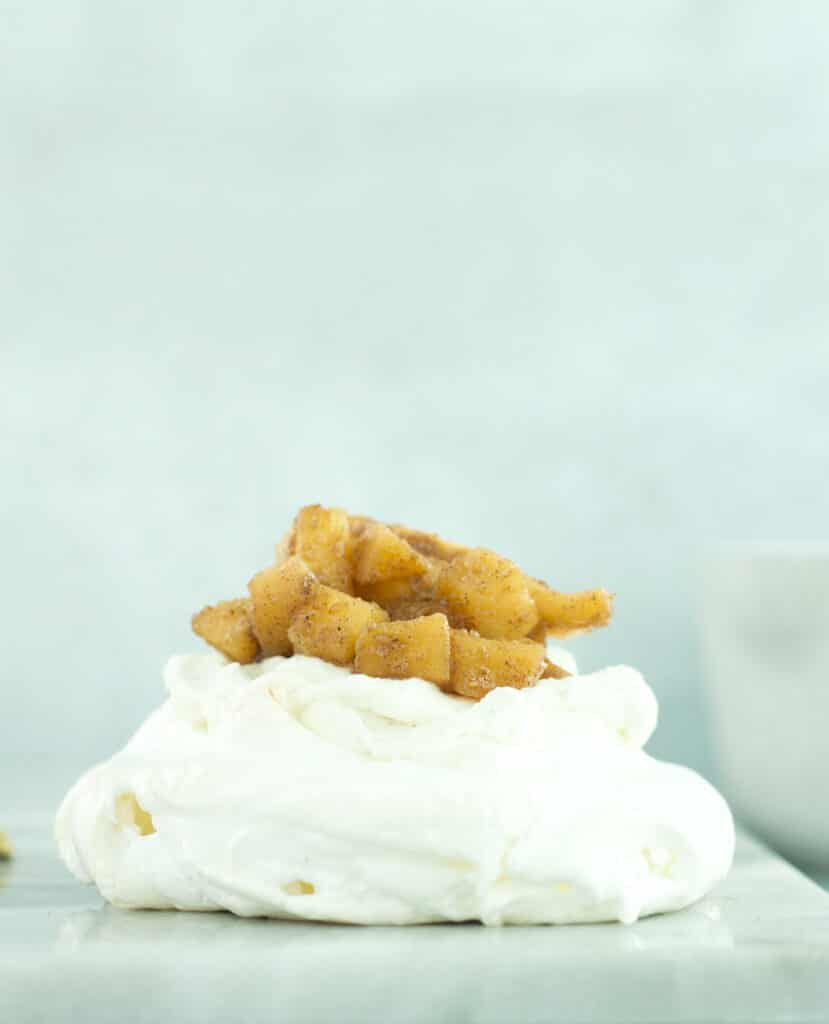 Time to cook
Prep - You really don't need to prep a ton for this meal, but here are a few things you can do in advance:
Make the pavlova base + apple pie filling. The base will take up some oven time and you can keep this tightly wrapped at room temperature for up to two days, so might as well! You can make the apple filling too and just keep that in the fridge until needed. Rewarm a little before serving if you want.
If you're into Thanksgiving appetizers (hi, me), maybe make some curried butternut squash hummus for the day? This will keep in the fridge and you can take out whenever you start to get a little snacky.
Soften the butter. Take the butter out a few hours before you're ready to cook so it will be easy to mix with those herbs and garlic.
2 hours before
Mix up the garlic-herb butter and then set a couple tablespoons aside to use for the rolls later.
Get the turkey in the oven and set your timer for the first check (I usually do this at 30 minutes, but it will depend on the size of your turkey!).
While the turkey roasts, prep your vegetables. Peel and chop your potatoes and get them boiling. Trim and halve your brussels sprouts and tear up the kale leaves. Set both aside.
Already feeling hungry? Now is a great time for a quick cheese board for two!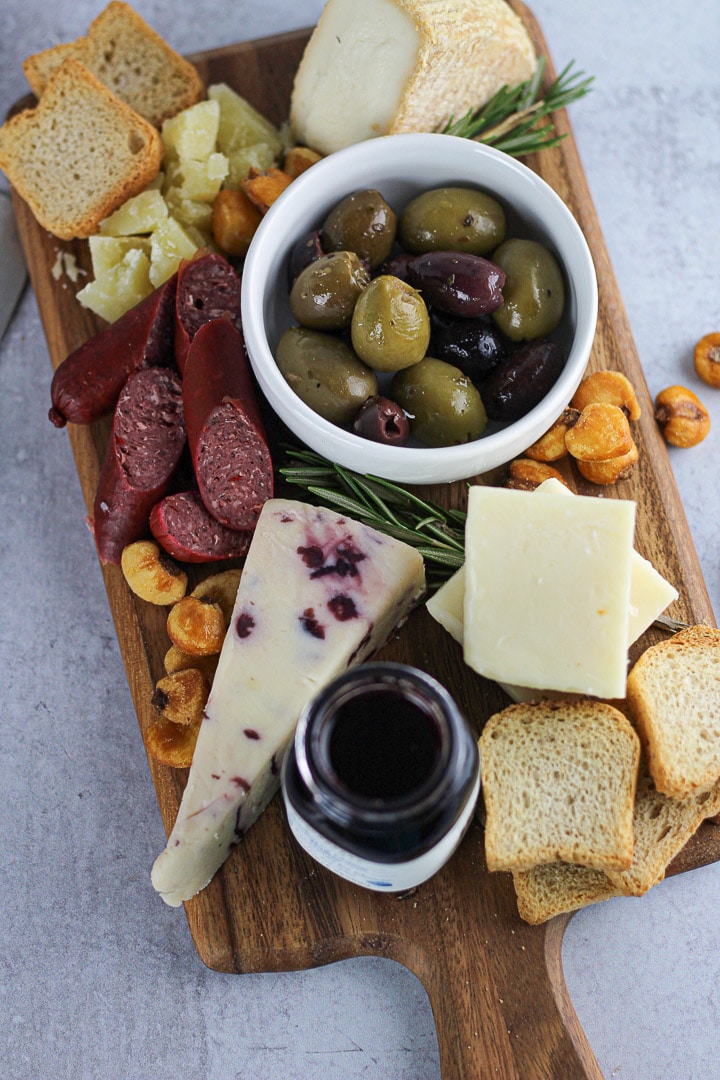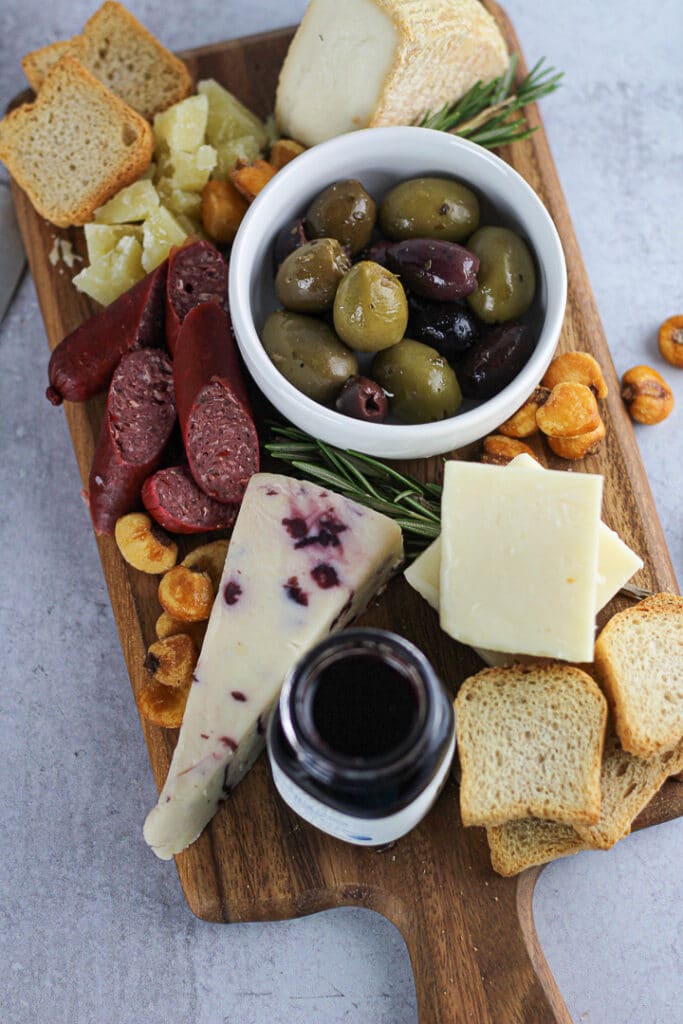 Break time!
Now is a great time to make a cocktail and cuddle with your dog. Just saying. Keep an eye on the potatoes though, and when they're ready go ahead and mash and set aside, covered. You can rewarm them later if needed.
1 hour before
By now the turkey should be out of the oven and resting on a rack. Continue cooking those onions it was roasting on on the stove until they are caramelized. This won't take long - probably like 10 minutes.
While the onions cook, get those cut brussels sprouts in the pan and start cooking. Mix up your maple and miso sauce and keep that nearby.
Keep an eye on the onions and once they are jammy and perfect, throw in your kale and toss to combine.
30 minutes before - At this point you might be a little stressed - but that's normal. Those last few minutes are always a little stressful, no matter how many people you're cooking for!
I actually think this is a great time to pour a glass of wine (or sangria!), but that's just me.
The last "big" thing to do is get the rolls in the oven. I just could not be bothered to make any sort of bread-like thing from scratch, so I'm using the tried-and-true rolls in a can (you know what I'm talking about). These were actually croissant rolls! Melt the reserved garlic-herb butter and brush on before getting these babies in the oven.
Now, it's really about keeping an eye on everything and finishing off:
When the brussels are just about done, pour in the maple miso sauce and cook for another minute. DONE.
When the kale is wilted and crip-chewy, grate some parmesan over and toss. DONE.
Check your potatoes and if they got really cold, rewarm them a bit with a little extra cream.
Dinner time!
Carve up your turkey and eat!
Lastly, whenever you're ready for dessert you just have to quickly whip your cream (I like to do this one thing right before assembling) and then top your pavlova base with the freshly whipped cream and apple pie filling.
Maybe one last cocktail?
No matter how you're celebrating Thanksgiving this year or how much you're cooking, I hope you're able to have a fun, relaxing day.
Love you guys!