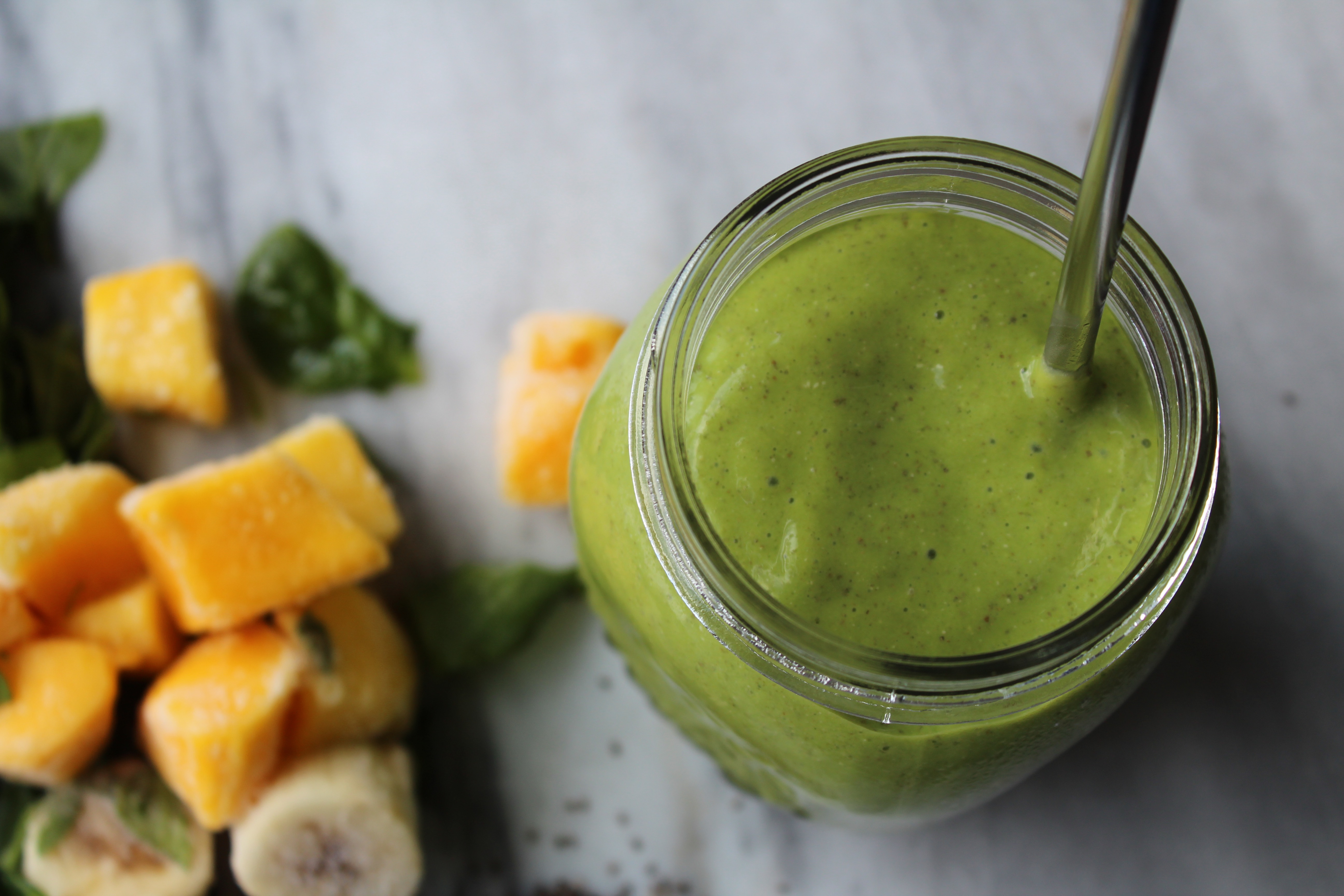 Super excited to share my favorite green smoothie with you today! I mean, do you even remember a time when all of our drinks didn't come pouring out of a blender?
We live in an (admittedly, wonderful) world of margaritas and wine slushies so it's more important than ever to keep that blender going. But today - and please hear me out here - maybe we put down the tequila and pick up some spinach? Maybe?
This is obviously not the first recipe for a green smoothie, and frankly it might not even reach full health potential, but I love it enough to drink it a few times a week and we can all agree that's a win for me (the girl who ate ice cream for lunch). I like these the most because compared to others I've seen it doesn't have a million different ingredients, but still manages to include some hipster healthy favorites (kept in mason jars because DUH).
I added green smoothies into my life last fall when I convinced my parents to do Whole 30 with me, and decided we all needed smoothies to get through it. So off we went to the grocery store where I proceeded to pick up the most gigantic bags of frozen fruit you've ever seen. Very large bags of frozen fruit. Like, why do these bags even exist SO BIG.
Am I exaggerating? ONLY A LITTLE BIT.
Long story short, I only lasted 10 days on Whole 30 and that fruit is probably still sitting in my parent's freezer. Whoops.
But! I discovered green smoothies have a time and a place in my life so that's good, right? I've never been a huge fan of getting a smoothie when I'm out because I always feel like they are just....too much. Like, they're trying too hard? I don't know - don't listen to me.
Basically, at this point the main purpose of my green smoothies is to get TWO GIANT HANDFULS of spinach in my system at any given time. I add this and that to make it taste good and now I have a pretty good system down. I've also started making little smoothie packs to keep in the freezer which makes things even easier than they already are (see notes below for more info on that).
Alright, off you go to your blender! And don't forget to clean it out before the tequila goes back in.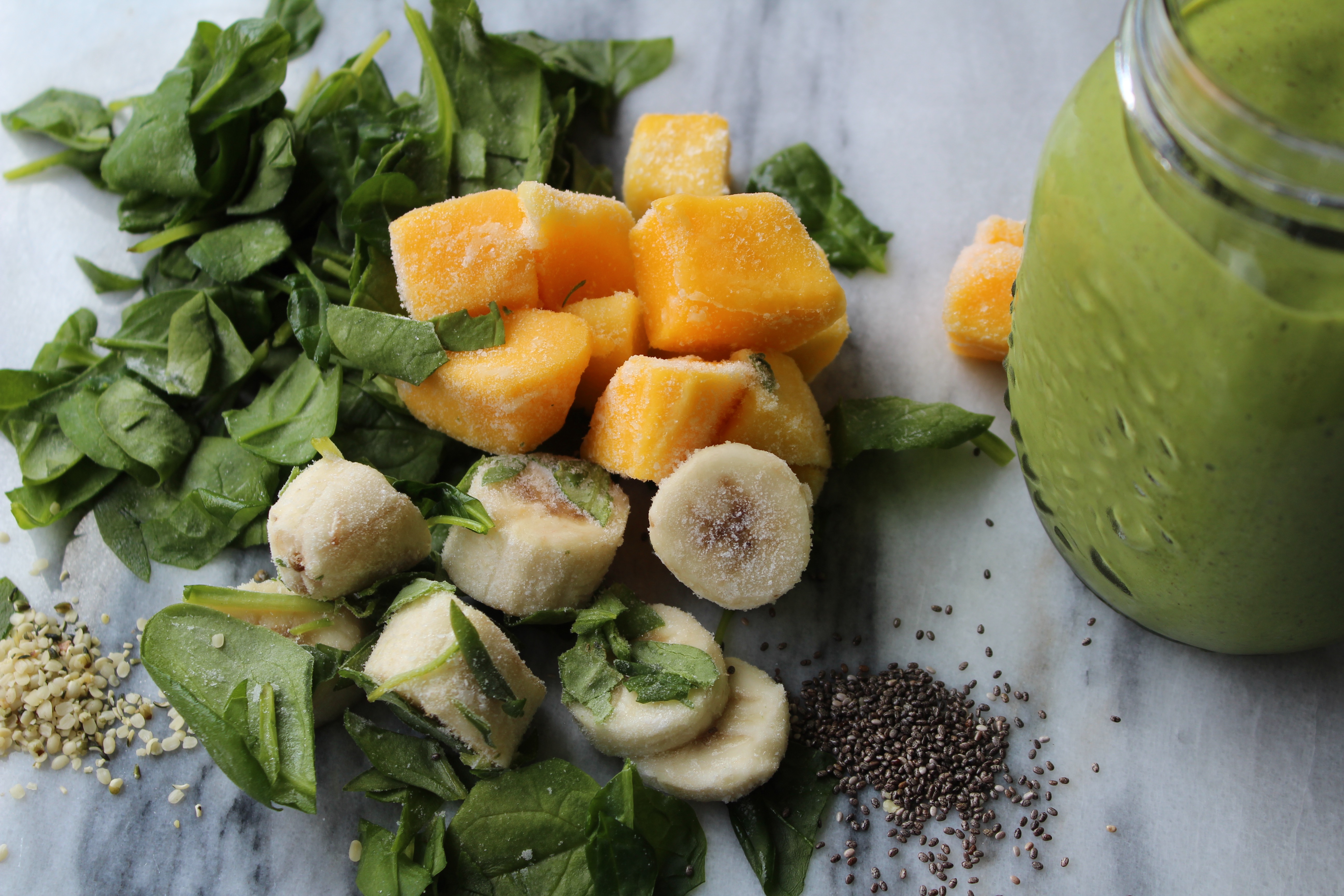 Print
My favorite green smoothie
---
Total Time:

10 minutes

Yield:

1

(easily multiplied)

1

x
1 cup

frozen mango

1

banana, preferably frozen

2 cups

spinach (or just

2

big ol' handfuls)

1 cup

soy milk (or any milk/liquid of your choice)

1 tablespoon

chia seeds

1 tablespoon

hemp hearts
---
Instructions
Add all ingredients to blender and blend away!
Notes
Technically, the chia seeds and hemp hearts can be optional but chia makes it more filling and I swear the hemp hearts make it super creamy, which I adore.
To make smoothie packs, freeze the mango, banana and spinach in a ziplock bag, plastic bag or mason jar (full disclosure - getting frozen things out of a mason jar is hard, but doable if you let it sit out for a little bit). When you're ready to drink, just dump it all in your blender and add the seeds and milk (you might need a tiny more milk since the spinach is frozen too, but that depends on your consistency preference). TA DA!
You can also blend multiple servings of the smoothie over the weekend and just grab and go throughout the week. I find it only stays good in the fridge for about a day, so I prefer to freeze them and then let it thaw overnight in the fridge.
If I'm not making the smoothie packs, I like to freeze a bunch of bananas to always have on had. Instead of freezing them all separately, I just slice each one into 4 pieces and throw a bunch in a bag. When I'm ready to make a smoothie, I grab 4 chunks and I'm ready to go.
Prep Time:

5 minutes

Cook Time:

5 minutes