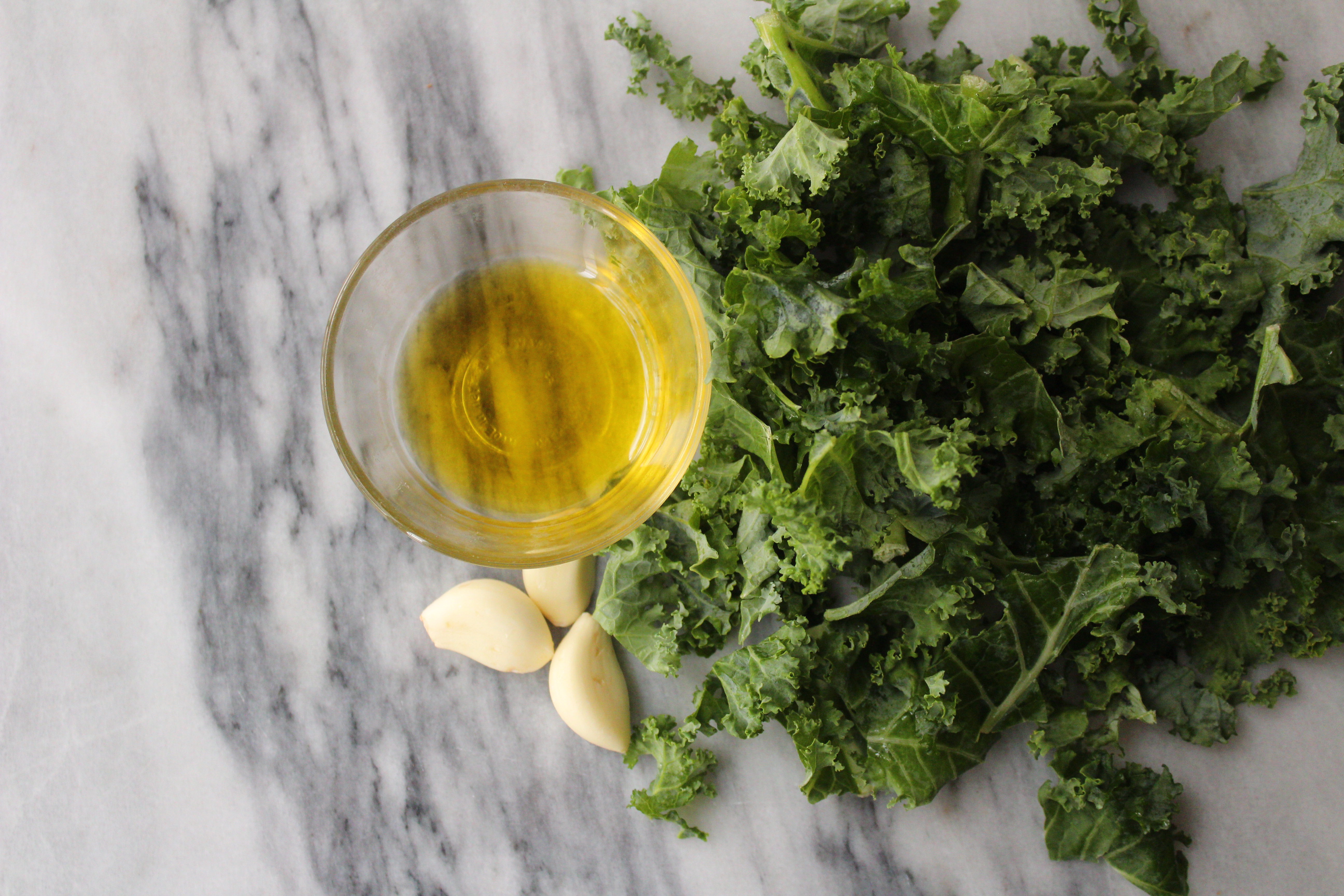 You know what's weird about food blogging?
You can spend days/weeks/months working on a recipe, making it over and over again until it's just perfect enough to share. And then? You'll probably forget all about it and never make it again.
Sometimes it's because you're just kinda of sick of it. Other times (uhhh most of the times) it's because you immediately moved onto another recipe that takes days/weeks/months to perfect.
It's quite the cycle, I tell you.
So when there is something I make all the time - like multiple times a week - it's a big deal. Big enough that I definitely should have shared this a long, long time ago. WHOOPS.
In my defense, it's 5-minute kale. I didn't think anybody would be that interested? We're talking about a pretty polarizing ingredient over here and I didn't want to be over here pretending like you've never seen a recipe (or 50) for sauteed kale.
But it's happening now. Lean into it.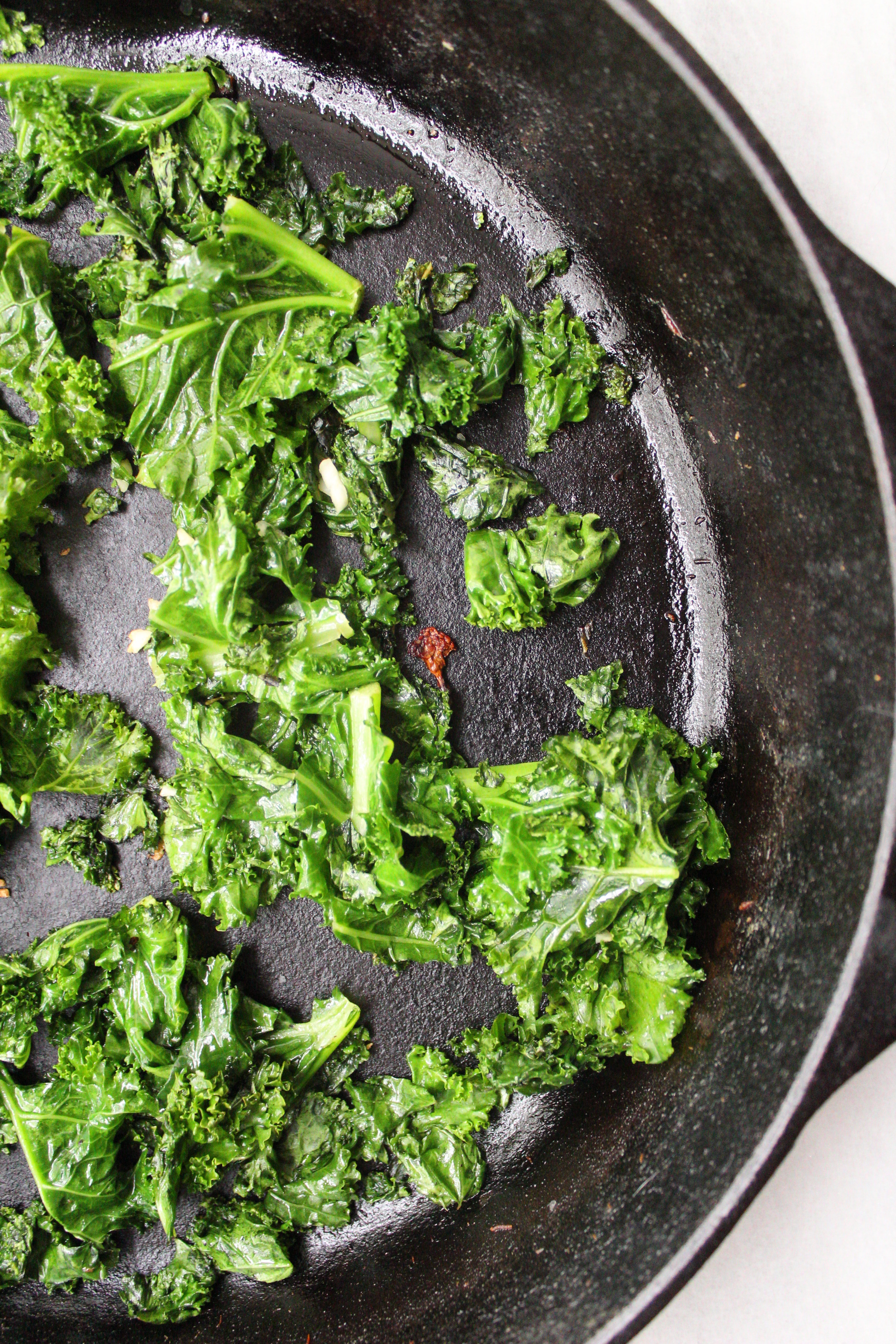 So kale. I really like it. Maybe even love it? I think kale was one of those foods that I actually willed myself to love eventually because I know it's good for me. And normally I'm against forcing yourself to like something because life is too short to eat things you hate, I've somehow made an exception with this one. Whenever I'm feeling kind of blah, or need to assure my body that food other than pizza does exist..I turn to kale. It makes me feel good. It's like the food version of a hot shower and clean sheets after camping for a week.
I think? I've literally never been camping.
I've never run away from a raw kale salad, but it's definitely not my favorite way to eat this sturdy little green. BUT THIS. This non-recipe recipe is my favorite way to make kale.
All you need is a few handfuls of kale, a clove of garlic, a little oil, salt and 5 minutes.
FIVE. MINUTES.
My absolute favorite way to use this 5-minute garlicky kale is alongside a fried egg and some avocado. It's stupid easy, but so so good. Of course, you can always eat this as a side dish at dinner or even just snack on a bowl whenever you feel like it. Use it as a component for an epic grain bowl, or if you're really feeling crazy skip the grains and use this as a bed and top with your favorite protein and veg. A warm kale salad, if you will.
Enjoy!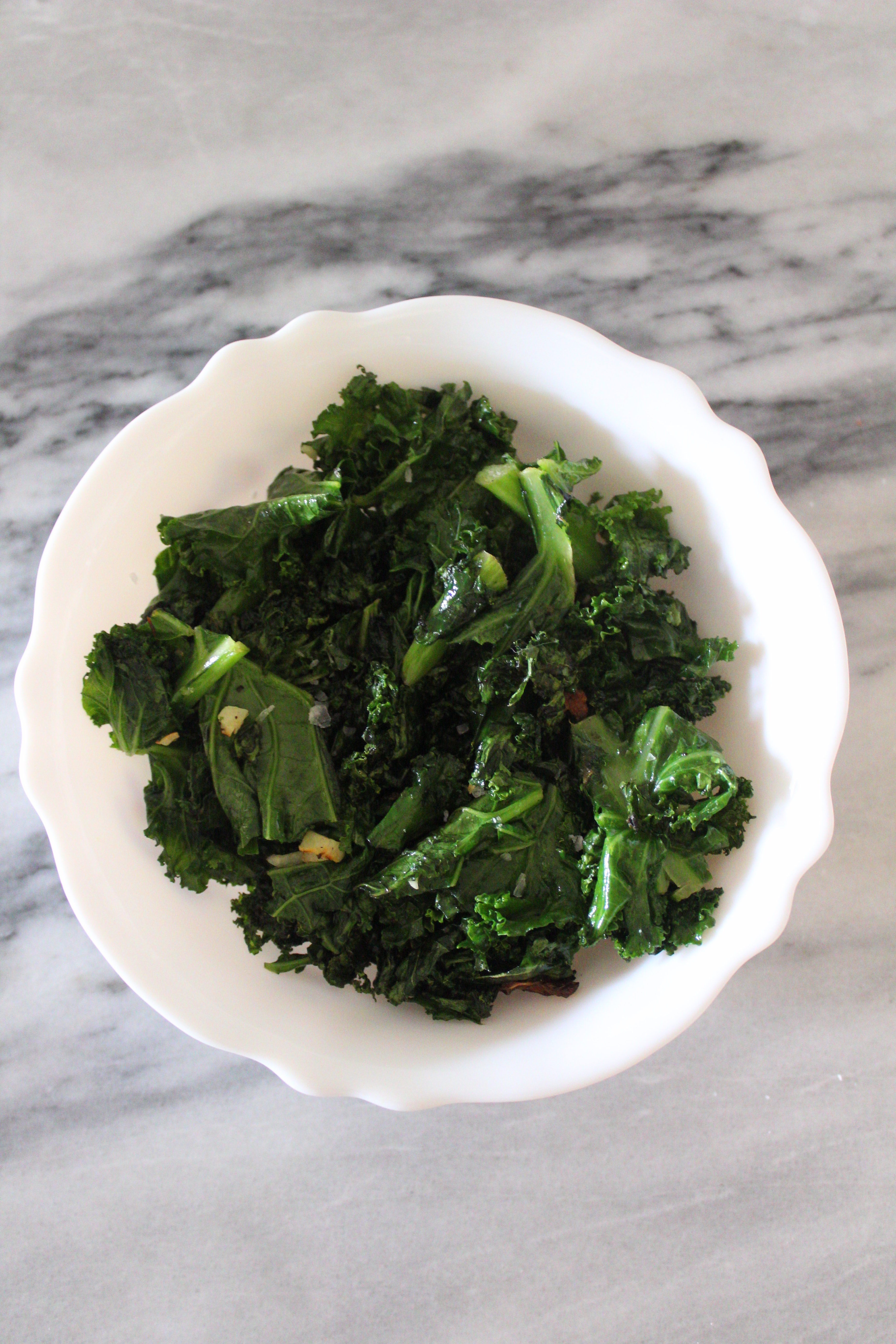 Print
5-minute garlicky kale
---
Total Time:

5 minutes

Yield:

1

(easily multiplied)

1

x
1

-

2

teaspoons oil (olive, grapeseed, avocado, etc.)

3 cups

kale leaves, roughly chopped (the pre-bagged stuff is totally fine for this)

1

garlic clove, minced

⅛ teaspoon

salt
red pepper flakes (optional)
---
Instructions
Heat oil in a large skillet (I like to use my cast iron for this, but a nonstick pan works as well) over medium-high heat.
When oil is hot add kale and use tongs to toss around and help start the wilting process. Cook for 3-4 minutes until kale is almost to your liking, tossing occasionally. If the kale is not wilting, put a cover on it and let it steam for about a minute.
Add garlic, salt and red pepper flakes (if using) and cook for 30 seconds.
Serve hot!
Notes
As mentioned, this really is a non-recipe recipe. The main thing to remember is to keep the heat pretty high to help the kale cook quickly, while still getting a little crispy.
If you don't care for garlic, you can definitely leave it out and just have delicious sauteed kale. If you like a little garlic, just use half a clove or a pinch of garlic powder.
Make sure to add the salt at the end after most of the kale has wilted so you don't risk over salting the whole dish.
This is easily multiplied, just scale up the oil, garlic and salt as needed.