A classic chicken pot pie for one, made with rotisserie chicken and frozen vegetables under a flaky biscuit crust. This is an easy single-serve, comfort food recipe that anyone can make! Looking for something similar but with a twist? Try a curry chicken pot pie!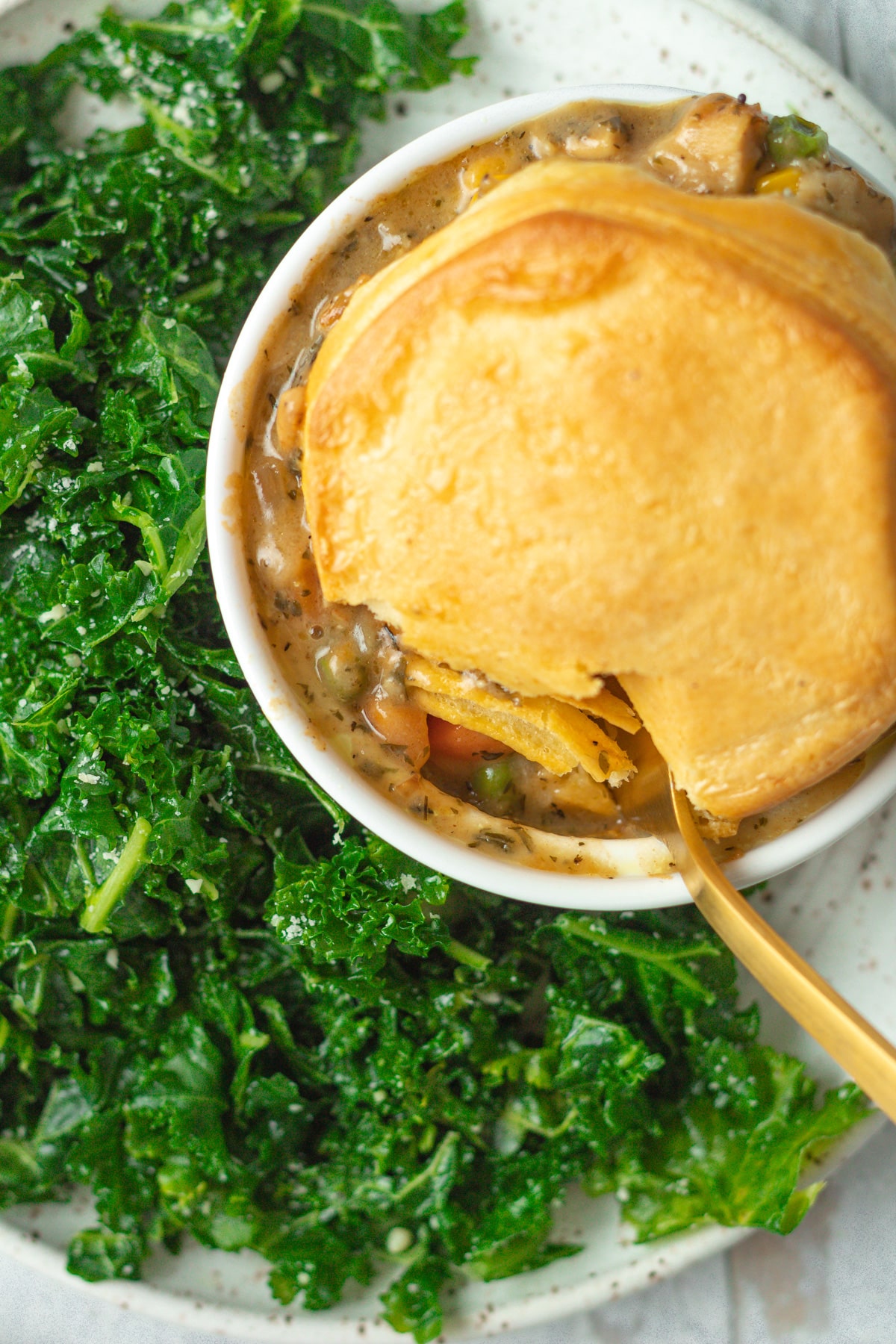 We all love a classic chicken pot pie, so today we're making just one to take care of those days when you're craving something warm and comforting but are just cooking for yourself. While this isn't a dish I grew up eating, it has become one of my favorite comfort foods. However, I rarely want a bunch of leftovers so individual pot pies is the way to go for me.
Today we're forgoing the homemade pie crust (no need for a rolling pin!), and instead getting a flaky crust with a simple refrigerated biscuit (you know, the ones in an exploding can). I love the golden brown biscuit with this creamy, tender filling. It's the perfect top crust for this meal. You can also use a sheet of puff pastry if you prefer that kind of flaky pie crust (notes on that below).
Individual chicken pot pies are such a love letter to yourself, and you deserve it!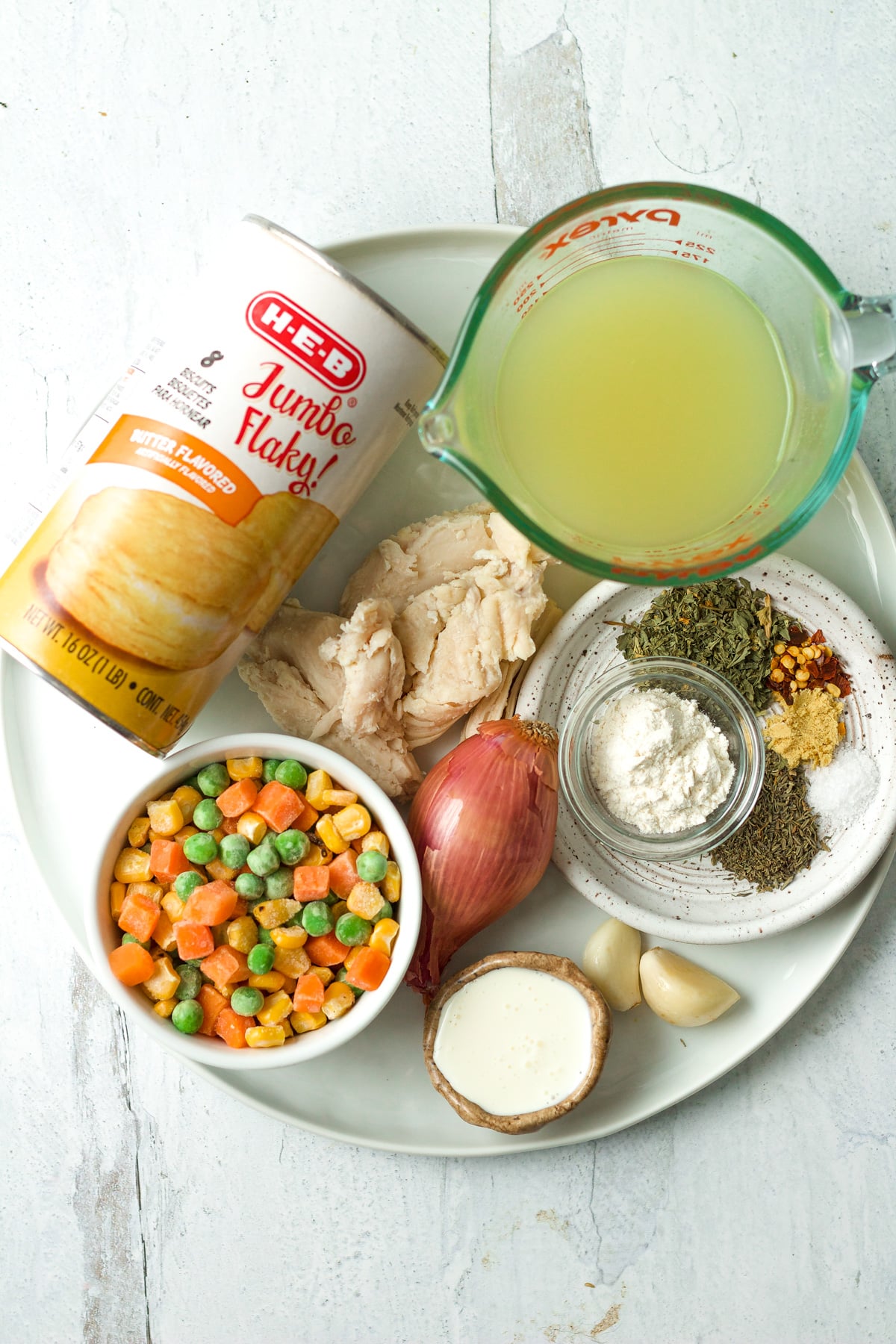 What you'll need
Butter: I love the flavor of butter in this rather than olive oil.
Shallot: Regular ol' onion will work too. You want about a ¼ cup diced.
Garlic: I use 2 cloves because I love garlic, but use more or less if you'd like!
Cooked chicken: I almost always use rotisserie chicken for this, but any sort of leftover chicken will work.
Frozen vegetables: I use a peas & carrots mix, but feel free to use other vegetables you love like corn, green beans, etc.
All purpose flour: You need a few teaspoons to coat everything and help the filling thicken up.
Ground mustard: I love the flavor of mustard, but you can leave this out if you don't like it. If you don't have ground, use ½ teaspoon dijon mustard.
Herbs: To keep things easy, I use dried parsley and thyme. If you have fresh, use it!
Red pepper flakes: For a little spice. I also generally add some ground black pepper too.
Chicken broth or stock: I use chicken stock bouillon cube or paste because it's easier for me when cooking small batch meals, but any kind of stock will do.
Heavy cream: Because you deserve it.
Refrigerated biscuit dough: Use your favorite brand!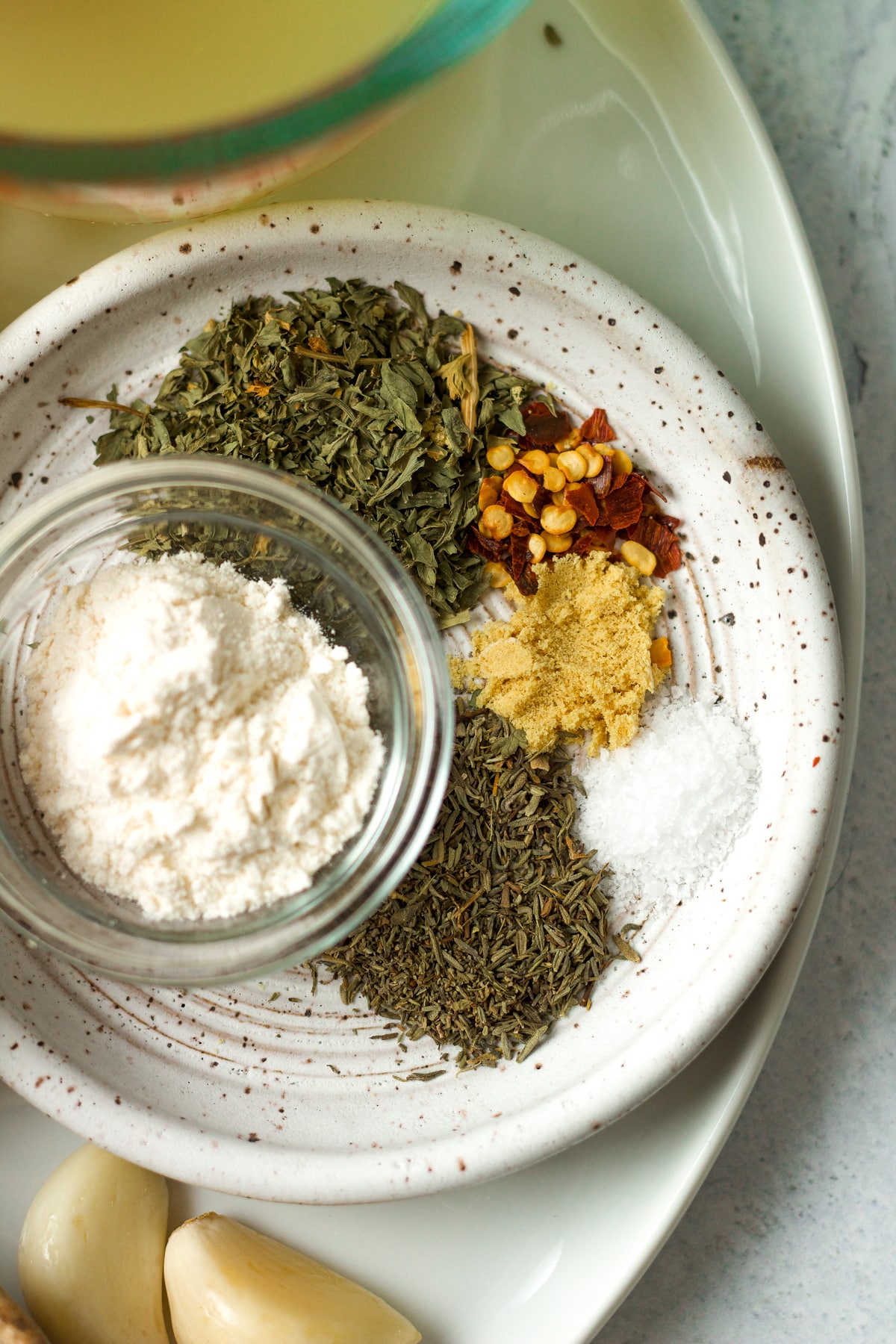 So easy and flexible!
Homemade chicken pot pie is always perfect as-is, but you can switch things up depending on your tastes and what you have to work with.
To make vegetarian: Leave out the chicken and add the same amount of cauliflower or canned chickpeas in place. You can also just add more of the frozen vegetable mixture, but I like using something more hearty. Replace the chicken stock with vegetable or mushroom stock.
Use store-bought rotisserie chicken: This is a great way to use up leftover meat, especially when it starts to get a little dry. While I generally prefer dark meat, I find white meat is just as good in a chicken pot pie. The filling is super creamy thanks to the flour and little bit of heavy cream, so you'll have tender chicken regardless.
Dried vs. fresh herbs: I created this easy recipe using dried herbs because I will always have dried parsley and thyme on hand. However, you can definitely use fresh herbs if you happen to have some. Feel free to add others as well, like basil, rosemary and more. 
Puff pastry: I have another recipe for chicken pot pies that use puff pastry and I love it just as much as the biscuit here. I do find the biscuit easier to work with, but if you prefer puff pastry you can absolutely use that. Cut into a round or square to cover the filling and you're good to go!
Make ahead: The cook time for the filling is pretty quick, but you can still prep this ahead of time. Make the filling and let it cool to room temperature before adding to your ramekin. Top with the biscuit and then cover in plastic wrap or aluminum foil and store in the fridge until you are ready to bake.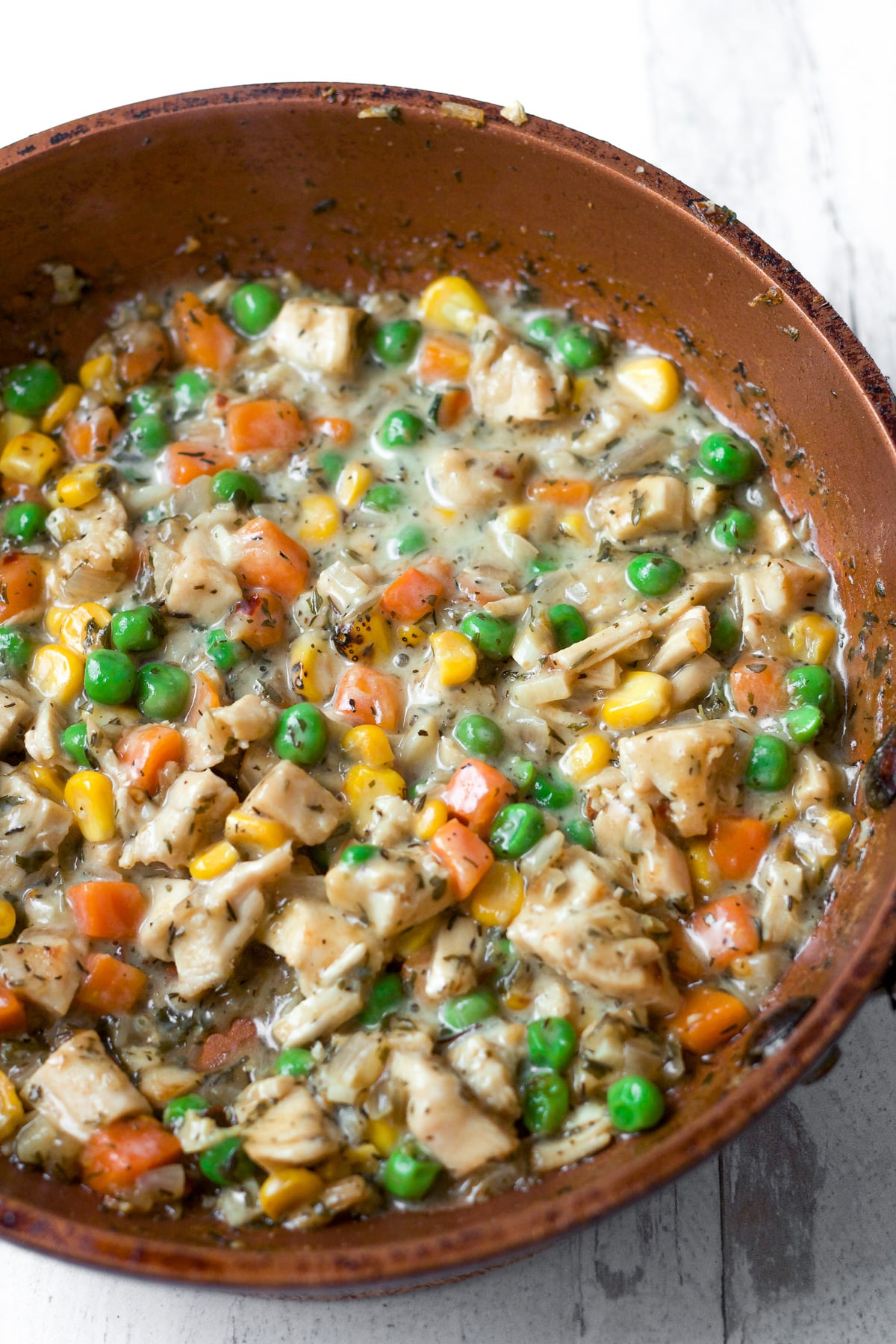 How to make a single-serve chicken pot pie
Saute aromatics: Cook shallots and garlic in butter until soft and fragrant, and just starting to brown.
Flavor: Add spices and herbs and let cook for a minute or two. This helps bring out the most flavor in those spices!
Add bulk: Add your chicken and vegetables and cook to warm through.
Thicken: Add flour and toss to coat everything. Pour in stock and let it simmer until liquid reduces and you have a creamy, cohesive filling. This should take just about 10 minutes. Add heavy cream to make it even creamier!
Top: Pour filling into a small bowl or ramekin (oven-proof, of course). If needed, depending on the size of your baking vessel, you can flatten the biscuit out a little so that it covers most of the filling. Add biscuit to top.
Bake: Cook at 400 degrees for 20 minutes, or until the biscuit is golden brown and cooked through.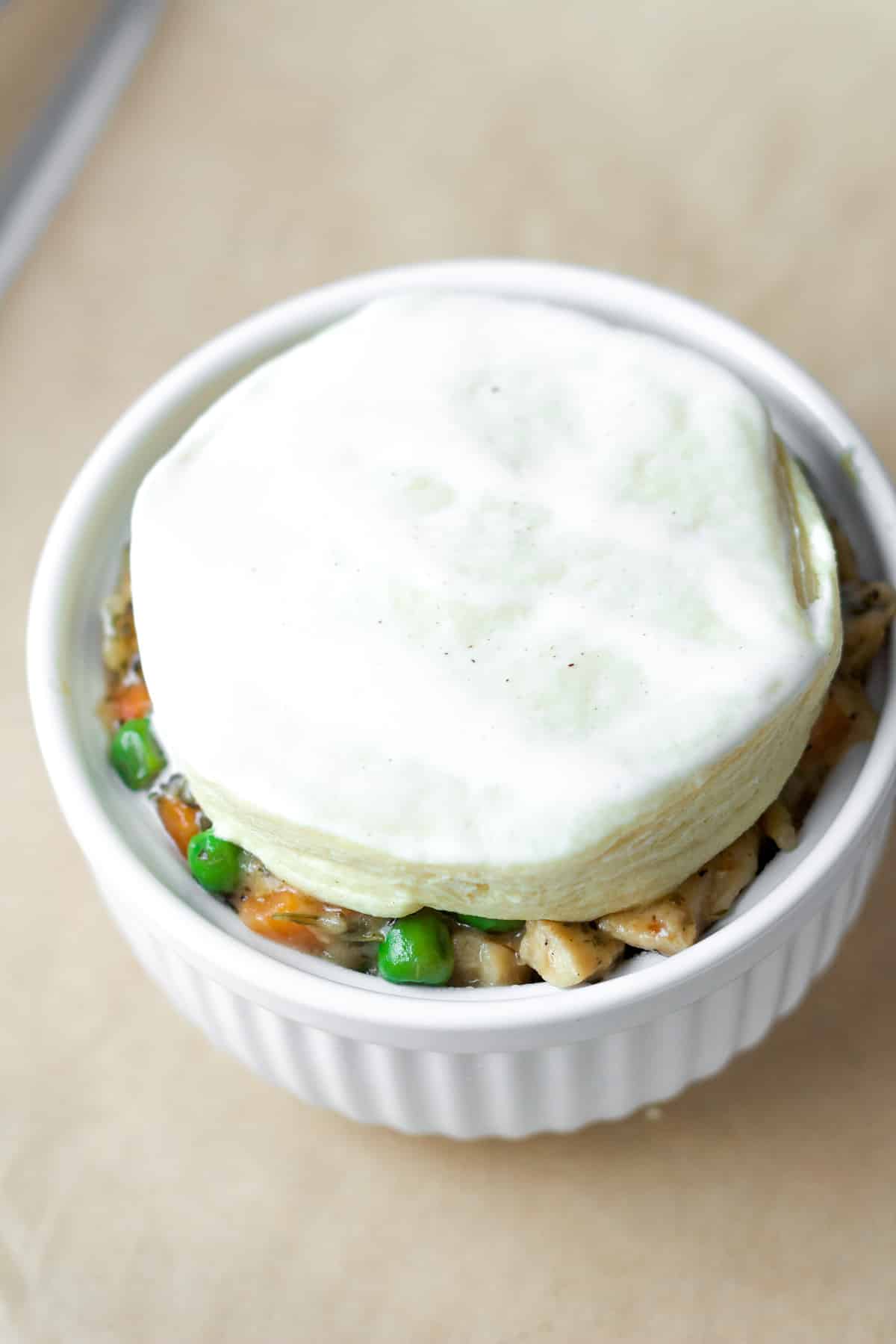 Serving suggestions
Chicken pot pie is wonderful, filling meal on its own so you might not need anything more. However, if you'd like a quick side I'd suggest the following: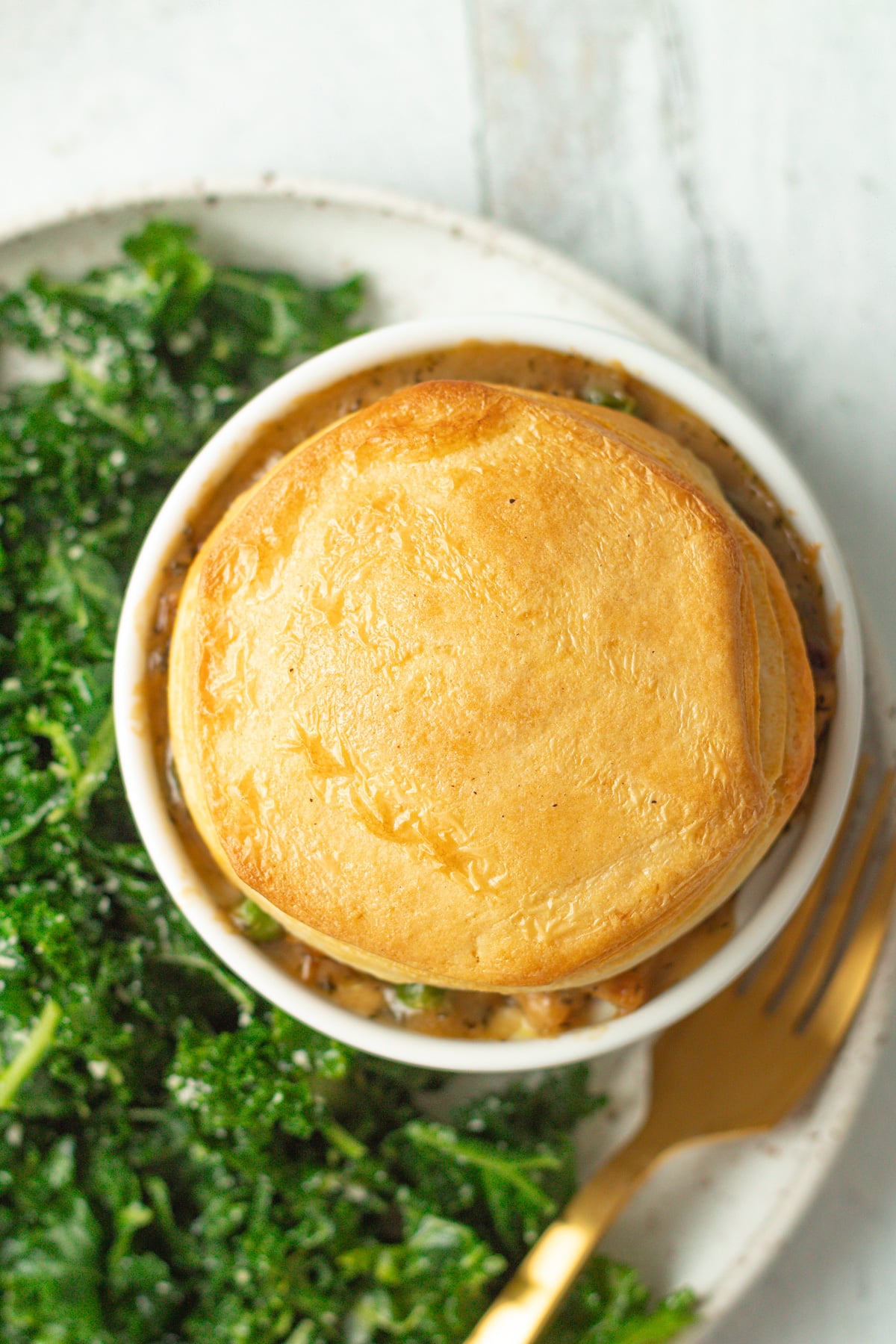 Print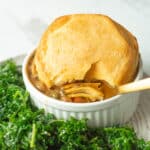 Easy Chicken Pot Pie For One
---
Description
A classic chicken pot pie for one, made with rotisserie chicken and frozen vegetables under a flaky biscuit crust. This is an easy single-serve, comfort food recipe that anyone can make!
---
1 tablespoon

butter

1

small shallot, diced

2

garlic cloves, minced

1 teaspoon

dried parsley

½ teaspoon

dried thyme

¼ teaspoon

ground mustard

¼ teaspoon

red pepper flakes

¼ teaspoon

salt

4 oz

(~½ cup) cooked chicken, diced or shredded

4 oz

(~½ cup) frozen peas and carrots

2 teaspoons

flour

¾ cup

chicken stock

1 tablespoon

heavy cream

1

refrigerated biscuit
---
Instructions
Preheat oven to 400.

Melt 1 tablespoon butter in a small frying pan or saute pan over medium heat. Add 1 small diced shallot and saute for 5 minutes, until they just start to brown. Add 2 minced garlic cloves and cook for another minute.
Add 1 teaspoon dried parsley, ½ teaspoon dried thyme, and ¼ teaspoon each of ground mustard, red pepper flakes and salt and cook for another minute.
Add 4 ounces (about ½ cup) each diced chicken and frozen vegetables and toss to coat. Cook for 5 minutes.

Sprinkle over 2 teaspoons of flour and toss to coat everything. 

Increase heat and pour in ¾ cup chicken stock. Bring to a boil, reduce heat and simmer for 10 minutes.
Add 1 tablespoon heavy cream, stir to combine and turn off heat. 

Pour filling into a small ramekin (I use a 8 ounce size). Top with biscuit. If needed, you can flatten the biscuit a little to help it spread out - you want it to cover most of the filling!

If desired, brush a little extra heavy cream or butter on top of biscuit. 

Bake for 20 minutes, until biscuit is golden brown and filling is bubbly.

Let cool for a few minutes before eating.
Prep Time:

5 minutes

Cook Time:

40 minutes

Category:

Dinner

Method:

Oven

Cuisine:

American