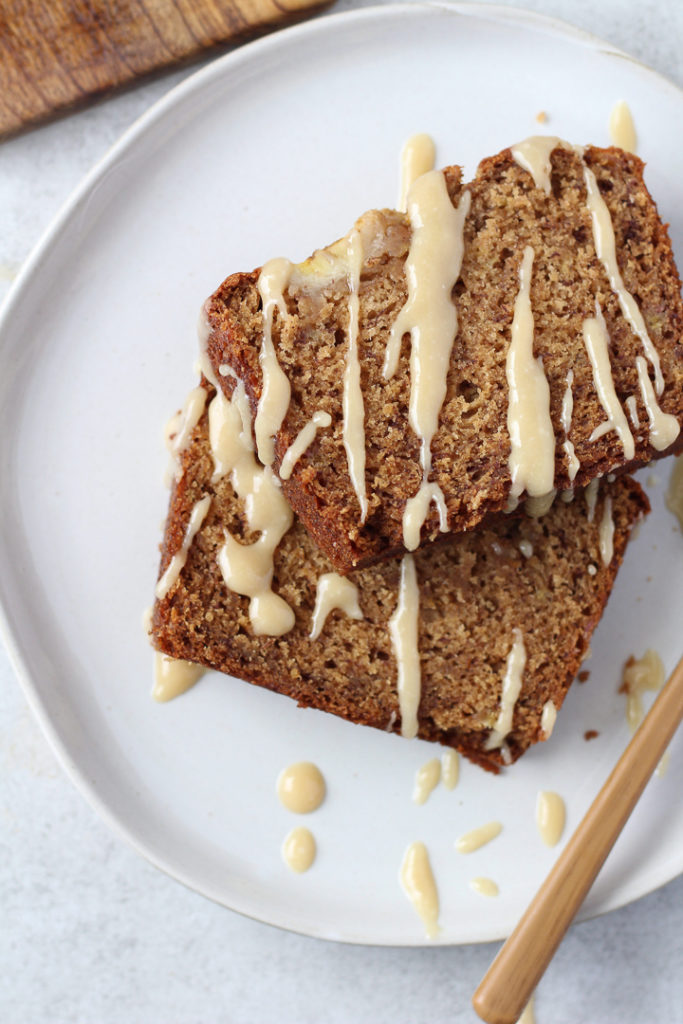 Print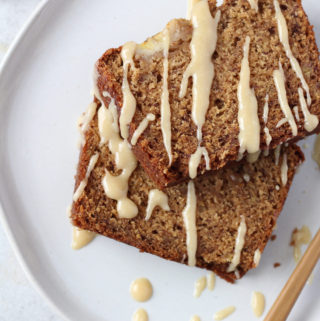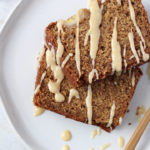 Brown butter banana bread with tahini glaze
Prep Time:

15 minutes

Cook Time:

45 minutes

Total Time:

1 hour

Yield:

1

8x5 loaf

1

x
---
1

stick (8 tablespoons) unsalted butter

1 ½ cups

mashed bananas (about

3

bananas)

¾ cup

brown sugar

1

egg

1 teaspoon

vanilla

1 ½ cups

flour

1 teaspoon

baking soda

1 teaspoon

baking powder

1 teaspoon

ground cinnamon

½ teaspoon

ground cardamom

½ teaspoon

salt
Tahini glaze:
2 tablespoons

unsalted butter

¼ cup

tahini

2 tablespoons

powdered sugar

1 tablespoon

heavy cream
---
Instructions
Preheat oven to 350. Line loaf pan with foil or parchment paper.
Cut stick of butter into a few chunks and place in a saucepan over medium heat. Let melt, swirling the pan occasionally until the butter foams and you start to see the solids separate. Keep cooking, until butter turns an amber color and the bits at the bottom start to brown. Pour into a small bowl and let cool for a few minutes.
Once butter is cool, add to a large bowl with mashed bananas (make sure to scrape up all those brown butter bits!) and brown sugar. Whisk to combine.
Add egg and vanilla and whisk again.
In a separate bowl mix flour, baking soda, baking powder, ground cinnamon, ground cardamom and salt. Once combined, add to wet ingredients and fold together until just combined. Do not overmix! Pour into pan.
Optional: Slice another banana in half and place, cut side up, on top of batter (this is mostly for looks, so don't worry about it if you don't want to do this!)
Bake for 45-55 minutes, until a toothpick or knife inserted in the center comes out mostly clean (a few moist crumbs are good!).
Allow bread to cool for 10 minutes in the pan, and then turn out and cool on wire rack. Let cool completely before glazing.
To make glaze: Combine butter and tahini in a small saucepan and melt over low heat. Once melted together, remove from heat and slowly whisk in powdered sugar and heavy cream. Pour over cooled cake, or serve on the side.
---
Notes
Extra tahini glaze can be kept in the fridge. It will solidify and become kind of frosting-like, but you can easily thin it out again by warming it up a bit.
The banana bread is super good on it's own, so if tahini isn't your thing just leave the glaze off!
If your bananas aren't super ripe, but you have no patience (hi, me) you can pop them in the oven - peels on - at 275 for 20-25 minutes. Let cool slightly, and then peel and mash away!
I accidentally went almost two years without sharing a banana bread recipe. Whoooooops.
Aside from being delicious, and basically health food, banana bread is one of the most comforting things to make. From the mashing to the stirring (no mixer needed!) to the baking, it's beautiful and relaxing from start to finish.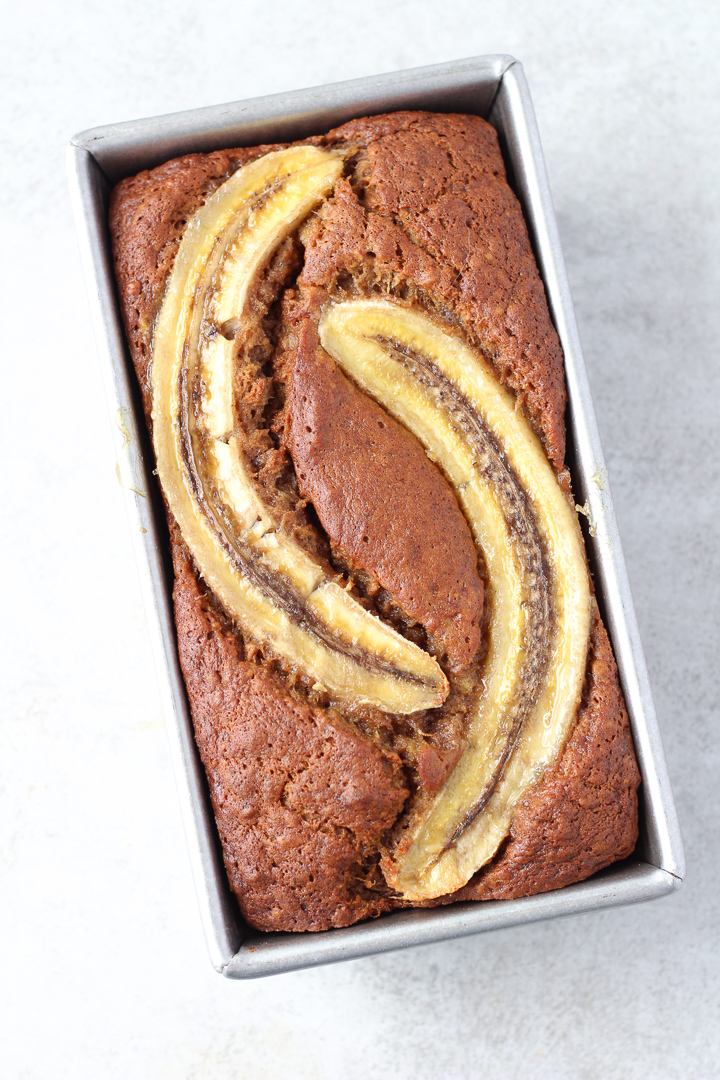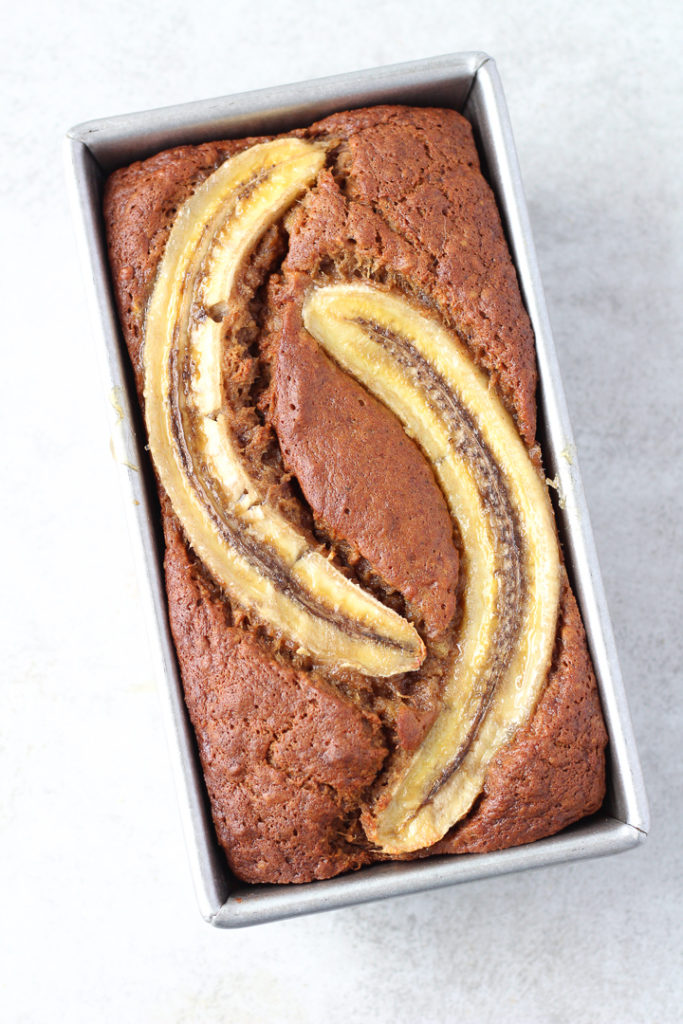 The original idea for this recipe started as a basic banana bread with a tahini streusel situation on top. I still stand by the idea, but after two loaves and a couple of tries at a muffin-version, it just wasn't in the cards (for now!). But along the way, this brown butter version came to be. And omg. yes please.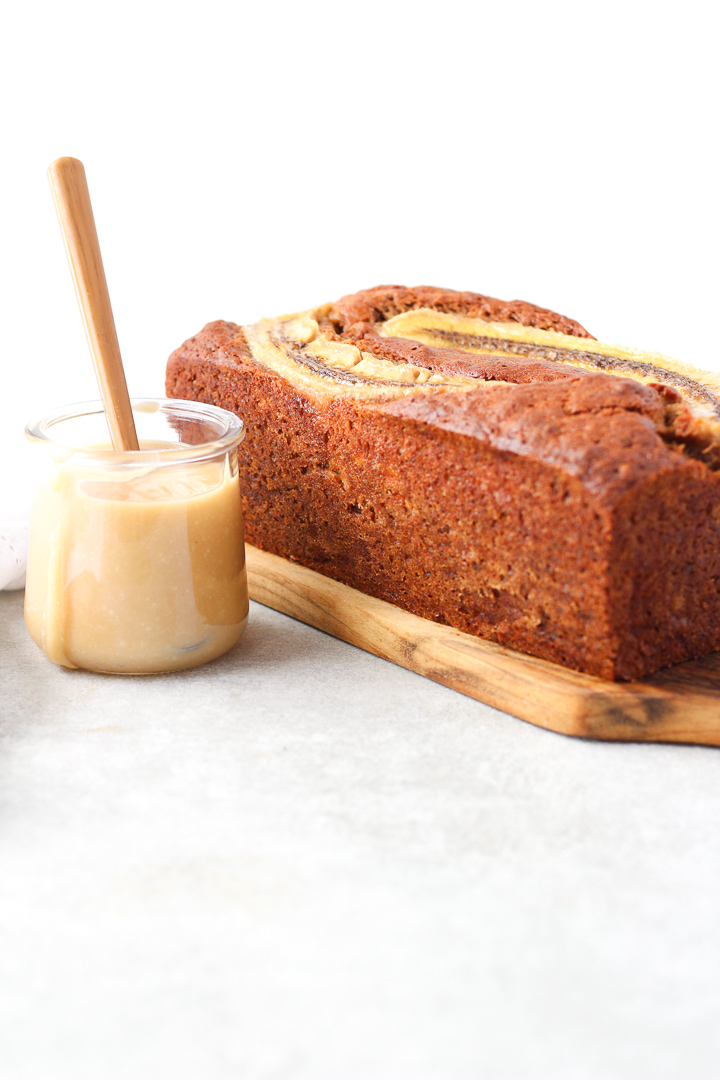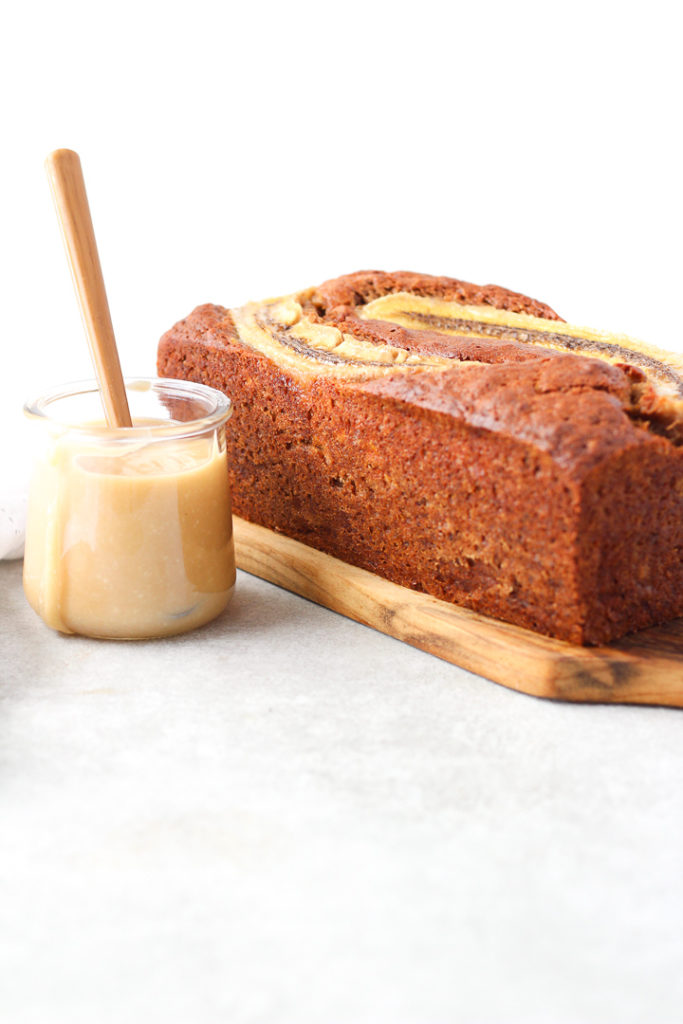 So good I'm going to tell you that you don't even need the tahini glaze (but like, of course you need the tahini glaze). I like to keep the glaze on the side so people can have as little or as much as they want. Also I find drizzling the glaze like a crazy person on individual slices is just more fun than pouring it straight on top.
I hope you have some time baked (ha!) in to make some banana bread this weekend. It's the best way to live.