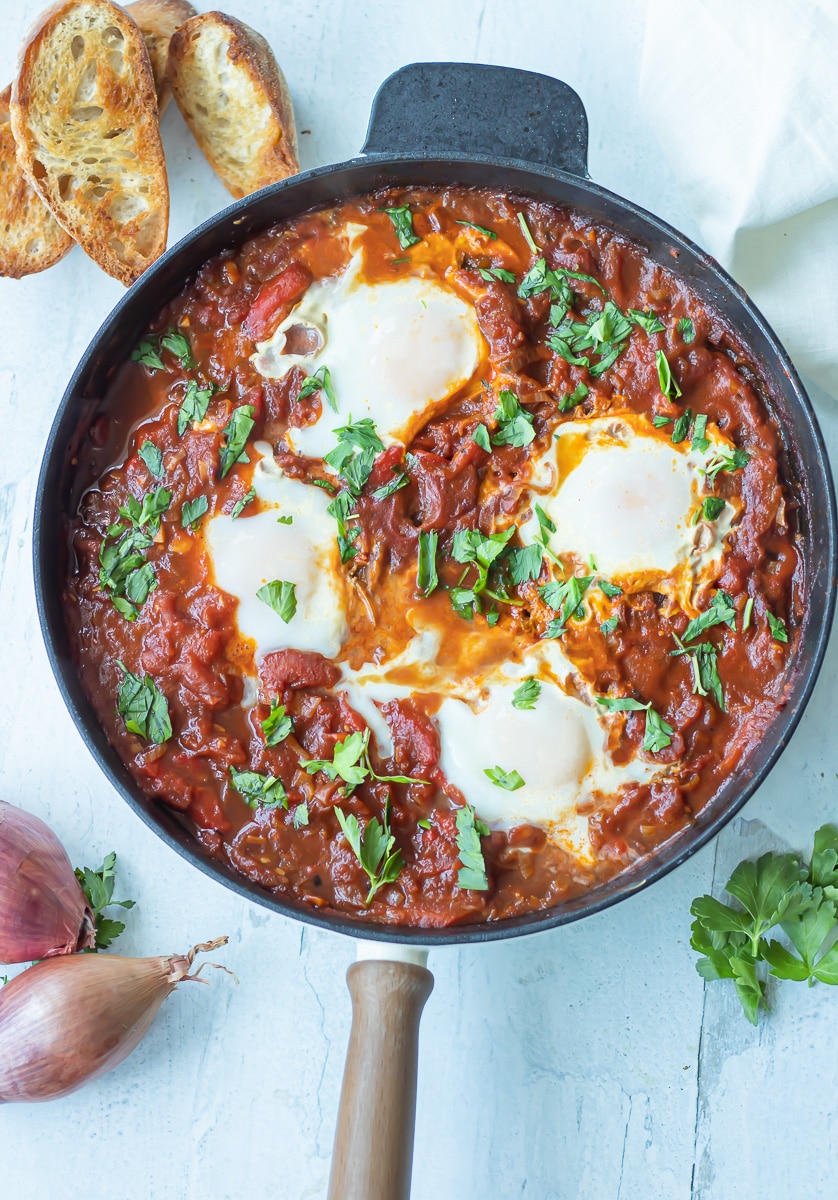 Print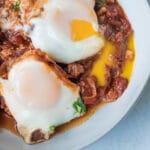 Caramelized shallot and roasted red pepper shakshuka
---
Author:

Mansee

Total Time:

50 minutes

Yield:

4

-6

1

x
Description
This shakshuka is easy to throw together with ingredients you might already have in the pantry and makes for a perfect brunch or dinner. Serve with lots of crusty bread, pita or naan to scoop up that sauce!
---
¼ cup

olive oil

4

shallots, thinly sliced

4

garlic cloves, thinly sliced

1 teaspoon

salt

1 teaspoon

smoked paprika

½ teaspoon

red pepper flakes

3 tablespoons

tomato paste

1

14oz jar roasted red peppers, roughly chopped

1

28oz can whole tomatoes*

2

thyme sprigs

1 teaspoon

sugar or honey

4

-

6

eggs
Crusty bread, pita or naan for serving
---
Instructions
Heat ¼ cup olive oil in a large pan over medium heat.
Once oil is hot, add 4 thinly sliced shallots and cook for 2 minutes. Reduce heat to low and continue cooking for 20-25 minutes, stirring occasionally, until shallots are deeply brown and caramelized. Keep an eye on them and adjust heat as needed to keep them cooking slowly but not burn.
Once shallots are caramelized, increase heat to medium and add 4 thinly sliced garlic cloves. Cook for one minute, and then add 1 teaspoon each of salt and smoked paprika and ½ teaspoon red pepper flakes and saute for another couple of minutes. 
Add 3 tablespoons tomato paste and saute for 3-4 minutes, until paste deepens in color and starts to caramelize. This is important for flavor, so don't skip or rush this step!
Add 1 jar of roughly chopped roasted red peppers and 1 can of whole tomatoes to the pan. Using a wooden spoon, carefully crush the tomatoes to create a sauce. Alternatively, you can pour the tomatoes into a bowl and crush with your hands before adding to the pan. Add 2 thyme sprigs and 1 teaspoon sugar or honey and stir to combine.
Let sauce simmer for 5-10 minutes on low to let everything cook together. Taste and add more salt as needed (you'll likely need ½-1 teaspoon more here). 
Using a wooden spoon (or any large utensil), make little wells for the eggs. Carefully crack an egg into each well and season with a tiny pinch of salt. Using a spoon, nudge things around a little so that the sauce goes above the egg white and helps them cook. Cover pan and let cook for 5-7 minutes, or until eggs yolks are done to your liking.
Serve with lots of bread eat with that sauce!
Notes
I generally prefer to use whole canned tomatoes vs crushed or diced in most recipes. I think they taste better in the end, and they are easier to keep on hand! Use a spoon or your hands to crush them and help create a sauce. If you prefer though, you can use a can of crushed tomatoes here, no problem. 
Prepping this dish to make ahead is so easy! Just do everything up to adding the eggs. Let cool and store in the fridge until needed. Once ready to eat, warm back up on the stove until it's simmering and then add eggs and cook until done. 
Prep Time:

5 minutes

Cook Time:

45 minutes
I've eaten so much food in my life (like, SO MUCH), that I often don't remember my "firsts." You know, the first time I ate a beautiful flaky croissant or the first time I had a taco that made me realize tacos are an actual way of life.
But! I do remember the first time I had shakshuka. I was living in New York City. It was brunch. I was definitely with people far, far cooler than I was (am?). I don't remember the name of the restaurant (ugh, sorry. I'll add it as soon as I figure it out!), but I do remember it was adorable and my shakshuka came in a tiny little cast iron pan. And of course, I remember it was delicious.
Ahh memories.
Surprisingly, even though I fell in love with this dish at that very adorable little restaurant with my very cool friends in my very favorite city I didn't start making shakshuka at home until years later. Don't know why I waited for so long, just know that I'll be making up for lost time.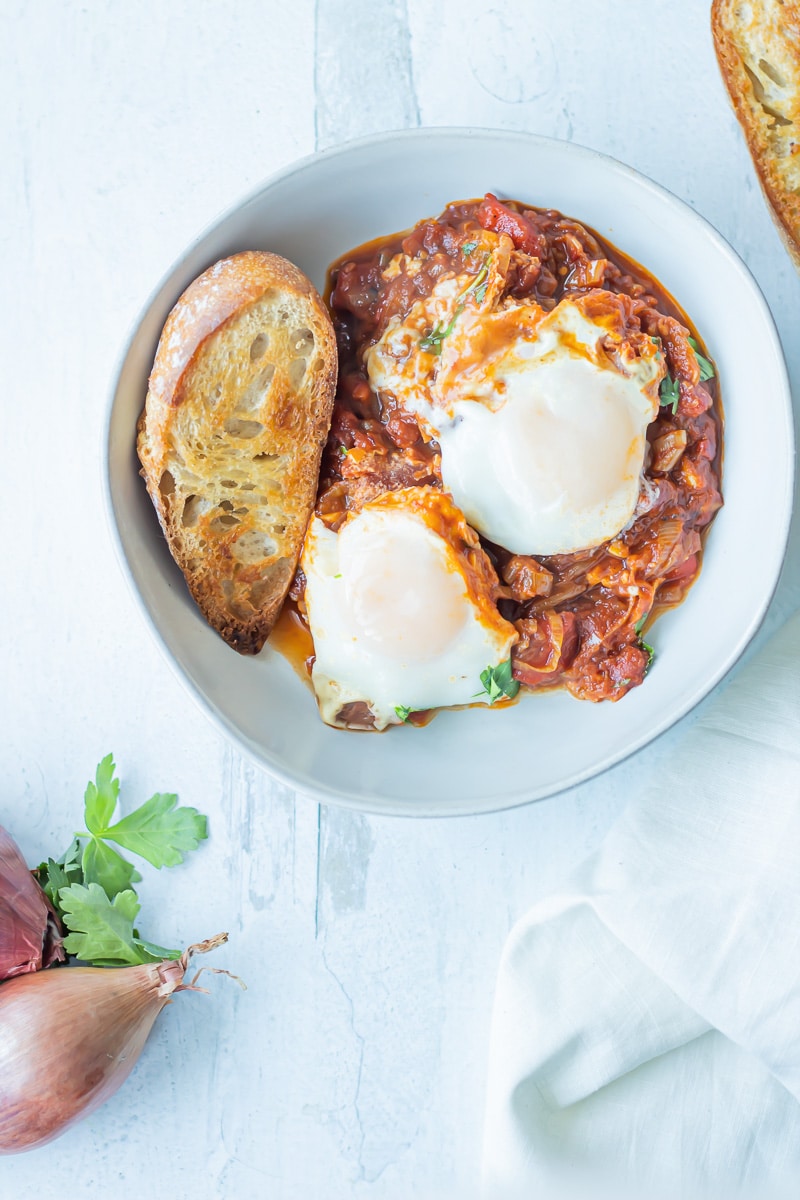 So, what is shakshuka?
If you're not familiar, shakshuka (also spelled shakshouka) is a dish where eggs are gently cooked in a tomato-based sauce, sometimes with peppers and onions, and is often spiced with things like cumin and/or paprika. There is a little back and forth on the origin, but many say it came originated in North Africa and made it's way to the Middle East where it is now very popular in countries like Palestine and Israel.
The beauty of a dish with such a rich history, is you get to see how families have tweaked it over the years and the endless variations there are. Shakshuka at its core is a simple dish, both in ease and in flavor (in a good way!), which makes it really prime for additions.
No matter how you make it, serve it with bread. When that yolk starts mixing with that perfect tomato-y sauce, you're going to want either super crusty bread or the more traditional pita bread (I think naan is delicious here too) to sop that goodness up.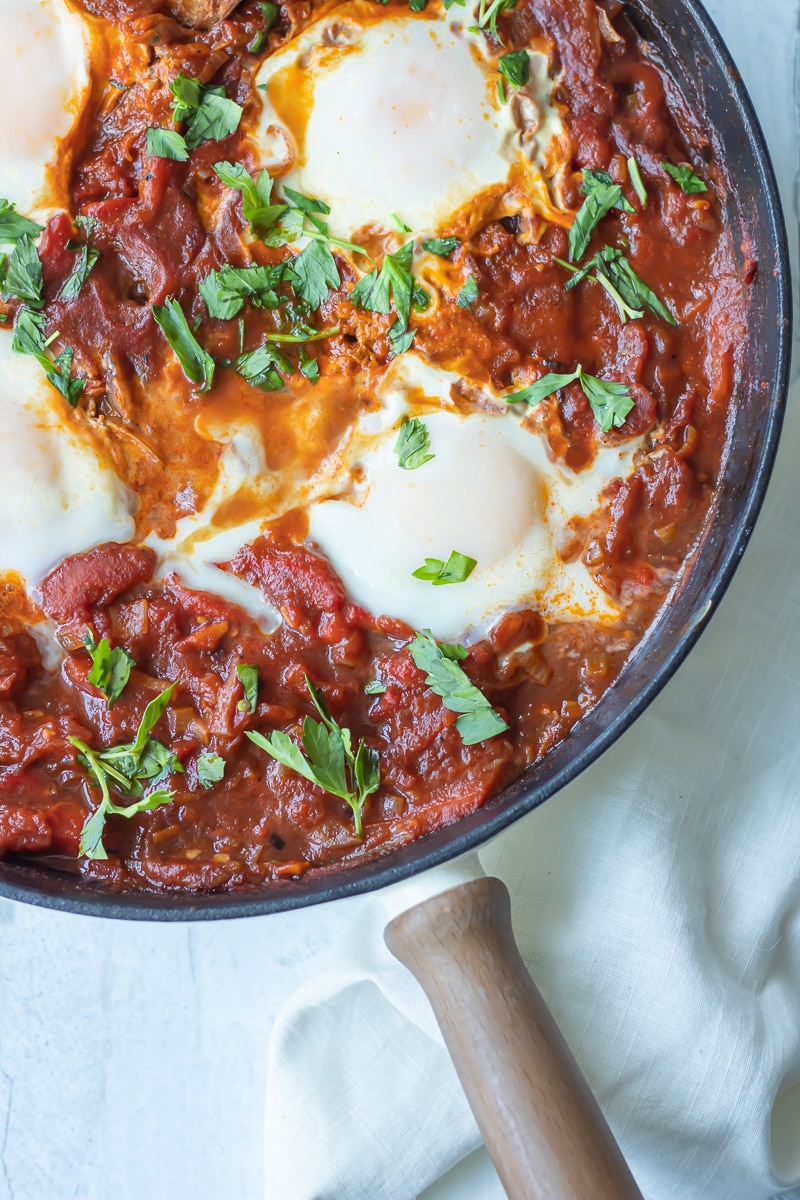 Caramelized shallots?
YES. Caramelized shallots!
You already know my obsession with caramelized onions (see examples here, here and, oh, here. Also, I straight up put them on cheese boards. Ha.), so it should not be surprising that my shallots are getting the same treatment.
If you aren't cooking with shallots yet, I highly suggest you give them a try. I know many say they are like a cross between an onion and garlic, and while that is probably true, I don't necessarily think of them that way. Instead, shallots are more like onions slightly sweeter cousin to me. I can't think of a recipe where I couldn't replace onions with shallots, but I often find that I can't replace a shallot with onion! For instance, in this marinated white bean salad, the raw shallot does more for my dressing than onion could. I mean, you can use onion, it just won't be the same, ya know?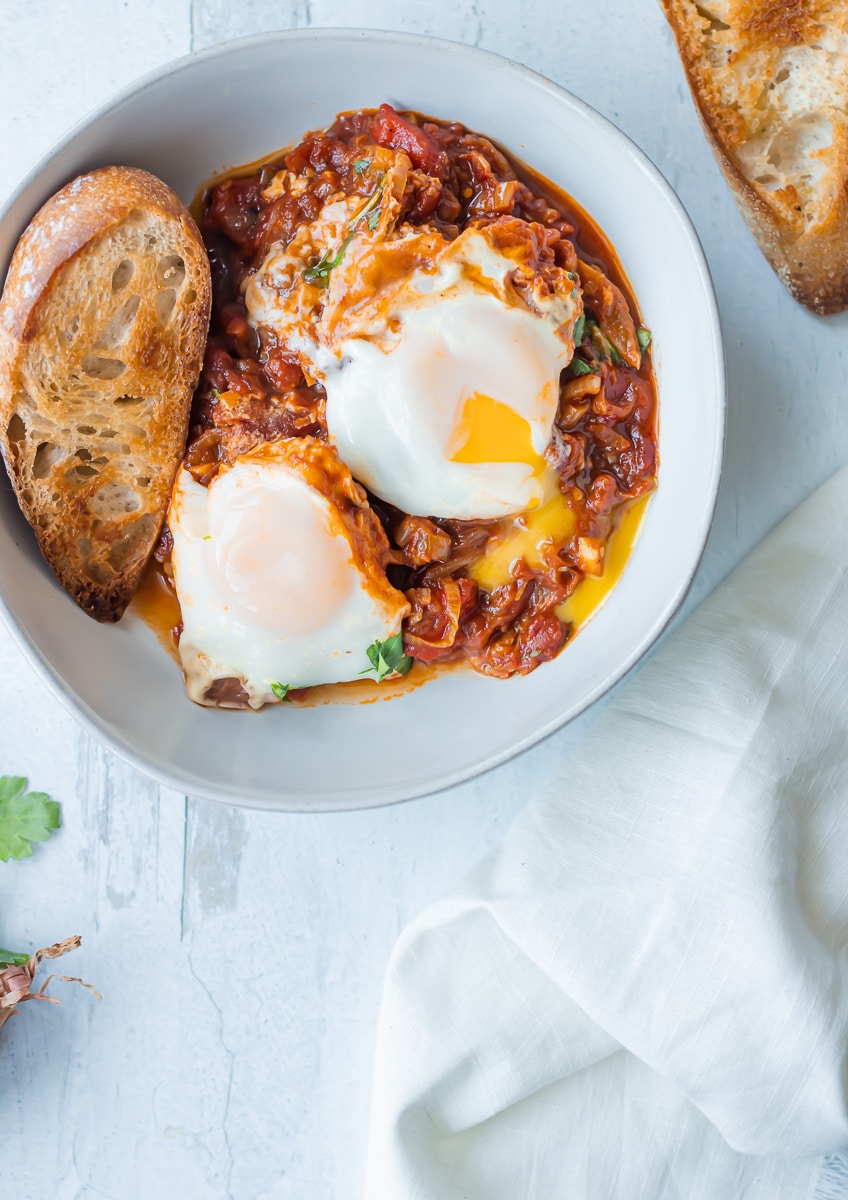 So yea, caramelized shallots. It's the "hardest" part of this recipe in that takes a minute to get them to that perfect caramelized, almost crisp-chewy state, but completely worth the wait. I also treat the shallots like another spice here, so take the time to build that flavor. You won't regret it!
Shakshuka is often traditionally served for breakfast, and is now a staple on many brunch menus. But I actually love it for dinner. It's super warming and can be as filling as you need depending on how many eggs you cook. Serve it with that bread, and a quick salad or some roasted vegetables. So simple and delicious!