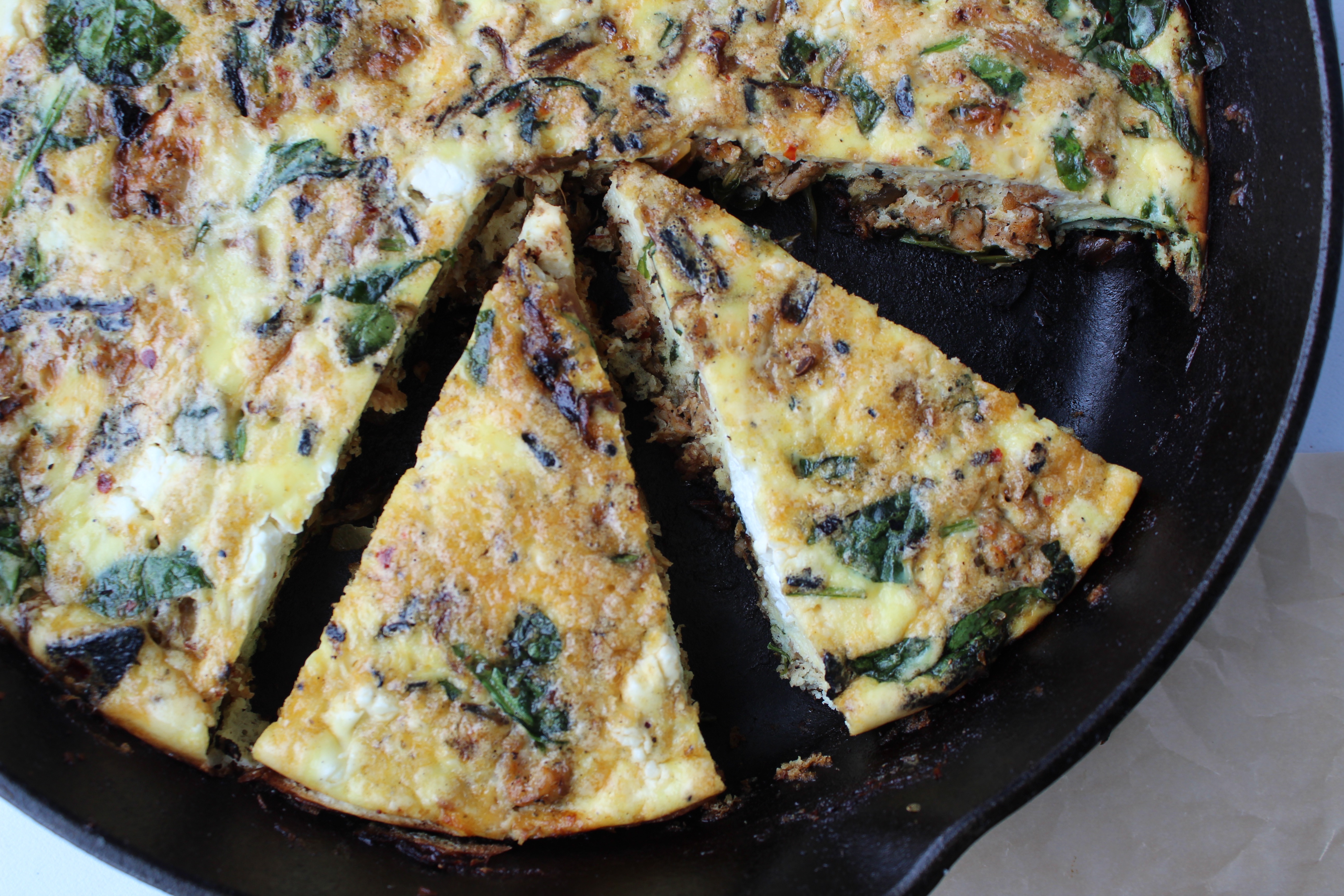 Here's a fun way to start off a post about a frittata: I don't really like eggs.
I don't hate them or anything, just not really a fan. The only time I ever find myself wanting eggs is when I'm desperate for a breakfast taco but can't find one because apparently they don't exist outside of Texas and.....well that's really a whole other story that I'm sure you'll hear soon enough.
(Beginning, middle and end of that story is WHY DID I EVER LEAVE TEXAS?)
Anyway, I don't love eggs but I really, really like making a frittata. I can't explain it, but it's one of my favorite things to cook. Saute some things, whisk some eggs, sprinkle some cheese and BAM you've got breakfast, brunch, lunch, snack and dinner!
No, seriously. This recipe makes a whole lotta frittata. It is FILLED with some of my favorite things - chicken sausage, caramelized onions, GOAT CHEESE. Also spinach. But then also GOAT CHEESE.
And some eggs, of course.
Specifically, 12.
One. Dozen. Little. Eggs.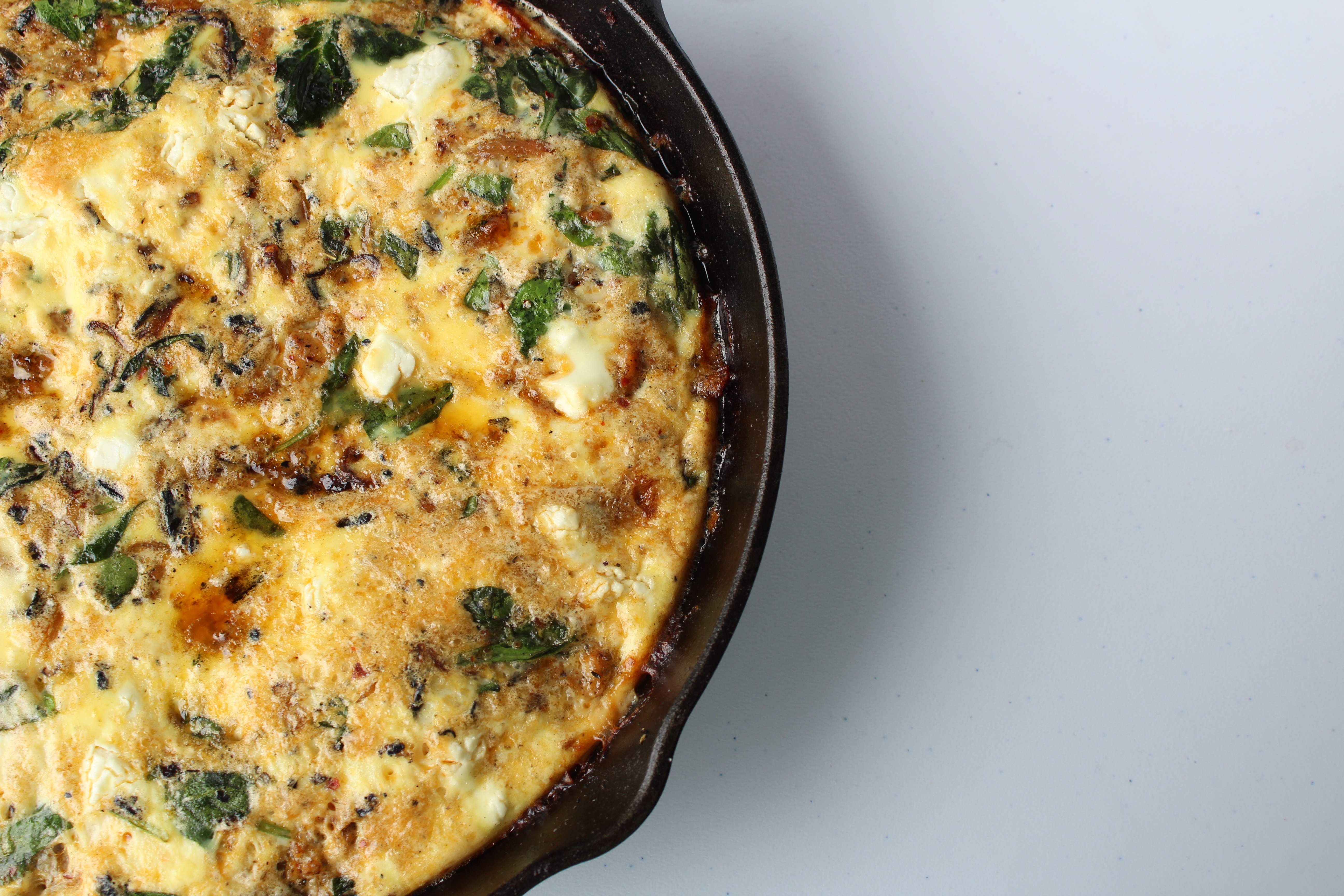 It works any time of day, and the best part is that you can let it sit out for a while and it still tastes good at room temperature. Some people say you can eat it cold, but that makes me want to die a little on the inside so maybe we stick with room temp or warm. Cool?
COOL.
In case you are wondering (you are), my favorite way to serve this is at brunch! I love having friends over for brunch (big fan of day drinking over here) and this dish is a perfect addition to a brunch spread. Because it can sit out for a while, you can make it ahead of time and just keep it out for people to pick at. Serve with a salad, fruit, maybe some muffins? And mimosas! It's the perfect way to spend the day before falling asleep on your couch at 3 p.m. (oh look, another reason why I like hosting at my place).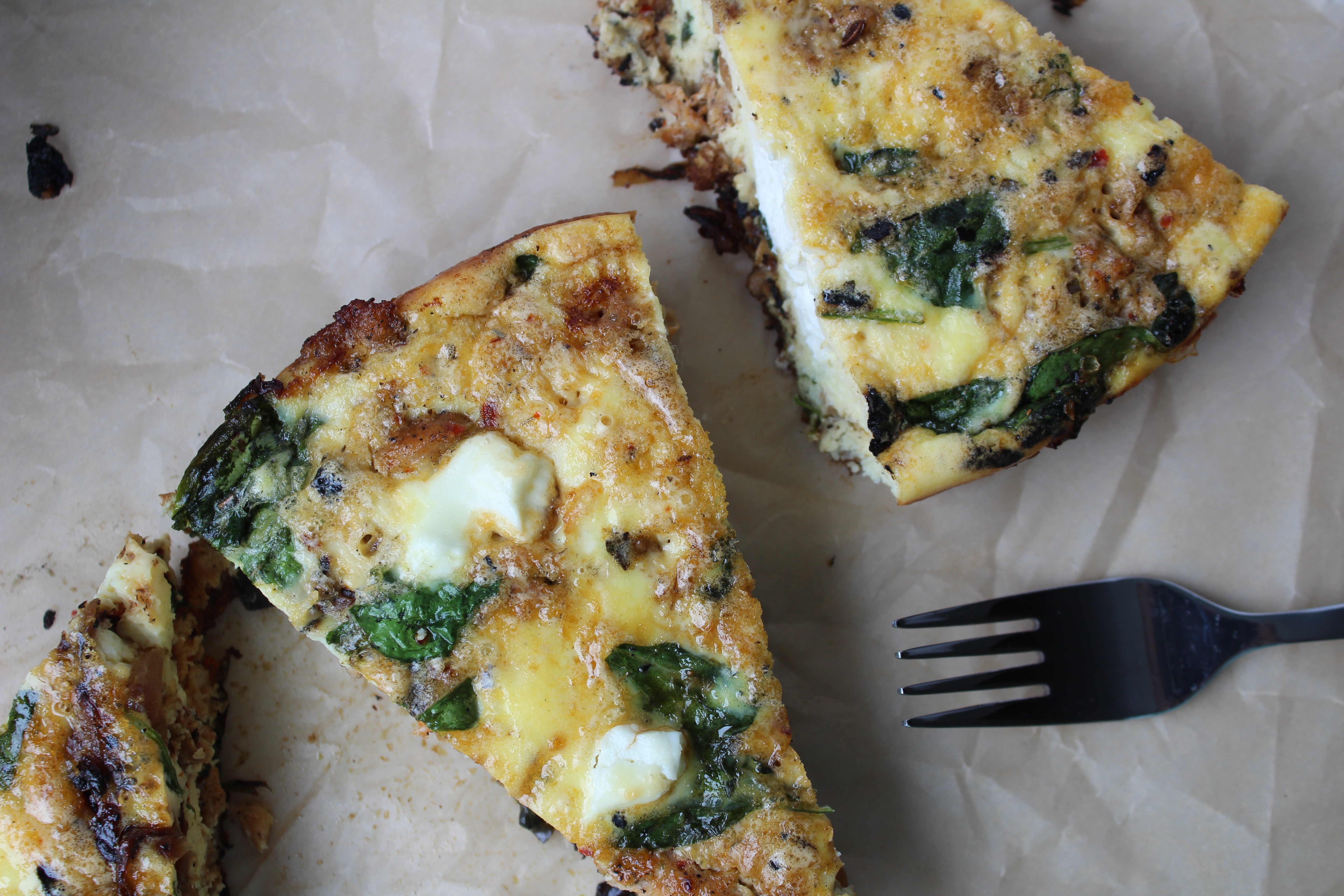 Print
Caramelized onion, sausage and goat cheese frittata
---
Total Time:

1 hour

Yield:

6

1

x
1

lb sausage (I love spicy chicken sausage in this, but use whatever you prefer)

1 tablespoon

butter

1

medium onion, sliced

1 teaspoon

salt

2 cups

spinach, roughly chopped

1 teaspoon

pepper

½ teaspoon

red pepper flakes (optional if you don't want a little heat)

¼ teaspoon

oregano

12

eggs

½ cup

yogurt

2 oz

goat cheese
---
Instructions
Preheat oven to 350.
Cook sausage over medium heat, crumbling as it cooks. When it's done, remove from the pan and set aside.
Add butter to pan and let melt. Add onions and ½ teaspoon of salt. Cook over medium-low heat for 25-30 minutes, stirring occasionally. You want them to get soft and deeply caramelized (but, um, if you burn them a little because you called your parents and maybe forgot you were cooking onions it's still going to be okay). When onions are done, bring the heat back up to medium-high and add the sausage back in the pan along with the spinach. Season with red pepper flakes and oregano and stir until spinach wilts. Spread everything out evenly in pan.
Meanwhile, in a large bowl whisk eggs together with yogurt, ½ teaspoon of salt and pepper until smooth. It's okay if the yogurt stays a little bit lumpy but you want it pretty smooth. Pour eggs over sausage and onion mixture, tilting the pan a bit to make sure the eggs are distributed evenly.
Cook over medium heat for 5 minutes, just until edges start to set. Crumble goat cheese over the top and then place pan in oven. Bake for 20 minutes, until middle is just set.
Notes
Because I used a 12-inch cast iron skillet, a dozen eggs were used in the making of this dish. If you have a smaller pan (or just don't need this much egg in your life) you can use less. You basically just want to the eggs to even out with the filling when you pour them in - they don't have to cover everything but it should look pretty even. Alternatively, if you prefer a thinner frittata you can just use less eggs!
Store leftovers, covered, in the fridge for 5-7 days.
Prep Time:

10 minutes

Cook Time:

50 minutes