My favorite homemade crispy carnitas! Crispy, juicy and slightly smoky. Easy to make ahead for a crowd, and perfect for tacos, salads, rice bowls and more! Both slow cooker and Instant Pot directions included.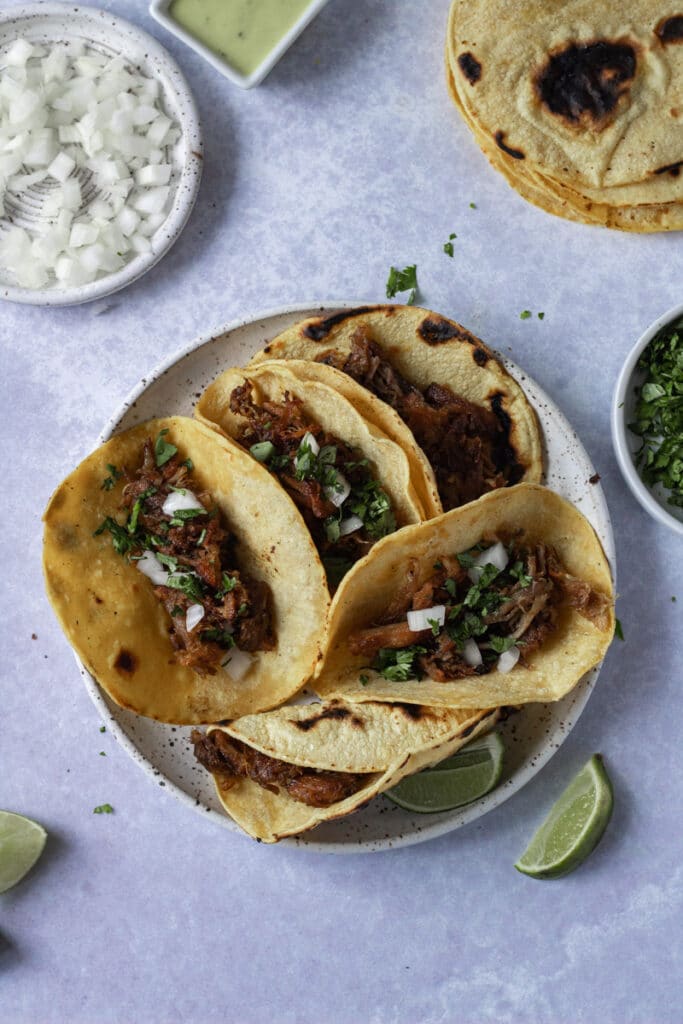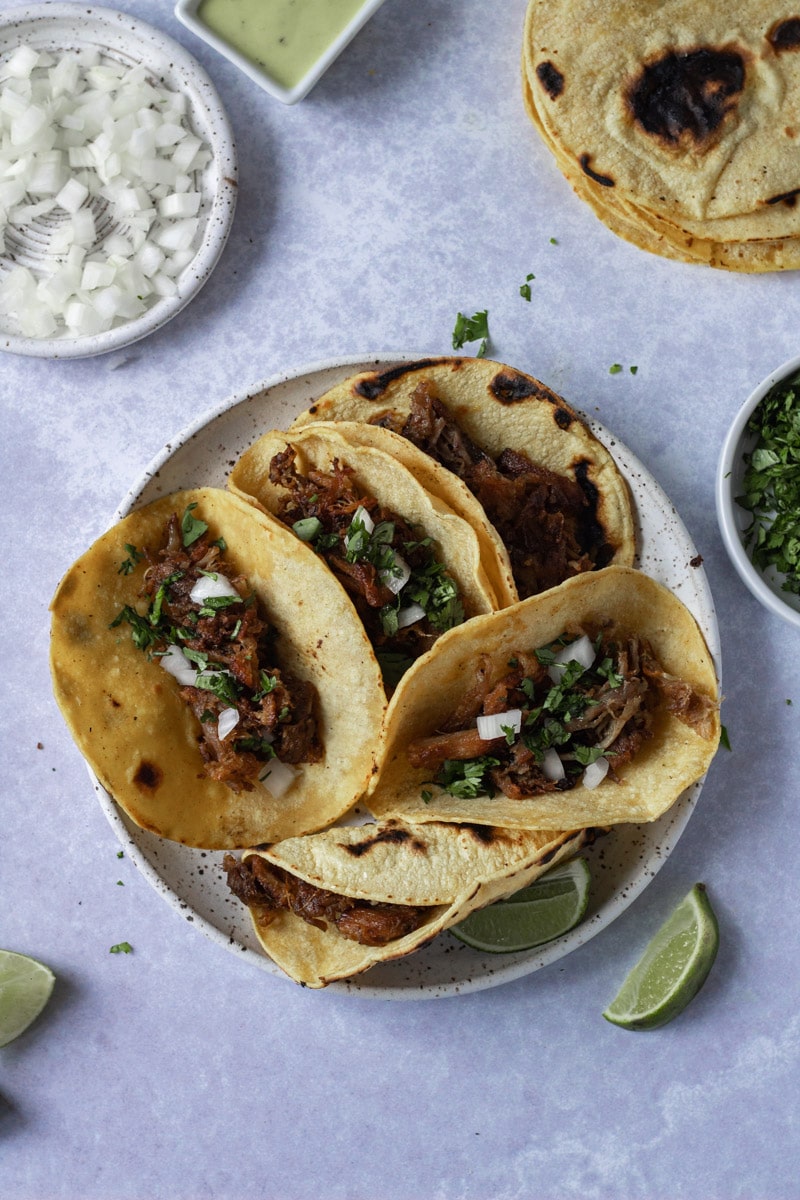 Print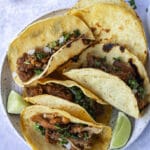 Crispy carnitas (Slow Cooker + Instant Pot)
---
Author:

Mansee

Total Time:

8 hours 30 minutes

Yield:

8

-

1

0

1

x
Description
My favorite homemade carnitas! Crispy, juicy and slightly smoky. Easy to make ahead for a crowd, and perfect for tacos, salads, rice bowls and more! Slow cooker and Instant Pot directions included.
---
4

-

5

lb pork shoulder, trimmed and cut into large chunks

2 tablespoons

chili powder

1 tablespoon

ground cumin

2 teaspoons

salt

1 teaspoon

dried oregano

1 teaspoon

smoked paprika

8

garlic cloves, smashed

½ cup

orange juice (bottled is fine!)

¼ cup

vegetable oil
---
Instructions
Add 4-5 lbs pork shoulder, cut into large chunks, to your slow cooker or Instant Pot.
Add 2 tablespoons chili powder, 1 tablespoon ground cumin, 2 teaspoons salt, 1 teaspoon dried oregano and 1 teaspoon smoked paprika
Add  8 smashed garlic cloves , ½ cup orange juice and ¼ cup vegetable oil. Mix to combine and coat pork with spices.
To cook:

Slow cooker: Cook on low for 8-10 hours.
Instant Pot: Cook on high pressure for 1 hour. Let pressure release naturally if you have the time. Otherwise, manual is fine!

When pork is cooked, take out and shred with two forks. Transfer back into slow cooker or Instant Pot and mix with juices in pot.
To finish them off, you have two options:

Turn on your broiler and get it hot hot hot. Line a baking sheet with foil and spread pork out in an even layer. Broil for 5 minutes. Take sheet out, ladle some of the leftover juices over and toss with tongs. Broil for 3-5 minutes more until the edges are deeply caramelized and crispy. Keep an eye on this, as broilers differ from oven to oven.
Heat a large frying pan on medium-high. Add 1 TB vegetable oil and spread pork out in an even layer. Let cook for 2-3 minutes, pressing down with a spatula to help it crisp up. Toss pork and let it cook for 1-2 minutes more. If it starts to look a little dry, just add in a few tablespoons of juice.

Serve in tacos, burritos, bowls, whatever!
Notes
If you have some extra time and want to be an overachiever, you can sear the pork before adding the spices and cooking. While this does help develop some extra flavor, I've found over the years that it's really not necessary since we're searing at the end anyway!
If you're not eating these all at once, they keep really well. You can fry/caramelize them all at once and then keep them in the fridge for about a week, and in the freezer for a month.
Alternatively, you can store the pork as-is out of the slow cooker and then fry up whatever you need, whenever you need it! If you do this, either transfer some of the juices into the container as you pack it up or keep it in a separate container in your fridge. You'll want it when you broil/fry them up later to keep things from drying out. If the idea of keeping meat juice in your fridge weirds you out (I get it), just keep some chicken stock on hand!
Prep Time:

20 minutes

Cook Time:

8 hours

Category:

Main

Method:

Slow cooker

Cuisine:

Mexican
These crispy carnitas have been a staple in my kitchen for a couple years now, and I am always SO excited to make them.
While they are not super authentic by any means, they are quite easy to make and perfect to use in tacos, burrito bowls and more. I love to make a big ol' batch and eat them throughout the week.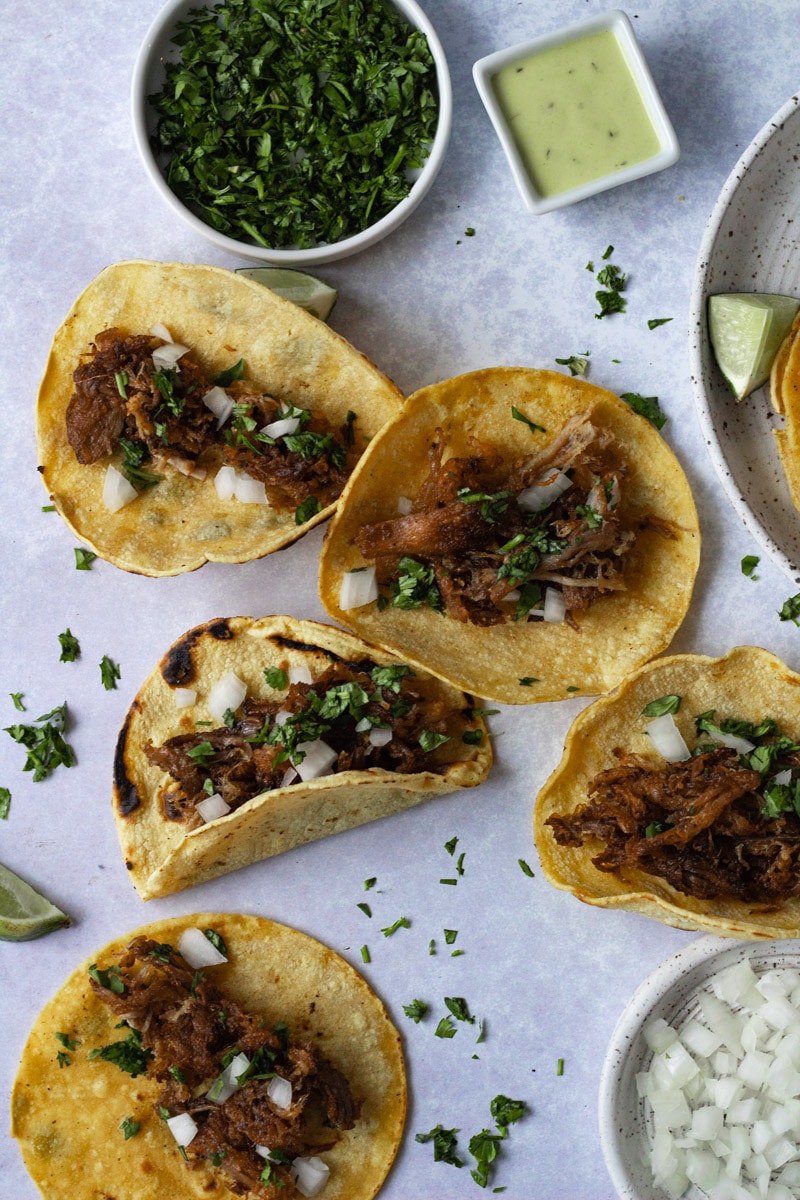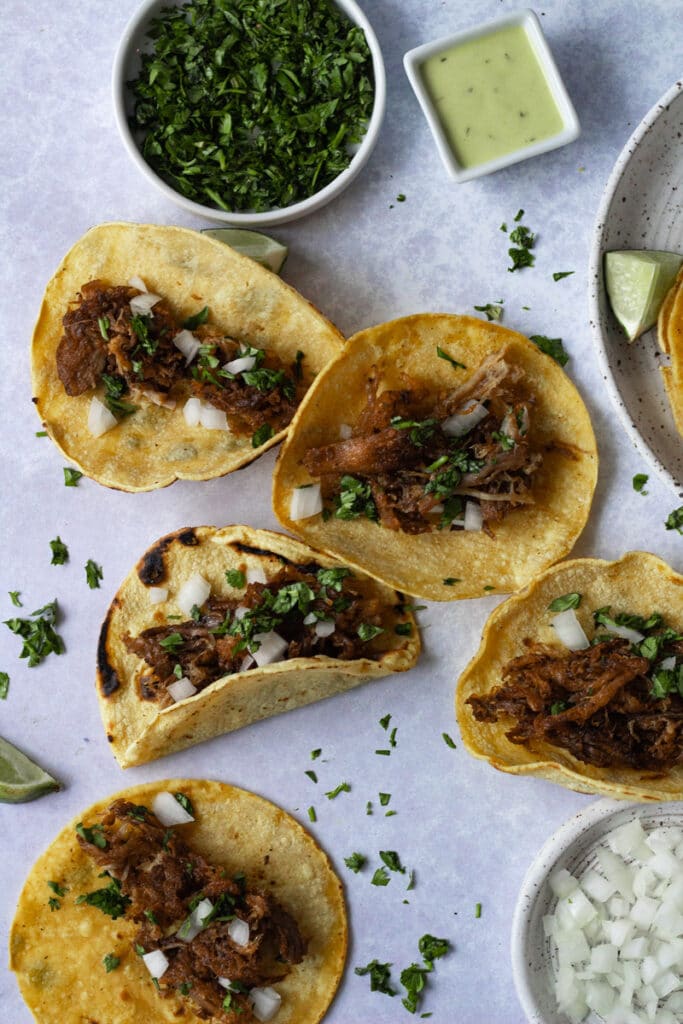 Great in the slow cooker or Instant Pot
I made this in a slow cooker for more than two years before I got an Instant Pot, and they are great both ways! Obviously the Instant Pot is a bit quicker, but that's about the only difference. The process is exactly the same with both versions.
Note: Most recipes dealing with slow cooking/pressure cooking large cuts of meat start with you browning the meat before letting it cook for hours. I used to do that with these homemade carnitas, but over time realized since I was crisping them up at the end (hello crispy carnitas), that initial sear didn't make a huge difference! I was still getting that delicious flavor either way, so why bother with that first step, you know?
With that said, if you just can't imagine NOT starting with a quick sear you absolutely can. Just cook your pork pieces in batches before adding to your slow cooker OR sear right in the Instant Pot!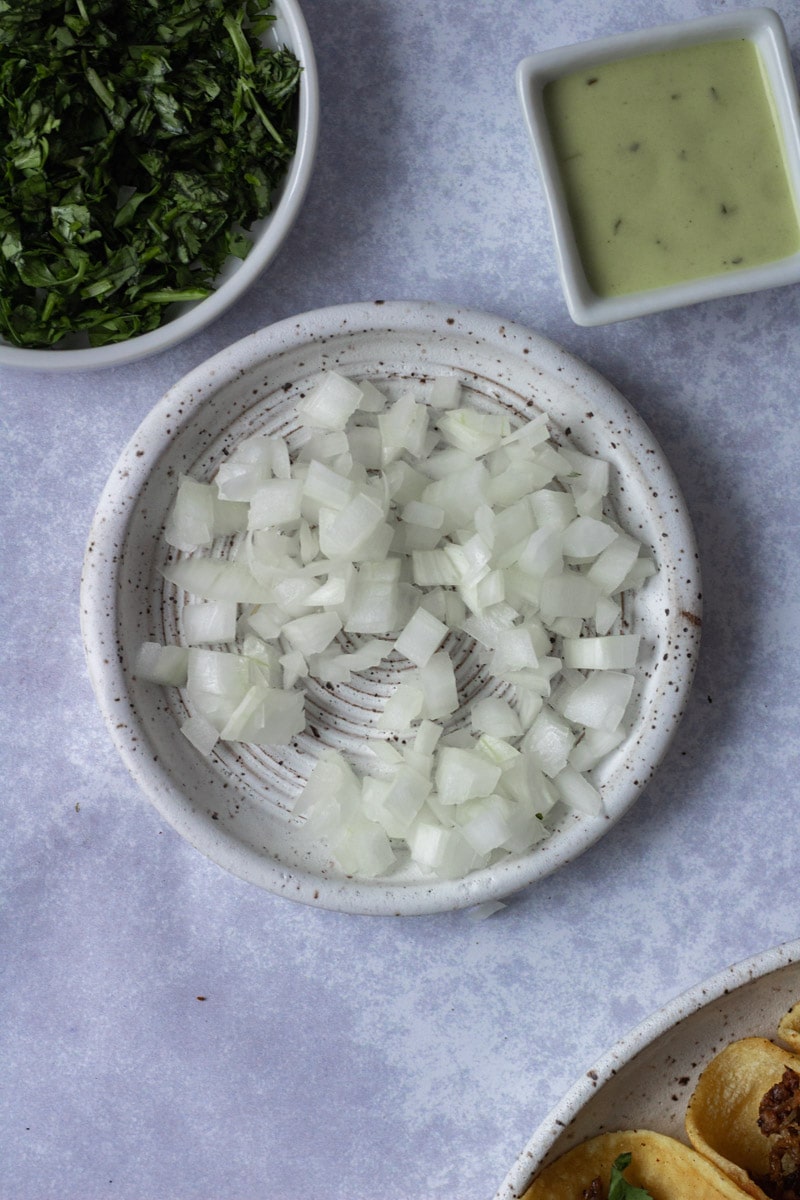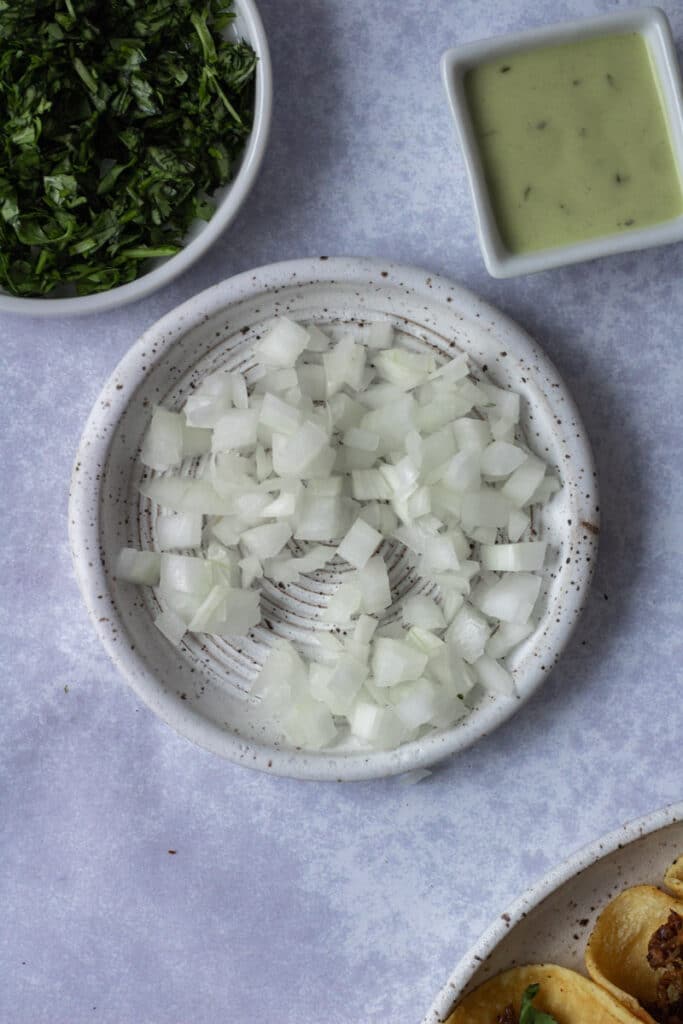 Not just for tacos
I settled on this version of my homemade carnitas because I think they are just as delicious on tacos as they are on a salad, and that's important when we're talking about a single person making this much pork. I mean, sure you could eat 700 tacos and call it a day (my hero), but if you like to switch it up like I do, these go on/with almost everything!
A few ideas:
They are also great in lettuce wraps, on pizza, in a grilled cheese, and the list goes on.
This is obviously great for a crowd, but if you're not feeding eight million people these also stay really well in the fridge and freezer. Trust me on this - I rarely ever scale this recipe down, so I pretty much always have crispy carnitas in my fridge or freezer.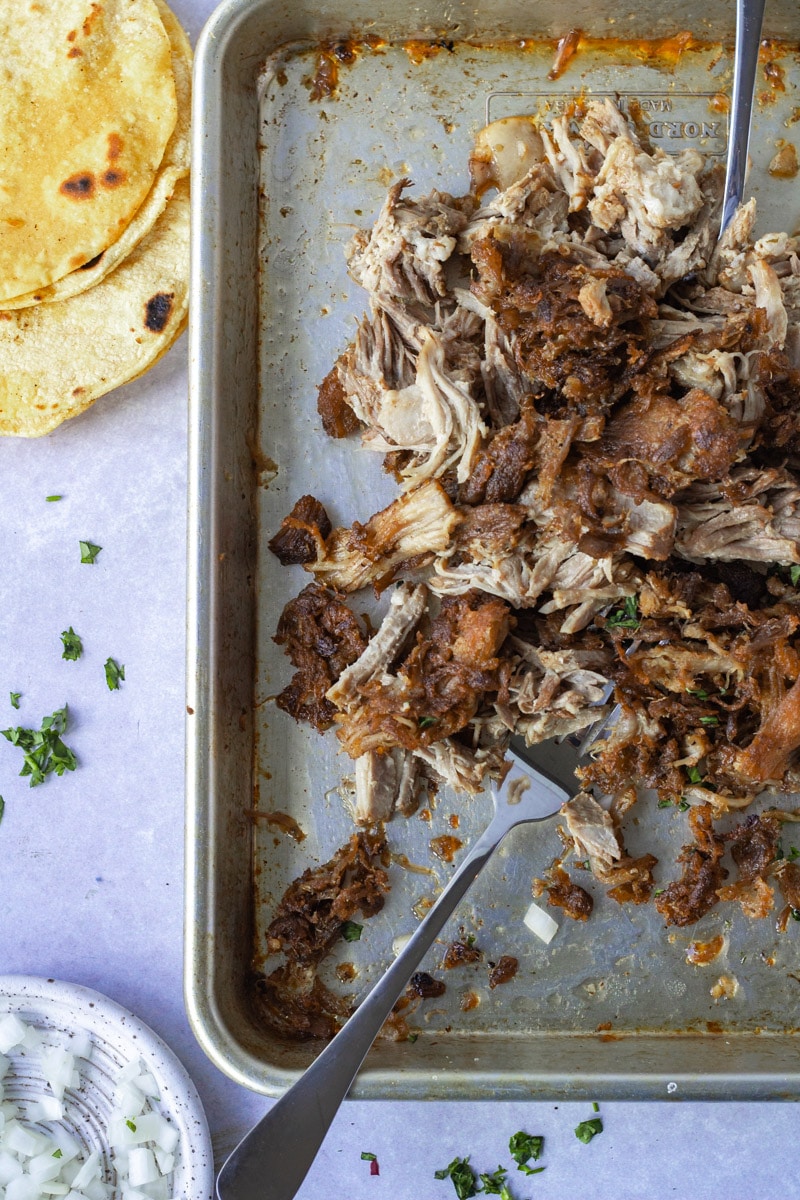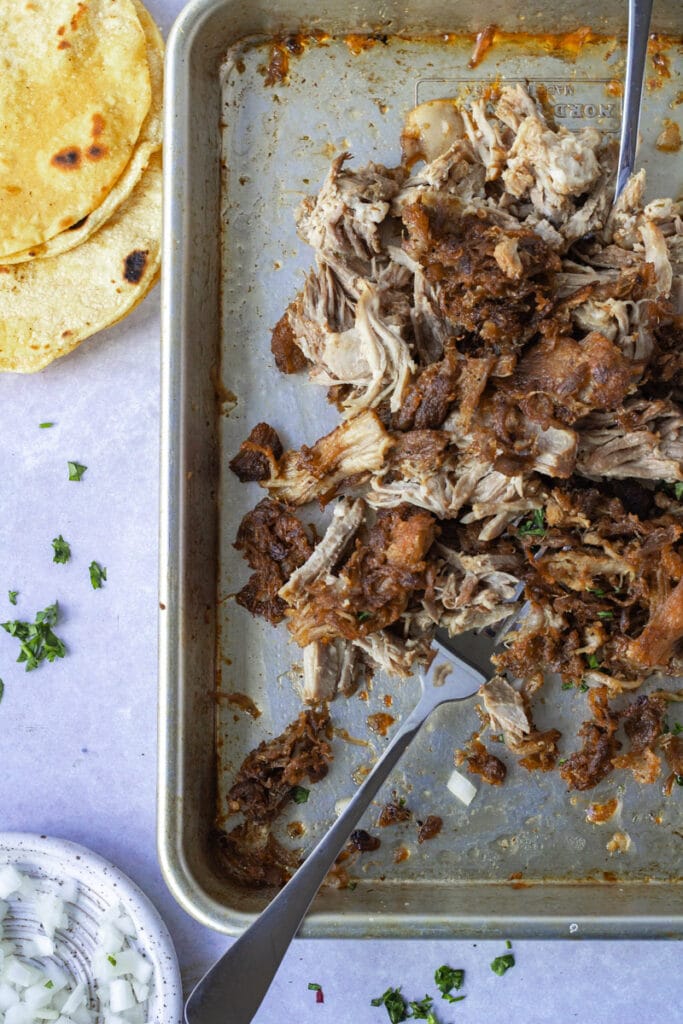 Putting the crispy in crispy carnitas
So the basic recipe is super simple: Just cut up your pork in large pieces (like 7-9 chunks, depending on the size of your pork shoulder) and place it in your slow cooker or Instant Pot. Sprinkle over all the spices, throw in a lot of garlic and pour in orange juice and a little oil. Stir it up and then you're good to go! Cook according to directions above, and then shred the meat and mix with the delicious juices.
OKAY. So then comes the fun part. To me, the best part of these carnitas are the crispy parts you get with each bite. There are a couple ways to do this:
Oven: Spread out the shredded pork on a lined baking sheet and broil for a few minutes. Then you'll take them out, toss with some juices and broil again for another minute or two until they are perfectly charred and crispy. Tossing with those juices will keep the carnitas from drying out too much, and also ensures you have some bites that are super juicy mixed in with the crispy bites. Tip: Line your baking sheet with foil vs. parchment paper so you don't accidentally catch anything on fire!
Stovetop: This is great if you only need to crisp up a serving or two of carnitas. Heat about a tablespoon of oil over medium-high heat in a large pan. Once hot, add the shredded pork and let cook, pressing down gently with a spatula for maximum crisping. Add a tablespoon or two of juices if things look dry and toss. Let cook for another minute and then you're done!
I hope you all love these homemade crispy carnitas as much as I do!