Sheet pan dinners aren't just for big family dinners! Single-serve sheet pan meals are easy and perfect for busy weeknights. Chicken, vegetables and even rice are cooked together to make a warm, comforting and quick rice bowl!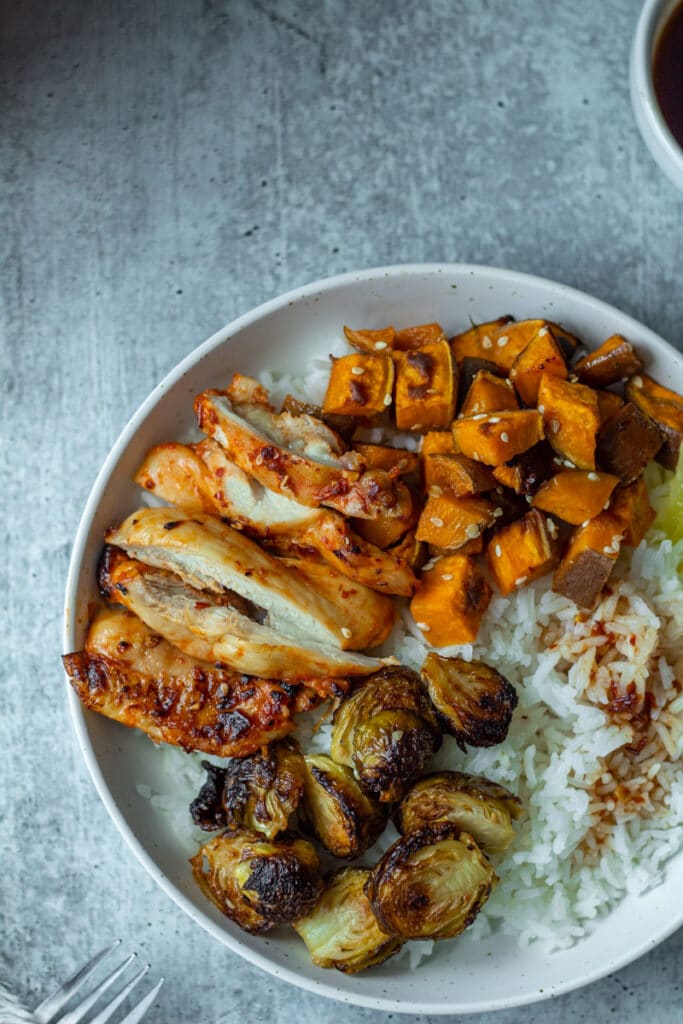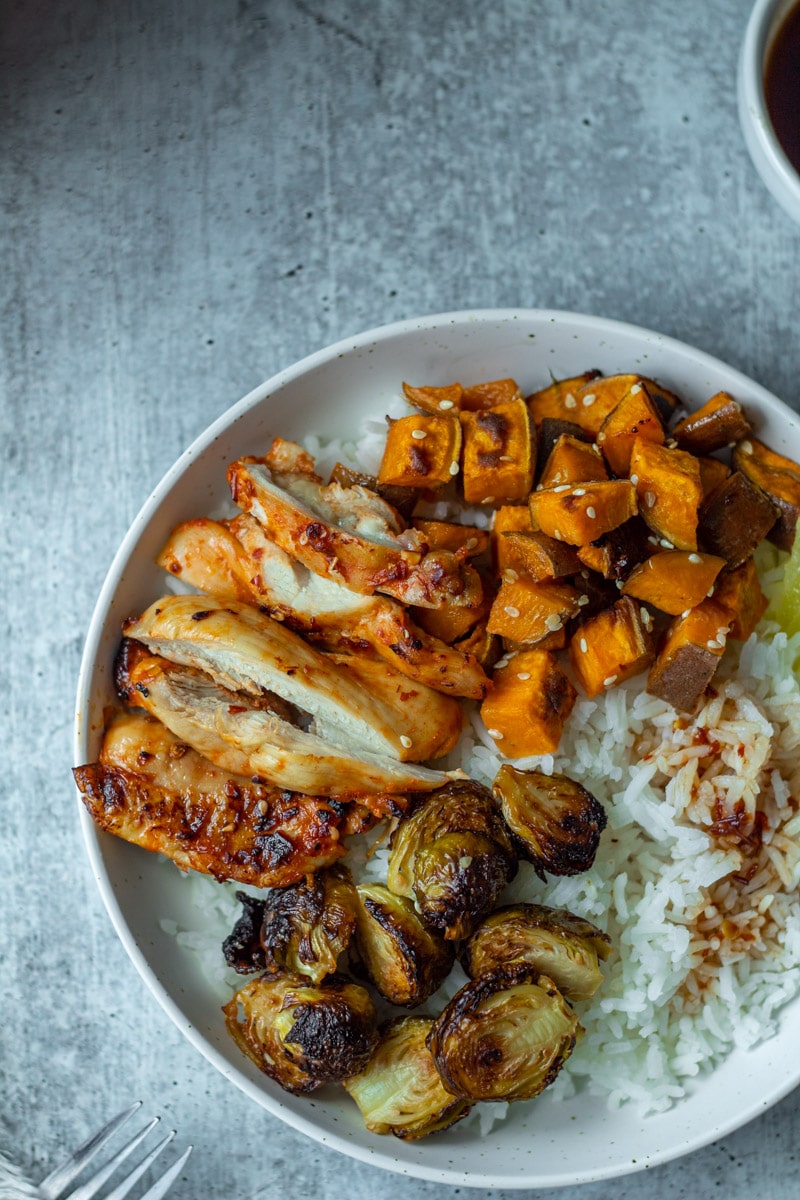 Print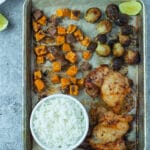 Cooking for one: Sheet pan chicken and rice
---
Author:

Mansee

Total Time:

35 minutes

Yield:

1

1

x
Description
Sheet pan dinners aren't just for big family dinners! Single-serve sheet pan meals are easy and perfect for busy weeknights. Chicken, vegetables and even rice are cooked together to make a warm, comforting and quick rice bowl!
---
½

sweet potato, cubed

5

brussels sprouts, halved

1 teaspoon

oil, divided

¼ teaspoon

salt

2

boneless, skinless chicken thighs

3 teaspoons

chili garlic paste, divided

½ teaspoon

sesame seeds

⅓ cup

rice

½ cup

boiling water or hot chicken stock

2 teaspoons

soy sauce

1 teaspoon

lime juice

½ teaspoon

honey
---
Instructions
Preheat oven to 400. Line a baking sheet with parchment paper. Set aside.
Combine sweet potato and brussels sprouts in a bowl and toss with ½ teaspoon oil and ¼ teaspoon salt. Arrange separately on baking sheet. 
In the same bowl, add 2 boneless, skinless chicken thighs, remaining ½ teaspoon oil and 2 teaspoons chili garlic paste. Mix to coat chicken well, and then arrange those next to the vegetables on baking sheet.
Sprinkle ½ teaspoon sesame seeds on sweet potatoes (or everything if you want!).
Add ⅓ cup rice in a small oven-proof bowl or ramekin. Carefully pour in ½ cup boiling water or stock and stir to combine. Cover bowl tightly with foil. Nestle next to chicken and vegetables on pan.
Put everything in oven and bake for 20-25 minutes, or until vegetables are tender and caramelized and chicken is cooked through. Let rice cool for 5 minutes (still covered) and then fluff with a fork.
While everything is cooking, combine remaining 1 teaspoon of chili garlic paste with 2 teaspoons soy sauce, 1 teaspoon lime juice and ½ teaspoon honey. 
Add rice to bowl, topped with vegetables and sliced chicken. Drizzle on as much sauce as you'd like. Top with more sesame seeds and green onions, if desired!
Prep Time:

10 minutes

Cook Time:

25 minutes

Category:

Dinner

Method:

Oven
It's been a while since I've shared a cooking for one recipe, which is hilarious because the past six months I've really, almost exclusively, been cooking just for me!
Part of cooking for comfort for me is in the act itself: Stirring big pots of stews and soups, boiling a package of pasta to toss with SO MUCH butter and cheese, baking tray after tray of chewy chocolate chip cookies to eat while anxiously reading the news.
Cooking for one doesn't always provide that same level of comfort, which is why I often just settle in for a life full of leftovers. But it doesn't have to be that way!
I will always make sure these single-serve recipes are as easy and quick as can be, but sometimes easy and quick can still mean thoughtful, you know? And while sheet pan dinners are generally about getting a quick meal on the table for your family with minimal cleanup, they are also a great go-to for one person looking to build a really comforting meal: Chicken and rice.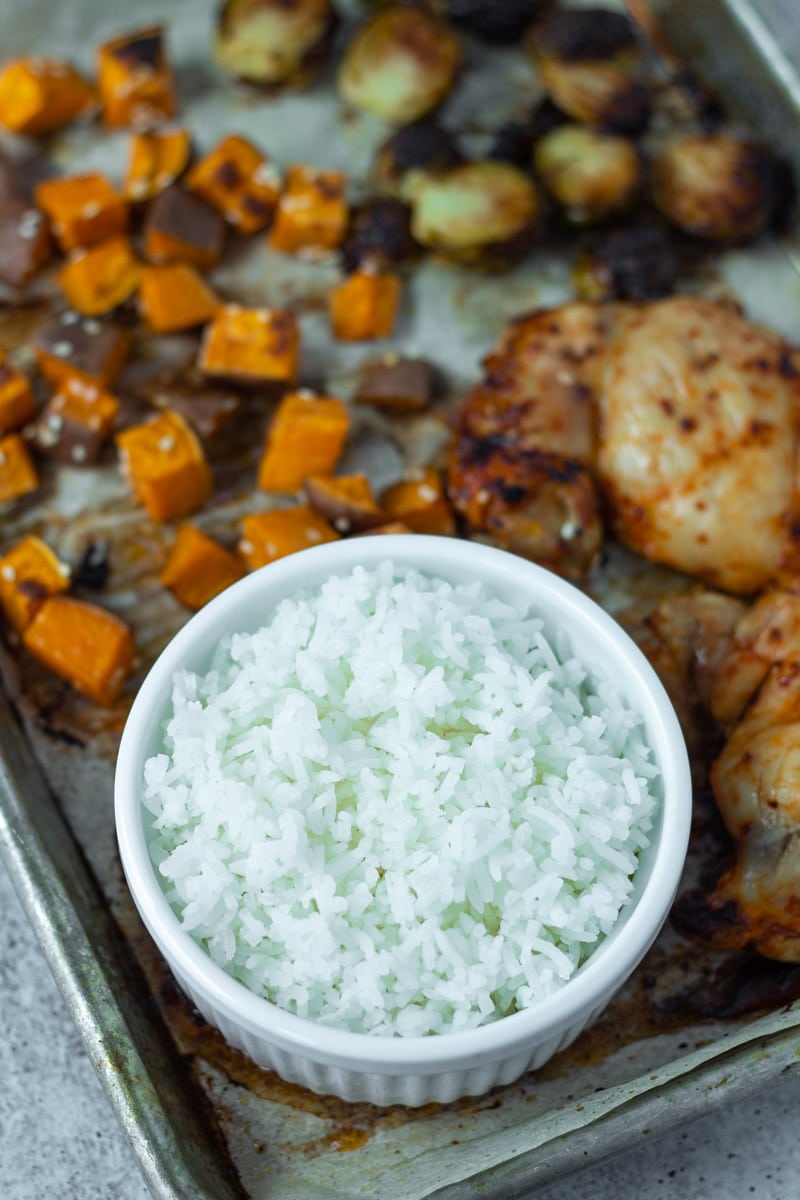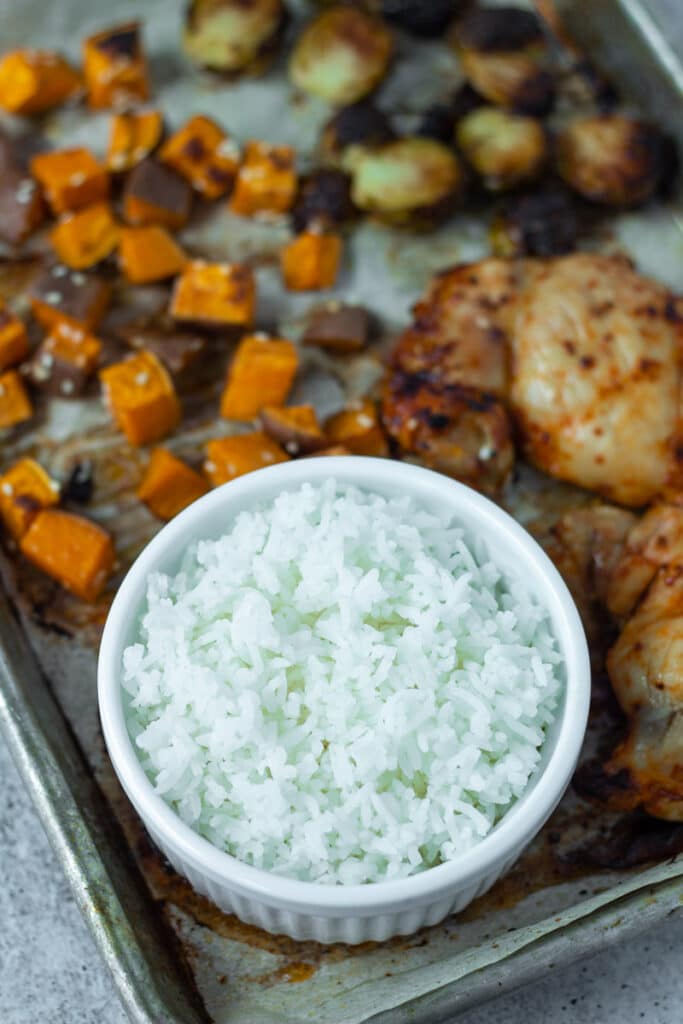 Sheet pan rice
First thing's first - YES we are cooking this rice in the oven. Total game-changer.
The key to this is using boiling water or stock from the start and finding a small little (oven proof - duh) bowl that you can tightly cover with foil. This allows the rice to start cooking immediately when you put it in the oven with everything else. If you use cold water, it will take too much time to "boil" and everything won't be done at the same time.
The proportions here are important too! Instead of the usual 2:1 water: rice ratio, I found slightly less water works best. You can play with the measurements depending on how much rice you want, but I found ⅓ cup rice + ½ cup water was perfect for one, filling, comforting bowl.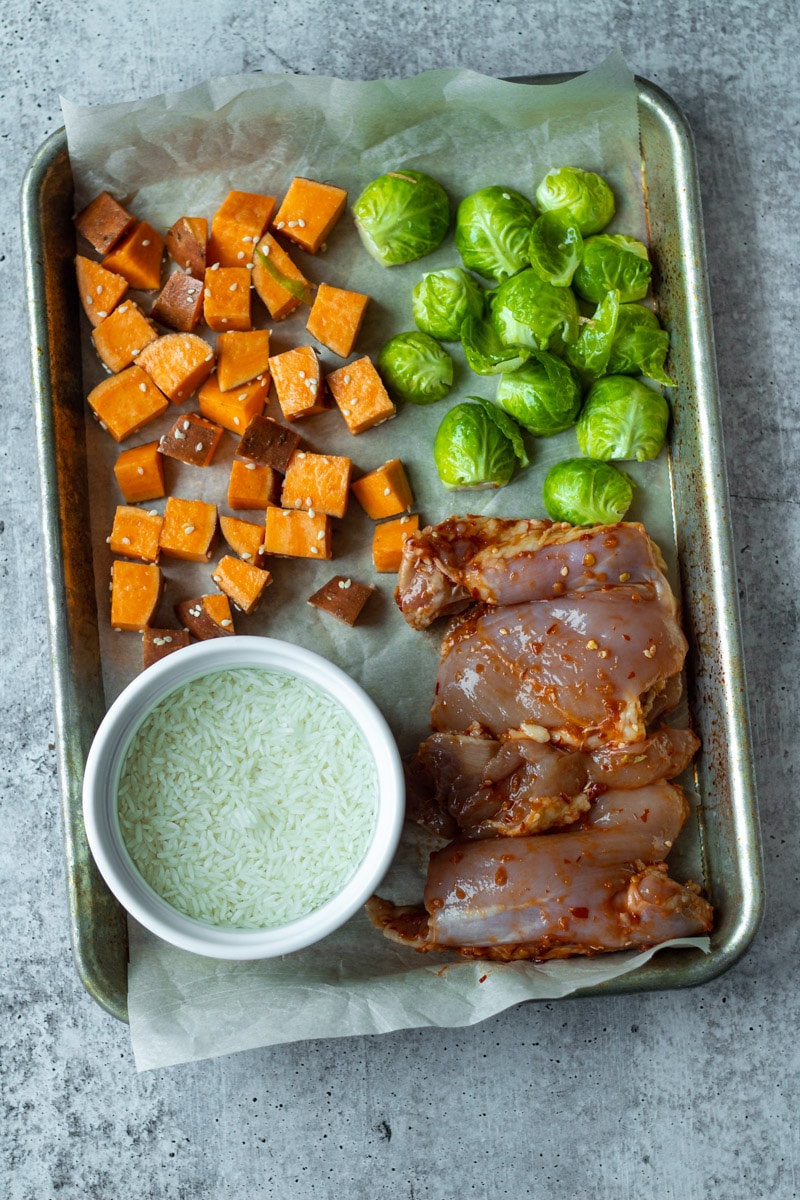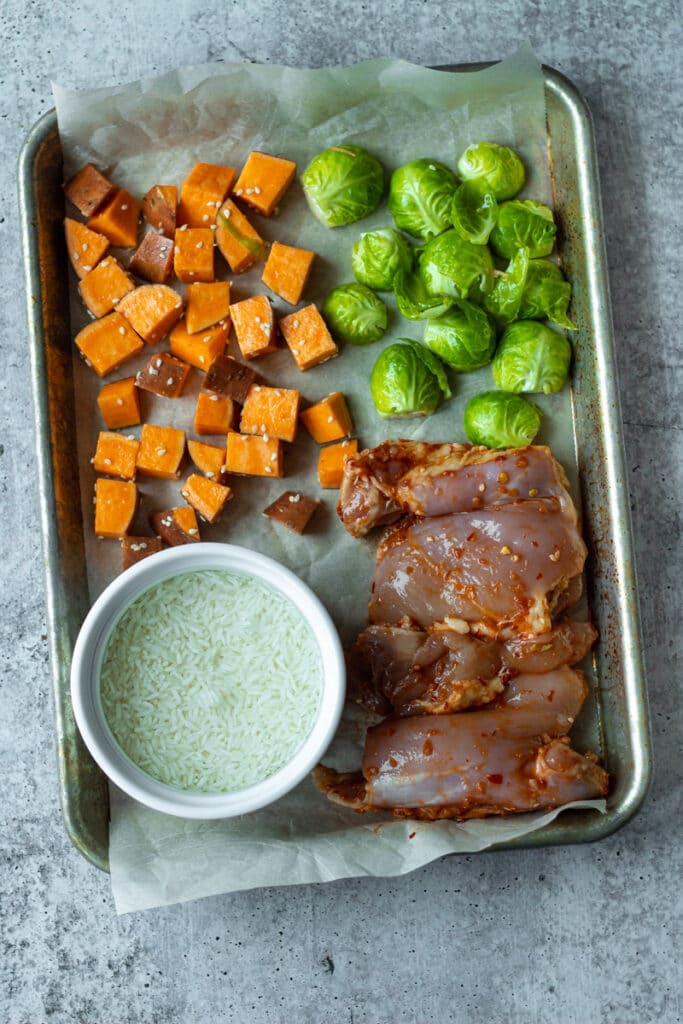 All at once!
When it comes to the vegetables, you definitely have options but make sure to think about how long they take and what that means for the meal...holistically. Your chicken is going to take about 20-25 minutes, so think about vegetables that will take about the same amount of time.
Sweet potatoes and brussels sprouts can cook at about the same rate so I love them here. But you can also do cauliflower, broccoli, regular potatoes and more! If you do want to use a vegetable that could take less time, like green beans, just add them to the pan 5-10 minutes after everything else goes in the oven.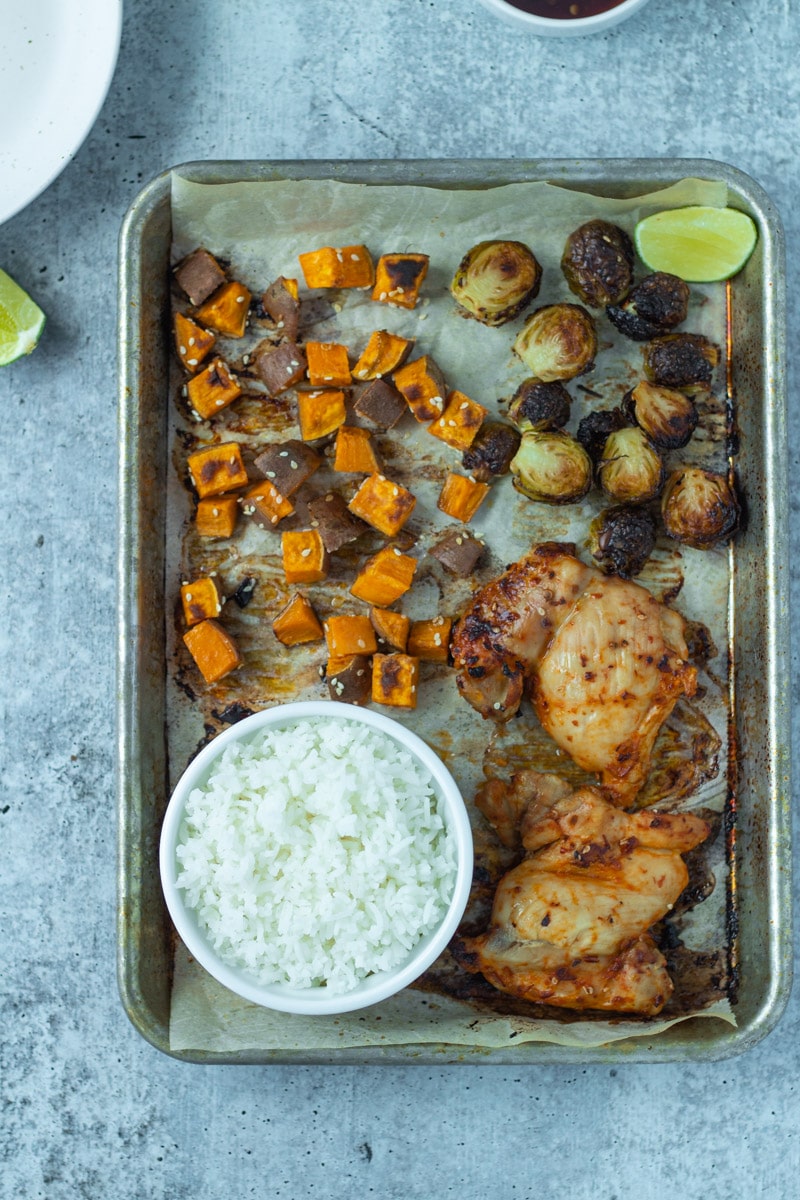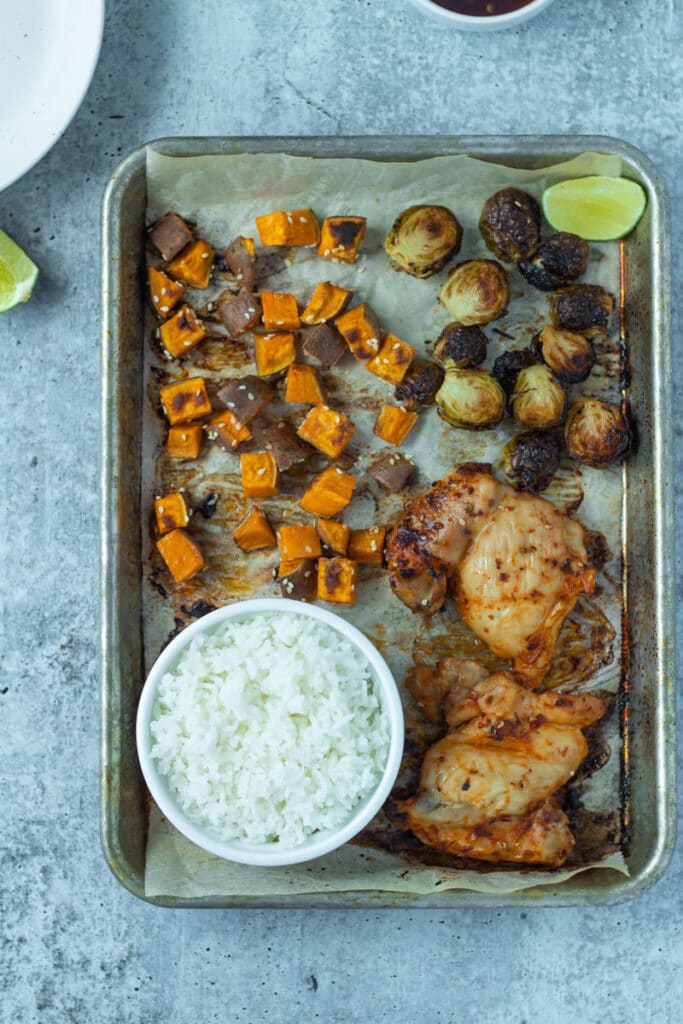 Speaking of vegetables, you can totally leave the chicken out and make this is a veg bowl. Again, cauliflower is great here. Or you can use a meat substitute! Vegan sausage is great. Just add that in the last few minutes of cooking, as it won't take as long as meat.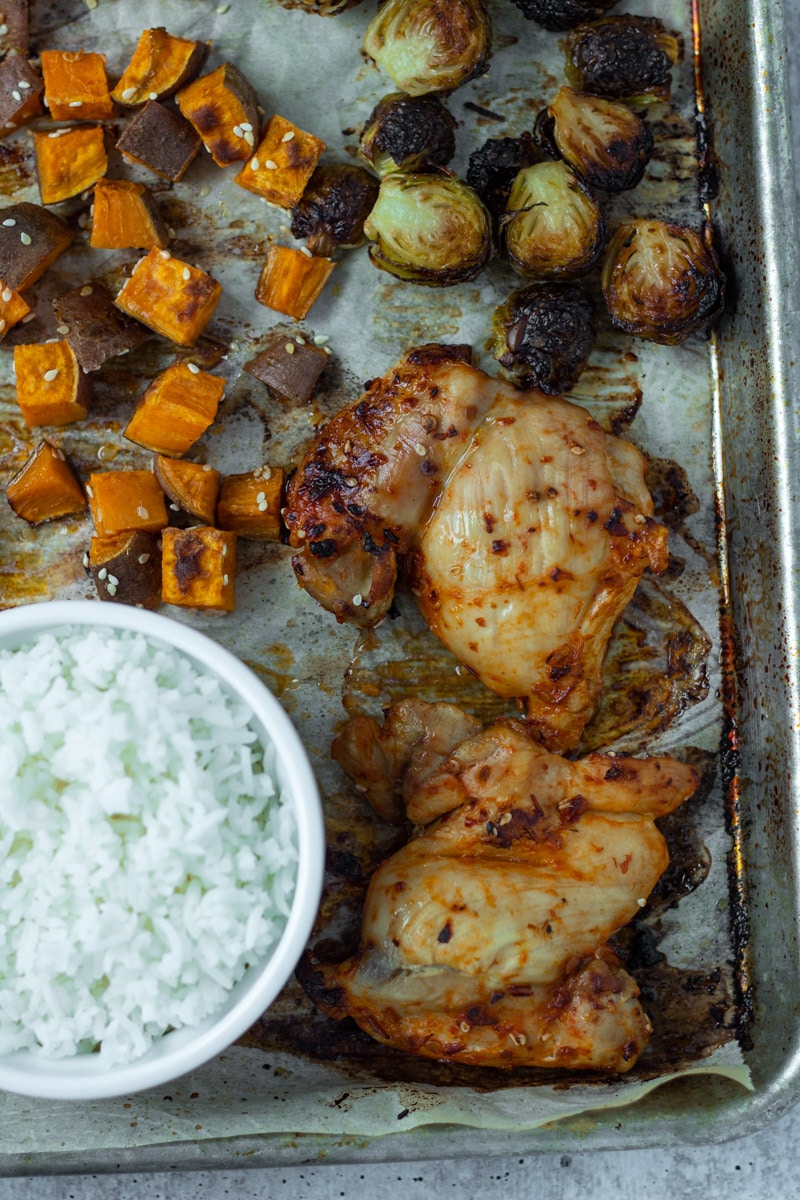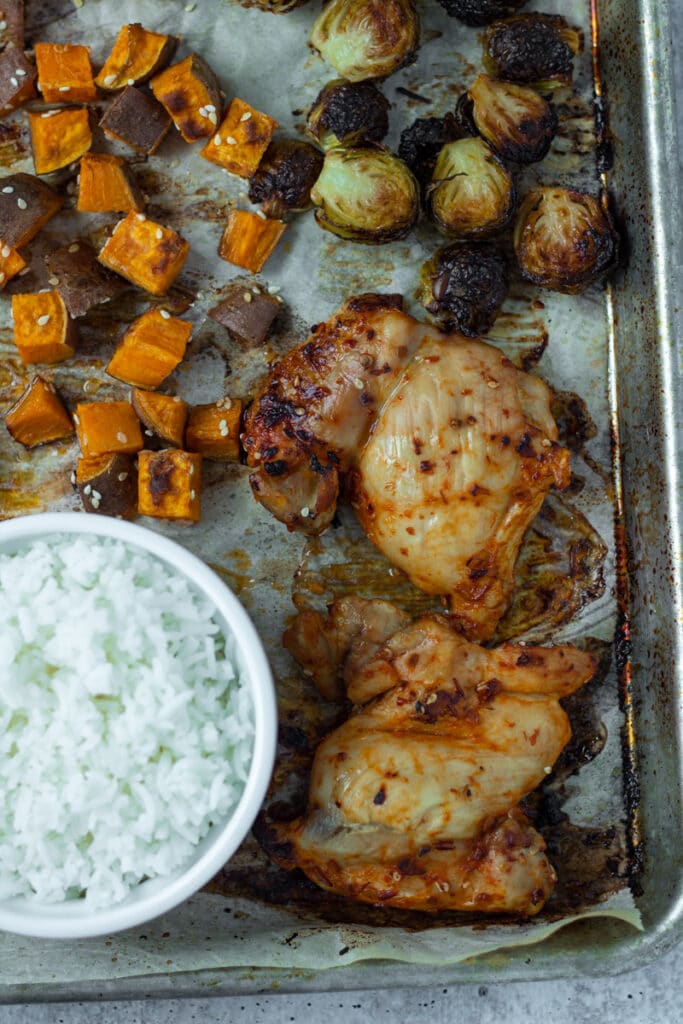 The star
Here's my real secret: Store-bought chili garlic sauce. It doesn't matter the brand, just whatever you can find at your local store. These sauces/pastes have SO much flavor and a little go a long way, making it perfect for dishes like this.
I make it do double-duty here but coating the chicken in it before roasting, and also using a bit in a quick sauce that you'll pour over your bowl at the end. Super garlicky and a tiny bit spicy, this is the flavor that really brings everything together.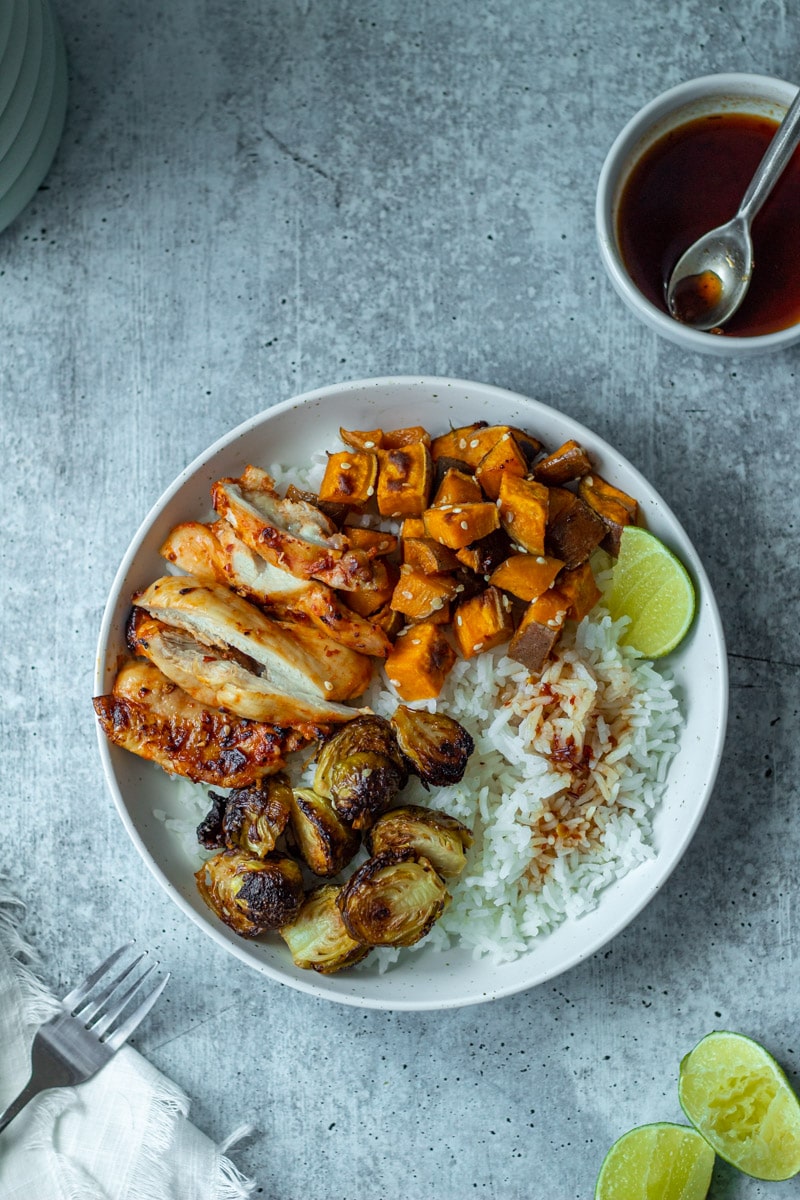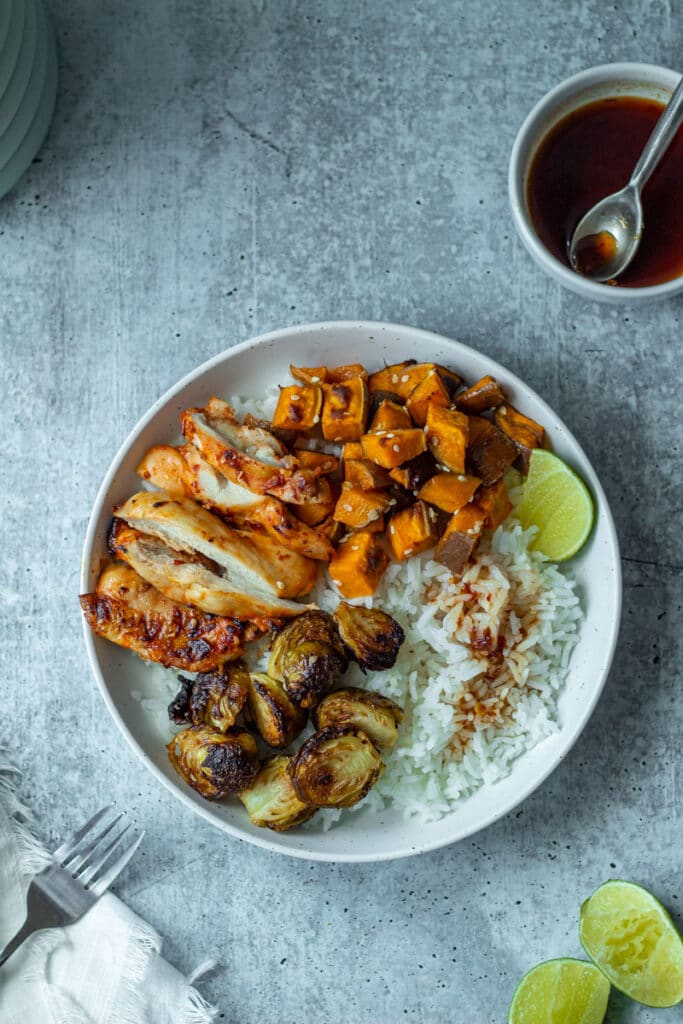 Putting it all together
The beauty of this cooking for one meal is there is still a process to follow, allowing you to be thoughtful and take some time for yourself in the kitchen rather than throwing a bag of popcorn in the microwave (i.e. me about twice a week).
A quick run-down
Chop your vegetables and toss with some oil and salt. You can throw them on the sheet pan all together, or separate them if you want to mix up any seasoning. I added some sesame seeds to the sweet potatoes, but you could also throw in some cayenne pepper or any other flavor you're into that day
Coat 2 chicken thighs (or 1 if it's big, or 3 if you want more!) with some chili-garlic sauce. If you really want to amp up flavor, you can absolutely grate in more garlic or splash in some soy sauce. You do do! Add chicken to the pan too.
Combine dry rice and boiling water in a small ramekin. Cover TIGHTLY with foil and carefully transfer to the pan, nestling it in with the chicken and vegetables. Again, the boiling water is key here as it ensures the rice starts cooking immediately!
While everything is baking away, you can mix up your quick sauce using the rest of the chili garlic paste, soy sauce and a little honey and lime.
To serve, fluff the rice with a fork and turn out into your bowl. Top with vegetables and sliced chicken, and drizzle with sauce. You can add some avocado and/or extra lime juice, if desired!
See? From chopping the vegetables to "marinating" the chicken to mixing the finishing sauce. The fun and comfort of cooking is still there, but the cleanup and leftovers aren't. Win-win!