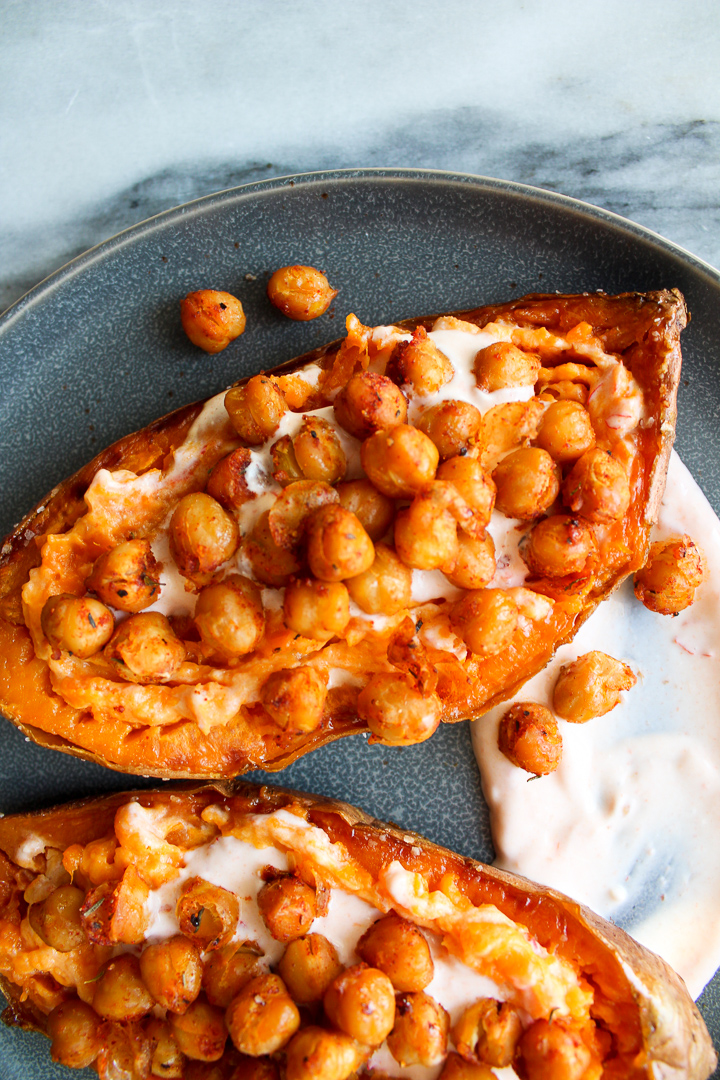 Stuffed sweet potatoes can be a bit divisive. For some, it's definitely a full meal. For others, don't you dare try to put a baked potato on their plate and call it dinner.
But when you're talking about dinner for one, a stuffed sweet potato with crispy chickpeas and harissa yogurt is definitely not the worst you can do. In fact, it's great. Surprisingly filling, yet still light enough that you can eat four bowls of ice cream later because it is so hot outside.
(Side note: WHYYYYYY?!)
I've never had an issue with calling a sweet potato dinner. One of my favorite (and filling, I might add) meals is spiced roasted sweet potato wedges dipped in ketchup. I have no idea why - especially because I don't even like ketchup that much. But with a spicy sweet potato, it's pretty much all I want 2-3 days a week.
I mean, let's be honest. I'm basically eating fries for dinner.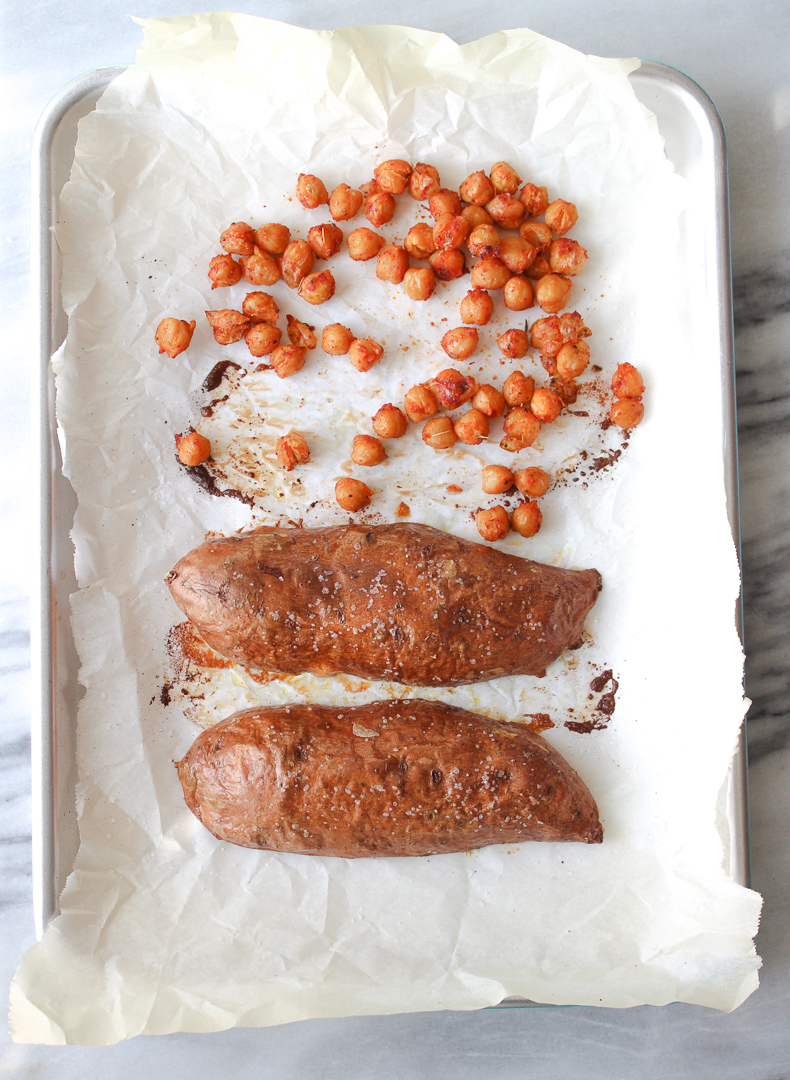 So this. This is like a step up from actually just eating sweet potato fries for dinner. The crispy chickpeas make it that much more filling, and the harissa yogurt adds spice while simultaneously cooling things down. It's such a good combo!
In the recipe below, I note that you can use whatever spices you want to season your chickpeas because...you can! It's just as good with a chili powder and paprika spin, as it is with lemon pepper. You can also just do a little salt and pepper and call it a day. I love using my house seasoning for this because it's already got all my favorite flavors.
From start to finish, this meal takes less than hour. If you want to speed that up, I'd definitely suggest roasting a sweet potato or two ahead of time (meal prep!) so you can just warm it up as your chickpeas are roasting (don't roast the chickpeas ahead of time - they lose their crisp kind of fast) and have dinner ready to go in about 20 minutes.
I think we can all agree that's a win.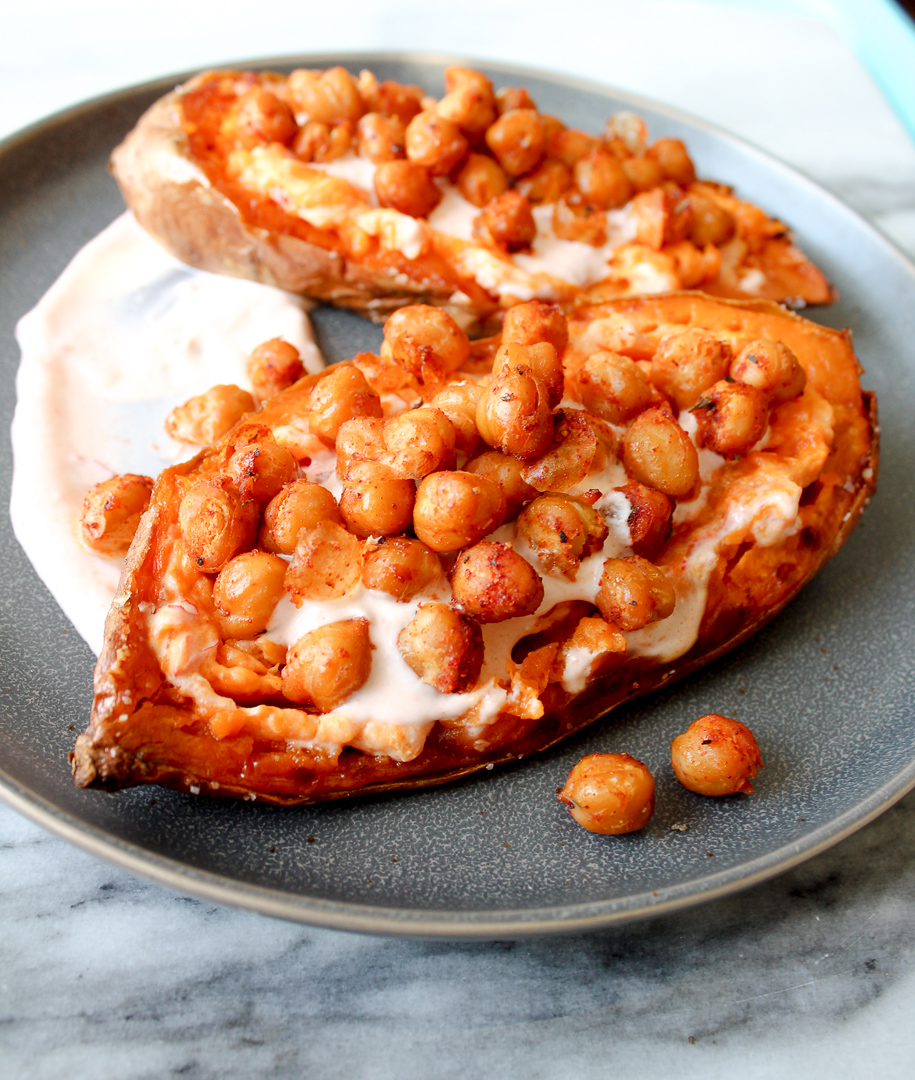 Print
Cooking for One: Stuffed sweet potato with crispy chickpeas and harissa yogurt
---
Total Time:

50 minutes

Yield:

1

1

x
1

sweet potato

1 ½ teaspoons

olive oil, divided
Salt

⅓ cup

chickpeas, drained and rinsed

1 teaspoons

spice blend (any kind you like!)

3 tablespoons

yogurt (greek or plain will work)

½ teaspoon

harissa paste
---
Instructions
Preheat oven to 400.
Slice sweet potato in half, and rub all over with 1 teaspoon olive oil. Sprinkle liberally with salt. Place on a parchment-lined baking sheet cut side down and bake for 20 minutes.
Meanwhile, mix chickpeas with the remaining oil, your spices of choice and a sprinkle of salt. After 20 minutes, remove pan from oven. Nudge sweet potatoes over and arrange chickpeas on pan in one layer. Bake for an additional 15-20 minutes, until sweet potato is super soft and chickpeas are crisp.
Mix yogurt with harissa paste, a sprinkle of salt and a squeeze of lemon juice (if you'd like). Set aside.
Using a small fork, carefully mash the inside of the sweet potato halves in the skins. Add a little of the yogurt and mix to combine. Add a smear more yogurt, and top with chickpeas. Eat immediately.
Notes
The roasted sweet potatoes and yogurt can be made in advance if you'd like to meal prep this a bit. The only component that must be made day-of are the chickpeas so that they stay crispy.
The crispy chickpeas are DELICIOUS on their own, so feel free to roast up a whole can and save the rest of snacking or for adding to salads, wraps, etc. (again, they will start to soften after a little while but they'll still be yum).
Prep Time:

10 minutes

Cook Time:

40 minutes
Don't forget to check out the Cooking for One page for more single-serving recipes!