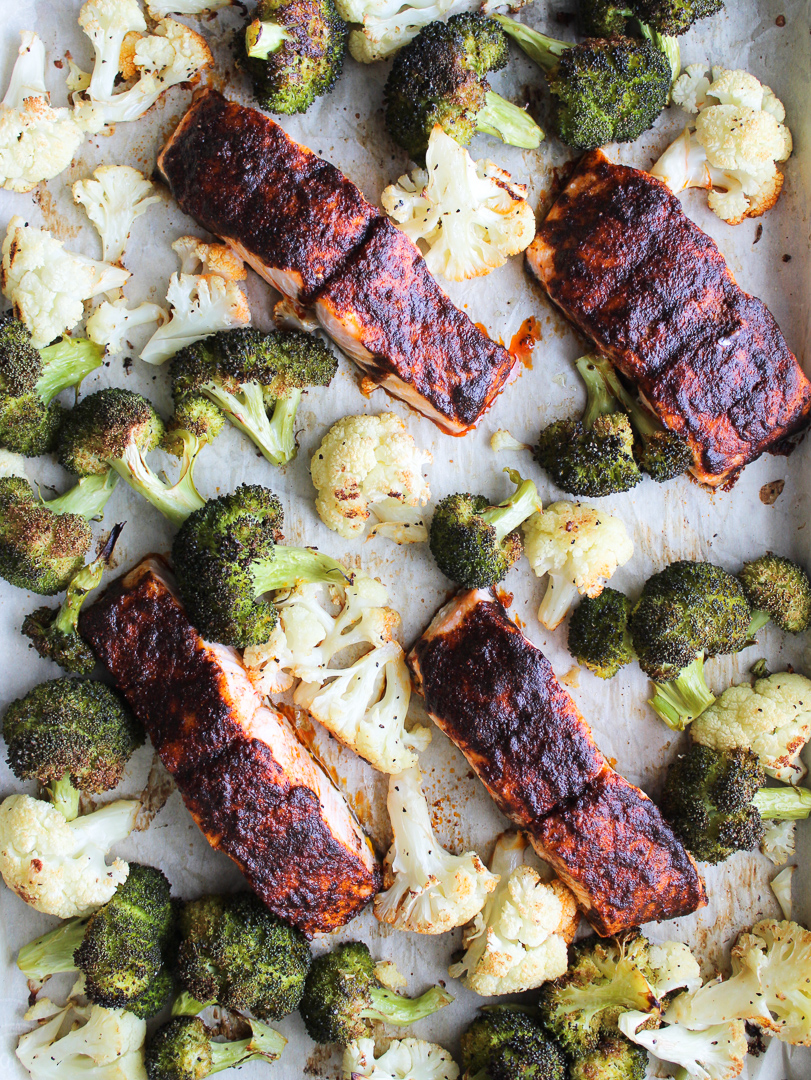 Hi - welcome to my favorite kind of dinner!
Salmon + roasted vegetables + one pan + a little time in the oven = the BEST weeknight dinner.
I don't need to tell you how much I love salmon. It's been discussed. Aside from being the most delicious of fish, it's also perfect for quick and easy meals like this because it can cook so quickly.
I shared a sheet pan dinner last year, and it's still one of my go-to meals when I want something easy and filling but don't want to make a mess in the kitchen. There's something about throwing everything in the oven that makes me feel like I'm barely even cooking. But I still get a big ol' tray of food at the end! Magic!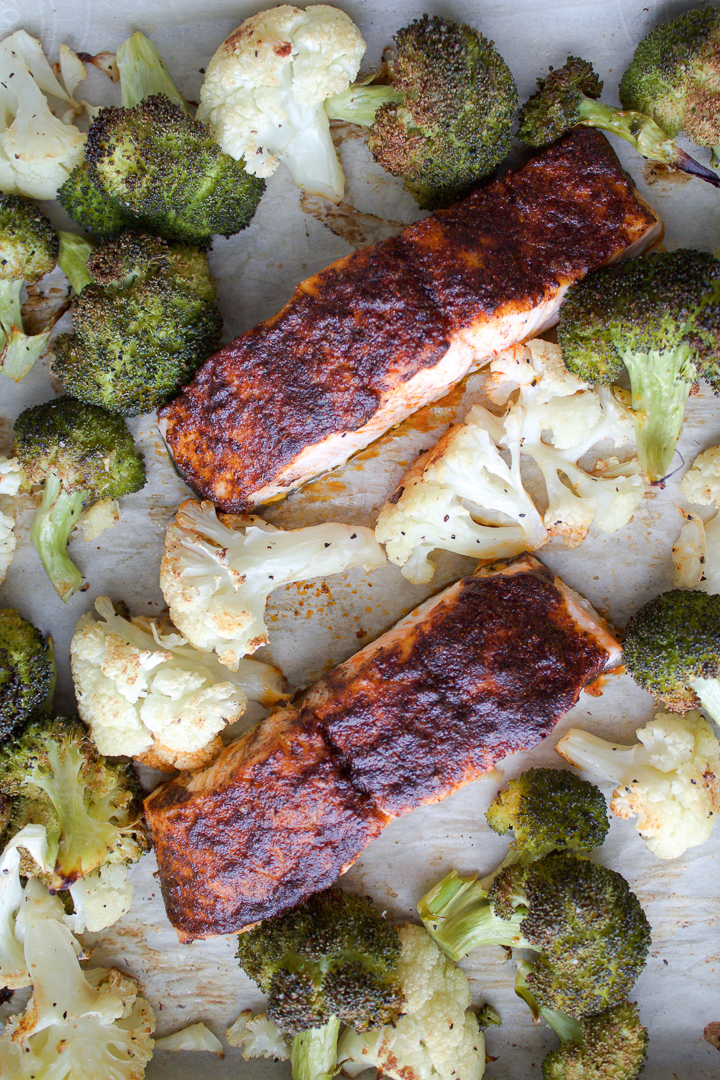 The beauty of this spiced salmon sheet pan dinner is that we're cooking everything at a super high heat, so it comes together so fast. You literally throw the veggies on the pan with a little oil, salt and pepper and get them started for about 20 minutes. In the meantime mix up a quick spice blend and get that on the salmon. Then it's just about getting that fish on the baking sheet and in the oven again for about 10 minutes. DONE.
I really like broccoli and cauliflower here because they both roast beautifully at a hight heat. Also it always makes me feel extra good to eat broccoli and cauliflower in the same meal, ya know? Health all around! You can, of course, use whatever vegetables you want and/or have on hand, but just make sure to adjust cooking time if you need it.
The spice blend on the salmon adds a ton of flavor to the dish, but as you guys know I'm a sauce girl. I love to finish off a dish with a super flavorful sauce, and this is no different. I've linked to a few of my favorite options in the recipe, but feel free to use your favorite. Or just throw some guac on top and call it a day (omg I want that right now).
Hope you guys like this easy, easy dinner!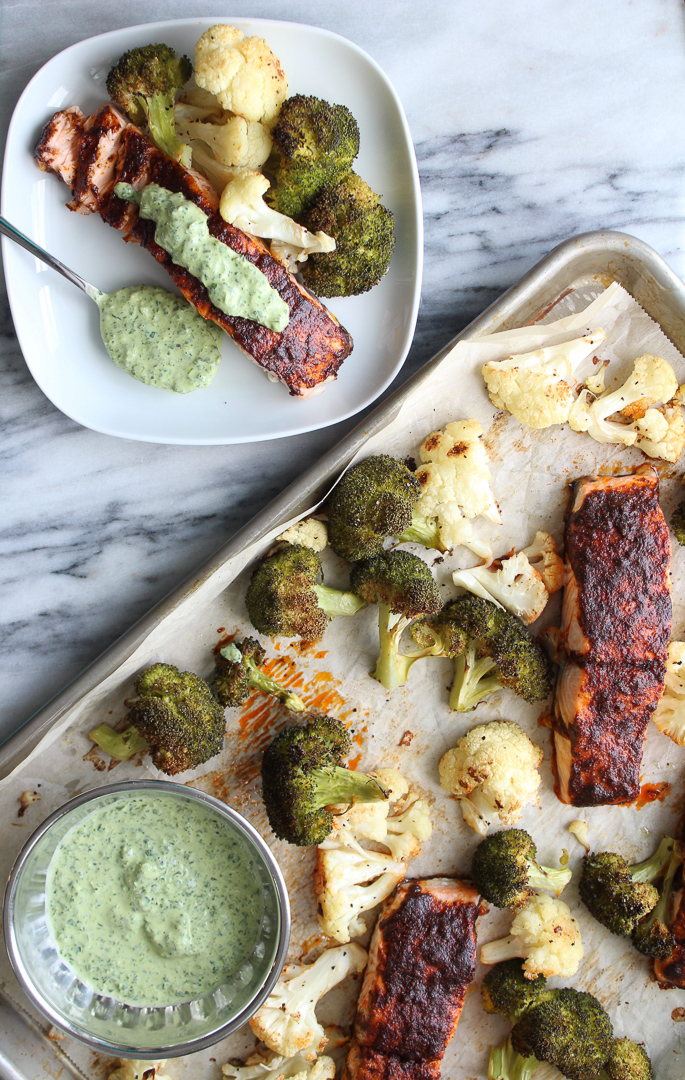 Print
Spiced salmon sheet pan dinner
---
Total Time:

40 minutes

Yield:

4

1

x
---
Instructions
Preheat oven to 450.
Toss broccoli and cauliflower florets with 2 tablespoons oil and arrange on baking sheet. Sprinkle with ½ teaspoon of salt and a little pepper. Bake for 20 minutes.
Meanwhile, mix chili powder, cumin, smoked paprika and garlic powder with remaining tablespoon of oil. Mix to create a paste.
Pat salmon filets dry with a paper towel and then season with salt. Divide spice/oil mixture among the salmon and rub in using your fingers. I normally just do the top, but you can add the spice mixture to the sides as well if you'd like.
When the 20 minutes is up, remove pan from oven. Toss broccoli and cauliflower and make room for salmon. Nestle filets in and bake for an additional 8-10 minutes, until salmon is done to your liking.
Serve as-is or with your favorite sauce!
Prep Time:

10 minutes

Cook Time:

30 minutes