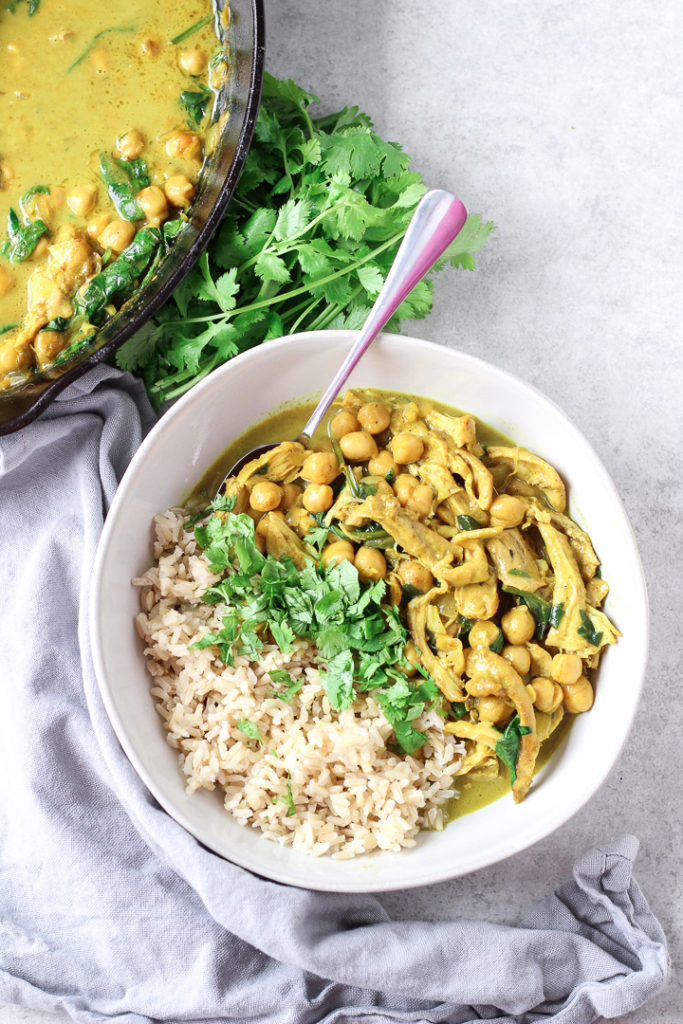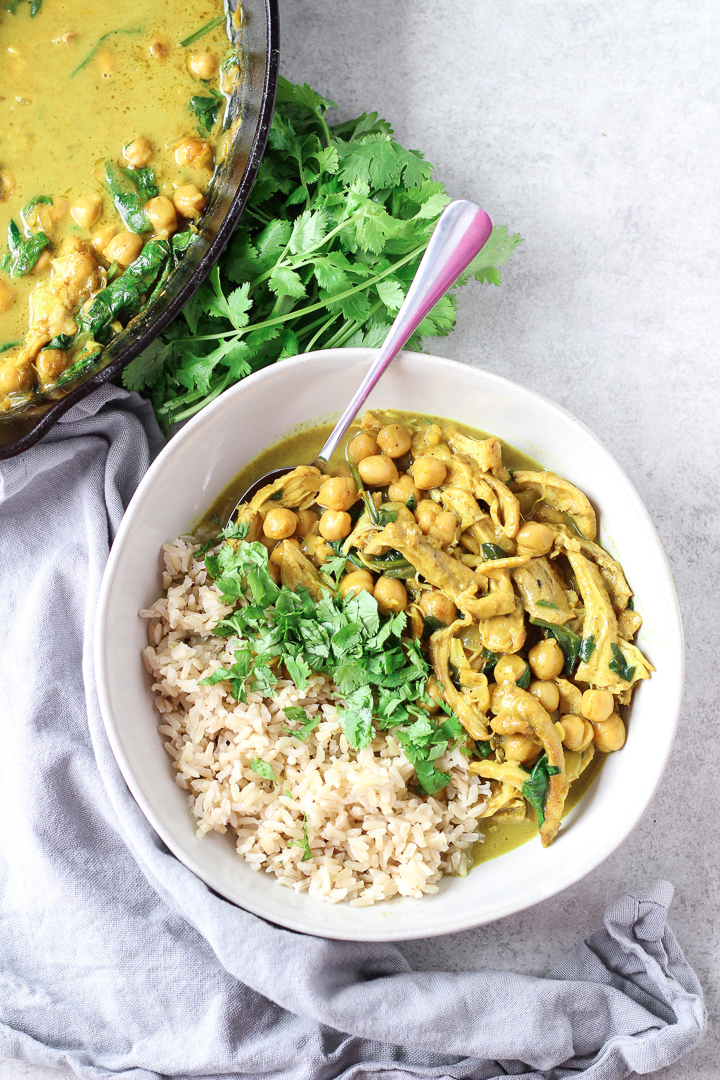 Print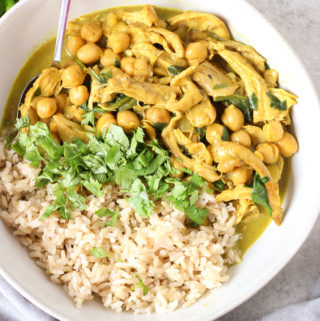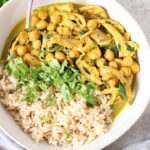 Curried chicken and chickpea stew
Prep Time:

10 minutes

Cook Time:

25 minutes

Total Time:

35 minutes

Yield:

4

1

x
---
3 tablespoons

grapeseed oil, divided

1

lb boneless, skinless chicken thighs

1

small onion, diced

6

garlic cloves, minced

1

inch ginger, peeled and minced

1 teaspoon

salt

1

-

2

tablespoons curry powder (see note)

1 teaspoon

turmeric powder

1

can chickpeas, drained and rinsed

1

can coconut milk

2 cups

baby spinach, roughly chopped
---
Instructions
Heat 2 tablespoons oil in a large skillet over medium-high heat. Season chicken with salt and pepper and sear for 2 minutes per side. Set aside.
Reduce heat to medium, add remaining oil to pan and then add onion. Saute for 3-5 minutes, until softened.
Add garlic, ginger, salt, curry powder and turmeric powder and cook for another minute.
Add chickpeas and coconut milk and stir to combine. Bring to a boil, add chicken back to pan and reduce heat. Let simmer for 15 minutes, until chicken is cooked through. Shred chicken in pan.
Add spinach and let cook for 2-3 minutes until just wilted.
Serve over rice, or with naan.
---
Notes
- Curry power spice level can vary from brand to brand, so I suggest starting with one tablespoon and tasting as you go. - Sometimes curry powder can taste a tiny bit bitter. If you feel this way, add a little a honey or sugar at the end to balance. You can also add some lemon juice to help balance out those flavors!
I know it's been a little while since my last post, but things got a little crazy and I lost control of my life just a little bit. First I got sick, then I went to LA (fun!), then I kinda got sick again. I'm okay now, but I'm also two days away from getting ALL my wisdom teeth removed. So. Yay.
The good news is that things at work have also been incredibly busy.
Wait. What?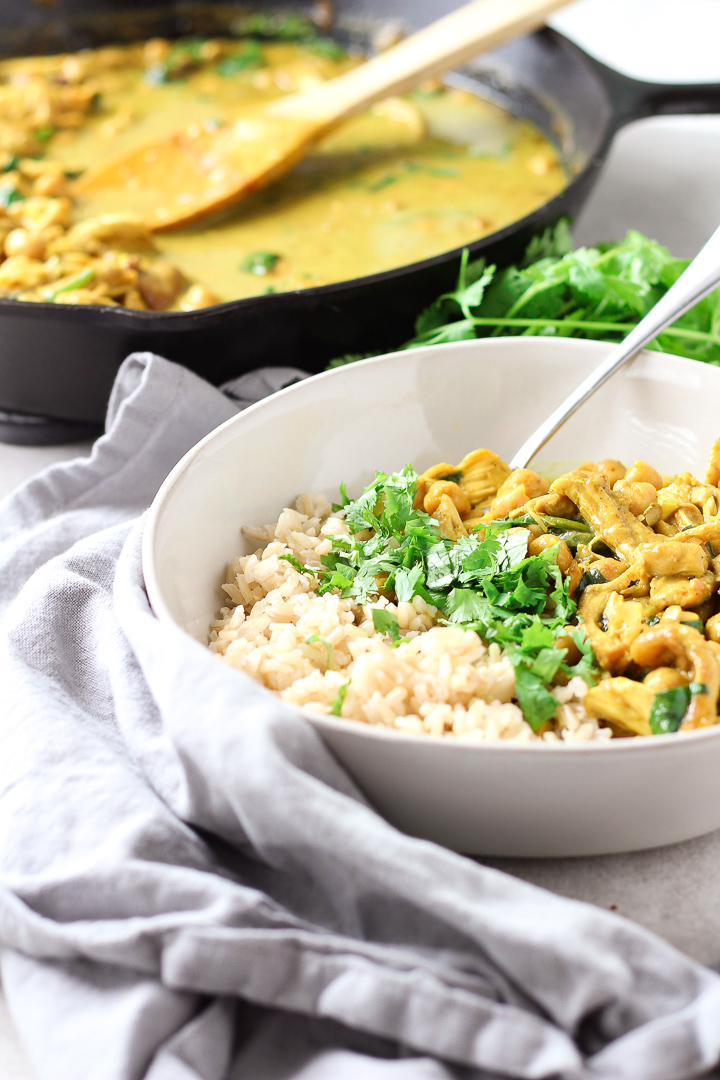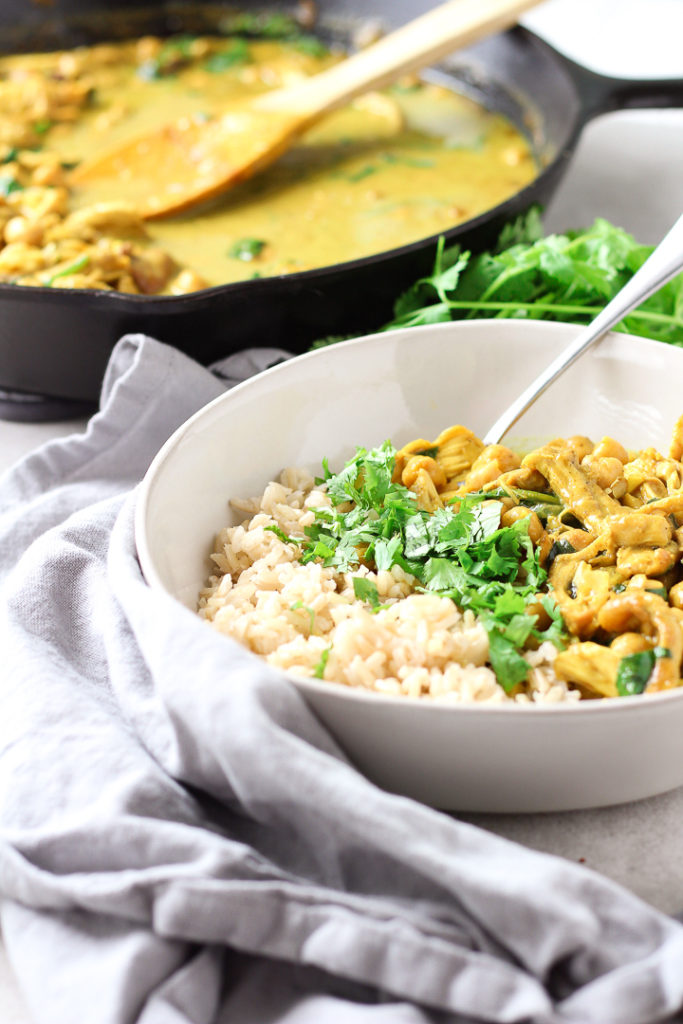 I'm being annoying, I know it. I'm sorry. Have some stew.
So, look. The good news about being both sick and busy is that you gravitate toward easy, comforting meals which is always a win. I made this curried chicken and chickpea stew a while ago, but it definitely came back into play these last few weeks when I wanted to cook something for myself that felt really rich, but was actually easy, healthy and, yes, comforting.
And yes, we are ignoring the fact that it is a million degrees in Texas.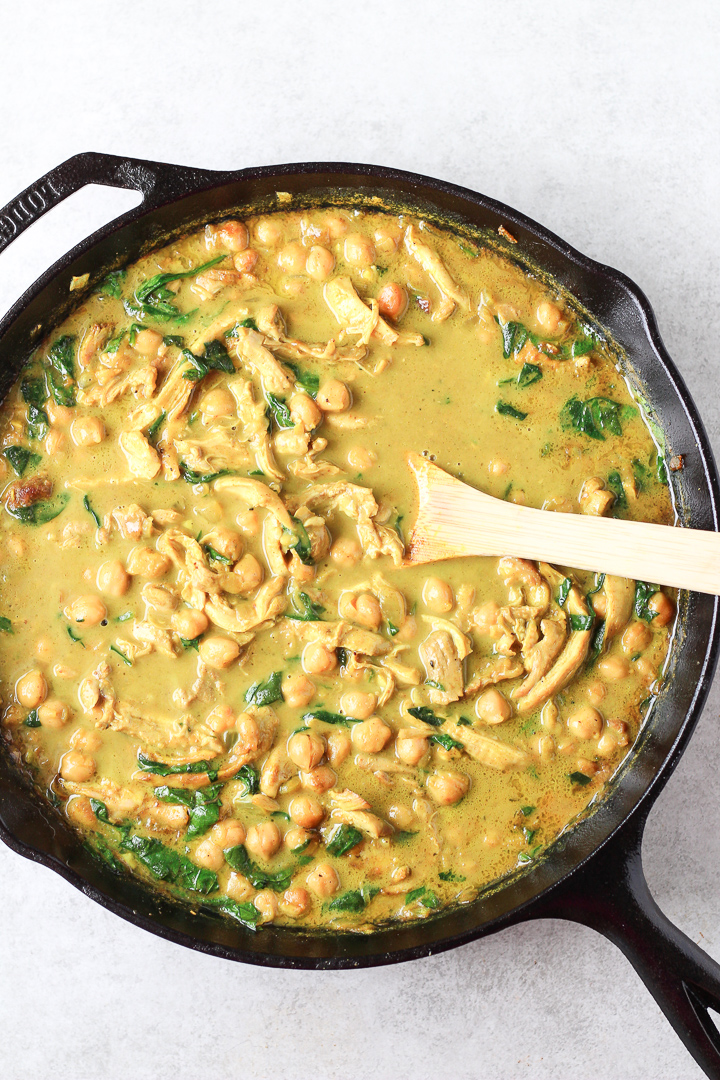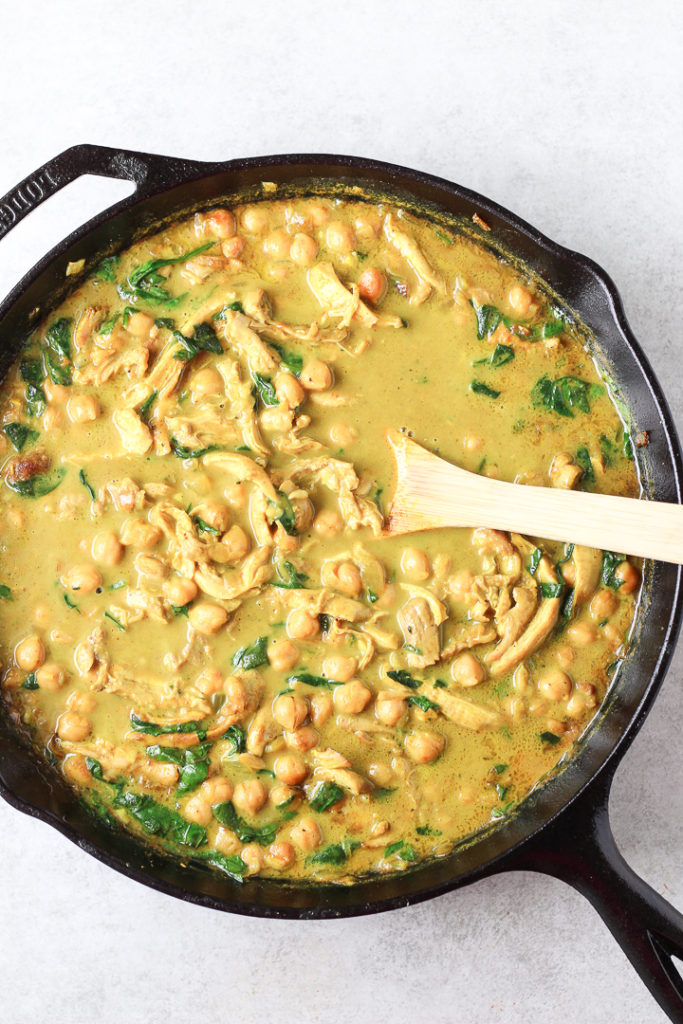 As-is, I think this recipe is super easy. The "curried" comes from curry powder, which is blasphemy because I'm Indian and we don't actually ever use curry powder, but necessary because LIFE, OKAY?!
I actually go back and forth on loving and hating curry powder, but I find myself keeping it around because it can add super flavor meals like this. It's 100% NOT a curry, but it's perfect for a stew-like dish. Because brands tend to vary flavor-wise, you can be pretty flexible with the amount here so that you get the flavor YOU want.
We're also using some pantry ingredients like chickpeas and coconut milk, so there is a possibility you're already halfway to this dish right this minute.
If you want to make this even easier, feel free to use pre-cooked chicken in this. Just pick up a roasted chicken from the store, shred it and add it at the end to warm through before serving.
Serve with rice, nann, or anything else.
Easy! Warm! Comforting!