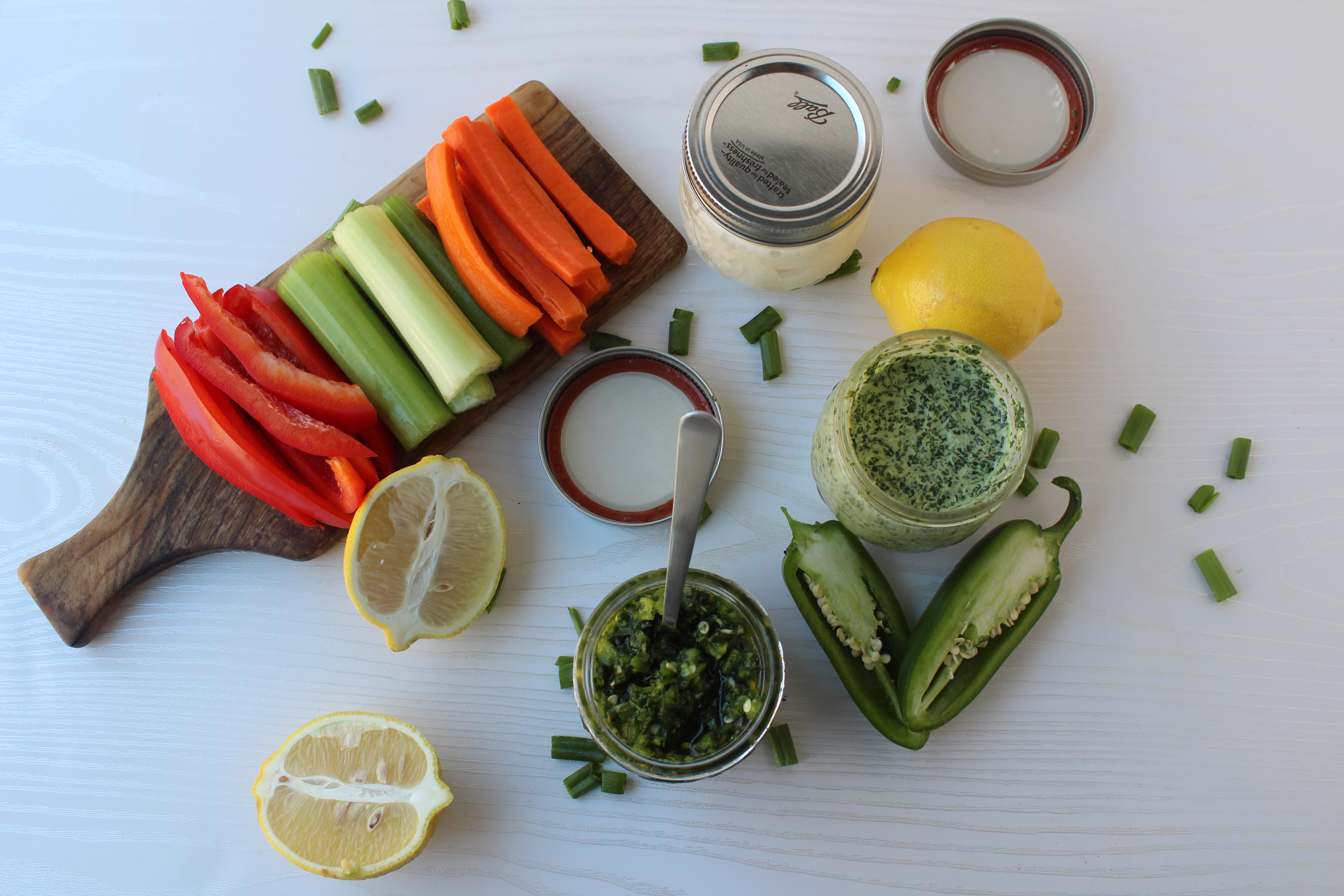 What I really meant with that title is "sauces that saved my life on Whole 30." Seriously, this was real survival food over here.
So. As you may have gathered, I recently completed a Whole 30 and I have A LOT of feelings about it. So many, that I wrote a whole recap post that you can read here.
I won't bore you with all the details here, but it's important to note that for a person who absolutely LOVES and is maybe borderline obsessed with food (hi that's me), Whole 30 can simultaneously be the best and worst month of your life. For me, getting through it meant figuring out ways to amp up some otherwise simple meals.
Enter: Sauces.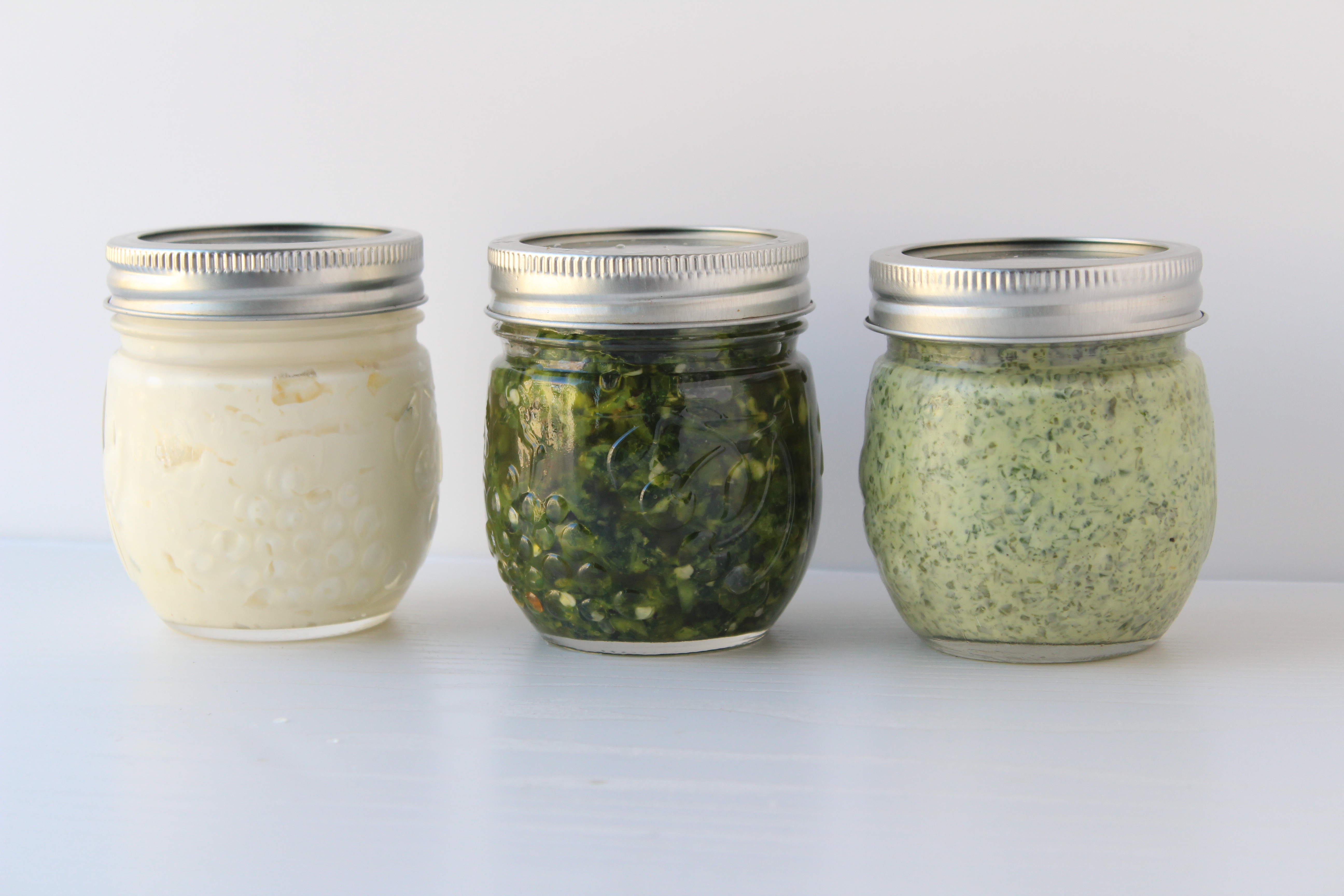 It sounds so dumb, I know! But when you're staring at what feels like your 100th plate of chicken and potatoes, the only thing that will keep you from throwing that plate out a window and ordering a pizza is a flavorful sauce that excites you.
I'm serious. You must literally be excited about these things. Especially during those last couple of days. They are a doozy.
ANYWAY. The three jars you see in these photos were pretty much always in my fridge and found their way onto everything. One of them is my chunky jalapeno hot sauce that I shared recently - I wasn't kidding when I said it changed my life. I've included the recipe below, but it's the exact same one! As we've established, I love spicy food so it's imperative I have this or something like it around.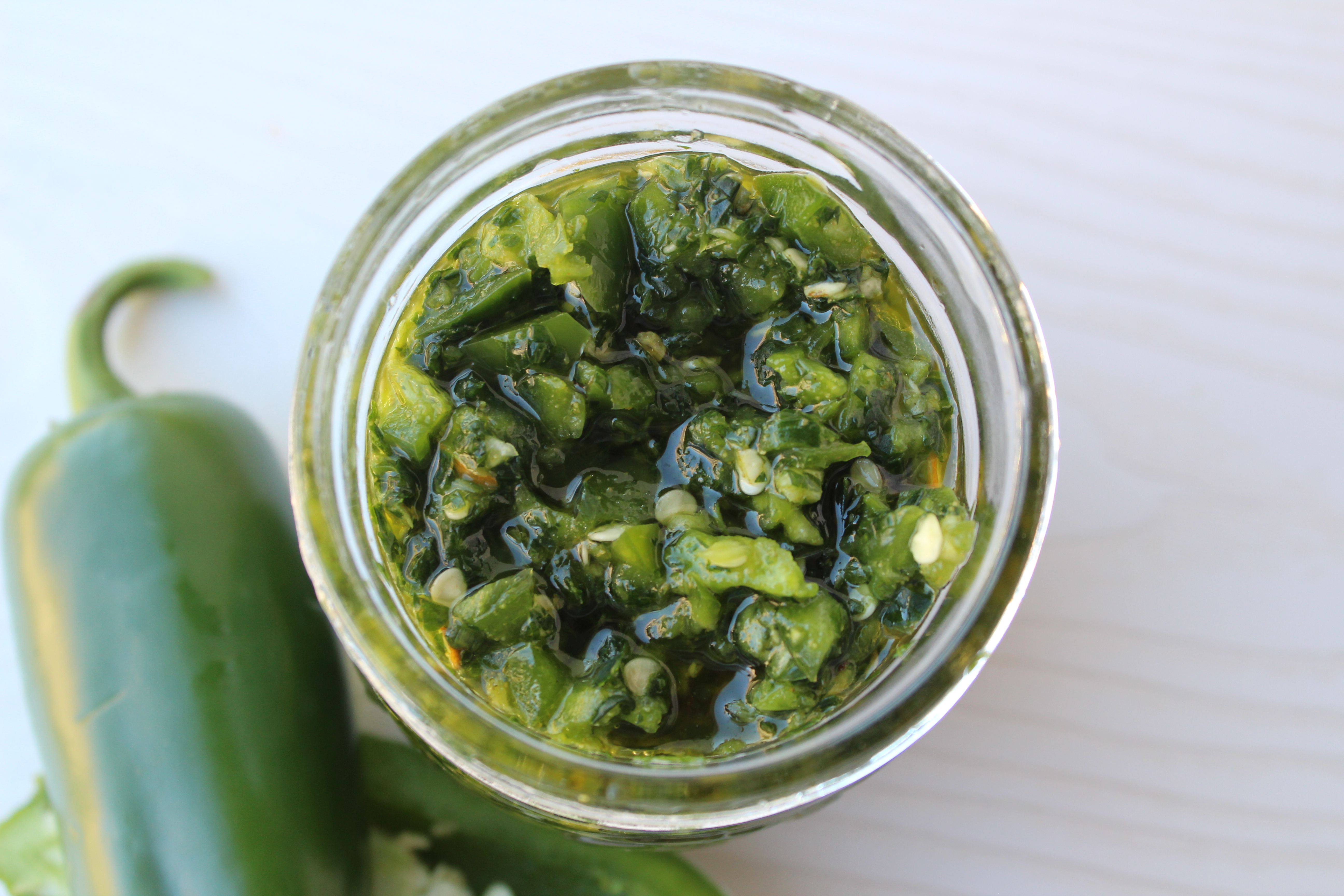 The other two are real stars as well. Ironically, I used to belong in the "I hate mayo" club but once I started making my own that changed. I don't know why, but I am a much bigger fan when mayo comes from my food processor instead of the store. Because many store-bought mayos are NOT Whole 30 compliant, I started making this one to keep on hand because....well, because everyone kept talking about homemade mayo and I had these cute jars and why not?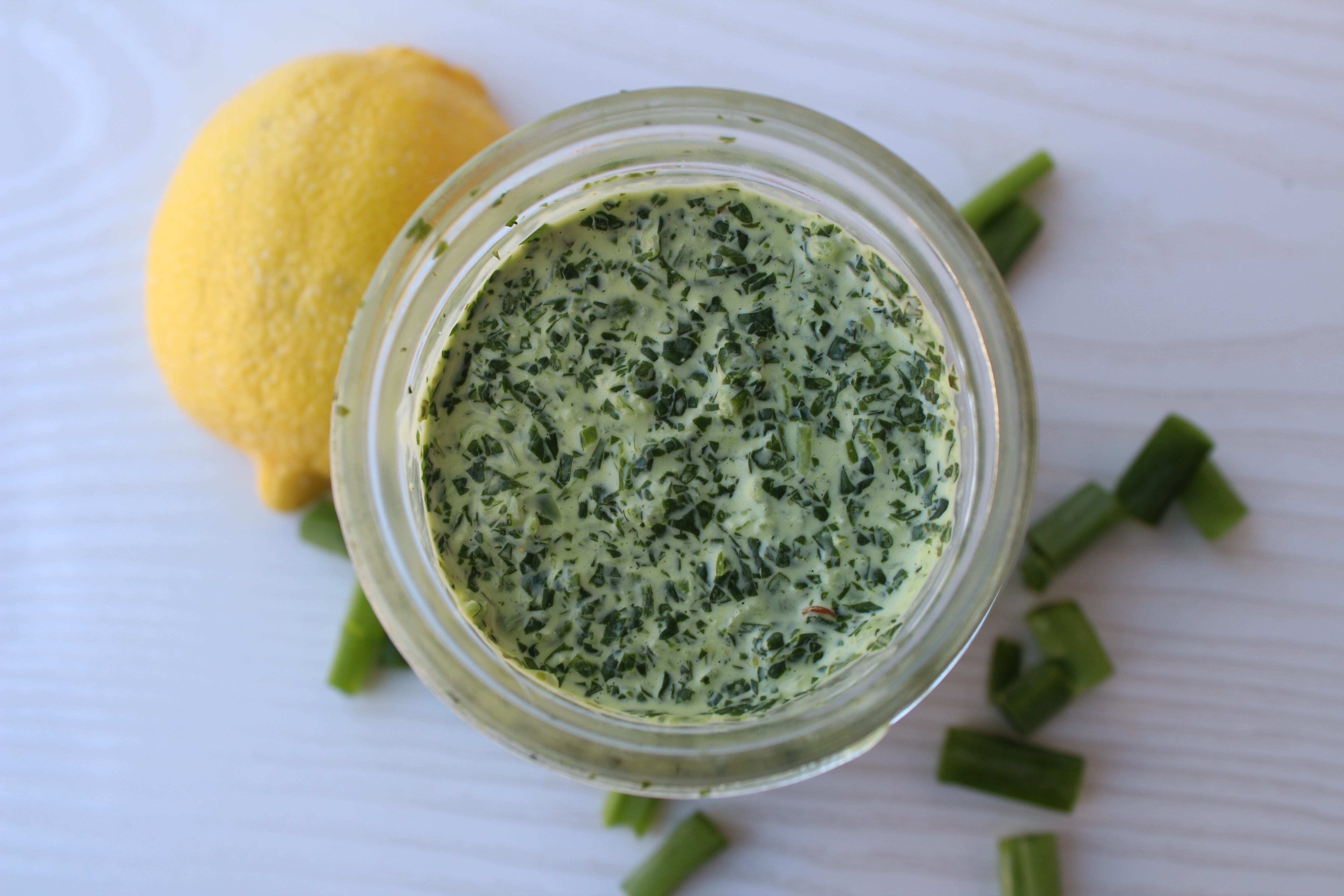 And then. AND. THEN. This green onion/cilantro sauce happened and it basically changed everything. Like many things in my kitchen, this came about by accident when I was 1. trying to use up some dying herbs (typical) and 2. too lazy to clean out the food processor after I made the aforementioned mayo. It turned into this wonderfully creamy, flavorful bomb of a sauce that I put on pretty much everything. Did I drizzle it over salads? Yes. Did I use it as a dip for raw vegetables? Sure did. Did I pour it over roasted potatoes? Duh. Did I smear it over chunks of roasted chicken which I then ate over the sink? ALWAYS.
The best part (I think) is that it's pretty adaptable. Mine is kind of cilantro-heavy (let's be honest - I'm pretty cilantro-heavy at this point in my life) but you can use less or replace with parsley if you'd like. Same thing with the jalapeno. Feel free to use less or completely leave it out if you aren't a fan. I just always, always have these things on hand so this sauce is a no-brainer for me.
So there you have it! The three little jars that kept me (mostly) sane during a somewhat insane* time.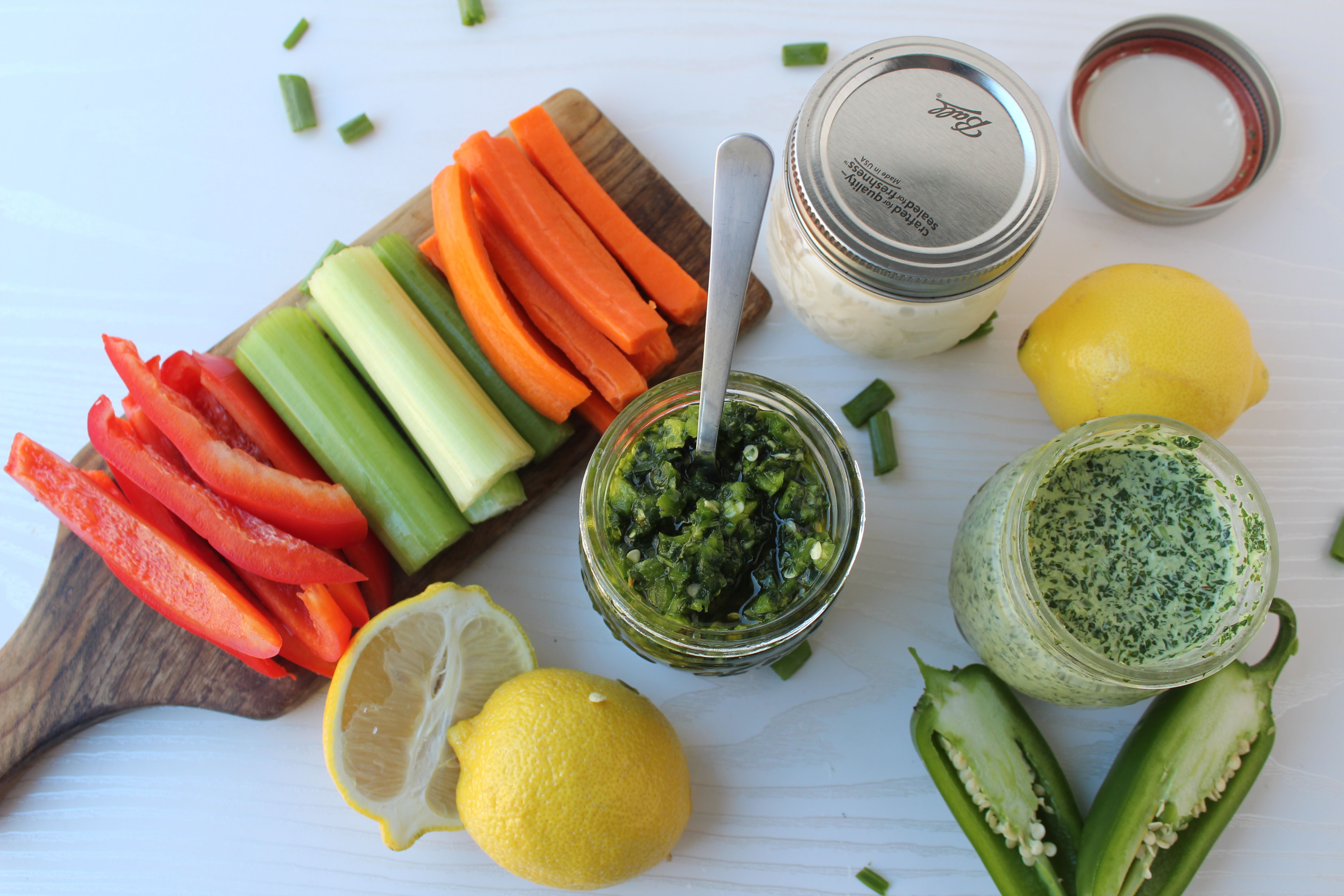 Print Easy homemade mayo + green onion cilantro sauce
---
Homemade mayo
1

egg

1 tsp

mustard

½ tsp

salt

1

-

2

teaspoon lemon juice

1 cup

LIGHT olive oil
Creamy cilantro and green onion sauce
3

-

4

TB homemade mayo (depending on how creamy you want it)

1 ½ cups

cilantro

½ cup

green onions

½ tsp

salt

1

TB lemon juice

1

garlic clove

¼ tsp

ground coriander

½

jalapeno (optional)
Chunky jalapeno hot sauce
1 cup

cilantro

½ cup

parsley

5

garlic cloves

1 tsp

salt

1 tsp

black pepper

1 ½ tsp

ground cumin

2 tsp

apple cider vinegar

6

-

8

jalapenos, roughly chopped

⅓

-

½

cup olive oil
---
Instructions
To make mayo
Food processor: Add everything except olive oil into bowl and pulse to combine. With the processor running, slooooowly stream in the olive oil until everything is emulsified. Feel free to add a couple extra tablespoons of oil if you're not happy with the consistency.
Immersion blender: Put all the ingredients into a large jar (a wide-mouth mason jar works great). Lower your immersion blender into everything and turn it on. Let it go for about 30 seconds, slowly bringing the blender up a little to make sure everything blends while making sure the blade is always immersed.
To make creamy cilantro green onion sauce
Combine all ingredients in a food processor and mix to blend. Taste and add more seasonings or mayo to taste.
To make chunky jalapeno sauce
Combine everything but jalapenos in food processor and blend. Add jalapenos and pulse until they are finely chopped. Stir in oil by hand.
---
*I'm kidding. It wasn't 100% the worst. Read about it here!