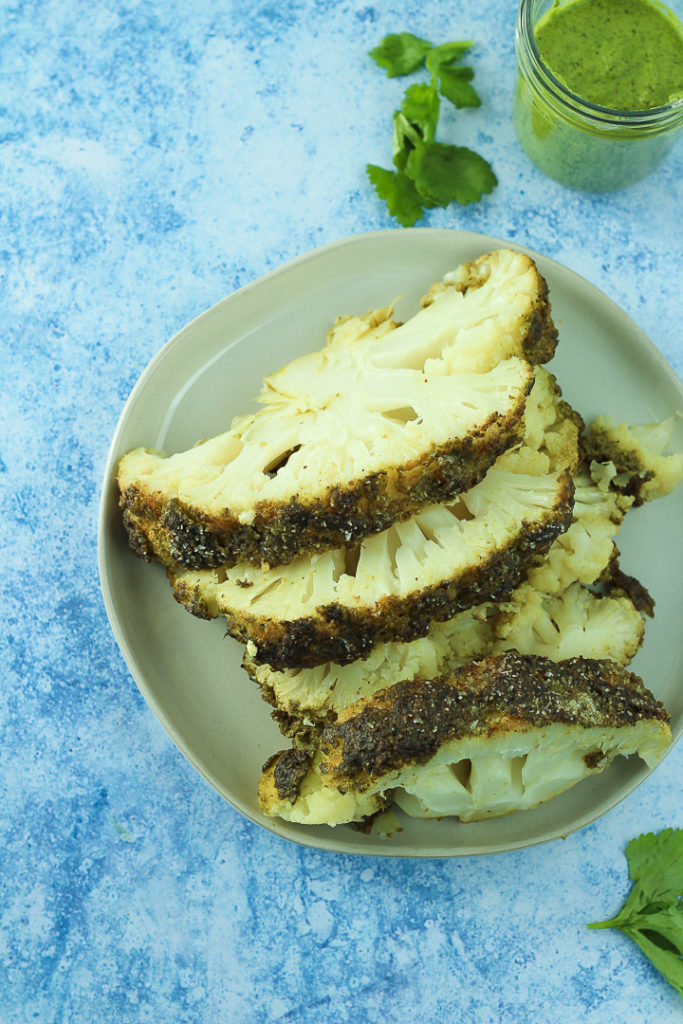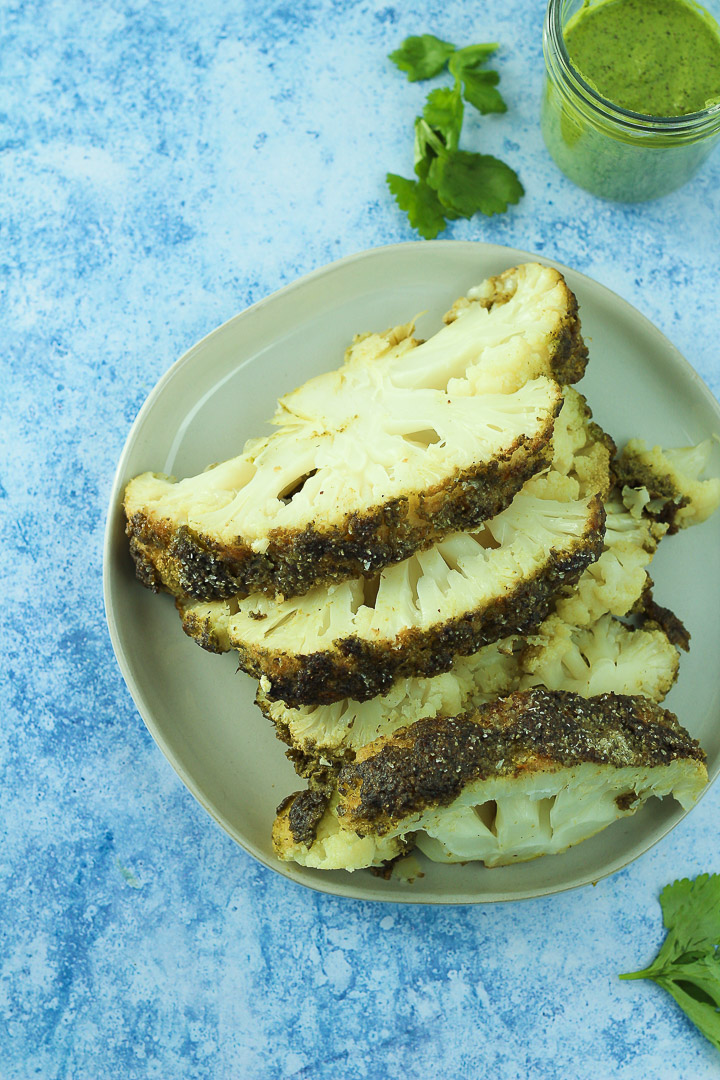 Print
Hot chutney whole roasted cauliflower
---
Author:

Mansee

Total Time:

1 hour 35 minutes

Yield:

4

-6

1

x
Description
A fun, spicy take on a whole roasted cauliflower that is dinner party worthy. Use store-bought chutney to make this even easier!
---
1

medium cauliflower (about

3

lbs)

2 teaspoons

olive oil

1 teaspoon

salt

1 teaspoon

black pepper

1 cup

hot green chutney

4 tablespoons

butter, softened

¾ cup

water or vegetable stock
---
Instructions
Preheat oven to 400.
Carefully cut the core of the cauliflower out, keeping it as intact as possible. The easiest way I've found to do this is to remove all the leafy outer stalks by hand, flip the cauliflower upside down and then use a small paring knife to start carving out that core stalk. I just gut off a little at a time to avoid cutting into any florets, but if you do hit a few it's no biggie. Just throw them in the pot with the whole thing anyway!
Brush cauliflower with oil and sprinkle with salt and pepper.
Combine chutney and softened butter in a small bowl and mix to combine. It will look like it will never come together, but just keep mashing and eventually it will. A few chunks of butter is fine, but you want it to be mostly combined.
Turn the cauliflower upside down again, and pour about a third of the chutney butter into the cauliflower. Shake it a little to help it start to seep into the florets, and use a spoon as needed to spread it around. Turn the cauliflower right side up and spread the rest of the chutney butter over the entire thing.
Place cauliflower in a large dutch oven, or any deep oven safe dish. Pour water or stock in the bottom, cover and place in oven. Bake for 30 minutes.
Remove lid (or whatever you used to cover) and continue roasting for another 45 minutes to an hour, or until a small knife easily pierces the cauliflower.
Let cool for about 10 minutes before slicing and serving.
Prep Time:

5 minutes

Cook Time:

90 minutes
I'm not sure who it was that decided we could roast a cauliflower like we do a chicken, but I'm into it. I've always loved vegetarian food (even though I very happily eat meat as well), but it is sometimes a challenge for me to come up with new "vegetable-forward" dishes that aren't just roasted something or other.
Enter a beautiful whole roasted cauliflower. Fit for a dinner party or a slightly-fancier-than-usual Wednesday, this dish is complex but a total crowd-pleaser.
(Also, I MUST admit I screwed up during this shoot and forgot to season the cauliflower before I put the chutney on, so I just sprinkled it on top and that is why this cauliflower looks like it was put out in the snow. SORRY.)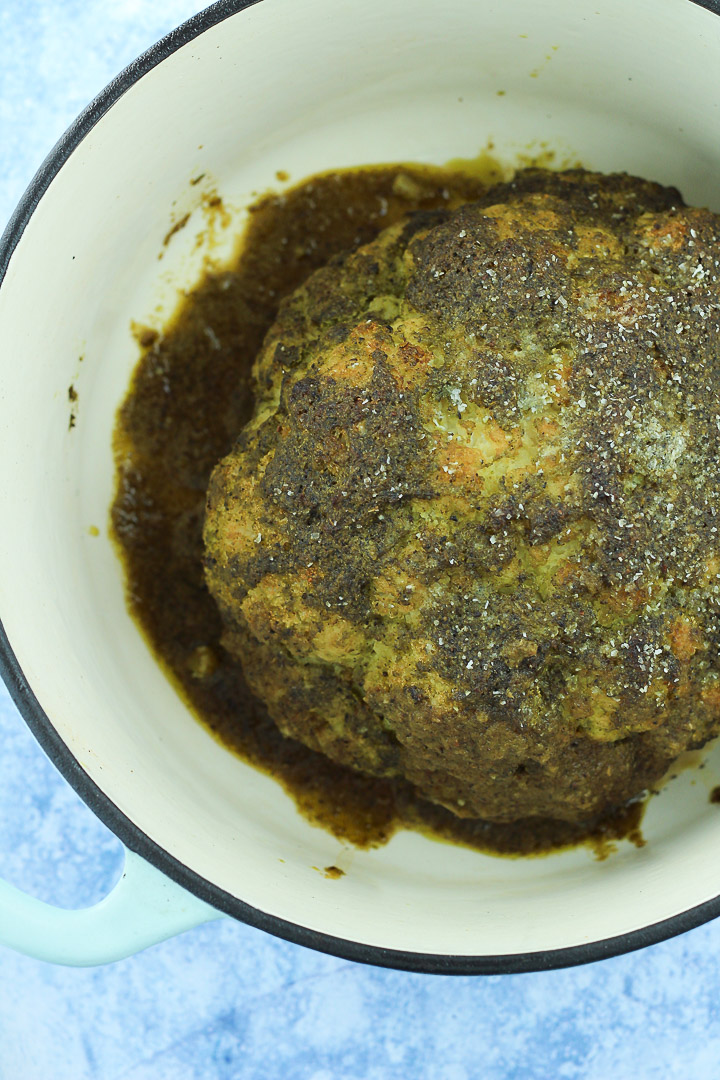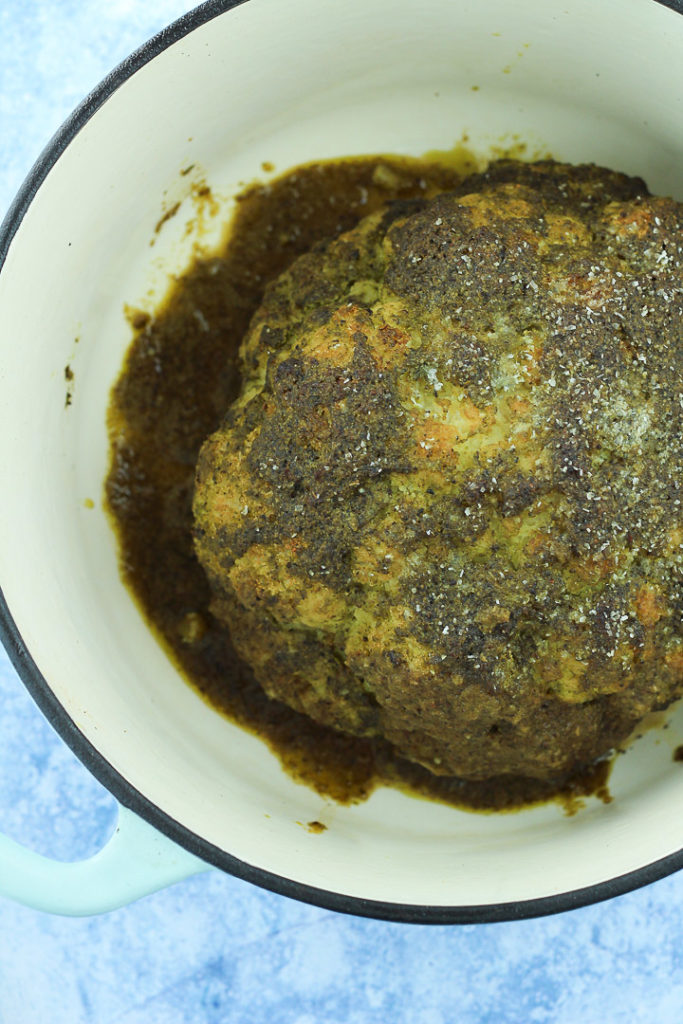 I was 100% inspired by the cookbook Season with this one, which has a hot green chutney roasted chicken recipe that is to die for. I posted my version of hot green chutney last year, and used that for the cauliflower too. While that chutney is pretty quick and easy to prepare, this whole dish is super easy if you make the chutney ahead of time.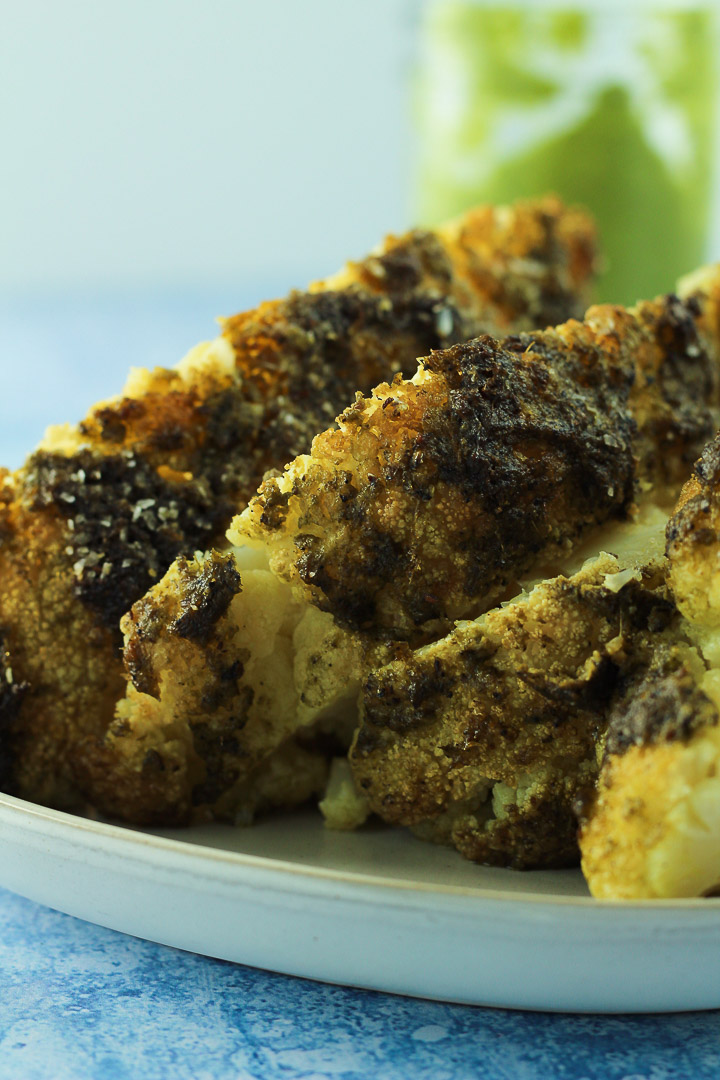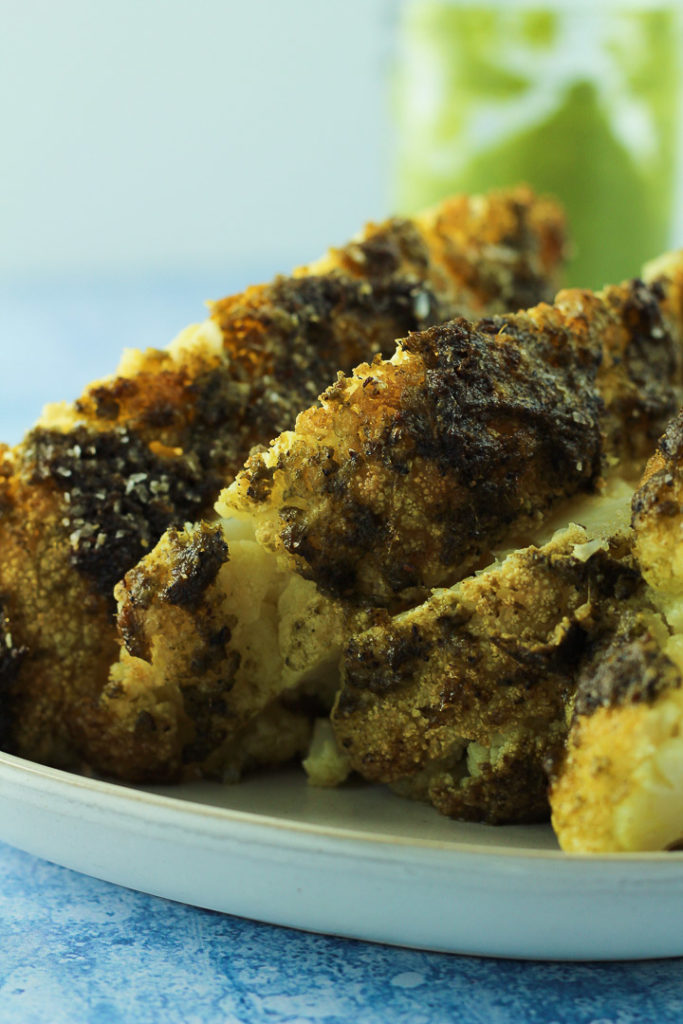 The beauty of a roasted cauliflower (just like a chicken) is that it's mostly hands off. You just shmear (yes SHMEAR) some chutney butter (that is literally just chutney + butter) all over the thing, put it in a big dutch oven with a little water and stick it in the oven. It'll be in there for a while, but you barely have to worry about it. Use that time to clean the kitchen! Make some rice (coconut rice is awesome with this)! Maybe a kale caesar!
When the cauliflower comes out, you'll have this awesome spicy, slightly crusty top layer with a super soft, buttery inside. While I love roasting cauliflower florets until they are super caramelized and toasty, I also adore the tender texture you get doing a whole roasted one. Just so good.
Hope you love this one!