A really good pot of beans can go a long way when you're cooking at home. Take a little time over the weekend to cook up a pound of beans, and you'll end up with a pot of endless possibilities! I like to roast up my vegetables a little to add extra flavor, but the basic technique is all you need.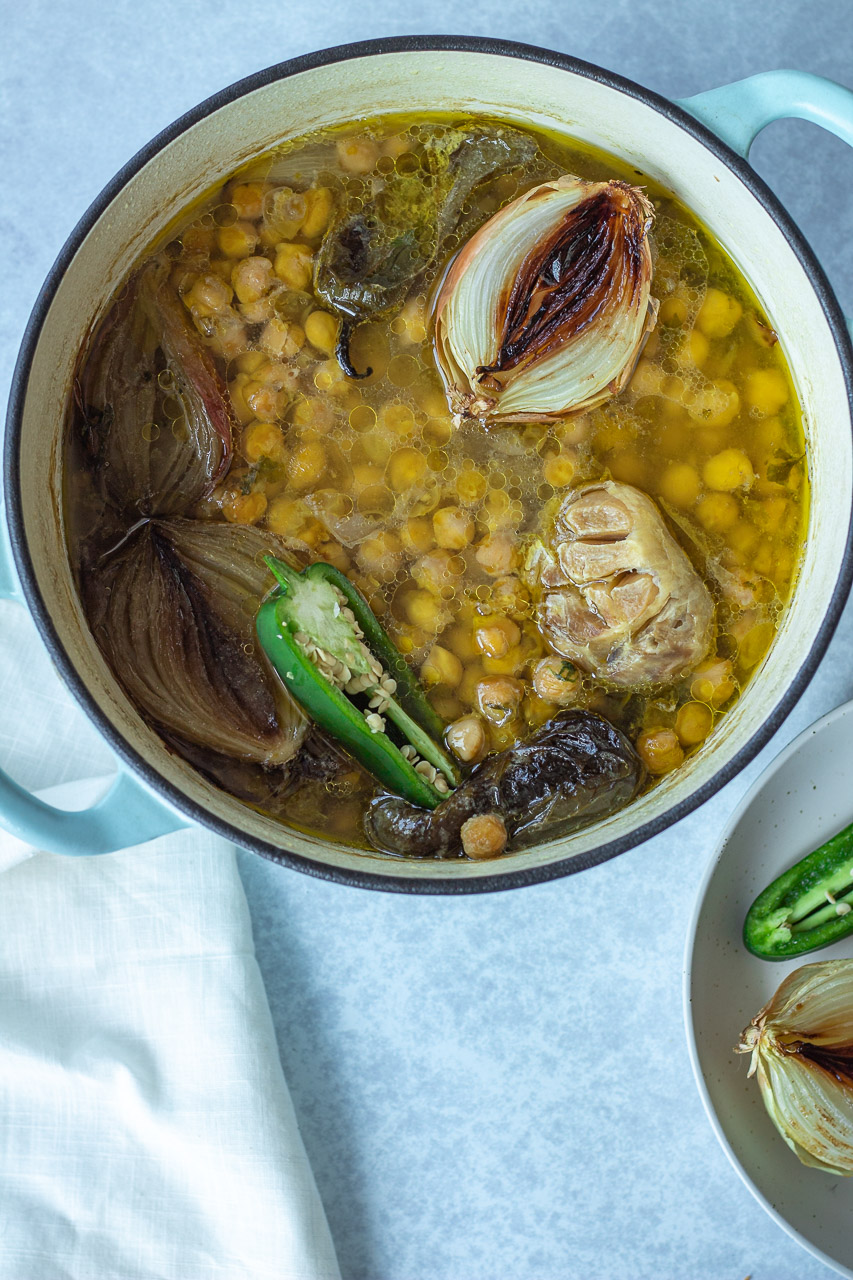 Print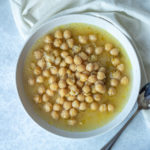 How to make a really good pot of beans
---
Author:

Mansee

Total Time:

9 hours

Yield:

6

-8

1

x
Description
Tips and tricks for making a really good pot of beans. Use this for chickpeas, black beans, butter beans or more. All you need are your favorite beans, some flavor agents and time. 
---
1

lb dried beans (I used chickpeas here)

⅛ teaspoon

baking soda (optional)

1

onion

1

head garlic

2

jalapenos (see note)

1 tablespoon

salt

½ teaspoon

black pepper

⅓ cup

olive oil

1

bunch cilantro stems, tied with twine (optional)

1 tablespoon

apple cider vinegar
---
Instructions
Place 1 lb chickpeas in a large pot with a lid (use what you'll cook them in!). Add ⅛ teaspoon baking soda and enough water to cover by 2-3 inches. Cover and let sit overnight or at least 6 hours.
Preheat oven to 450. Add about 2 teaspoons oil to a baking sheet.
Halve 1 yellow onion (I like to keep the skins on). Cut the top off 1 garlic head, and then wrap the entire thing in foil. Add onion, cut side down, garlic and 2 jalapenos to baking sheet. Rub jalapenos on the sheet a little to ensure they're fully coated in oil. 
Roast vegetables for 35-40 minutes, until very well charred. 
While vegetables are roasting, place pot with beans over high heat. Let come to a boil, uncovered, and skim off any foam that arises (there will likely be a lot!). 
Once beans are boiling and most of the foam is gone, reduce heat to low, cover and let simmer until vegetables are done.
When onions and jalapenos are charred, and garlic roasted and soft, add to pot. 
Add 1 tablespoon salt, ½ teaspoon black pepper, cilantro stems and ⅓ cup olive oil. Stir well and let beans simmer, uncovered, on medium-low for 30 minutes.
After 30 minutes, check beans and broth. Taste the broth and add more salt if needed. Check beans for doneness - you want them to be evenly soft throughout, but still intact. If you try one and it seems done, try at least two more to make sure the whole pot is cooked through. 
When beans are done, turn off heat and add 1 tablespoon apple cider vinegar.
I like to keep the onions, jalapenos and garlic in the pot even once cooled, but you can fish them out if you want. 
Serve in so many ways!
Notes
The baking soda is optional, but one time I heard it helps make the beans cook more evenly so I figure it can't hurt. 
Even with the 2 jalapenos, this pot of beans is not spicy at all. They just add this lovely charred pepper flavor. Roasting them mellows them out perfectly and adding them whole means the seeds are not going to go everywhere. With that said, if you want to add some spice feel free to cut them in half before adding, or even throw in a raw jalapeno!
If you don't want to babysit the beans, you can also cook them in the oven. Start them off on the stove so you can still skim that foam off, but then you can easily add your flavorings and stick them in a 275 degree oven (covered), Cook for an hour, check to see how they are doing, and then continue cooking as needed. Depending on the size and age of your beans, this could take anywhere from 1-3 hours. 
Don't throw the broth away! Store the beans with the broth in the fridge or freezer. It's far too good to ignore. 
Prep Time:

8 hours

Cook Time:

1 hour
Oh boy. It's bean time. A part of me thought this would never happen, while another part of me is surprised it actually took me this long.
We're making a really good pot of beans today. We're playing with chickpeas today, but you can use this plan/technique for just about any bean. Hooray!
They're not the prettiest things on earth (I mean, some of these photos physically hurt), but you cannot judge a book by it's cover with these guys. All that oil and flavor that's freaking you out completely MAKES these beans. Don't skip it!
I'm sure many of you have seen this wonderful, delightful video of Carla Lalli Music making beans and this article to match. A lot of the tips I have here are from these resources, so definitely check them out if you're as serious about beans as I am.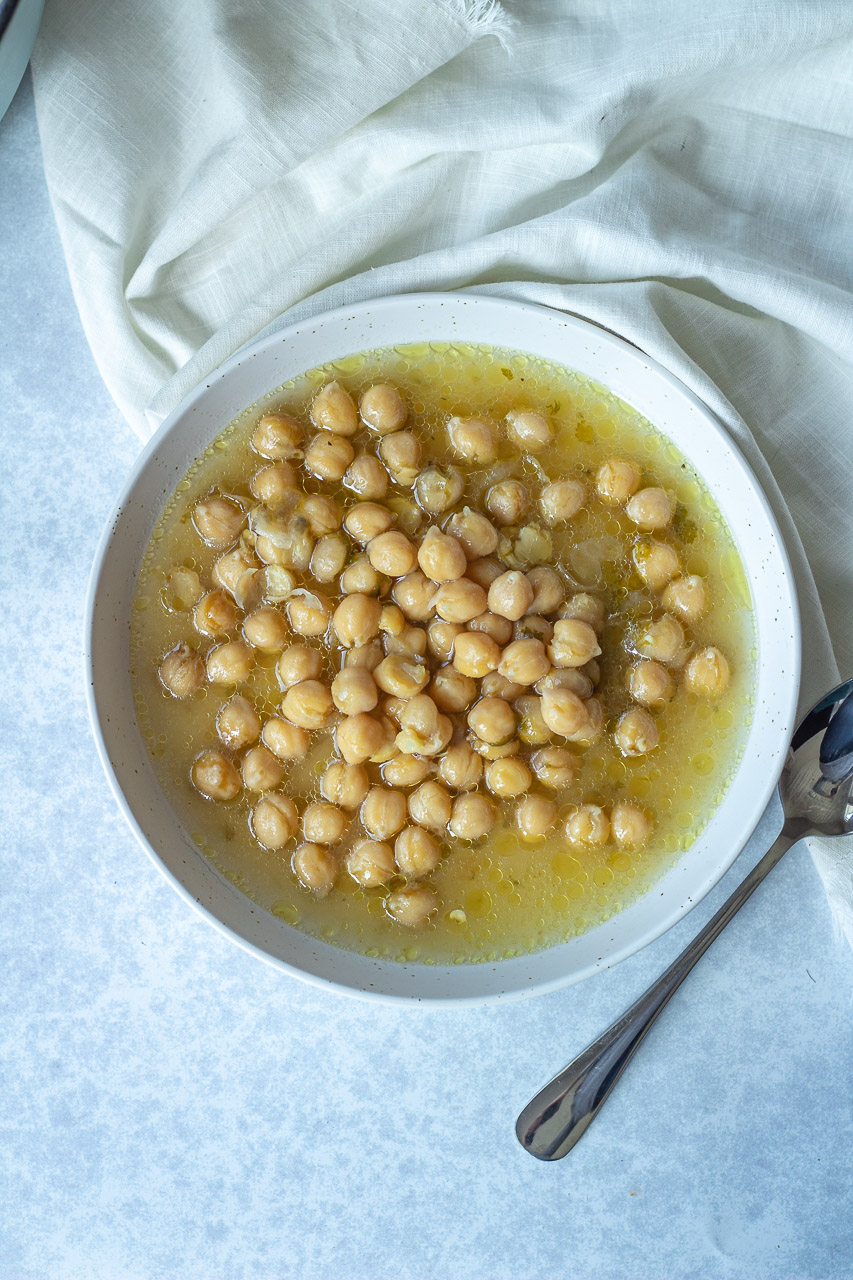 How to cook beans
So here's the thing, I don't think there is one right way to cook beans. At the end of the day, if you have dried beans and water you can make a pot of beans.
The real question is how to make a really good, flavorful pot of beans that you want to eat day after day (if necessary) and uses ingredients in a way that makes sense.
The beans + cooking time
I used chickpeas today because they are hands down my favorite bean, and I almost always have at least three bags of dried chickpeas as well as three cans of cooked chickpeas in my pantry. You can do so much with them - they're magic! With that said, this technique will work with just about any bean. Kidney, black, butter, etc.
To soak or not to soak? If you remember that you want to make a pot of beans in the next 8-12 hours, I highly suggest soaking. It gives those beans a head start and that's just really convenient. I generally soak the beans in whatever pot I'm going to cook them in with water covering them by about 2-3 inches. I then use that same water to cook them, but if that feels weird to you, don't worry about it. Drain those beans and add fresh water before you get going!
The time your beans take to cook will be determined by the type of beans you use, how old your beans are, how long they've been soaking and the strength of your stove. So what I'm really saying is I don't know how long your beans will take to cook! Just plan to be around so you can taste every 20ish minutes and see how they are doing. You want them to be nice and creamy throughout without totally falling apart so that you can use them for a million different dishes. My chickpeas generally take about an hour and 15 minutes from start to finish, but no pot is ever the same. That's the beauty!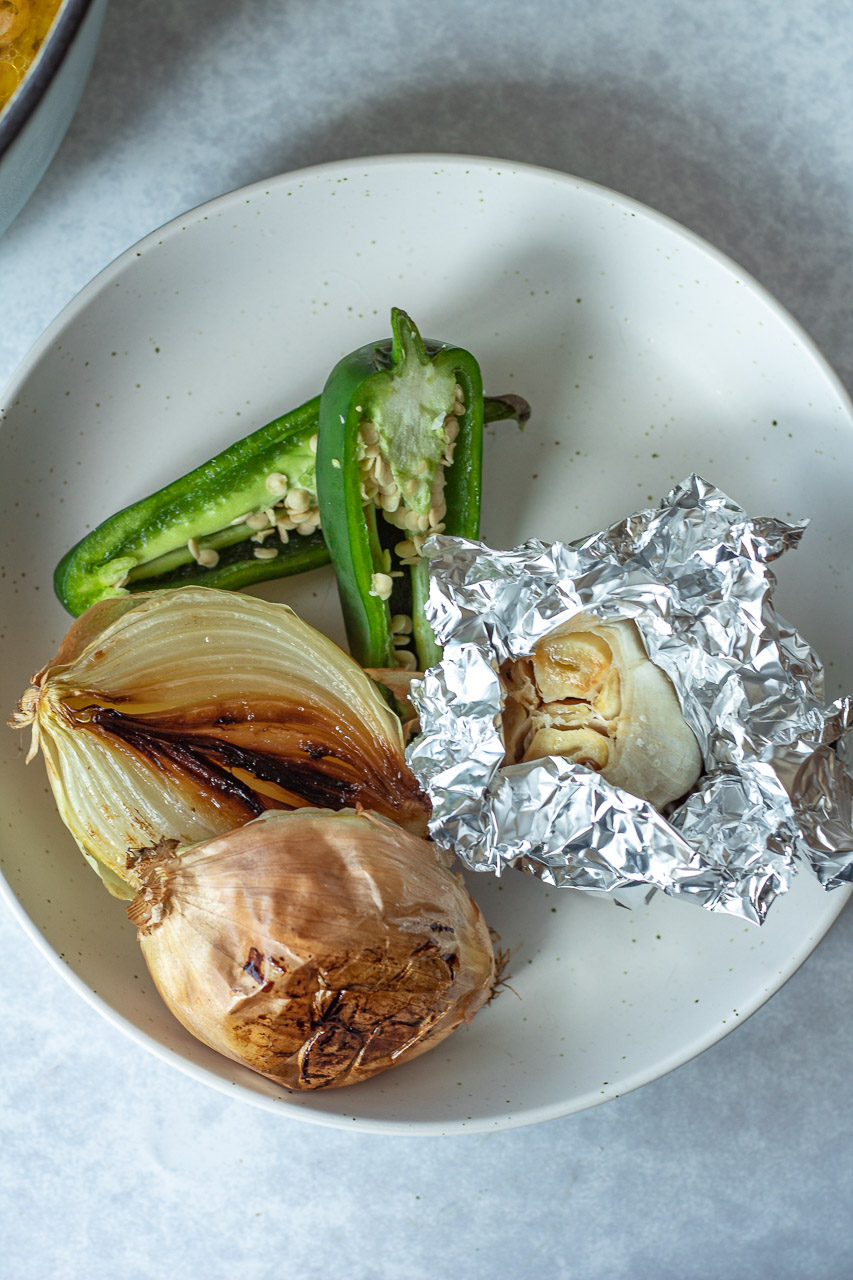 The flavor agents
This is where we get to have some real fun. Like I said above, you don't NEED anything but beans and water, but the difference between a really, really good pot of beans and an acceptable, but kind-of-sad pot of beans is the flavor you inject while they are cooking.
Veg: You can definitely just throw some onion, garlic and a few herbs in and they'll be great. But if you're extra (and let's be honest, we all have time to be a little extra), roast those babies up to get some lovely charred flavor before dropping them in the pot. I wanted to add some spice to this one, so in went 2 jalapenos but that's totally optional.
Salt: You need way more than you think and I need you to trust me on this. My "recipe" above calls for 1 tablespoon, but I guarantee you'll find yourself adding more as you taste that broth while the beans cook. STOP BEING SCARED OF SALT. THE BEANS ARE BEGGING YOU.
Fat: Eeeek! Okay, don't be alarmed but we're gonna use a decent amount of fat here. This is mostly important for that broth because you basically want it to be straight drinkable (bean tea!) and you need some fat for that. I call for ⅓ cup of olive oil here, but don't hold back! If you eat meat, crisp up some bacon and leave that fat in the pot before adding beans. Have some chicken fat leftover from roasting a chicken? Add it! Duck fat? Yes! Just more olive oil? Sure! You want the broth to have those little drops of fat, so just try to suck it up and make it work.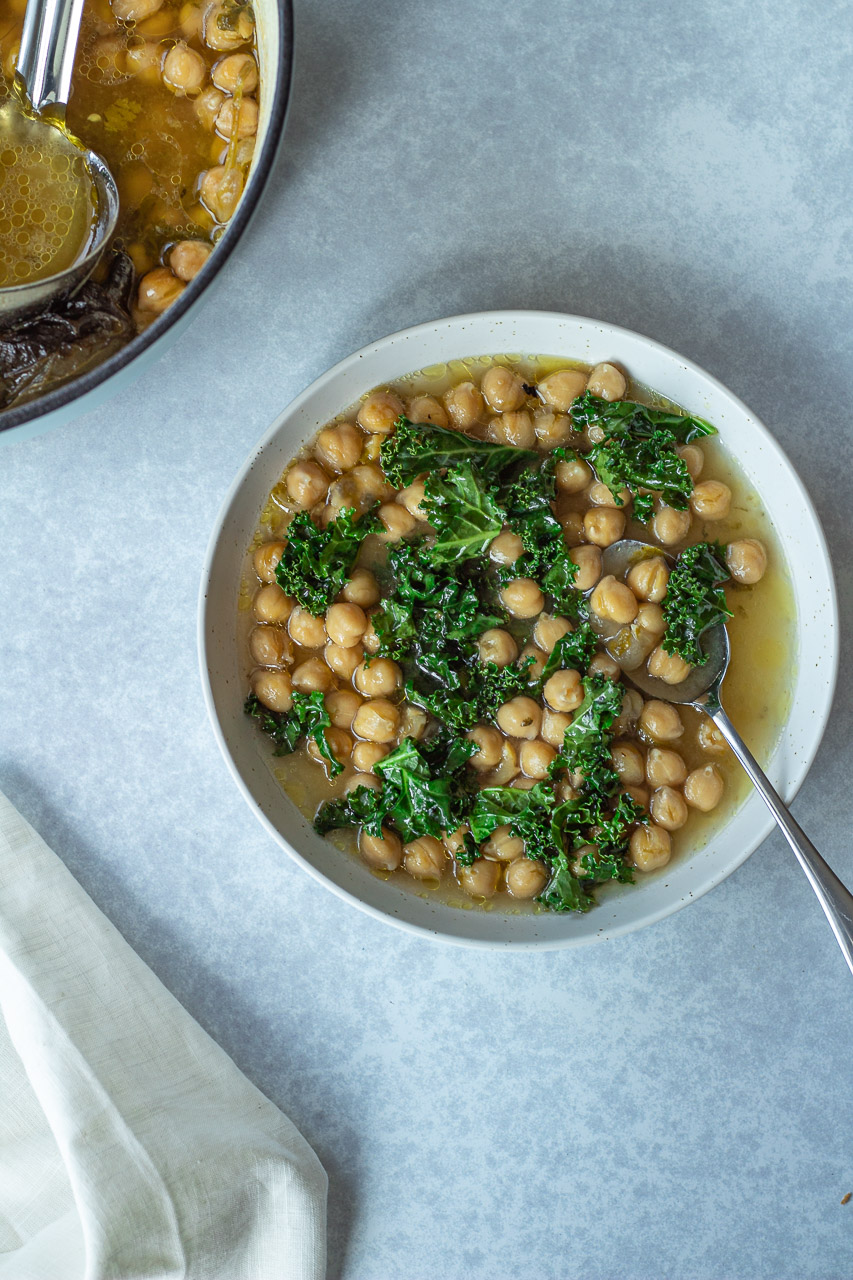 What to do with the beans
I mean, what CAN'T you do with these beans? First things first, don't you dare throw any of that broth away. I actually just keep the beans and broth in the pot I cook them in and throw that in the fridge so I can pull from it whenever I need it that week. Alternatively, you can easily freeze them in portions. A couple of my favorite ways to eat them:
Throw some greens in and make a quick soup
Add some drained beans to a bowl of roasted vegetables, and drizzle with a little tahini
Make some really good olive-oil, pan-fried toast and top with mashed avocado and beans
Use them for a take on this roasted artichoke and white bean salad!
Any leftover broth is amazing to use when you're cooking grains, braising meat, etc. So good!
Okay, that was a lot. But now you're ready! Go forth and make the best pot of beans EVER.