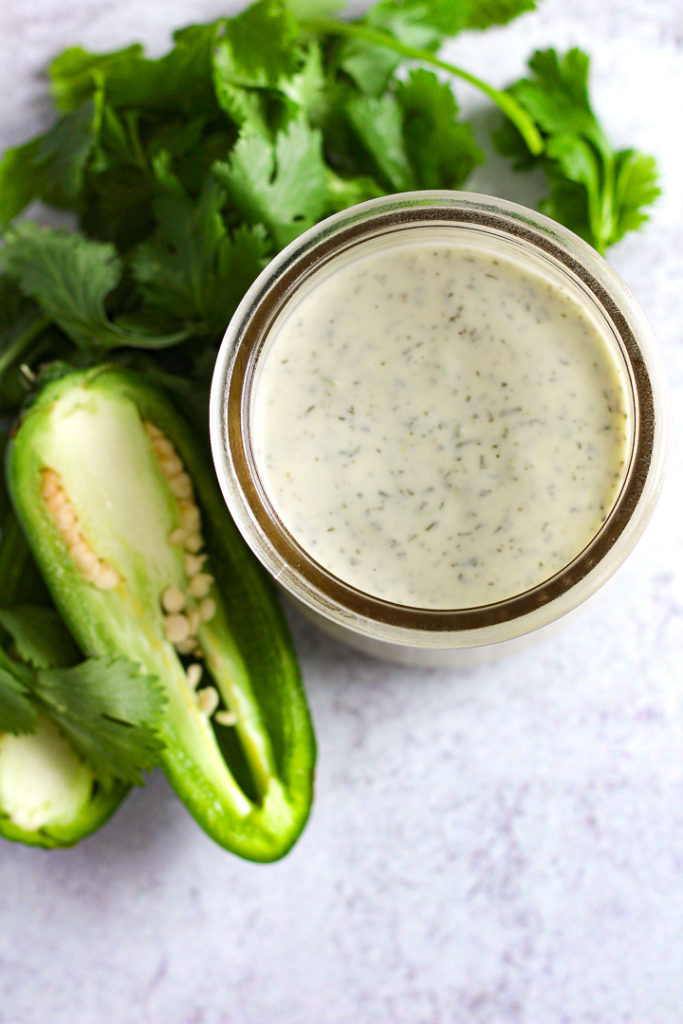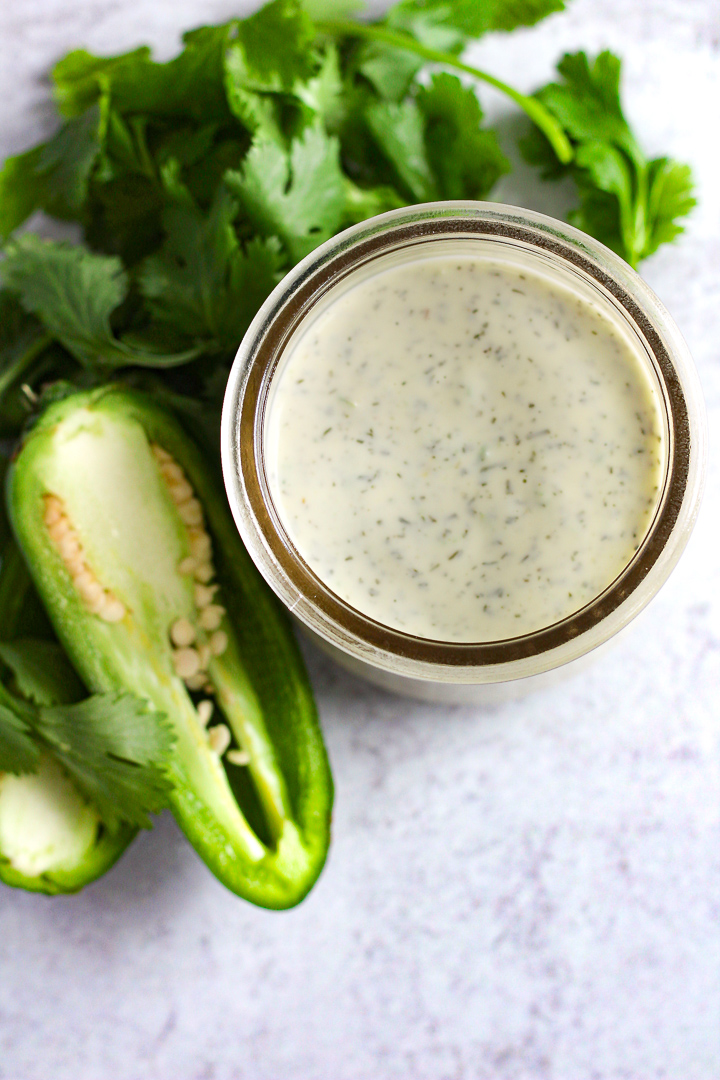 Print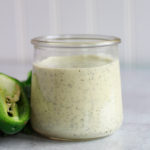 Jalapeno Ranch
---
Total Time:

10 minutes

Yield:

~ 1 cup
1

egg

¾ cup

light olive oil

2 teaspoons

dried dill

2 teaspoons

dried parsley

½ teaspoon

garlic powder

½ teaspoon

onion powder

½ teaspoon

salt

1

jalapeno, roughly chopped (seed in or out, your call!)

1 tablespoon

lime juice

¼ cup

buttermilk
---
Instructions
Add egg and oil to a tall container - I use the one that came with my stick blender, but a measuring cup works too. Cover the egg yolk with the stick blender and turn it on. After 30 seconds, begin slowly moving the blender up until everything is emulsified and combined.
Add spices, jalapeno and lime juice and blend for another 15-20 seconds. Add buttermilk and blend one more time.
Taste and adjust seasoning as needed. If it does feel super spicy, know that it will mellow out a bit as it sits.
If you want to thin it out more, add a couple more tablespoons of buttermilk until you get the consistency you want.
Notes
If you don't want to make your own mayo, feel free to use ¾ cup of store-bought.
Prep Time:

5 minutes

Cook Time:

5 minutes
Have I ever talked about Chuy's here? More specifically, how much I love Chuy's??
If you're not familiar, Chuy's is a Tex-Mex restaurant in Texas (and maybe Oklahoma??) that I feel like I spent most of my high school and college years at. When I left Texas in 2012, it was the only restaurant I truly missed, which makes a lot of people mad because not everyone feels about Chuy's the way I do.
Like, sure, there are probably better restaurants here but the heart wants what the heart wants, OKAY?
What I most love about the place is that it's the perfect spot to have a margarita and catch up with friends while eating (read: SHOVELING) chips and salsa into your mouth. And even more important than the salsa (gasp), their jalapeno ranch.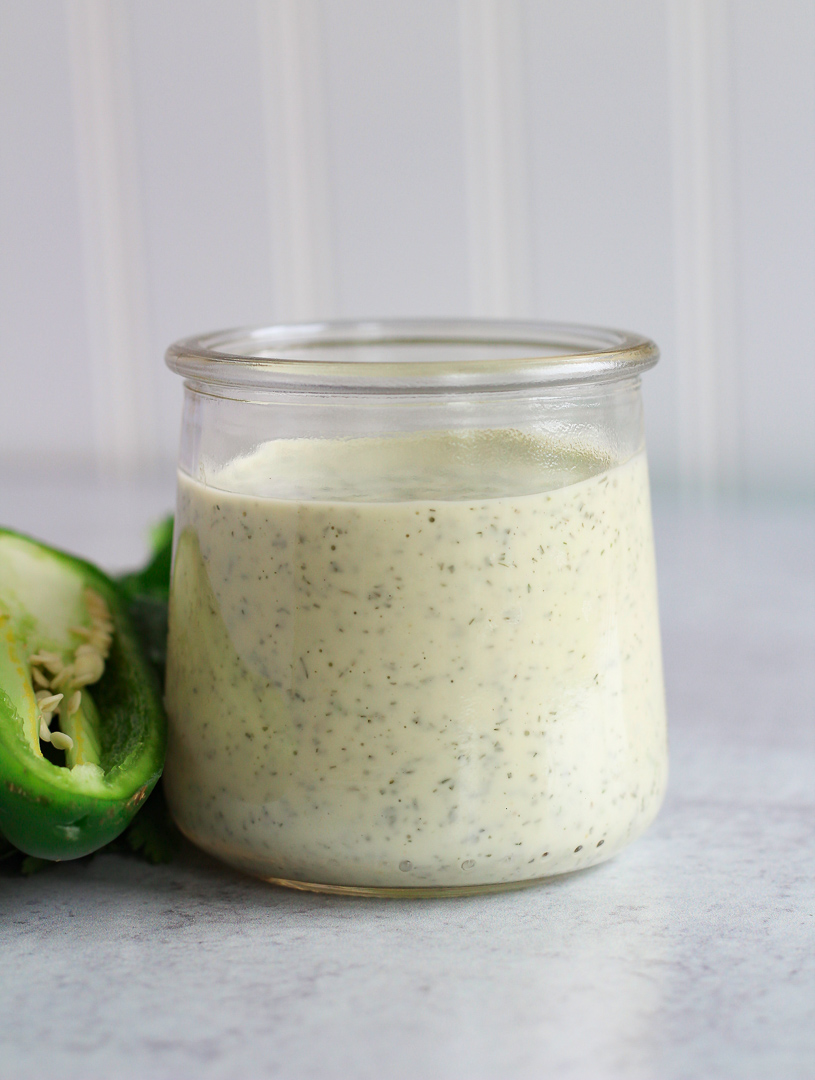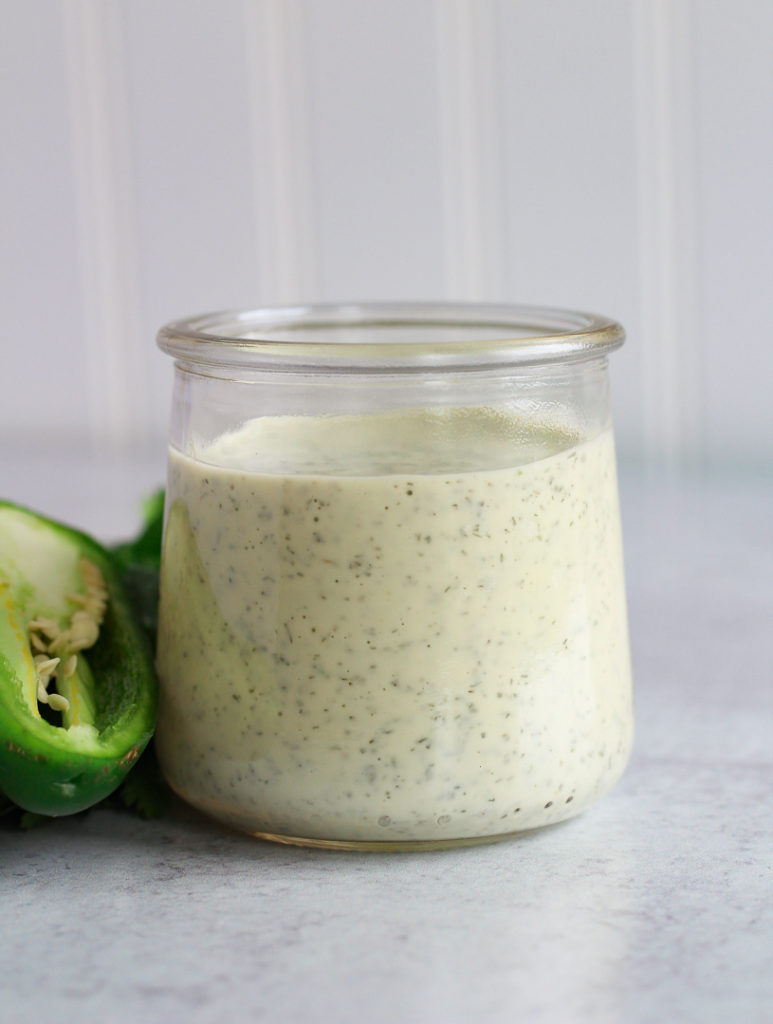 O.M.G.
I don't think they invented jalapeno ranch, and I know there are a million recipes out there for it, but damn if I don't think they hung the moon because of this stuff.
It's creamy, slightly spicy and just as good on a salad as it is with chips. I've been tinkering with a recipe for a while and this is my go-to one that doesn't involve 6 different base ingredients (mayo! sour cream! yogurt!). I start with a homemade mayo and then add all the good stuff. Please don't ask me why, but I actually prefer dried herbs to fresh in this which is so strange for me. But great for all of us, because that means it's even easier to whip up whenever you want it! I use a little buttermilk to thin it out, but any sort of milk will do. I've even used coconut milk and it's great!
Make a batch this weekend and then come back and tell me how many million things you ate it with all week. It's magic!