Whether you prefer cilantro over parsley or just happen to have a whole bunch to use up, this cilantro chimichurri sauce is a bright, flavorful condiment you'll want to put on everything. It takes just 10 minutes to put together and is delicious with grilled or roasted meats, seafood and just about any vegetable!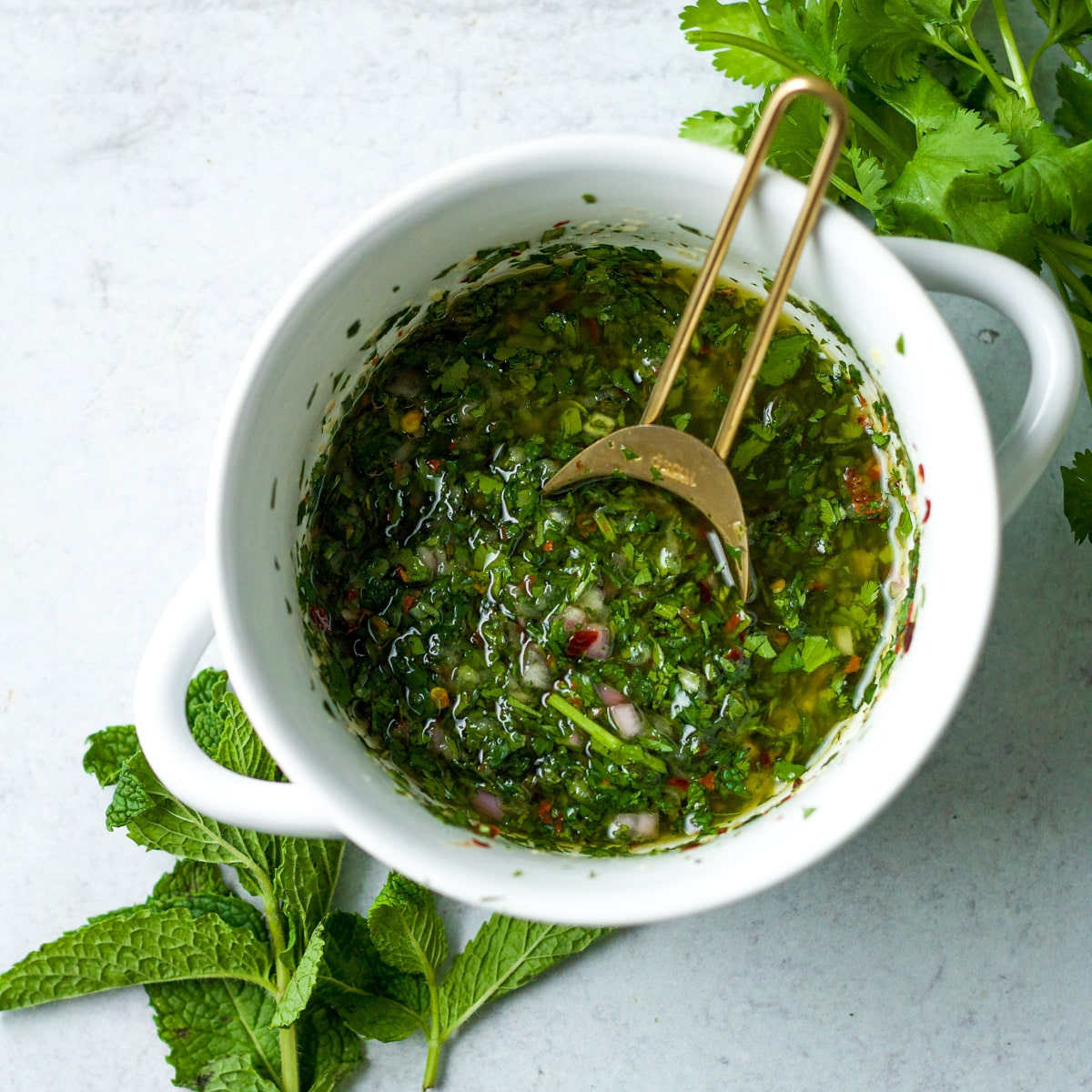 I am, without a doubt, a sauce person. I get it from my mom. Whatever we're eating, there is like a 85% chance we've got a sauce to match.
My mom is a "pour sauce on everything" person, while I am more of a "keep a bowl of sauce on the side to dip all the things in" person.
Luckily, this cilantro chimichurri sauce is great both ways! If you've never had chimichurri before, I highly recommend you give this wonderful green sauce a try. I am particularly partial to this cilantro version, and think you will be too!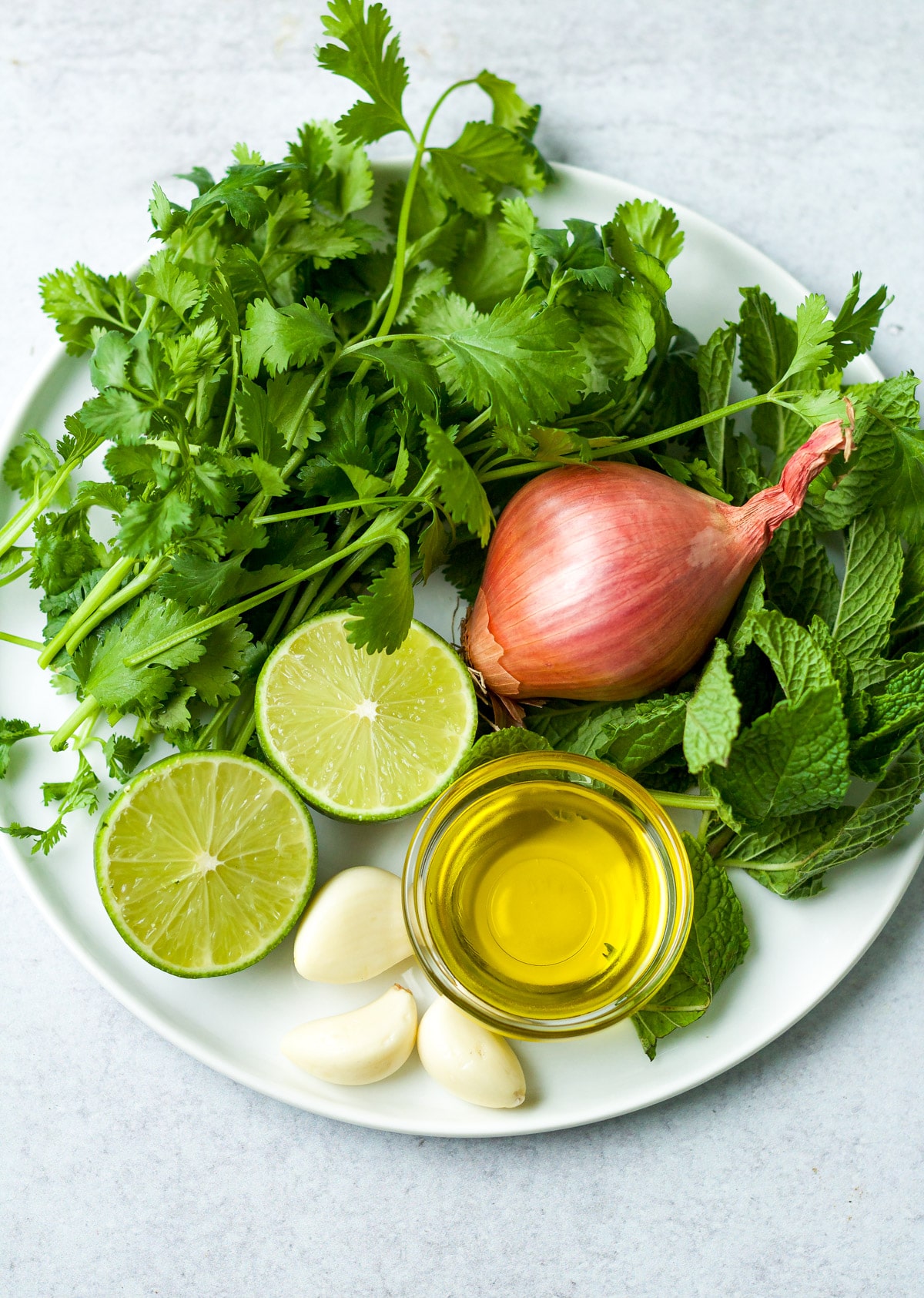 What you'll need
Simple ingredients with a big payoff!
Cilantro. While most chimichurri sauces use parsley as the "main" herb, this one obviously replaces the parsley with cilantro. Use the leaves and tender part of the stems for the best consistency.
Mint. I love mint and cilantro together, and a little fresh mint is a great addition to this sauce.
Shallot. While not traditional in all chimichurri sauces, I love the texture of finely minced shallot in mine. If you don't like or have shallot, red or white onion will work.
Garlic. A must! Either minced or grated. I highly suggest using fresh garlic, but if jarred is all you have that is okay too.
Jalapeno. I actually love using a red fresno when I can for the color, but since I always have a jalapeno or serrano pepper on hand, that's technically what this recipe calls for! If you don't have any pepper on hand, you can substitute with red pepper flakes.
Red wine vinegar. This is the typical vinegar for this sauce, and is my favorite to use as well. In a pinch, white vinegar or white wine vinegar will work.
Lime juice. I really like using both vinegar and citrus, and lime juice and cilantro are so perfect together. If you don't want to use both, you can use just vinegar or just lime juice!
Salt. Don't skip OR skimp. You want a good amount of salt to bring out all the flavors.
Ground coriander. I love using a little ground coriander to bring out the cilantro flavor even more. If you don't have any on hand, feel free to skip.
Olive oil. A good extra virgin olive oil goes a long way in chimichurri. Don't worry about buying the super expensive bottle, but do try to use the best you can get your hands on and afford.
Water. I know this sounds crazy, but a little bit of water really rounds out this sauce. It helps to cut the strong flavor of vinegar and shallot and I find I really like the consistency best with some water mixed in.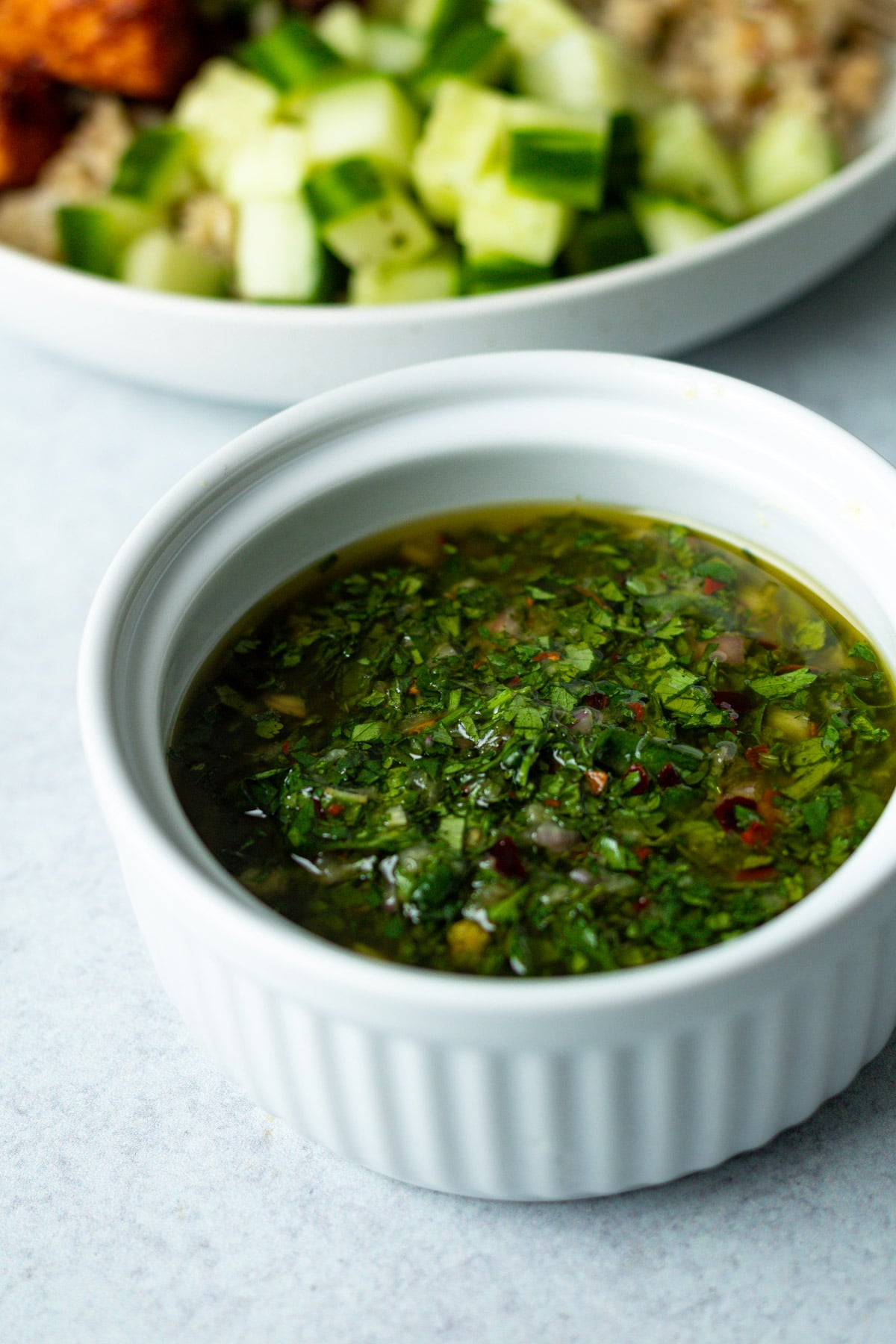 The best way to make chimichurri sauce
I am pro hand chopping, but I know many people who use a food processor. Here are both ways:
Hand chopped:
Finely mince your shallot, pepper and garlic (I actually like to grate my garlic) and add to a bowl with salt and ground coriander.
Add red wine vinegar and lime juice and stir to combine. Set aside while you chop your herbs.
Finely mince the cilantro and fresh mint and then add to your bowl.
Pour in the olive oil and stir to combine. Add a little water to loosen things up and, for best results, let it sit for a few minutes before serving (to let all the flavors come together!).
Food processor:
Add shallot, garlic and pepper in first and pulse until finely minced.
Next, add the salt, ground coriander, lime juice and red wine vinegar and combine.
THEN add the cilantro and mint and pulse a few times just until it's finely minced.
Transfer to a small bowl and then stir in the olive oil by hand. Doing it this way will ensure you still end up with a loose, saucy consistency and not a cilantro paste.
To avoid the risk of cilantro paste, I prefer to just spend a few minutes with my knife and cutting board and finely mincing everything. It really doesn't take THAT long, and I prefer the end result this way.
With that said, either way will make a delicious cilantro chimichurri sauce!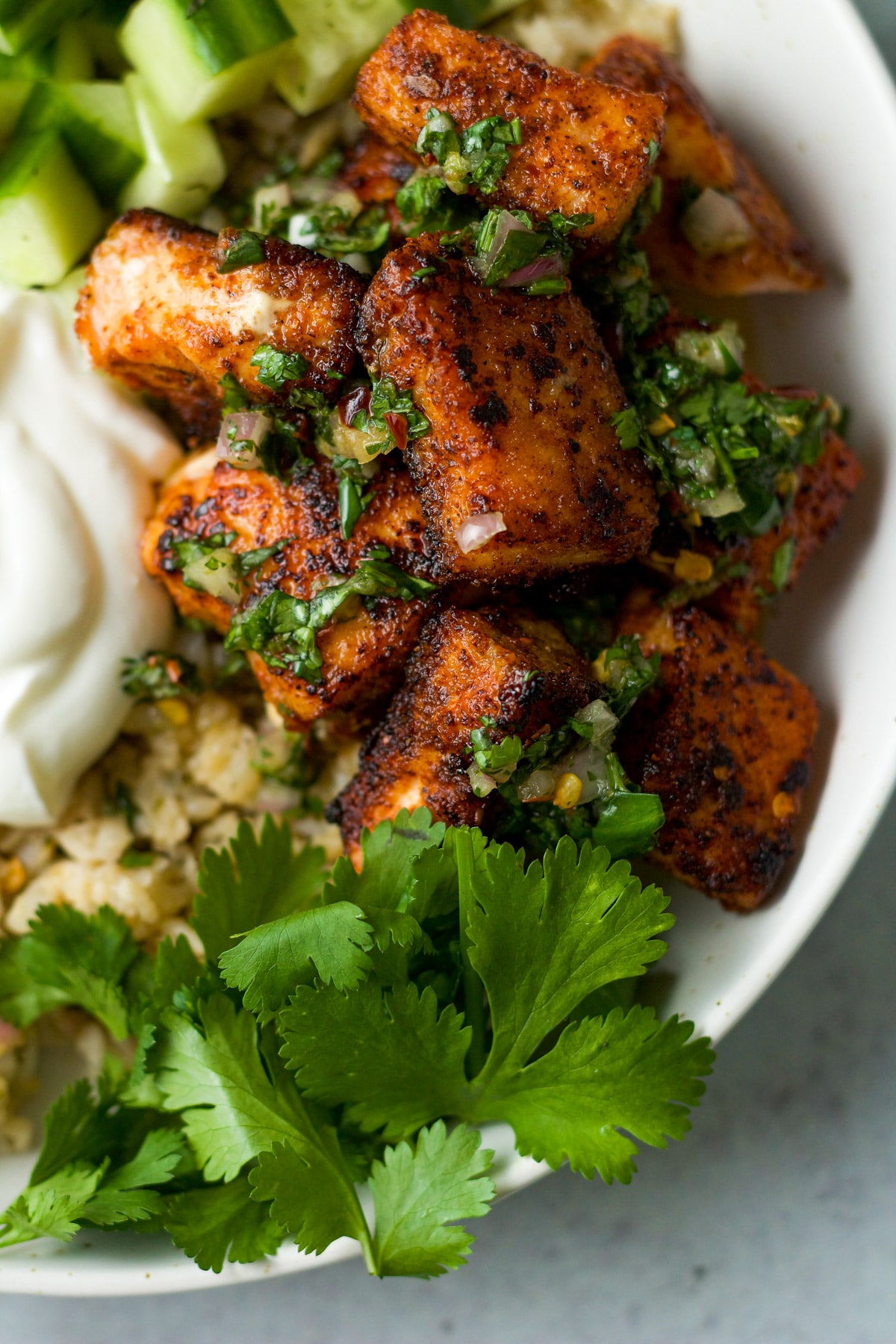 Put this versatile sauce on everything!
What I love about any kind of chimichurri sauce is that it can make the most simple meal SO much more special.
In the summer months (or anytime), chimichurri is perfect with just about any grilled meats. Try drizzling it all over steak (cooked any way you like!), roasted or grilled chicken, slow-baked salmon, or your favorite roasted vegetable.
It is also amazing stirred into some beans - add a few spoonfuls to a can of white beans and you have a great hack for one of my favorite recipes ever! It's also delicious drizzled over these rosemary bacon white beans. Just serve some crusty bread on the side! Or try it with my crispy chickpeas and grains for a lovely dinner.
But one of my favorite ways to use chimichurri is to serve it alongside something as a dip. You can use it this way as-is, or mix it with something creamy like mayo, greek yogurt or sour cream and then dip in all the things! Roasted potatoes or french fries? Yes. Chicken wings? Yes. Truly, just dip anything and everything!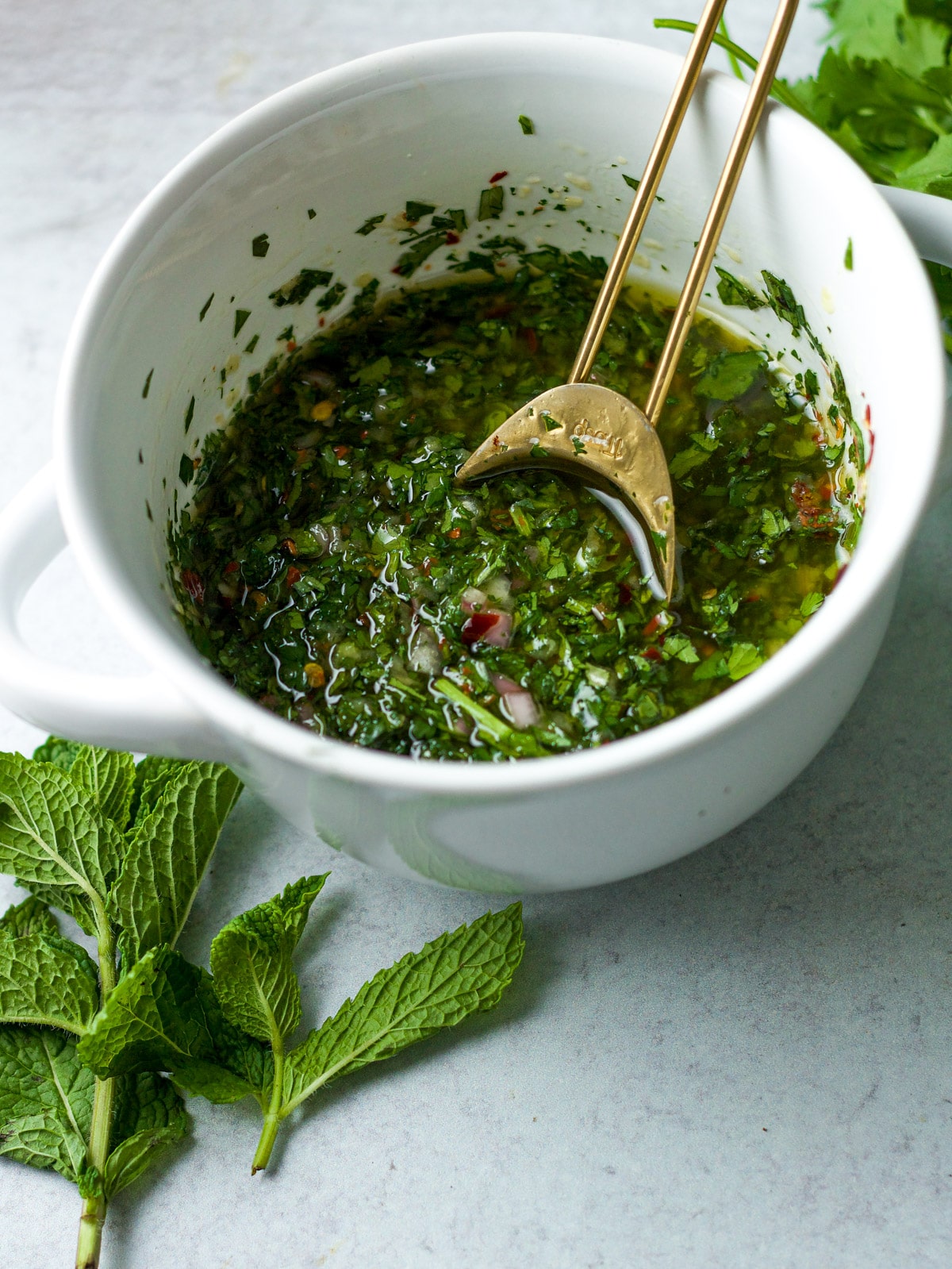 Print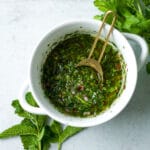 Cilantro Chimichurri Sauce
---
Description
Whether you prefer cilantro over parsley or just happen to have a whole bunch to use up, this cilantro chimichurri is a bright, flavorful sauce you'll want to put on everything. It takes just 10 minutes to put together and is delicious with grilled or roasted meats, seafood and just about any vegetable!
---
2 tablespoons

minced shallot

3

garlic cloves, minced

1

small jalapeno or serrano pepper, minced OR

1 teaspoon

red pepper flakes

1 teaspoon

salt

¼ teaspoon

ground coriander

1 tablespoon

red wine vinegar

1 tablespoon

lime juice

½ cup

minced cilantro leaves and tender stems

2 tablespoons

minced mint

½ cup

olive oil

1

-

2

tablespoons water
---
Instructions
Add 2 tablespoons minced shallot, 3 minced garlic cloves, 1 minced pepper (or 1 teaspoon red pepper flakes), 1 teaspoon salt and ¼ teaspoon ground coriander to a small bowl. Add 1 tablespoon red wine vinegar and 1 tablespoon lime juice and stir to combine.
Stir in ½ cup minced cilantro and 2 tablespoons minced mint leaves. Pour in ½ cup olive oil and stir to combine. Add 1-2 tablespoons water (depending on the consistency you are looking for) and stir. Let sit for at least 15 minutes before serving.
Drizzle over steak, chicken, salmon, shrimp, roasted vegetables or anything else you like! You can also stir some of this cilantro chimichurri with mayo or greek yogurt for an easy and delicious dip.
Store leftovers covered in the fridge for up to a week. The oil will harden up so let it sit out for a few minutes before using.
Prep Time:

5 minutes

Cook Time:

5 minutes

Category:

Sauces

Method:

No-Cook