I love a traditional chimichurri just as much as the next gal, but sometimes it's great to switch up this classic sauce with grilled scallion chimichurri - my absolute favorite summer condiment!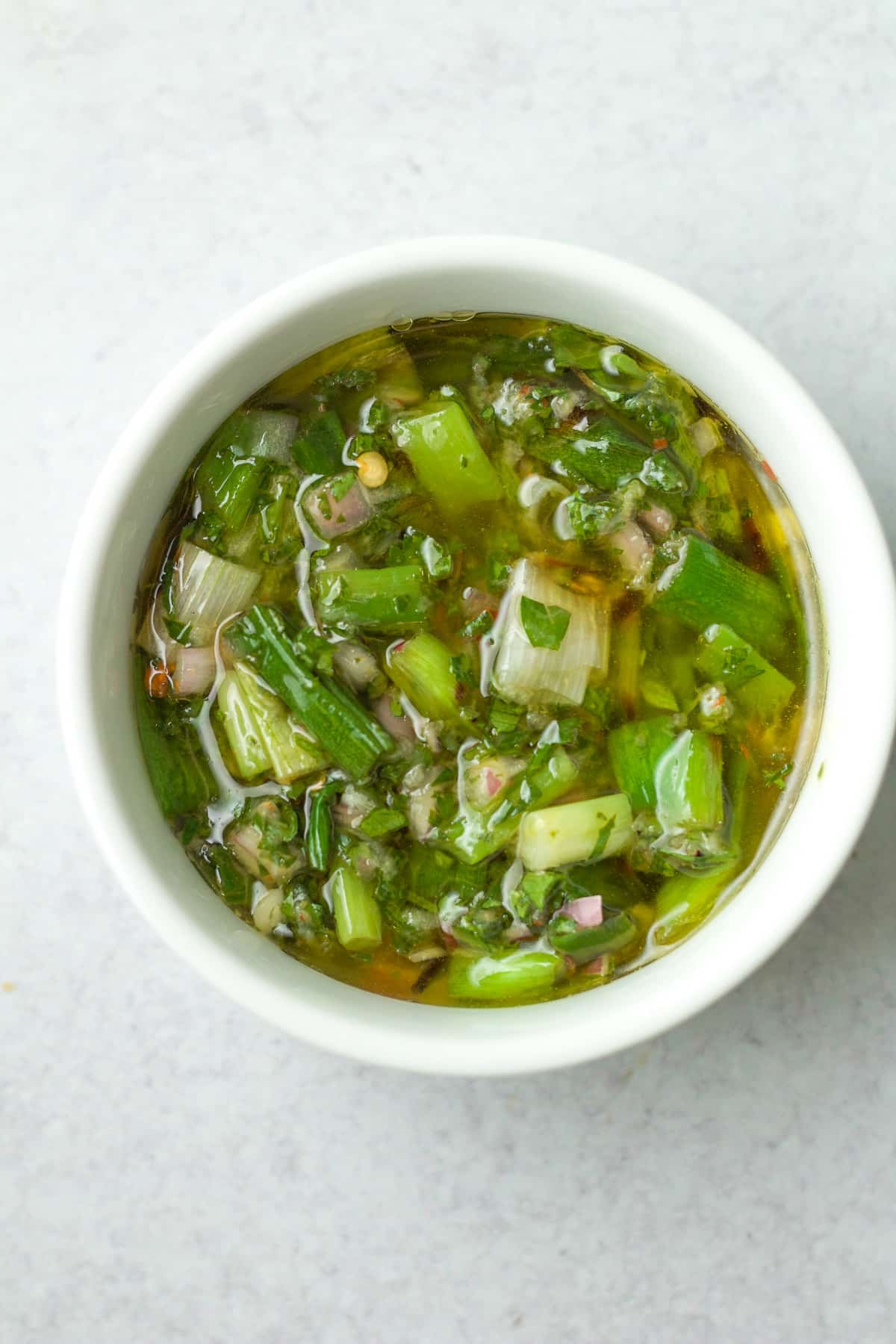 Charred scallions, fresh parsley, lemon juice, olive oil….it's all just so perfect together!
Just like my cilantro chimichurri sauce, this is a simple recipe but one of the best most versatile sauces that you'll make over and over again.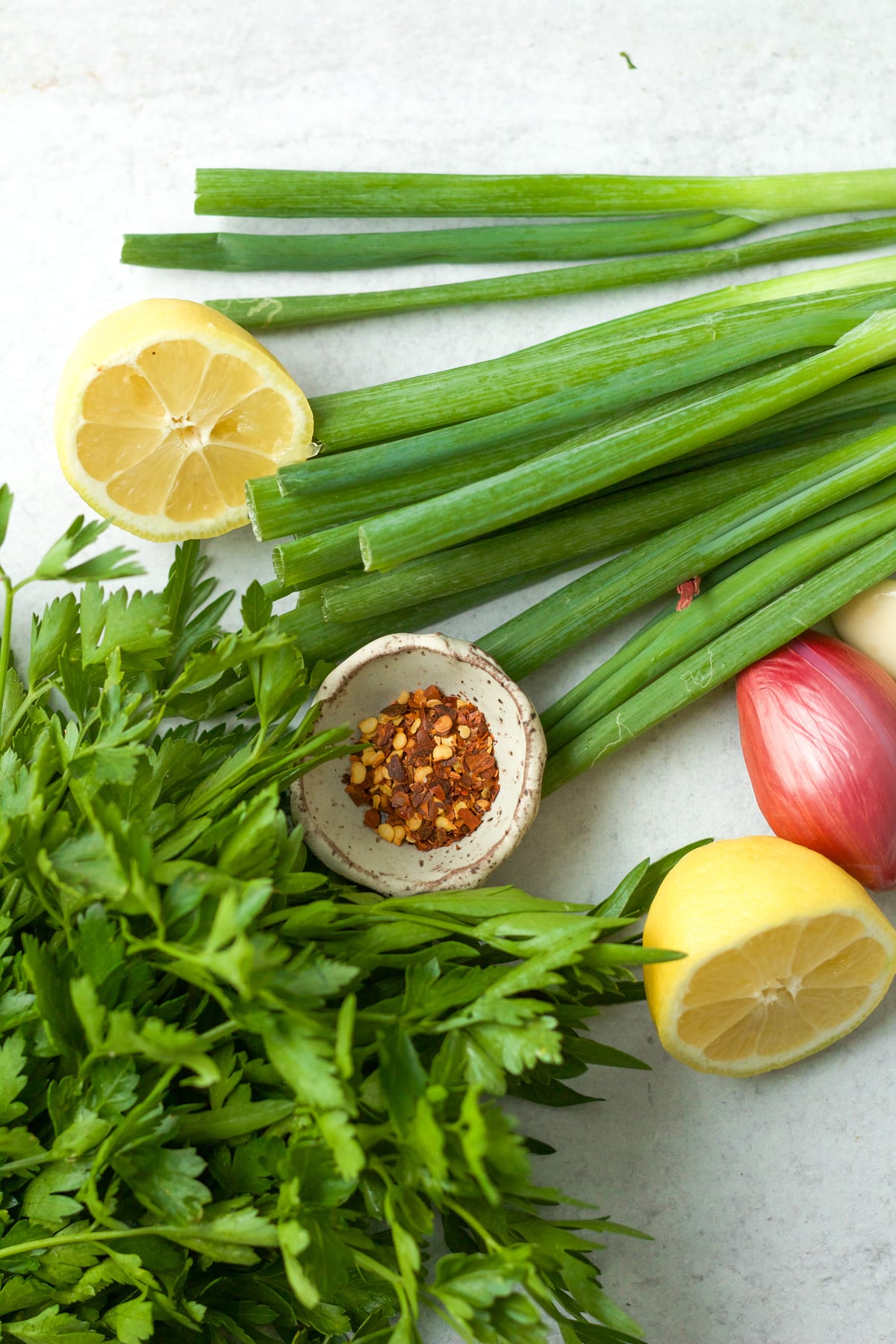 What you'll need
Scallions and parsley are my go-to herb combo here, but you can use other fresh herbs as well! Try adding in some basil or fresh oregano for something different. If you love mint, some fresh mint leaves would also be great.
Scallions: Also known as green onions, you'll grill these up whole and then chop to stir into the final chimichurri.
Parsley: I love the mix of parsley and scallions, but you could use fresh cilantro here too.
Shallot: Just a little bit for texture and flavor. Regular ol' onion or red onion will work too!
Garlic cloves: As much as you want! But remember it will stay raw, so don't go too crazy. I do believe fresh garlic is the way to go here, but in a pinch some garlic powder will also be fine.
Lemon: You'll use the zest and juice here. I love the lemon flavor with parsley and scallions, but white vinegar or red wine vinegar would absolutely work. Lime juice will work too!
Kosher salt: So important for chimichurri to bring out all the flavors.
Red pepper flakes: For ease I use the spice, but you can also finely minnce a pepper if you prefer (a hot pepper, not a bell pepper!)
Ground cumin: This is optional, but I love the extra smokey flavor in this one.
Olive oil: This is the base of the sauce, so use a nice one if you can.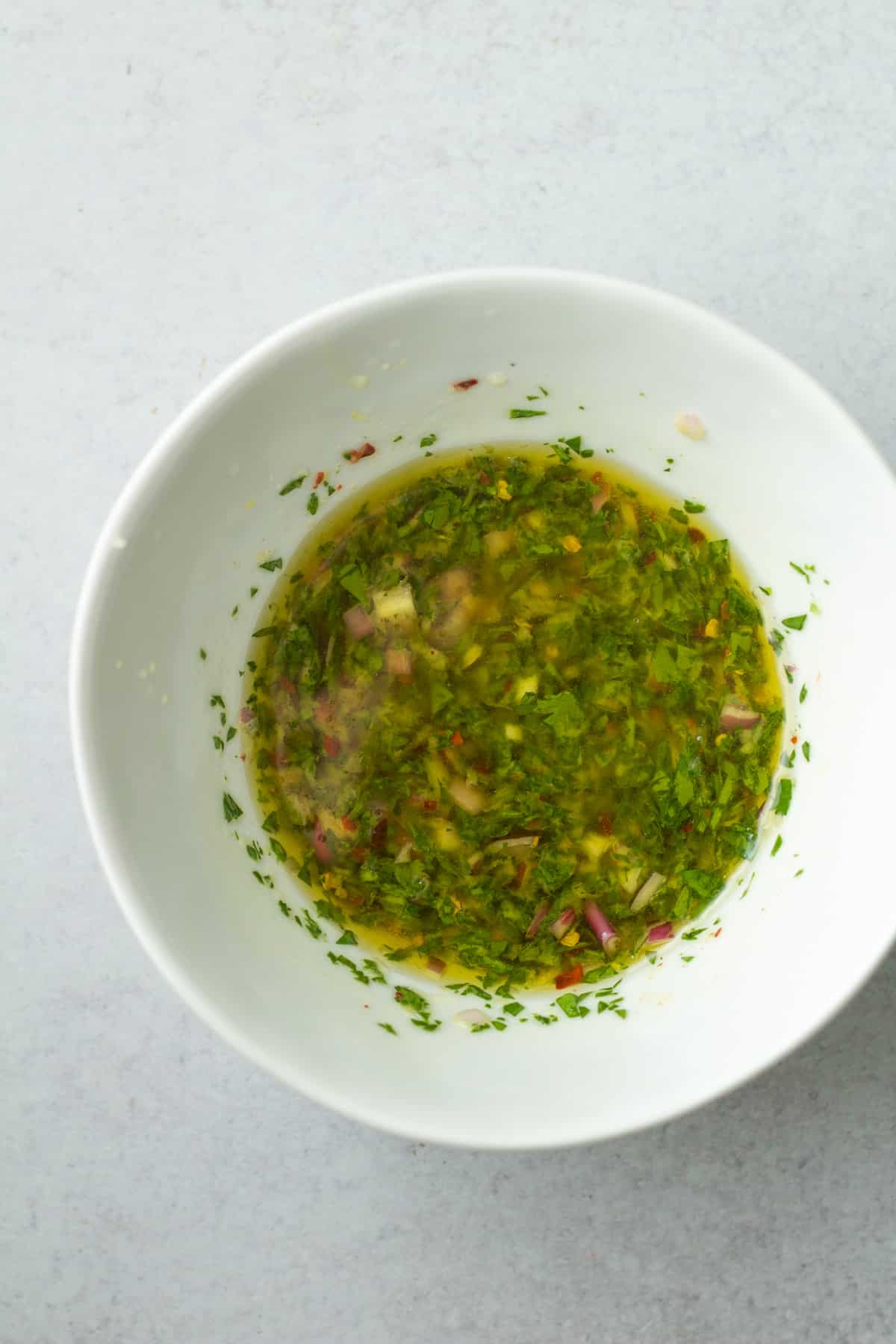 How to make grilled scallion chimichurri
First, you'll combine your minced shallots and garlic with the lemon zest and lemon juice. Then add chopped parsley, salt, red pepper flakes and ground cumin (if using).
Pour in olive oil and stir to combine. Let this sit for at least 30 minutes to let the flavors combine.
While that's sitting, grill your scallions! Rub a little olive oil over the bunches and grill over medium-high heat for 4-5 minutes until they are soft and charred. I keep them on the main grill rack, but you can use the top one if you're worried about burning. Remove and let cool for a few minutes until they are room temperature. (P.S. If you don't have access to a grill, a grill pan or cast iron pan on the stove works just as well!)
Chop up the cooled scallions (green and white parts) and add to the chimichurri. At this point you can taste and adjust any seasonings as needed. I like to add a few grinds of freshly ground black pepper for a little extra kick.
This makes about a cup of sauce. Store leftovers in an airtight container in the fridge for up to a week.
To make things even easier, you can use a food processor (or a mini food processor!) to chop everything up.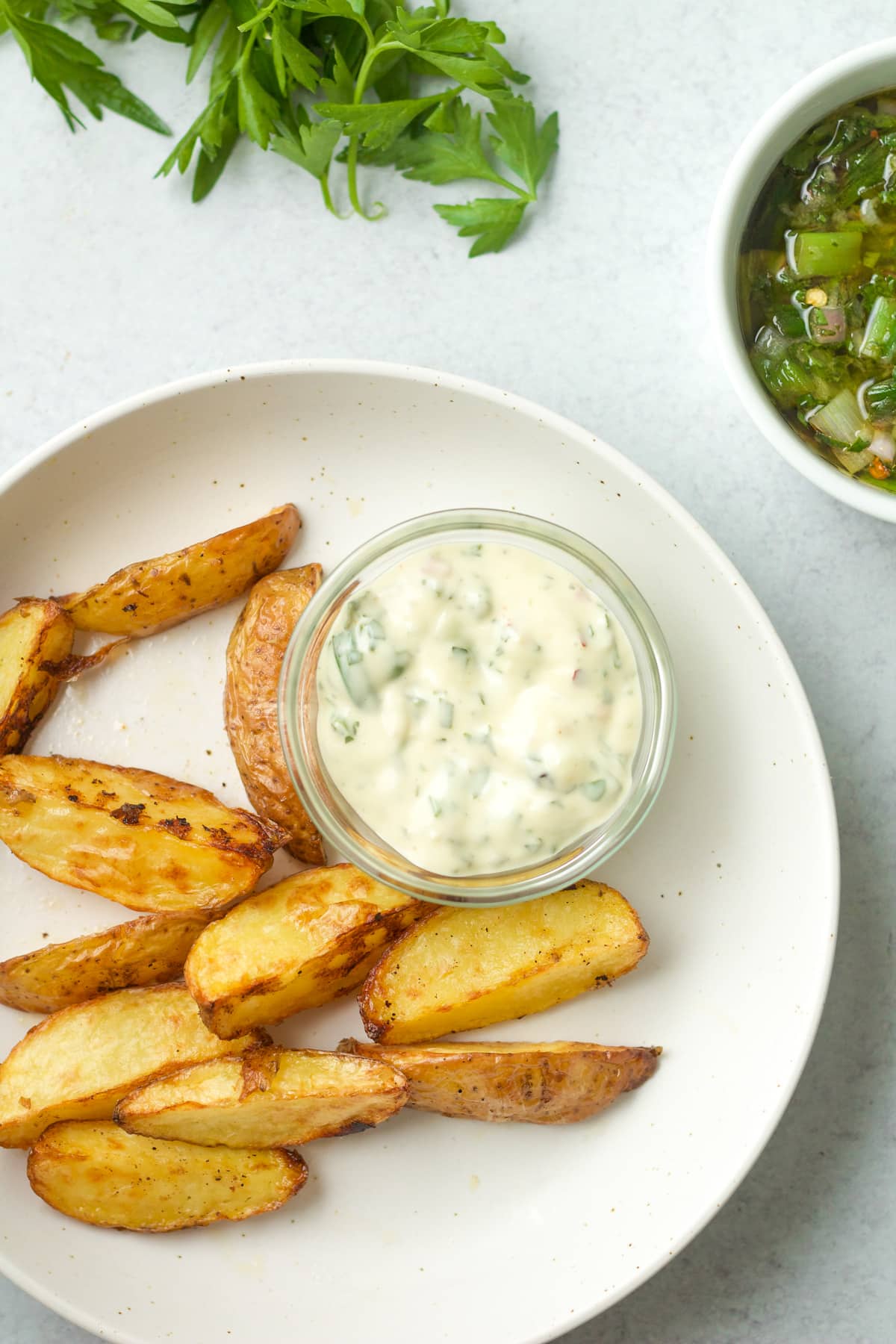 How I like to use this flavorful chimichurri sauce
Obviously, this is a go-to sauce for grilled meats and vegetables. It's just so easy to throw a bunch of scallions on the grill when I've already got it going! Try it on thin slices of skirt steak or flank steak for a traditional way to eat chimichurri sauce. Don't forget to sprinkle steak with a little flaky sea salt!
This is also delicious on chicken, pork chops or anything else you've got fired up. Add a quick side dish like this grilled peach caprese salad or orzo with tomatoes and feta for the perfect summer dinner.
If you have some burgers going, try brushing some of this on the burger buns. SO GOOD!
Grilled scallion chimichurri is also amazing with vegetables, like cauliflower and sweet potatoes. Roast or grill those up and then drizzle as much sauce on top as you want.
One of my favorite ways to use up leftover chimichurri is to mix it with some mayo or greek yogurt to make a creamy dip for roasted potatoes. Or you can just stir in some boiled, tender chunks of potato and thinly sliced red onion for an awesome potato salad. Honestly, you can use this on basically any kind of potato of your choice.
I also recently discovered how delicious chimichurri is on avocado toast, so definitely give that a shot with any leftovers you have.
Check out my cilantro chimichurri post for even more delicious recipes and ideas!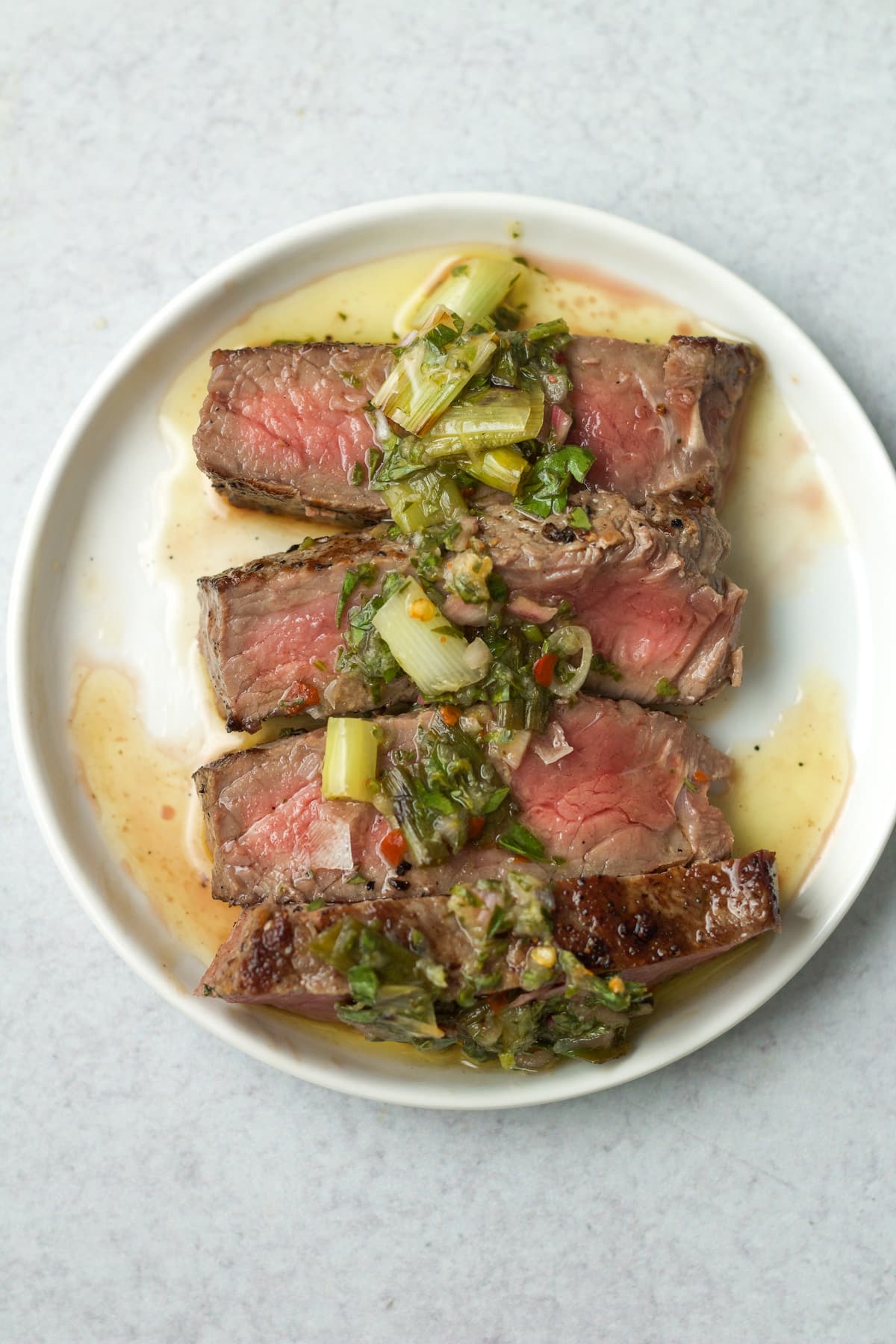 Print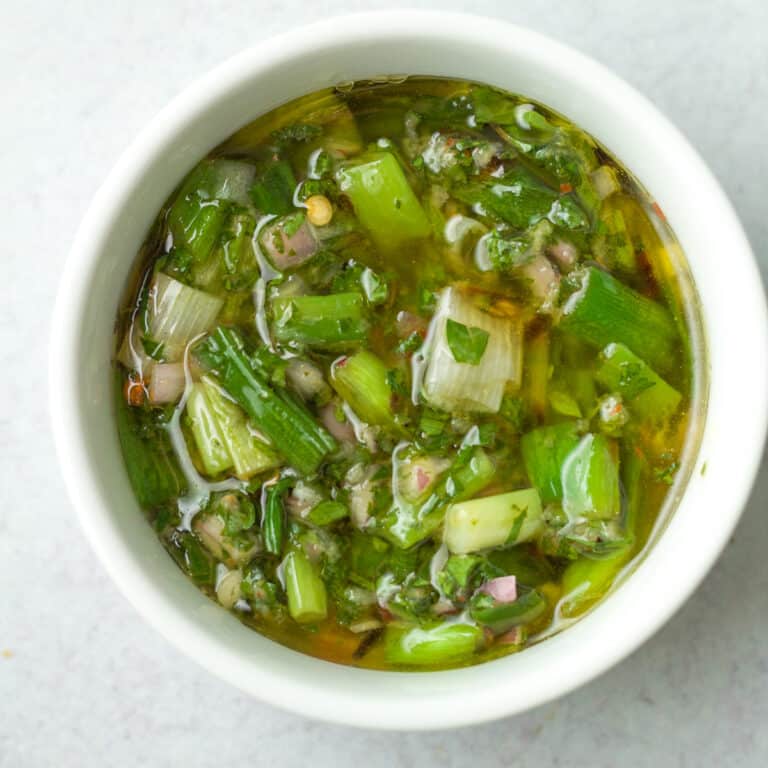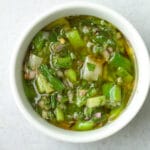 Grilled Scallion Chimichurri
Author:

Mansee Muzumdar

Prep Time:

5 minutes

Cook Time:

30 minutes

Total Time:

35 minutes

Yield:

~1 ½ cups

Category:

Sauces

Method:

Grilled
---
Description
I love a traditional chimichurri just as much as the next gal, but sometimes it's great to switch up this classic sauce with grilled scallion chimichurri - my absolute favorite summer condiment!
---
1

small shallot, minced

3

garlic cloves, minced or grated
Zest of

1

lemon (about

½ teaspoon

)

2 tablespoons

lemon juice

1 teaspoon

salt

½ teaspoon

red pepper flakes

¼ teaspoon

ground cumin (optional)

1 cup

parsley leaves and tender stems, minced (

1

small bunch)

6 tablespoons

olive oil

2

bunches scallions/green onions

1

-

2

tablespoons water
---
Instructions
Add 1 small, minced shallot, 3 minced garlic cloves, the zest of 1 lemon and 2 tablespoons lemon juice to a bowl.  Stir to combine.
Add 1 cup minced parsley, 1 teaspoon salt, ½ teaspoon red pepper flakes and ¼ teaspoon ground cumin (if using) and 6 tablespoons olive oil. Stir to combine everything and let sit for at least 30 minutes.
Meanwhile, rub 2 bunches of scallions with a little oil. Grill over medium-high heat for 4-5 minutes, flipping often, until they are soft, charred and have some grill marks. Remove and let cool for a few minutes.
When ready to serve, chop up grilled scallions and add to chimichurri. Taste and adjust salt if needed. I also like to add a tablespoon or two of water if the chimichurri looks a little thick.
Store leftovers in a covered container for up to a week.
---