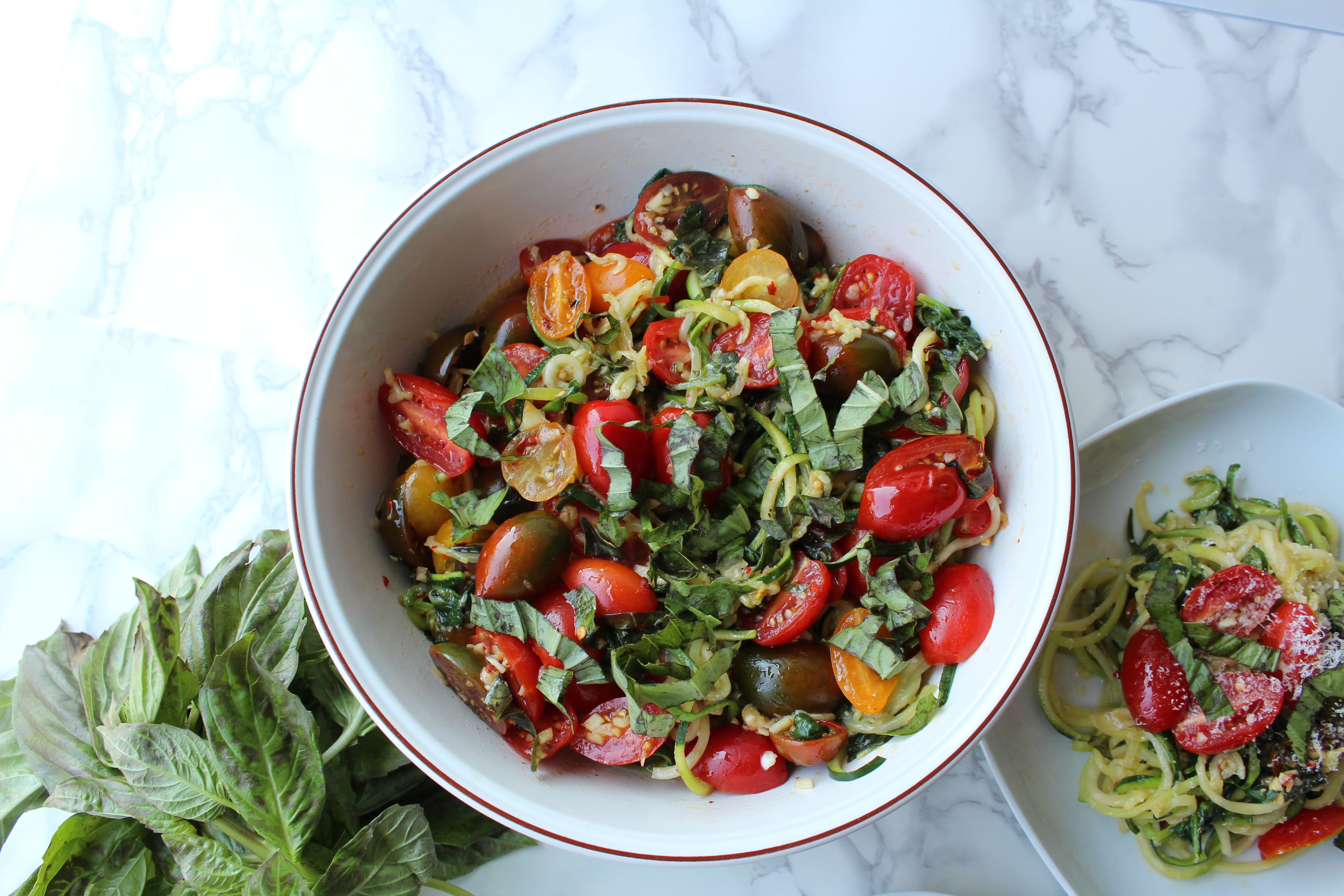 This one's for all you kids with gardens out there. I know this time of year can be a bit of a struggle because you want to dive head-first into a pile of pumpkin spice anything, but you've still got a bunch of "summer produce" hanging around.
I'm here to help! Well, actually Ina Garten is here to help since this is based off one of her dishes. While she's never steered me wrong (she is my queen, after all), I still found myself pleasantly surprised at how tasty this was because it's so unbelievably simple!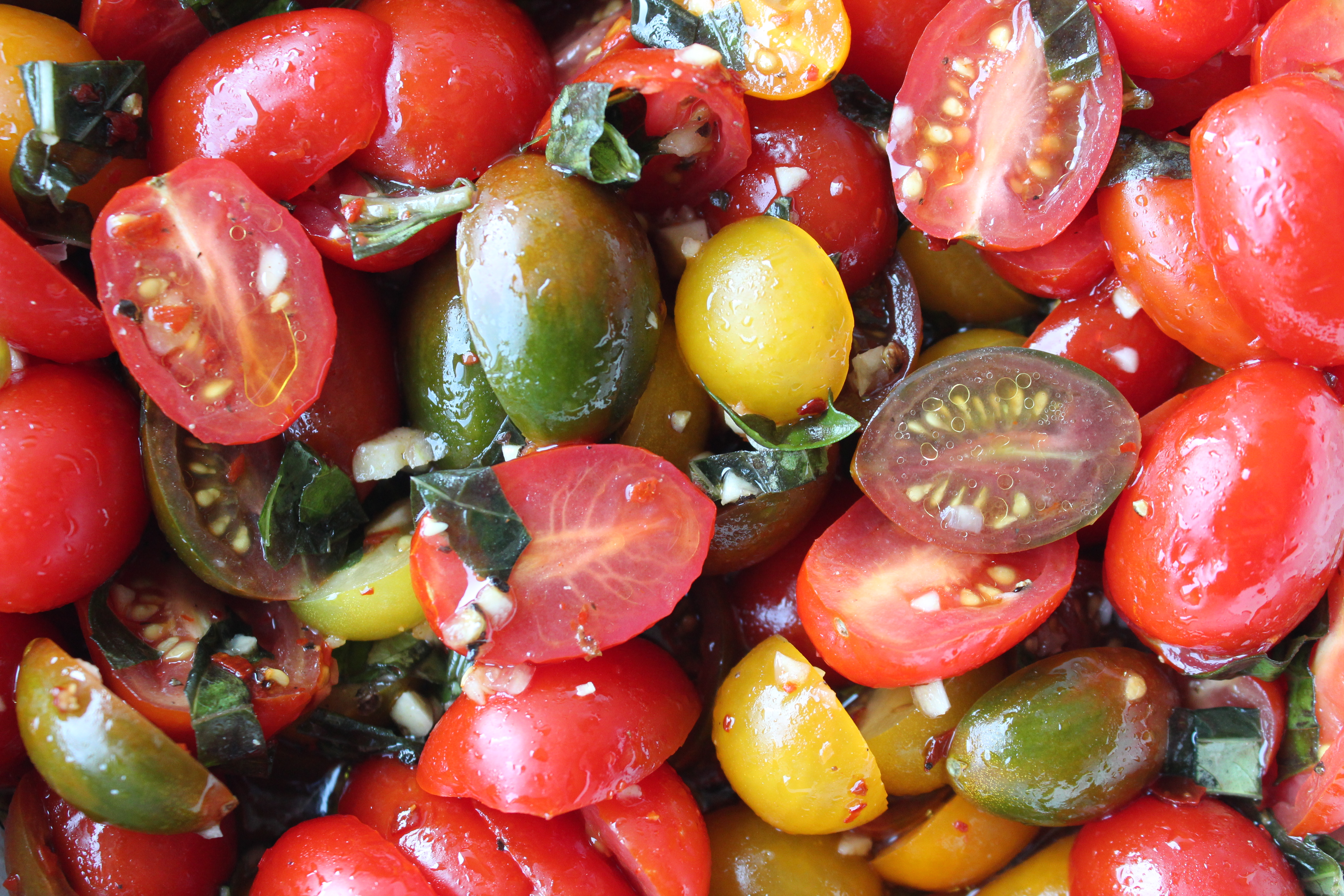 This recipe calls for cherry tomatoes, but you could definitely use other types if that's what you have. Or even a mix - literally just throw whatever you have that you want to use up in the bowl. The rest of the ingredients are simple, and quite possibly in your kitchen right now: olive oil, garlic, red pepper flakes, parmesan, basil and pasta.
Or in my case, zucchini noodles (zoodles!).
My initial plan included making this dish with real pasta and then inviting some friends over to share. But after I started marinating the tomatoes, my introvert-ness suddenly came to play and I just didn't feel like being social anymore (I know I'm not the only one who is this way. No shame!). I decided to use zoodles instead because I really didn't need to take down an entire bowl of pasta myself.
Plus zoodles is a fun word to say. ZOOOOOODLES.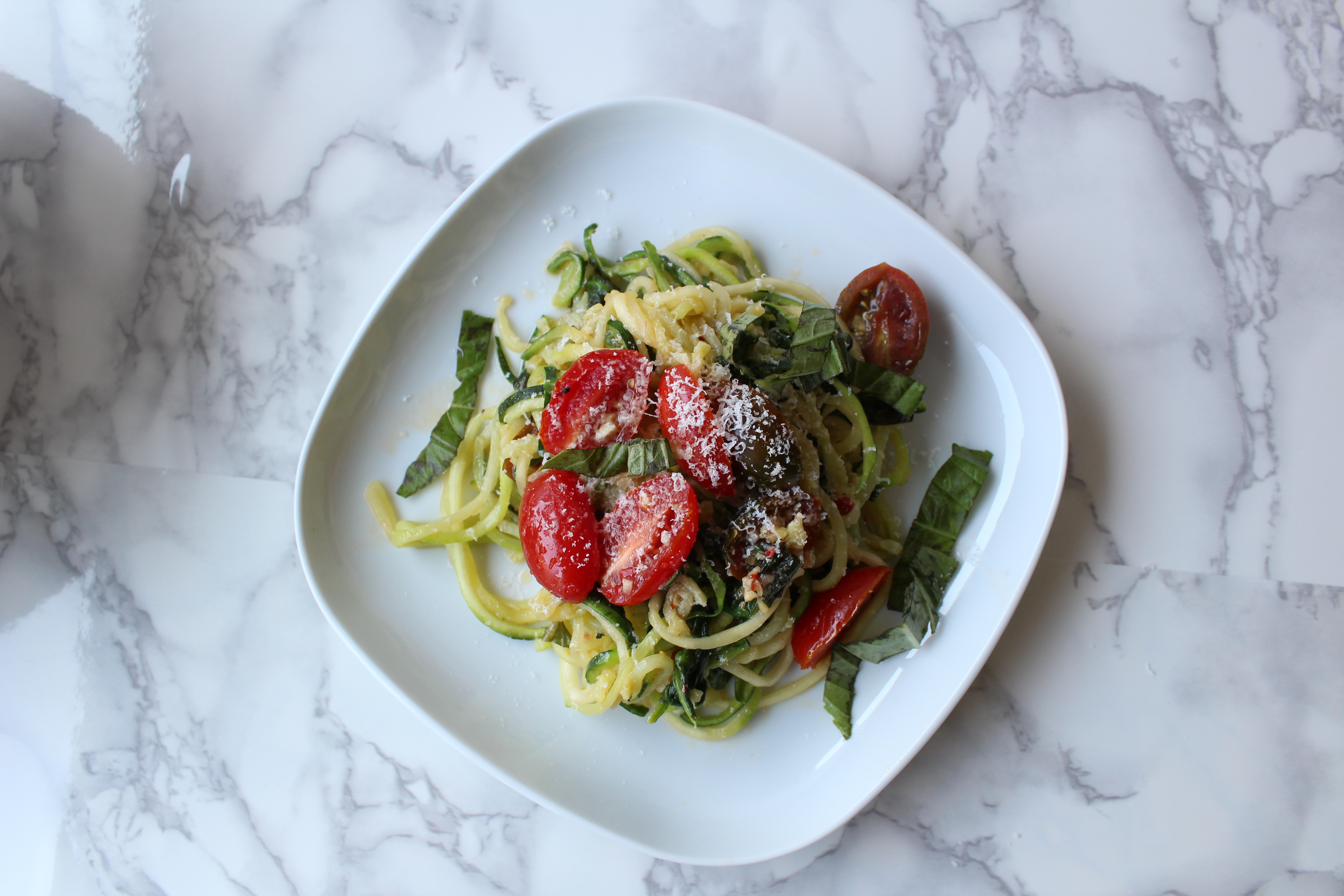 I ended up throwing in a couple handfuls of spinach as well so this dish took a healthy turn that I am not mad about. It kept well in the fridge for DAYS, and was good cold, at room temperature and/or warmed up. A couple of times I threw a little burrata in for good measure and then pat myself on the back for the good decisions.
Of course this would be extra delicious with real pasta. Ina uses angel hair, but I think any type you have on hand will be good. This really is the perfect dish to use up whatever you have at home. I'm a weirdo that loves to grocery shop, but it's a special day when I can make a meal without having to take a trip to the store.
And now that we've used up the entire garden, we can feel good about that dive into pumpkin.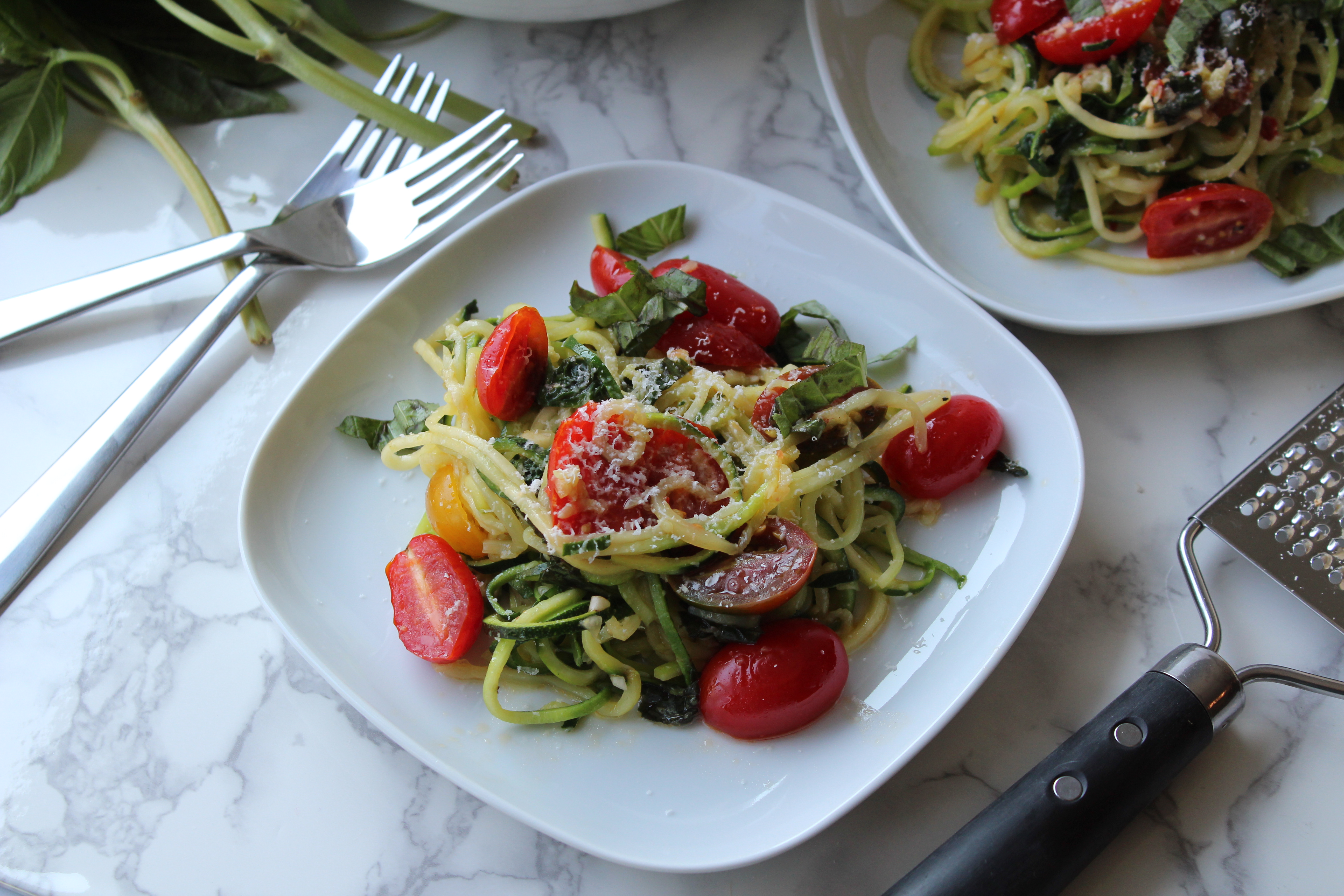 Print
Marinated cherry tomato zoodles
---
2 pints

cherry tomatoes (or about

4 cups

of chopped tomatoes)

¼ cup

olive oil

4

cloves garlic, finely minced

½ tsp

red pepper flakes

1 cup

basil + more for serving, torn into small pieces or cut in small strips

½ tsp

salt

½ tsp

pepper

2

-

3

medium zucchini

2 cups

baby spinach

1 cup

parmesan + more for serving
---
Instructions
Chop up your tomatoes (if using cherry, just cut them in half) and mix in a large bowl with olive oil, garlic, red pepper flakes, salt, pepper and basil. Let marinate for at least 2 hours, and up to 6, at room temperature.
When you're ready to eat, spiralize the zucchini and saute over medium-high heat for 2-3 minutes. You don't want to fully cook them, but they should start to soften. Add spinach and saute for another minute just to wilt the greens. Remove from heat and toss with parmesan until cheese starts to melt.
Mix zucchini with marinated tomatoes well. Serve with extra parmesan, basil and a drizzle of olive oil if desired!
Recipe adapted from Ina Garten.
Notes
This stays well in the fridge for 4- 5 days and makes for a super easy lunch throughout the week. You can eat it cold or at room temp, or warm it up in the microwave for a bit if you'd like.
The longer the dish sits, the more liquid will collect at the bottom. This is totally normal for zucchini noodle dishes and mixing them with the tomatoes does add to it. The liquid is 100% delicious so if you don't mind a little extra slurping action, don't be shy with it. If you don't want the liquid, just avoid it when you're serving this up.