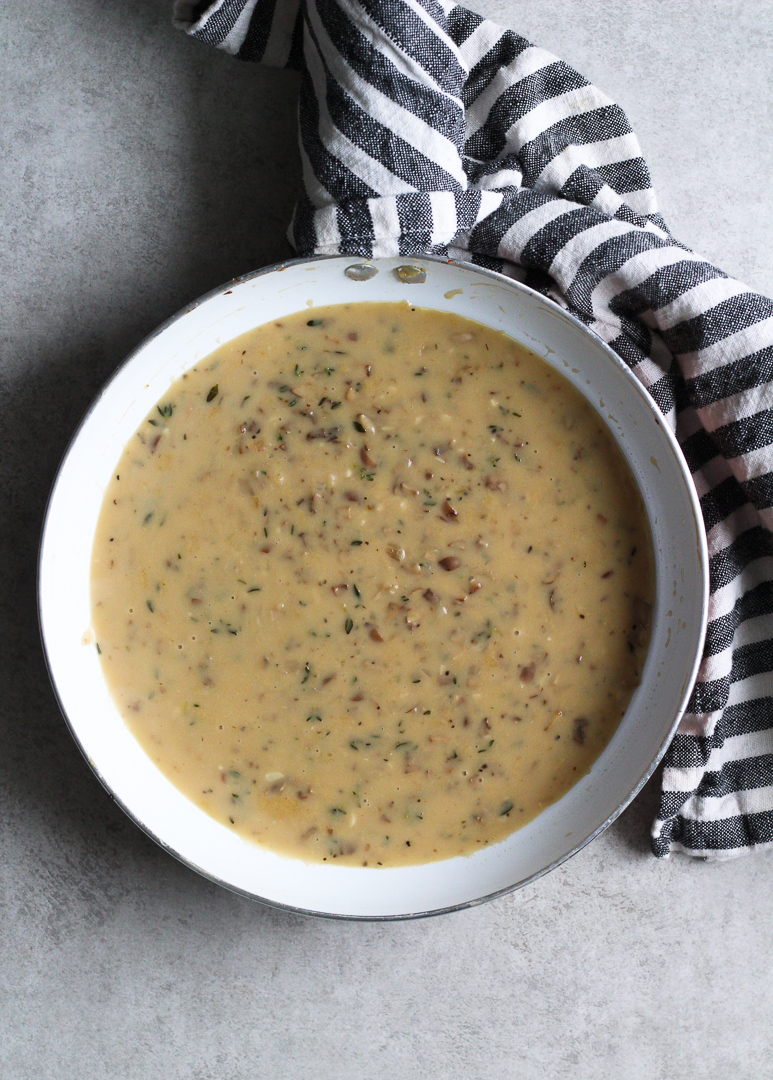 You know, I wasn't even going to make gravy. I never do. For someone who loves making things from scratch, I actually have no problem with gravy from a packet. I am the epitome of the "who cares" emoji about packet gravy.
At least I was until my mom started talking about how bad packet gravy is and I felt unneccesarily personally offended. I, who never really cared about gravy before, suddenly CARED VERY MUCH ABOUT GRAVY.
I am my own worst enemy.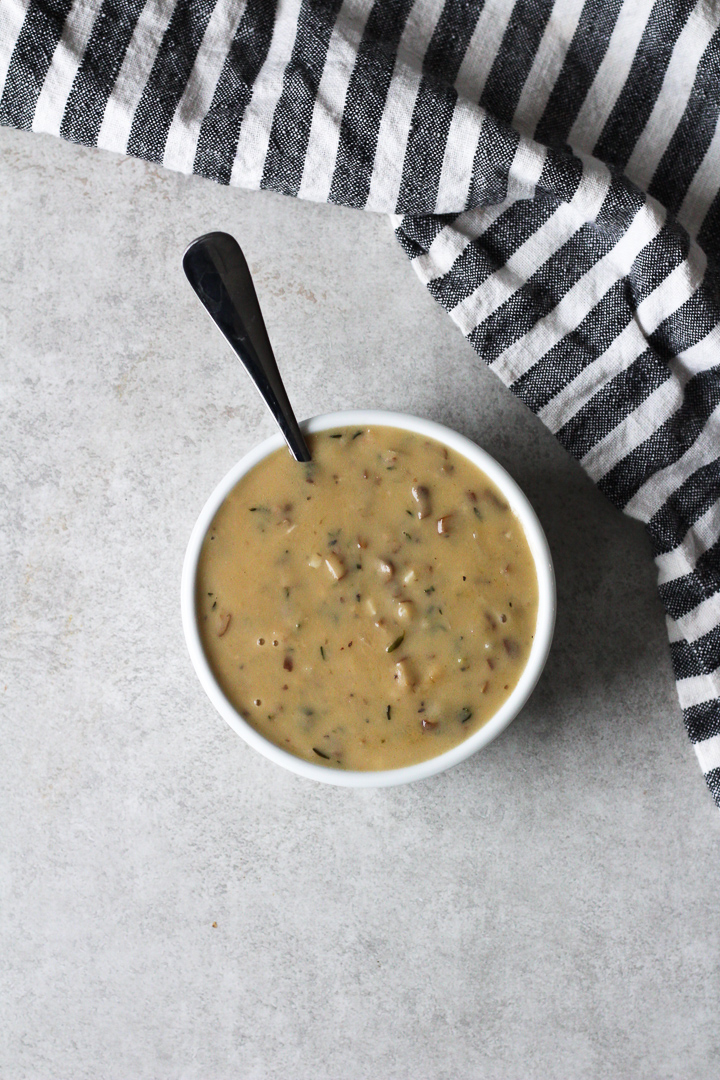 Anyway, that was all to say I came up with this homemade gravy recipe and I'm very excited to share it with you! Especially because (drumroll please....) you can make it ahead of time!!
Even if your normal gravy game consists of powder and water (seriously though, no shame) you know that making gravy is always so stressful. You have to do it at the last minute, when everybody is so hungry they have already been standing in the kitchen waiting for you to be done for half an hour. So there you are just whisking away, not being able to do anything else and wondering if people even need gravy?!
(Spoiler alert: They do.)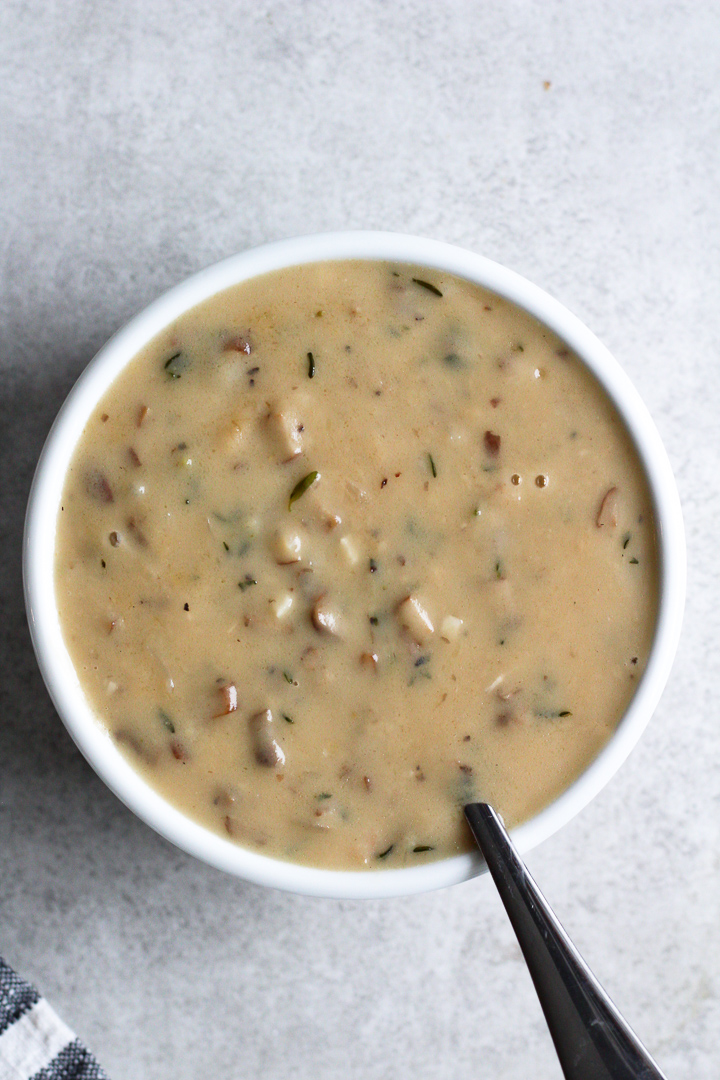 With this one, you can do everything ahead of time and just quickly reheat it before serving. I just throw it back in a pan with a little more stock and let it simmer away. You don't have to worry about stirring it, just let it heat back up. And while this can be a vegetarian gravy, absolutely no one is stopping you from pouring in some turkey drippings as it's heating up.
I love this gravy so much I'm not even going to tell you about how I actually don't like mushrooms but still decided to make them the major flavor profile here. It just felt right, so I did it and I have zero regrets. Same with the fish sauce - just that tiny bit does so much!! But if you do want to keep this vegetarian, feel free to leave it out. It will still be great without it. Promise.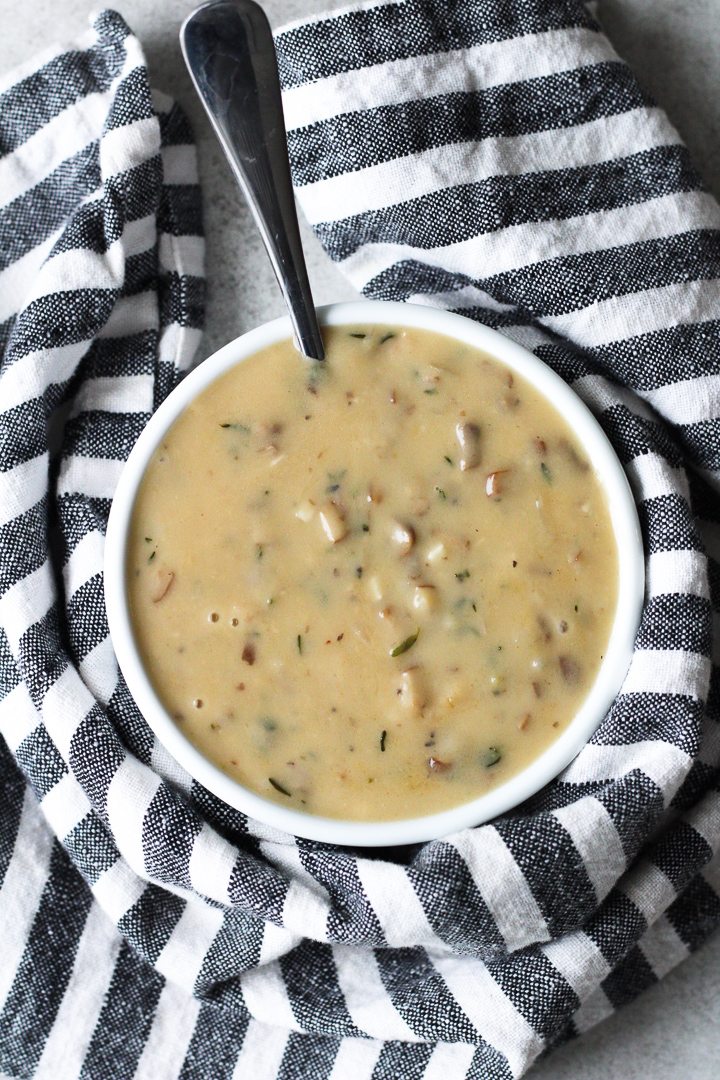 Print
Mushroom thyme gravy
---
Total Time:

20 minutes

Yield:

4

1

x
1 tablespoon

olive oil

1

small shallot, finely diced

1 cup

mushrooms, finely diced

1

garlic clove, minced

2 teaspoons

thyme, roughly chopped

2 tablespoons

butter

2 tablespoons

flour

1 ½ cups

vegetable stock

¼ teaspoon

fish sauce

¼ teaspoon

salt

¼ teaspoon

black pepper

1 tablespoons

heavy cream
---
Instructions
Heat olive oil over medium heat, and add shallots. Saute for 3-4 minutes until they start to turn translucent.
Add mushrooms and cook for minutes until they start to brown. Add garlic and thyme and cook for another minute.
Add butter and continue cooking until the mushrooms turn a deep, caramelized brown.
Add flour and cook for another 2 minutes, stirring constantly.
Slowly pour in vegetable stock, stirring (or whisking!) constantly to combine. The mixture might initially seize up, but just keep adding the stock and stir and it will be okay. Add the fish sauce, salt and black pepper.
Let simmer for 5-7 minutes to thicken. Add heavy cream and taste for seasonings. Add additional salt and pepper as needed.
Notes
If making this ahead, reheat on the stove with a couple extra tablespoons of vegetable stock.
Feel free to add in turkey drippings at the last minute (obviously don't if you're keeping this vegetarian).
Prep Time:

5 minutes

Cook Time:

15 minutes