Crispy, roasted gnocchi tossed in brown butter infused with garlic and lemon. This is a great, simple main pasta dish but also works wonderfully as a side dish to your favorite mains. Try it with roasted chicken, fish or cauliflower steaks!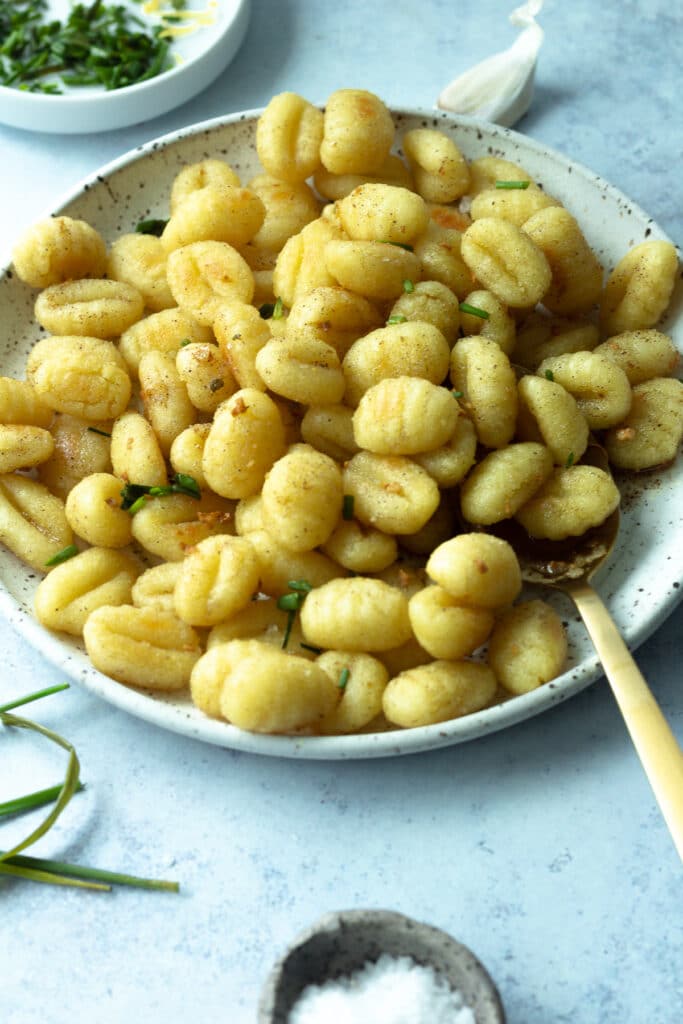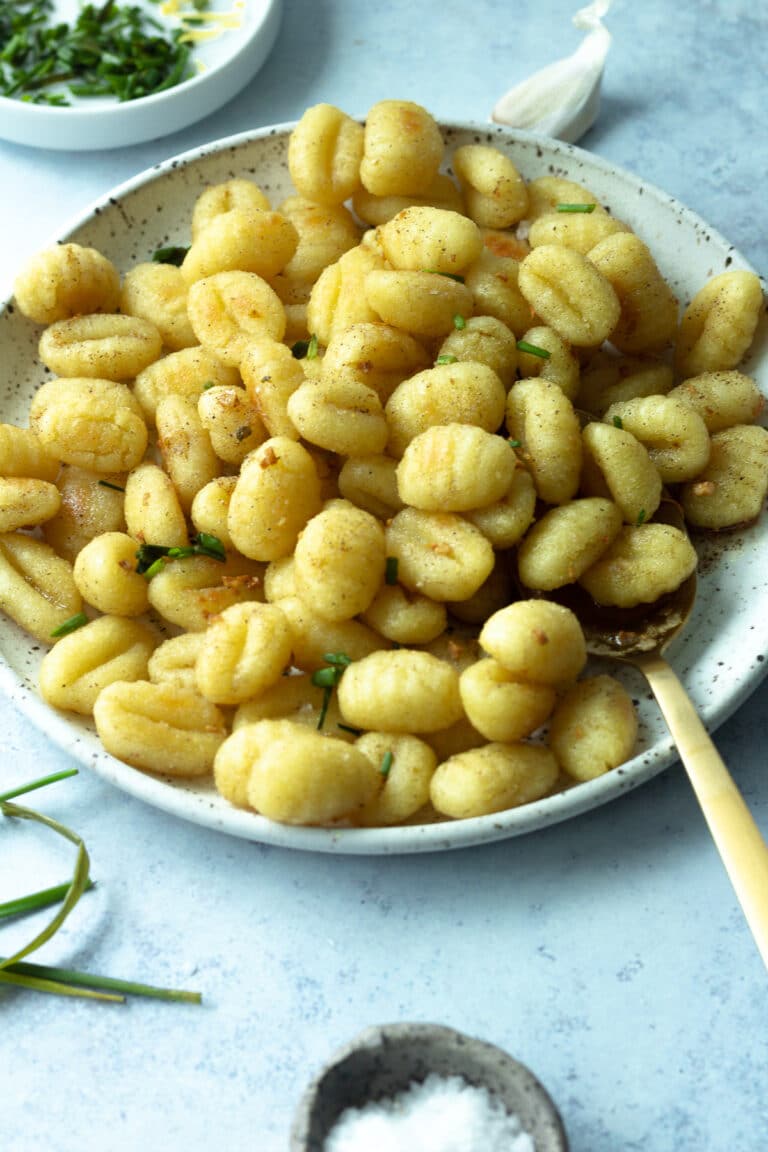 Print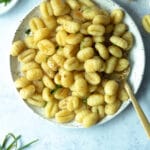 Roasted Gnocchi with Lemon Garlic Brown Butter
---
Author:

Mansee

Total Time:

30 minutes

Yield:

2

-4

1

x
Description
Crispy, roasted gnocchi tossed in brown butter infused with garlic and lemon. This is a great, simple main pasta dish but also works wonderfully as a side dish to your favorite mains. Try it with roasted chicken, fish or cauliflower steaks!
---
1

lb packaged gnocchi

1 tablespoon

olive oil

½ teaspoon

salt

2 tablespoons

butter

2

garlic cloves, finely minced

1 teaspoon

lemon zest
Chives, for topping
---
Instructions
Preheat oven to 425.
In a large bowl, toss 1 lb gnocchi with 1 tablespoon oil and ½ teaspoon salt. Toss really well to make sure all of the gnocchi is coated with oil. If it looks a little dry, feel free to drizzle a little more on. 
Spread gnocchi out in a single layer on a parchment-lined baking sheet. Roast for 20-25 minutes, tossing once, until gnocchi is light brown and crisp, but still a little chewy. They will continue to crisp outside the oven as well, so don't take them too far! Remove from oven and set aside while you make the brown butter.
Melt 2 tablespoons butter in a small skillet over medium-high heat. Allow butter to cook until amber in color and it starts to smell nutty. It's a small amount of butter, so this won't take long at all. Once butter is browned, take off the heat and add 2 minced garlic cloves and 1 teaspoon lemon zest. Let garlic and lemon zest sizzle for 1 minute.
Add roasted gnocchi back to bowl you used earlier and pour brown butter on top. Toss well. Taste and add more salt if needed. Top with finely chopped chives. Serve warm!
Notes
This dish is best eaten fresh out of the oven, but leftovers can be stored in the fridge for up to 5 days. Reheat leftovers in the oven or on the stove for best results. 
Prep Time:

5 minutes

Cook Time:

25 minutes
Hello hello! After all those rosé recipes, I think we need a little pasta dish to switch things up.
It's called BALANCE.
I'm so excited to share this roasted gnocchi dish with you! Not only is it almost TOO easy to make, but it can serve as either a main or side dish and for some reason that just blows my mind.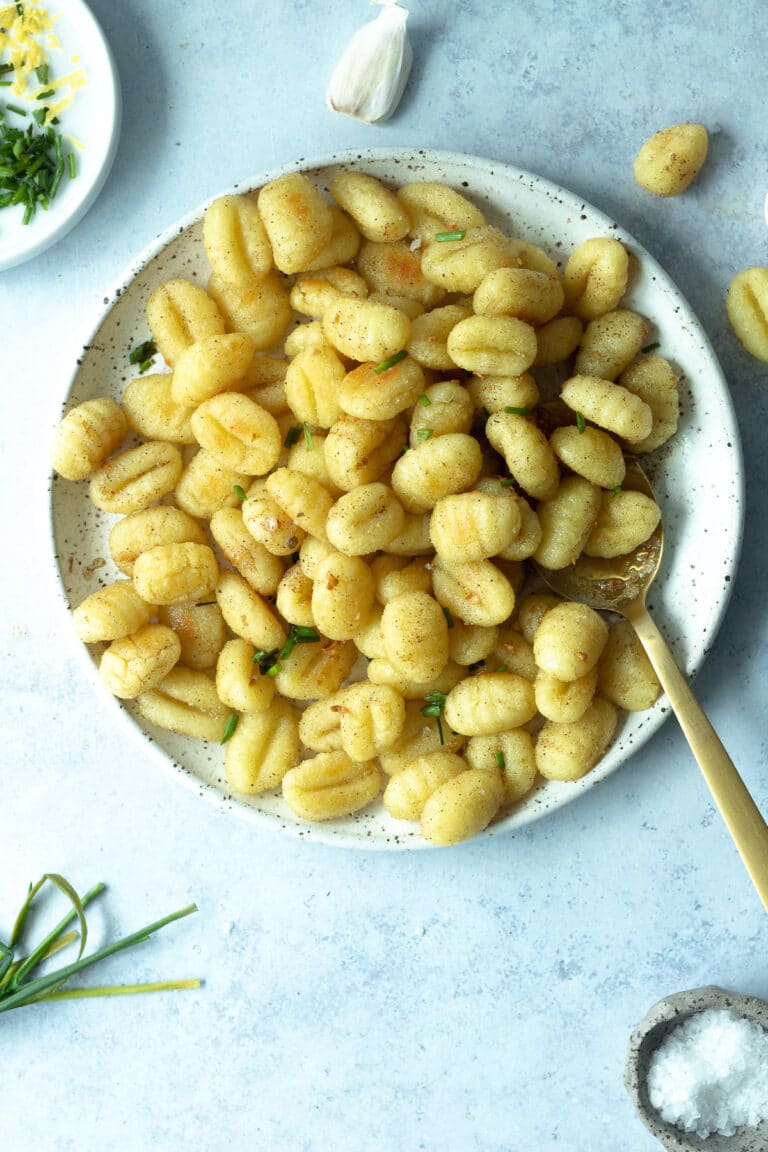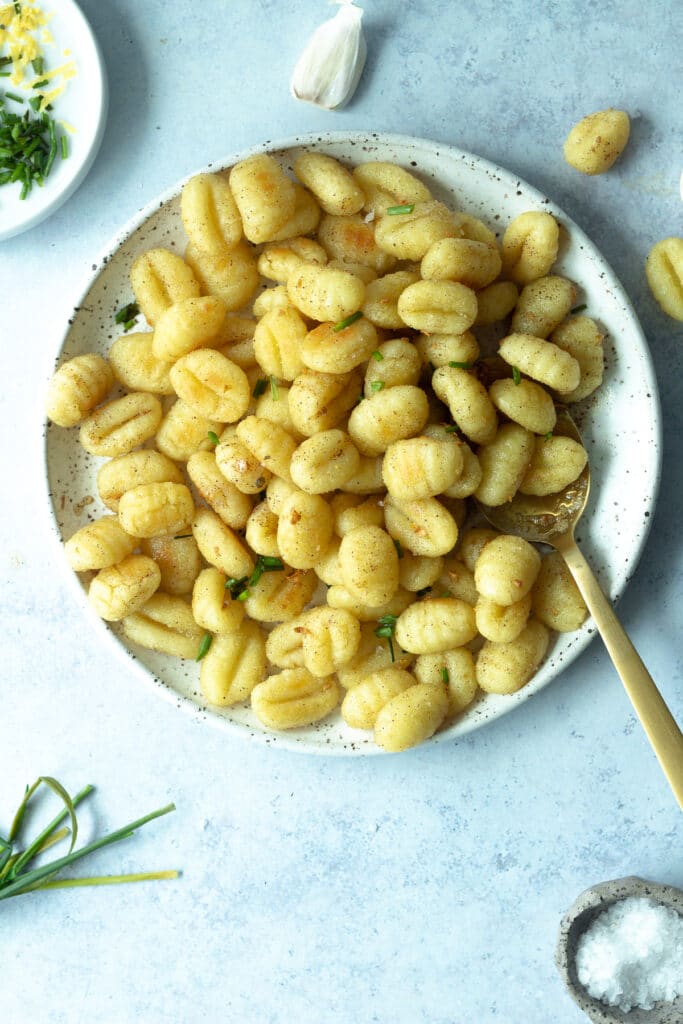 The magic of roasted gnocchi
I probably don't need to tell you how amazing roasted gnocchi is. This sheet pan gnocchi is one of the most popular recipes on this here blog, and many a food sites around the internet have talked about the perfect texture that comes with roasting instead of boiling packaged gnocchi.
While there is a time and place for soft, tender gnocchi swimming in sauce and cheese, roasting your gnocchi is just an entirely different experience. Olive oil + high heat roasts each little potato cloud perfectly so you have a crisp exterior with a tender bite in the middle. They are seriously addicting, and I swear I could eat them like popcorn.
You can roast your gnocchi with vegetables and/or meat and make an entire meal in the oven, but I love this technique for a pasta that can serve just as well as a main dish as side. Just toss the roasted gnocchi with some quick brown butter and flavors (garlic and lemon!) and you're good to go. Pile it into a bowl for a 30-minute dinner, or serve it alongside some chicken, fish or anything else you're preparing for dinner! I especially love it with a big ol' salad.
The magic of brown butter
Okay, I know I REALLY don't need to tell you how amazing brown butter is. You know it, and I can only imagine you are currently running to your kitchen to throw some butter in a pan. Fully support.
In this dish, the brown butter is essentially your pasta "sauce." Infused with lots of garlic and lemon zest, the butter is tossed with the roasted gnocchi after it comes out of the oven and gives it SO much delicious flavor.
And as you can imagine, this is the most versatile pasta sauce of all the pasta sauces. If you're not feeling garlic (what?) or lemon, try adding in some dried herbs like thyme or basil. Some italian seasoning blend works too, or go spicy and add some crushed red pepper flakes!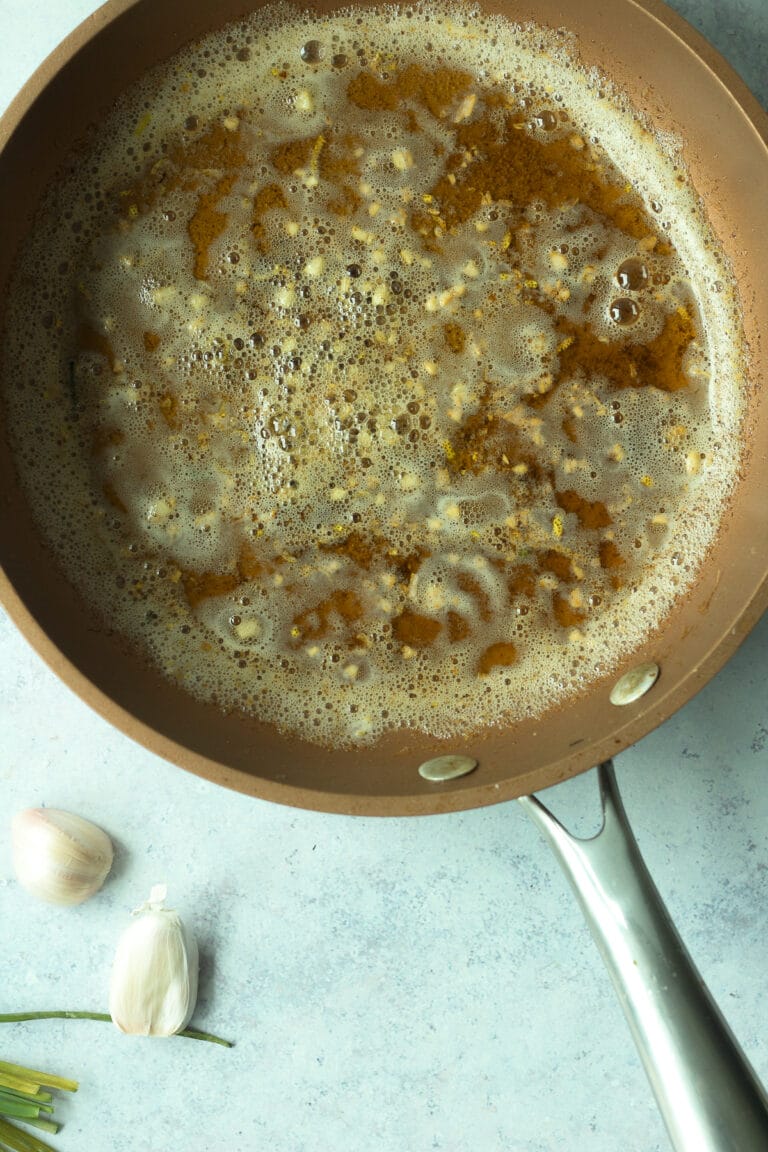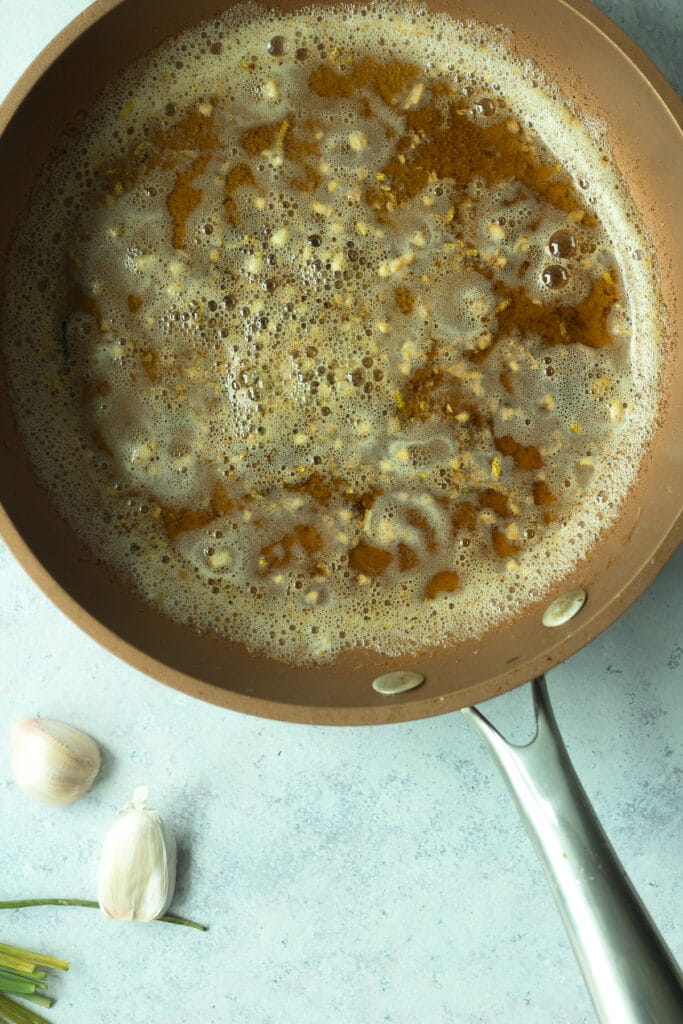 What you need
Gnocchi: I think the shelf-stable packaged gnocchi you find in the pasta aisle works best for this dish, but if you happen to be awesome and make homemade gnocchi it totally works too! And because I know some will ask, yes, you can do this with Trader Joe's frozen cauliflower gnocchi. Just make sure you separate all of them and get rid of any large chunks of ice. You might need to roast them for an extra 5-7 minutes, but just keep an eye on them!
Olive oil: A little to help the gnocchi crisp up in the oven.
Butter: Brown butter adds the most amazing flavor to this dish, and you don't even need that much! Just 2 tablespoons, which is awesome because it browns up super quickly. This is definitely not a time to walk away, so hang around for a few minutes so you can pull it off the stove as soon as it turns an amber color and smells deliciously nutty.
Garlic: I like to mince or grate the garlic here because we're barely cooking it. Throwing it into the butter as soon as it is brown cooks the garlic just enough before tossing with the gnocchi. I find 2 cloves to be perfect here, but by all means add more if you'd like!
Lemon zest: I LOVE lemon and garlic so this was a no-brainer. I prefer the flavor I get from zest, but if you want to squeeze a little juice in that's fine too. Like the garlic, this is added off the heat to keep a more fresh lemon flavor.
Chives: I really like the extra mild garlicky flavor you get from chives, but honestly any fresh herb will work to finish this dish off. Parsley, basil, mint, you name it! If you want even more green, throw in some roughly chopped spinach as well!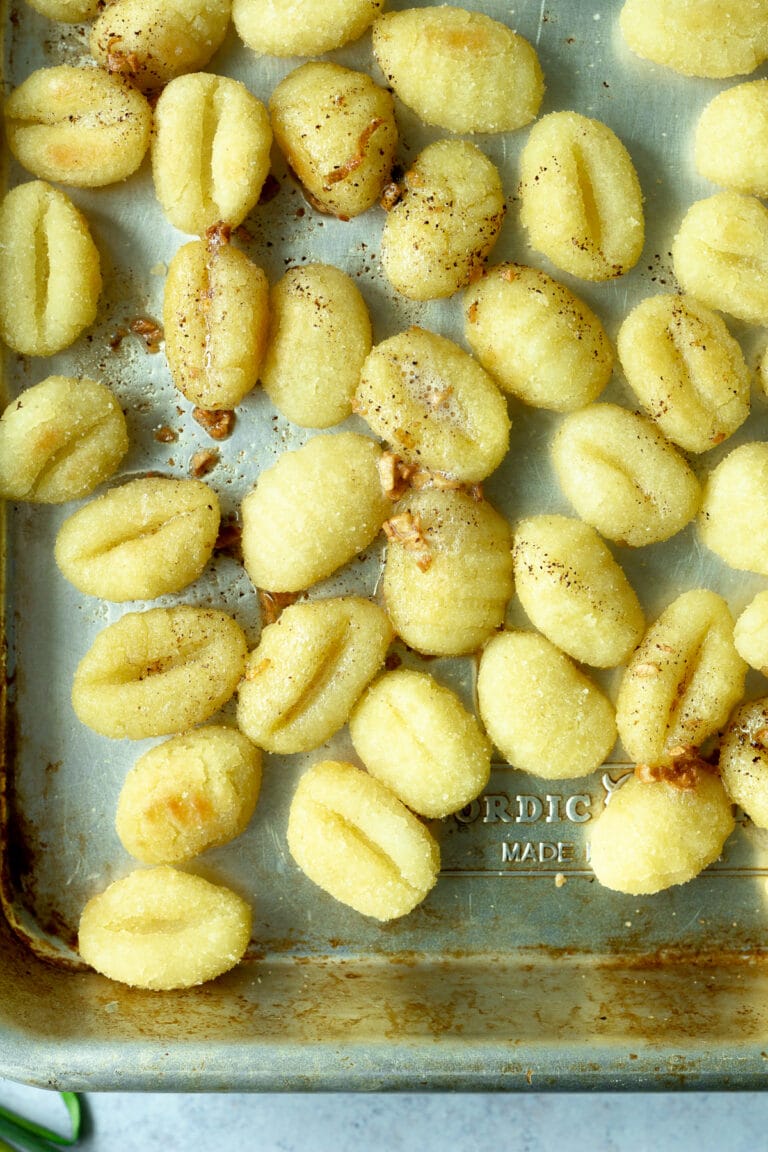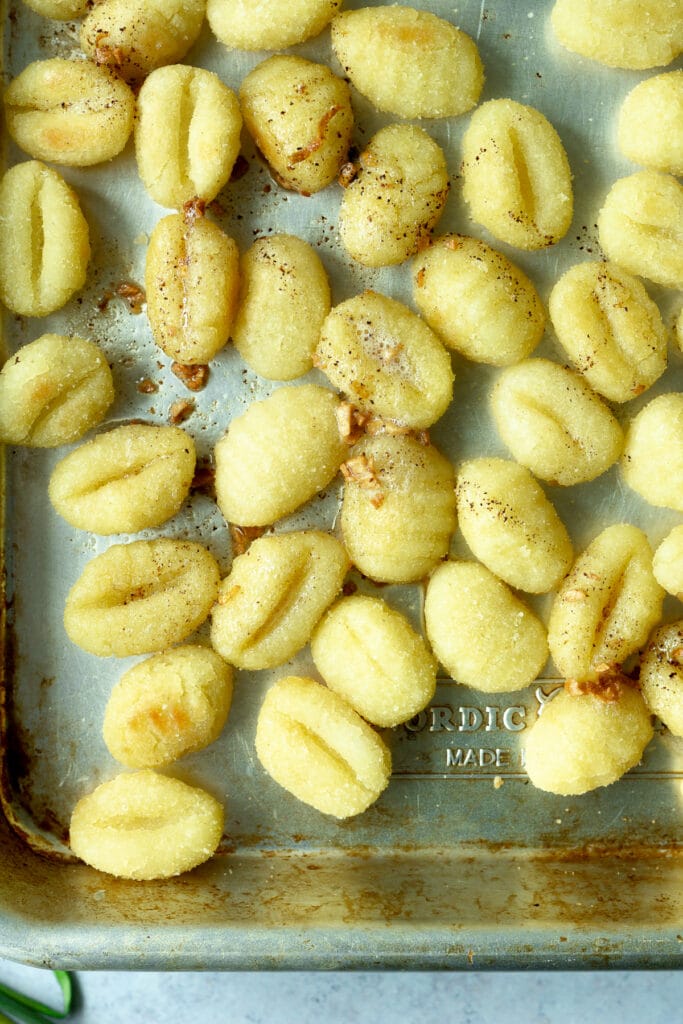 How to make roasted gnocchi with brown butter
Roast the gnocchi
Toss gnocchi with olive oil and salt. You don't need a lot of oil, but you want to toss this really well so that the gnocchi is evenly coated. If you see some dry pieces, just add a little more oil. Once everything is tossed, throw it on a sheet pan and arrange in a single layer. This is super important!! The gnocchi needs some room to roast perfectly, so don't crowd the pan as much as possible. Roast for 20-25 minutes, until the gnocchi is browned and crisp on the outside but still a little tender and chewy when you bite in. It will continue to cook a little outside the oven, so err on the side of caution and pull it out a little early to avoid it getting TOO chewy.
Brown your butter
I like to wait to start the butter until AFTER the gnocchi is out because it takes no time at all and it's best to toss the pasta with the butter while it's perfectly hot. The butter will brown really quickly because it's just a couple of tablespoons, so keep an eye on it!
Add the garlic and lemon
Once the butter is brown, take it off the heat and immediately add minced garlic and lemon zest. Swirl the pan a bit and let the flavors sizzle for about a minute to quickly cook the garlic and infuse the butter.
Toss everything together!
Add your brown butter, garlic and lemon to the roasted gnocchi and toss well to combine. I like to use the same bowl used to mix the gnocchi and olive oil before roasting, but you can also do this right on the sheet pan as well. Add some fresh chopped herbs (chives, parsley, basil, etc.) right before serving.
Switch it up!
As you can imagine, roasted gnocchi is a total blank canvas. If you want to switch things up from garlic and lemon, try one of these:
Cacio e pepe - toss roasted gnocchi with 2 tablespoons melted butter (browned or not!), ⅓ cup grated parmesan and 1 ½ teaspoons freshly cracked black pepper.
Lemon pepper - follow this recipe as is, but leave out the garlic and add 1 teaspoon freshly cracked black pepper.
Peas and mint - follow this recipe as is, but leave out lemon zest. Add ½ cup frozen (thawed) peas and ¼ cup chopped fresh mint when tossing gnocchi and butter.
Lemon rosemary - add chopped rosemary to the butter and let it sizzle/cook with the garlic and lemon. Add the juice from ½ lemon when tossing everything together.
Spicy chili - toss roasted gnocchi with your favorite chili crisp or chili oil. I make this one from Marion's Kitchen all the time, but I also love the chili crisp from Trader Joe's. Just add a spoonful or two, along with some oil, and some chopped cilantro or green onion if you'd like!
Check out more easy pasta dishes