Slow-baked salmon is easily my favorite way to cook salmon - emphasis on easy! Baking salmon at a low temperature results in super tender, flaky, buttery fish that is impossible to overcook and perfect for meal prep. If cooking salmon scares you, give this technique a try!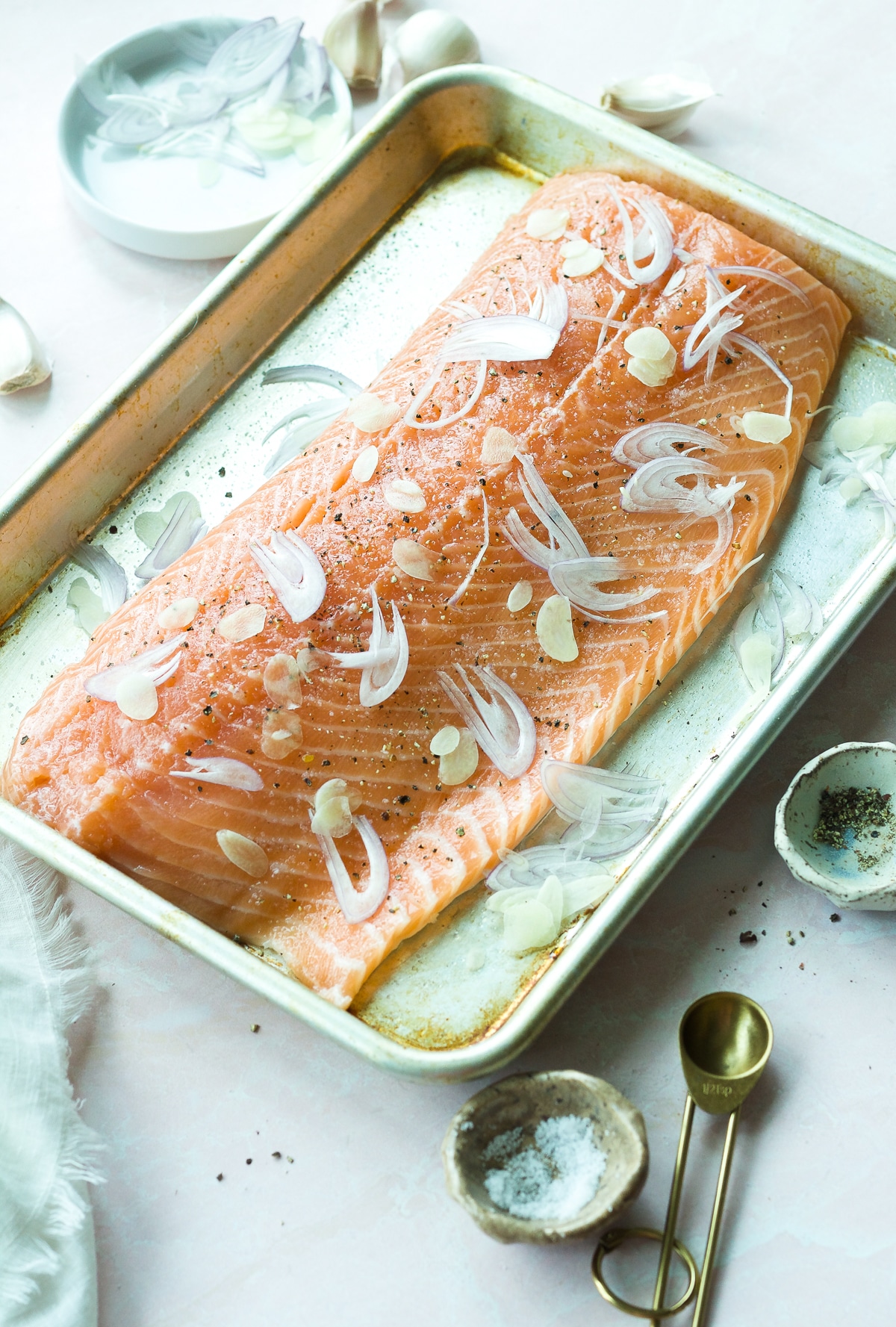 If I had to choose a dish I make more than any other, I think it may be slow-baked salmon.
I'm almost sorry to admit it - as it sounds incredibly boring - but man do I eat this salmon ALL THE TIME.
It's great warm, at room temperature or cold. And it's perfect on its own or thrown in salads, sandwiches or wraps. Almost impossible to mess up, this salmon is so easy to make and is basically a meal prep dream....so have I convinced you yet?
Let's get to it!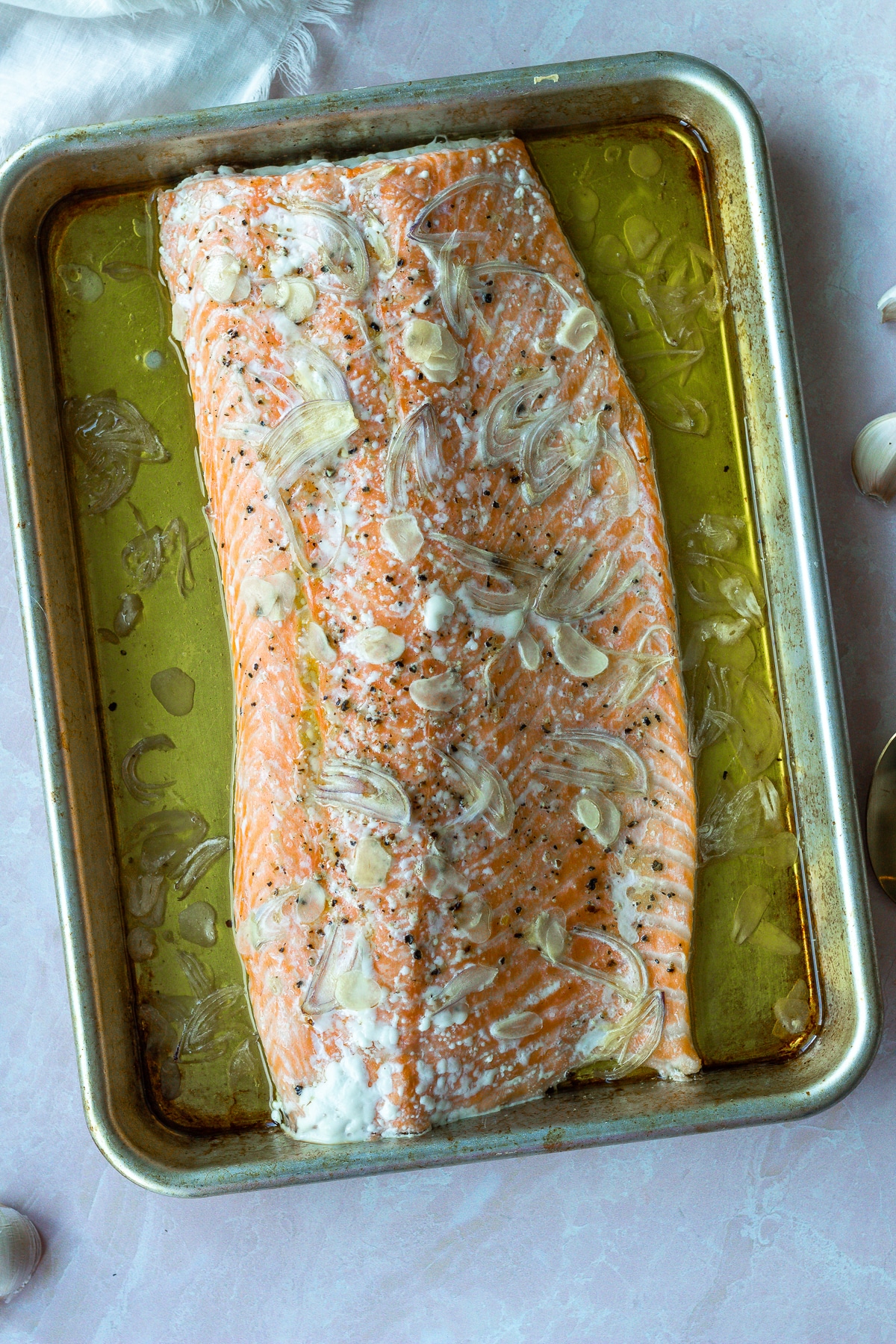 This is the BEST way to cook salmon, especially for meal prep!
The main reasons why I like to cook my salmon low and slow in the oven are:
Slow roasting at a low temperature for a little longer than usual with LOTS of olive oil results in the most tender, buttery salmon of your life.
While it may take a bit longer than regular baked salmon, or searing on the stovetop, it's a really nice, hands-off way to cook salmon. No splattering everywhere, and as an added bonus slow-baked salmon tends to smell the least fishiest.
Depending on the size of your fish, this is also a great technique for baking salmon in the toaster oven!
The flavor possibilities are endless! Most of the time I do this simple shallot/garlic mix because I always have those on hand. But you can take this in so many different directions. Try throwing some thinly sliced lemon slices on top for a beautiful lemon flavor. Pile on some herbs you have laying around - thyme, dill, oregano and chives are especially wonderful. Or go a little spicy, and scatter over thinly sliced chilis.
This salmon tastes great on its own as a main dish, but I also love throwing it on salads, making wraps or tacos, adding it to pasta and so much more. It's incredibly versatile, and because of that, so perfect for meal prep. Because it's cooked so slowly, you also really don't have to worry about overcooking it later when heating it up.
I should note here that slow-baked salmon is not the prettiest when it comes out of the oven, but the taste is worth it. The white stuff you see in the photos here is albumin - a liquid protein in salmon that solidifies a bit as it cooks. It's totally harmless and fine to eat - just looks a little unappetizing!
You also won't get any crispy skin, which I normally love, but in this case happily do without because this recipe takes such little effort.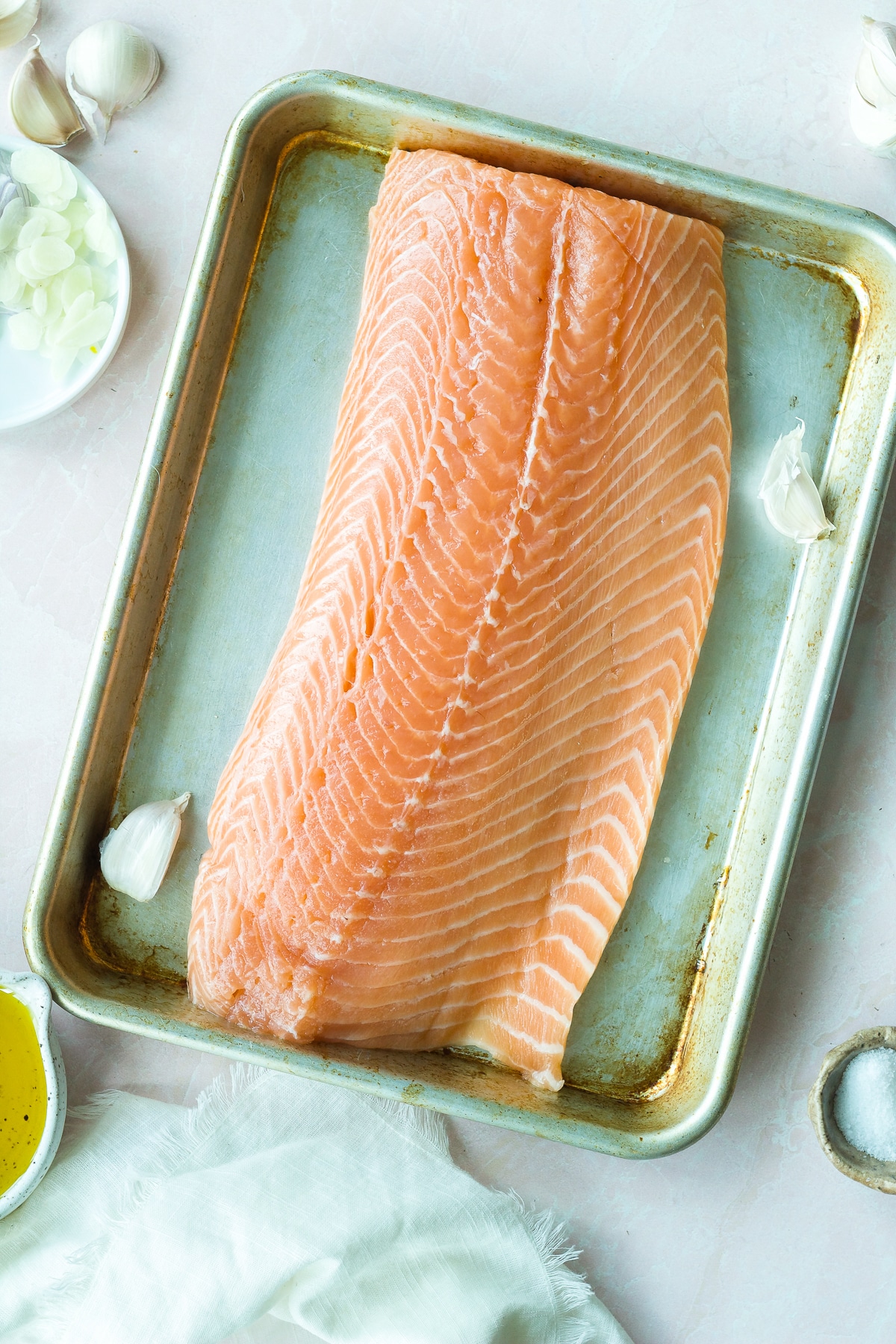 What is the best temperature for cooking salmon in the oven?
For the best slow-baked salmon, I like to keep things at 275-300F. I've found that anything lower than 250F is just kind of unnecessary, but anything over 300F is a little too hot. Most of the time I go with 300F just to shave a few minutes of cooking time off, but it's totally up to you and your oven. If you are baking your salmon in a toaster oven, go for 275F. I've found that the heat in toaster ovens tend to be a bit stronger as your food will be closer to the heat source, so in this case go a little lower and keep a close eye on it.
I am totally obsessed with a medium-rare salmon, so I err on the side of undercooking and shoot for an internal temperature of 120-125F. But if you prefer your salmon a little more well-done, keep baking until you hit 145-160F (depending on how well done you want it).
If you are meal prepping this salmon, or if you plan on having any leftovers, I highly recommend undercooking it just a bit from what you prefer. This will ensure your salmon doesn't dry out over the next few days.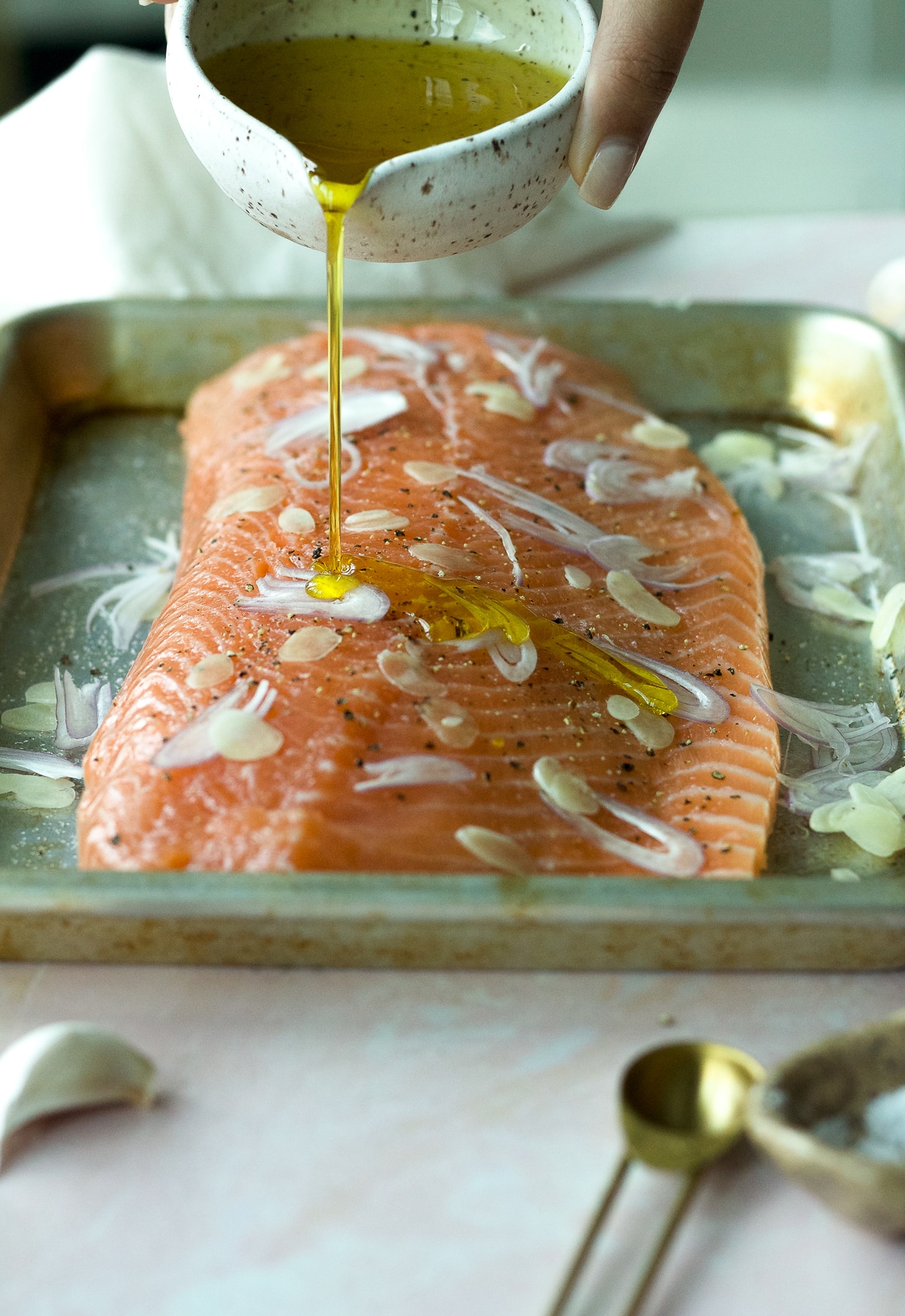 What you need for slow-baked salmon
Salmon. You can slow-bake just about any sort of salmon. I generally like to go for 1-2 pounds of whole salmon so I know I'll have some leftovers, but you can do multiple smaller filets together as well. I often leave mine with the skin on, but skinless works beautifully.
Olive oil. I know this feels like a lot of olive oil to use (and it is), but the flavor is unmatched. This oily fish really loves a little extra oil. For a really simple slow-baked salmon that can be used in multiple dishes, I highly suggest using all olive oil. With that said, if you want to cut it with a few tablespoons of a neutral, less expensive oil you absolutely can.
Shallot. I love love shallots so I like to quickly slice one up and throw it in for just a but of onion-y flavor. Feel free to substitute regular or red onion, or even scallions if you prefer.
Garlic. Again, I thinly slice these but you could mince them or honestly just smash a few cloves and throw them on the sheet pan!
Other flavor ideas: Thinly sliced lemon or orange (the zest is great too!, and herbs like fresh dill, thyme, chives or oregano are all good ideas here. You can also squeeze a little lemon juice over for extra flavor.
How to make slow-baked salmon
Add your piece of salmon or salmon filets to a rimmed baking sheet or baking dish (lined with parchment paper for easy cleanup) skin side down and evenly scatter over the shallots and garlic. If you're using any other flavorings like citrus or herbs you can add that now as well.
Carefully and evenly pour olive oil on top of the salmon. It will run down the sides of the filet, so use a spoon to scoop up a bit and make sure the entire salmon is covered in oil with as much on the top as possible.
Place in oven at 300F and let salmon cook for about 25 minutes. Depending on the thickness of your salmon and how well done you like it, I'd start checking at the 20 minute mark. If you have a meat thermometer, 120-125 is a good range for medium-rare. Feel free to go under/over as you'd like based on how you prefer your salmon. Don't worry about opening and closing the oven multiple times during this process. It won't affect the final dish.
Slow-baked salmon is as delicious straight out of the oven as it is the fridge. Serve it as-is with your favorite sides, or use it cold (or room temperature) in salads, sandwiches and more!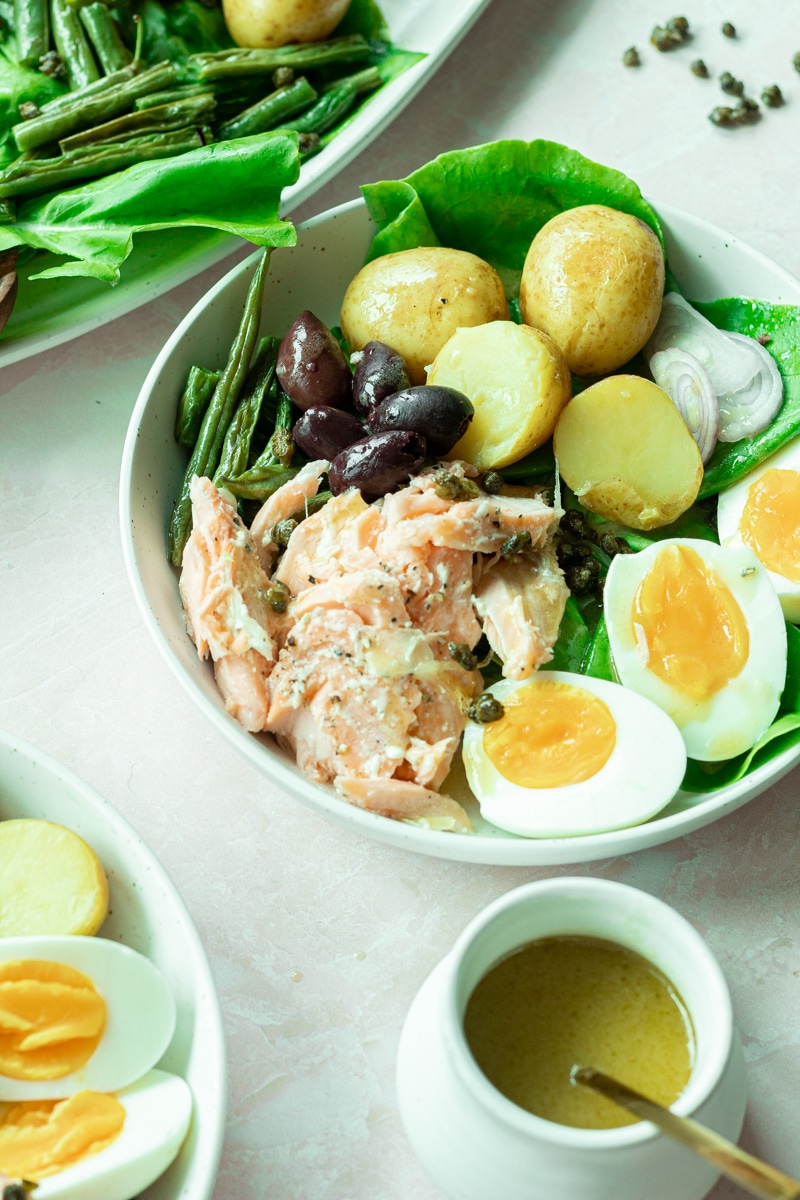 How to serve slow-baked salmon
If you want to use this salmon as a main dish, it will taste great with any one of these side dishes:
With the roasted vegetable dishes (I know there are a lot of them - I'm obsessed!), you can absolutely go ahead and throw the pans in with the salmon and let them cook at that low temperature. When you remove the salmon, check the vegetables, increase the heat and then let them keep cooking for a few minutes until they are caramelized to your liking.
For a wonderful main salad dish, add this salmon to:
And of course you can use slow-baked salmon for tacos, wraps and more!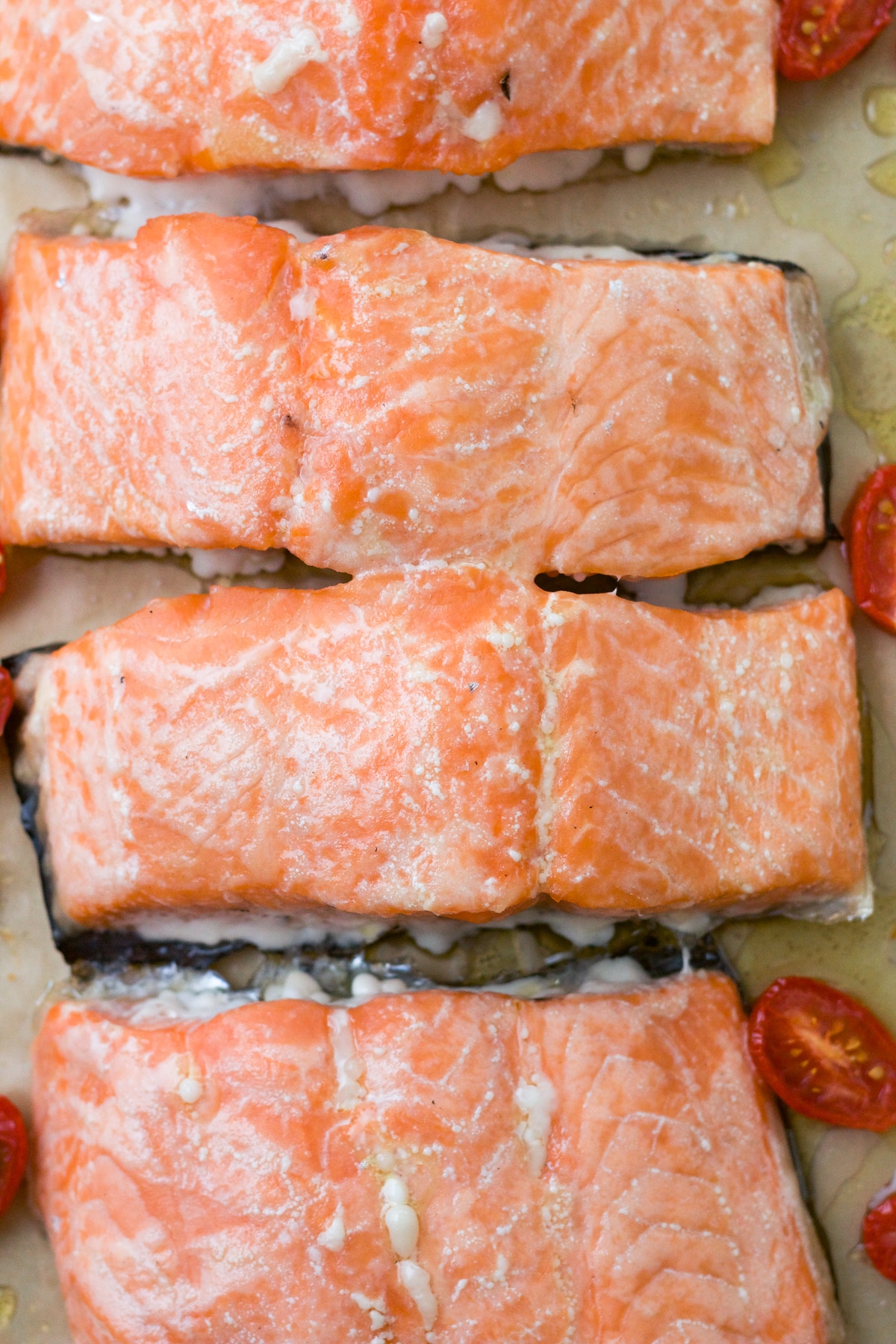 How much salmon do you need per person?
The amount of salmon you need for a typical serving kind of depends on how much you (and/or said persons) love salmon, but in general aim for 3-4 ounces of salmon per serving.
When I meal prep this salmon for myself, I generally do about a pound of salmon and get about 3-4 meals out of it.
This recipe is super flexible so you can do a smaller amount, or slow bake individual salmon filets the exact same way and with the same cooking time.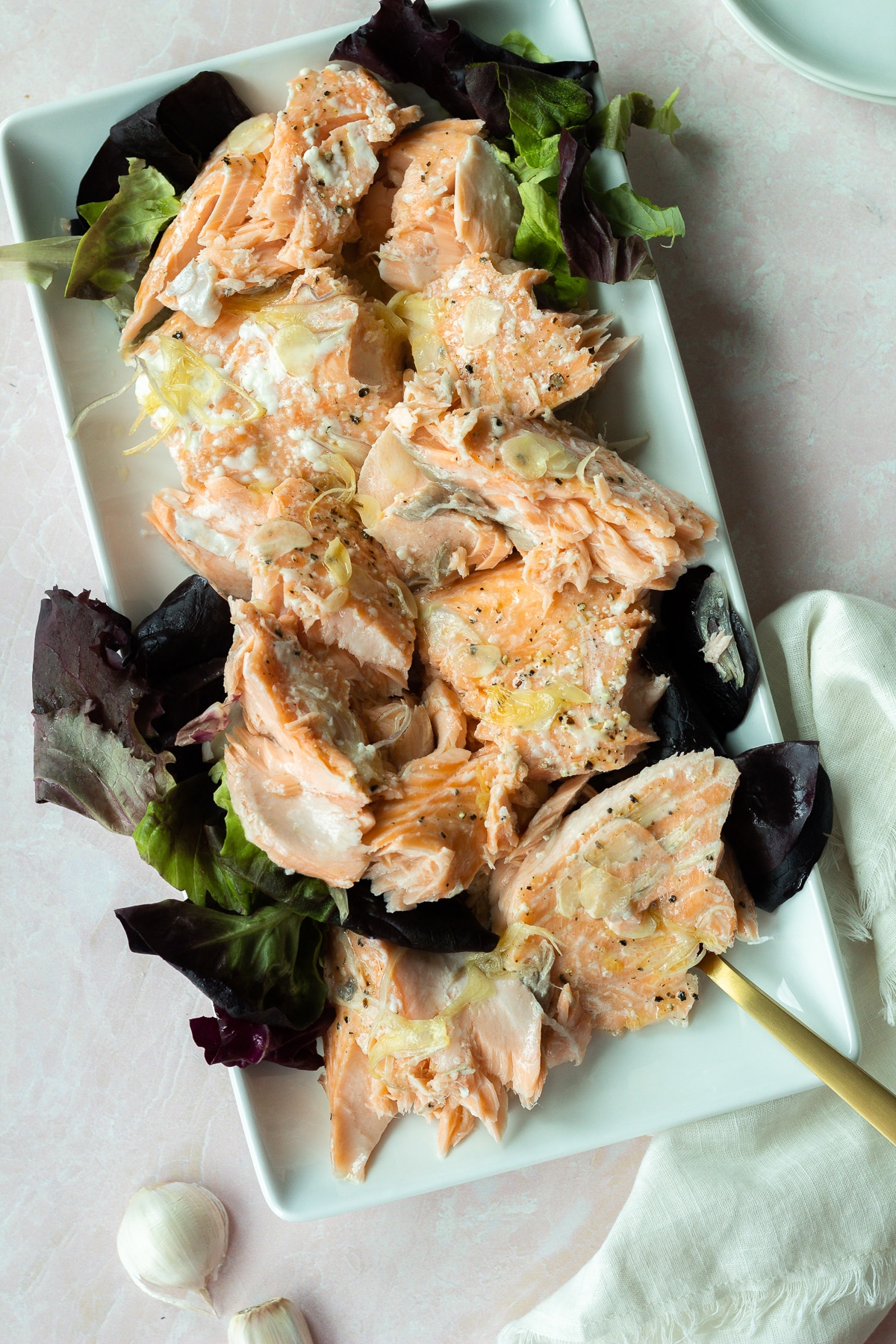 How long is leftover salmon good for?
Store the leftover fish in an airtight container in the fridge and this salmon will last for up to a week, no problem. I find the best way to store it is whole and then just flake off as much as I need whenever I'm ready to eat, but another easy way is to cut it into pieces before storing.
You can also wrap it in plastic wrap or aluminum foil, but I find a nice airtight container is the best way to store.
Make sure the salmon is completely cooked through based on internal temperature (again, medium-rare is fine!) and let it cool completely before storing leftovers. If you do this, you won't have to worry about food poisoning or any sort of foodborne illness.
Print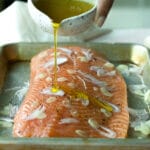 Slow-Baked Salmon
---
Description
Baking salmon at a low temperature results in super tender, flaky, buttery fish that is impossible to overcook and perfect for meal prep. If cooking salmon scares you, give this technique a try!
---
1

-

2

lbs salmon, skin on or off

1

small shallot, thinly sliced

3

garlic cloves, thinly sliced or minced

1 ½ teaspoons

salt

½ teaspoon

black pepper

6 tablespoons

olive oil
Optional: Lemon slices, fresh herbs (thyme, rosemary, dill, etc.), thinly sliced chilis
---
Instructions
Preheat oven to 300.
Place 1-2lbs salmon on a lined baking sheet (I didn't add parchment paper for these photos, but normally I do!)
Scatter 1 thinly sliced shallot and 3 thinly sliced or minced garlic cloves all over the salmon. If you are using any additional flavorings (see notes below), you can add them now as well.
Season with 1 ½ teaspoons salt and ½ teaspoon black pepper.
Pour 6 tablespoons olive oil all over salmon. A good amount will run down the sides, so I like to take a spoon or brush and get some of that back on top of the salmon. 
Bake for 25-30 minutes, or until salmon is just cooked and flakes easily. The time will depend on the thickness of your salmon, so just keep checking. If you have a meat thermometer, I like to go for 125F for salmon that is closer to medium than well-done.
This salmon is delicious hot or cold and is perfect for meal prep!
Notes
Store leftover salmon in an airtight container in the fridge for up to a week.
You can make this slow-baked salmon with a whole piece of salmon or individual salmon filets - cooking time and technique will remain the same, but you might want to adjust the amount of olive oil a little!
This salmon is perfect for meal prep - see above for ways to use it throughout the week.
Prep Time:

5 minutes

Cook Time:

25 minutes

Category:

Meal Prep

Method:

Oven

Cuisine:

Global