Cozy and comforting white beans cooked with rosemary and bacon for the perfect, filling meal. Eat with toast, rice, or as a side dish with your favorite meat and seafood dishes. So versatile!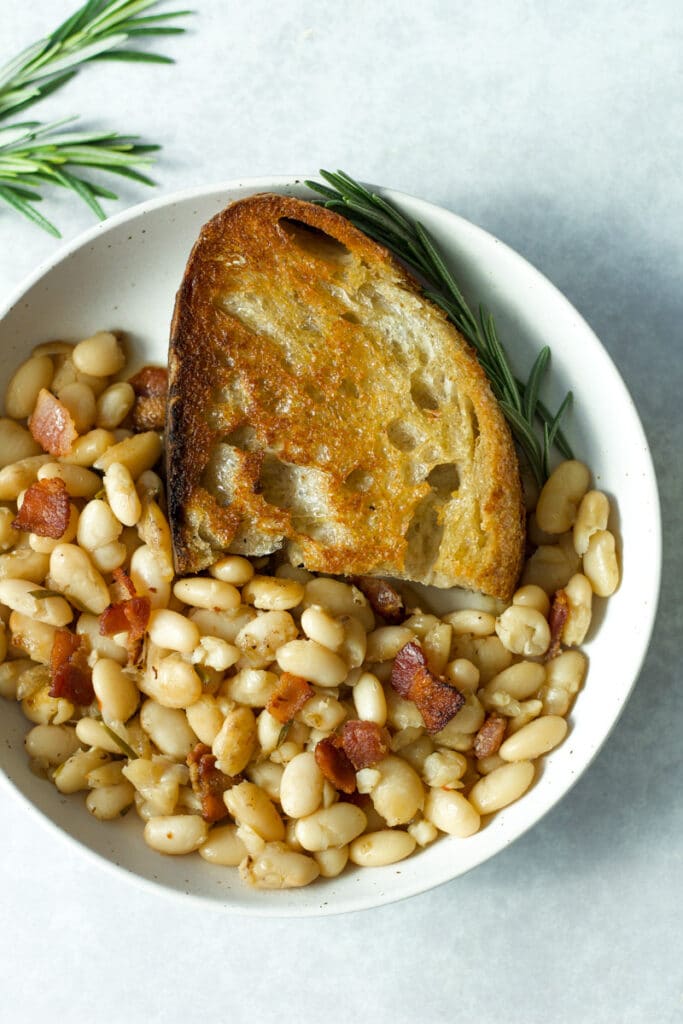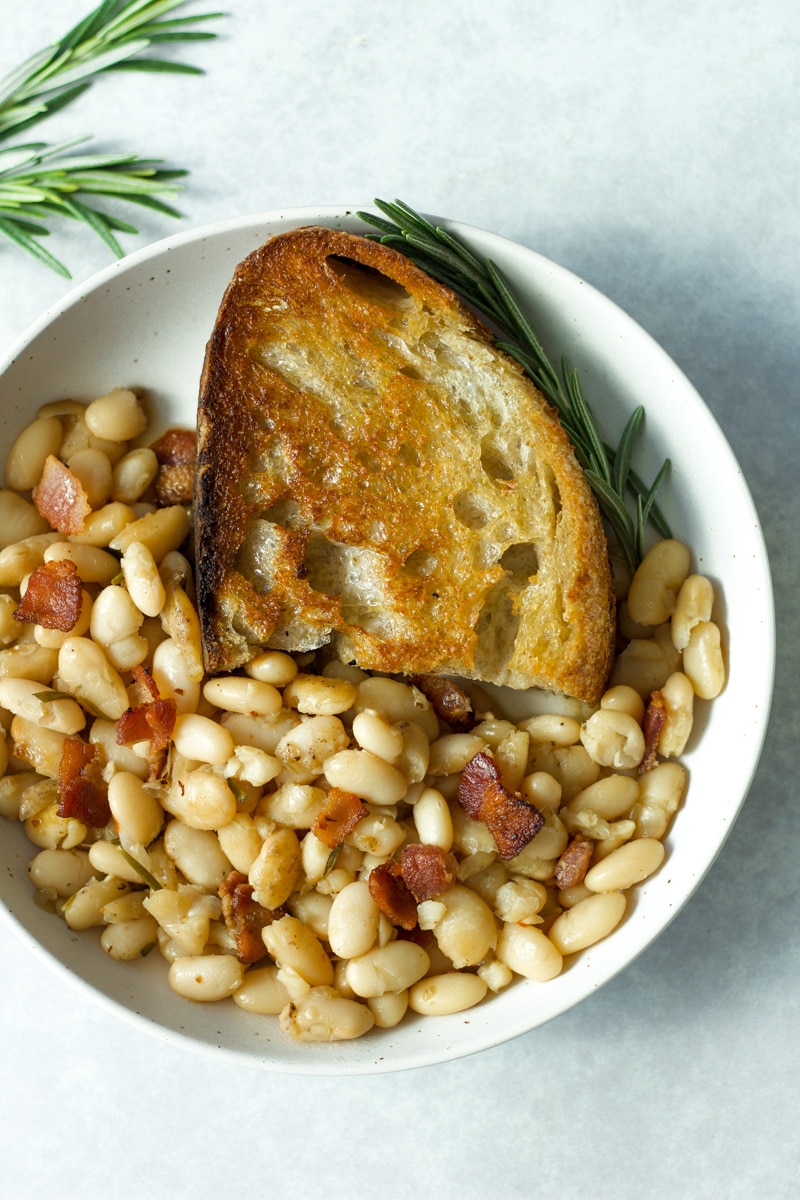 Print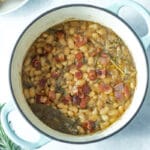 Rosemary bacon white beans
---
Author:

Mansee

Total Time:

55 minutes

Yield:

4

1

x
Description
Cozy and comforting white beans cooked with rosemary and bacon for the perfect, filling meal. Eat with toast, rice, or as a side dish with your favorite meat and seafood dishes. So versatile!
---
½

lb white beans 

⅛ teaspoon

baking soda

4 cups

water

¼

lb bacon, chopped

1

small yellow onion, diced

4

garlic cloves, minced

¼ teaspoon

red pepper flakes

2 tablespoons

olive oil

3

sprigs rosemary

1

bay leaf

1 ½ teaspoons

salt

½ teaspoon

black pepper

2 teaspoons

red wine or sherry vinegar
---
Instructions
In a large bowl, cover ½ lb dried white beans with 4 cups water. Add ⅛ teaspoon baking soda and stir. Cover and let sit for at least 6 hours, or overnight.
Add ¼ lb chopped bacon and 2 tablespoons water to a large heavy pot (a dutch oven is great for this). Turn the heat to medium and cook, stirring occasionally, until bacon is crisp. This will likely take 10-12 minutes. Remove bacon with a slotted spoon and set aside.
Add 1 small diced onion to pan (the bacon grease should be enough, but if the pan looks dry add a little oil). Saute for 3-5 minutes, until softened and they just start to brown. Add 4 cloves minced garlic and ¼ teaspoon red pepper flakes and cook for another minute.
Add soaked beans and water (see note below!) and increase heat to medium-high. Bring to a boil and skim off some of the foamy parts that start to rise. You don't have to get it all, but I like to remove at least a couple of spoonfuls.
Reduce heat to medium-low and add 2 tablespoons olive oil, 3 whole sprigs of rosemary, 1 bay leaf, 1 ½ teaspoons salt and ½ teaspoon black pepper. Stir and then cover and let simmer for 15 minutes.
Remove lid and continue cooking, stirring occasionally, for another 30-45 minutes, or until you taste 5 beans and they are all completely creamy and cooked through. Remove rosemary sprigs and bay leaf.
Remove from heat and add 2 teaspoons red wine or sherry vinegar. Top with reserved bacon and serve!
Notes
Cooking bacon with water gets things started so you don't have to add any additional fat to the pan. The first part of the cooking will be the water cooking off, and then you'll start to see (and hear) the bacon crisp up. I learned this trick in this video!
I like to use the water I soak beans in to cook as well, but I know many people are against this so you can absolutely drain the beans and then use 4 cups of fresh water when it comes time to cook them!
The beans will soak up most of the liquid, but you do still want some in there for that amazing broth so don't drain the who pot. If you want the beans to be a little more on the dry side (if eating on top of toast, for example), just use a slotted spoon to serve. Store leftover beans in the liquid in the fridge. 
Prep Time:

10 minutes (not including soaking time)

Cook Time:

45 minutes

Category:

Dinner

Method:

Stovetop

Cuisine:

Global
I think it's time for another pot o' beans. They're an easy, comforting blank canvas for any kind of meal and it's a wonder I haven't turned this whole thing into a bean blog.
Forever one of my favorite meal prep moves, a pot of beans can go a long way throughout the week. These are as perfect with toast as they are in soup, and can be customized in so many ways.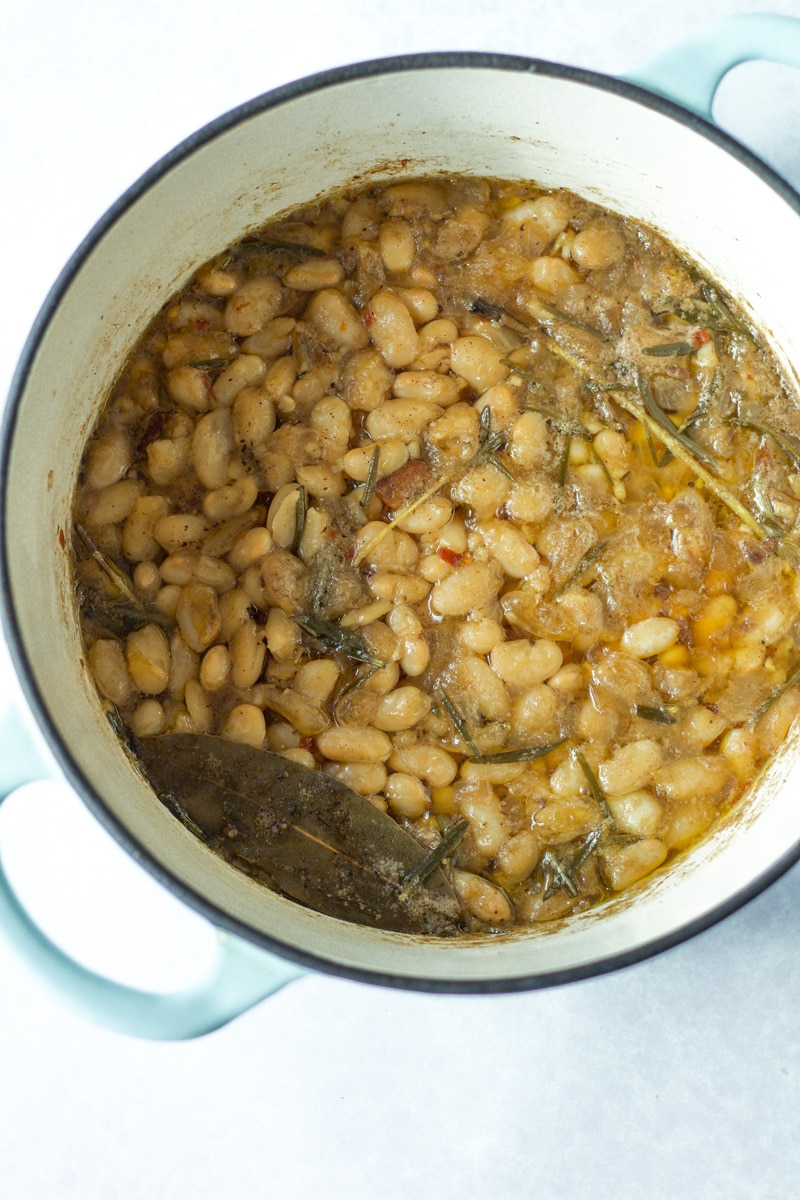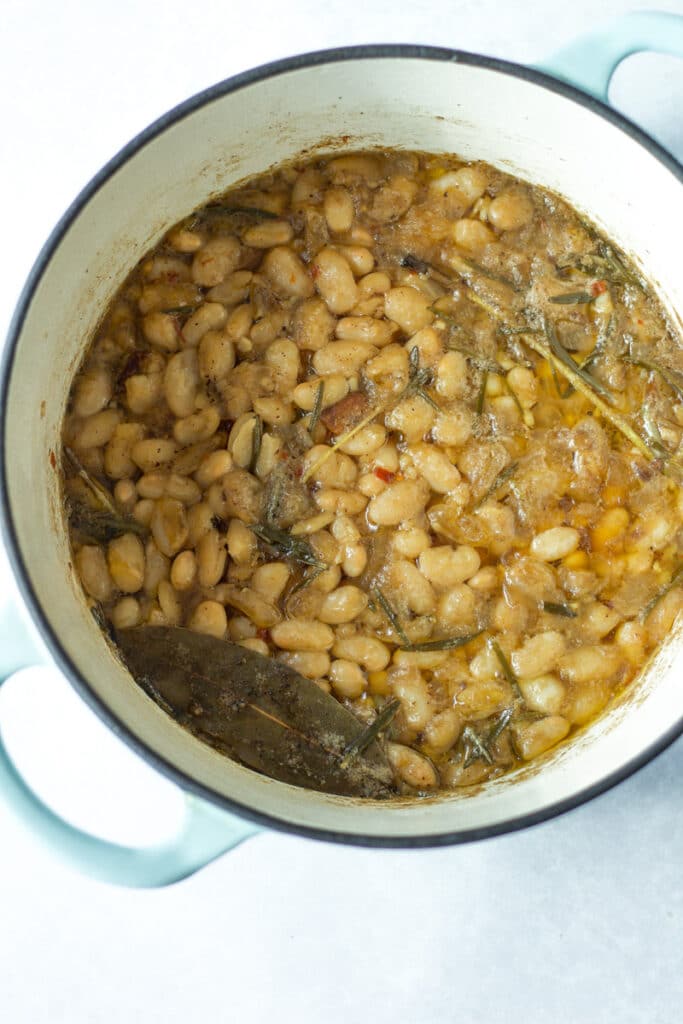 Soaking + a little tip
Whenever I soak beans (which is basically every time I make beans), I always add a pinch of baking soda. The exact reason is very science-y, but essentially the baking soda acts like a tenderizer and allows the beans to soften more quickly when cooked. It's totally not necessary, but I have found that beans tend to cook more consistently when I do this little extra step. Just sprinkle a little in, cover with water and soak away!
If you don't have time for an overnight soak, I am also a fan of the "quick soak" method. To do this just cover your beans with water (about 1-2 inches covered) and bring to a boil. Let boil for 2 minutes and then turn off the heat, cover and let sit for an hour. From there, proceed with the recipe as normal.
When it comes to the soaking water, I like to just use that to cook my beans. I know many people think that water will make the beans more....gassy, but I really don't notice a difference (or care lol). If even reading that is making you want to leave, feel free to drain the soaked beans and add fresh water when cooking.
Bacon and rosemary. A match made in heaven!
The beauty of beans is that they truly are a blank canvas. This pot of chickpeas is still one of my favorite ways to cook beans, but this spin is so perfect too.
Like many great recipes, you start with bacon. A fun little trick I recently learned is to add a couple tablespoons of water to the pot when you cook bacon. The water helps draw out the fat and cook the bacon more evenly, so you don't have to add more oil to the pan. Genius!
Once the bacon is cooked, you'll remove it from the pot and then use that bacon grease to cook onions and garlic. Clearly your kitchen will smell GOOD. The rosemary goes in with the beans and water - just throw the full sprigs in! The leaves will fall off while the beans simmer away, so no need to strip and chop.
In the end, the bacon + garlic + rosemary flavor these beans so magically.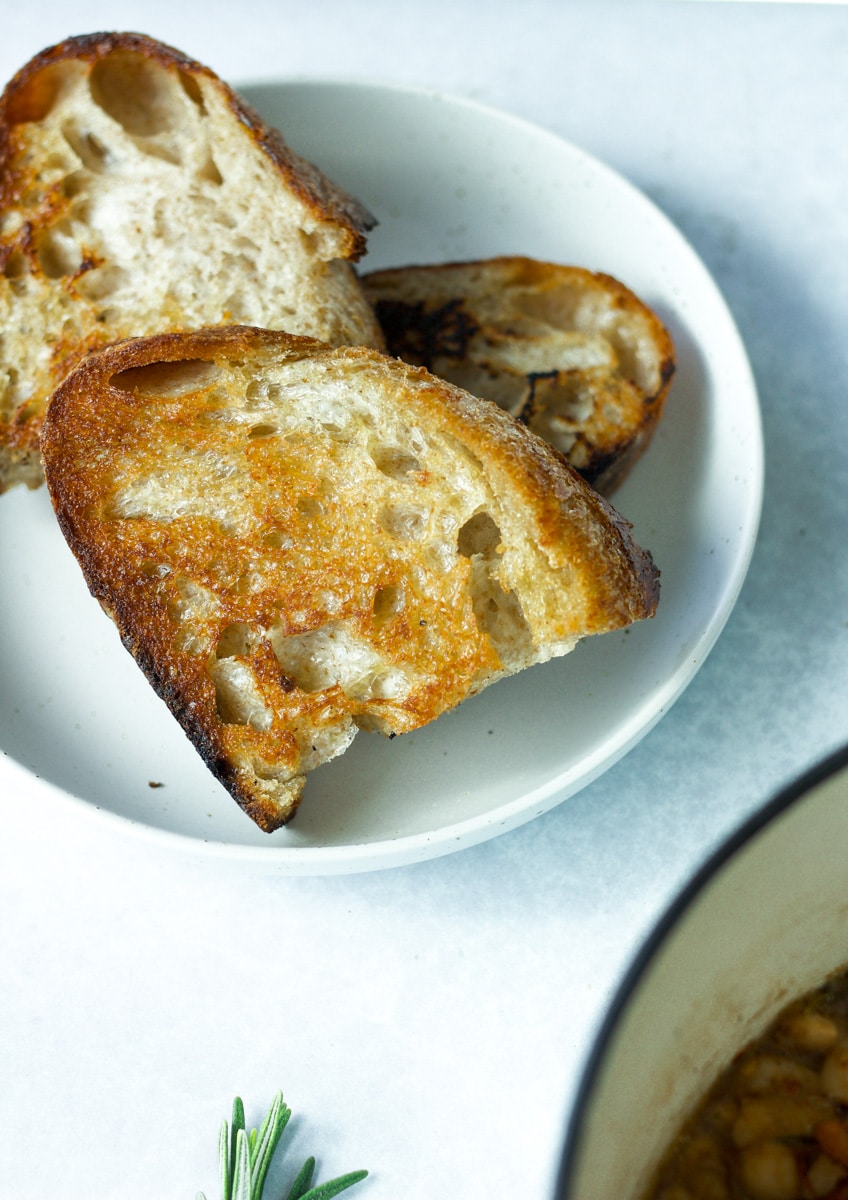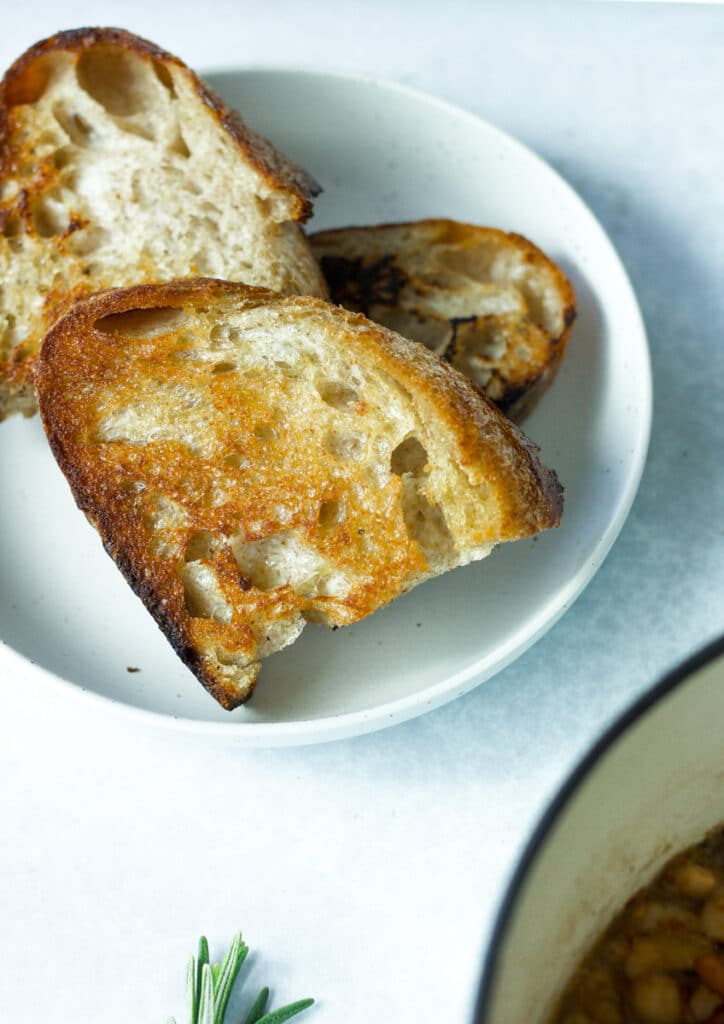 So versatile!
You can serve these beans a million ways - here are a few of my favorites:
Serve with or over toast. I like to toast thick slices of sourdough in lots of olive oil on the stove. Sprinkle with some flaky salt and maybe another drizzle of olive oil (YOLO) and you're good to go.
As a side with chicken or salmon. I often make slow-roasted salmon to have throughout the week. The first time I made these beans, I ate them as a side with the salmon, along with some kind of roasted vegetable, and it was the most perfect meal.
Turn it into soup. Add another 1-2 cups of water (or stock), along with a handful of baby spinach or kale. Cozy!