One of my favorite salads of ALL time, this italian chopped salad is the perfect meal to prep for a week of lunches or even as a great hearty, yet still light dinner. Mix up all the "toppings" with the garlicky dressing ahead of time to really let the flavors come together!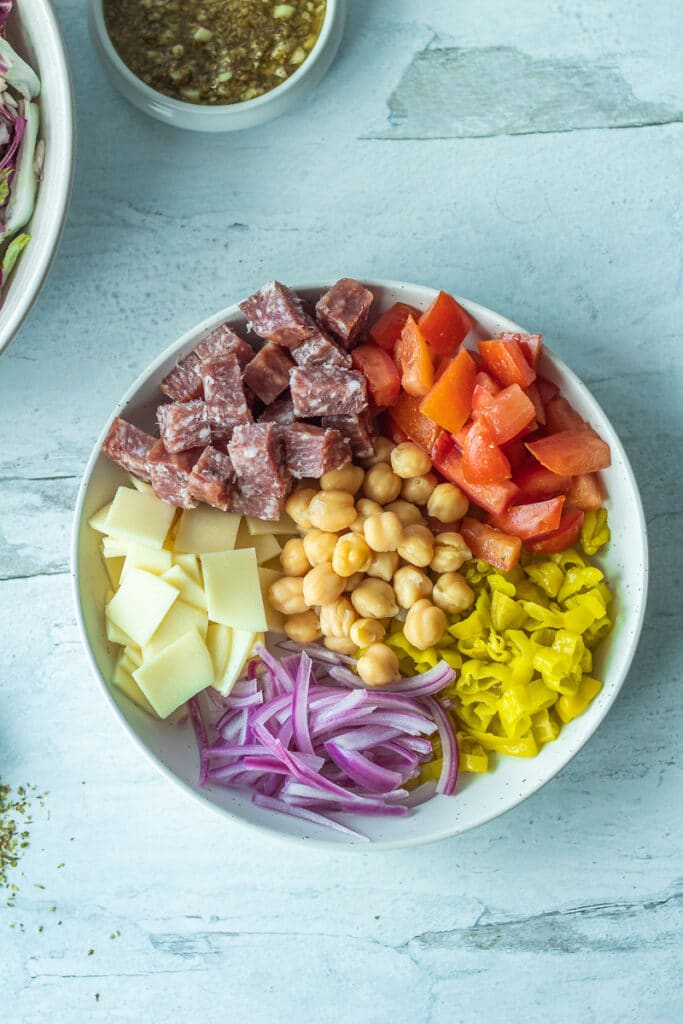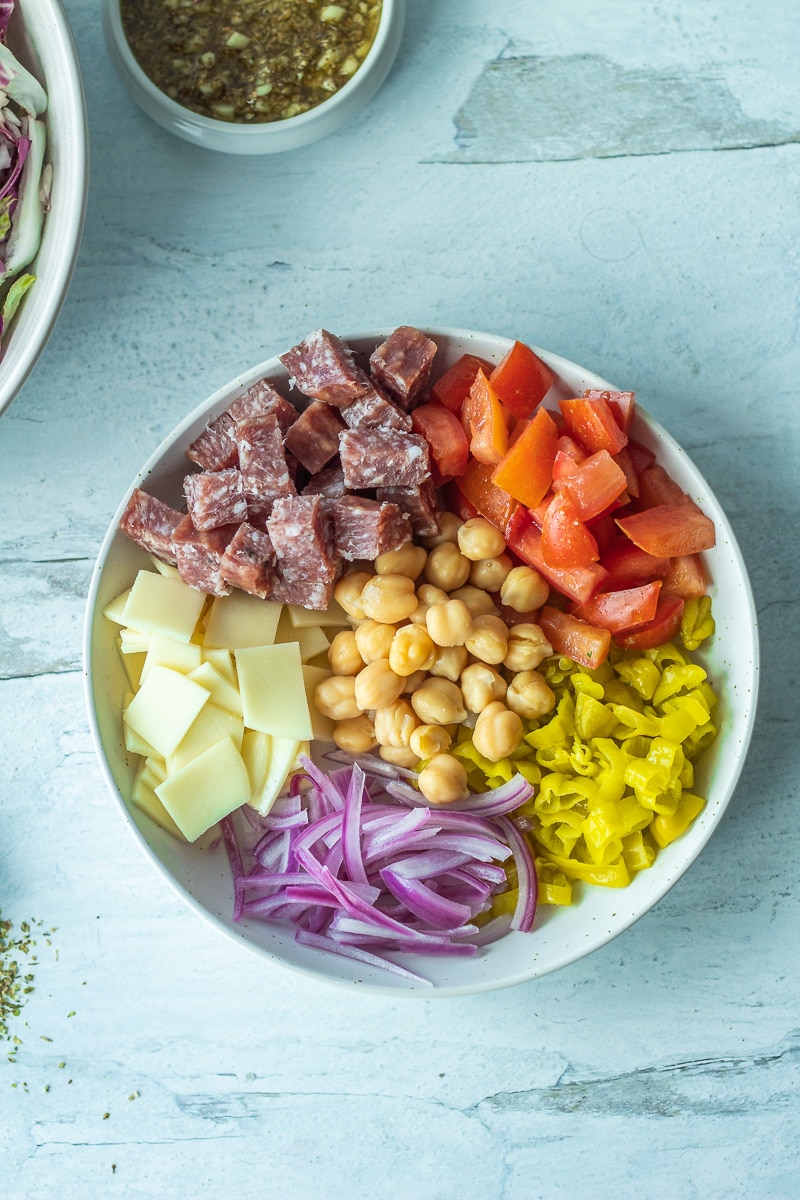 Print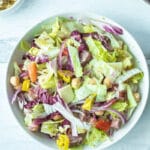 Italian Chopped Salad
---
Author:

Mansee

Total Time:

20 minutes

Yield:

4

big salads

1

x
Description
One of my favorite salads of ALL time, this italian chopped salad is the perfect meal to prep for a week of lunches or even as a great hearty, yet still light dinner. Mix up all the "toppings" with the garlicky dressing ahead of time to really let the flavors come together!
---
5

garlic cloves, grated or minced

1 tablespoon

dried oregano

1 tablespoon

fresh oregano, minced

1 tablespoon

sugar

2 teaspoons

salt

1 tablespoon

pepperoncini juice (optional)

2 tablespoons

lemon juice

3 tablespoon

red wine vinegar

6 tablespoons

olive oil

1

15oz can chickpeas, drained and rinsed

¼

lb salami, cut into small cubes or strips

¼

lb provolone cheese, cut into small cubes or strips

5

-

10

pepperoncini peppers, chopped

1

small red onion or shallot, thinly sliced

½

lb tomatoes, cubed (halve if using cherry tomatoes)

8 cups

shredded/chopped greens (I used iceberg lettuce and radicchio)
---
Instructions
In a large bowl add 5 minced or grated garlic cloves, 1 tablespoon dried oregano, 1 tablespoon minced fresh oregano (or you can replace the fresh with another 2 teaspoons dried), 1 tablespoon sugar, 2 teaspoons salt, 1 tablespoon pepperoncini juice (if using), 2 tablespoons lemon juice and 3 tablespoons red wine vinegar. Whisk to combine well.
Slowly add in 6 tablespoons of olive oil while whisking to create a thick, almost-creamy dressing. Alternatively, you can add everything to a jar and shake to make this dressing. This will taste VERY strong on it's own, but that's the way you want it! 
Add 1 can of chickpeas to the dressing, along with ¼ lb chopped salami, ¼ lb chopped provolone cheese, 1 small thinly sliced red onion and chopped pepperoncini peppers. Gently mix to combine everything together. 
To serve: Divide chopped greens among bowls. Top with a generous amount of the dressing mixture and halved cherry tomatoes. Enjoy!
Recipe inspired by and adapted from Smitten Kitchen and Nancy Silverton
Notes
This is the most perfect meal-prep salad you've ever met. To make this ahead of time, you have a couple of options:

Follow steps 1-3 and then transfer everything to an airtight container. Prep your greens and tomatoes as well and store those separately. Combine everything together when ready to eat.
To prep individual servings, still follow steps 1-3 and then divide among containers. Add the sliced tomatoes on top, followed by greens. This will keep the greens from wilting at all.
Prep Time:

15 minutes

Cook Time:

5 minutes

Category:

Salad
Oh boy, this salad. I know I say this about a lot of my salads, but this might be my FAVORITE salad. Definitely top 3!
I have been making this italian chopped salad for years, ever since I first saw it featured on Smitten Kitchen. The recipe itself is from Nancy Silverton's book The Mozza Cookbook. Over time, I've slightly tweaked things here and there to suit my taste, and depending on what I have in my kitchen at the time certain ingredients make their way in and out (more on that below!), but every time I make it I am reminded of how GOOD this salad is.
If you're a fan of an Italian Sub, I can almost guarantee you'll love this one. We're basically just replacing the bread with lettuce but with all the goodness of the salami, cheese, chickpeas, peppers, etc., plus the most amazing garlicky, vinegary, oregano-y (?) dressing...you won't miss the bread at all (or you can just eat some on the side, okay?)!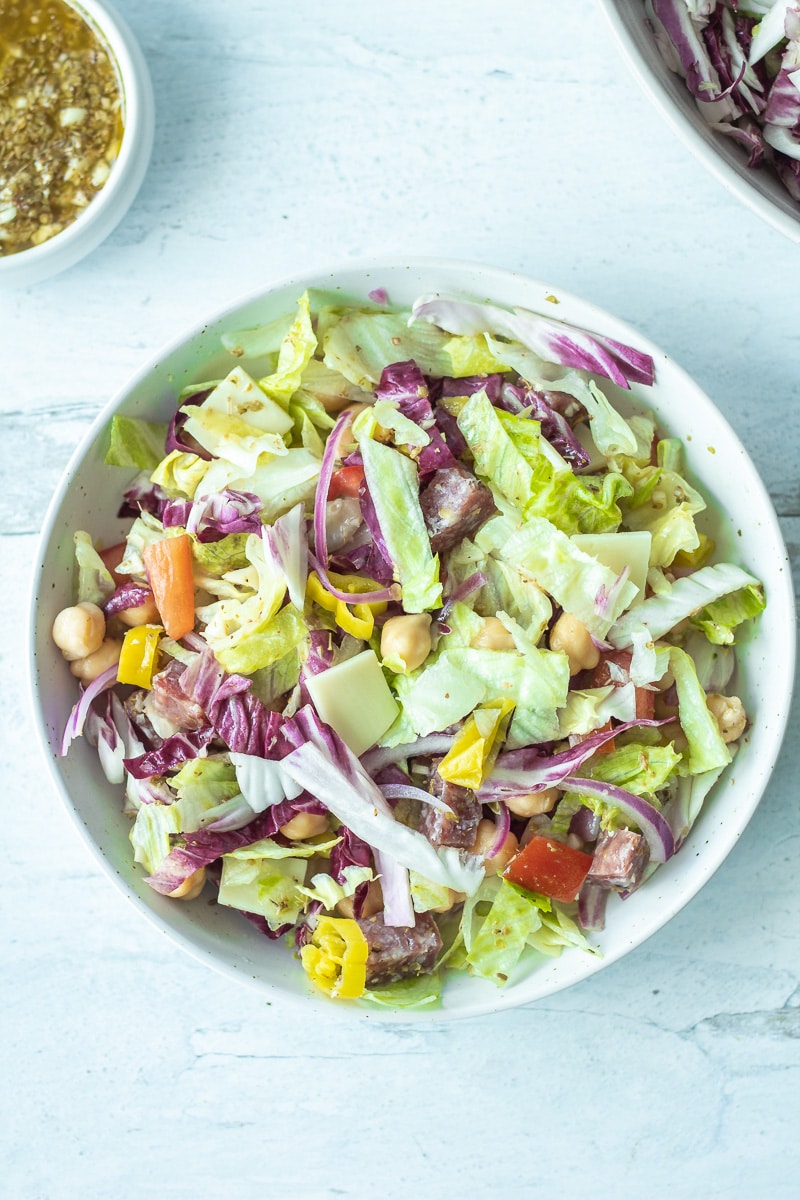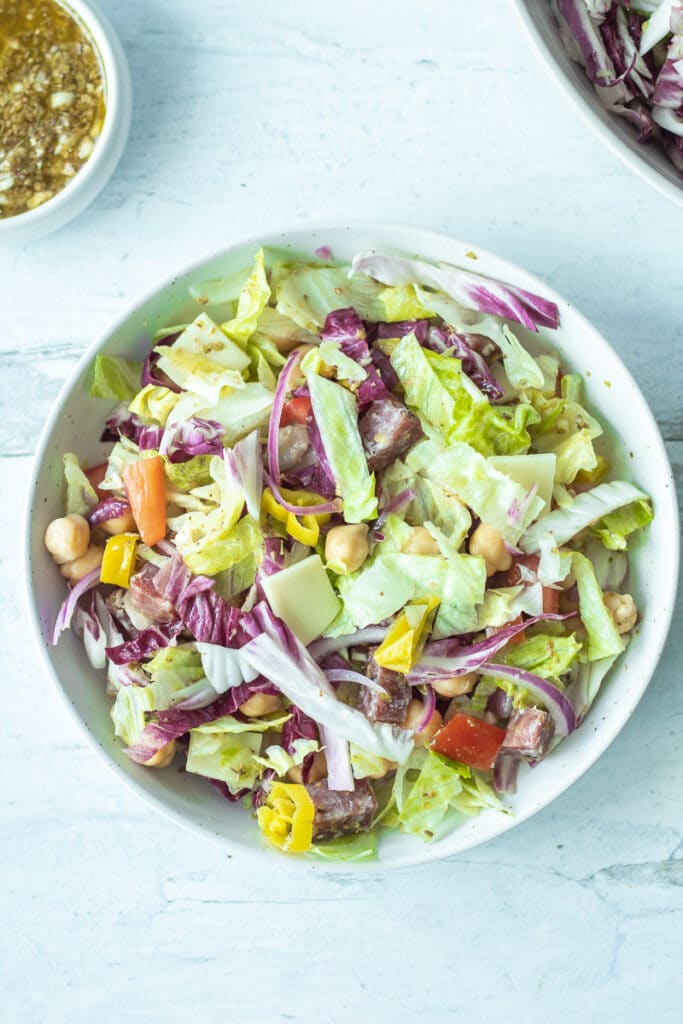 What's in italian chopped salad
So much! See below + variations if you want to switch things up (although some of these replacements will make you lose the Italian-ness of the salad)
Let's start with what you're really here for -
Salami: Grab some salami from the deli and either slice it into strips or small chunks (depending on the type you find). I like to use spicy salami because of course I do, but regular is perfect. If you can't find salami, or aren't a fan, you can replace with summer sausage. If you really want to switch things up, use grilled or roasted chicken! Or leave the meat out for a delicious vegetarian version.
Provolone cheese: This gets cut into strips or small cubes too. The creamy bite it gives the salad is pretty much everything, so naturally the cheese is a non-negotiable for me. Swiss or white cheddar work too, but provolone is definitely my favorite.
Pepperoncini peppers: I have been fully obsessed with these peppers since I was a young gal. Like, I'd eat a whole bowl and call that salad obsessed. Chop or slice a few up for a spicy, vinegary bite in your salad!
THE dressing: Literally filled with garlic and oregano, this dressing is a flavor punch in the mouth. I cannot stress this enough - the amount of garlic and oregano in this is going to feel crazy, but this recipe makes a whole bunch of salad and the flavor you get from the dressing is so important! When it comes to the oregano, I really like to use a mix of dried and fresh but you can easily use all dried.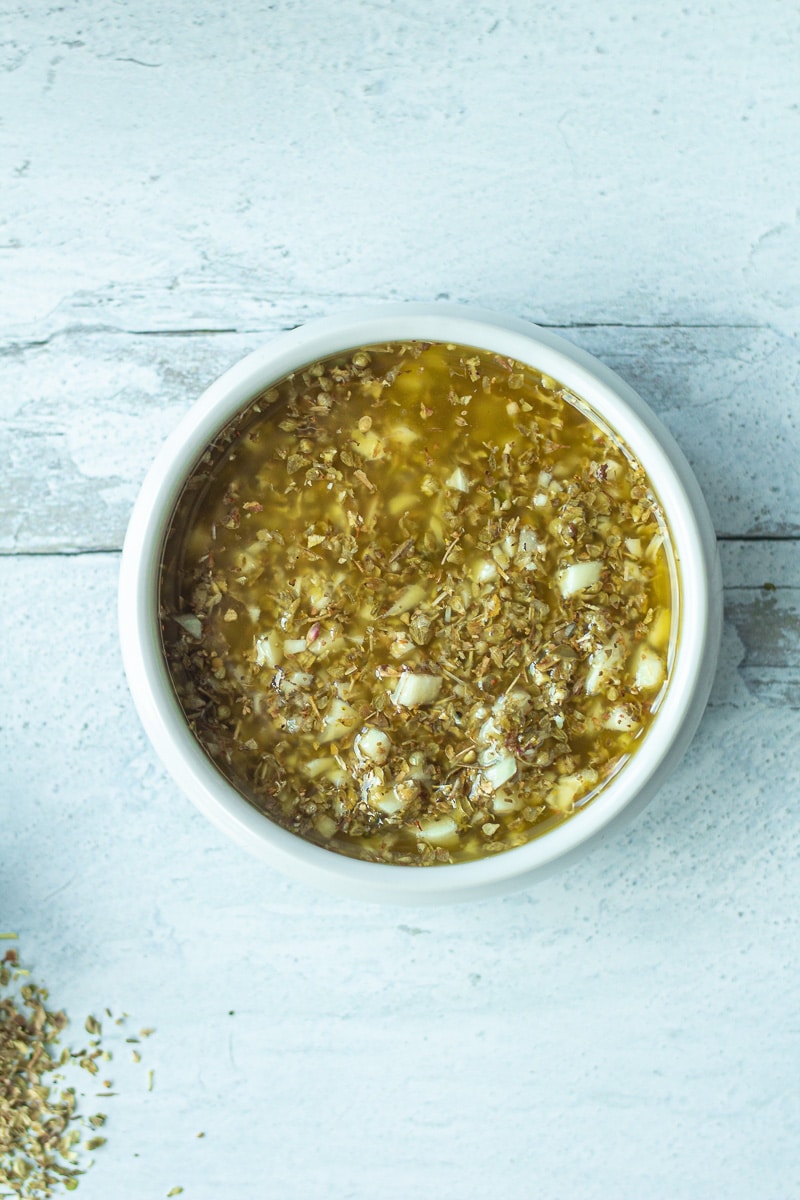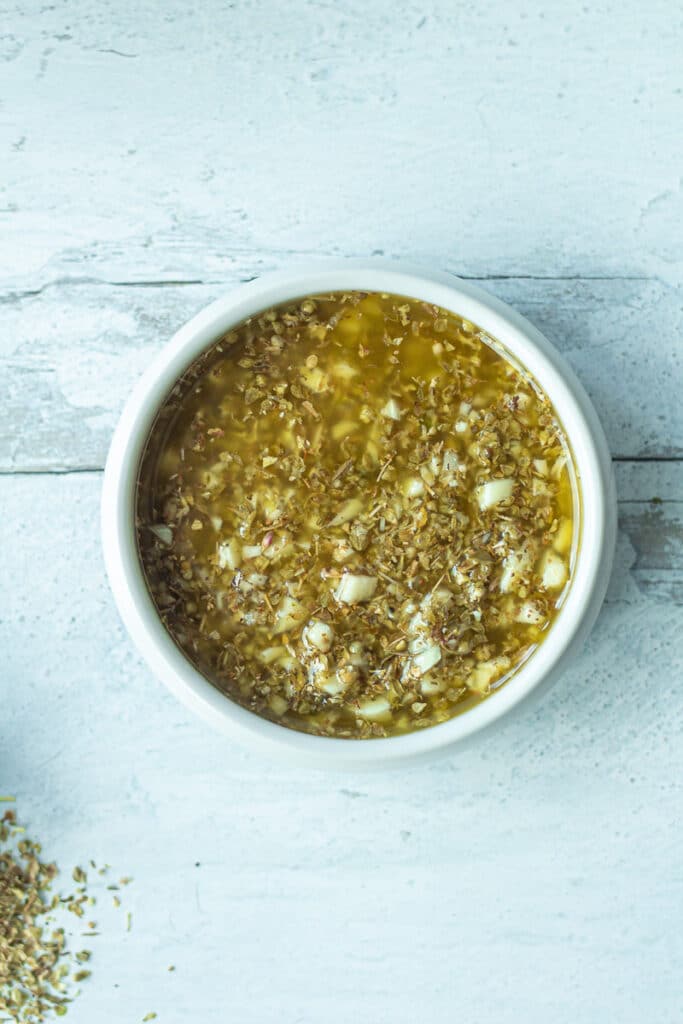 The "normal" stuff:
Lettuce: You won't hear me say this often, but iceberg really is the way to go here. The crunch is just unmatched. With that said, I've done this with romaine and loved it too. I also like to add the radicchio because I love the bitterness, but you can use all lettuce if you prefer! Often times, I just buy that pre-packaged mix with iceberg, cabbage, carrots, etc. and just use that.
Chickpeas: I love this addition because it make the salad perfectly filling, but you can leave it out if chickpeas aren't your thing. However, if you're forgoing the salami, I definitely suggest adding these for your protein. They soak up the dressing perfectly!
Red onion: Thinly sliced red onion is so so perfect in this salad. Use shallot if you prefer. Pickled red onions are fun too!
Tomatoes: These can be optional, but I like the freshness. I keep this separate from the rest if I'm prepping the salad ahead of time to keep them from breaking down too much. I actually prefer to use cherry tomatoes, but I only had a regular tomato when I took these photos so I just chopped that up. Totally fine!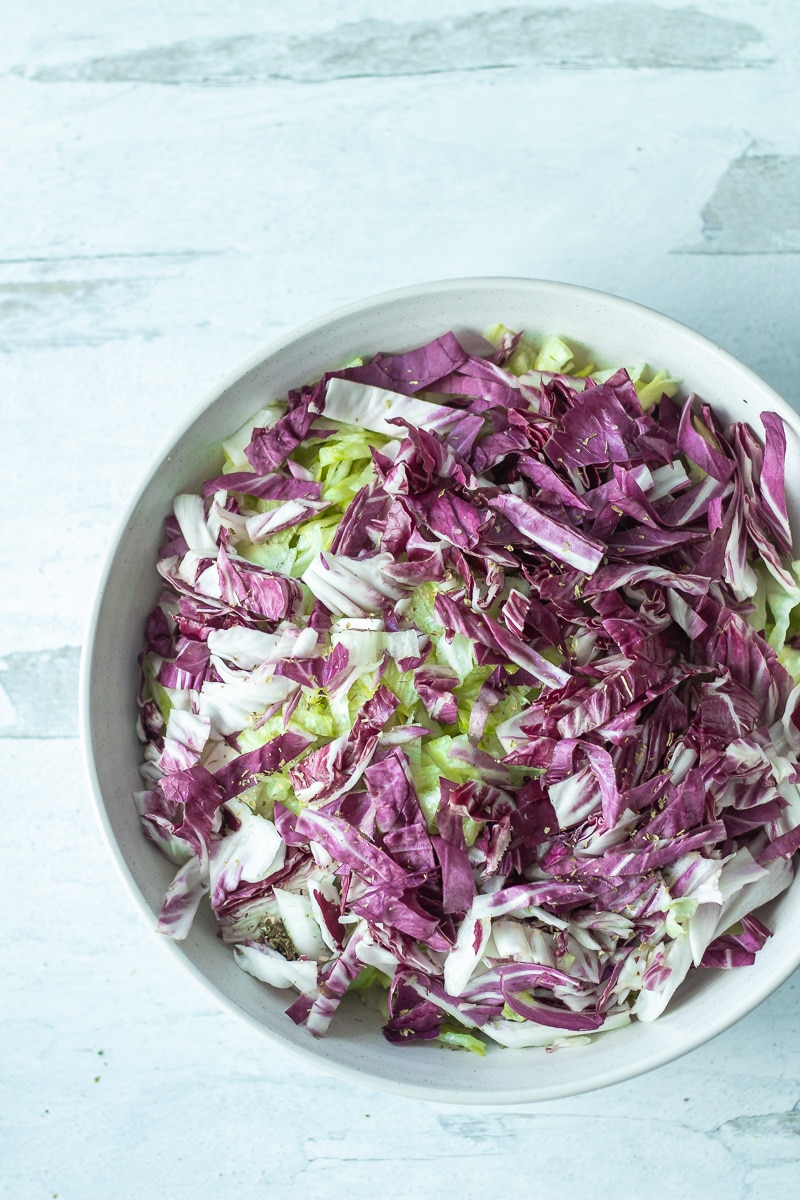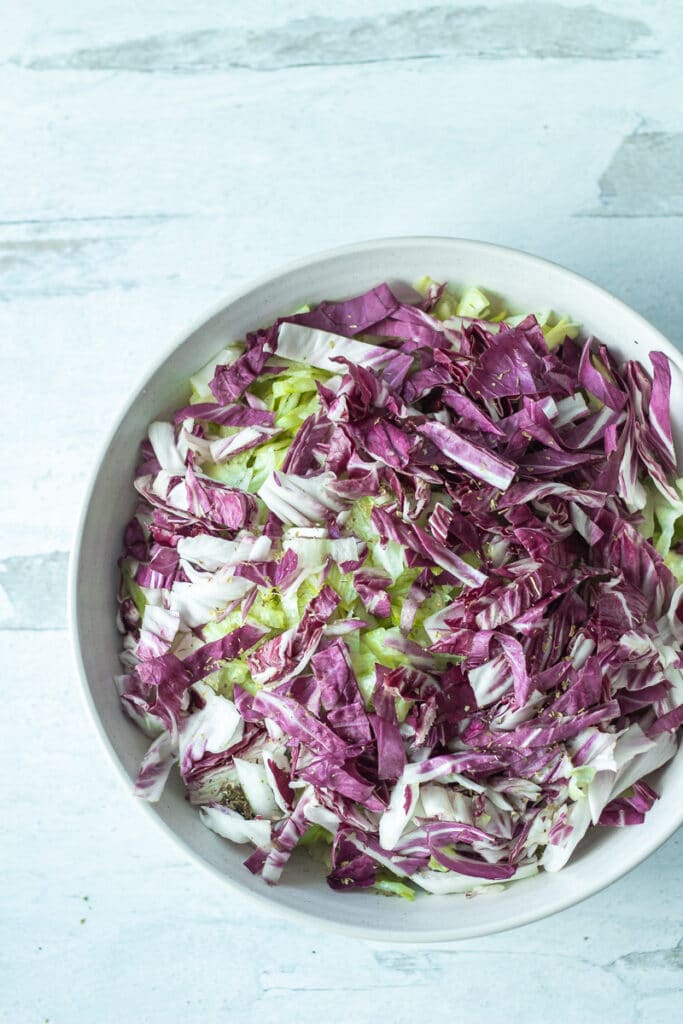 Prep ahead
I often get questions about how/why I like to prep salads (mostly from those of you making this salad!), but this italian chopped salad is absolutely perfect to prep ahead.
The beauty of this dish is how the dressing mixes with all the fun stuff - the cheese, salami, chickpeas, etc. While it's amazing right after you make it, it's SERIOUSLY amazing after you let all those "toppings" kind of marinate in the dressing. Just keep it all mixed up in the fridge and then whenever you want salad, add a few spoonfuls on top of your lettuce (+ the tomatoes if you are using).
If you like to prep individual salads for the week, you can do that too. Just do the reverse layer - dressing mix on bottom, followed by tomatoes and lettuce. Shake it up when you're ready to eat and you're good to go.
This salad is a go-to lunch for me, but it also makes a great dinner (especially in the summer). It's refreshing and light, but still hearty and filling. Add some garlic bread and you're really good to go.
Enjoy, friends!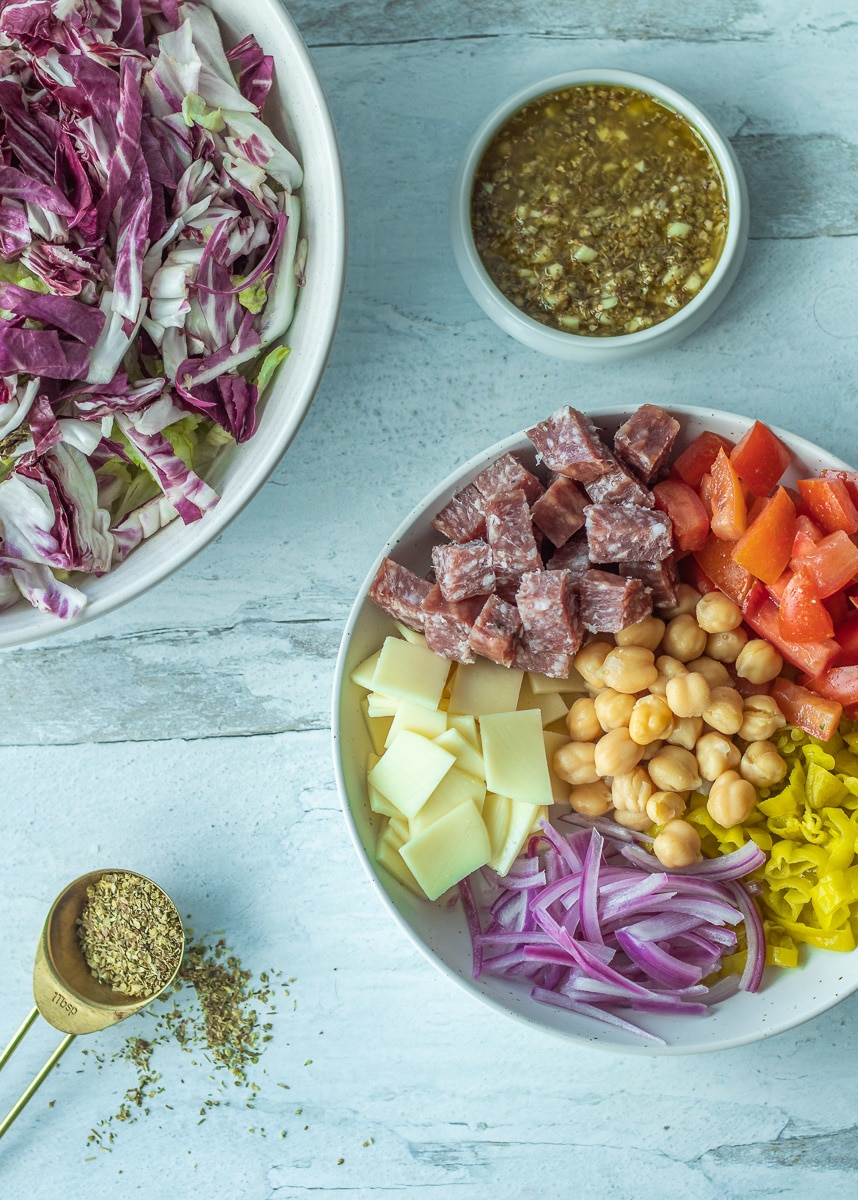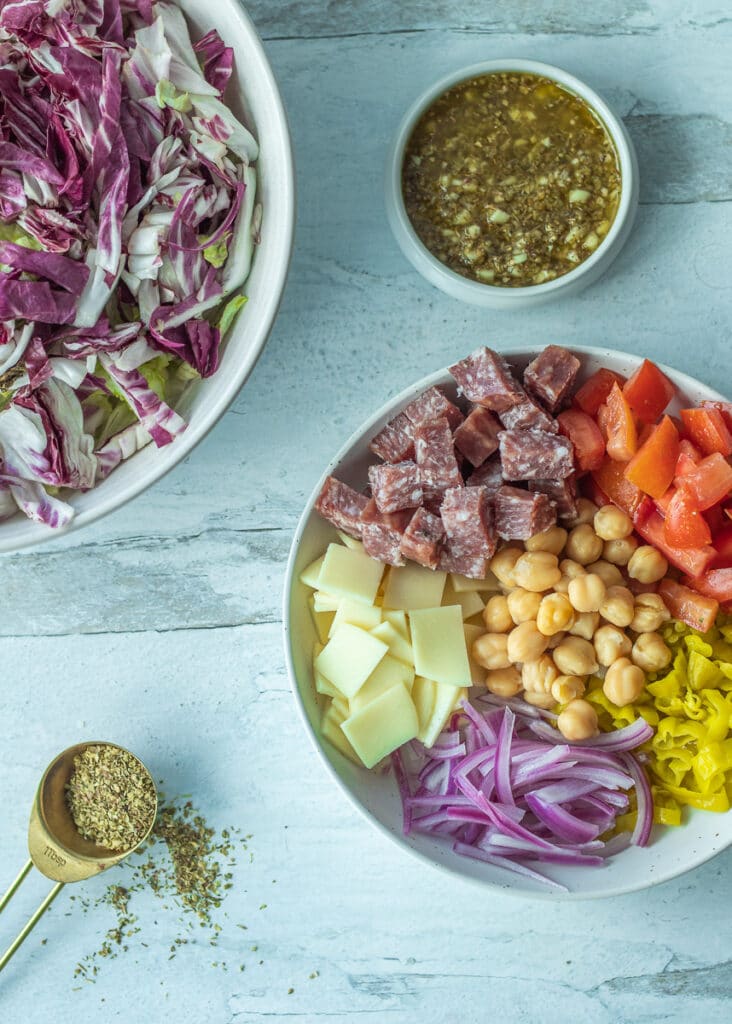 P.S. Looking for more salad ideas? I got you!