A super flexible and adaptable recipe for busy days. Use your favorite vegetables you have on hand and the protein of your choice. While everything roasts, you'll make an amazing mustard dressing to drizzle on the top. The perfect clean-out-the-fridge dinner with barely any clean up!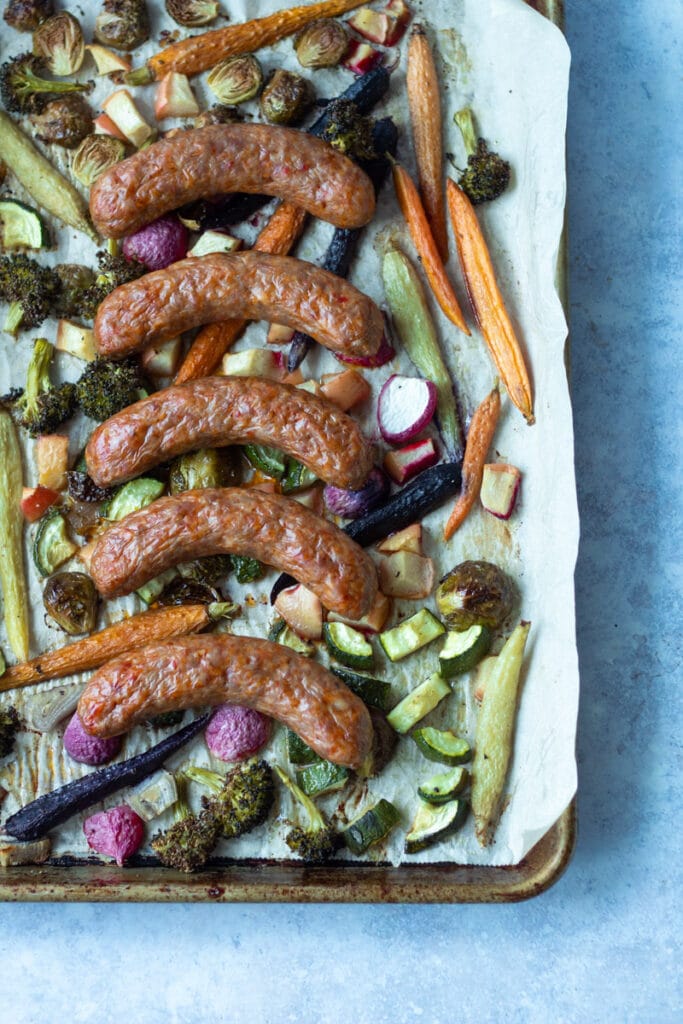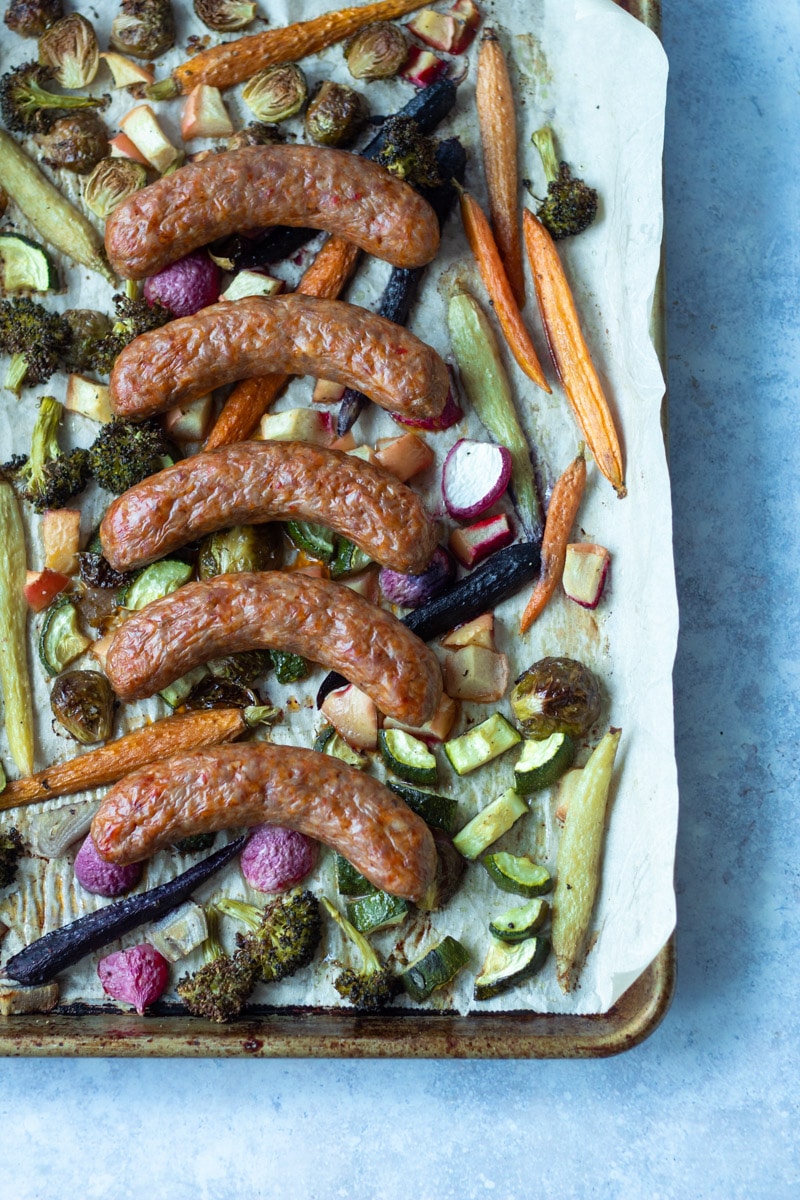 Print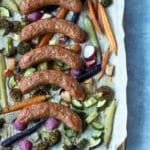 Autumn sheet pan dinner
---
Author:

Mansee

Total Time:

1 hour

Yield:

4

1

x
Description
A super flexible and adaptable recipe for busy days. Use your favorite vegetables you have on hand and the protein of your choice. While everything roasts, you'll make an amazing mustard dressing to drizzle on the top. The perfect clean-out-the-fridge dinner with barely any clean up! 
---
1 cup

brussel sprouts

2

-

3

cups broccoli florets

1

apple

2

-

3

carrots (or about a cup of baby carrots)

1

-

2

cups butternut squash

1

small onion

1

large potato, or

6

small ones

1 cup

radishes

1

lb sausage

2

TB dijon mustard

2

TB apple cider vinegar

½ tsp

salt

½ tsp

pepper

½ tsp

ground cumin

¼ tsp

red pepper flakes

¼ cup

olive oil
---
Instructions
Preheat oven to 400
While the oven is heating up, wash and prep all your vegetables: Halve brussel sprouts, slice apple, peel and roughly chop carrots (or keep them whole if you prefer!), slice onion, chop potato into large chunks, halve large radishes, etc.
Toss the vegetables with a couple tablespoons of oil and sprinkle generously with salt and pepper. Arrange on a baking sheet (or 2 if they won't fit - you want everything to be pretty much in a single layer but a little overlap is okay). Bake for 15-20 minutes until the vegetables start to soften.
Meanwhile, combine the mustard, vinegar, salt, pepper, cumin and red pepper flakes. Slowly whisk in olive oil (or shake everything in a jar) and then set dressing aside.
Toss vegetables and nestle sausages into pan. Return to oven, increase heat to 425 and bake for another 20 minutes until sausage is cooked through and vegetables are nicely roasted.
Drizzle dressing over pan and toss everything together OR plate things up and serve dressing the side - your choice!
Notes
This is the perfect dish to use up whatever vegetables you have on hand. Don't worry about sticking to the recipe above if there is something you don't like ( I know radishes can be kind of polarizing). Just make sure to chop everything in a way that ensures they'll cook evenly.
You can use whatever protein you want for this (or no protein at all!), but you'll have to keep cooking times in mind. If you want to use chicken, I would include it with the vegetables from the beginning to make sure it's cooked through. Shrimp would be awesome too, but you'll only need to include those about 10 minutes before you pull everything out of the oven. I also love chickpeas with this when I don't want meat, and those will take about 20 minutes (so same as sausage).
Feel free to use your favorite bottled dressing if you don't want to make one.
If you don't think this will be substantial enough for you and/or your family, you can serve this over rice or a grain of your choice.
Lastly, if you prefer your vegetables to be really, really roasted definitely use two sheet pans for this. With this type of meal I like to have some crispy and some a little softer so I sometimes pile more on one pan than I probably should - but it works for me! This can easily be spread across two pans if you want (they will cook a little faster too, so keep an eye on them!).
Prep Time:

15 minutes

Cook Time:

45 minutes

Category:

Dinner

Method:

Oven
There's something really special about putting a bunch of food on a pan, throwing it in the oven and then calling it dinner less than an hour later.
Even better when it's kind of a "clean out the fridge no-recipe recipe" situation, yes?
I've had a love affair with my oven since I was a kid (I started baking at a fairly young age) and roasting is hands-down my favorite way to cook vegetables - and sometimes the only way I'll eat them.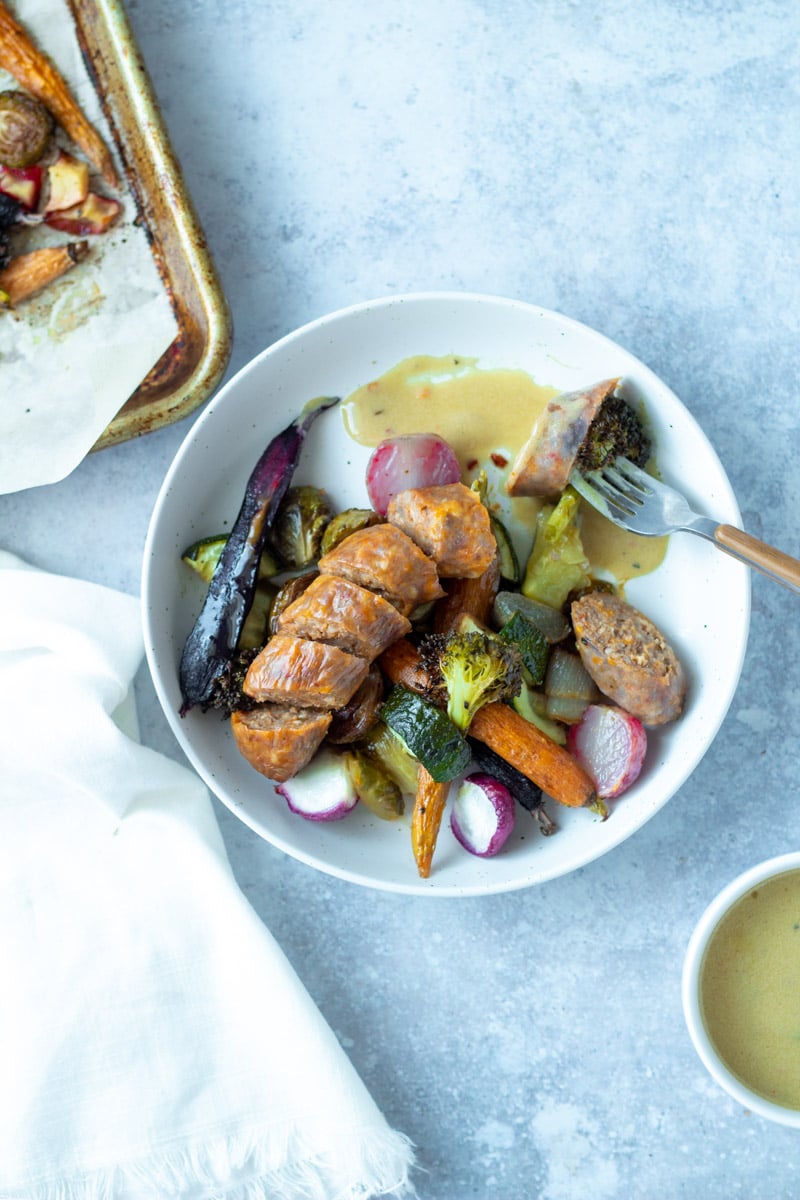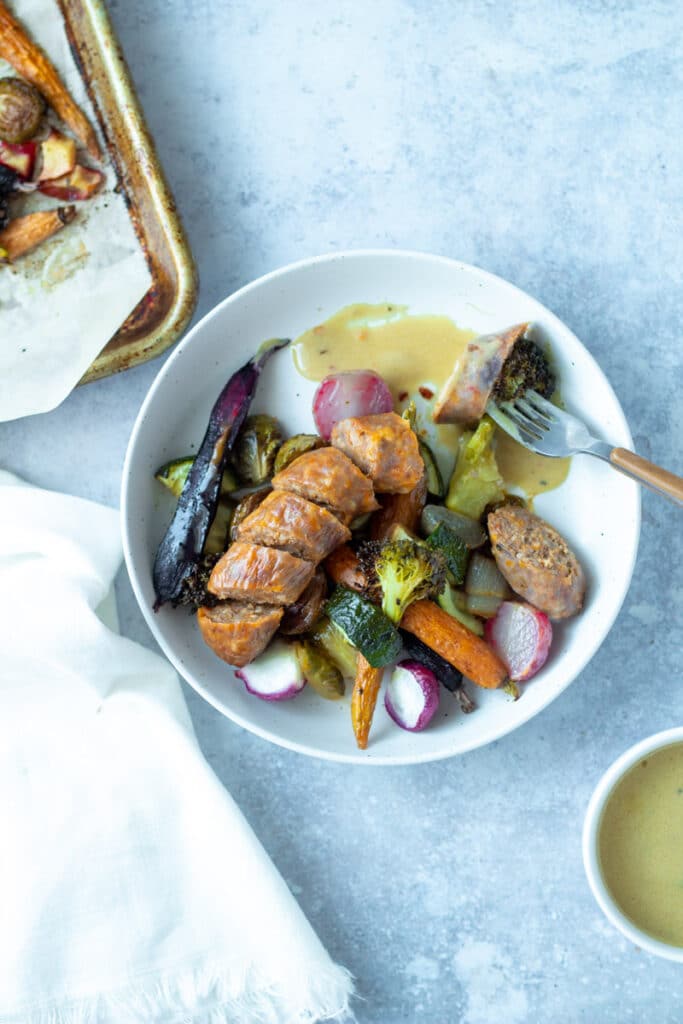 I mean, I'm pretty adult-like but if you try to get me to eat a steamed vegetable I WILL throw a tantrum (unless they're in a smoothie, of course). Roasting is how I learned to love brussel sprouts, eat broccoli by the bowlfuls and actually enjoy eggplant - my least favorite food on the planet (cue my parents fainting).
Aside from all that though, the main reason I love sheet pan dinners is because it gives me a routine and I feel like I magically have more time to get things done.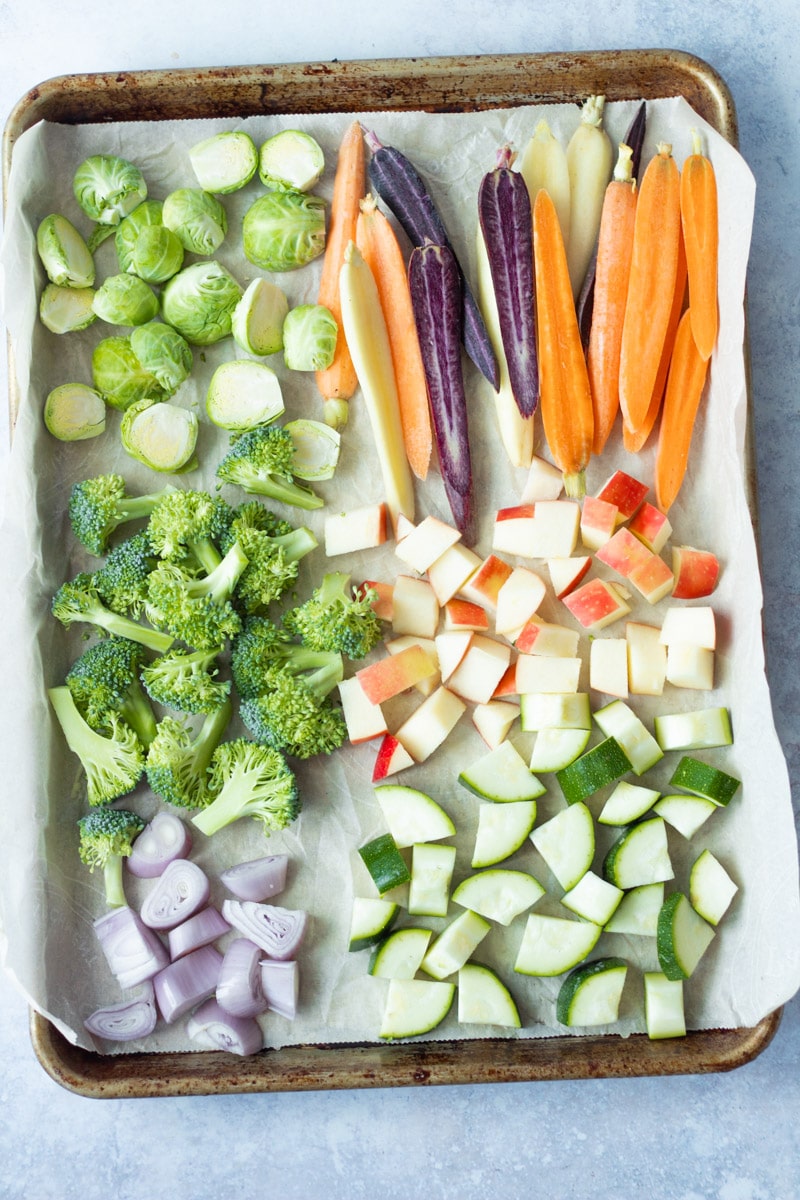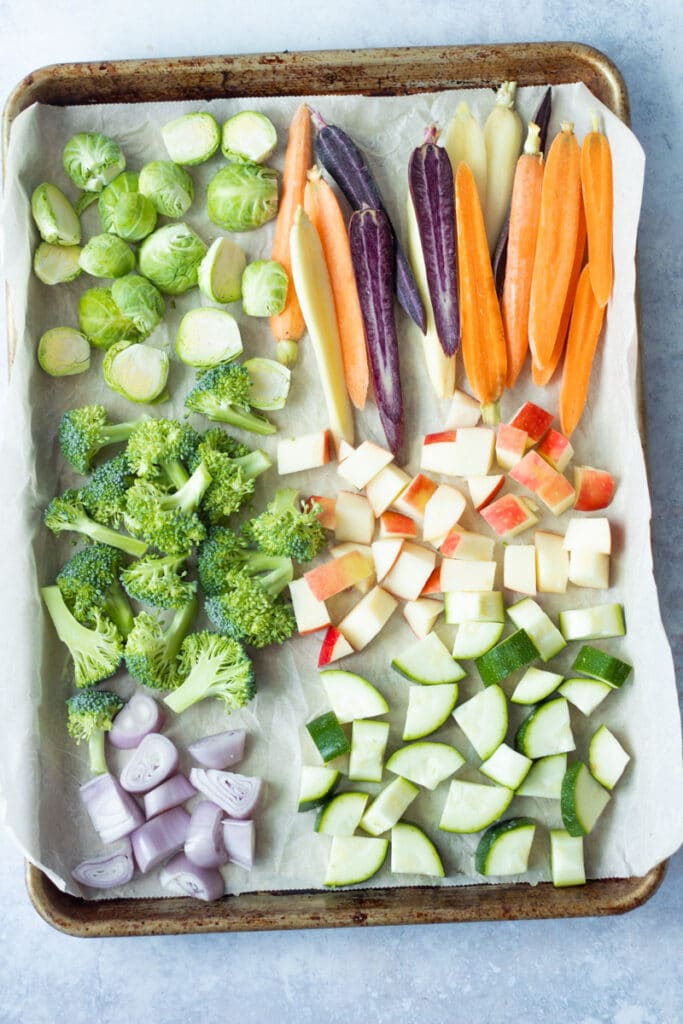 That didn't make any sense. Allow me to explain.
It's no secret I love to cook. It brings me a lot of joy - even when I'm dead tired. So even the longest, hardest days don't always keep me from the kitchen. BUT those are the exact days I turn to meals like this because it allows me to do the thing I love (cook) without making me even more tired or drained.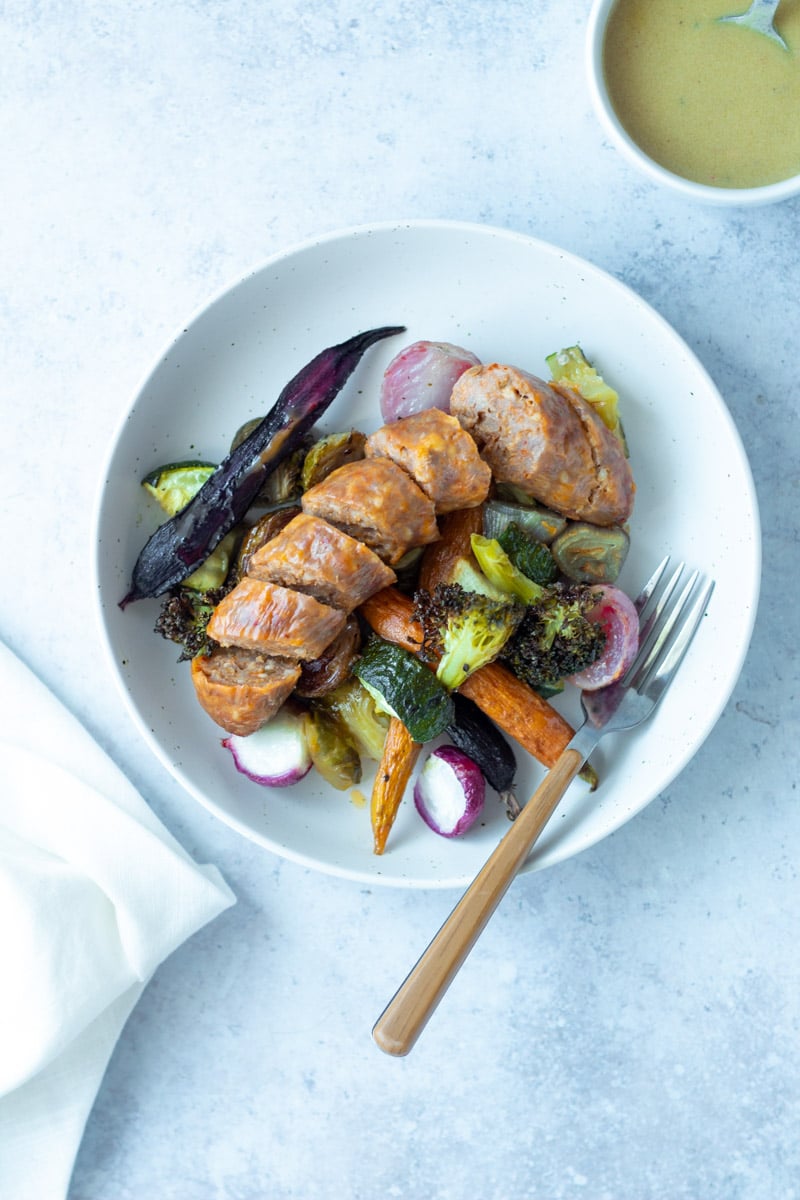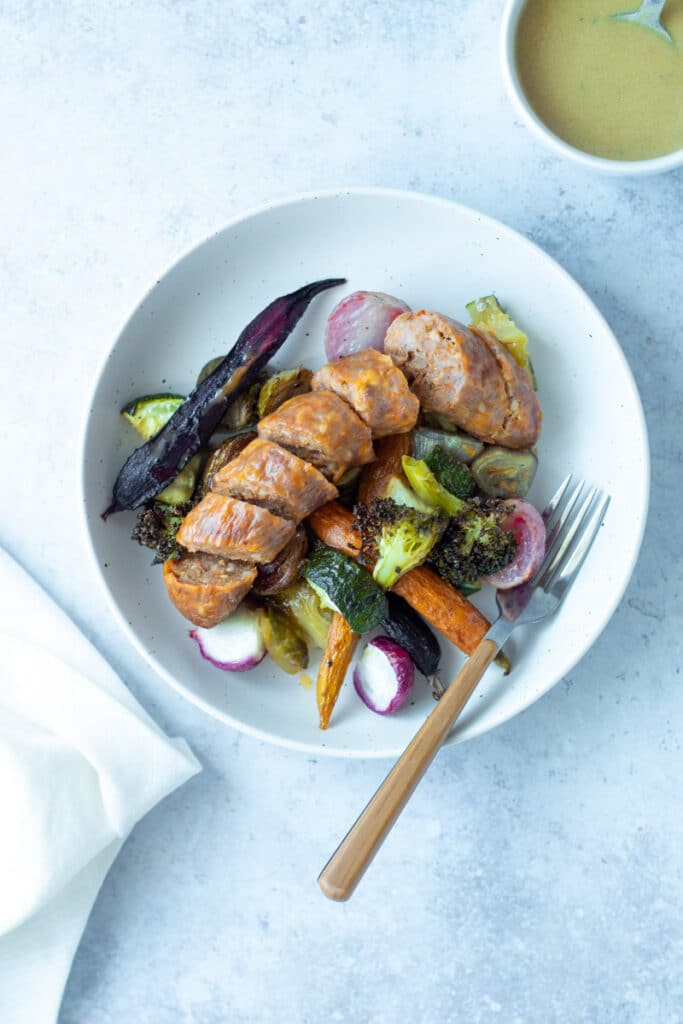 Here's how this one usually plays out:
When I'm done with work for the day, or just ready to get dinner started, I gather all the vegetables I want to include and start chopping. I'm a weirdo and happen to enjoy this step, but if you're not me you can always buy pre-chopped veggies to keep on hand for these kinds of situations.
I throw everything on a baking sheet (or 2!) and toss with oil, salt and pepper and then get it started in the oven for about 15-20 minutes.
During this time I make the dressing and take out the sausage (see notes below for other protein options & directions) so it's ready to go. THEN - this is the most important part folks - I clean the kitchen because cleaning my kitchen WHILE food cooks brings me an incredible amount of joy.
After that first bake, I toss the vegetables a bit and add the sausage to the pan. Back into the oven it goes for another 20-25 minutes until everything is cooked to your liking. Sometimes I use this time to throw some laundry in the washer, hop in the shower, or just sit on the couch and cuddle with my dog while scrolling through Instagram.
When everything is done, I drizzle the dressing on top and dinner is ready!
The beauty of all this is that I get to eat a great (pretty healthy!) meal that I cooked, BUT I don't have to deal with a messy kitchen or a mountain of dishes later.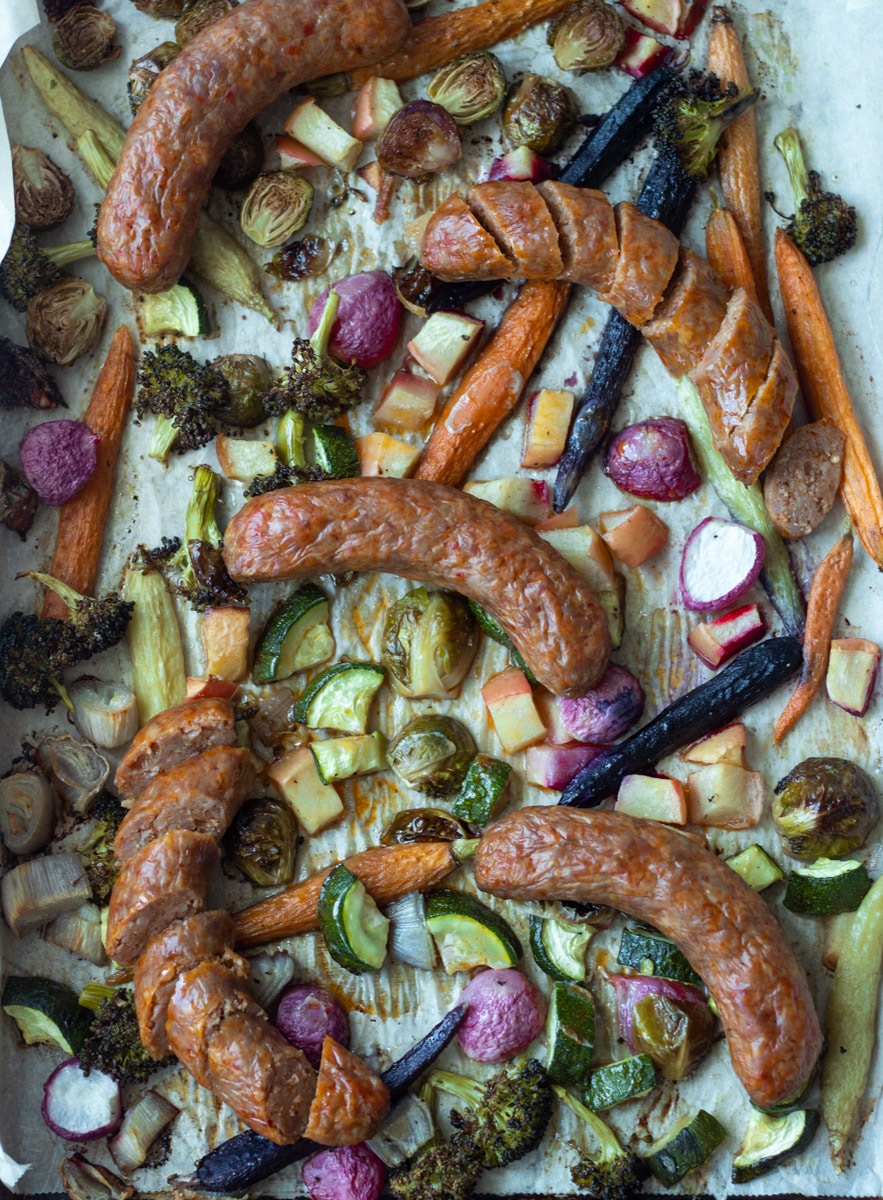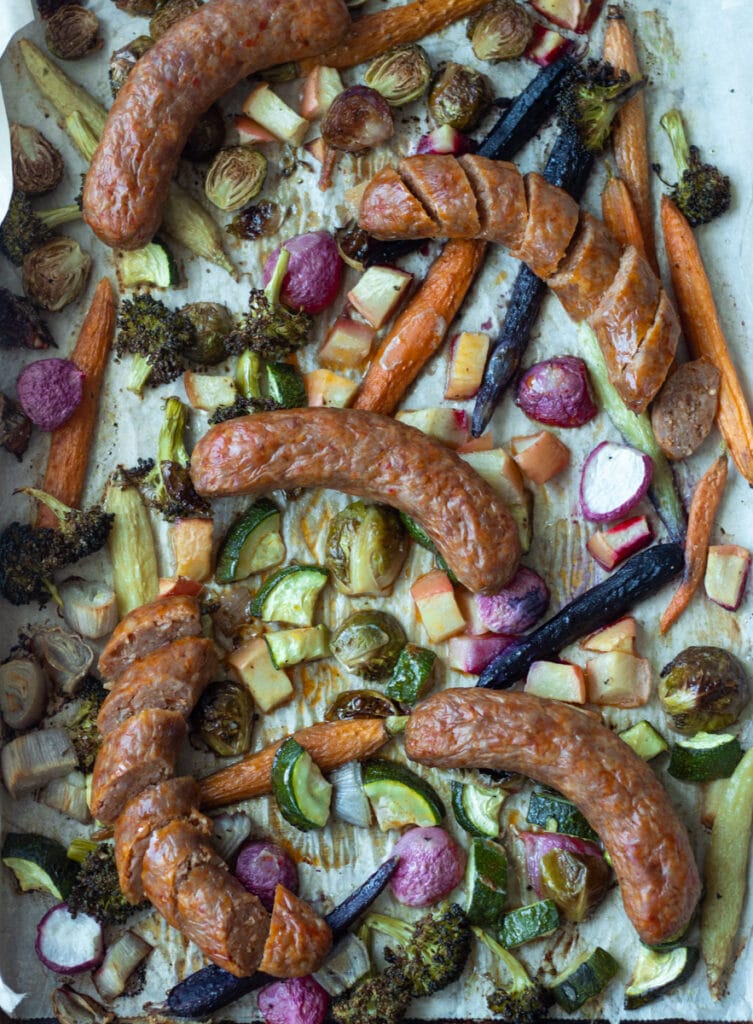 And I know this sounds nuts, but the whole cleaning the kitchen while food is the oven thing is the clincher here. Doing "chores-like" things while food cooks (this would include the hypothetical laundry and shower) helps me enjoy dinner so much more. This might not seem like much to you, but it is a very important version of self-care for me.