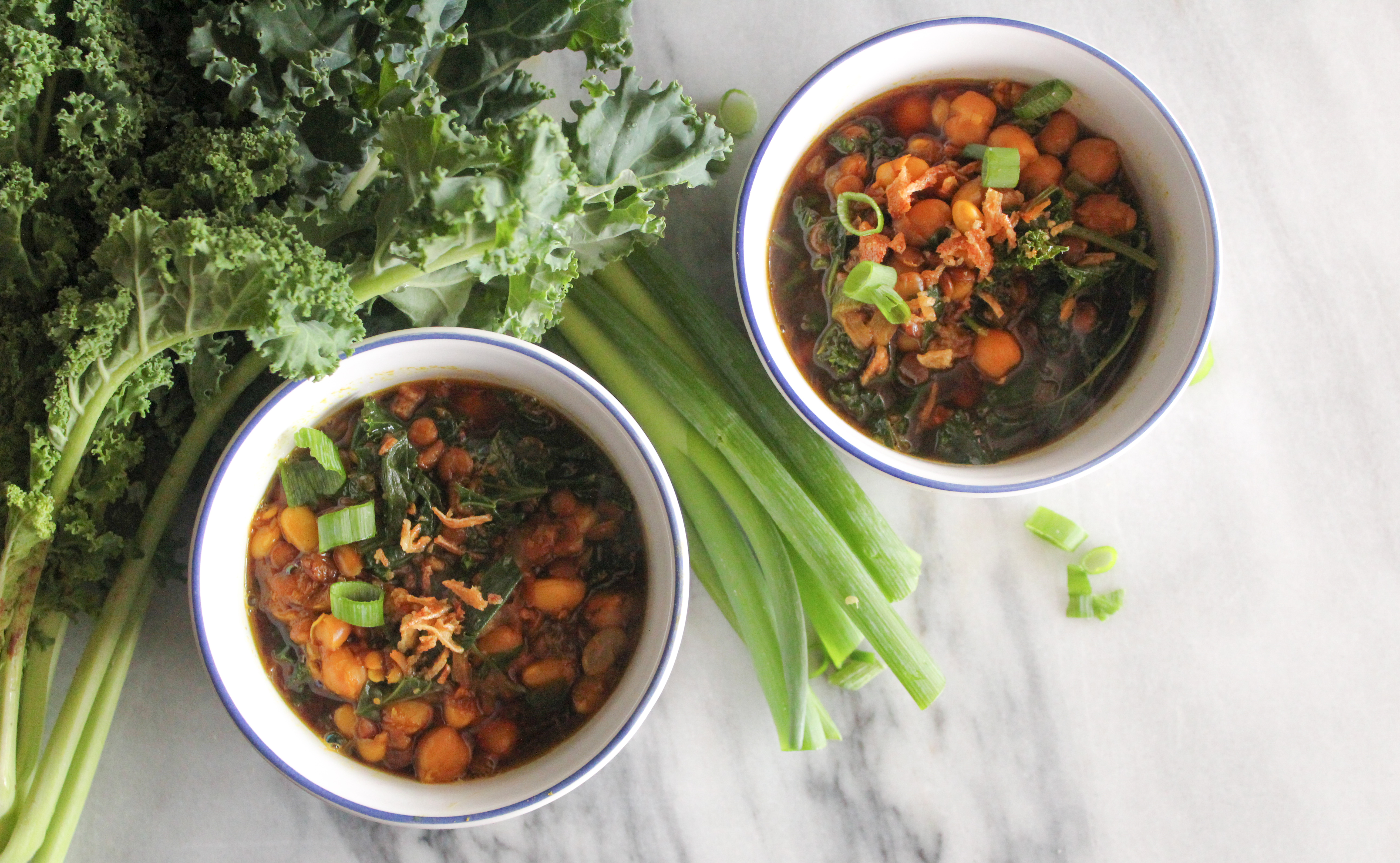 I love when the name of a dish just gets tells it like it is. Gets right to the point, you know?
Beans
And
Greens
BOOM.
Like most of my kitchen adventures this one was originally inspired by Bon Appetit (love you forever BA) and has been tweaked over time. It's one of those perfect soups to cook on a weekend afternoon because it's a long, yet leisurely, meal to put together. This, of course, thrills me because I'm a weirdo who has spent most of my life figuring out how I can spend MORE time in the kitchen, but I think you'll like this even if you're not like me (understandable).
The ingredients themselves – while being the actual vision of HEALTH – can be a bit off-putting (beans! kale! more beans! lentils! spinach!) but this is honestly one of those things that just comes together so well.
Nourishing.
That's the word I'm looking for. This soup is seriously nourishing.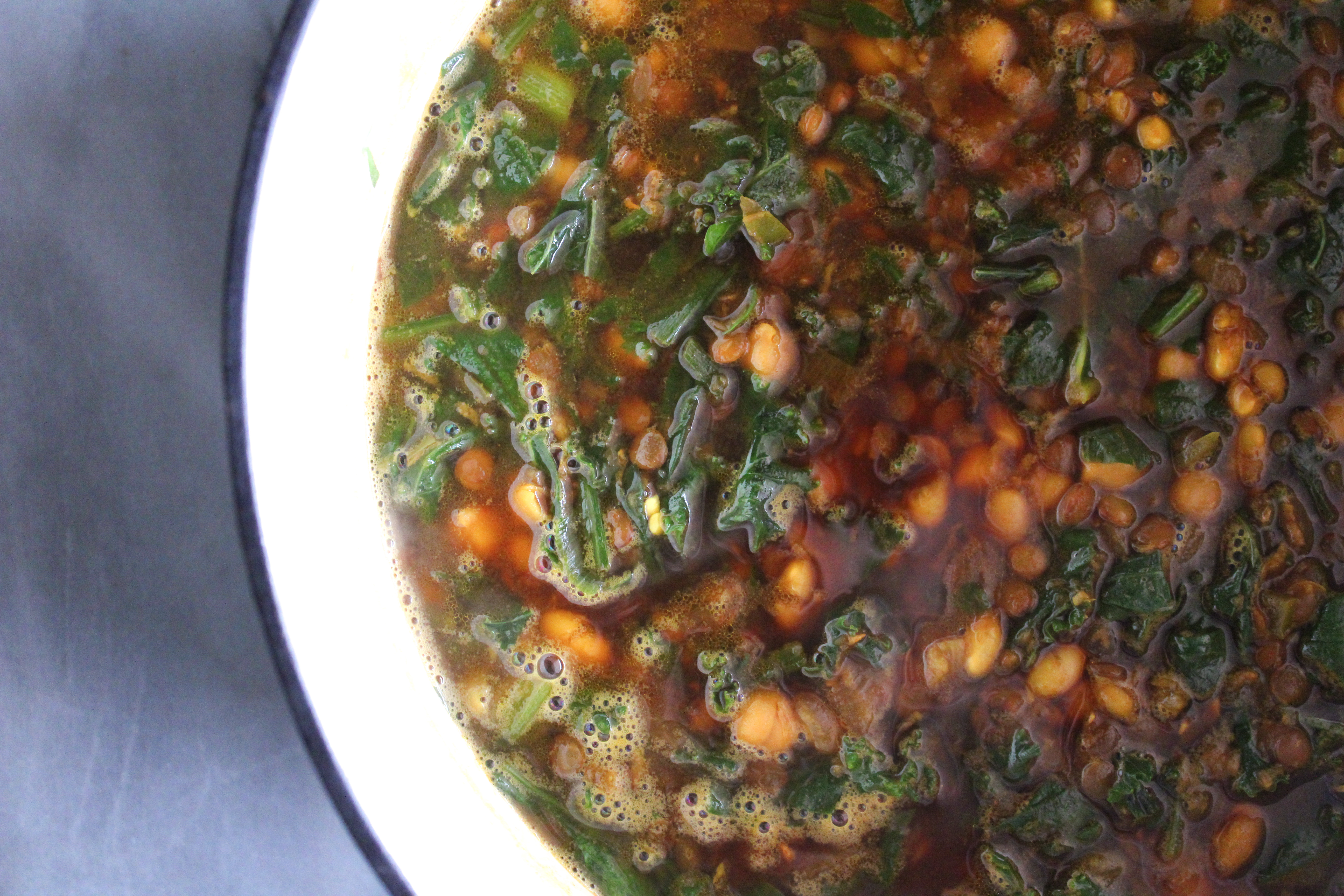 So listen. I'm about to ask you to go out and get two different types of dry beans and a package of dry lentils. And then you're only going to use 1/2 cup of each. Annoying? Maybe. If getting dried beans make you want to slap me (please don't) then you can totally use canned. It's fine. I'm not judging you or anything.
(But dried beans take up like no room in a pantry/drawer/bin/whatever and they're honestly just good to have around.) (I'm done now.) (Promise.)
I will say going the canned route will result in a much quicker meal…so you win there. Check out the notes below for the slight updates you'll need to make.
Speaking of updates, the original recipe calls for some fun toppings, which are great but not at all necessary. The recipe below is my most bare bones version, but fried onions certainly never made anything worse ya know?
It's beans and greens, kids. Go wild!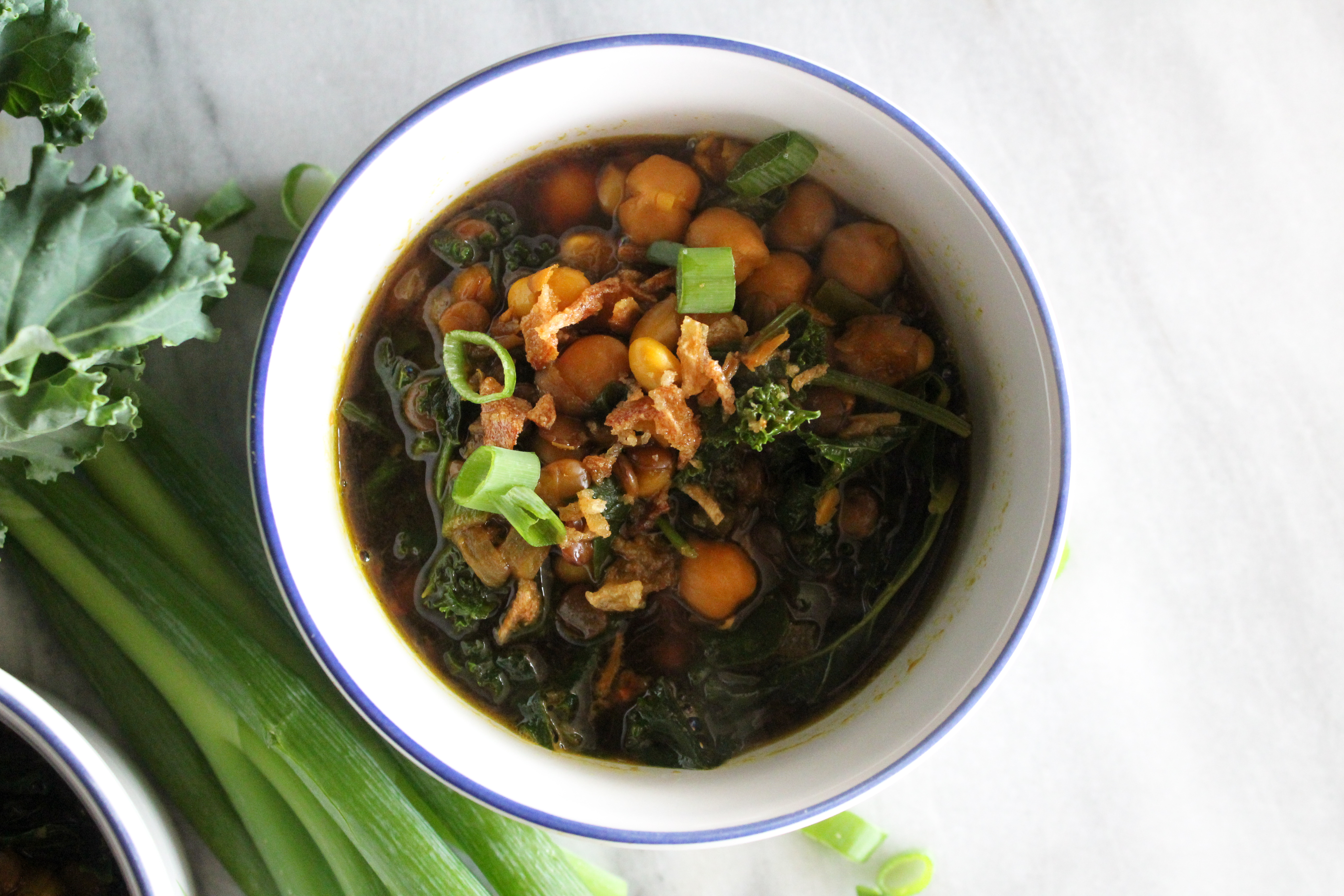 Ingredients
3 tablespoons olive oil
1 large onion, chopped
4 garlic cloves, minced/grated
1-inch ginger, peeled and minced/grated
1 jalapeno, chopped
1 teaspoon ground turmeric
1/2 cup dried chickpeas, soaked
1/2 cup dried navy beans, soaked
8 cups vegetable stock (or mix of stock + water)
1/2 cup lentils, rinsed (I used brown lentils, but any kind will do)
8 cups greens, chopped (I used spinach + kale)
1/2 cup cilantro, chopped
1/2 cup green onions, chopped
2 teaspoons soy sauce
1 tablespoon rice wine vinegar or lemon juice (optional)
salt and pepper to taste
Instructions
Heat oil in a large stockpot or dutch oven over medium heat. Add onion and cook until soft and golden brown, about 5-6 minutes.
Add garlic, ginger, jalapeno (leave out ribs and seeds if you're worried about spice) and cook for 1-2 minutes. Add turmeric and cook for another minute.
Add beans and stock/water and bring to a boil. Reduce heat, cover and simmer for 30-40 minutes until beans are mostly cooked, but still have a bit of a bite to them (al dente, if you will).
Add lentils and cook for another 25 minutes, uncovered.
Stir in greens, cilantro and green onions and let cook for 5-10 minutes until everything is wilted and warmed through.
Taste to make sure the beans are fully cooked (test a chickpea...those guys can be stubborn) and then add soy sauce and vinegar/lemon juice if using. Taste again and season with 1-2 teaspoons of salt (depending on how salty your soy is).
Serve with more lemon, if desired.
Notes
If you're using dried beans but don't have time to soak (I like to soak for at least 6 hours), try this quick-soak method: Add beans to a pot and add water until it comes about 2 inches above beans. Bring to a boil and cook beans for 1 minute. Remove pot from heat and cover. Let beans soak for 1 hour, and then drain.
If you're using canned beans. Add them as stated in the recipe, but include the lentils as well. The rest of the recipe will stay the same, but it'll cut down the cooking time quite a bit!
The amount of seasoning you use will greatly depend on the ingredients you use. If you're using all stock, you'll probably need less salt than if you're using water. Same with dried beans vs. canned. I like to wait until the end to season so I can keep everything under control.
https://www.onegirlonekitchen.com/beans-greens-soup/