Imagine a giant chocolate chip cookie with a swirl of bourbon-spiked caramel. These bars are chewy, gooey and chock full of melty chocolate. Basically the perfect dessert!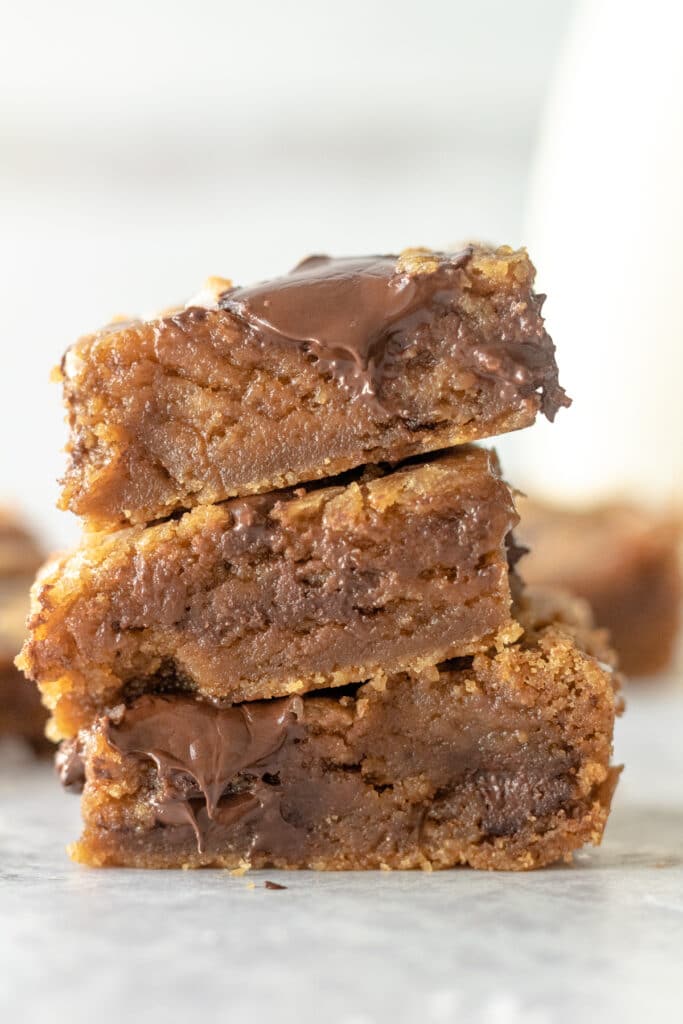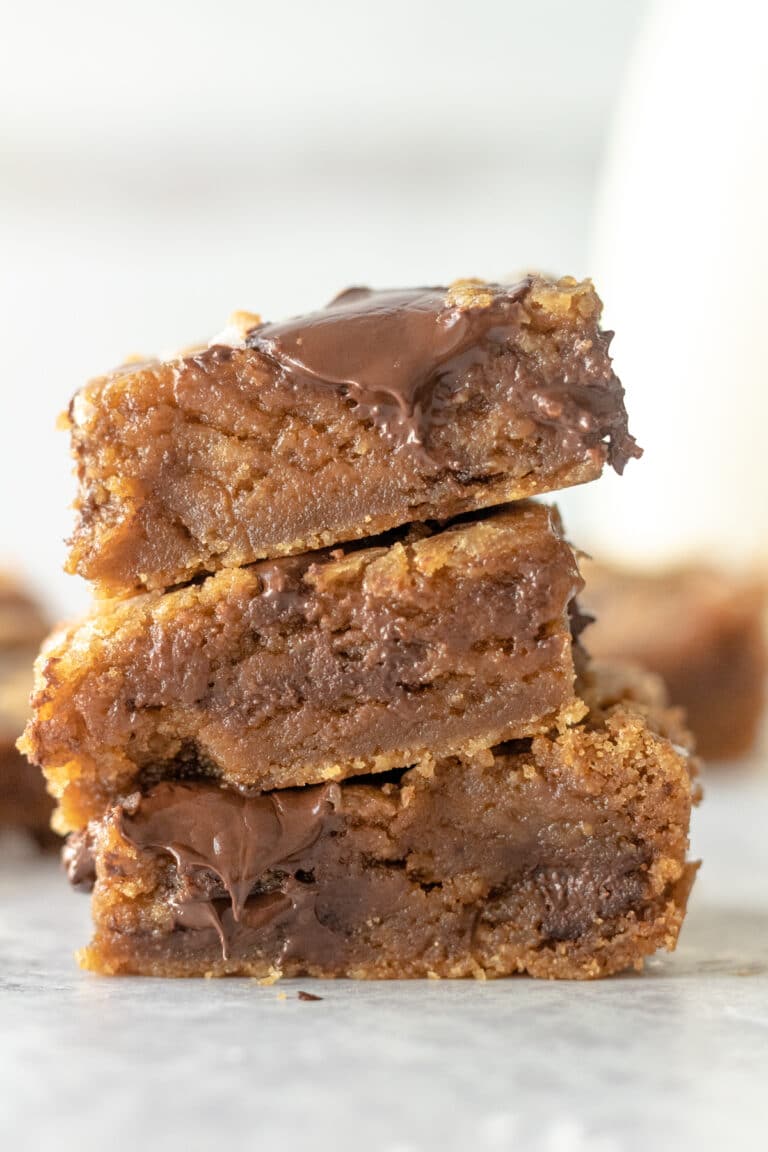 Hi. Welcome to your new life with these bourbon caramel swirled chocolate chip bars. It's a good life.
I won't lie - this isn't anything THAT special. It's essentially just a giant cookie with a sweet, sticky and slightly bourbon-y swirl throughout.
Okay, yes. FINE. It's very special.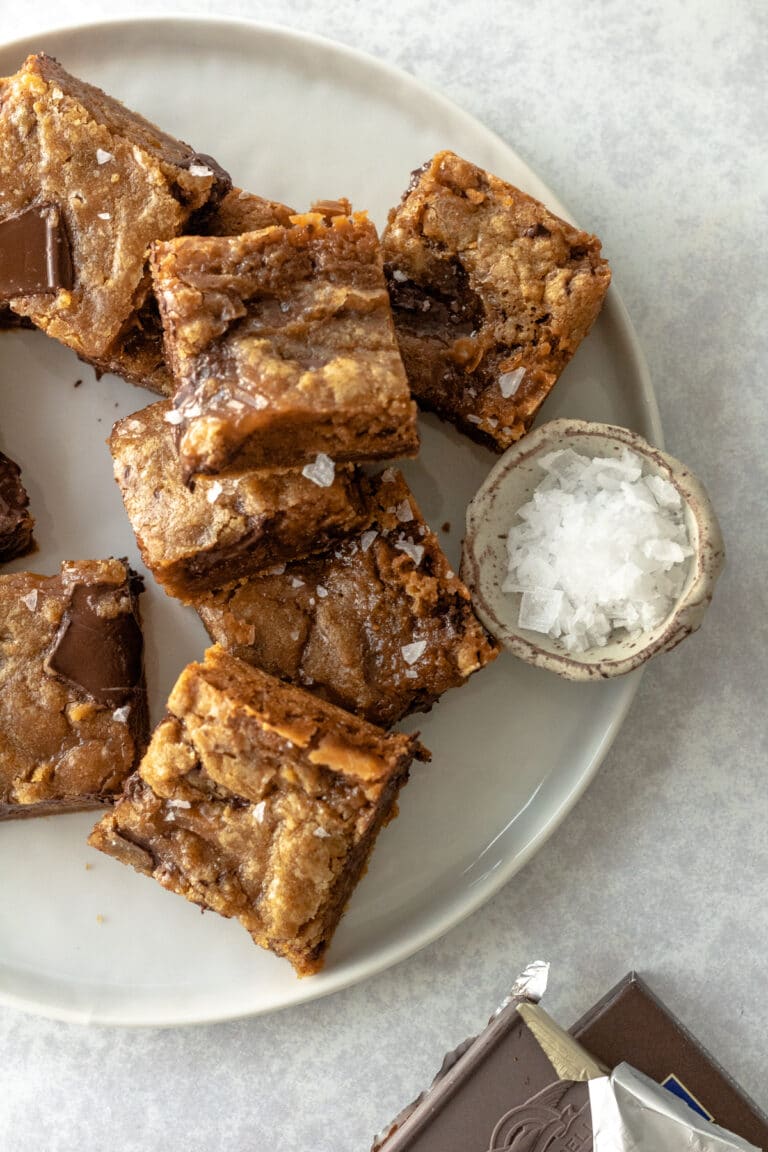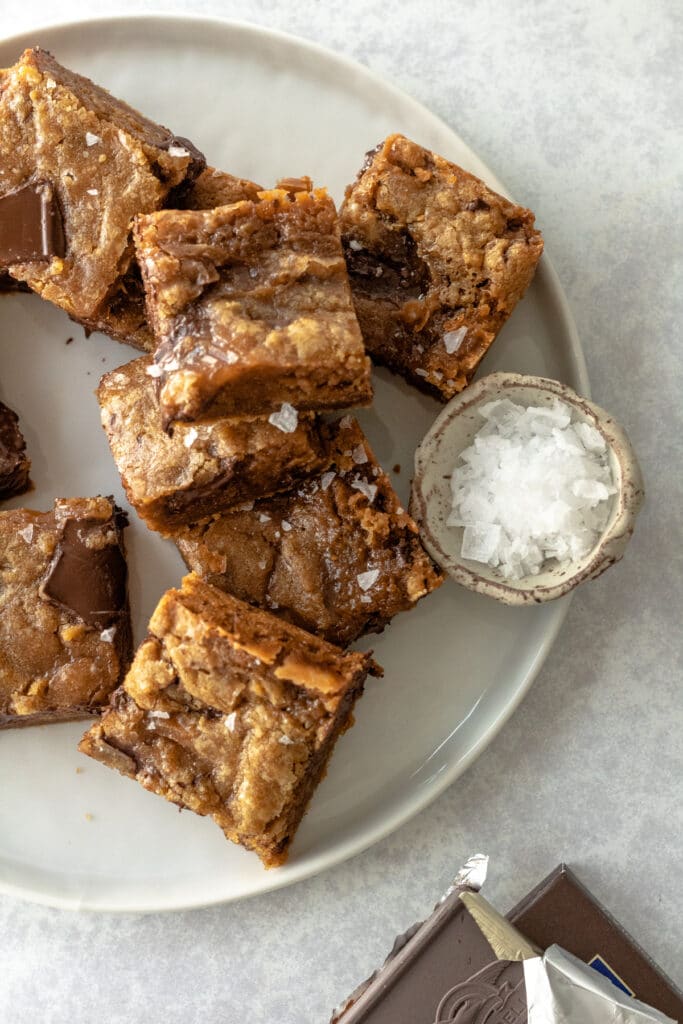 Cookies vs. Cookie Bars
I love cookies. Like, really truly LOVE cookies. But sometimes I just do not have the patience to scoop and bake four pans of them. When that lazy feeling hits me, I just press it all into a pan and ta da! Cookie bars!
Honestly, it's more cookie in every bite and we love that for ourselves.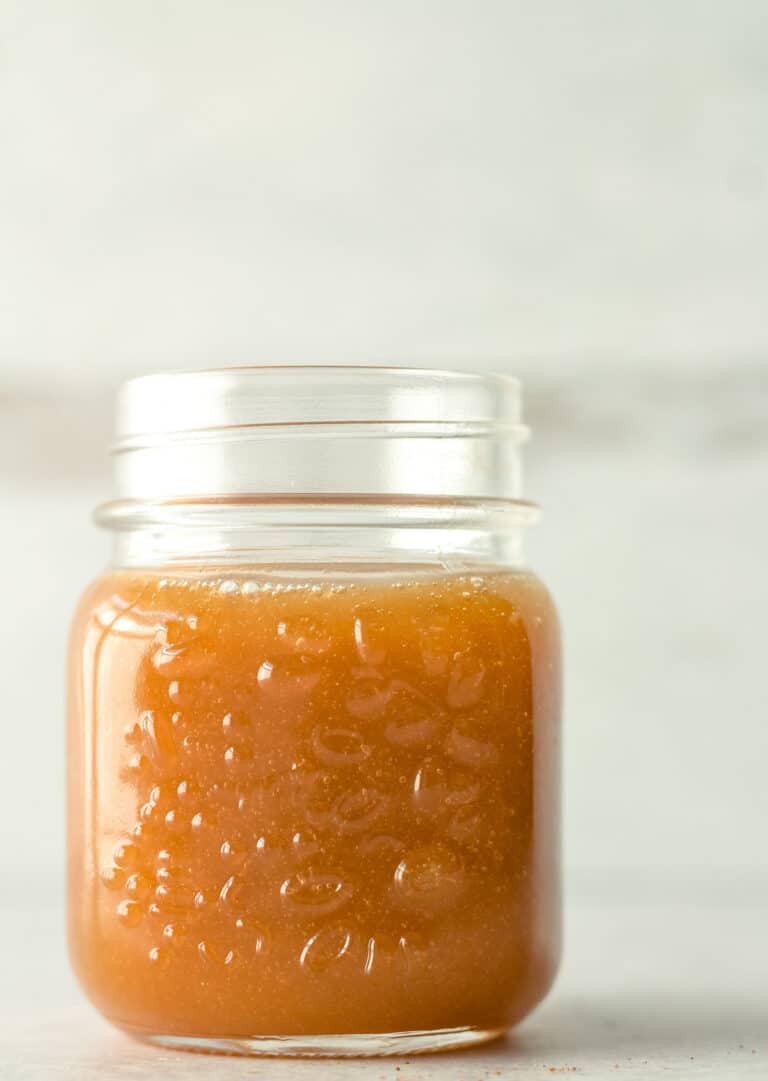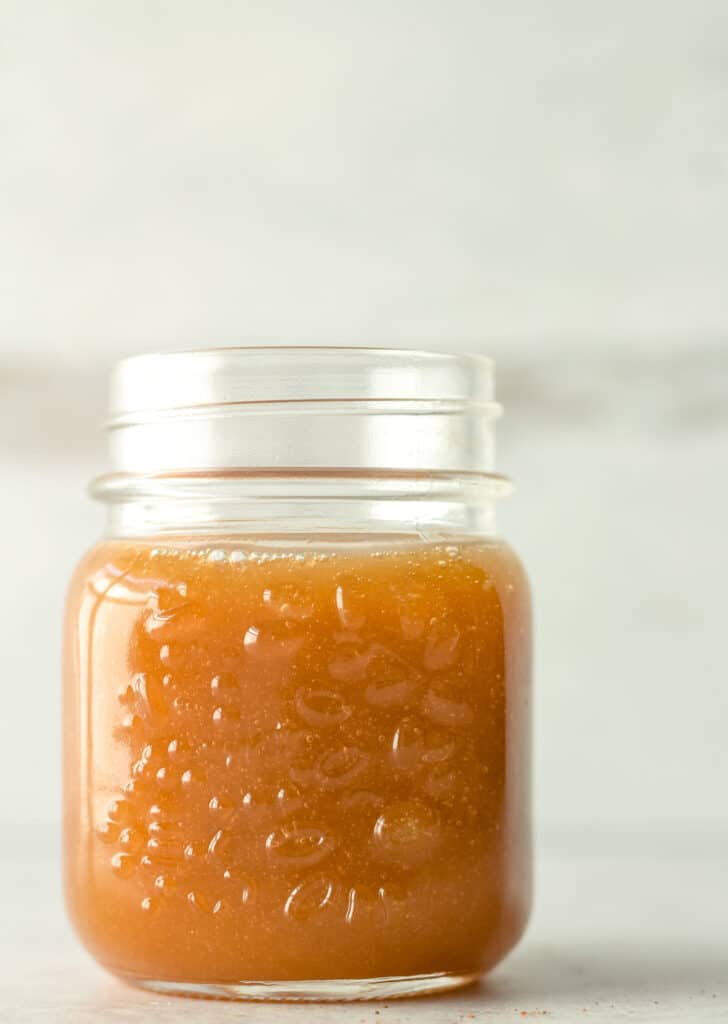 About that bourbon caramel swirl...
After I originally posted this recipe, a few people reached out and mentioned they had some issues making the caramel so I tried a few things and updated it. Now I feel VERY confident that this caramel is pretty fool proof, and we'll make it right before we put these bars in oven so it's completely swirl-able!
ALSO. This recipe makes more than you'll need for these chocolate chip bars, but that's by design. If you're going to make homemade caramel, you might as well have some extra to play with, right?
Use the extra bourbon caramel over ice cream or stirred into your coffee for a real treat. You can also drizzle a little extra over the bars when they are finished!
I should note that while these are bourbon swirled chocolate chip cookie bars, you definitely don't HAVE to add the bourbon. I just seem to be adding bourbon to everything these days - so it happened.
Actually, you don't even have to make the caramel if you don't want to! Store-bought is 100% fine here. You're busy. Buy the caramel.
All I ask is that you don't skip the caramel. You deserve it.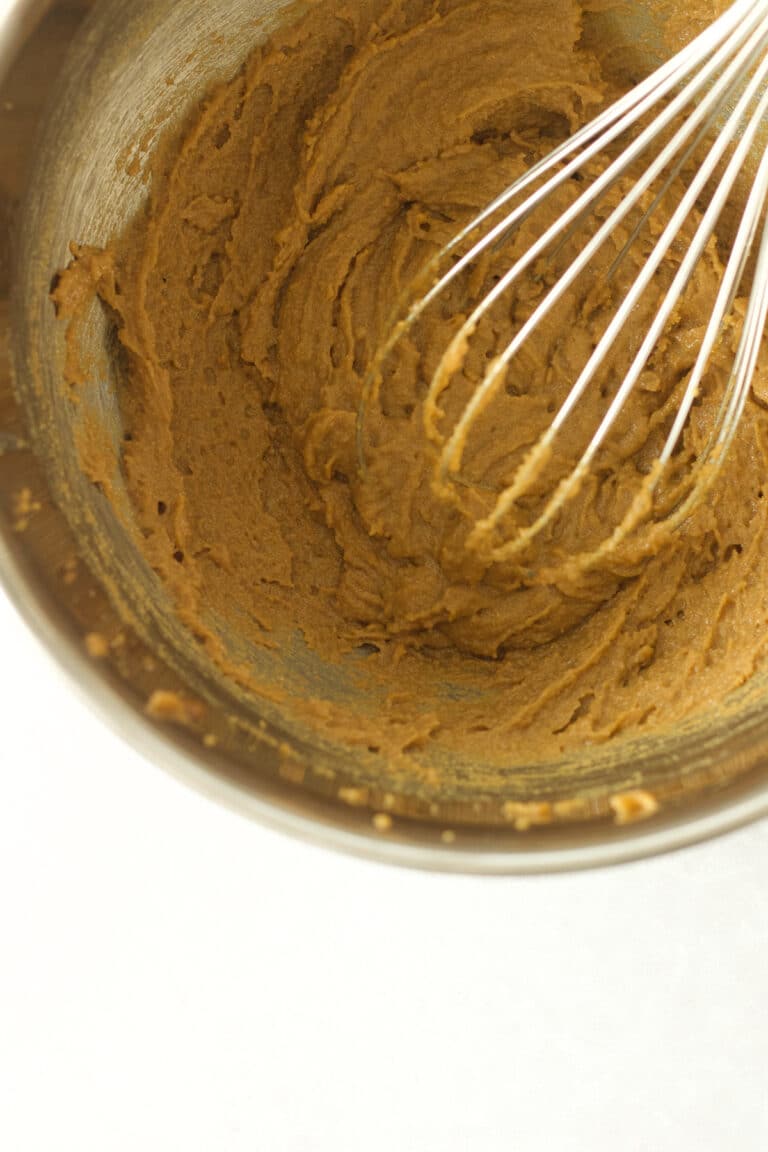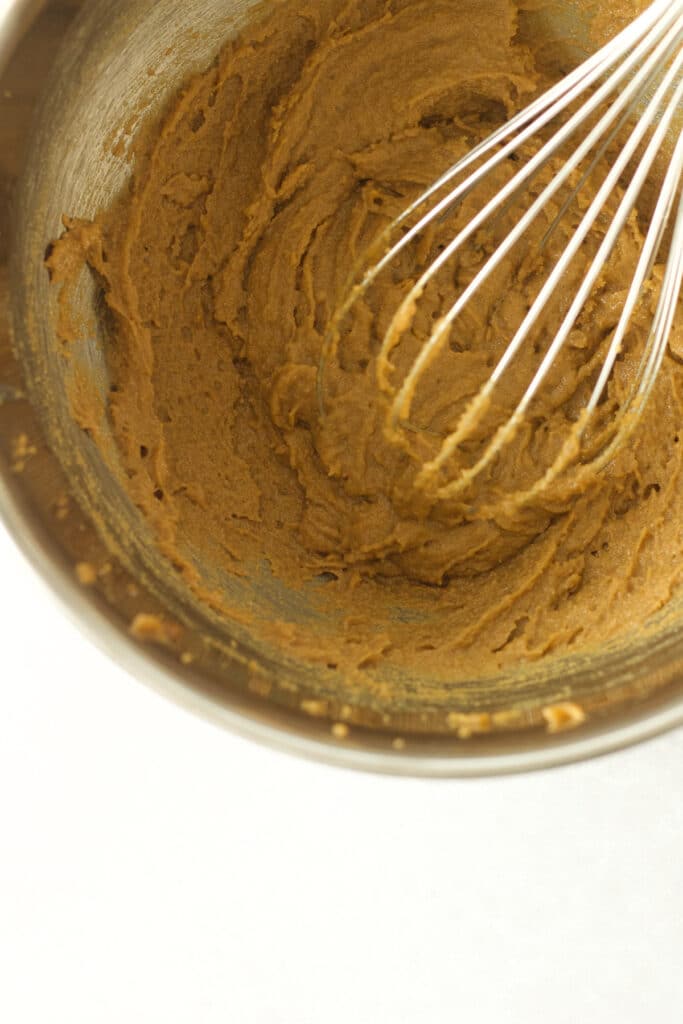 What you'll need
It's a pretty typical lineup, but the results are perfect:
Butter. The start to every great cookie...and basically every dessert! You'll need cooled, melted butter for the bars and soft, room temperature butter for the caramel. Plan accordingly!
Flour. I've only tried these with all-purpose flour, but I do believe a gluten free "cup-for-cup" flour could work too. If you try it, please report back!
Baking soda. For normal, baking, science reasons.
Salt. Regular for the bars and flaky for the top (don't skip it!).
Sugar. You'll need both brown and white for the cookie bars, and some more white sugar for the caramel.
Egg. Again, normal baking things.
Vanilla. For both the bars and caramel. You'll miss it if you forget.
Chocolate: I love to use dark chocolate bars in my chocolate chip cookies, and these bars are no different. A chopped up bar of chocolate means you'll get those fabulous puddles of melty chocolate throughout. But if chocolate chips are more your thing, go for it! You can also use semi-sweet or milk chocolate if you prefer.
Heavy cream: Stirred into the caramel to create a smooth, rich swirl throughout.
Bourbon: Technically optional, but very very fun. Just 1-2 tablespoons is all you need!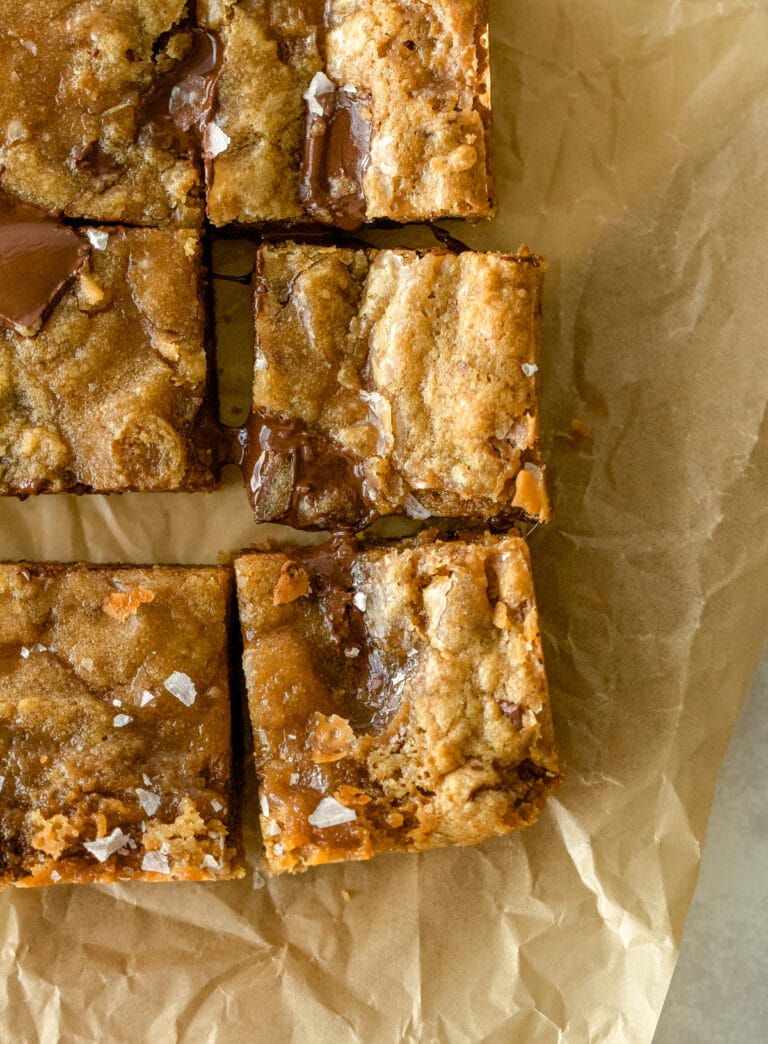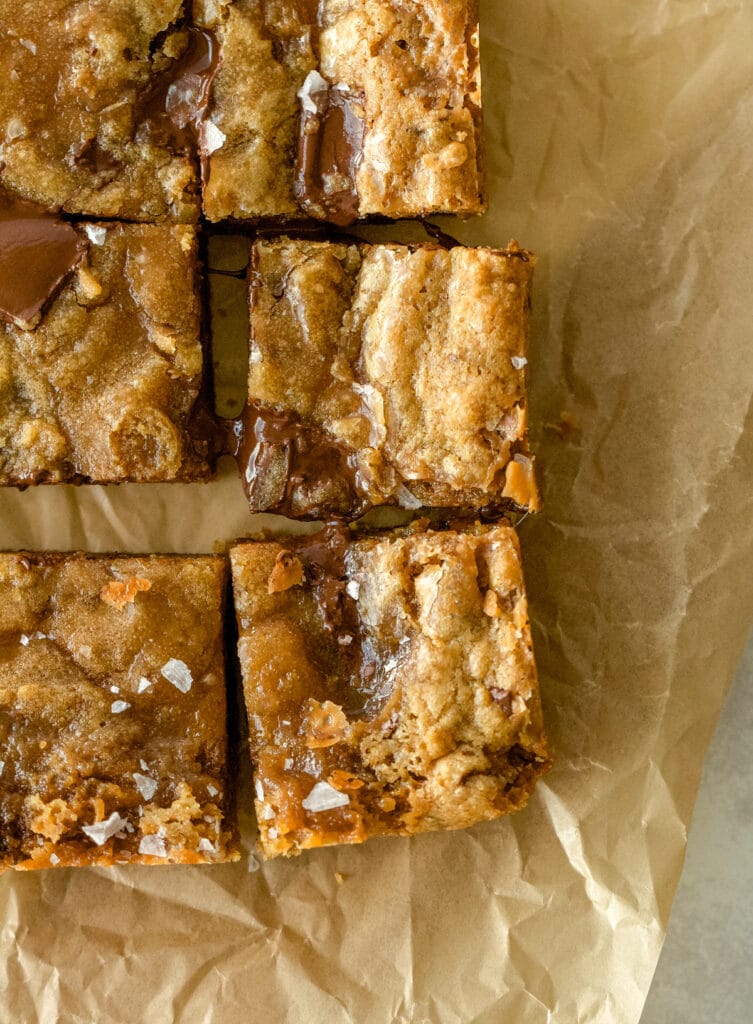 How to make caramel swirled chocolate chunk bars
Prep your ingredients
If you haven't already, measure out the butter and heavy cream and let it sit so it can come to room temperature before you make the caramel. Melt the remaining butter for the bars and let it cool for 10 minutes.
Mix the dry ingredients
In a small bowl, add your flour, baking soda and salt. Set aside.
Whisk wet ingredients
In a large bowl, add cooled, melted butter and both sugars. Whisk together until it lightens in color and gets a little fluffy (see photo above). This should take about 4-5 minutes of hand whisking. You can definitely do this with an electric hand mixer or stand mixer if you prefer.
Add egg and vanilla and whisk to combine
Bring dough together
Add dry ingredients to wet and use a spatula to fold in. Add chocolate chunks and fold to combine. Set aside while you make caramel.
Make bourbon caramel
In a pot, combine sugar and water. This recipe uses a little more water than usual to allow all of the sugar to be moistened before it starts to boil. While it will take a few extra minutes on the stove, this ensures none of the sugar burns.
Let mix come to a boil over medium-high heat but DO NOT STIR. I like to pick up the pan and gently swirl it every once in a while to ensure nothing is sticking or burning, but stirring can cause crystallization so try your best to not touch. The boiling process should take about 10-12 minutes to turn into a deep amber color. At that point take off the heat.
Carefully add your heavy cream (it will bubble like crazy, but just stir it down) and softened butter and mix to combine. Lastly, add your vanilla and bourbon and then let cool for a couple of minutes.
Get to swirling
Press about ⅔ of the dough into a lined 8x8 pan. Add half of the caramel and use a spoon or spatula to spread into as even of a layer as you can. Using a butter knife, gently swirl the caramel into the dough.
Add the remaining dough on top and spread out - it won't cover everything and the caramel will peek through. This is good!
Bake + cool
Bake bars for 20-22 minutes or until bars are light brown on the edges but still a little jiggly in the middle. This ensures the most perfect, gooey bite when the bars cool.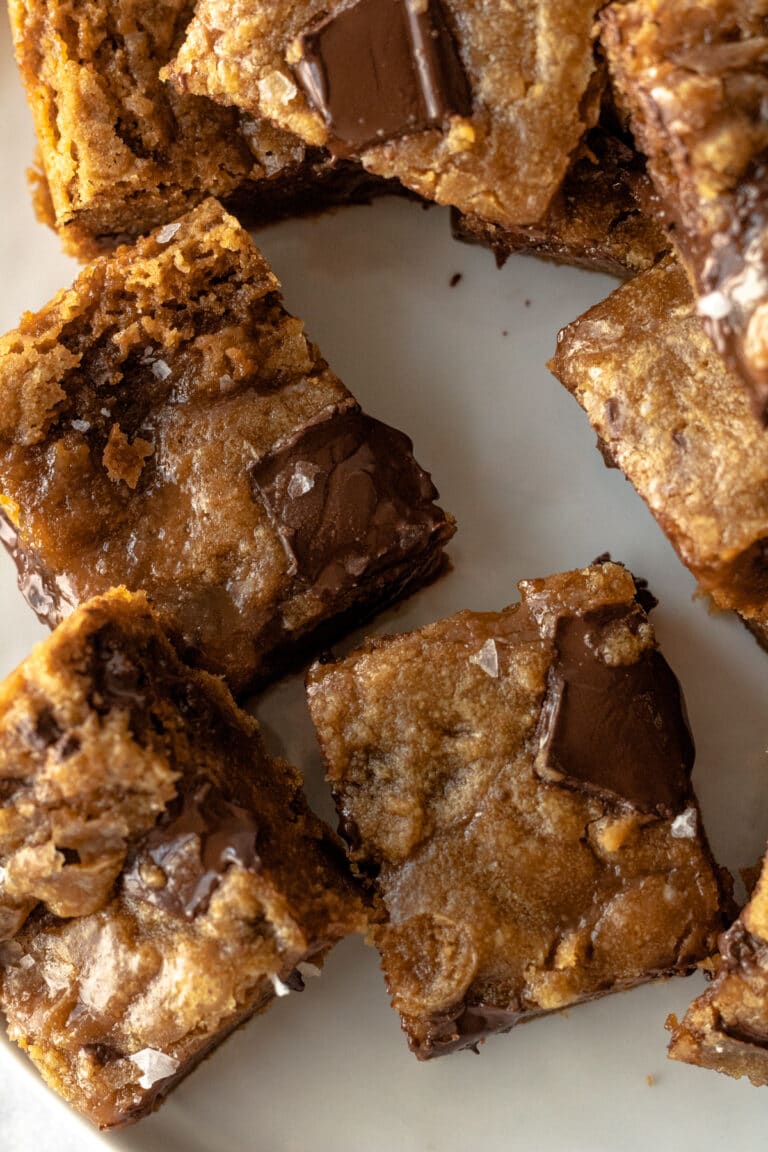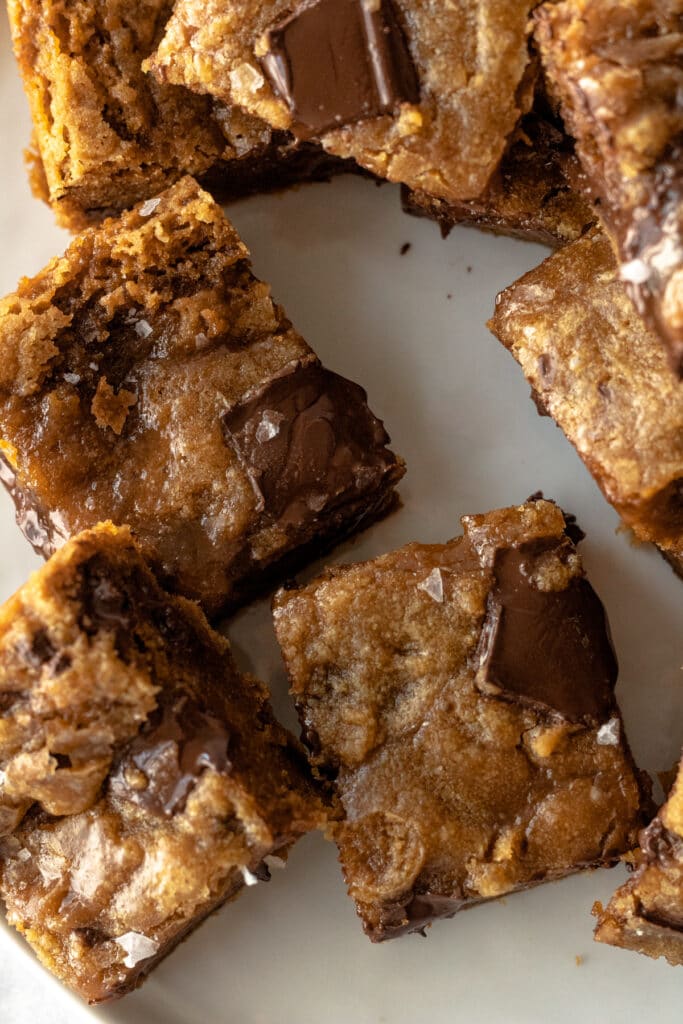 Frequently Asked Questions
Can I make these into cookies instead of cookie bars?
I don't see why not! Swirl the caramel throughout the dough and then bake cookies like you normally would. For this dough, I'd up the temp to 350 and bake for 9-11 minutes or until they are brown on the edges and a little gooey in the middle.
Help! My caramel got clumpy. What happened and how can I fix it?
Most likely your sugar crystallized. In this recipe we use a little extra water and mix it with the sugar before we start cooking to (hopefully!) keep this from happening. But if you see your sugar start to clump up and crystallize while it's boiling, try adding a little more water (just a tablespoon at a time) and stir until the sugar melts again.
Can I use store-bought caramel?
Absolutely! I love the Trader Joe's salted caramel for these, but any caramel sauce you find will work.
What can I do with extra bourbon caramel?
Drizzle it on ice cream, add it to your coffee or lattes, OR keep it in the fridge and make another batch of these bars next week!
Do these bars freeze well?
They sure do! I like to take them out of the pan and then wrap in plastic wrap and foil. To thaw, just remove from wrap and let sit out for a few hours. These are also great to cut and freeze individually for a quick treat whenever you want one!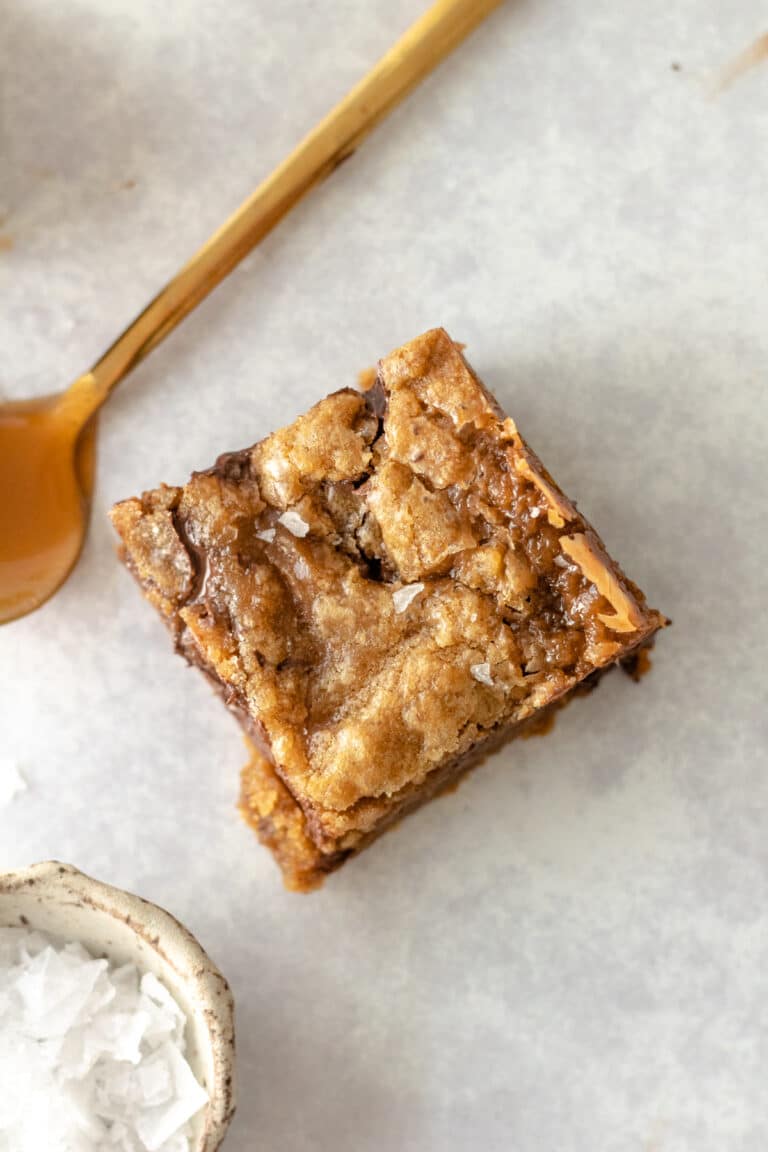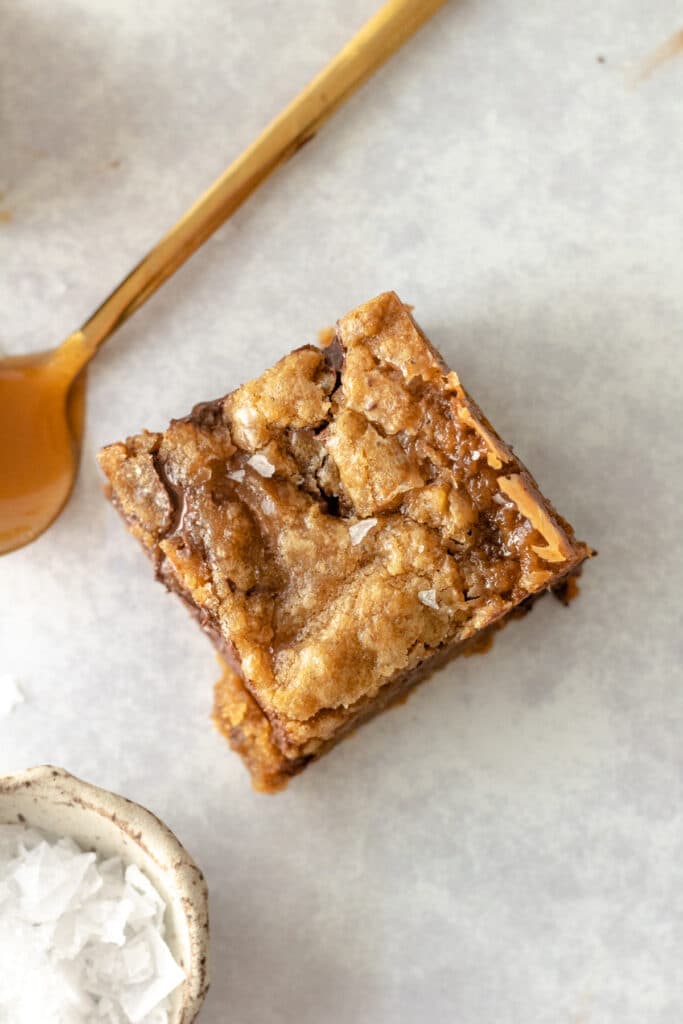 Print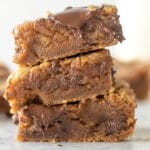 Bourbon Caramel Swirled Chocolate Chunk Bars
---
Description
Imagine a giant chocolate chip cookie with a swirl of bourbon-spiked caramel. These bars are chewy, gooey and chock full of melty chocolate. Basically the perfect dessert!
---
1 ½ cups

(

215 grams

) flour

½ teaspoon

baking soda

¼ teaspoon

salt

8 tablespoons

(

113 grams

) unsalted butter, melted and cooled

½ cup

(

125 grams

) brown sugar

½ cup

(

105 grams

) sugar, divided

1

egg

1 ½ teaspoons

vanilla

2 oz

dark chocolate, chopped
Flaky sea salt
Bourbon caramel
½ cup

(

105 grams

) sugar

¼ cup

(

2 oz

) water

¼ cup

(

2 oz

) heavy cream, room temperature

2 tablespoons

(

28 grams

) butter, room temperature

1 teaspoon

vanilla

2 tablespoons

bourbon
---
Instructions
Preheat oven to 325. Line an 8x8 pan with parchment paper.
Whisk together 1 ½ cups (215 grams) flour, ½ teaspoon baking soda and ¼ teaspoon salt. Set aside.
Beat 8 tablespoons (113 grams) melted and cooled butter with ½ cup (125 grams) brown sugar and ½ cup (105 grams) sugar for 3-5 minutes, until light and fluffy. Add 1 egg and 1 ½ teaspoons vanilla and mix to combine.
Slowly add dry ingredients and mix on low. Fold in 2 oz chocolate by hand. Set bowl aside while you make caramel.
Combine ½ cup (105 grams) sugar and ¼ cup (2 oz) water in a pot. Stir to combine so all the sugar is moistened.
Turn heat to medium-high and let sugar and water come to a boil. Let boil for 10-12 minutes until mixture turns a deep amber color. DO NOT STIR during this time, but if you want you can gently swirl the pan a few times to ensure nothing burns. Once you get that deep amber color, remove from heat.
Immediately, but slowly and carefully, pour in ¼ cup (2 oz) heavy cream and stir to combine. Add 2 tablespoons (28 grams) butter and stir until butter melts and mixes into caramel. 
Add 1 teaspoon vanilla and 2 tablespoons bourbon and mix to combine. Let cool for 5 minutes. 
Press ⅔ of the dough into the pan. Add about half of the caramel and spread into as even of a layer as you can get it. Then use a knife to gently swirl it into the dough.
Top with spoonfuls of remaining dough and spread lightly to cover (it's okay if some caramel is peeking through!!).
Bake for 20-22 minutes, until edges turn a light brown but the center is still a little jiggly.
Let cool completely before cutting.
Notes
If the idea of making caramel make you laugh (I get it!), store-bought caramel is totally fine for this recipe. I love the salted caramel one from Trader Joe's!
Prep Time:

20 minutes

Cook Time:

20 minutes

Category:

Dessert

Method:

Oven