Craving a giant, gooey chocolate chip cookie but on your own? This Levain Bakery copycat recipe is PERFECT! Make one big cookie for yourself or split it in half to share (if you want!). Golden brown on the outside and perfectly underbaked on the inside for a soft, gooey, chocolaty treat!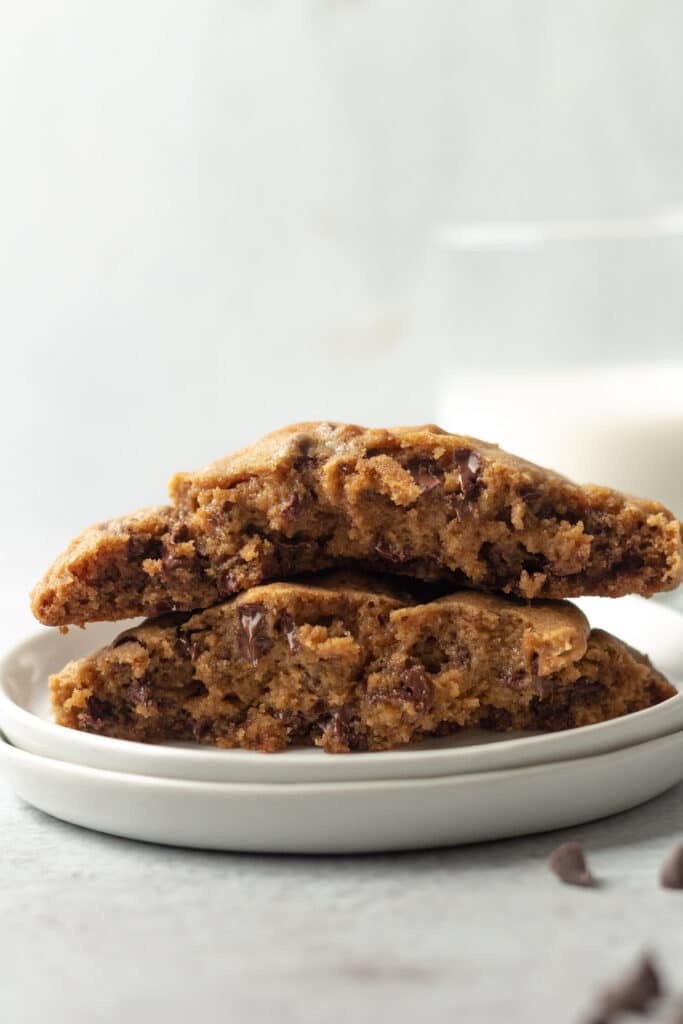 Recipe testing is very important to me. Every recipe you find here has been tested multiple times because my goal is to make things as easy as possible for you.
But this cookie? This cookie! I truly, truly cannot count the number of times I've made this ONE giant chocolate chip cookie. Partly because perfect takes practice, and partly because perfect tastes delicious.
This cookie is hands down one of the best things to come from my kitchen, and I'm this close to adding it to my resume.
Let's do this thing.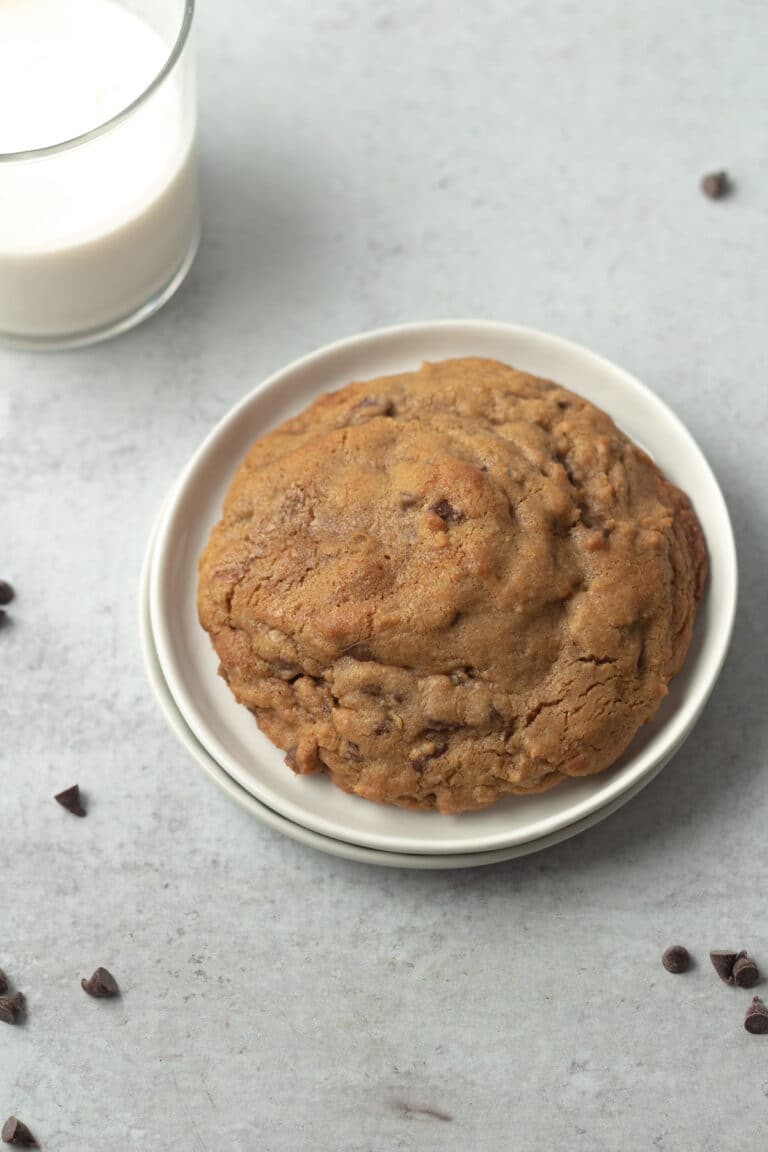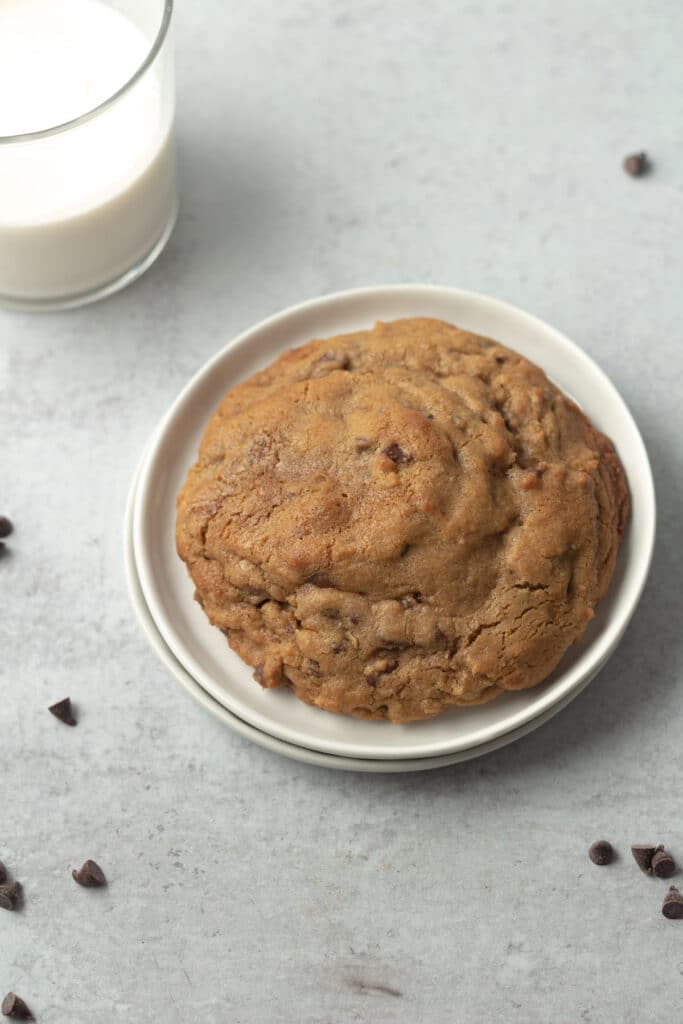 Our Inspiration: Levain Bakery
If you are not familiar, Levain Bakery is a bakery in New York City famous for their giant, thick, amazing cookies. Light golden brown on the outside, and perfectly ooey-gooey on the inside, levain chocolate chip cookies are basically a meal.
This cookie is 100% inspired by them. Because not everyone has access to the real thing, but everyone deserves a giant, gooey chocolate chip cookie whenever they want.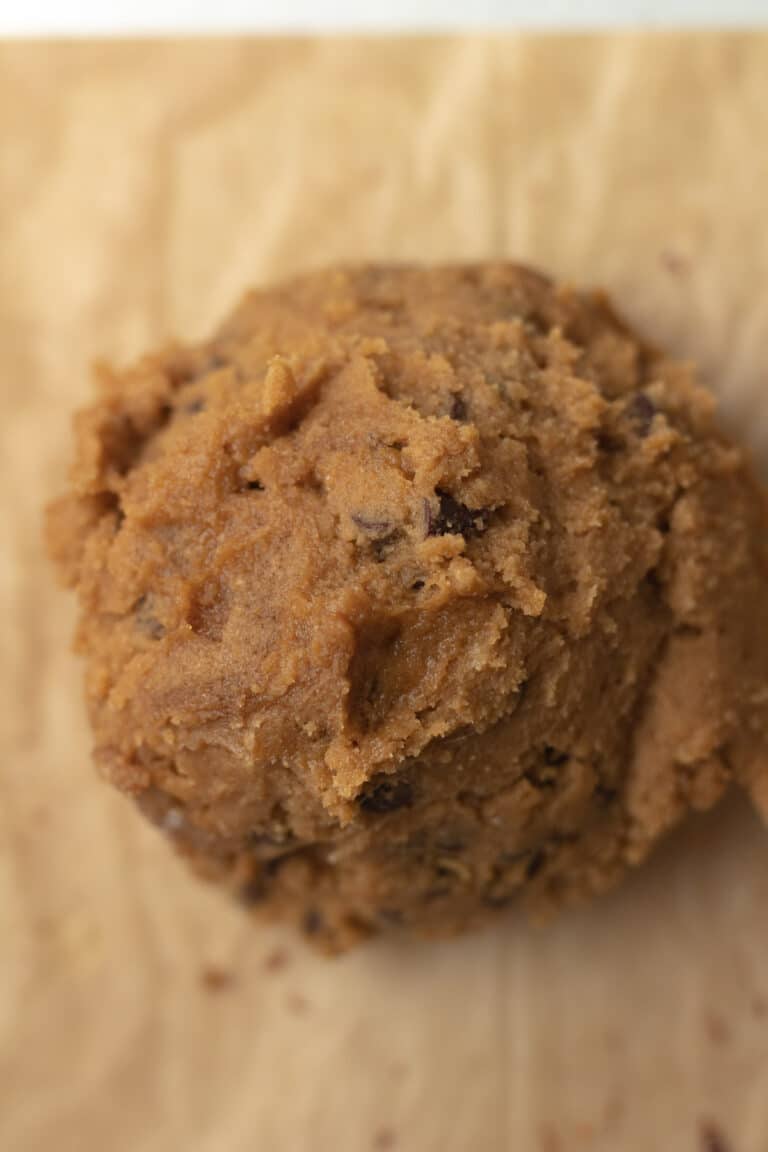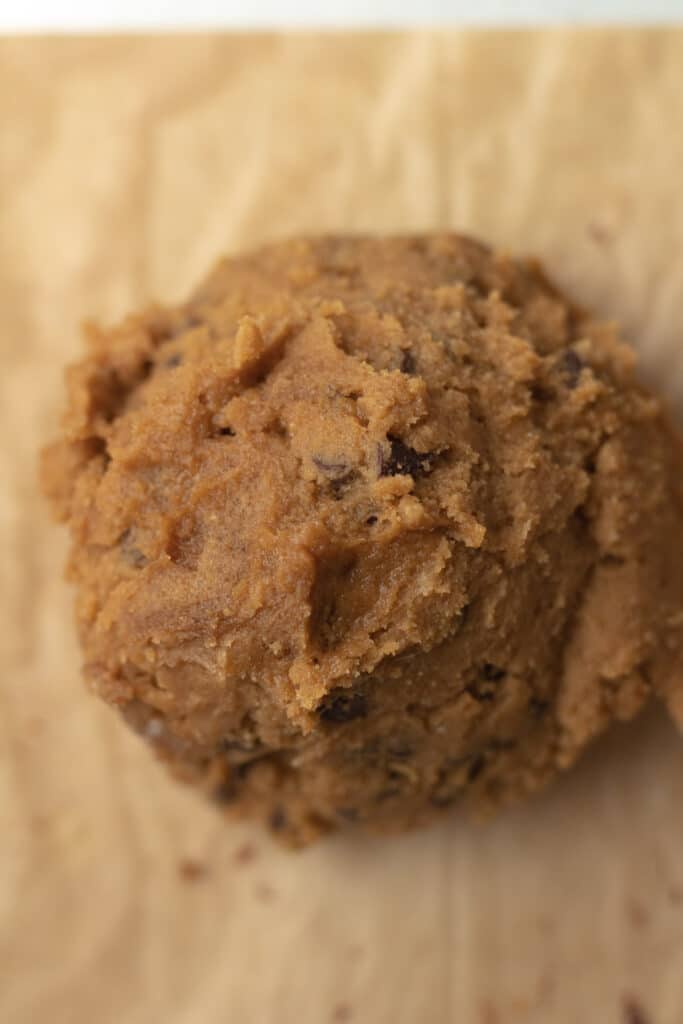 What you'll need
Unsalted butter: You don't even need to soften the butter for this one, pull it straight from the fridge and start mixing!
Brown sugar: You'll use more brown sugar than white sugar for a chewier, cookie.
Granulated sugar: For extra sweetness and structure to the cookie.
Egg yolk: I tested this with one full egg but to end result ended up too cake-like. Use the yolk and then freeze the white or throw it in your scramble the next morning!
Cornstarch: You'll use the tiniest amount, but cornstarch helps to keep the cookie thick and perfectly chewy. Don't skip it!
Baking soda: Typical for any cookie, baking soda is necessary to keep the cookie soft and not too dense.
Salt: For flavor! If you'd like you can add a little extra flaky salt on top of the cookie as well.
Flour: To make this as easy as possible, I developed this recipe to use regular ol' all-purpose flour. However, for a more tender cookie you can replace half of the all-purpose with cake flour.
Chocolate chips: Even though I'm generally a chocolate chunk gal, in this giant chocolate chip cookie I love mini chocolate chips. They get EVERYWHERE so you have melty, gooey chocolate in just about every bite.
NOTE: One ingredient you'll notice is NOT here is vanilla. Isn't that crazy? I tested this recipe with vanilla a few times and it just never came out right. For just one cookie, it's really tough to get the proportions of an ingredient like that right, and I found that the flavor was spot-on even without the vanilla!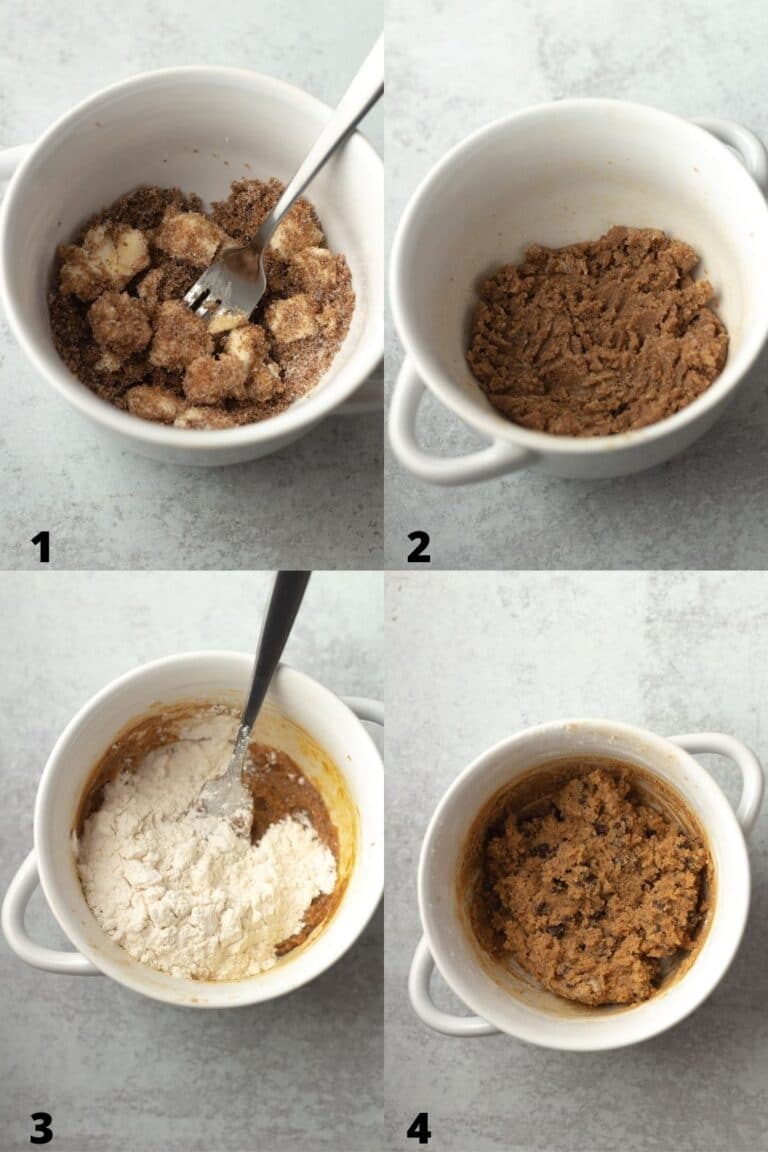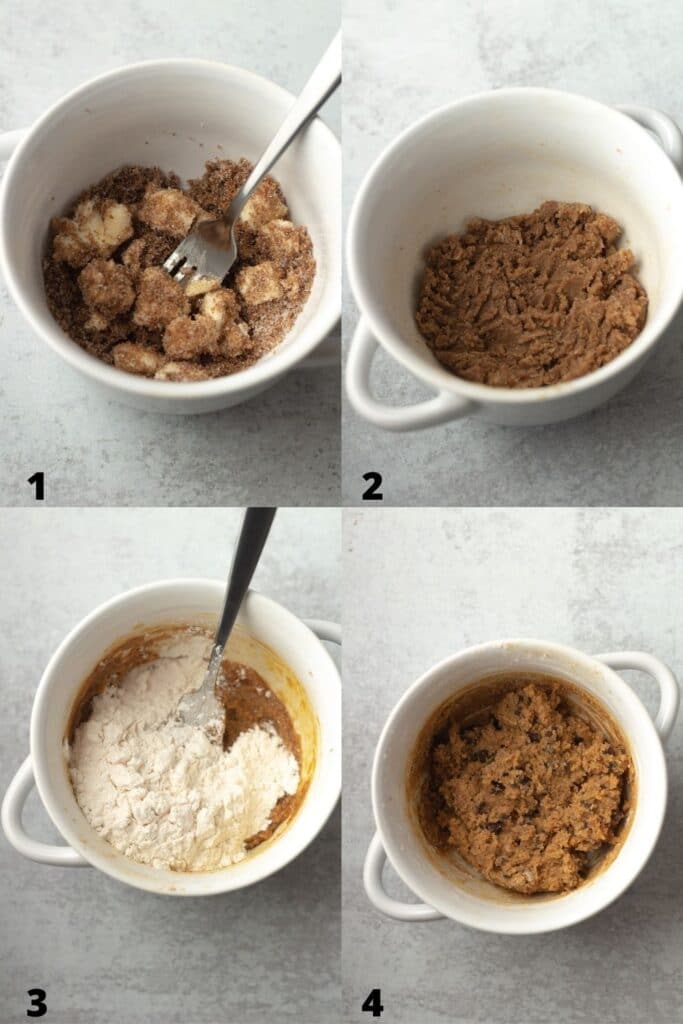 Baking for one
I know it can feel like a lot of work to make one cookie, but this is one of those recipes that I file under self-care. Everyone deserves a thick, gooey, chocolate chip cookie every now and then - and this is the BEST chocolate chip cookie for that craving.
You won't need special equipment or anything to make this cookie for one, but I do suggest finding a ⅛ teaspoon measuring spoon. Not all sets come with it, but because we're baking it's important to measure perfectly. I have this measuring spoon set, but you should be able to find one at other stories or online.
For the rest of the ingredients, I HIGHLY recommend using a kitchen scale to weigh out everything. It makes it so easy to just add everything to one bowl and not worry about pulling out multiple measuring cups and spoons.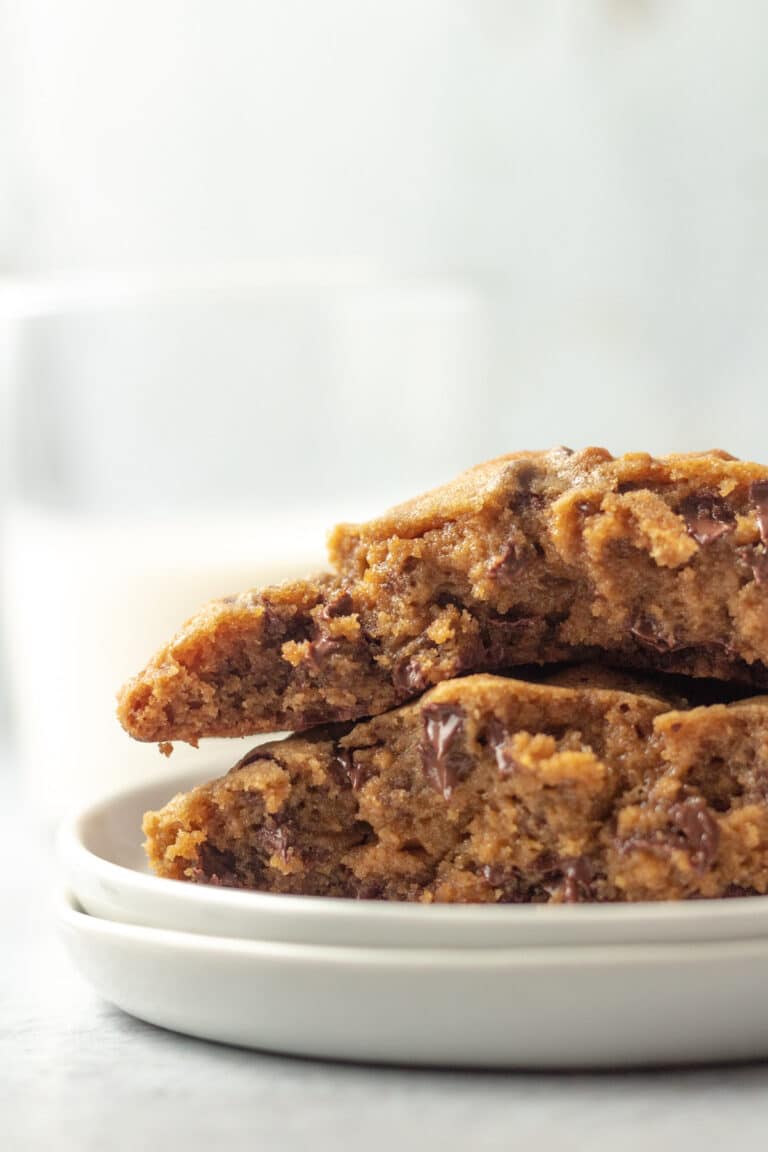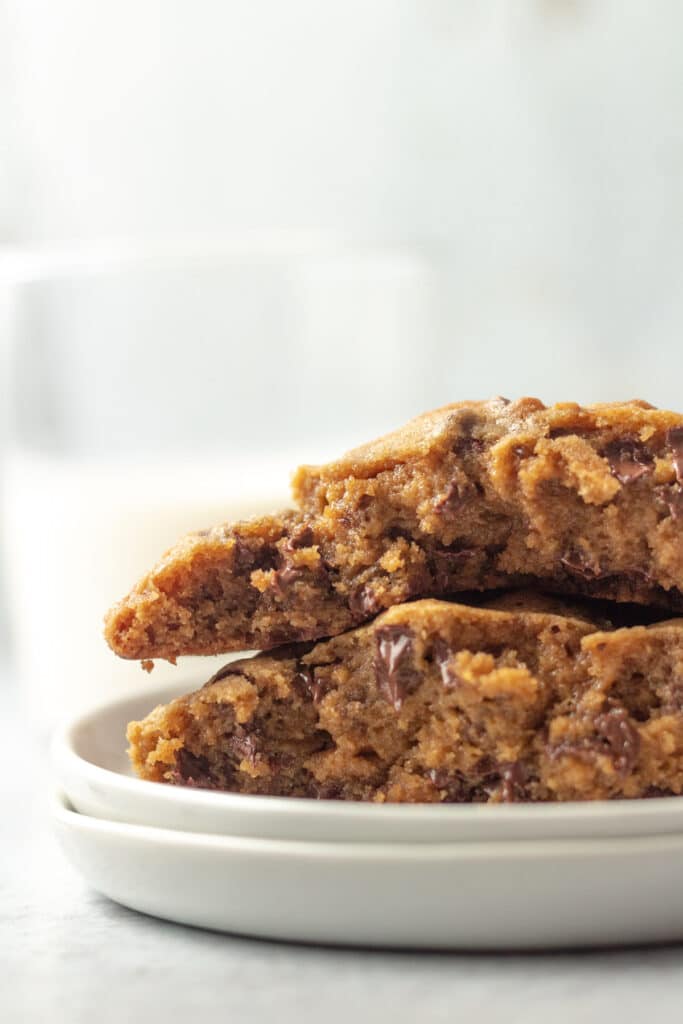 Tips for the perfect (giant) cookie
Use cold butter and egg. Many cookie recipes will have you use softened butter and room temperature eggs OR melted butter and then you have to let the dough rest in the fridge before baking. My way around this is to use cold butter and a cold egg yolk so you can bake this cookie right away, but still get the same, chewy, gooey result.
Mix the butter and sugar well with a fork or small whisk. Because you are using cold butter, it does take a little extra work to get it incorporated with the sugars. I find using a fork and a little elbow grease works best, but a small whisk should work too.
Add cornstarch. Cornstarch helps to keep the cookie thick (a Levain Bakery signature) and perfectly chewy. To really drive this point home, you can also replace half the flour in this recipe with cake flour.

Optional: Replace half the all-purpose flour with cake flour. By adding the cornstarch in this recipe you are basically making cake flour (all purpose + cornstarch = cake flour) so adding in some actual cake flour will result in an even more tender cookie.

Bake time. The bake time here is super important to get a cookie that cooks quickly on the outside with a still perfectly gooey center. You'll bake these at a high temperature (375 vs. 350) and for a little longer than a "normal" sized one - I find 13 minutes is almost always perfect, but your oven may vary. You want the outside to be golden brown, but the center to still be tender if you lightly touch the top.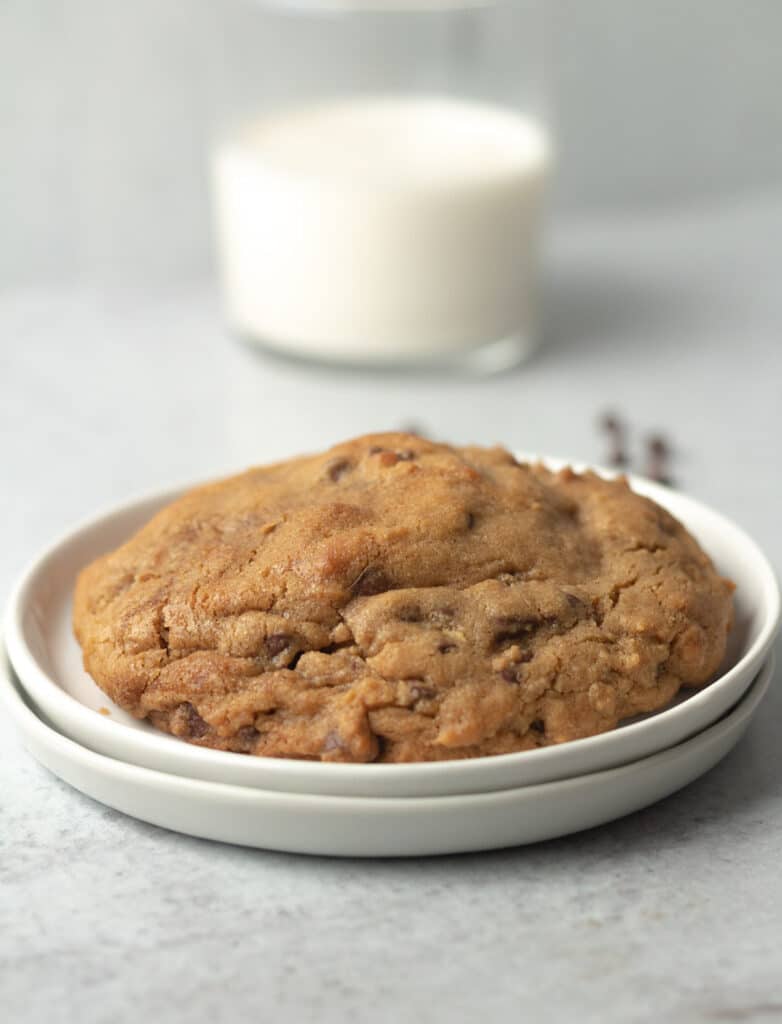 Frequently Asked Cookie Questions
How many servings is one giant chocolate chip cookie?
Uh, if it says one cookie then I say it's for one person. But! This is obviously a GIANT cookie and amounts to about 3 "normal" sized cookies, so you can definitely share this one. Or eat some now, and save the rest for tomorrow.
What does cornstarch do in cookies?
Cornstarch keeps the cookie thick and chewy. Many of the copycat Levain Bakery cookie recipes out there call for cornstarch and/or cake flour. It's crucial to get that big, thick style of cookie we're going for here.
Can you use cold butter for cookies?
Yes, and you absolutely should for this cookie! While it's a little harder to mix with the sugar, using cold butter keeps the dough colder so the cookies won't spread as easily or as much in the oven, which is perfect for this thick Levain-style cookie.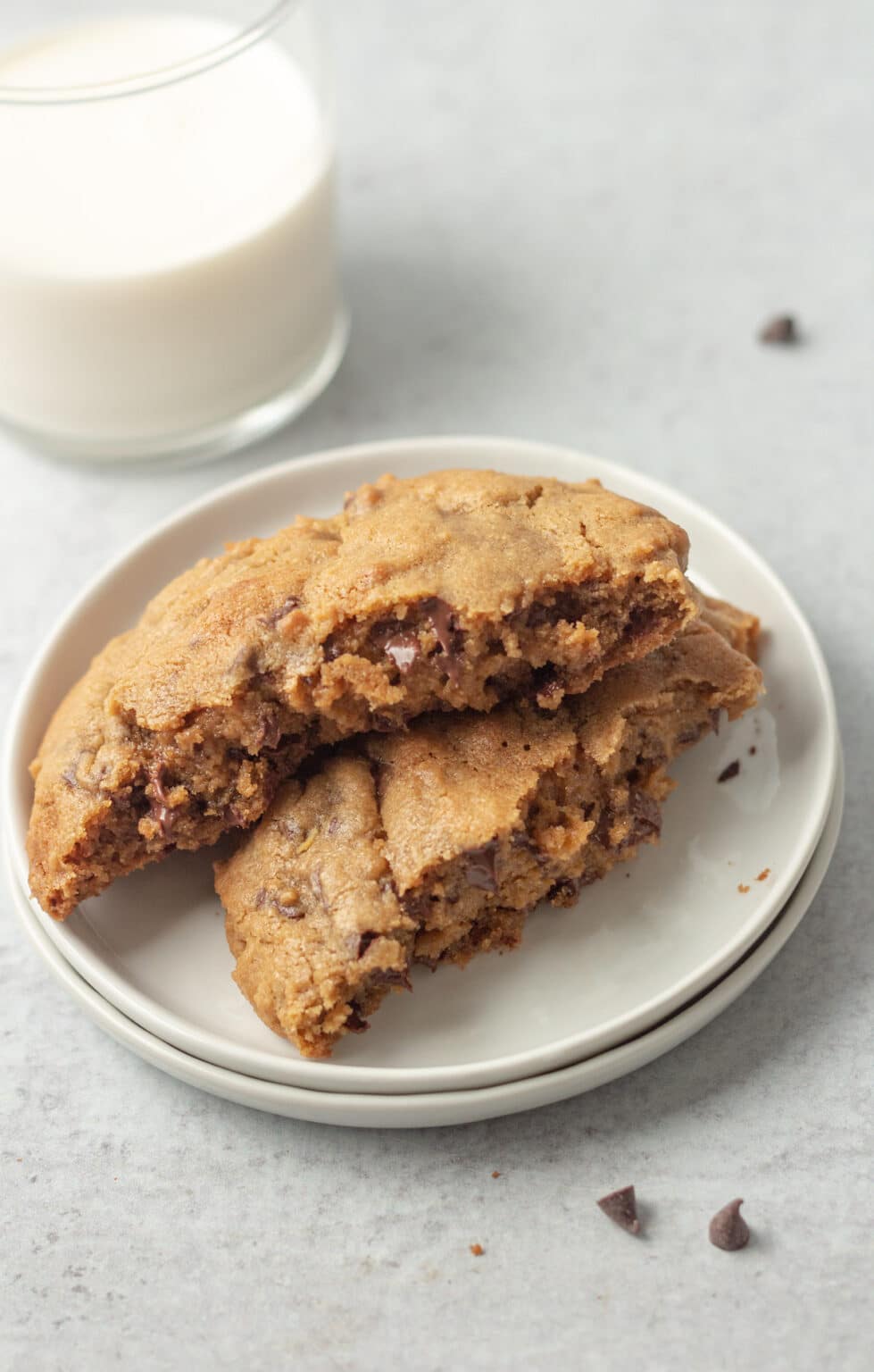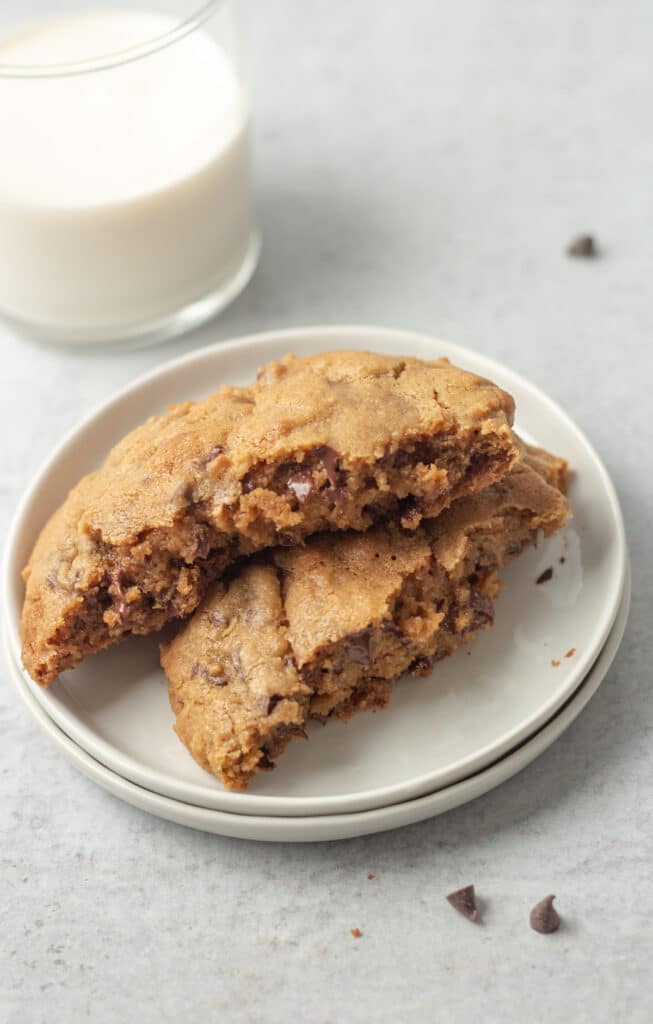 Print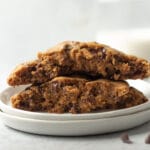 One Giant Chocolate Chip Cookie (Levain Cookie Copycat)
---
Description
Craving a giant, gooey chocolate chip cookie but on your own? This Levain Bakery copycat recipe is PERFECT! Make one big cookie for yourself or split it in half to share (if you want!). Golden brown on the outside and perfectly underbaked on the inside for a soft, gooey, chocolaty treat!
---
2 tablespoons

(

27 grams

) unsalted butter

2 tablespoons

(

33 grams

) dark brown sugar

1 tablespoon

(

13 grams

) granulated sugar

1

large egg yolk

⅛ teaspoon

cornstarch

⅛ teaspoon

baking soda

⅛ teaspoon

salt

6 tablespoons

(

50 grams

) flour

¼ cup

(

35 grams

) chocolate chips (I like mini chips for this, but anything will work)
---
Instructions
Preheat oven to 375. Line a small baking sheet with parchment paper.
Cut 2 tablespoons (27 grams) cold, unsalted butter into small cubes and place in mixing bowl. Add 2 tablespoons (33 grams) dark brown sugar and 1 tablespoon (13 grams) granulated sugar. Use a fork to combine butter and sugars. This will take a few minutes and will be difficult at first. Just keep pressing and mixing until the butter is fully incorporated into the sugars (see process photos above).
Add 1 large egg yolk and mix to fully combine.
Add ⅛ teaspoon cornstarch, ⅛ teaspoon baking soda and ⅛ teaspoon salt. Mix until you don't see any powder anymore - and then mix for another 10 seconds to ensure it's fully incorporated!
Add 6 tablespoons (50 grams) flour and stir until flour is mostly combined.
Add ¼ cup (35 grams) chocolate chips and stir everything until flour and chocolate is completely mixed in.
Transfer dough to baking sheet. The dough will be a little sticky, but dry enough to handle easily. You want to keep the dough as a mound, so don't worry about flattening the top or creating a perfect cookie dough ball.
Bake for 13-15 minutes, until the top and edges are browned. Let cookie sit for at least 10 minutes, but it will be absolutely perfect at 15-20 minutes.
Store any leftovers covered or wrapped.