Not in the mood for a full apple pie situation, but still want those flavors? This apple pie pavlova is the perfect fit! A chewy, crisp and marshmallow-like base topped with fluffy cardamom-spiced whipped cream and a quick stovetop apple pie filling. 
Click here for the full 2020 Thanksgiving for Two menu!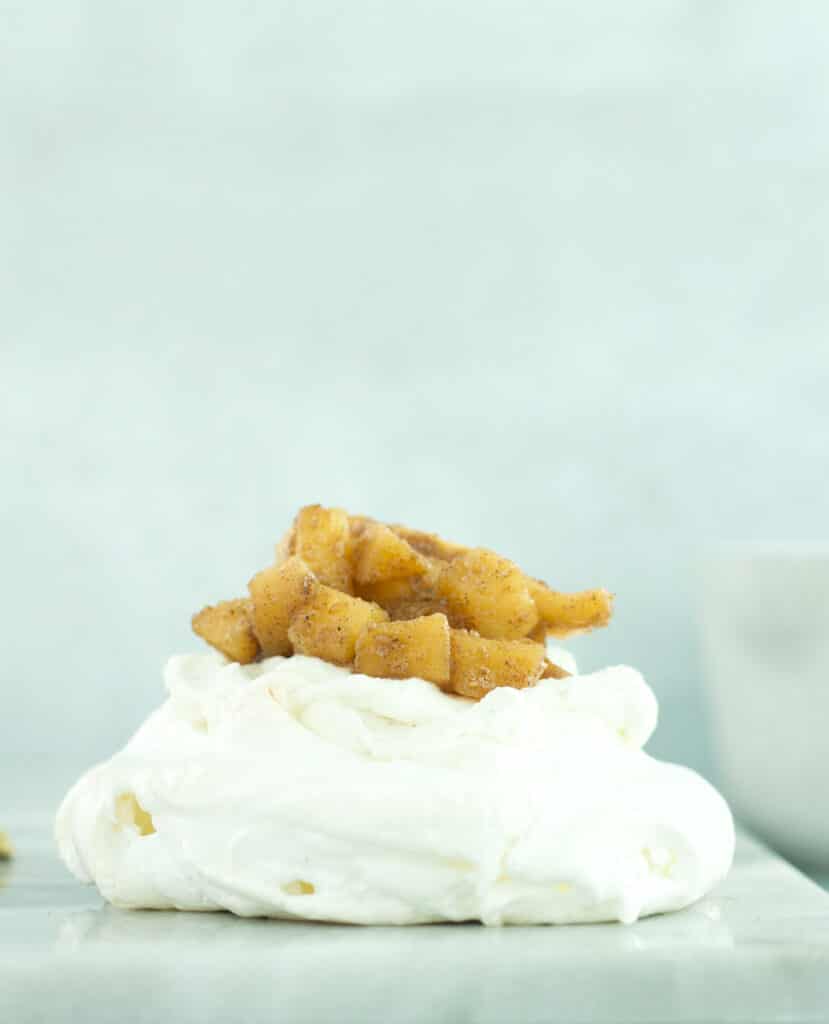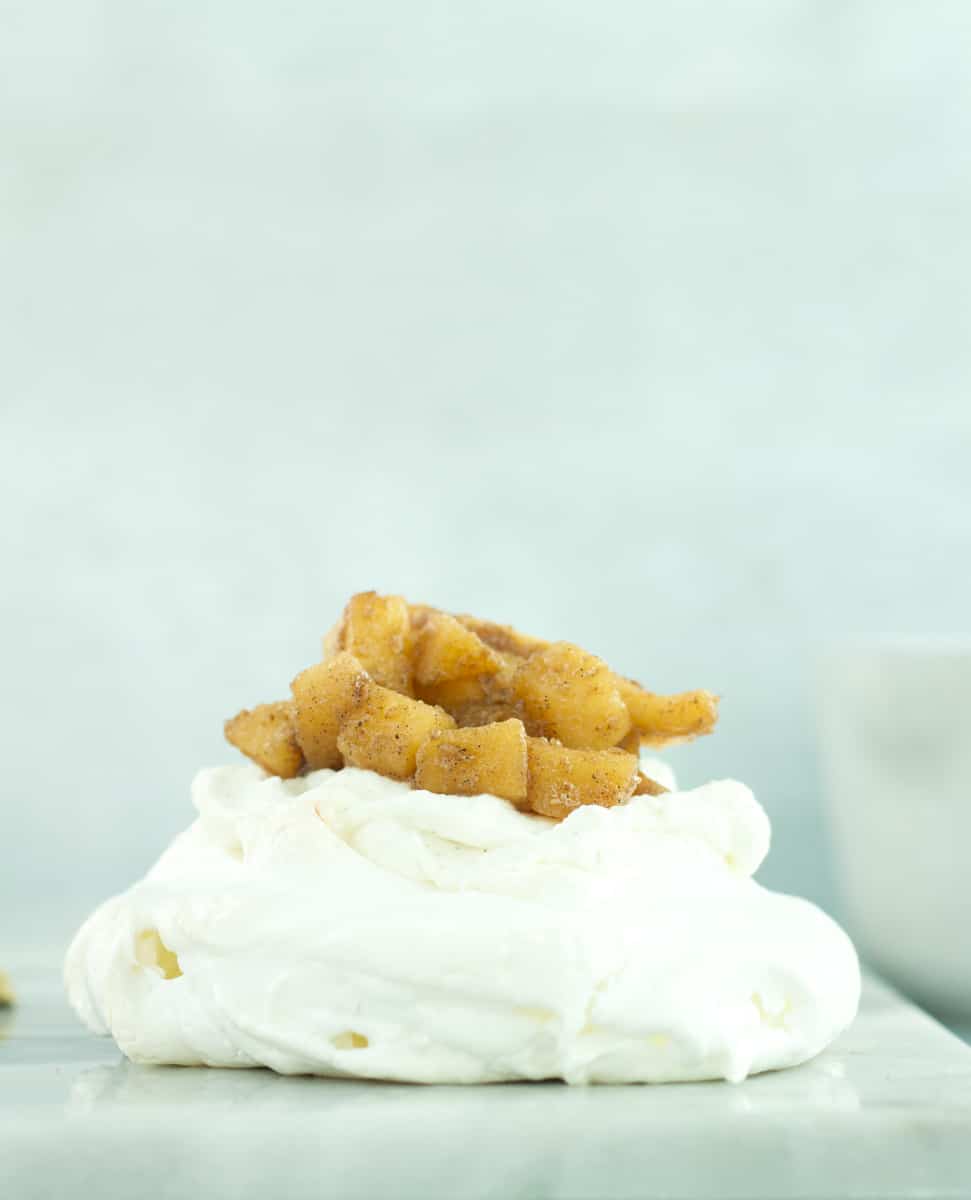 Print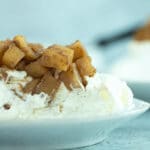 Thanksgiving for two: Apple pie pavlova with cardamom whipped cream
---
Author:

Mansee

Total Time:

0 hours

Yield:

2

1

x
Description
Not in the mood for a full apple pie situation, but still want those flavors? This apple pie pavlova is the perfect fit! A chewy, crisp and marshmallow-like base topped with fluffy cardamom-spiced whipped cream and a quick stovetop apple pie filling. 
---
Pavlova
2

egg whites, room temperature

½ cup

sugar

½ teaspoon

corn starch

¼ teaspoon

cream of tartar
Quick apple pie filling
2 tablespoons

butter

2 tablespoons

brown sugar

½

lb apples, peeled and chopped or thinly sliced

¼ teaspoon

lemon juice

¼ teaspoon

vanilla extract

½ teaspoon

ground cinnamon

¼ teaspoon

ground nutmeg

⅛ teaspoon

salt
Pinch of ground allspice and ground cloves (optional)
Cardamom whipped cream
½ cup

cold heavy whipping cream

¼ teaspoon

vanilla extract

¼

-

½

teaspoon ground cardamom
---
Instructions
Pavlova
Preheat oven to 350.
Using a handheld or stand mixer, whip 2 egg white on medium-high for 5 minutes or until soft peaks form (when you hold the beaters up the egg whites should kind of flop over, but not be runny).
Continue beating while you slowly add ½ cup sugar. Once all the sugar is added, increase speed to high and whip for another 2-3 minutes until stiff peaks form and the mixture turns glossy (when you hold the beaters up the whites should barely move). If it takes longer than 2-3 minutes, that's okay! Just keep going until you get there.
Using a spatula, gently fold in ½ teaspoon cornstarch and ¼ teaspoon cream of tartar.
Gently scrape mixture onto a parchment-lined baking sheet. You can do two like I've done here, or one large one. Using the spatula, nudge the pavlova into a circle shape (does not need to be perfect) and then create peaks so you have a little dip in the middle.
Place in oven and then immediately reduce heat to 200. Let bake for 45 minutes, or until pavlova is firm and dry. Try to only check 1-2 times so you aren't opening the oven door too much. Once the pavlova is dry, turn off the oven and let it completely cool in the oven. I like to keep mine in there for a couple of hours if I have the time.
If not making/eating pavlova right away, cover tightly and set aside. You can keep it like this at room temperature for up to 2 days (though I recommend eating within a day!).
Quick apple pie filling
Add 2 tablespoons butter to a small pot. Place over medium heat and let melt and cook for 5-7 minutes, until butter is browned and smells nutty. It's a small amount and can burn easily, so don't walk away! 
Once butter is amber brown, add 2 tablespoons brown sugar. Stir to combine and let cook for another minute.
Add ½lb chopped apples, ¼ teaspoon lemon juice and ¼ teaspoon vanilla and stir to combine. 
Add ½ teaspoon ground cinnamon, ¼ teaspoon ground nutmeg, ⅛ teaspoon salt and a pinch of allspice and cloves (if using). Stir well.
Reduce heat to low and let apples cook for 25-30 minutes until they soften but still have a little bite, and the butter/sugar thickens. Remove from heat and let cool.
Cardamom whipped cream
When ready to serve, whip ½ cup cold heavy whipping cream with ¼ teaspoon vanilla extract and ¼-1/2 teaspoon ground cardamom until you have soft and fluffy whipped cream.
Assemble and serve:
Place cooled pavlova on serving platter. Add whipped cream to center (don't be shy - pile it on), followed by apple pie filling. Top with more cinnamon or cardamom if desired!
Recipe adapted from Sally's Baking Addiction.
Notes
I don't put any sugar in the whip cream because the pavlova itself is quite sweet and I find that it's a little more balanced if the cream is not that sweet. However, you can add 1 tablespoon sugar if you'd like!
Prep Time:

15 minutes

Cook Time:

45 minutes + cooling

Category:

Dessert

Method:

Baking
I've got a fun Thanksgiving dessert for you!
But first, allow me to get my annual "I suck at pie" out of the way:
I SUCK AT PIE.
Okay. Sorry. It's tradition, ya know?
It's also true. I love to bake and have been doing it since I was a little girl, but have not figured out how to make a good pie. I'm just....not good at it.
While it's incredibly frustrating, it's also fun because it means I come up with other fun non-pie recipes during the holidays that are just as delicious.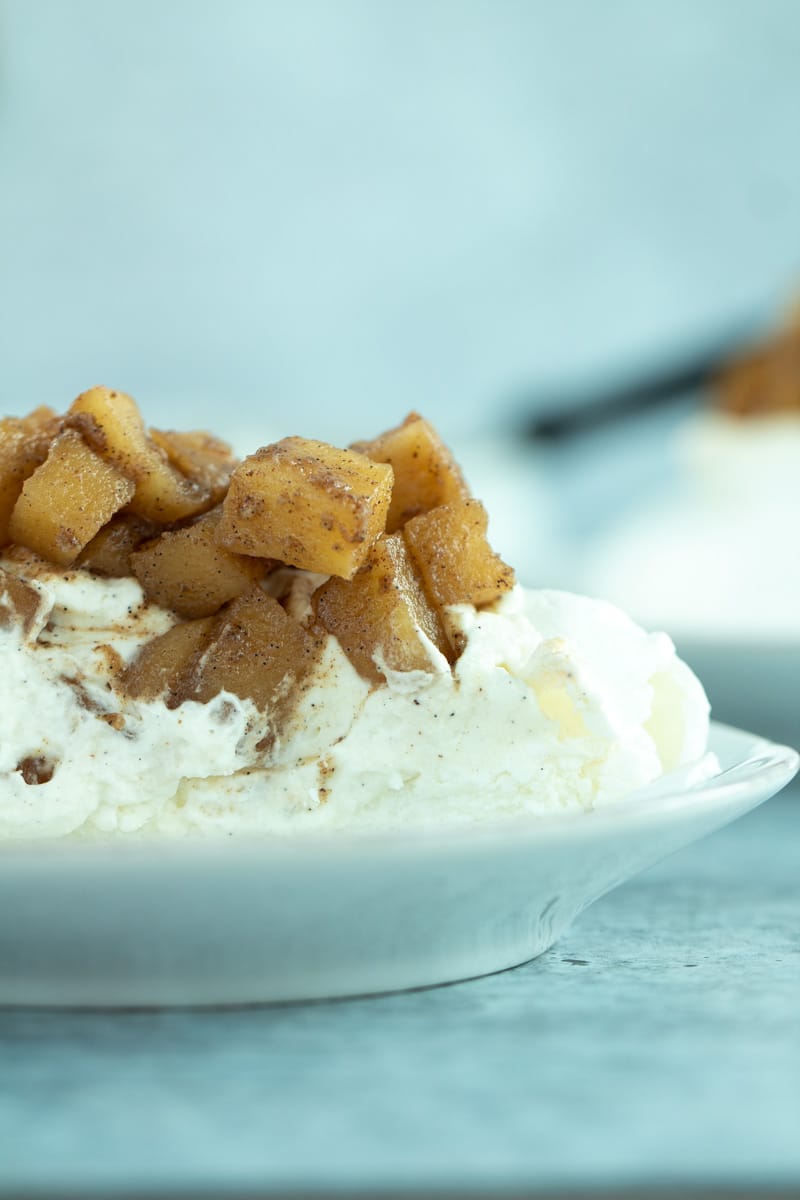 What is pavlova?
Glad you asked. Pavlova is made from whipped egg whites that are baked in a low oven slowly to create a chewy-crisp texture on the outside with a soft marshmallow-like center. Generally, they are topped with freshly whipped cream and fruit, but you'll also see ones with curd and jam. So many textures in one bite!
I made pavlova for the first time last year and fell head over heels in love. When I was thinking of an easy dessert that wouldn't require a whole party to finish, little pavlovas immediately came to mind!
And yes, I did say easy. There are a few steps to this and you definitely need to follow them all, but making pavlova is honestly as scary as it seems.
Let's go!
Making the base
Pavlova is basically egg whites and sugar. Seriously, you're whipping those two together so they get to that stiff-peak stage and that's essentially it. A little cornstarch and cream of tartar are folded in at the end to help keep the shape, but it's important to make sure your whites are whipped correctly to get the right texture.
Since these smaller pavlovas use just two eggs, I found I preferred using handheld beaters for this. But you can absolutely use a stand mixer with a whisk attachment. You'll start by beating the whites by themselves for about 5 minutes until you get soft peaks (see recipe directions above for more). Then slowly add the sugar while you continue to beat and keep going until you get stiff peaks.
At this point you can add flavor, like vanilla, but I didn't because the other components of this dessert take care of that for us here. Lastly, you'll carefully fold in corn starch and cream of tartar.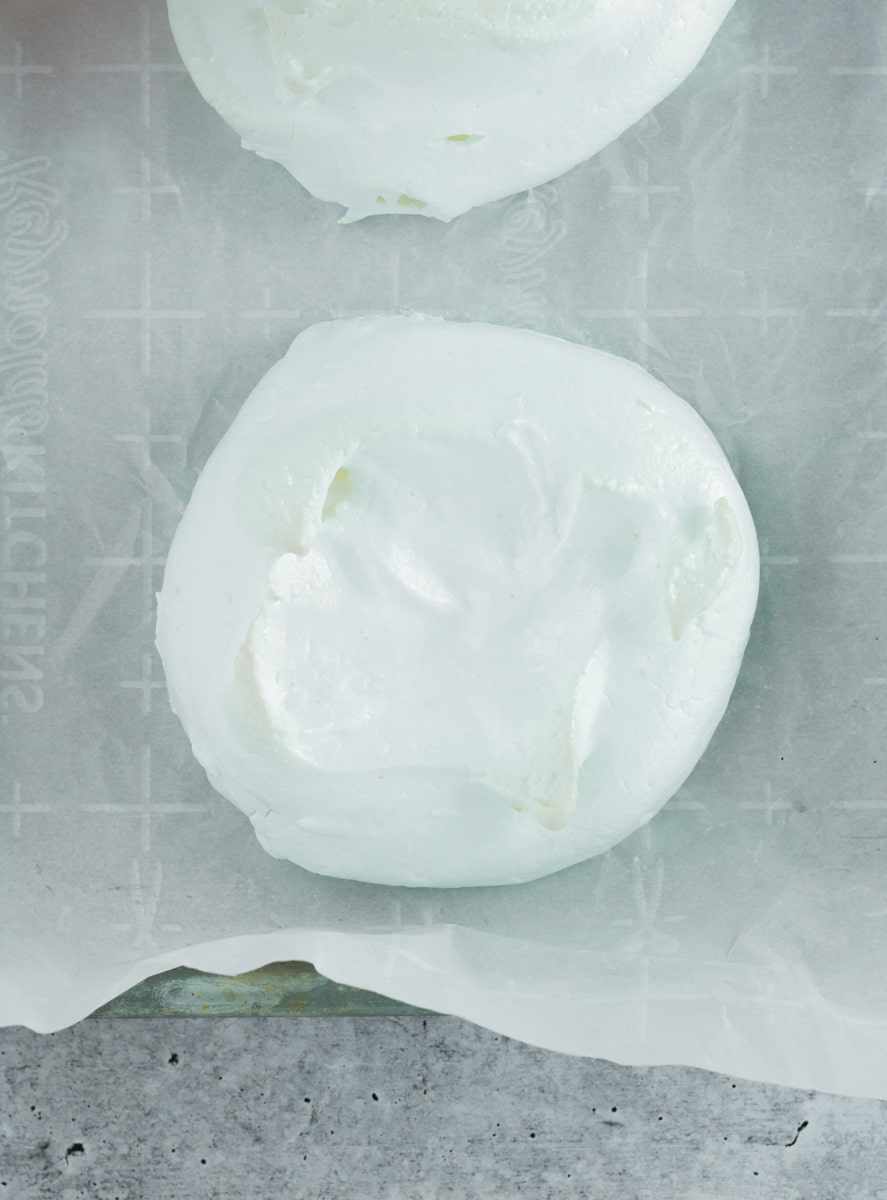 To bake these, I line a baking sheet with parchment paper and then just eyeball a circular shape. Many people will trace a shape on the paper and then be all perfect about it, but I don't always have the patience for that. Plus I love when these look super rustic! You can make one big pavlova, or two smaller ones like I did here. You can even make sure cute mini pavlovas - with this recipe you'll get 4-5.
While you start the oven at 350, the minute you put the pavlova in there the heat is reduced to 200. Then let it bake until the outside is totally dry. For this size, it will take about 45 minutes, but if you make yours bigger it can take up to 90 minutes. Try not to open the oven door too much, but check 1-2 times as it's baking to make sure it's drying correctly. Once it's ready, turn off the oven and let the pavlova cool completely in the oven.
Let's top this beauty!
The best part of pavlova to me is the mix of textures of the base with fluffy whipped cream. Each bite is kind of messy, but this perfect mix of chewy, crisp, sticky and creamy. So amazing!
Since we're go all out with Fall-inspired flavors, I added some ground cardamom to my whipped cream. Cardamom is one of my favorite flavors and it's so good with everything we have going on here.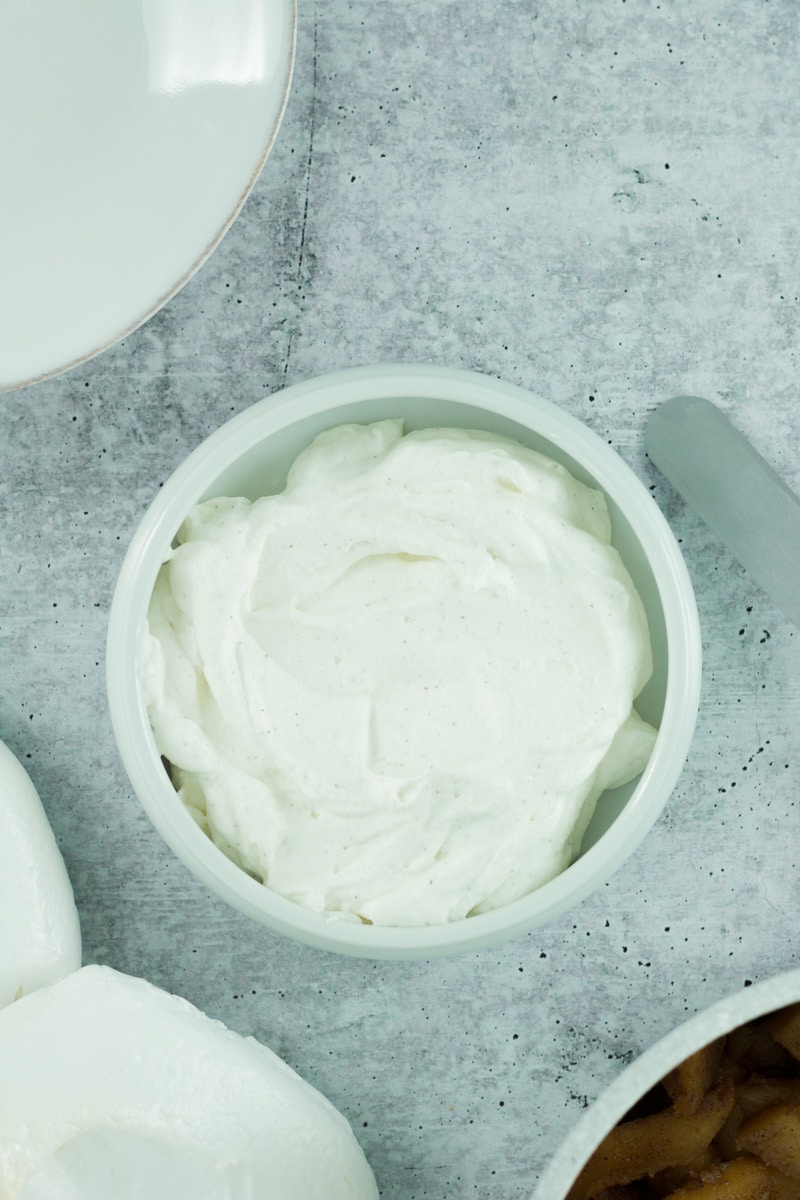 Lastly, the apples. Oh, the apples! First you brown a couple of tablespoons of butter (of course), and then stir in some brown sugar to make a caramel-like mix. Then toss in your chopped/sliced apples and combine with your favorite apple pie spices (which is basically all of them for me lol). Let all of that simmer away so the apples soften and the butter/sugar form a slightly sticky sauce. Make this while the pavlova is cooling in the oven so it can sit for a little while too.
You can re-warm the apples a bit when you're ready to serve, but this is perfectly delicious when the apples are cold or at room temperature. You might have some extra apples leftover, and I highly suggest you eat them over ice cream or even with oatmeal the next day!
What a way to end a meal, huh?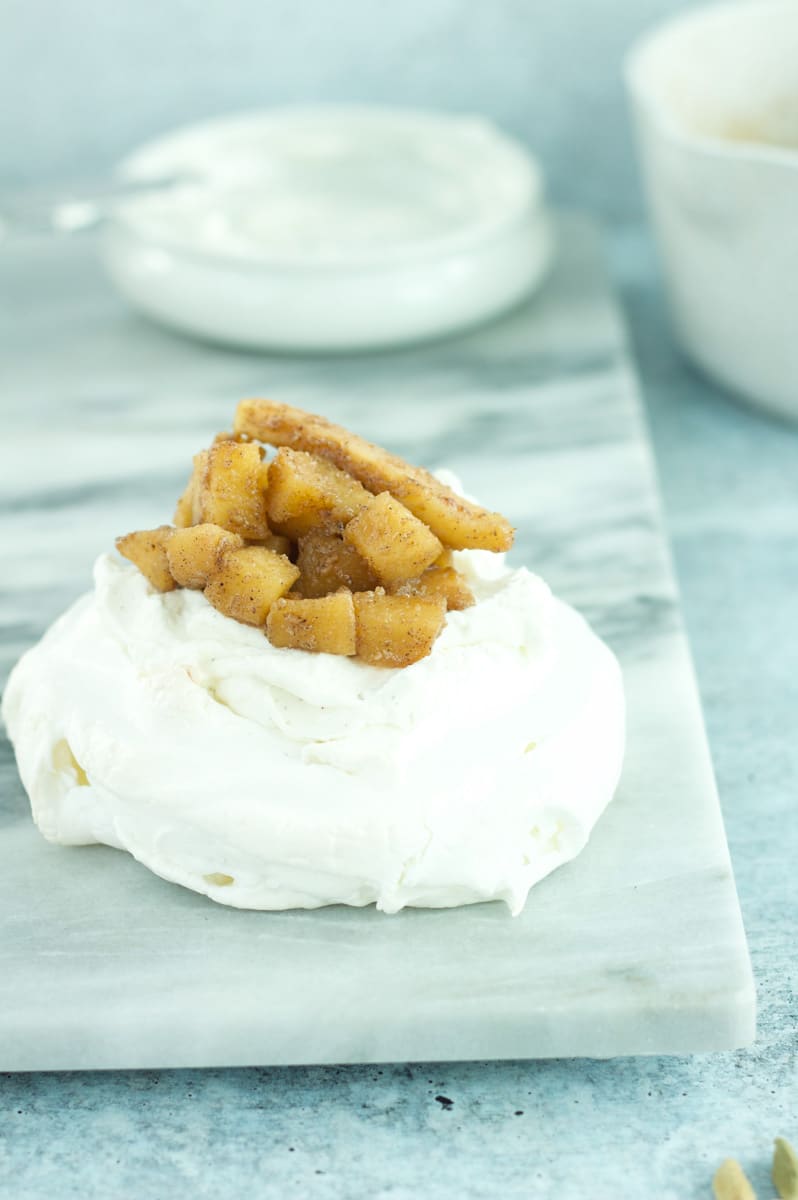 Need more ideas for desserts for just a few people?