The most flavorful appetizer! Tender, roasted butternut squash blended with chickpeas and tahini for a fun Fall-inspired take on hummus, topped with rosemary-garlic crispy chickpeas. Scoop up with pita chips or soft, fluffy naan.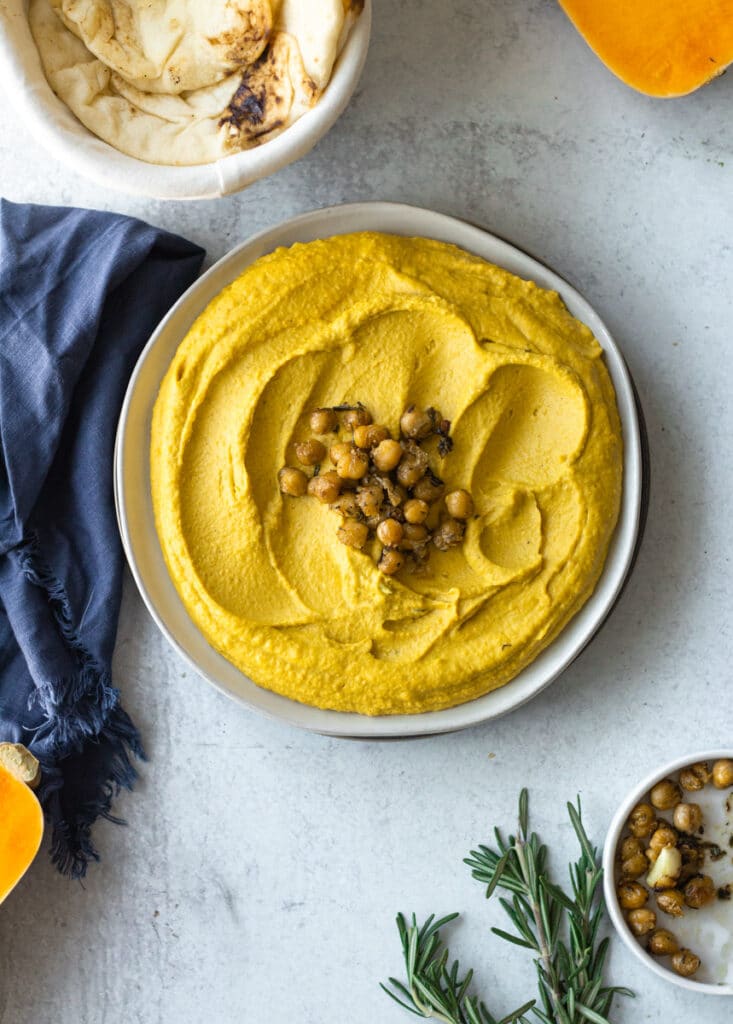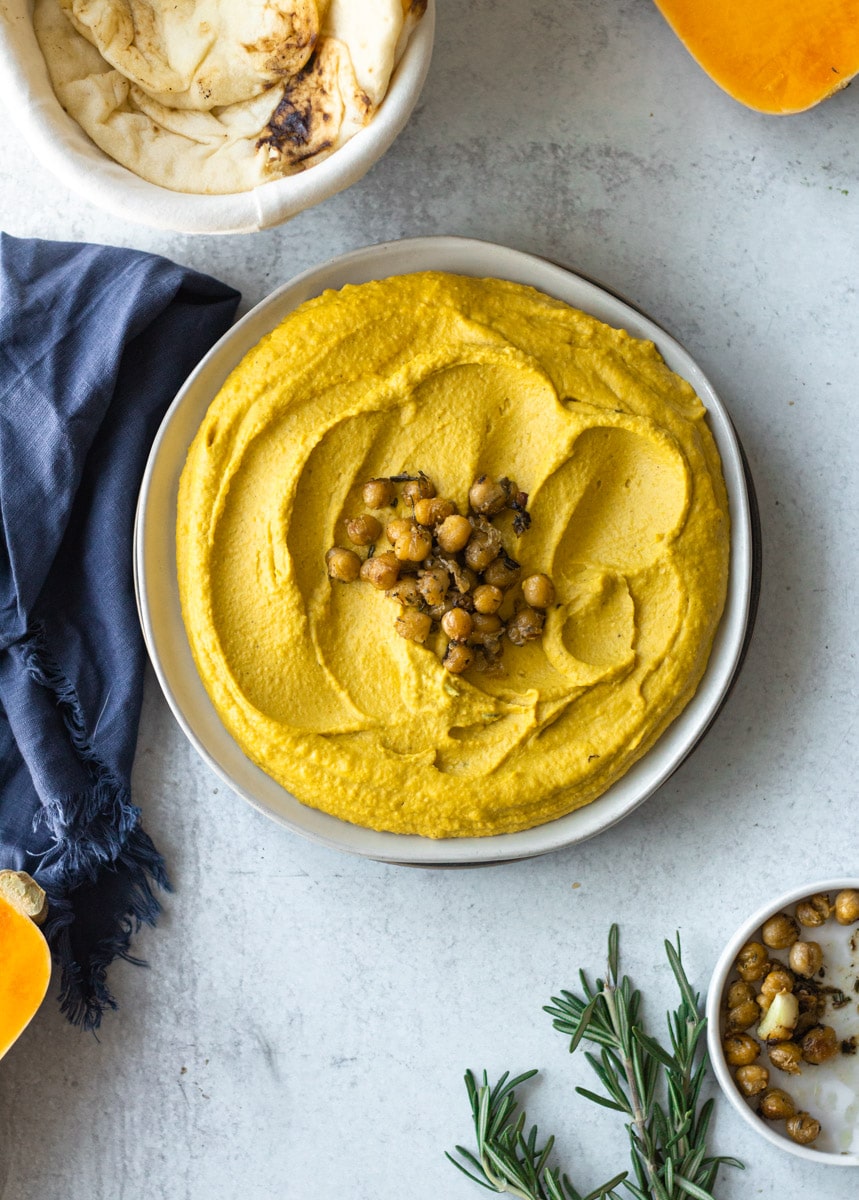 Print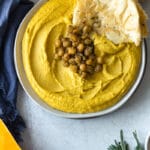 ---
Author:

Mansee

Total Time:

35 minutes

Yield:

~3 cups
Description
The most flavorful appetizer! Tender, roasted butternut squash blended with chickpeas and tahini for a fun Fall-inspired take on hummus, topped with rosemary-garlic crispy chickpeas. Scoop up with pita chips or soft, fluffy naan.
---
3 cups

cubed butternut squash (about 1lb, peeled)

6 tablespoons

olive oil, divided

2 teaspoons

curry powder

1 teaspoon

salt, divided

⅓ cup

tahini

3

garlic cloves

1 tablespoon

lime juice

1

15oz chickpeas, drained and rinsed

¼ teaspoon

turmeric

2

-

4

tablespoons water

1 teaspoon

chopped rosemary
---
Instructions
Preheat oven to 425.
Toss 3 cups cubed butternut squash with 1 tablespoon olive oil, 2 teaspoons curry powder and ½ teaspoon salt. Arrange on a large baking sheet and roast for 20-25 minutes, until squash is tender and caramelized. Let cool for 10 minutes.
Add ⅓ cup tahini, 2 garlic cloves and 1 tablespoon lime juice to food processor and blend to combine and chop up garlic. The tahini might start to seize up a bit, but that's okay!
Reserve ⅓ cup chickpeas and set aside. Add remaining chickpeas to processor, along with roasted butternut squash, ¼ teaspoon turmeric, ½ teaspoon salt and 4 tablespoons olive oil. Blend to combine and add 2-4 tablespoons water as needed to get your desired consistency. You shouldn't need more than 4 tablespoons, but if so add more just a little at time.
Add remaining 1 tablespoon olive oil, ⅓ cup chickpeas, 1 thinly sliced garlic clove and 1 teaspoon rosemary to a small pan. Turn heat to medium and cook, stirring occasionally, until chickpeas are crispy. Sprinkle with a pinch of salt.
Serve hummus topped with crispy chickpeas and a drizzle of olive oil, if desire. Serve with raw vegetables, pita chips or fresh pita or naan!
Prep Time:

5 minutes

Cook Time:

30 minutes

Category:

Appetizer
Hello, perfect fall appetizer. HELLO.
Welcome to my continued journey of putting curry powder into not-curry things (because, remember, true Indian curry has NO curry powder. Not a thing). But! I do love the flavor it can add and I often use it when roasting vegetables or making a quick meal (like this salmon, which you guys love!).
Here, butternut squash is roasted with the curry powder before being blended up with chickpeas and tahini for the perfect Fall hummus!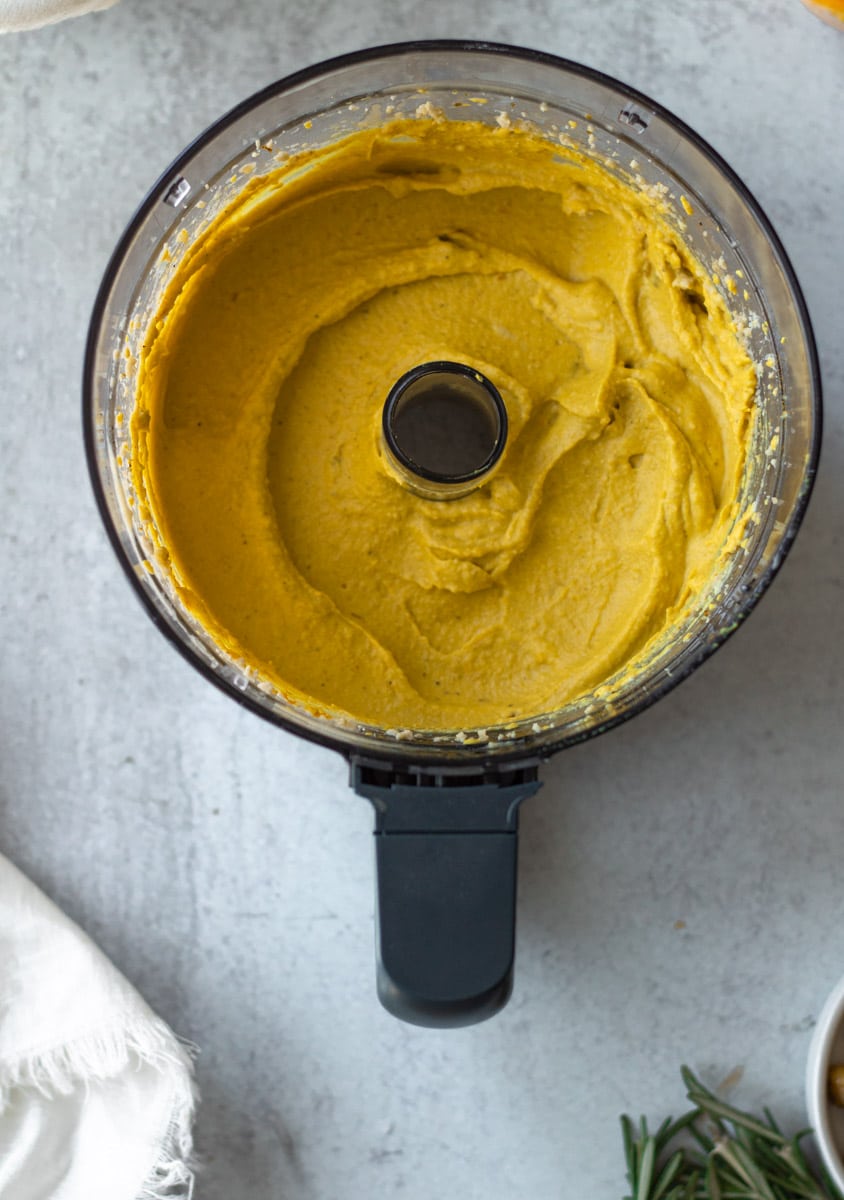 Classic hummus is probably one of my top 10 favorite foods (don't ask me why I don't have a recipe here yet though?!), and generally I'm a bit of a snob when it comes to hummus...flavors. Roasted red pepper! Spicy! Chocolate (yes really)! I know they are all technically good, but to me, nothing beats a classic, creamy hummus scooped up with soft, fluffy pita bread of naan. Omg.
But this year I wanted to try my hand at something flavored and Fall-inspired. And that's basically all you need to know about how butternut squash came into play.
Like most hummus recipes, this one is easy to do with the right ingredients and tools. Let's get to it!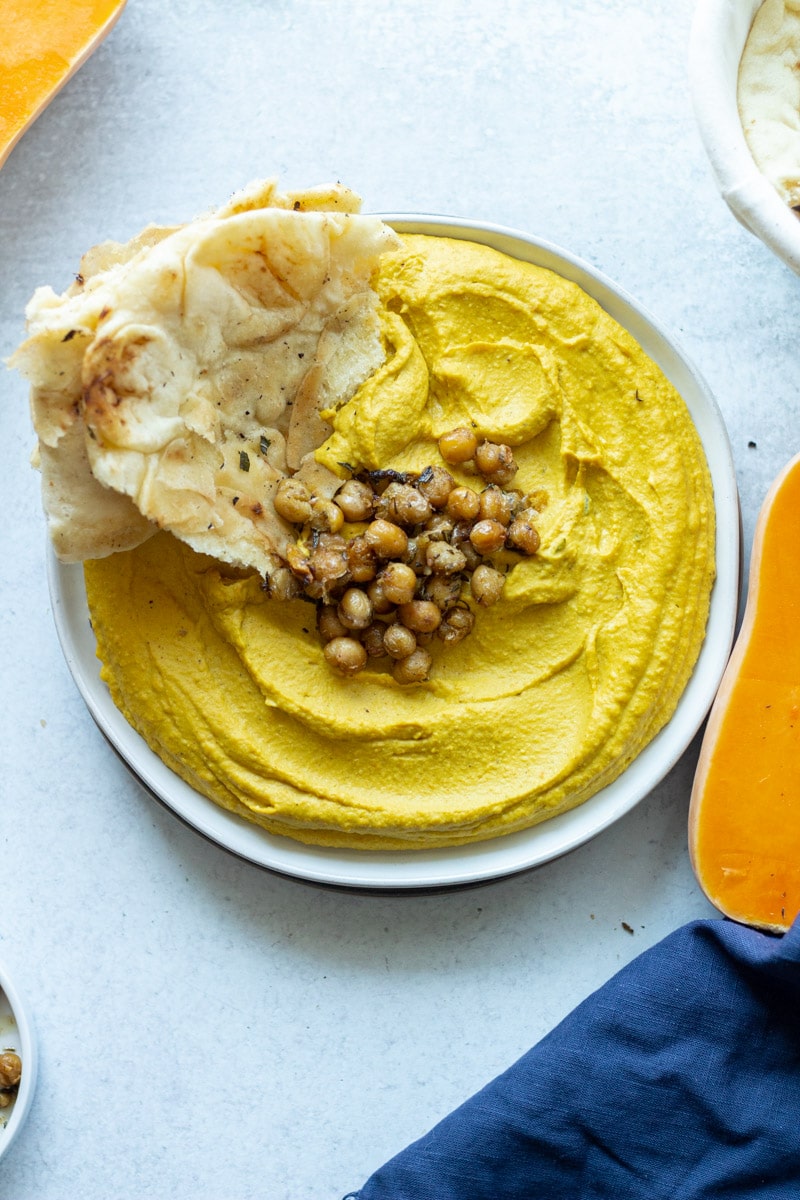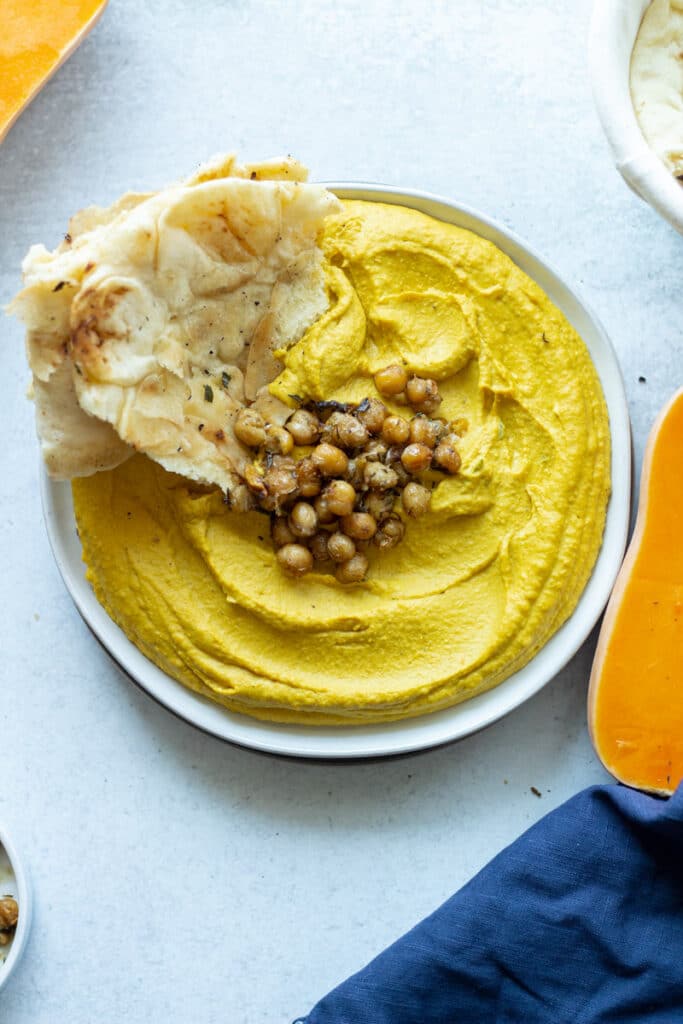 What you need
Butternut squash (duh): These little cubed babies get roasted with curry powder until soft and caramelized. If you really don't want to turn on your oven you could also sauté these until soft, but roasting really brings out an amazing flavor you wouldn't get otherwise.
Chickpeas: Mostly for the hummus itself, but you'll reserve some to make a crispy topping that is SO perfect. Textural contrast at it's finest.
Tahini: Quite possibly my favorite ingredient on earth. I cut back on how much I would use in a classic hummus to really allow the curry and butternut squash flavor to shine, but the tahini is still present!
Turmeric: Just a tiny bit! Mostly for color, if I'm being quite honest.
Olive oil: I think olive oil truly adds to the flavor here, so use some of the fancy stuff. All in, it's under ½ cup so I think it's worth it.
Plus garlic, salt, a little lime juice and some water to help things along!
I always use a food processor to make hummus, but if you have a REALLY good blender you can use that too. I like a really smooth, creamy hummus so a high-power appliance is best for me. I often let the processor run for an extra minute AFTER it looks like the right consistency just to make sure it's the creamiest, dreamiest it can be!
You certainly don't have to do that if you don't mind a slightly-less creamy hummus.
Those crispy chickpeas tho...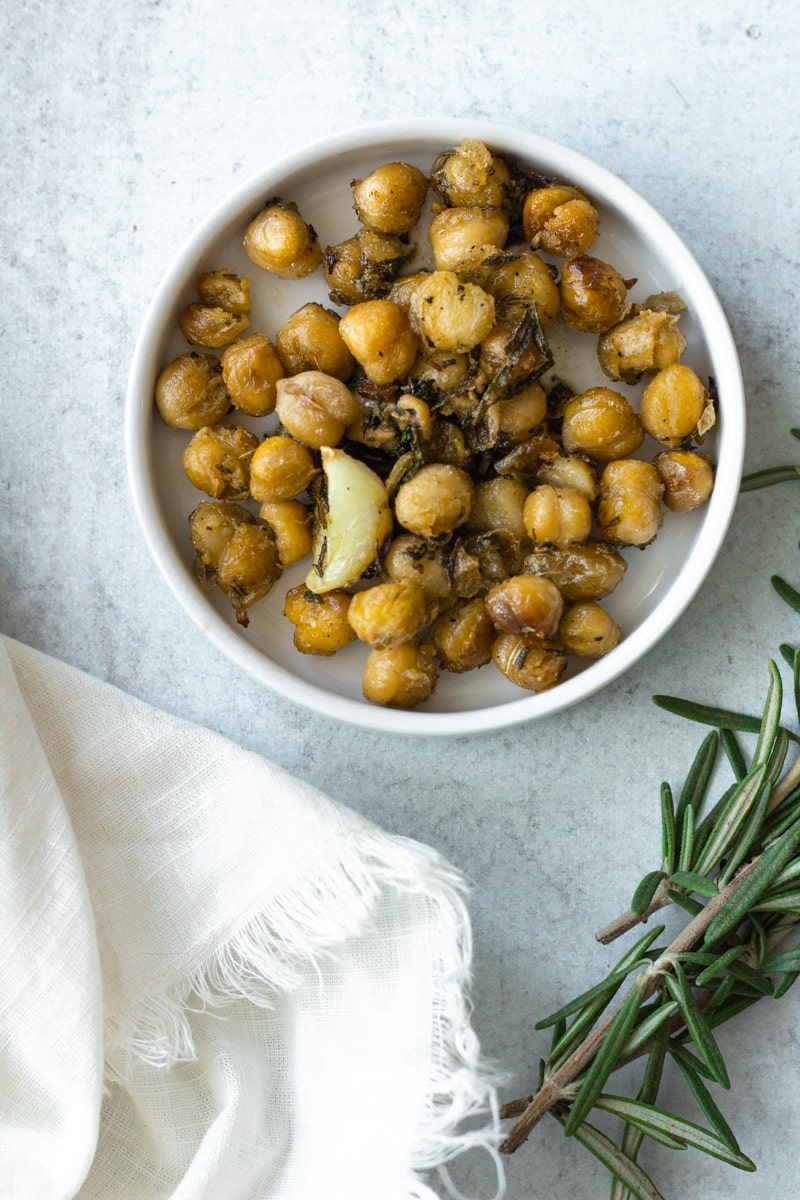 Yea, I KNOW.
Similar to my whole "I don't love flavored hummus" nonsense, I am also in the "hummus does not need a topping thankyouverymuch" camp. But we're breaking all my own rules today, so here we are.
I don't need to tell you how much I love crispy chickpeas, but I can tell you they are PERFECT on top this hummus. If you eat it the way I do, the soft, warm naan mixed with creamy hummus and crispy chickpea is heaven. Actual, literal heaven in a bite.
And it's so easy! I just throw all the ingredients (chickpeas, oil, garlic and rosemary) in a pan. Turn on the heat and then just let them cook until those chickpeas are crispy. Sprinkle on a bit of salt and they're ready to pile on top of your hummus.
Hope you all love this one!