A super easy, flavorful meal featuring curry-spiced salmon braised in creamy coconut greens. Serve with rice or crusty bread for a quick weeknight meal that is sure to impress!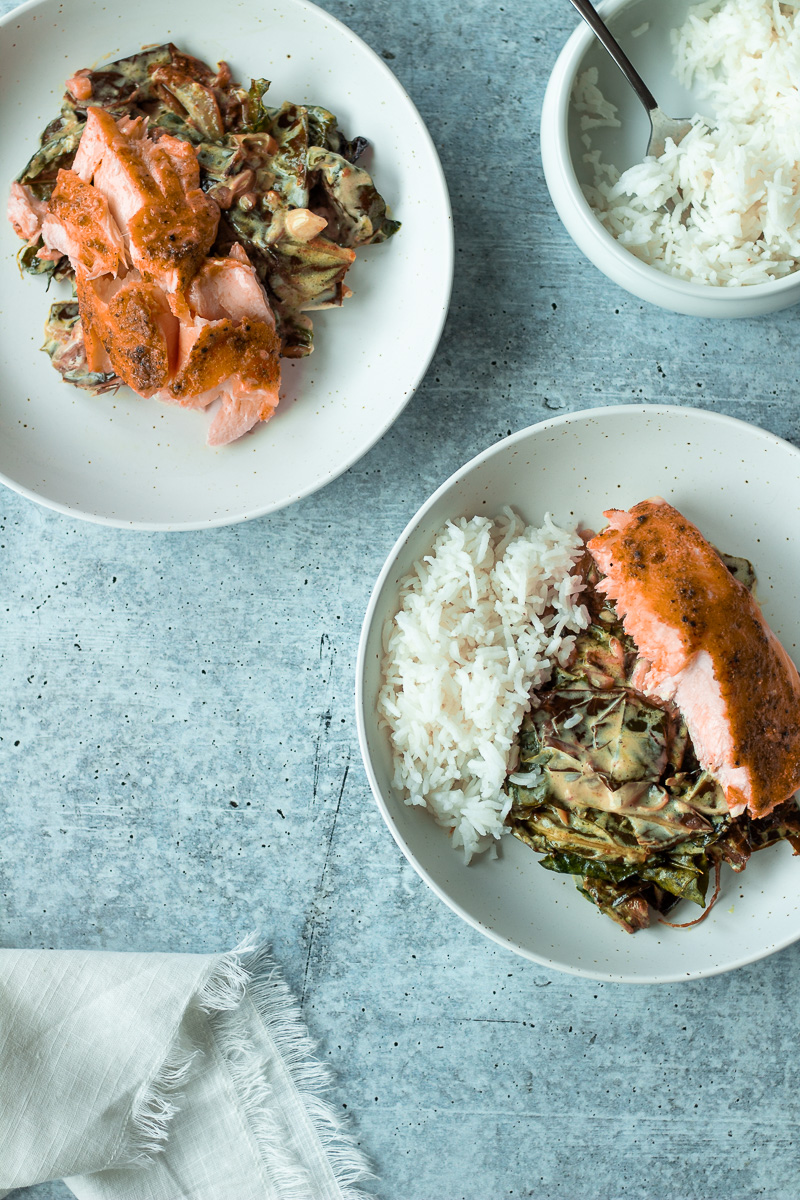 You guys already know how I feel about salmon. Specifically, easy salmon dinners.
We've got this guy, and this (very popular!) one too. This slow-roasted curry-spiced version quickly made it to my list of go-to meals because it is SO easy and, more importantly, SO good.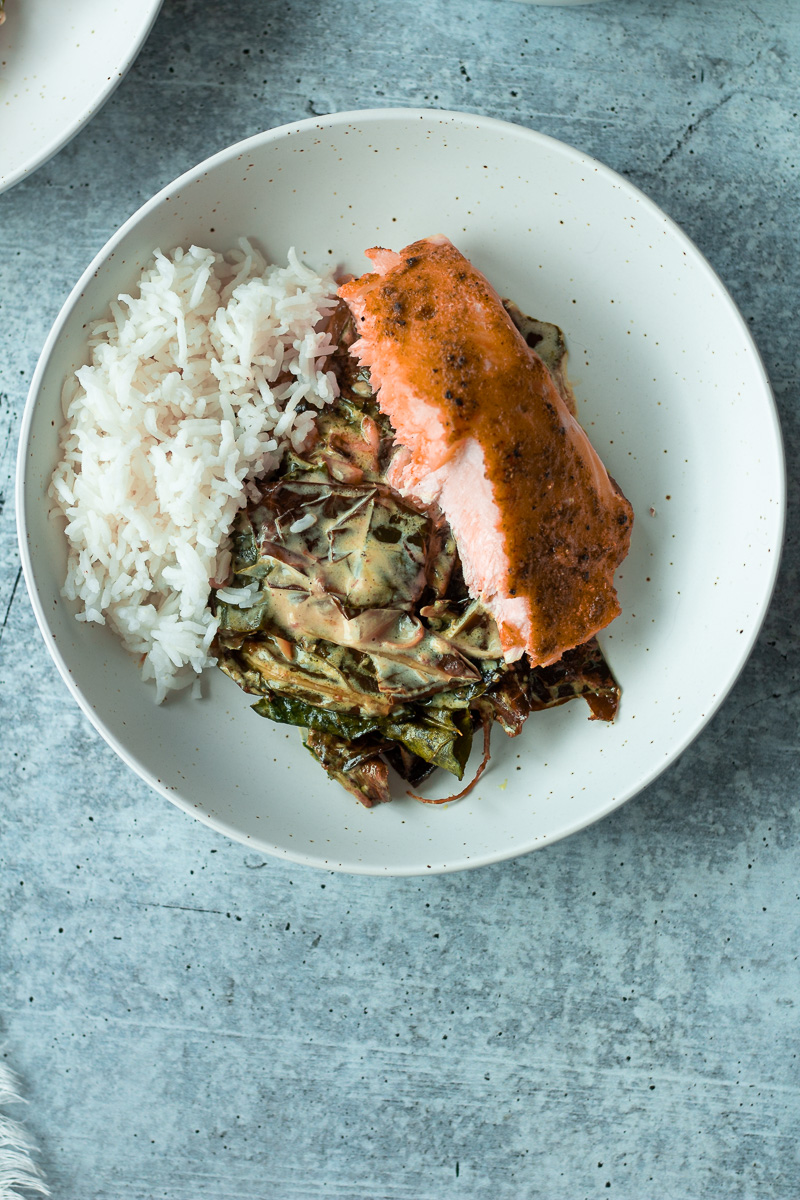 The ingredient list is not crazy, but the flavor of this salmon is out of this world. Once again, we're using curry powder even though it makes me a bad Indian (it's fine. my family hasn't disowned me yet). My intention with curry powder is to never make traditional curry, but rather to give something that curry flavor. It packs a lot of punch, and is perfect for those weeknights when you don't want to go hunting down a bunch of different spices (not that that's hard, but you know!).
Per usual, this recipe is inspired by Bon Appetit. Remember that coconut garlic crisp I top my creamy lentil soup with? It's actually from this recipe! There is literally nothing stopping you from making that coconut crisp again and topping this salmon (hint hint).
And those braised greens? My obsession with coconut milk knows no bounds, and I just loved the idea of a slightly, creamy edge to these greens. I love that you get some pieces that get a little crispy in the oven and mix in with the rest of the creamy bunch. So good, even without the salmon (but definitely make the salmon, please!!).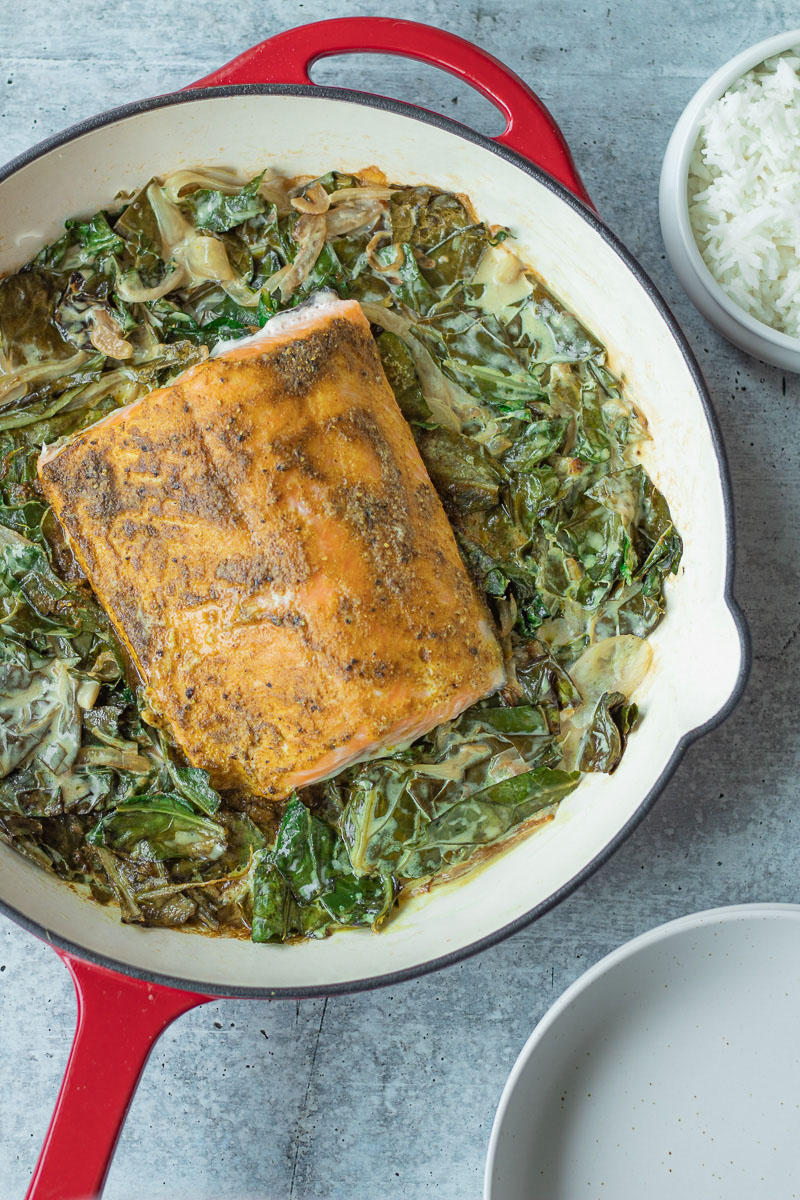 Why slow-roasted salmon?
Omg how much time do you have?! I've said it before, but there are basically two ways I'll cook salmon: At a very high heat or a very low heat. I rarely just, like, bake salmon at 350, even though that's the way my mom generally made it and it was perfectly delicious. I've just learned that the best way to get that perfect, almost medium-rare texture I want I either have to go low and slow or blast it with high heat for barely any time at all.
I specifically love slow-roasting because it's so easy and hands off, and I don't have to use my broiler which, as you know, still scares me very much to this day. Often times, you'll find slow-roasted salmon recipes use a ton of oil. While that is honestly delicious, I find that you don't ALWAYS have to do that.
So yes, what I'm saying is that this slow-roasted salmon is actually even healthier than you think. Win!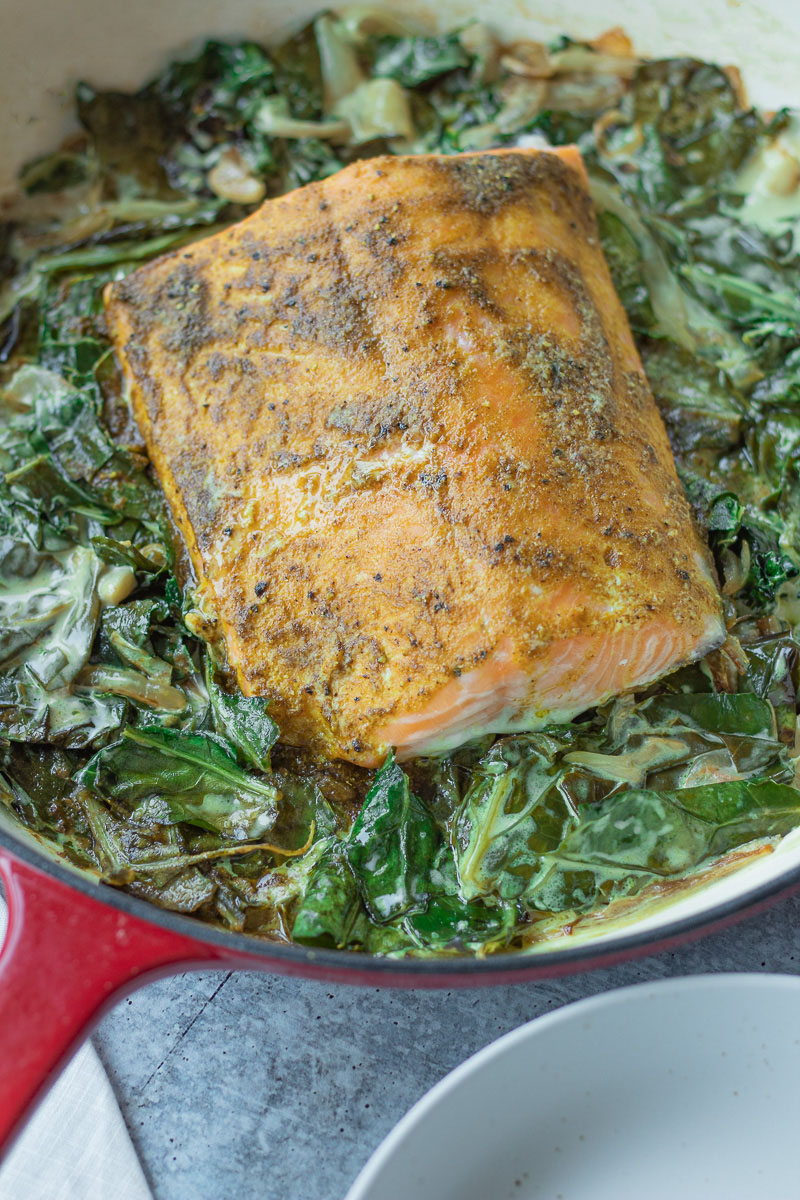 What to serve this with
Oh boy, so many options here. As you'll notice in the notes above, you have some options with the coconut milk here and that might dictate what you want to serve this dish with. If you use just ½ cup, your greens will still taste creamy but you won't have a ton of "sauce," so you can serve this with any side and be totally fine. I love roasted cauliflower with this one because curry powder and cauliflower is a match made in heaven, but really any vegetable will do. Even just some easy sautéd green beans are great!
If you use 1 cup (photographed here) or the full can, you'll have more "sauce" to play with! Rice is obviously great, but I also LOVE a hunk of crusty bread to sop it all up. Naan is a great option too.
I mean, there is nothing wrong with doing some vegetable AND rice. It depends on how hungry you are and what you and your family need!
I hope this one makes it into your dinner rotation!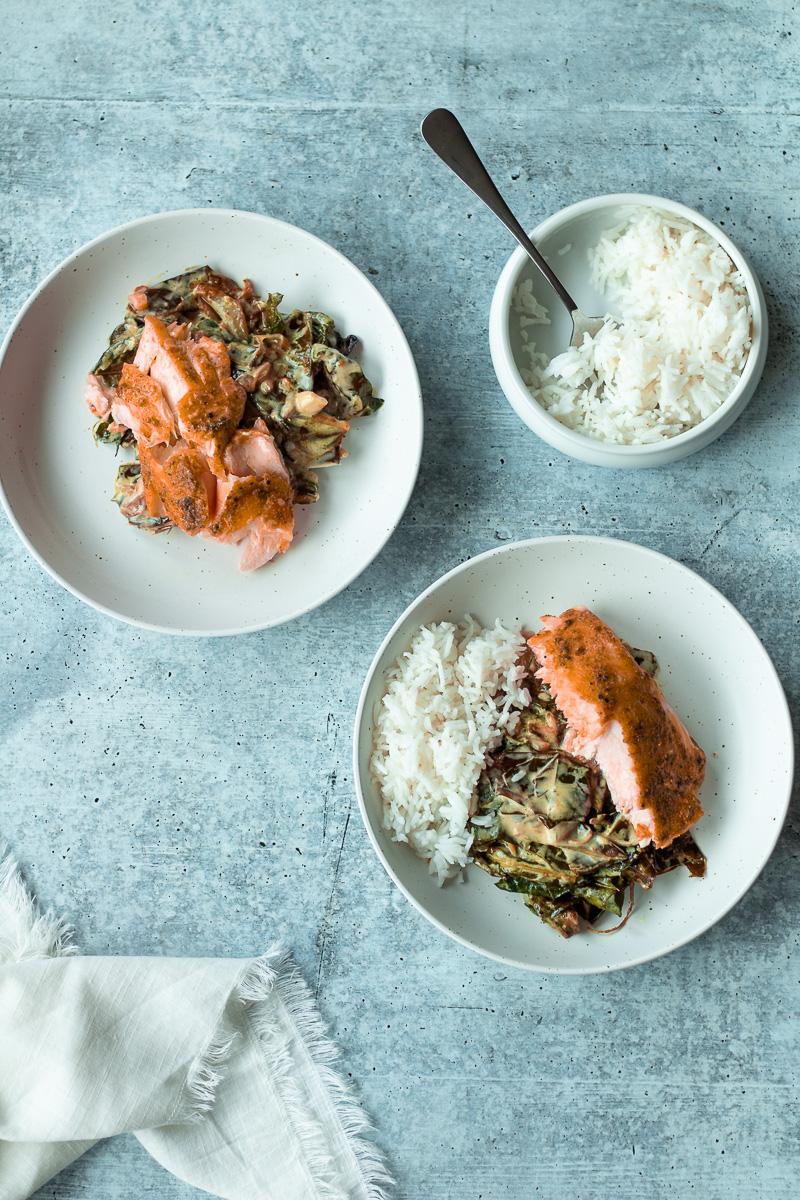 Print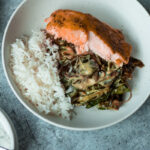 Slow roasted curried salmon and coconut braised greens
---
Author:

Mansee

Total Time:

45 minutes

Yield:

2

1

x
Description
A super easy, flavorful meal featuring curry-spiced salmon braised in creamy coconut greens. Serve with rice or crusty bread for a quick weeknight meal that is sure to impress! 
---
3 tablespoons

olive oil, divided

1

shallot, thinly sliced

3

garlic cloves, thinly sliced

1

bunch collard greens, roughly chopped (see notes)

½

-

1

cup canned coconut milk (see notes)

1 teaspoon

curry powder

¼ teaspoon

ground cumin

¼ teaspoon

ground coriander

¼ teaspoon

black pepper

1 teaspoon

salt, divided

1

lb salmon, skin on or off
---
Instructions
Preheat oven to 300
Heat 1 tablespoon olive oil in a large skillet over medium heat. Add 1 thinly sliced shallot and 3 sliced garlic cloves. Saute for 5-7 minutes, until shallots are translucent and just starting to brown
Add 1 bunch (or about 4-5 cups) of roughly chopped greens in batches, stirring and letting each batch wilt a little before adding more. Add ½ teaspoon salt. 
Once the greens are all mostly wilted, add ½ cup (or more!) coconut milk. Stir to combine and turn off heat. 
In a small bowl, mix together 1 teaspoon curry powder and ¼ teaspoon each ground cumin, ground coriander and black pepper. Add remaining 2 tablespoons olive oil and mix to combine
Season 1lb salmon with remaining ½ teaspoon salt all over. Place in pan on top of greens
Brush spice mixture all over top of salmon, drizzling anything remaining over surrounding greens
Roast in oven for 25-30 minutes, or until salmon is done to your liking (120 degrees is the sweet spot for me!)
Serve with rice, crusty bread or roasted vegetables.
Notes
Just about any greens will work for this recipe. I've used collard greens and swiss chard and both turned out great. I've also done a mix of collard greens and kale, so use what you have! Spinach will work too, but you'll likely need more because it wilts down so much. If you're using baby spinach, I'd start with about 6 cups and go from there.
I tested this recipe using ½ cup, 1 cup and even a full can of coconut milk. Honestly, they're all great. Obviously the more you use, the more "soupy" the final dish is so keep that in mind when you're thinking about serving it. I found that the liquid continues to be absorbed as the dish sits, so if you know you're going to have leftovers I'd start with at least the full cup!
Prep Time:

5 minutes

Cook Time:

40 minutes

Category:

Dinner

Method:

Oven

Cuisine:

Global
Keywords: salmon, roast, slow roast, weeknight meal