Level up your summer happy hour with a rosé-themed cheese board! I lay out all my favorite cheese to pair with rosé wine, along with some homemade crackers and a quick sweet-and-spicy strawberry jam (both made with more rosé, of course!). Perfect for an evening with friends, or just to celebrate the end of a long day.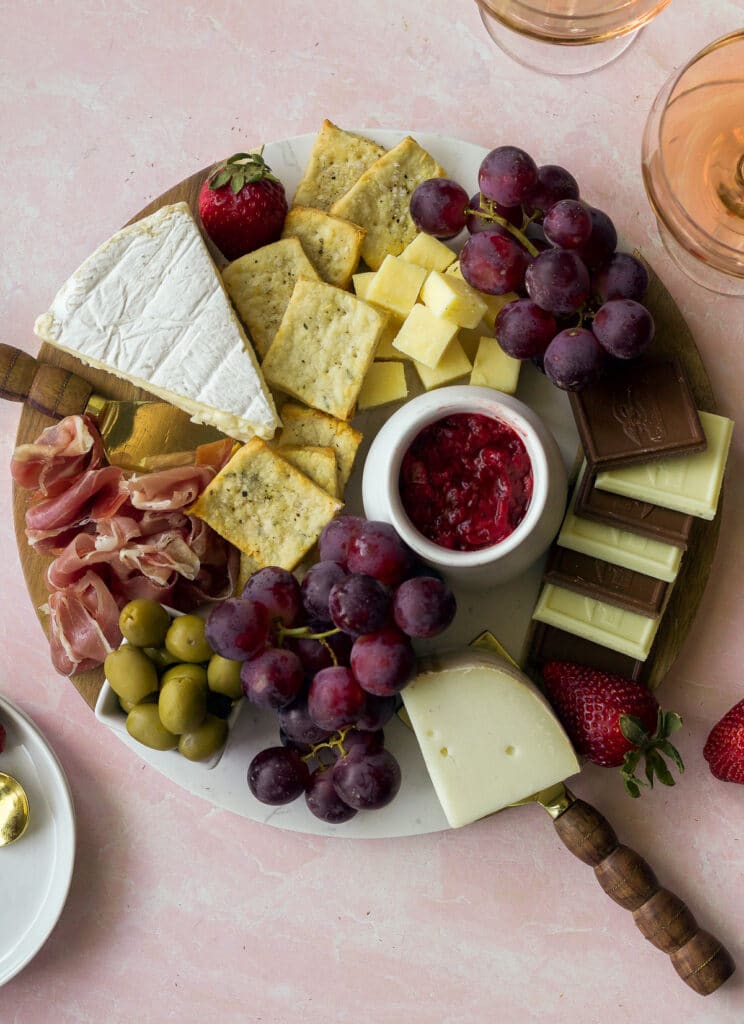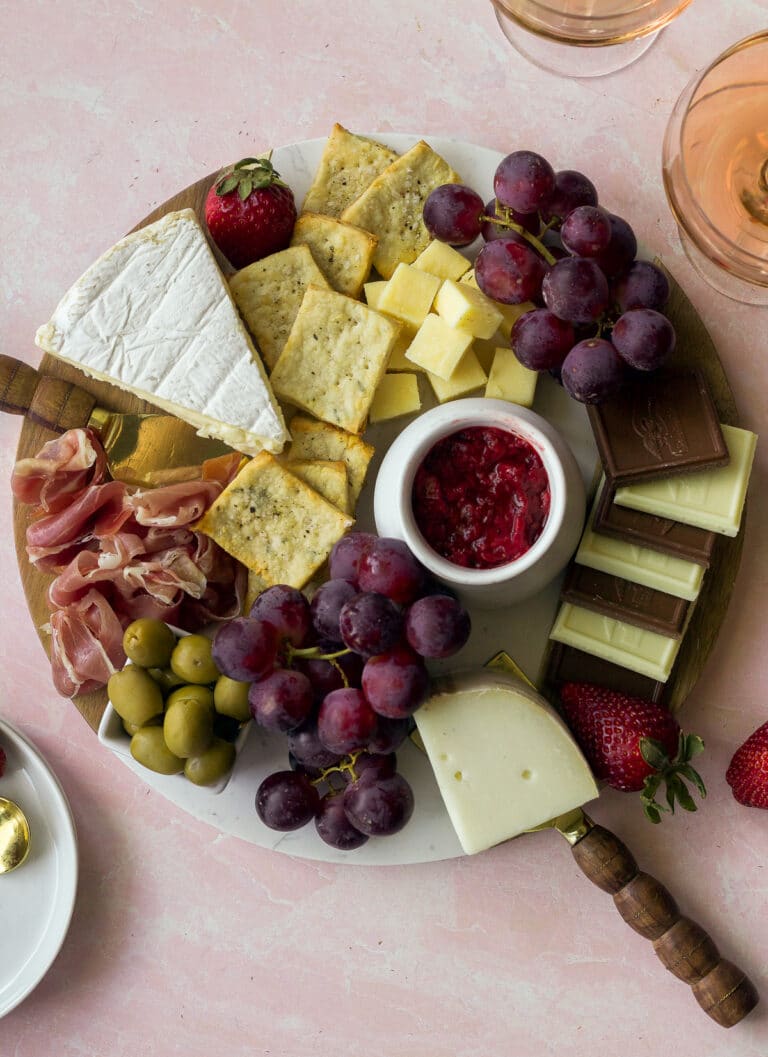 Print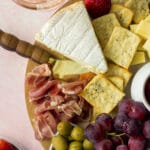 A Rosé-themed cheese board
---
Author:

Mansee

Total Time:

25 minutes

Yield:

4

-6

1

x
Description
Level up your summer happy hour with a rosé-themed cheese board! I lay out all my favorite cheese to pair with rosé wine, along with some homemade crackers and a quick sweet-and-spicy strawberry jam (both made with more rosé, of course!). Perfect for an evening with friends, or just to celebrate the end of a long day.
---
Parmesan thyme rosé crackers
1 ½ cups

flour

½ cup

grated parmesan cheese

1 teaspoon

salt

2 teaspoons

thyme leaves (or

1 teaspoon

dried thyme)

½ cup

rosé wine

2 tablespoons

olive oil
Flaky salt + black pepper 
Quick chipotle rosé strawberry jam
1 pint

strawberries, stems removed and chopped

⅓ cup

rosé wine

3 tablespoons

sugar

1 teaspoon

chipotle chili powder
Rosé-themed cheese board
Brie
Gouda
White cheddar
Strawberries
Grapes
Olives
Chocolate 
---
Instructions
Parmesan thyme rosé crackers
Preheat oven to 450.
Combine 1 ½ cups flour, ½ cup grated parmesan cheese, 2 teaspoons thyme leaves and 1 teaspoon salt in a large bowl. Add ½ cup rosé wine and 2 tablespoons olive oil and use a fork or your hands to mix together until a sticky dough forms. If dough looks dry, add more liquid (either wine or water) until you get a dough ball you can work with.
Turn dough out onto a floured surface and roll into a rectangle, about ⅛-inch thick. Don't worry about making the perfect shape, just roll the dough until you get to the right thickness.
Brush with a little more olive oil (about 1 tablespoon) and sprinkle with more thyme leaves, and 1 teaspoon each flaky salt and black pepper.
Using a sharp knife or pizza cutter, cut into pieces and arrange on a parchment-lined baking sheet. Lightly prick each cracker with a fork and bake for 12-15 minutes, until edges are lightly browned. Let cool before serving.
Quick chipotle rosé strawberry jam
Add 1 pint chopped strawberries, ⅓ cup rosé wine and 3 tablespoons sugar to a saucepan and set over medium-high heat. 
Bring to a boil and then use a wooden spoon to start smashing some of the strawberries and release more liquid. Reduce heat to low and let simmer for 15 minutes, stirring/smashing every 5 minutes.
Add 1 teaspoon chipotle chili powder and let simmer for an additional minute. 
Remove from heat and let cool before serving. The jam will thicken a bit as it cools!
Rosé-themed cheese board
Arrange cheese, olives, meats, fruit, crackers, chocolate and all your favorites as you please!
Prep Time:

10 minutes

Cook Time:

15 minutes

Category:

Appetizer
If you've been around here for a minute, you know I unapologetically LOVE a good cheese/charcuterie board. You also know I LOVE rosé.
So here we are.
A rosé-themed cheese board for literally all your summer (and spring and fall...and why not winter?) needs.
And when I say "rosé-themed," I truly, truly mean it. Everyone's favorite pink wine found its way into our crackers AND little strawberry jam. Whoops.
You certainly don't need to make homemade parmesan (!) thyme (!) rosé (!) crackers or a quick spicy strawberry rosé jam, but I also know you won't regret it. The recipes above are relatively simple and will make your cheese (or charcuterie, if you must) board just a little more special.
And don't we all deserve a little more special these days?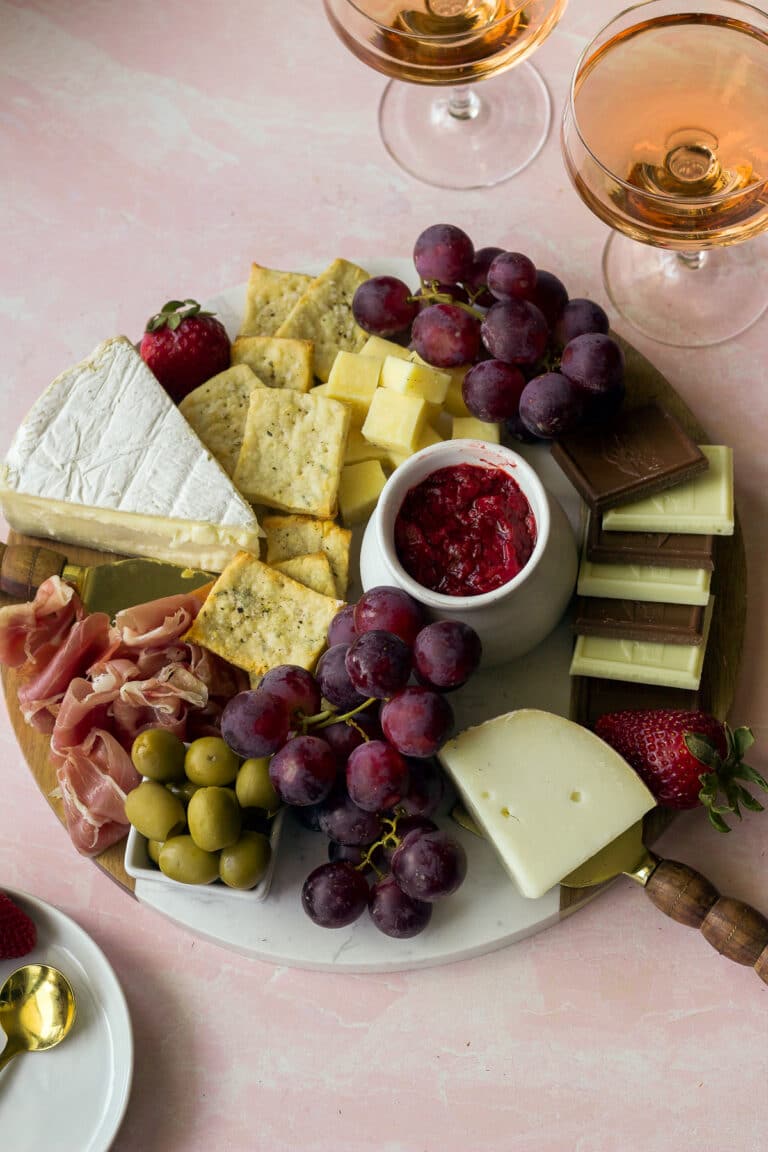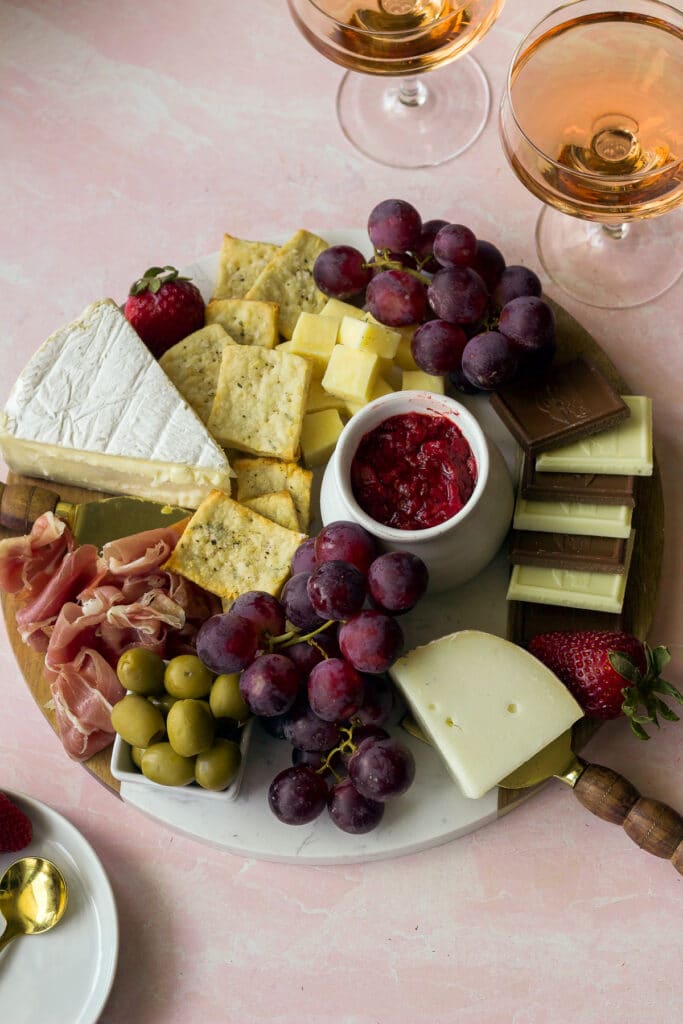 Building a better board
For me, the perfect cheese board has a mix of sweet, salty, creamy, crunchy and more. You want different flavors and textures to keep it exciting. Below are my favorites, along with suggested substitutes!
Pick 3 cheeses
When it comes to cheese pairing with rosé, I'm no expert, but I have had a lot of cheese AND rosé in my day. So I know what I like. I definitely encourage you to use this as a guide, but mix and match cheeses you love the most!
Similar to my other cheese boards, I really like a variety of texture and flavors with my cheeses here so I always go for:
A soft cheese: Something like brie or goat cheese works really well here, especially with the spicy strawberry jam.
A cheddar: I personally go for a sharp white cheddar because I think the flavor is the best, but also it looks the prettiest on this board with all the pinks and purples (#sorrynotsorry). A more mild cheddar will work as well, or even something like a colby jack.
A slightly harder cheese: It's not a Mansee board without some sort of gouda, so that's the little guy you see here. I love the flavor of gouda with rosé, but you could also try a great muenster or havarti.
In general, I stay away from flavored cheeses with rosé. Just because I like a more fresh, fruity flavor with the overall board. But there are some DELICIOUS flavored cheeses out there, so play around. Anything with caramelized onions, fresh herbs or fruit would make great additions.
With cheeses, I like to keep the soft variety whole so people can grab as much as they want to spread on crackers or bread. The cheddar variety will be cubed so you can pop it in your mouth easily, and then the last cheese I'll keep whole if it's a small chunk or I'll start a few slices to get people going.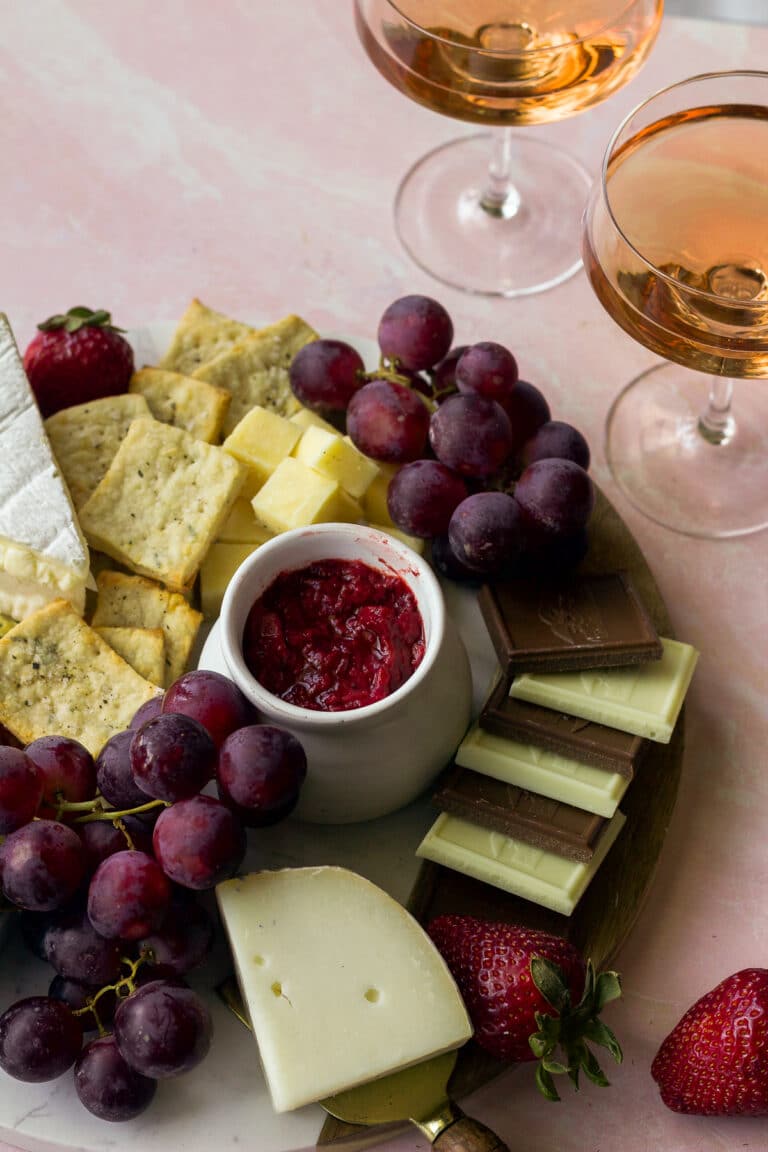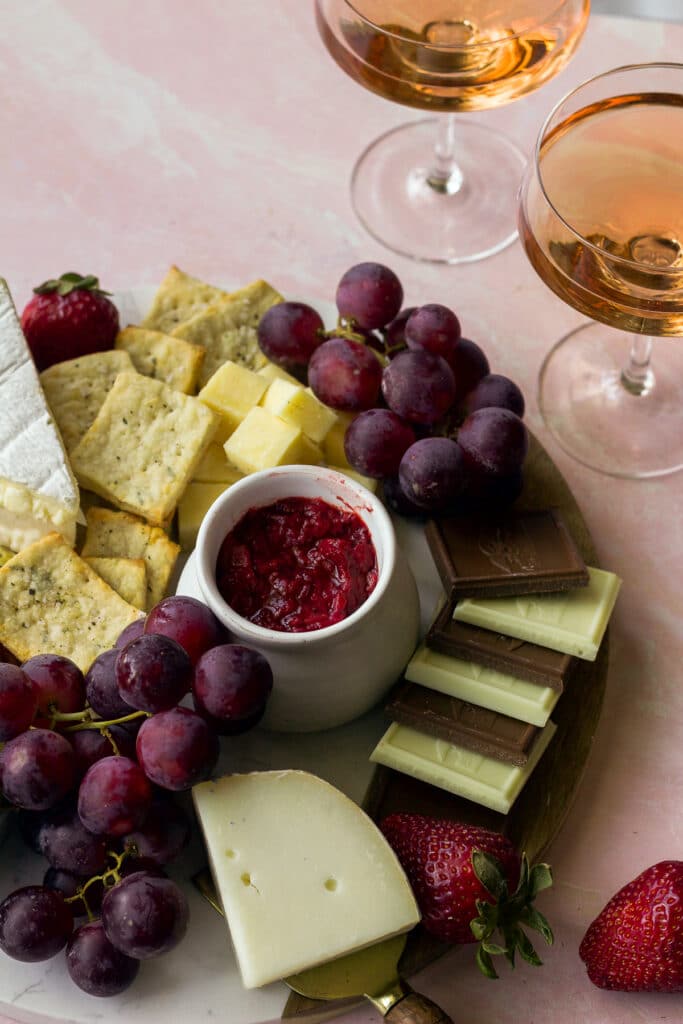 Fruit
A signature summer cheese board addition, fruit is not only beautiful on this rosé-themed board but it goes SO well with the wine and everything else we have going on. Strawberries and grapes are my go-to, but I also love the followng:
Raspberries
Blackberries
Honeydew melon
Cherries
Peaches
Clementines
I also sometimes love throwing in some dried fruit like dried apricots, mango or pineapple.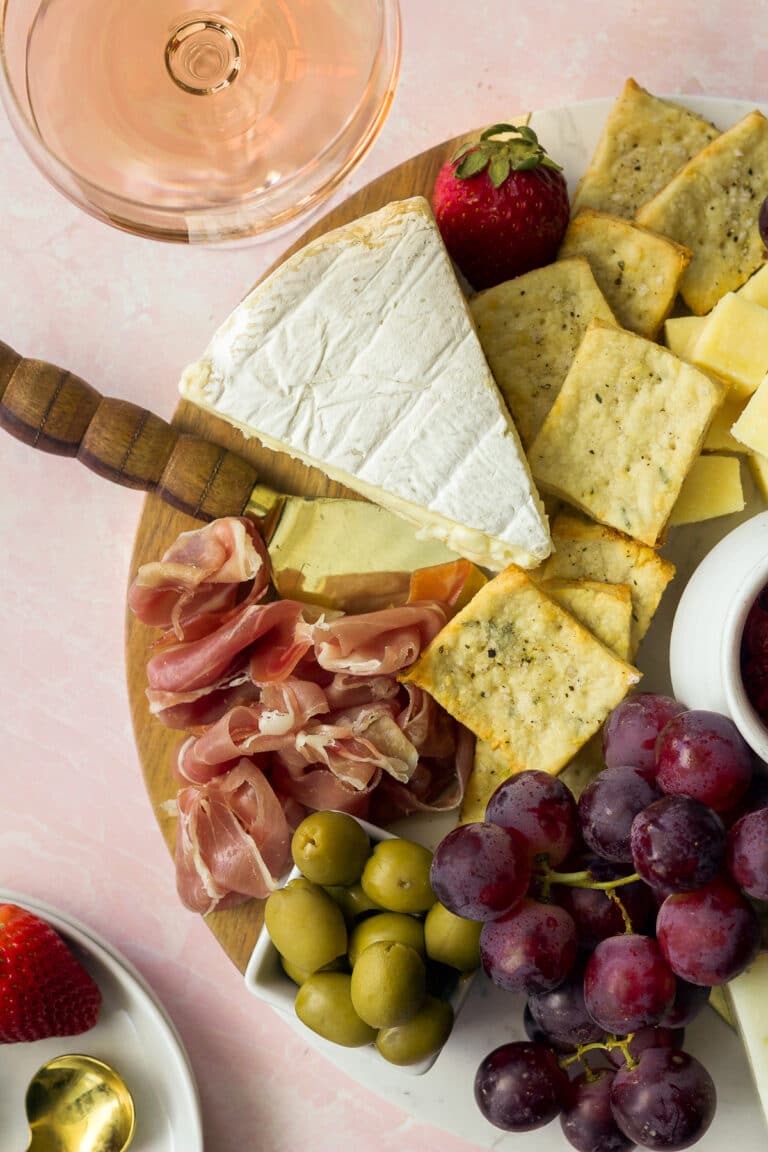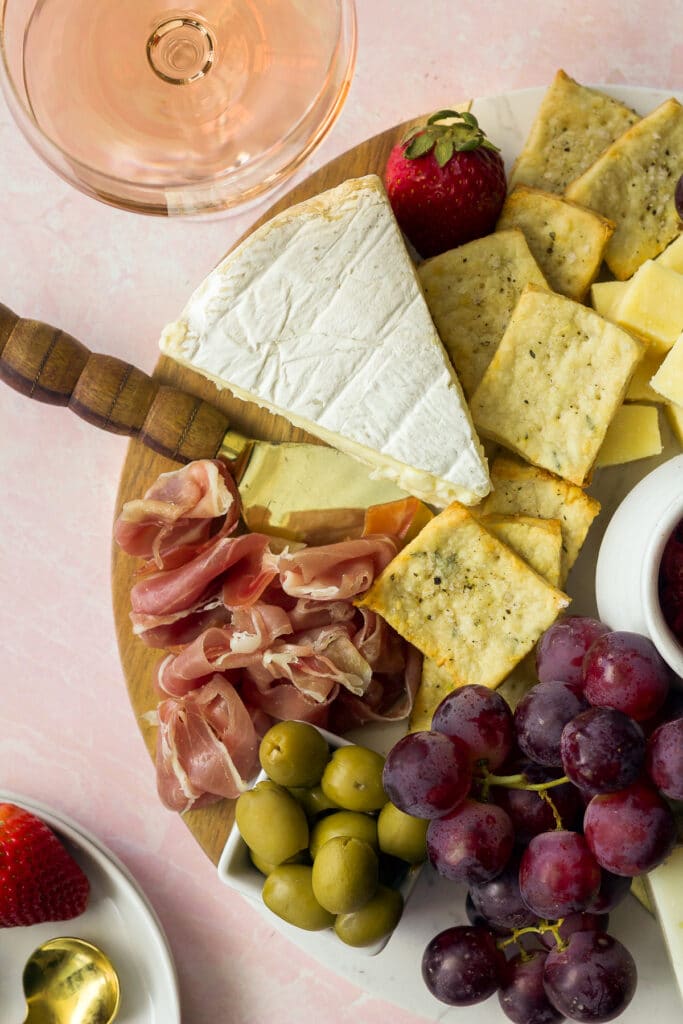 Salty snacks
Y'all know I need some snacks with my cheese! Even when I'm focused on rosé and cheese pairings, I know the board NEEDS some extra salty bites. Olives are an absolute must for me, but there are so many options:
Olives: I prefer green castelvetrano olives on this board, but if you like kalamata go for it! You can also try marinated, but I really like simple, plain olives here.
Prosciutto: My perfect, salty, meaty bite. Try salami or soppressata for something different. I would stay away from anything too spicy, like a spicy chorizo, but otherwise you've got lots of options. Of course, this board doesn't need meat so feel free to completely leave out.
Pickled vegetables: If you are a fan, some lightly picked veg is a great addition. Try pickled shallots or cornichons for that crunchy, vinegary bite. Marinated, jarred vegetables are great too!
Caramelized onions: I know it sounds weird, but a little pile of caramelized onions is such a game changer for a cheese board. A cracker/bread topped with creamy cheese and caramelized onions is literal heaven.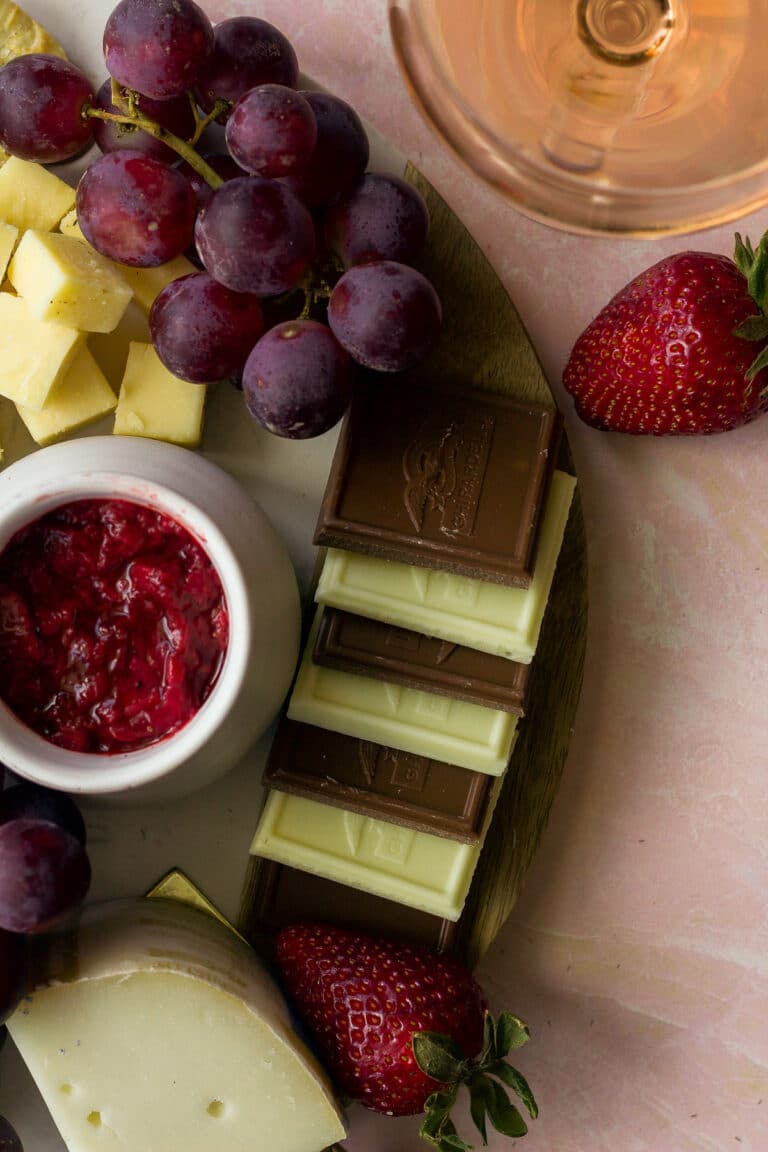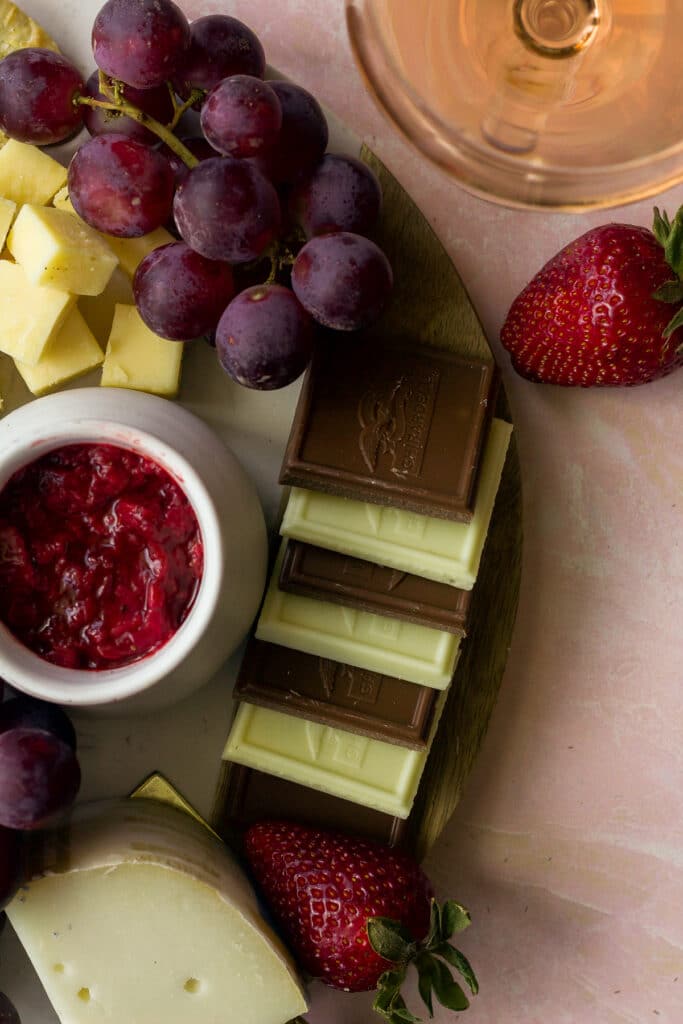 Something sweet
As if I need an excuse to eat some chocolate?! I think they look so pretty here!
The above quick chipotle rosé strawberry jam also fits the bill (it's not super spicy, I promise!), as do other jams. My favorites are always either strawberry or fig, but summer boards are especially lovely with peach, apricot or even citrus-based spreads.
You know what else is fun? Tiny little lemon (rosé) bars. Just cut them super into super small little squares, and it's a perfect sweet bite on a cheese board! If anyone questions your decision, just send them my way, okay?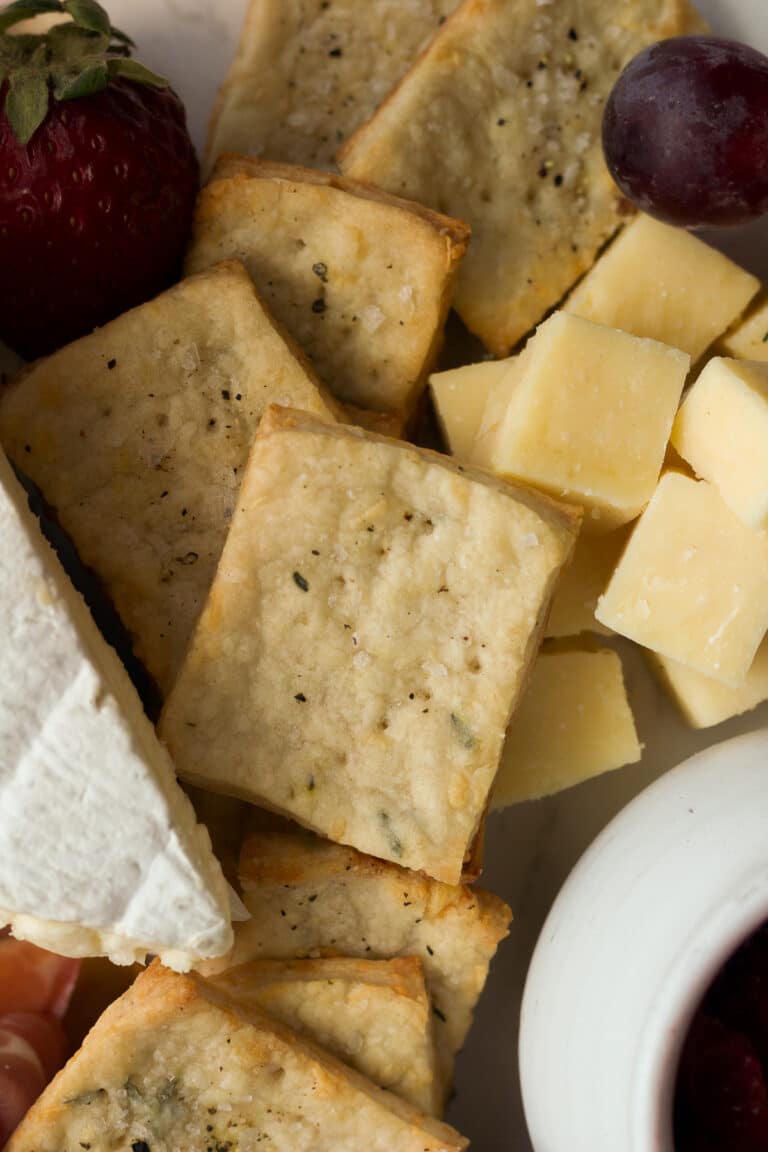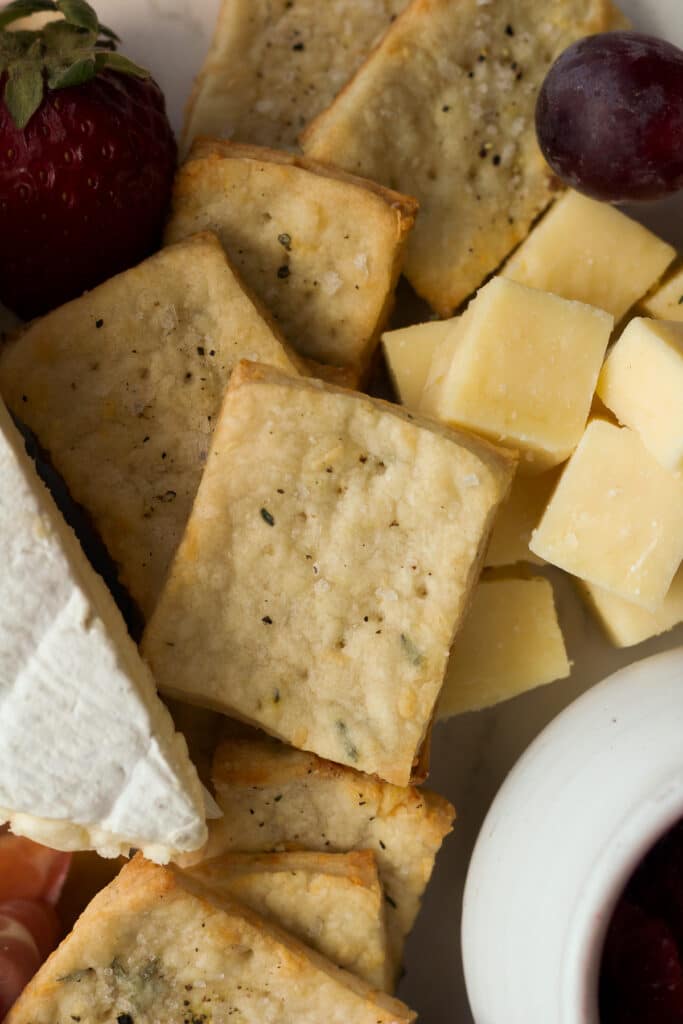 Carbs, carbs, carbs
Obviously, I'm a fan of homemade crackers, but not completely necessary here. Use your favorite crackers that you keep on hand.
If you have a couple extra minutes, little crostinis are great too (slice up a baguette, brush with a little olive oil and bake at 350 for 5-7 minutes until toasted)
The perfect rosé pairing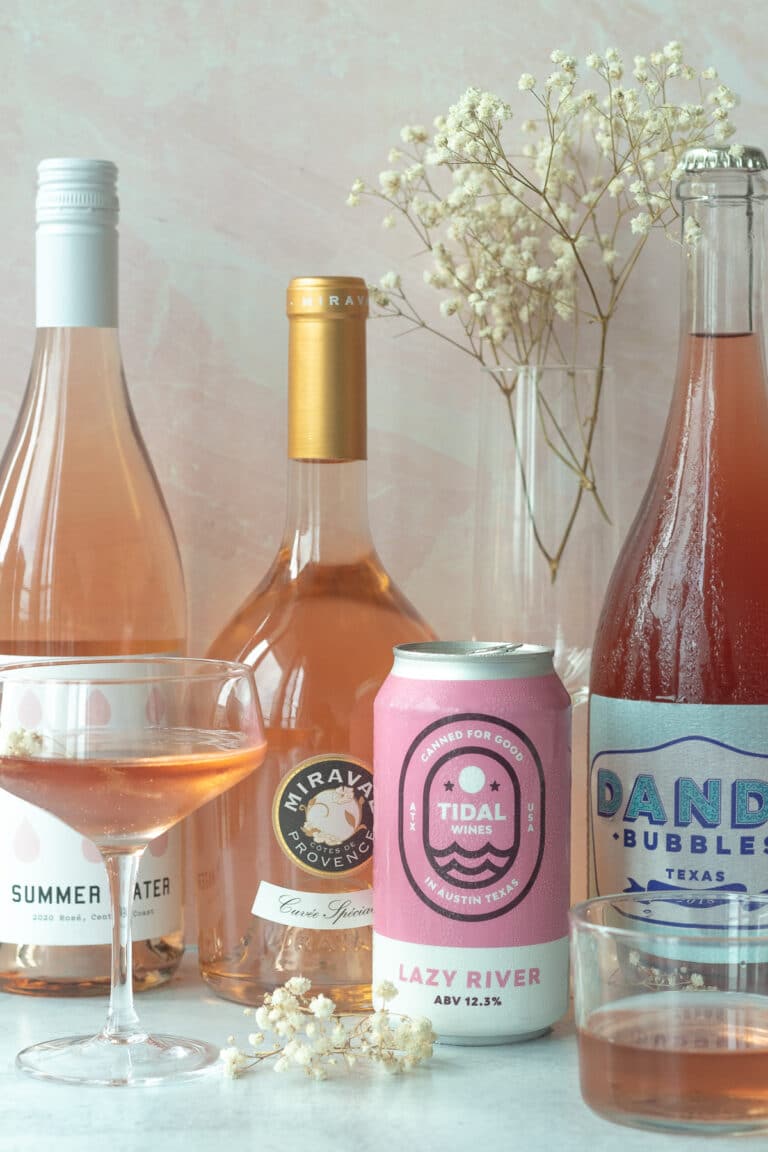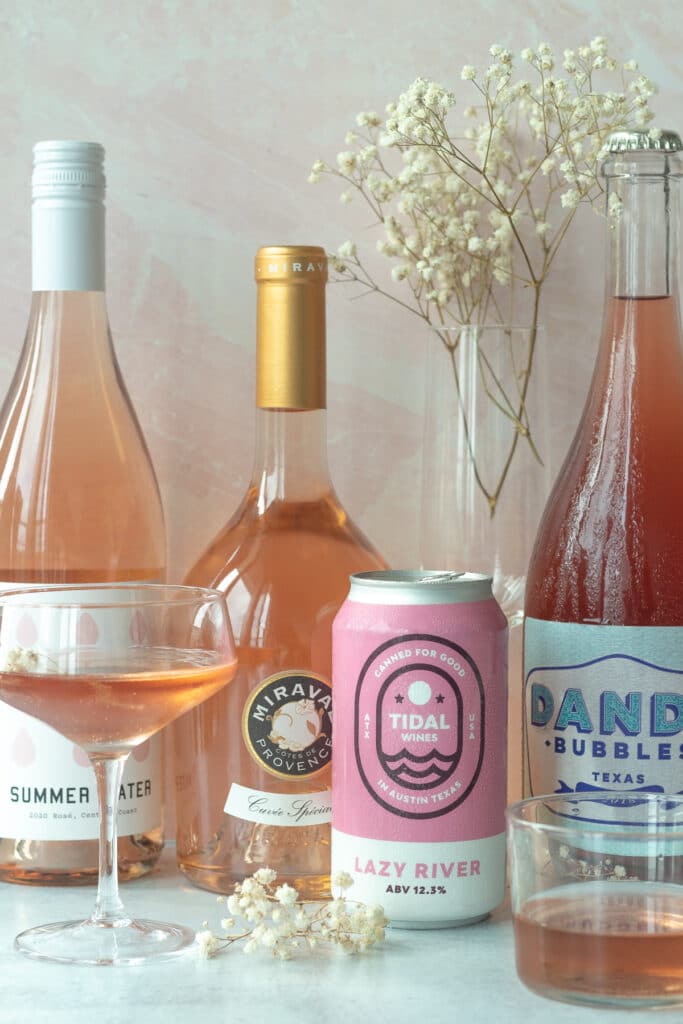 If there is ever a time to drink your absolute favorite rosé, it's while enjoying a rosé-themed cheese board. Above are a few of my faves, but sweet or dry works here. Just make sure it is ice cold!
From right to left:
Summer Water: This has been my go-to for YEARS. As its name suggests, it truly does go down like water. I always keep a bottle or two in the fridge for impromptu day drinking sessions with friends and everyone loves it! I find mine at either Whole Foods or Central Market, but you can order it online too!
Miraval: I call this my fancy rosé for no other reason than the bottle makes me feel fancy. It's very reasonably priced and (I've found!) easily accessible. I love pulling a bottle out to have with a meal and have found it goes with just about anything, from a light summer dinner (like a cheese board, perhaps?!) to backyard barbecue snacks. I find Miraval at most grocery stores, as well as liquor stores like Total Wine.
Tidal Wines: The BEST canned rosé in my oh-so-humble opinion. It's so perfectly drinkable but with great full-bodied flavor. This one is a crisp, French-style rosé and is absolutely wonderful (and convenient!) for a picnic. Also, they are based in Austin which makes my heart happy (as I, too, am based in Austin). You can buy Tidal on their site or at various places across Austin and San Antonio.
For something more available across the country, you can't go wrong with Underwood.
Dandy Bubble: Another Austin local, Dandy is my favorite bubble rosé. It has this slightly funky fermentation I LOVE. Ive tried the 2018 and 2019 vintages are both are great. It's especially lovely with salty food, like french fries, which also makes it perfect for sipping with a cheese board filled with olives and salty meats.
If you're into seasonal cheese boards...
Clearly, I've got you! Check these out:
How to make a summer cheese board
A Thanksgiving cheese board (it's never too early!)