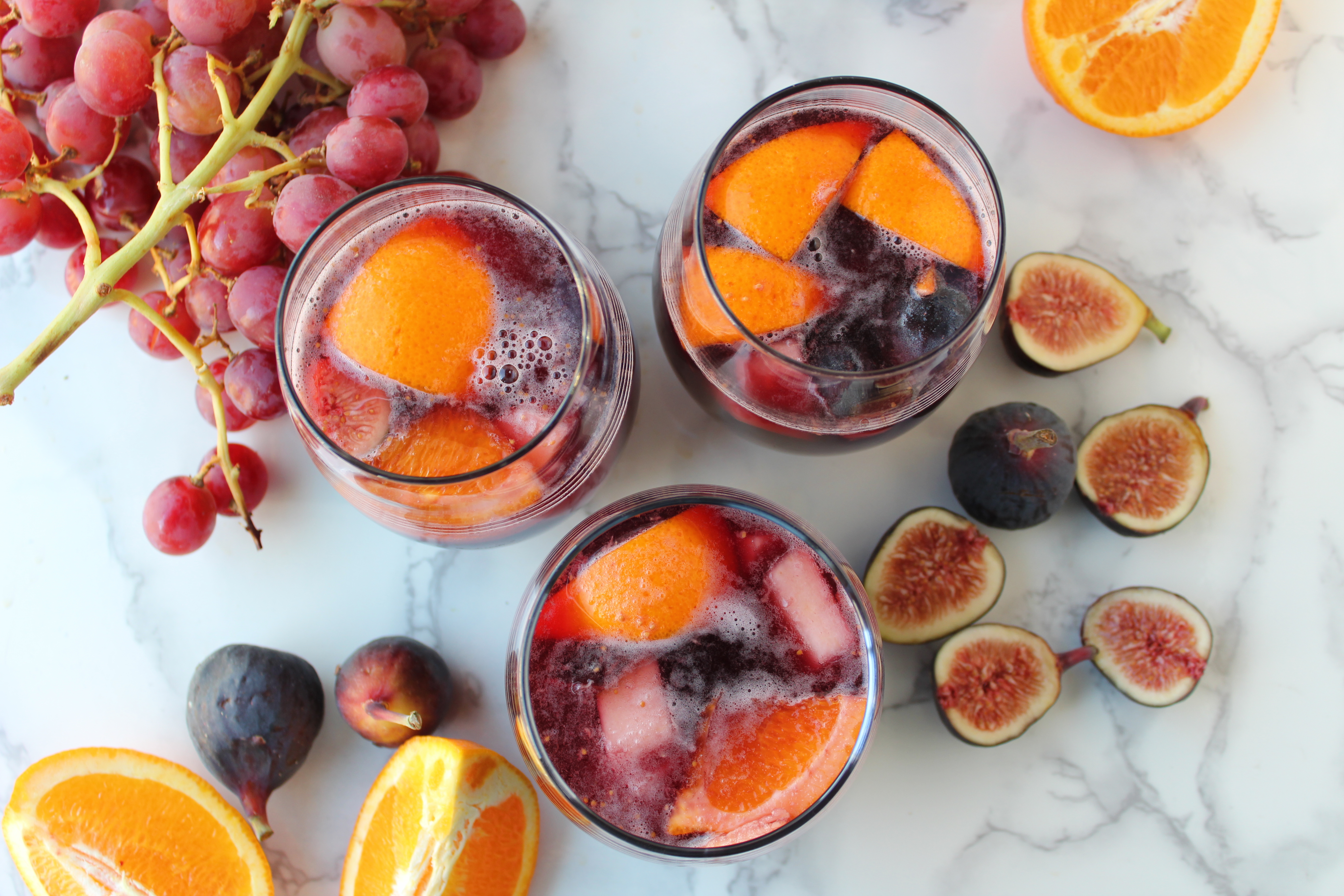 Hi hi!
I know it's been a little while, but look! It's sangria! Everyone likes sangria!
I think. I don't really know. But it feels strange to not like a drink made with wine and liquor, fresh fruit and juice, ginger and figs.
Okay, so that last one is very specific to THIS sangria. You get it, though!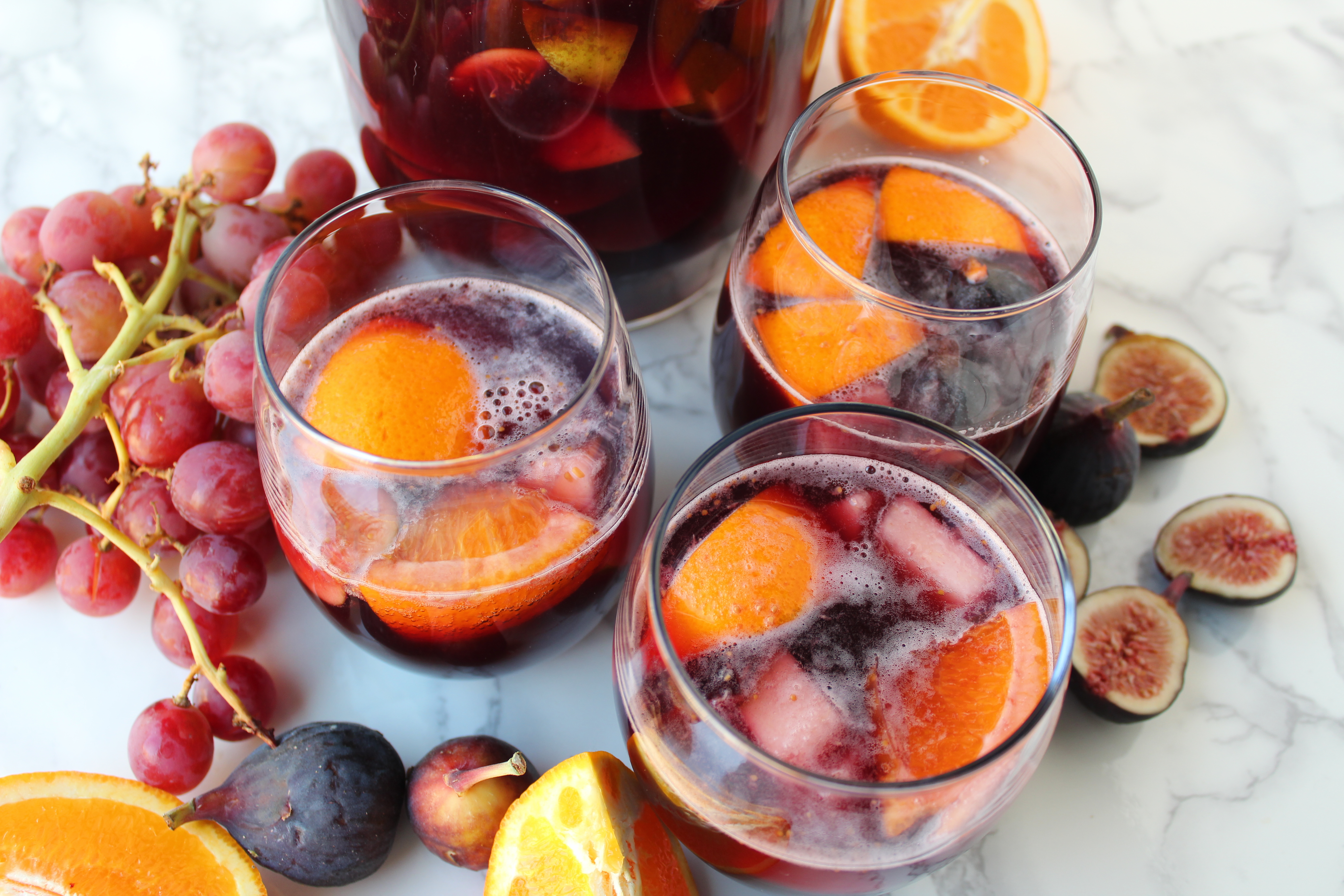 As I mentioned on Instagram, I'm having a bit of a moment with figs (if you missed it, I shared a few bonus recipes over there!) and it' still going. I can't always find figs at the store, but when I do I go nuts because I don't know when/if they'll be back!
The problem with this is that figs stay good for approximately 7 seconds, and I just can't go through them that fast! I'd have to eat them for breakfast, lunch and dinner and then some. And while that's not the worst thing in the world, I am only human.
Enter: Sangria!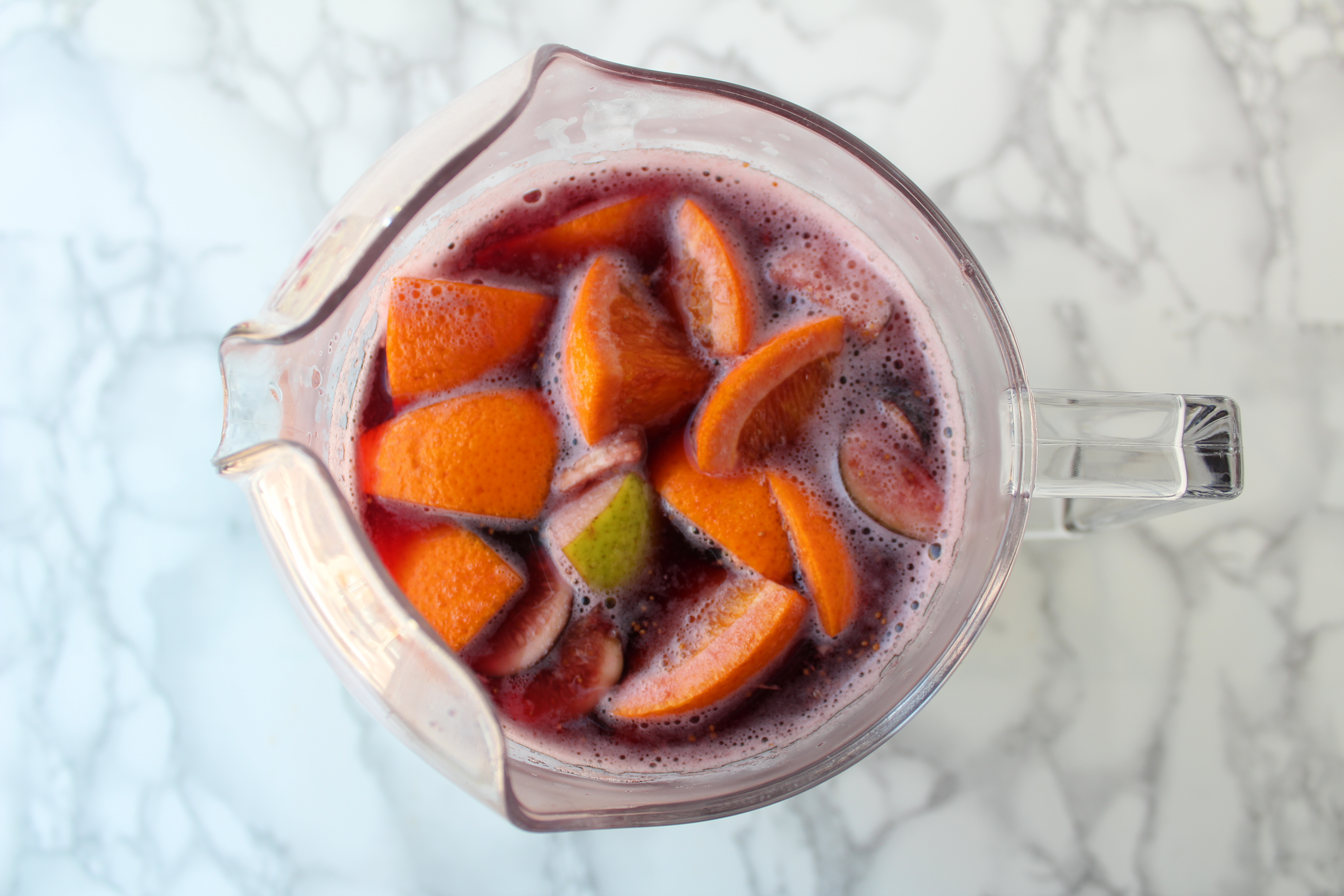 As we all know, the true beauty of sangria is that it is kind of hard to mess up. So while I have a specific set of fruits laid out here, you can absolutely swap them out. After this sits for a while, the fruit just kind of imparts a sweetness to the drink itself so my rule has always been to use whatever you have + whatever you enjoy eating.
(Because we all know the best part of sangria is eating the booze-infused fruit. Seriously, what did we do to deserve sangria?!)
With that said, if you don't like figs you can obviously leave them out. Or if you're one of those people that loves how pretty figs are but think they are gross (it's an acquired taste - I get it!), just throw a few in, take some photos and then avoid them when drinking. We are not here to judge.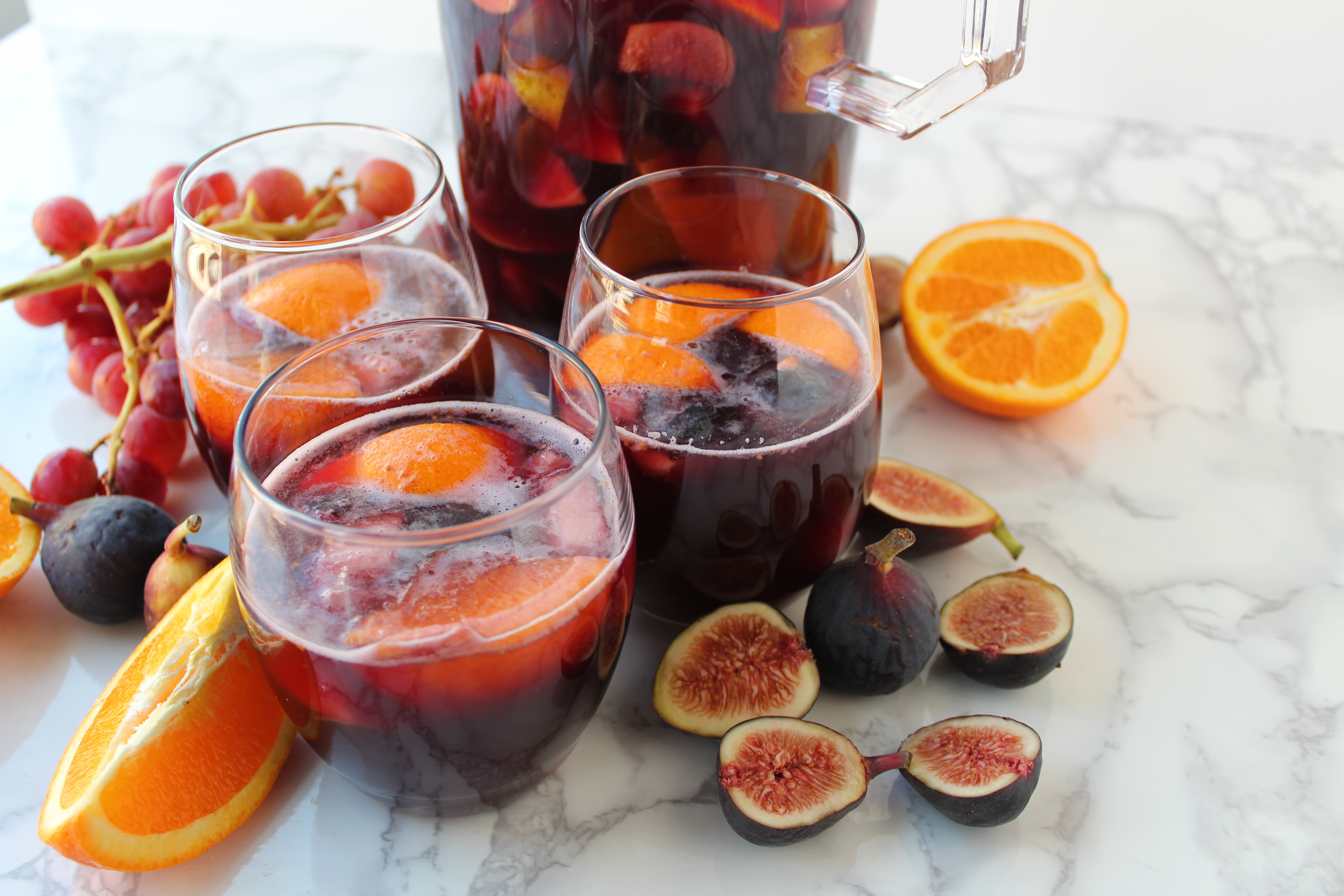 I tested this one out a few times (hard life, I know) and loved it every single time. It also lasted quite a few days in the fridge, so don't worry if you don't have people over to help you drink this. Obviously, I suggest you share this with friends but sometimes you just need a pitcher of sangria to get you through the week.
Boozy meal prep - I can get behind that.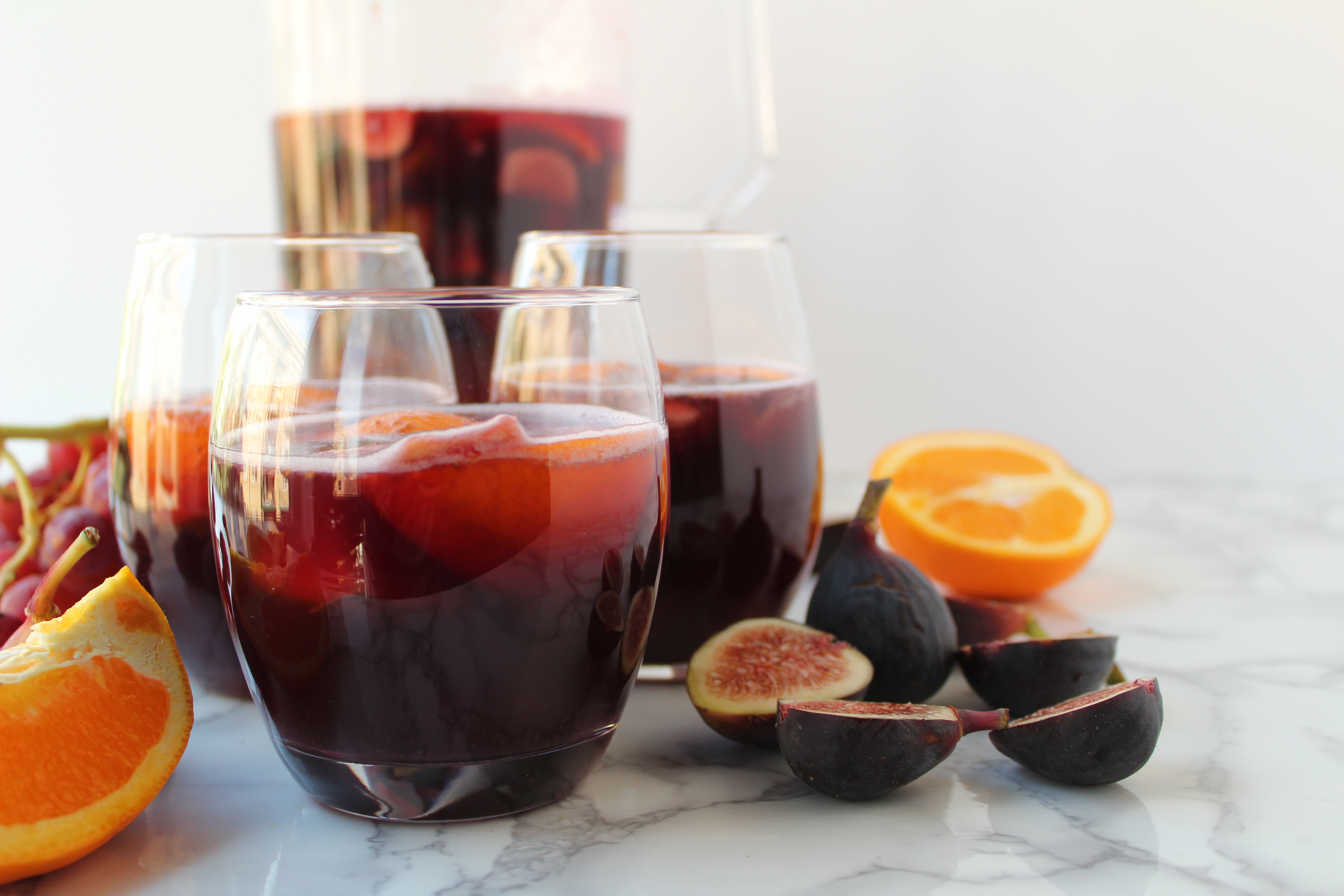 Print
1

pear, cubed

1 cup

figs, sliced in half

1 cup

grapes

1

orange, cut into segments

1

plum, cut into segments
I cup juice (pineapple, orange, apple, etc.)

½ cup

ginger syrup (recipe below)

½ cup

brandy

1

bottle red wine (I like Malbec!)

1 cup

club soda + more for topping
Ginger syrup
1 cup

sugar

1 cup

water

1 cup

ginger, roughly chopped
---
Instructions
Combine fruit, juice, brandy and ginger syrup in a large pitcher. Gently stir.
Add wine and the cup of club soda. Let the sangria sit for at least an hour in the fridge, but preferably longer as (like most sangrias) it gets better the longer it sits.
To serve, scoop some fruit out in a glass and pour sangria over. Top with a little extra club soda if you like the fizz.
To make the ginger syrup:
Combine sugar, water and ginger in a saucepan over medium high heat. Bring to a boil and then reduce the heat and let simmer for 15-20 minutes. Allow the mix to cool completely before straining. Extra syrup will last in the fridge for 2 weeks.
Notes
If you want this sangria to be extra gingery, feel free to replace the club soda with ginger ale or ginger beer. So good!
The syrup makes more than ½ cup but I like to have the extra on hand in case anyone wants their sangria to be sweeter.
HOWEVER, if you don't want to make the ginger syrup but still want the ginger flavor you can do that too. Either make a regular simple syrup or just add sugar to the drink (stir well to make sure it dissolves) and then add some chopped up ginger to the pitcher. As it sits the ginger will impart flavor. Just make sure everybody knows there are chunks of ginger in there so people can avoid chomping down on it.