A sweet and tart frozen treat! This raspberry limoncello frosé is perfect for summer parties and happy hours. Use your favorite brand of rosé wine and limoncello to make your perfect frozen cocktail.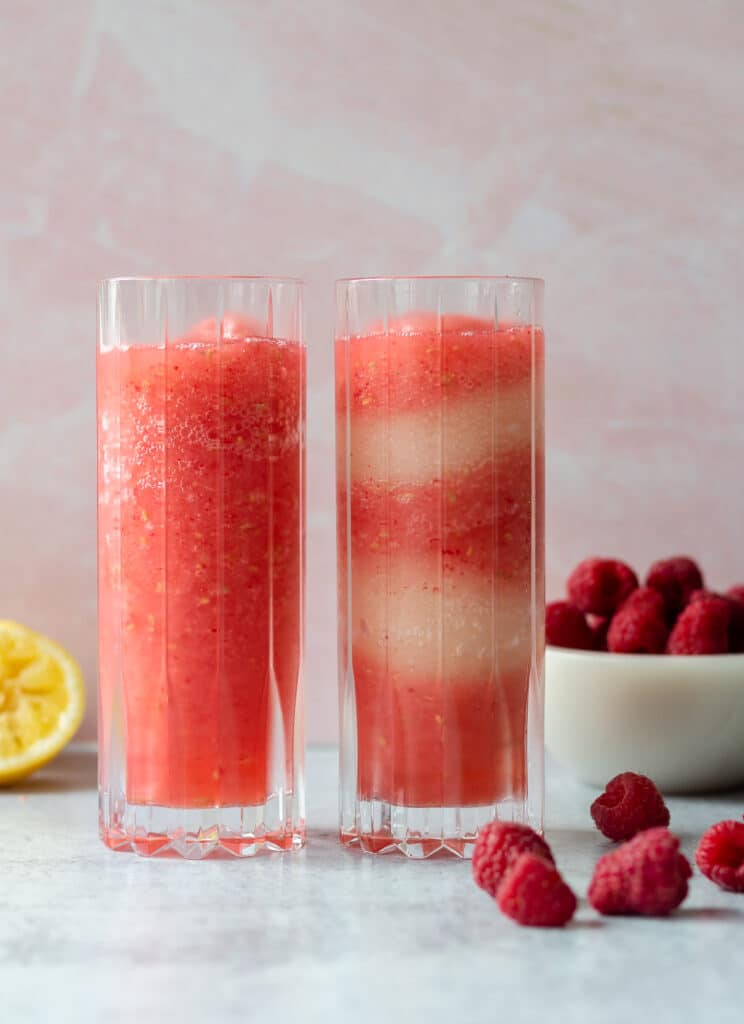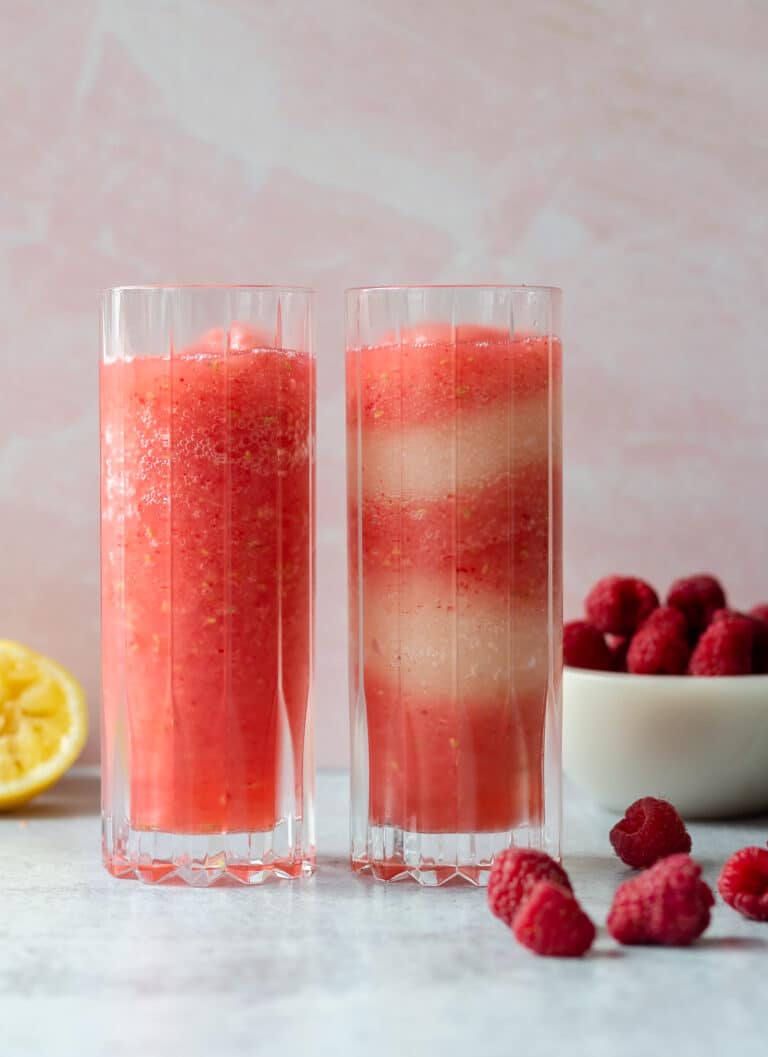 Print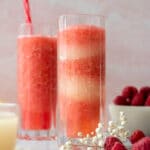 Raspberry Limoncello Frosé
---
Author:

Mansee

Total Time:

10 minutes

Yield:

6

1

x
Description
A sweet and tart frozen treat! This raspberry limoncello frosé is perfect for summer parties and happy hours. Use your favorite brand of rosé wine and limoncello to make your perfect frozen cocktail.
---
1

750ml bottle rosé wine (I like to use a sweet one, but any kind works here)

¾ cup

limoncello

2 cups

raspberries (fresh or frozen)

2

-

4

tablespoons sugar
---
Instructions
The night before, pour 1 750ml bottle of rosé into an ice cube tray. Freeze overnight.
Add rosé ice cubes to blender, along with ¾ cup limoncello and 2 cups raspberries. Blend to combine. Taste and add as much sugar as you'd like to sweeten (I normally do 2-3 tablespoons, depending on how sweet the raspberries are).
Serve and enjoy!
Notes
If your frosé looks a little thin/watery, you can add a few ice cubes and blend again to thicken.
Prep Time:

5 minutes (not counting time to freeze rosé)

Cook Time:

5 minutes

Category:

Cocktails

Method:

Blended
WELCOME TO ROSÉ WEEK 2021!!!
Per usual, this is the week you didn't know you needed. Five days of recipes featuring everyone's favorite pink summer wine. And while I'm a huge proponent of drinking any kind of wine with any kind of food at any time of year (i.e. drink what you want when you want), I think we can all agree a glass of ice cold rosé just hits different in the summer.
And when you freeze it and blend it up? That REALLY hits different. It's frosé time, kids.
Aside from being super easy to make, frosé is incredibly fun to make especially when you realize the flavor possibilities are endless. So far, we've done Strawberry Lime Frosé, Creamy Coconut Mango Frosé and Spicy Watermelon Frosé. And today we're introducing a new fruit - raspberry!
I love the slight tartness raspberry brings and I really played into that by adding more lemon flavor with fresh lemon juice AND limoncello.
Yes, you read that right. We need more alcohol with our alcohol. It's been a year, okay?!
The beauty of limoncello is that you get great lemon flavor but it's also sweet which balances really well with both the rosé and raspberries. Depending on your brand of limoncello you'll probably want to add a little more sugar, but you can be flexible with it. Do this all by taste!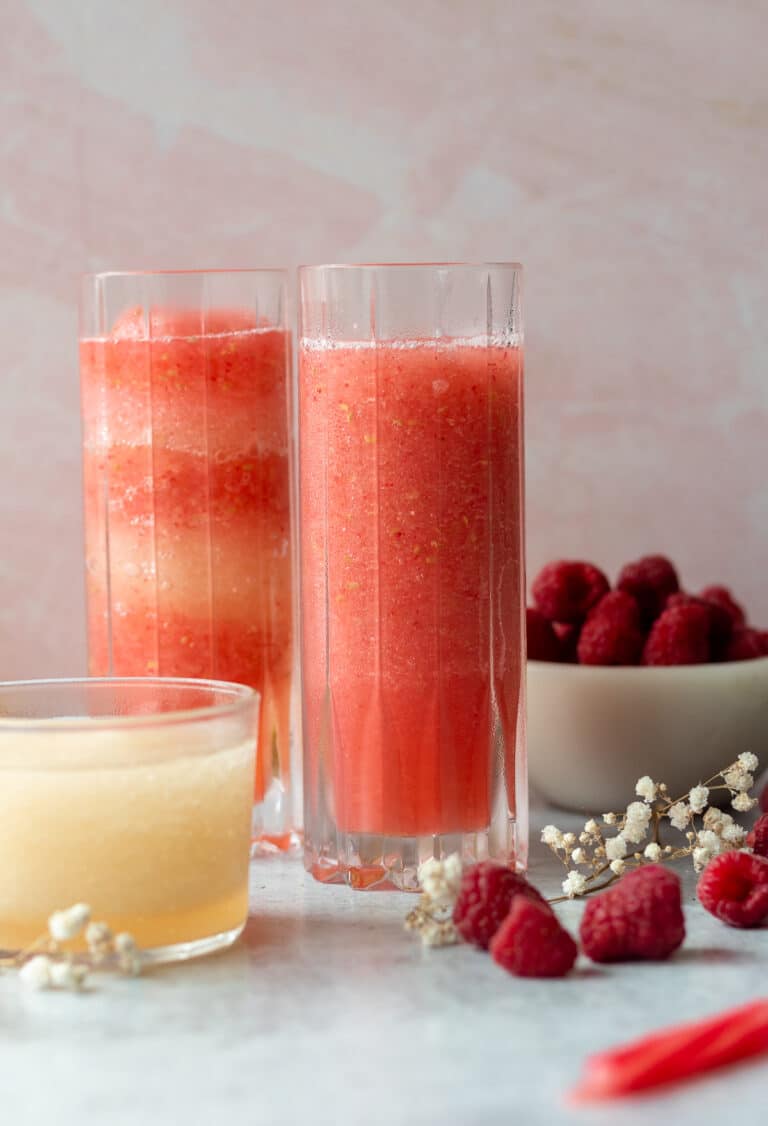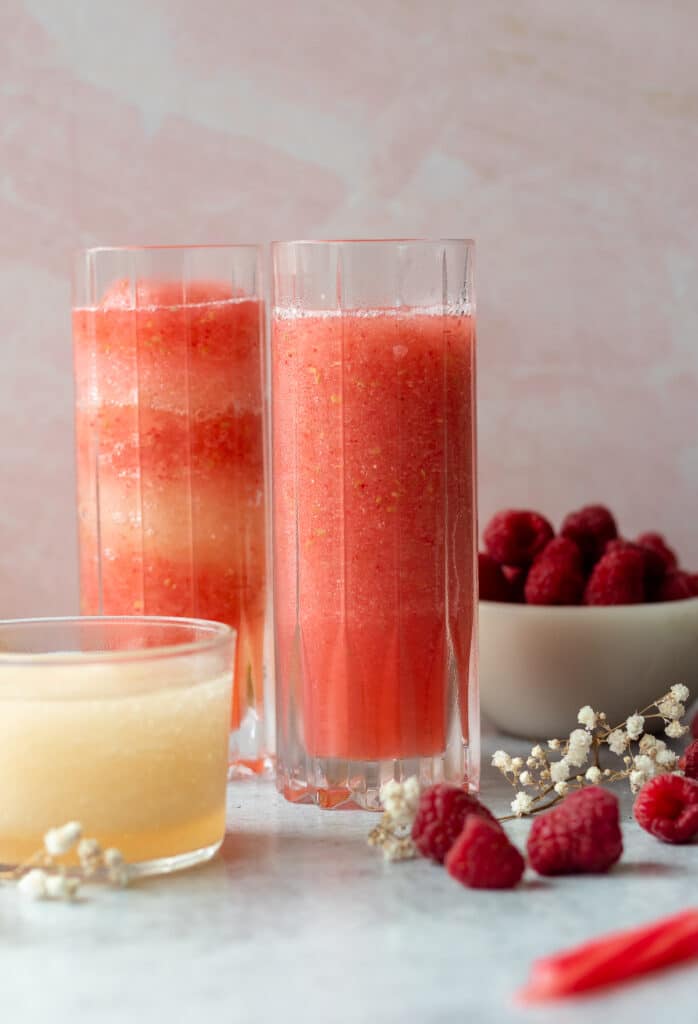 What is frosé?
You probably don't need me to explain this, but frosé is exactly what you think it is. Frozen rosé! In it's most simple form, you could totally just throw some rosé in the freezer (I like to pour it into a shallow baking dish or ice cube trays) and then blend it up to get a smooth, frosty treat.
But the real beauty of this drink is all the flavor you can add in. From different simple syrups to fresh or frozen fruit to more alcohol, you have so many options!
Frosé is great to make for a party as you can blend up a big ol' pitcher and then keep it in the freezer as needed. I've actually found the best frosé texture comes when I do a double blend - which means you blend everything up once, stick it all in the freezer (you can keep it in the blender pitcher if your freezer has space!) for 30-45 minutes and then blend again. The second blend is 100% not necessary, but it does make for a really great texture. It's also perfect for a party because you can get all the messy work done ahead of time, and then just do that second blend when guests arrive.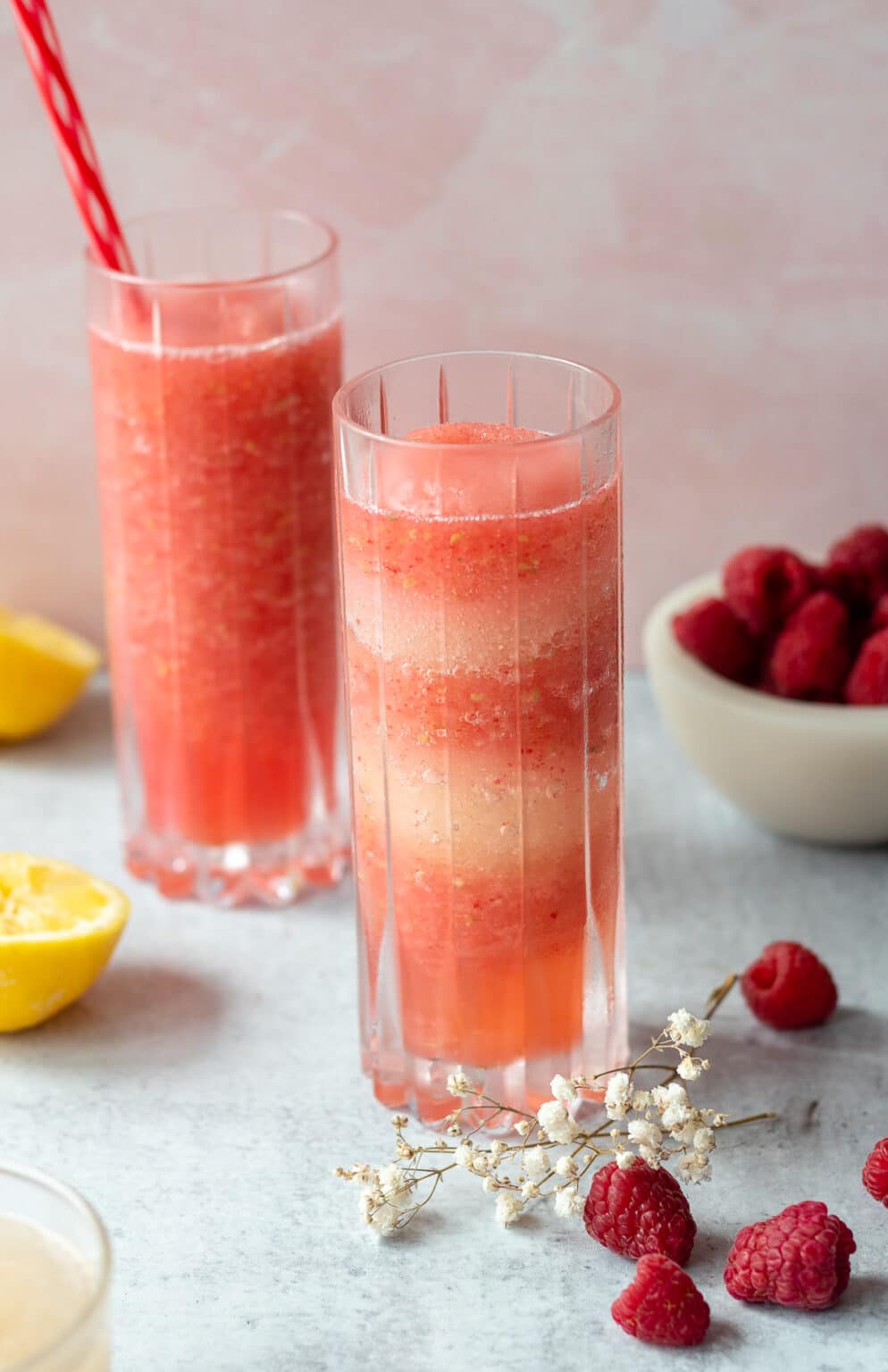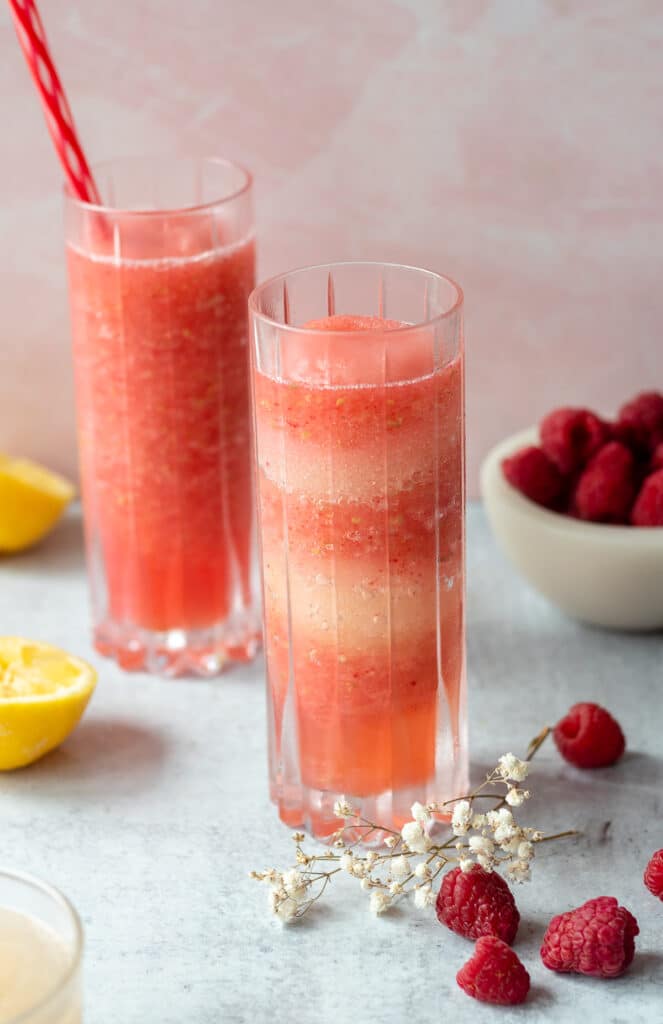 What you'll need
Rosé wine: I truly think you can use any kind of rosé for frosé, but I do tend to love a darker more full-bodied variety for something like this. I think it stands up best to stronger flavors like lemon and raspberry.
Limoncello: If you're not familiar, limoncello is an Italian lemon liqueur generally served after meals. Brands vary, but it tends to be on the sweeter side and is amazing on it's own or mixed with sparkling water. If you're feeling fancy, try making your own!
Lemon juice: Just a little bit to really play into the lemon flavor.
Raspberries: Fresh or frozen! Frozen is actually great because it helps the drink blend up perfectly, but if you have fresh on hand go for it.
Sugar: The amount will depend on the sweetness of literally everything else in this drink. If your rosé, limoncello AND raspberries are on the sweeter side, you might not need any sugar at all! I wait to add the sugar last so I can give the drink a taste and then decide from there. You'll likely need anywhere from 2-4 tablespoons, but tweak as needed.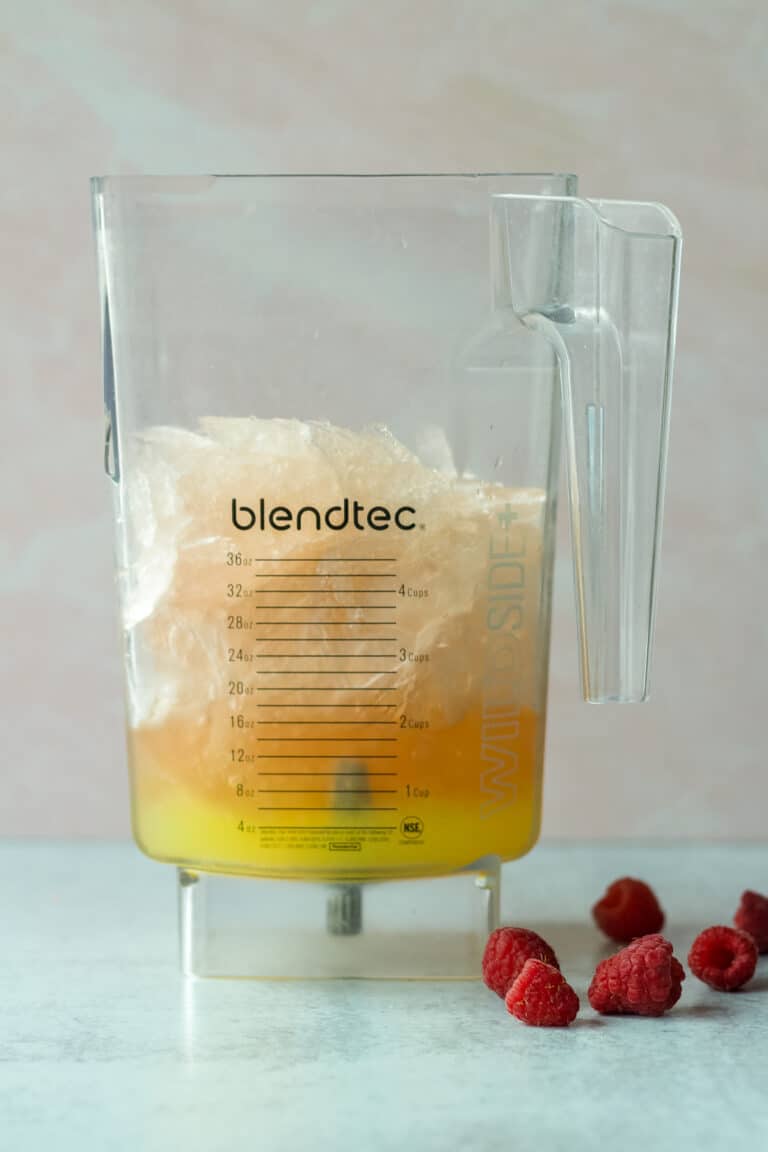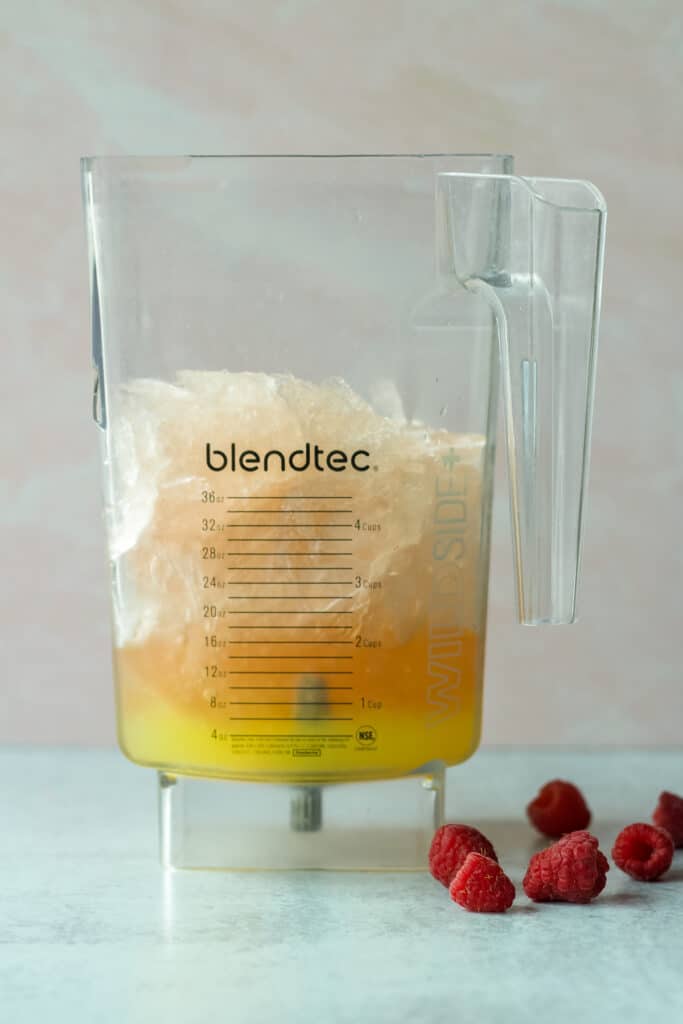 Blend it up!
Making this raspberry limoncello frosé is so easy - you just need to do a little planning ahead.
The night before (or at least 6-8 hours) pour your rosé into ice cube trays and let freeze. If you don't have ice cub trays on hand (hi, me at the time of this photo shoot) you can also pour it into a shallow baking dish and freeze that. When you're ready to make your drink, just use a spoon to break it up until frozen chunks or shards and throw it all in the blender.
To the frozen rosé, add limoncello, lemon juice and raspberries. Blend everything up to combine. Taste and add as much sugar as you need and then blend again. If it looks a little watery, feel free to thrown in a few ice cubes to get the texture you want. OR if you have time, throw the whole pitcher into the freezer and let it sit for at least another 30 minutes. Blend it up again and it should be perfect!
Note: To make the layered version you see in these photos, blend everything up but leave the raspberries out. Take out about a ⅓ of the mixture and set aside. Then add the raspberries to the blender with the rest of the frosé and blend again. Pour into your glass, alternating layers and enjoy!
Rosé Week 2021
I always have so much fun prepping for Rosé Week and this year was no different. Aside from being the perfect wine to drink on hot summer days AND cool summer nights, rosé is also a great cooking wine. Like years prior, I'll be sharing a new recipe every day the rest of this week that showcases how you can cook with rosé. From great dinner recipes, to dessert to snacks, I've got you covered.
If you're interested in past rosé recipes, you can find them all here! I truly do love them all, but a few special favorites are:
Enjoy and CHEERS!
P.S. Looking for some rosé cocktails? Sign up to receive my FREE eBook with 6 rosé-based cocktail recipes!