A crispy, golden grilled cheese sandwich with rosé-spiked caramelized onion jam. Great way to elevate a classic!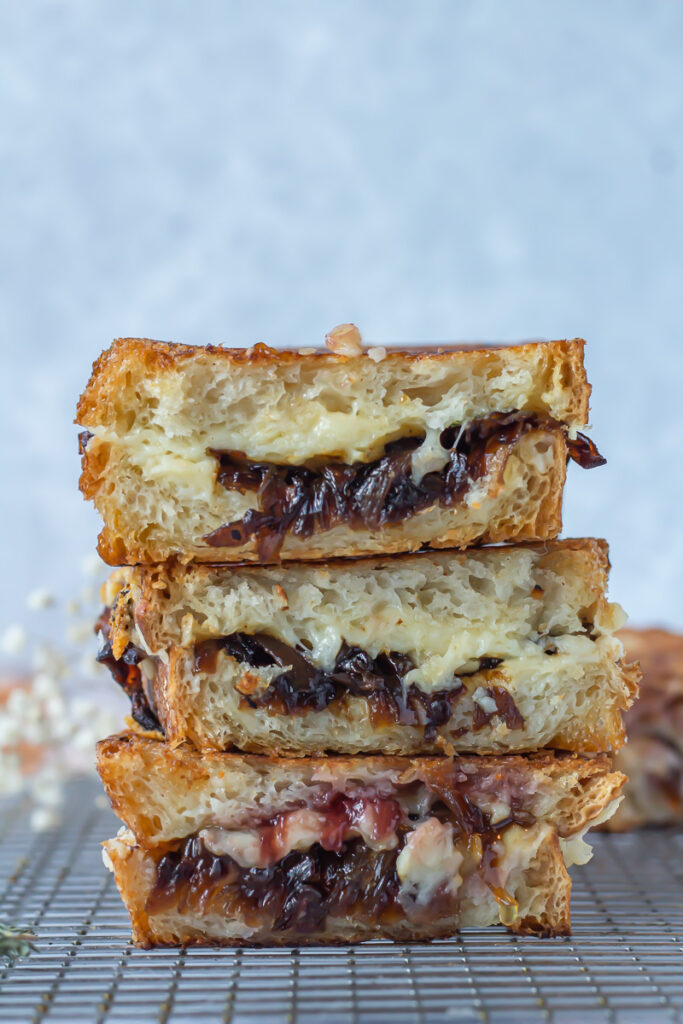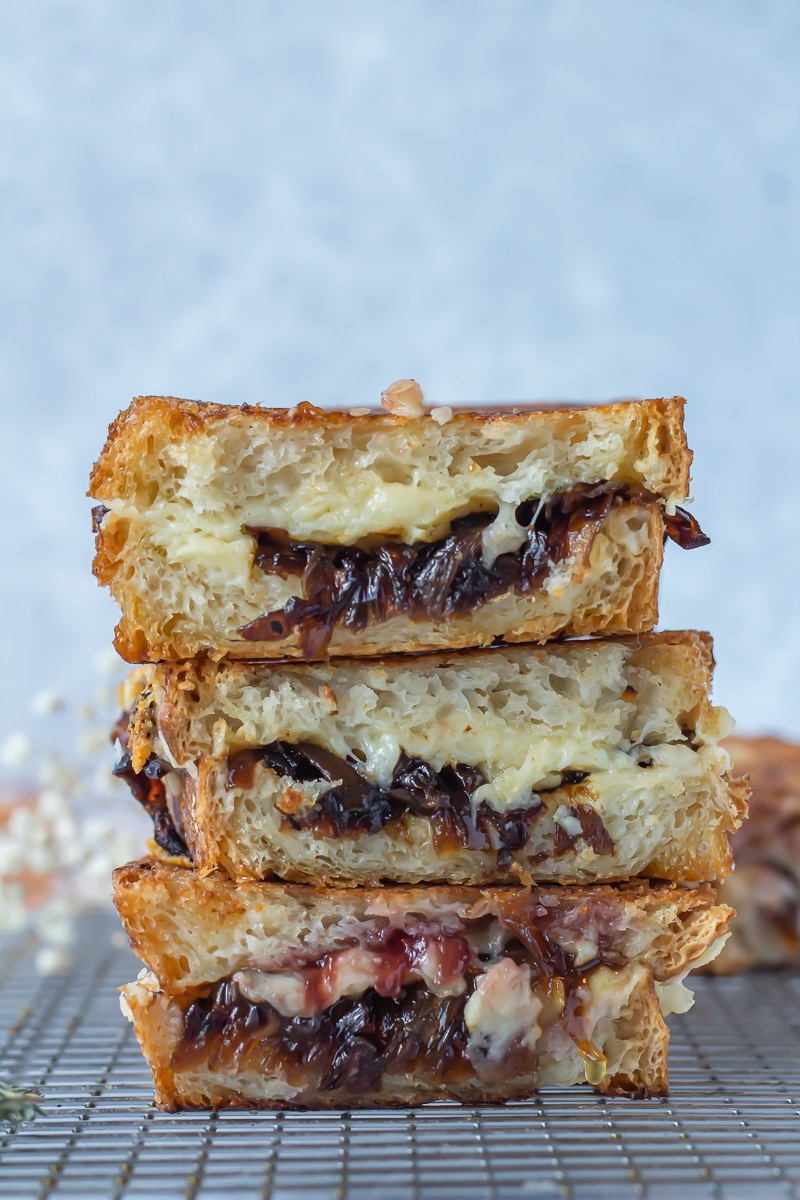 Print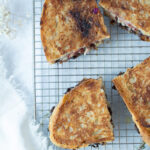 Grilled cheese with rosé caramelized onion jam
---
Author:

Mansee

Total Time:

1 hour

Yield:

4

1

x
Description
A crispy, golden grilled cheese sandwich with rosé-spiked caramelized onion jam. Great way to elevate a classic!
---
2 tablespoons

olive oil

2

large onions, thinly sliced

¼ cup

sugar

½ cup

rosé

4

thyme sprigs

8

slices bread

8 tablespoons

butter, softened 

4 oz

shredded white cheddar

4 oz

shredded gruyere

¼ cup

strawberry jam (optional)
---
Instructions
Heat 2 tablespoons olive oil in a large pan over medium heat. Add 2 large thinly sliced onions and stir to combine. Reduce heat to low, sprinkle with ½ teaspoon salt and let cook for 15-20 minutes, stirring every 5 minutes, until onions are soft, light brown and just start to caramelize.
Add ¼ cup sugar, ½ cup rosé and 4 sprigs of thyme and stir to combine. Increase heat to medium again and let cook for an additional 15 minutes, until onions are jammy. Remove thyme stems and let cool slightly.
When ready to make grilled cheese, combine 4 oz white cheddar and 4 oz gruyere in a small bowl. Heat a large frying pan (use the same one you did the onions in if you want!) over medium heat. 
Add 1 oz (aka ⅛) cheese mixture to one slice of bread. Top with a spoonful of caramelized onion jam and another 1 oz of cheese. Add second bread on top.
Spread one side of sandwich with 1 tablespoon of butter. Put sandwich butter side down into preheated pan. Let cook for 4-5 minutes, until bread is golden brown. 
Spread the other side of sandwich with another 1 tablespoon of butter and flip. Let cook for an additional 2-3 minutes, or until cheese is completely melted and sandwich is golden brown. If you find the cheese is not melting, cover the pan for a minute or two to help it along. 
Serve warm!
Notes
If desired, spread 1 tablespoon of strawberry jam on bread before adding cheese and onions. 
Prep Time:

10 minutes

Cook Time:

50 minutes
Coming in hot with comfort food, today! Literally.
You might not think of a hot, melty grilled cheese sandwich when you think of rosé, but I'm here to turn your world upside down.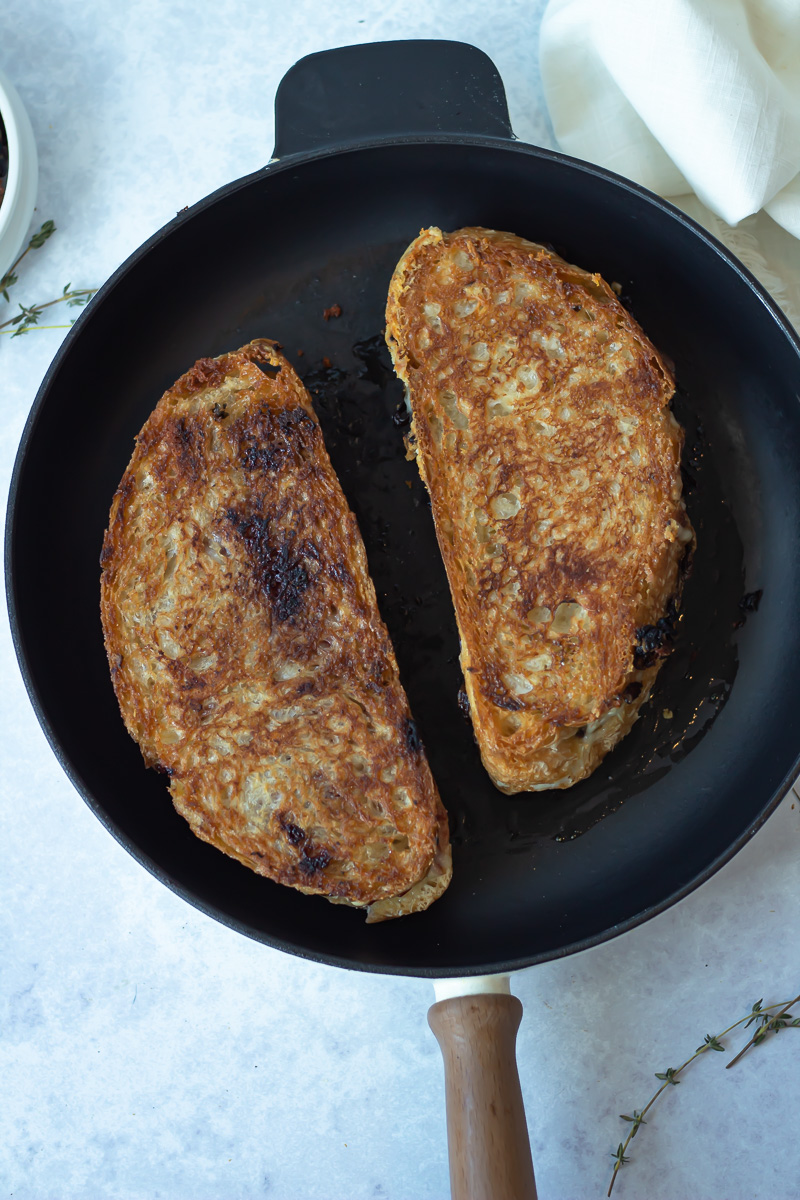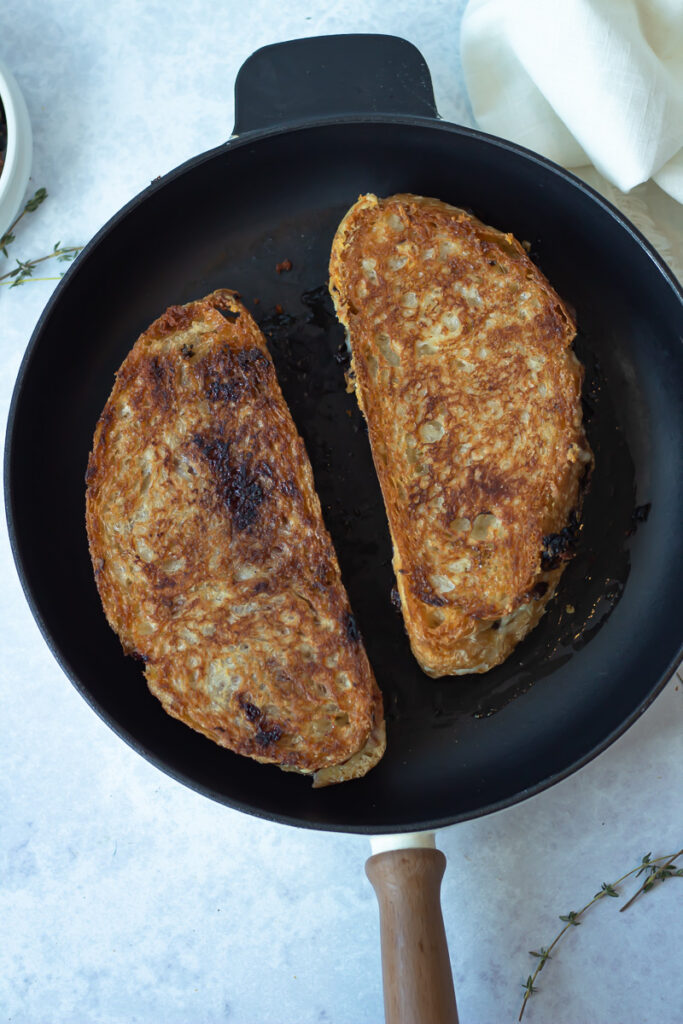 First of all, you should ALWAYS be thinking of grilled cheese sandwiches.
Secondly, well..that's kind of it. Grilled cheese is a joy and we're all lucky to have them.
It's hard to mess with the perfection that is a classic grilled cheese, but I do like to elevate my comfort sandwiches from time to time.
Sometimes I add a dab of mustard, other times it's bacon. Sometimes it's both! And sometimes, it's rosé caramelized onion jam.
Onions cooked low and slow until they just start to caramelize, and then cooked down even more with rosé and sugar until they turn perfectly jammy.
YES.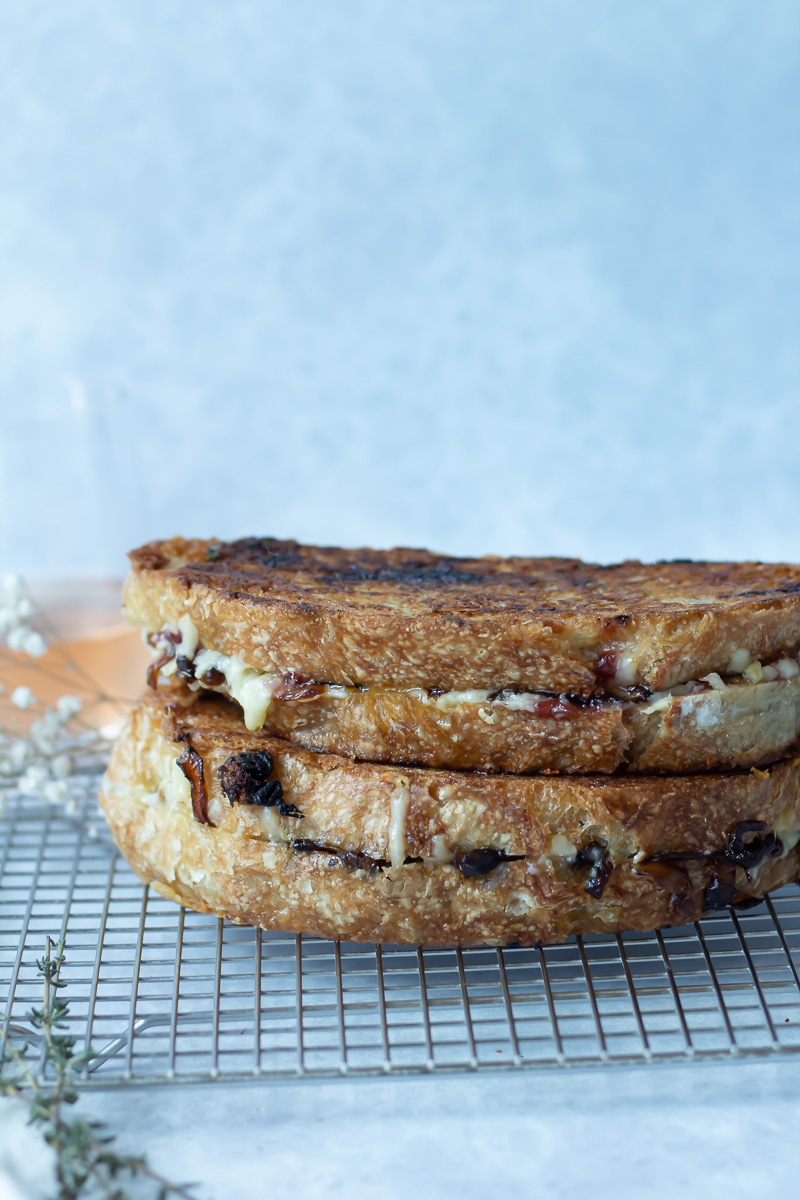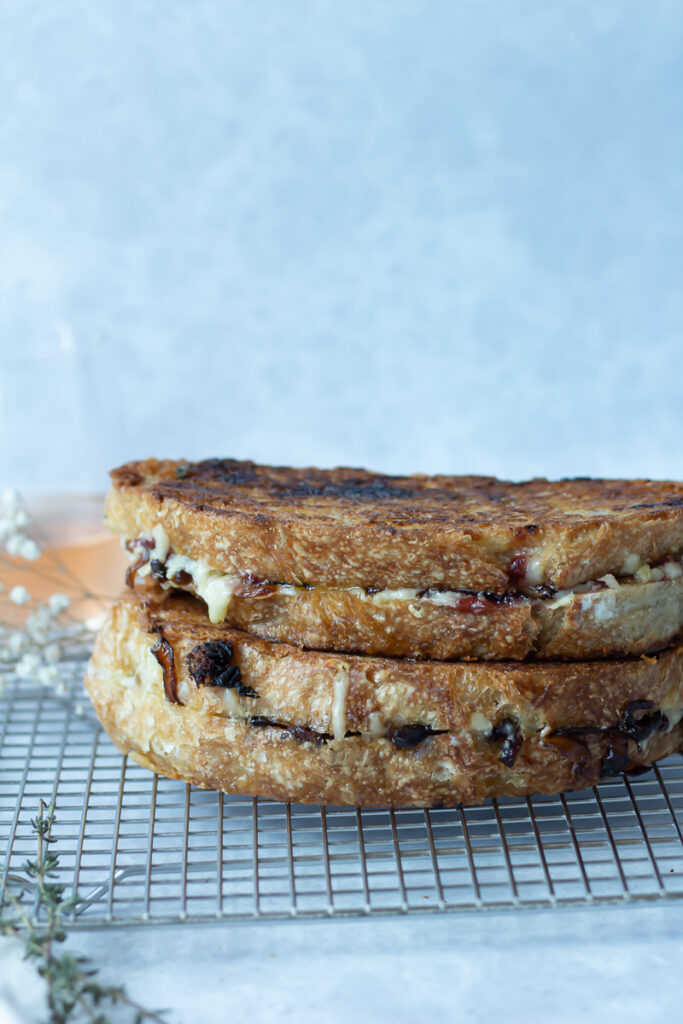 Why mess with a classic?
I know, I know! I just can't help myself. In my defense, you guys know I LOVE caramelized onions so a caramelized onion jam is not that far a reach for me. And the rosé? Well, I refuse to dignify that question with an answer thankyouverymuch.
Aside from the onions and the (optional!) strawberry jam, this is a pretty standard grilled cheese situation.
I went with a mix of white cheddar and gruyere for the cheese, but any nice, sharp cheese will do. Fontina would be awesome, as would a little goat cheese. I'd personally stay away from the general (aka yellow) cheddar, but if that's what you've got definitely give it a try.
And about that strawberry jam. It's good! it might sound weird, but a little goes a long way and adds the perfect amount of sweetness to cut that sharp cheese.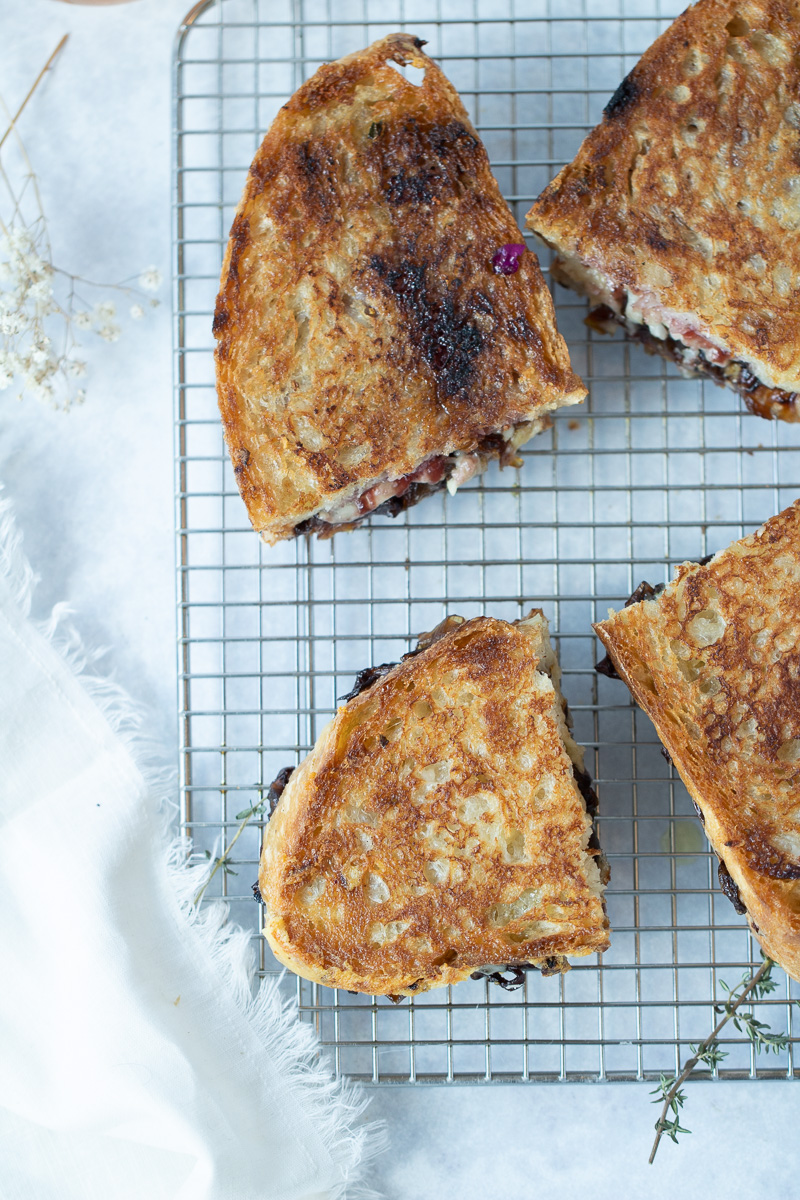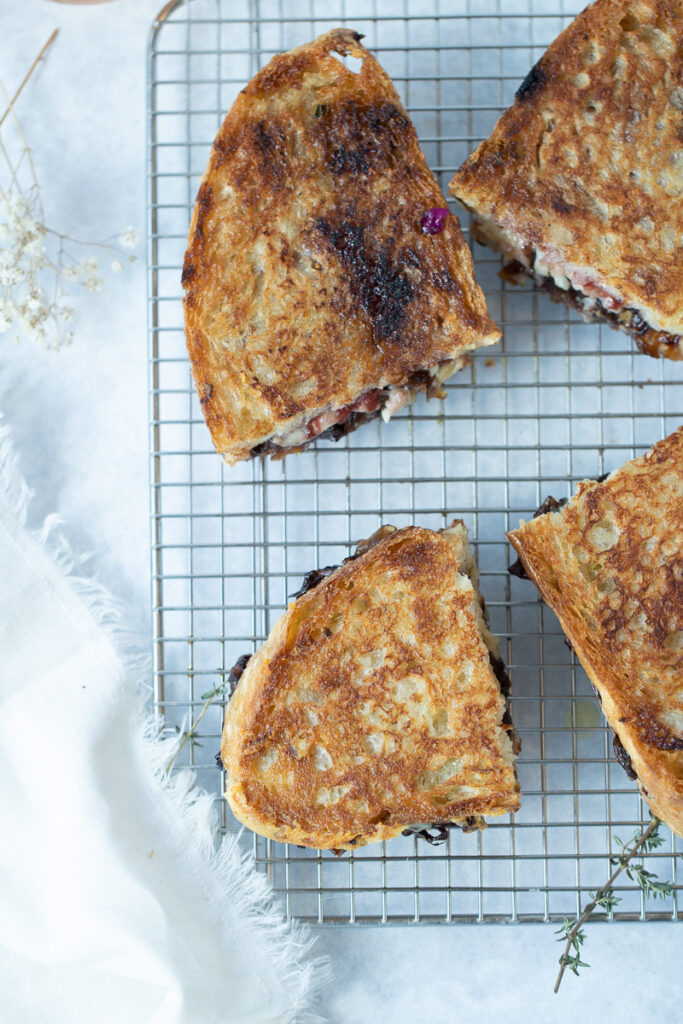 Butter vs. mayo
I like to use A LOT of butter to cook my grilled cheese sandwiches, and that's honestly just a hard habit to break.
However, I have tried the mayo route and will admit it absolutely does not suck. If that's your thing and/or what you've got, go for it!
The only thing I must insist on is that you don't skimp. You want a thick layer of butter or mayo to ensure a golden, crispy crust. This, along with cooking it over moderate heat for a slightly longer period of time (about 8 minutes per sandwich) ensures you get a golden crispy outside with perfectly melted cheese on the inside.
Ugh, so good.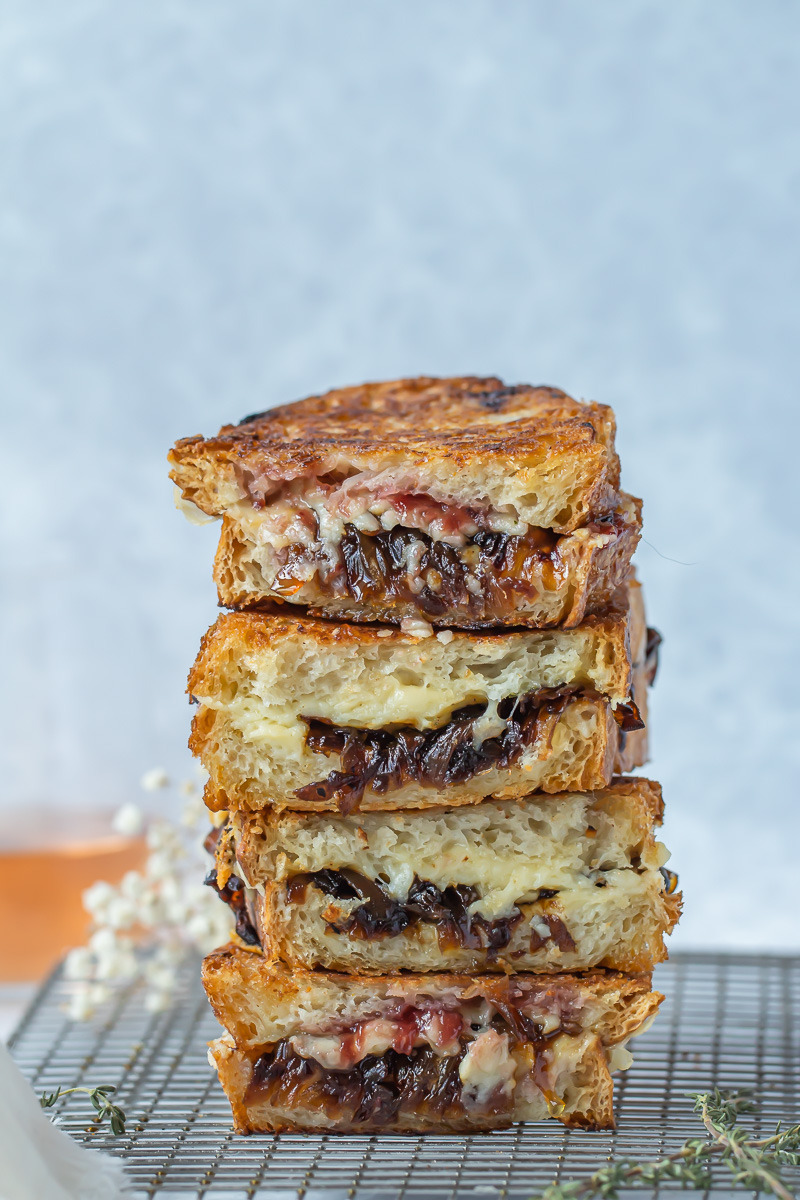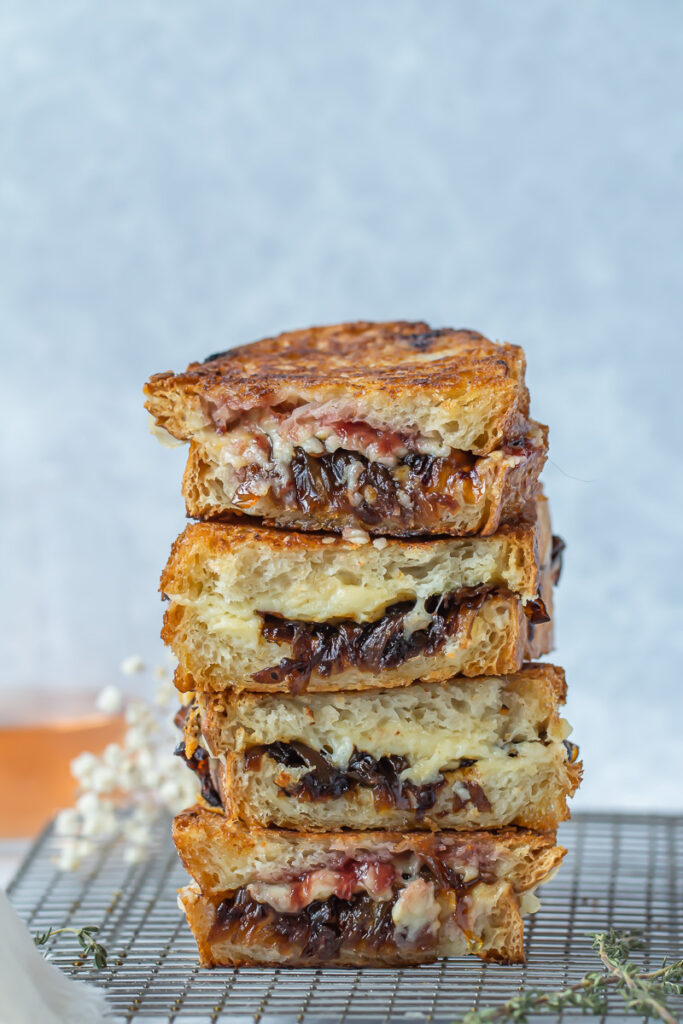 P.S. Super into rosé? Sign up for my FREE ebook with fun rosé cocktail recipes!