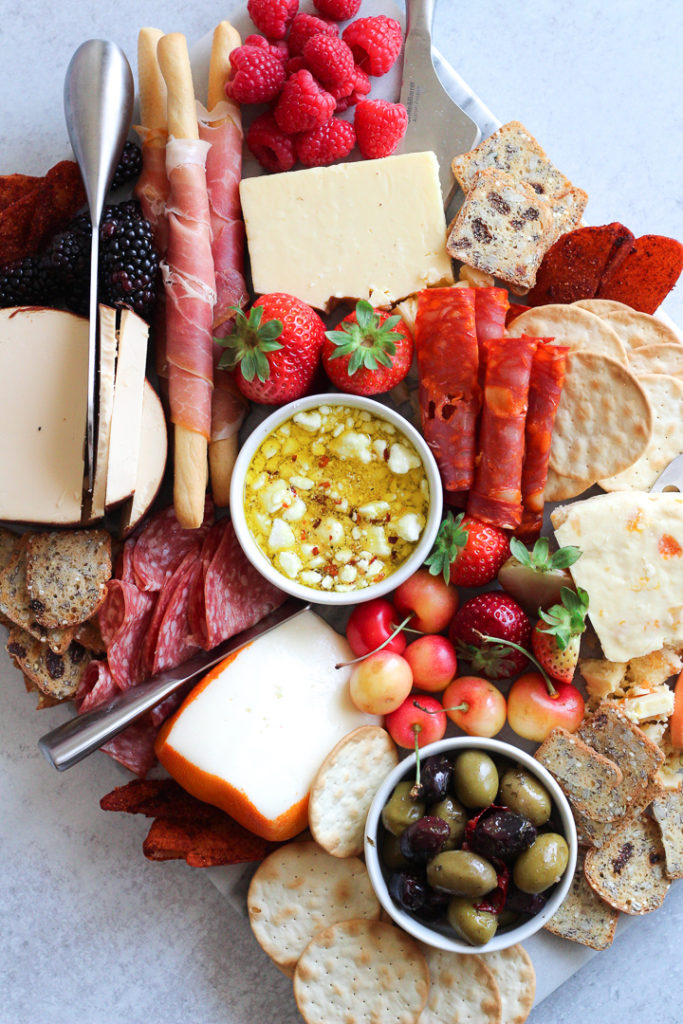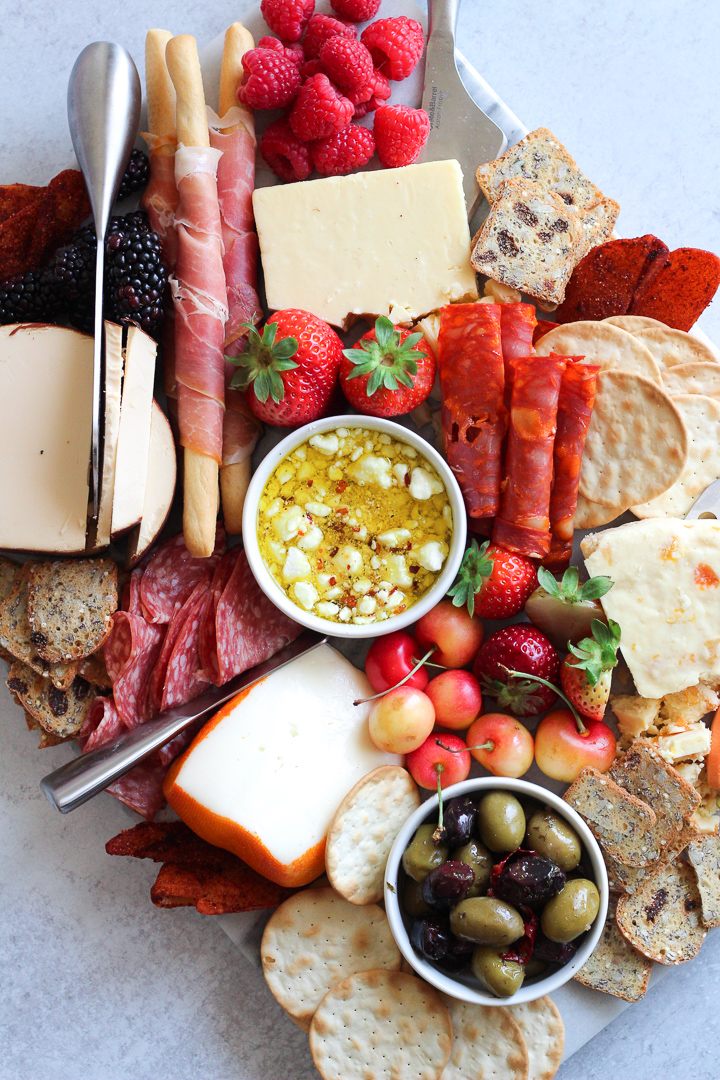 Cheese boards. I have so much to say about cheese boards!!
This might be my first post on the topic, but I assure you it will not be the last.
When I first "launched" Cooking for a Crowd on Instagram, one of my sweet friends sent me a message asking if I would do a post on building a cheese board, and my immediate reaction was YES! OKAY! LET'S DO IT!
Actually pulling this together was so hard though because there are SO MANY ways to go with a cheese board, you know? More importantly, there is no one right way to do it, so before we even truly get started I would like to share my ultimate, number one, if you take one thing from this post make it this tip: DON'T WORRY IT'S JUST A CHEESE BOARD.
Seriously. If there is cheese, some crackers and maybe a little meat situation your guests will love you. Cheese boards of all sizes and levels of extra-ness bring joy. This is a fact.
With that out of the way, let's talk about how I generally go about building a cheese board for guests. The one here is more of a "summer cheese board," if such a thing exists, but the tips cover it all!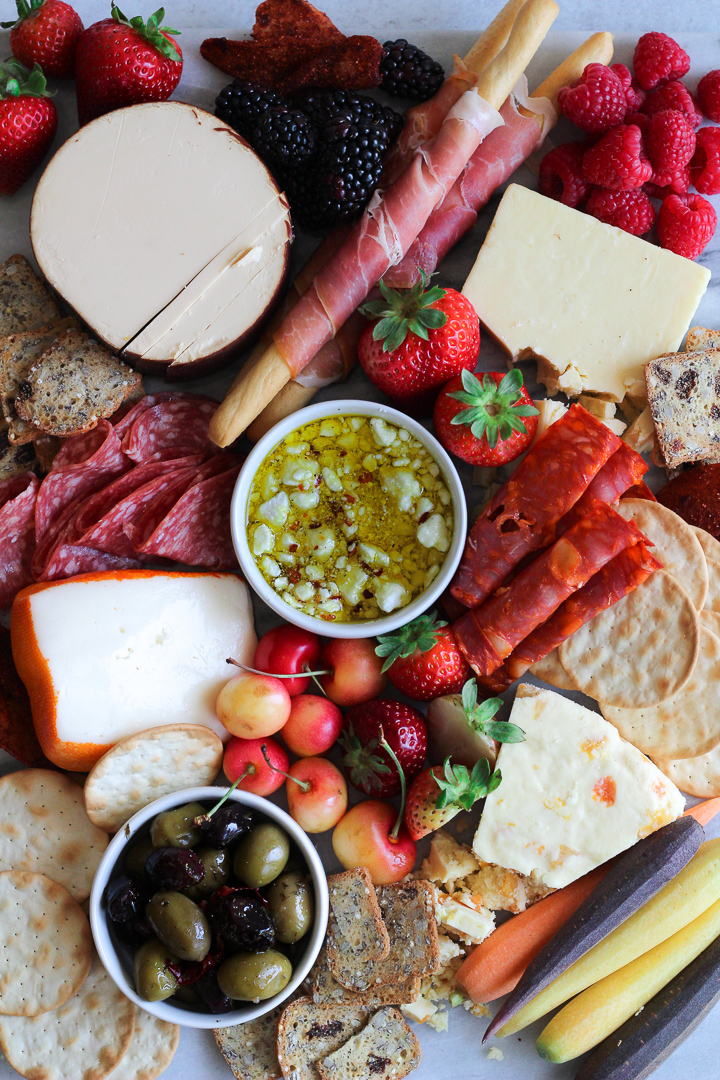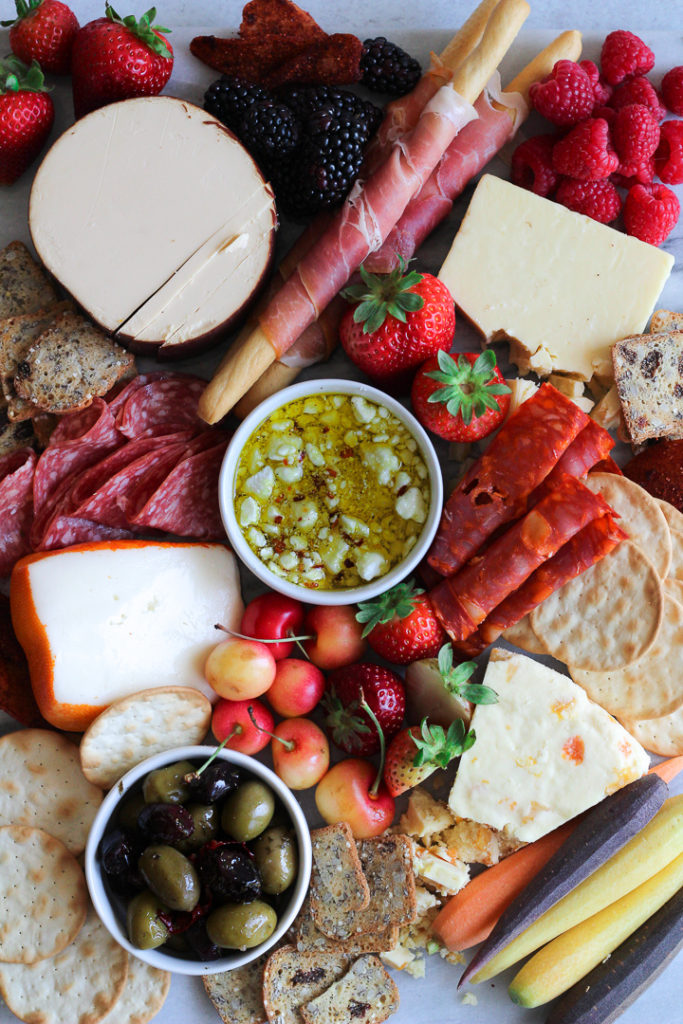 PLAN IT OUT
Okay, I know this first tip is already so extra. Just hear me out. Taking a few minutes to plan out your cheese board accomplishes a few things:
It'll make you think about the surface you'll build your cheese board on, so you'll go shopping with a general idea of how much food you'll need to fill it.
Using this time to think about what your guests will like helps with shopping. If the majority of your friends coming over are vegetarian, you'll probably only need one meat and instead fill up on olives, marinated vegetables, etc. On the other hand, if you've got a bunch of meat-lovers in your kitchen you'll probably want an array of meats like prosciutto, salami, spicy pepperoni, etc.
Once you have an idea of what you need, think about where to shop. I almost always get all my cheese board fixings from Trader Joes. Literally every single thing on the board you see in these photos is from there! In my opinion, they have the best selection of cheeses and meats for the price. It's also a great place to find marinated olives, dips, jams, crackers, etc. Total one-stop shop for me. With that said, most grocery stores these days have a great cheese section so you certainly don't have to go out of your way for this one.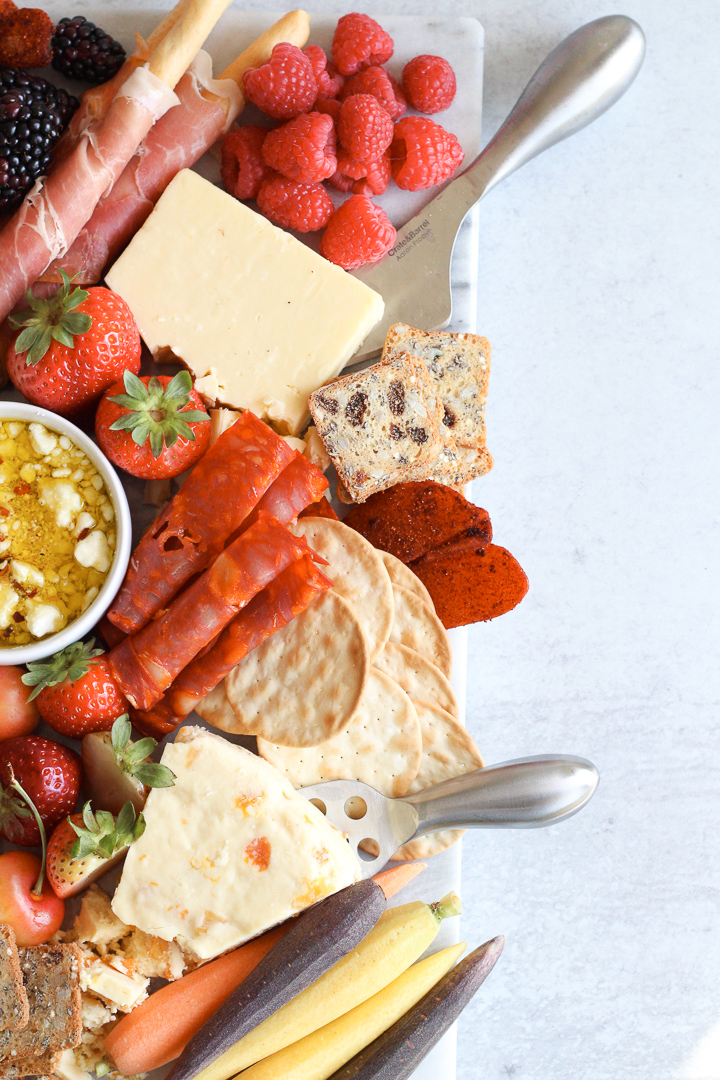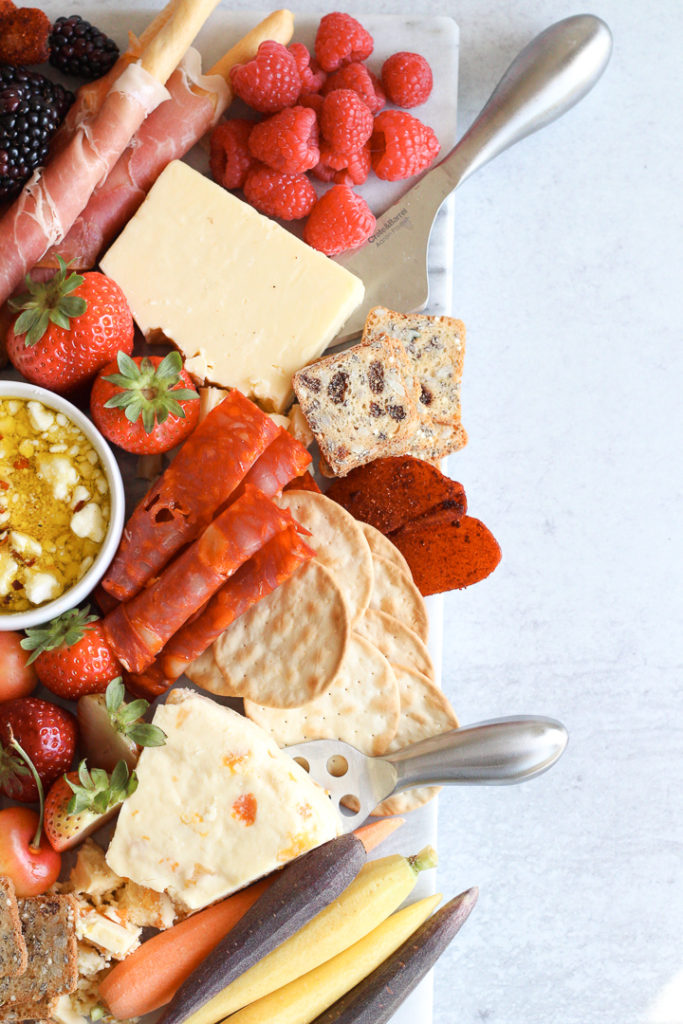 VARY YOUR CHEESE
Here's the lineup I generally go with. Anywhere from two to all of these will be great:
Cheddar - Universally loved! Stick to a regular mild or white cheddar, or try something a little more sharp. You can also find delicious flavors these days (there is a horseradish one I am obsessed with!), so feel free to try something a little new.
Goat cheese - This is a selfish pick because it's one of my most favorite cheeses, but I love it on a cheese board because of its versatility. You can roll it in herbs, drizzle it with some olive oil and flaky sea salt, or just leave it plain and watch your guests find a million ways to use it. It's also super easy to cut and spread, which is always really nice.
Soft - For me, it's almost always a brie. Keep it room temp, or warm it up and drizzle it with honey. Total cheese board star here.
Hard - I can only assume you already have a hunk of parmesan in your fridge right now. Throw it on the board - you just can't go wrong with that perfect salty bite.
You certainly don't have to stick to this, but if you're overwhelmed by the options I think this is a good place to start.
Bonus tip: Save the fancy, stinky cheese for a big party where it's statistically more likely to be eaten. If it's just a few friends or family members, you're probably going to be left with an almost-untouched hunk of blue cheese.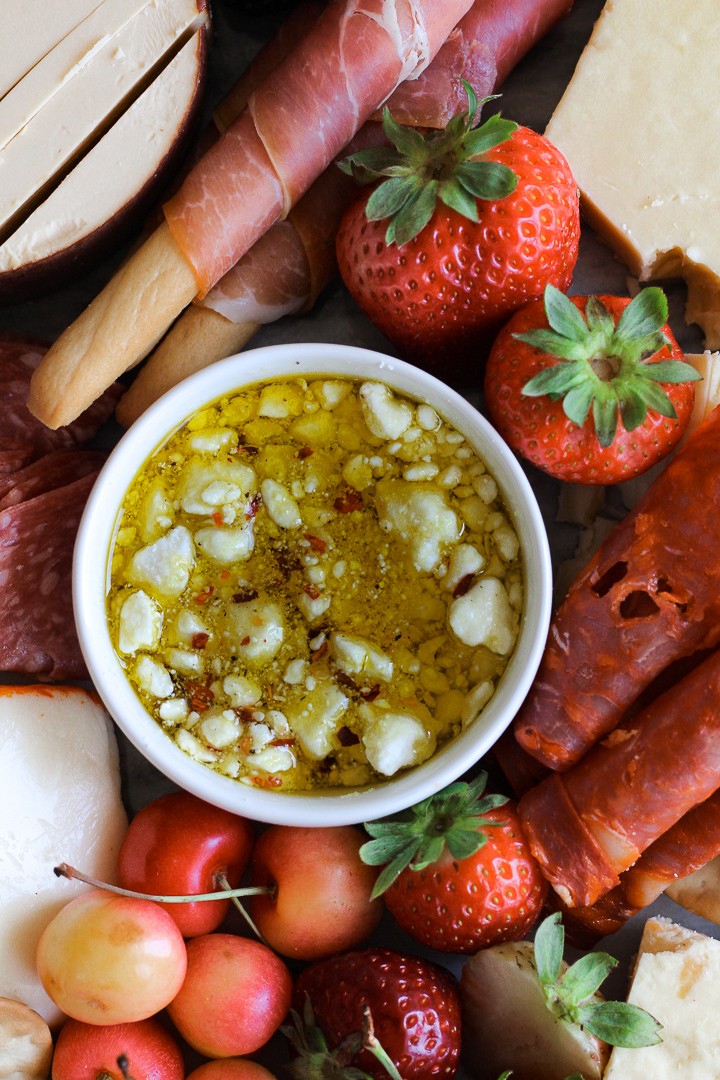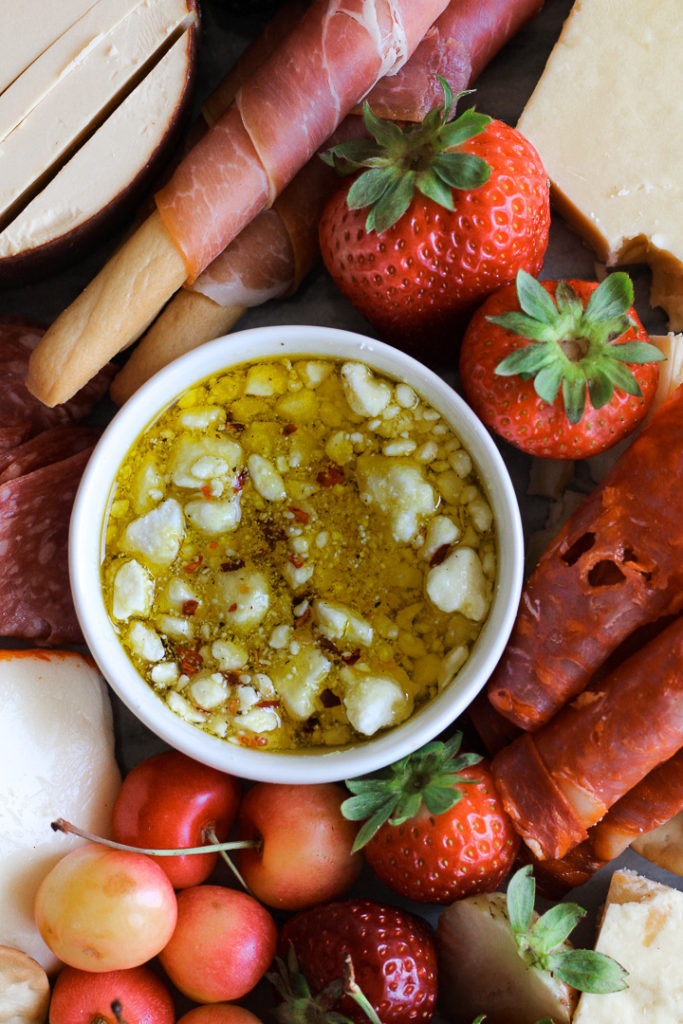 THINK ABOUT A SPREAD
One of my signature cheese board moves is to make a quick, creamy spread-like situation. As I mentioned above, goat cheese is perfect for this. You can just mash it up, mix it up with some garlic and herbs and you're good to go. For this board, I combined crumbled feta with olive oil and red pepper flakes. It's perfect to smear on a cracker or some bread and is generally the first thing to go on the board.
Homemade ricotta is also perfect for this! It pairs perfectly with any and all jams, honeys, etc. you might have around.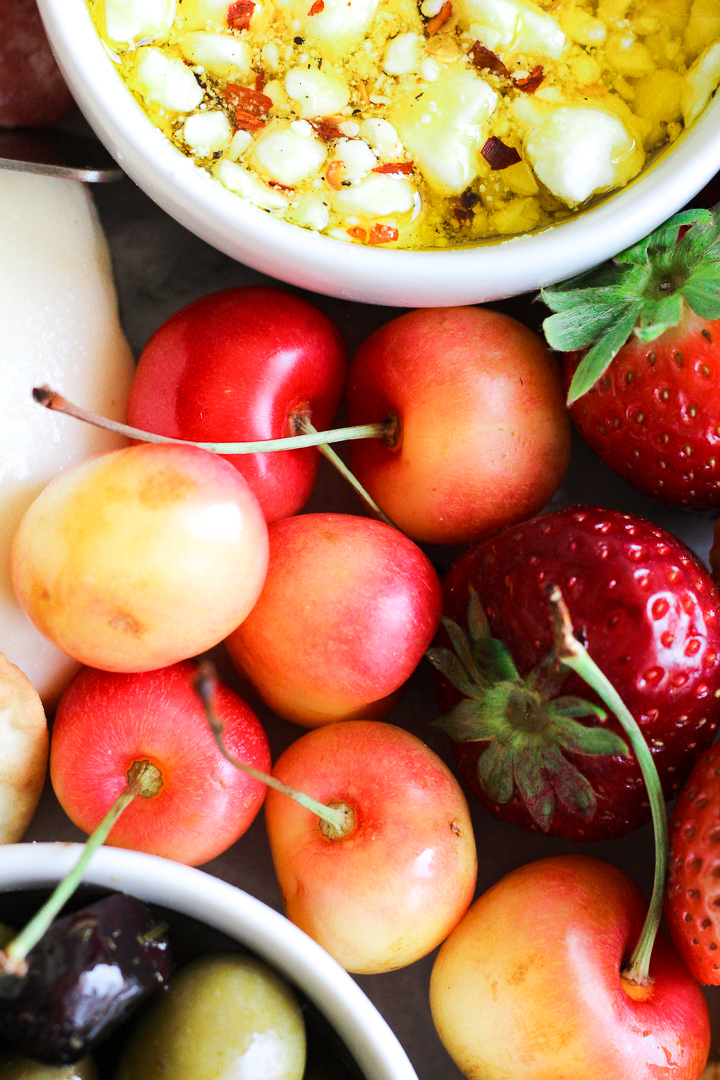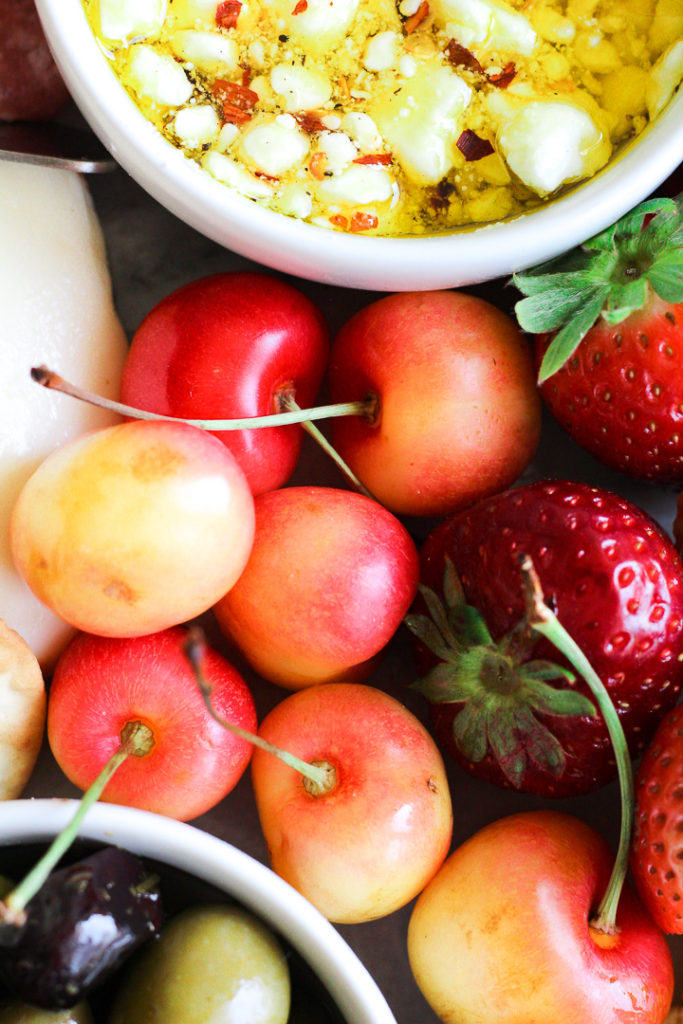 MAKE IT SEASONAL
Surely you noticed all the fruit here? In the summer, I love packing my cheese boards with fresh fruit. These berries and cherries go perfectly with the cheese, and it's also a great way to keep things a little lighter. Plus it's just pretty, okay? I'm also obsessed with cute multicolored carrots, but the fruit is the real star here.
Another way to do this, is to find a cheese with fruit in it. I found this apricot-studded guy at Trader Joe's (of course), and it was super fun on this board!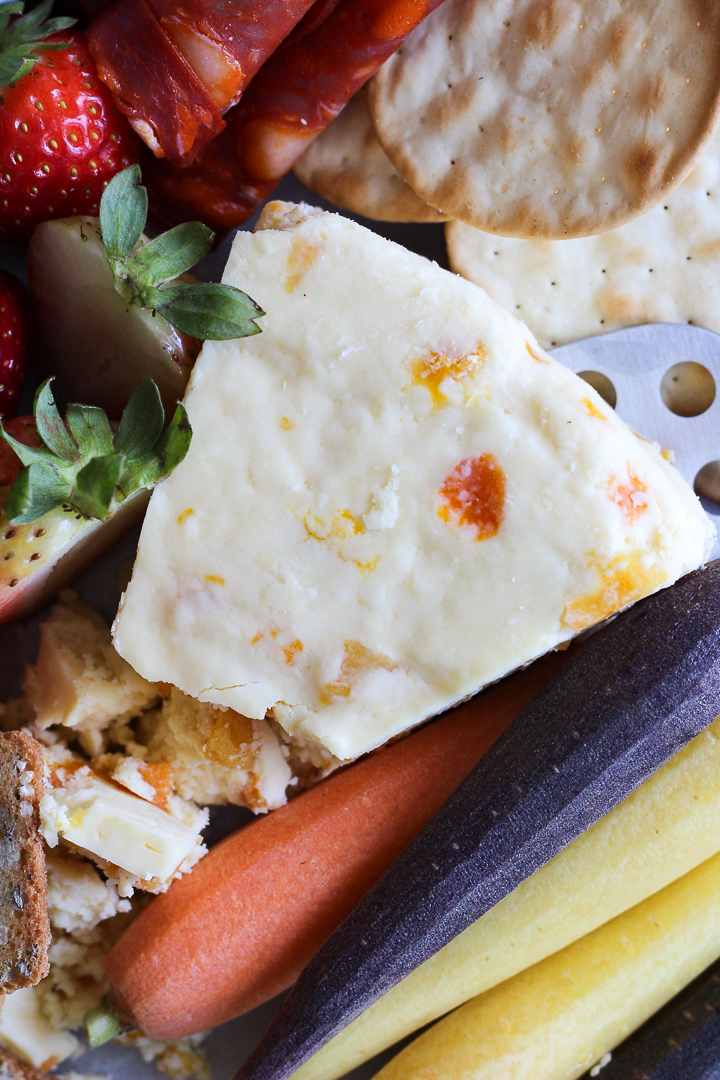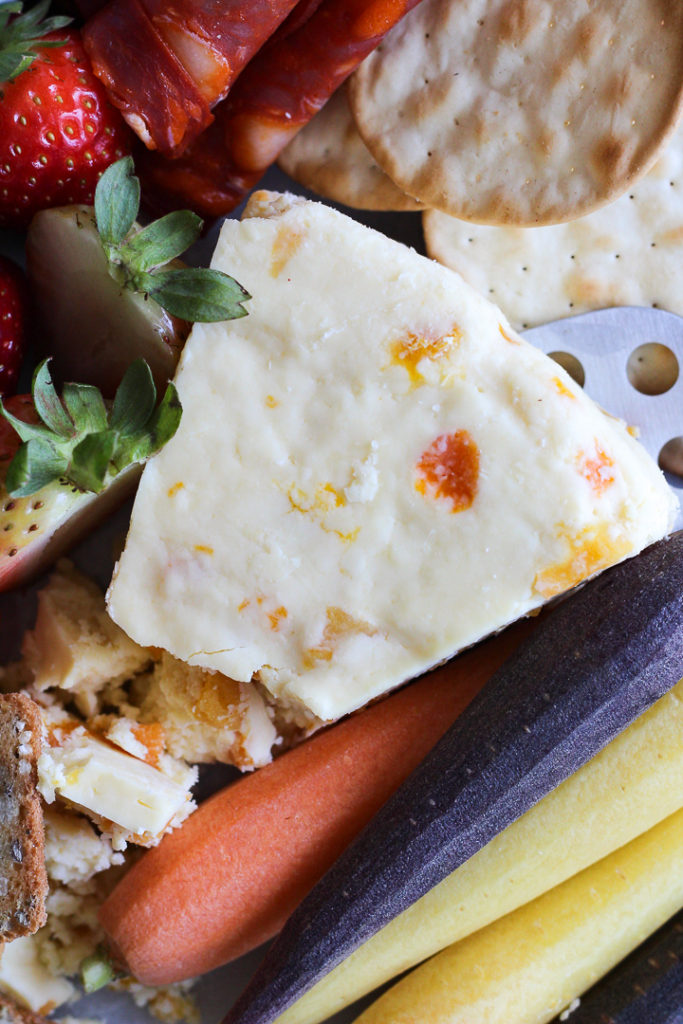 In the fall, I'll replace the fruit with some roasted vegetables, caramelized onions (seriously!) or anything else that feels warm and cozy. It sounds weird, but for a special cheese board I love going beyond the normal cheese and meat equation. It's not necessary, but I promise your guests will love it!
CRACKERS, BREAD, PITA, OH MY!
Next to the cheese, the crackers/bread are arguably the most important part of your cheese board. I mean, you can eat cheese on its own no problem. But why? I love a variety of crackers, including plain and a special one, as well as something extra like breadsticks or a sliced baguette.
Make sure to keep extras nearby so you (or your guests!) can easily replenish as needed.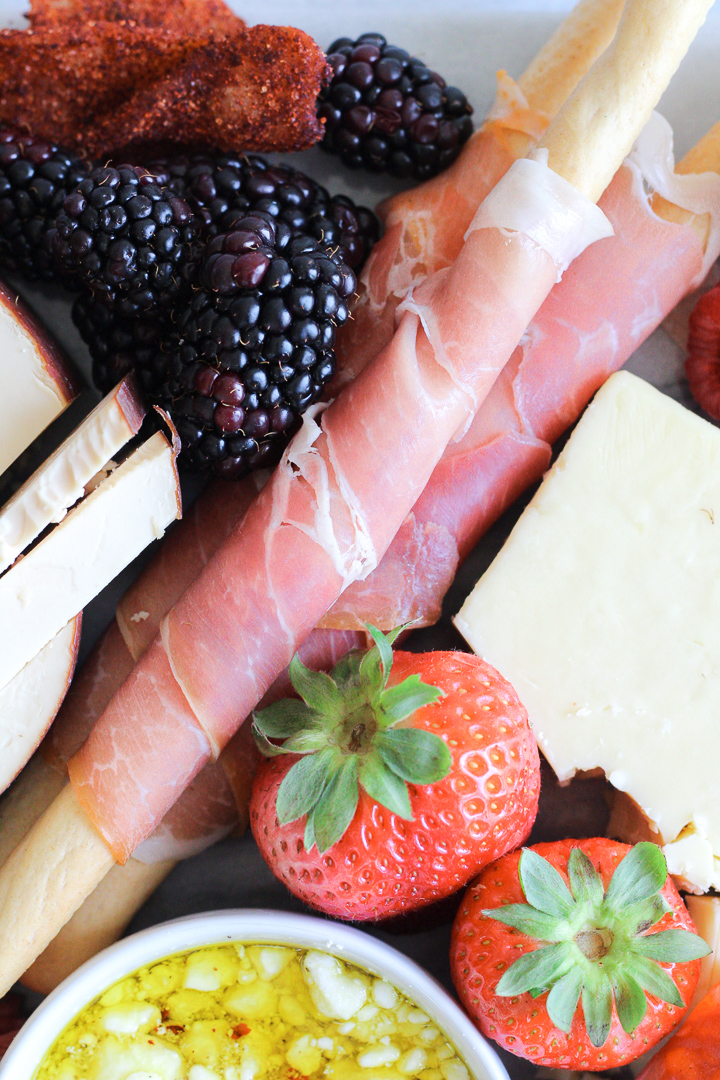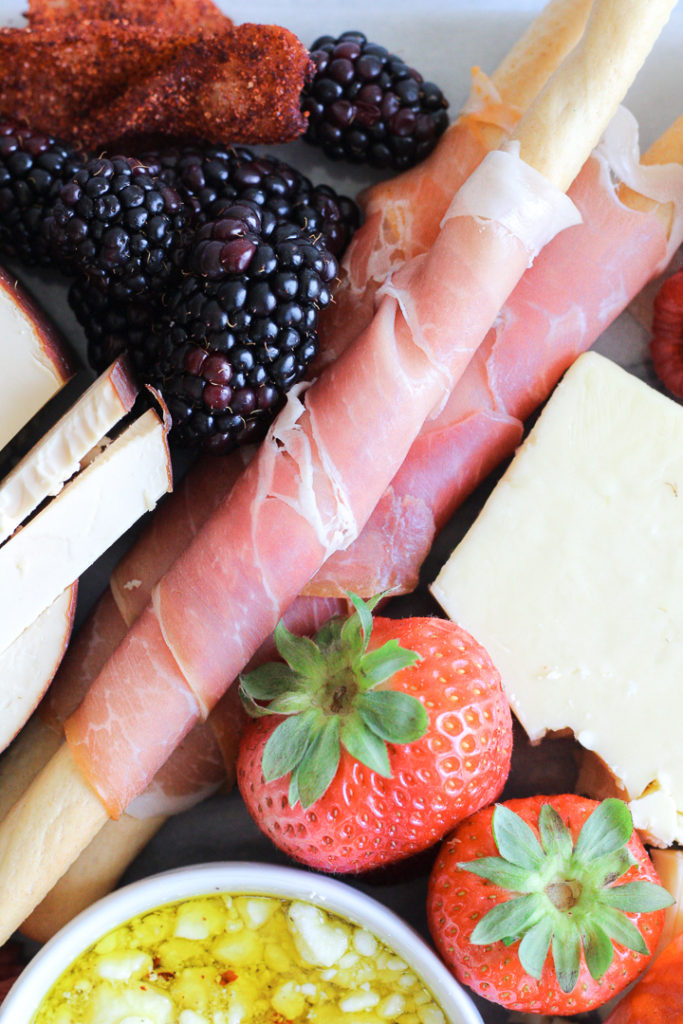 SPECIAL TOUCHES
Combine elements: Prosciutto wrapped breadsticks are the perfect example of this. You can also top a creamy cheese with jam, or drizzle honey on some parmesan. It's a great way to bring things together, and it encourages guests to try new things!
Solve space issues: I obviously love a packed board, but realistically speaking it can be a bit hard to jump into for your guests. I've found that cutting and/or crumbling some of the cheese helps to get things moving. It can also take away any fear around "making the first move" if they're worried, because it will look like someone has already dug in.
Dried fruit: I used dried mango with chili (I'll give you one guess where it's from) here. Dried apricots, figs, dates, etc. All good! They add a sweet bite to your board, and I think it looks really pretty.
Empty bowls: Okay, this sounds weird but I always always get comments when I leave a small empty bowl for things like olive pits, cherry stems, etc. It's especially nice if you're planning on just standing around eating over the cheese board sans plates, which is basically how I prefer to enjoy them anyway.
Greens: If you're after the perfect IG-worthy board and feel like something is missing, throw some greens around. Arugula is especially pretty peeking out here and there.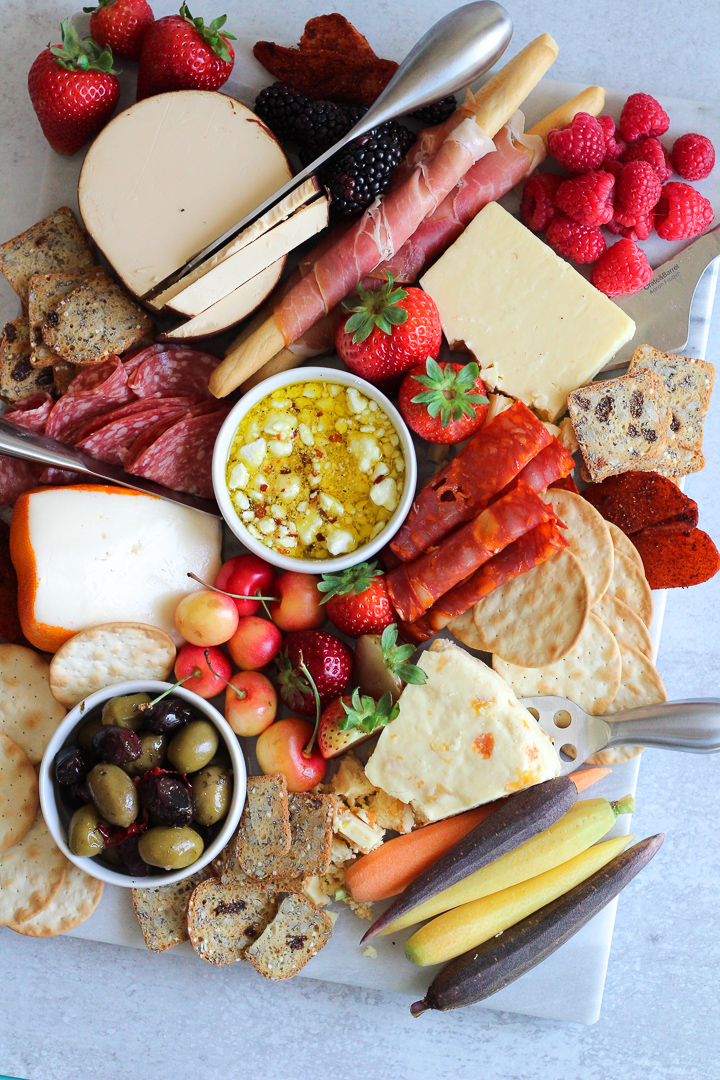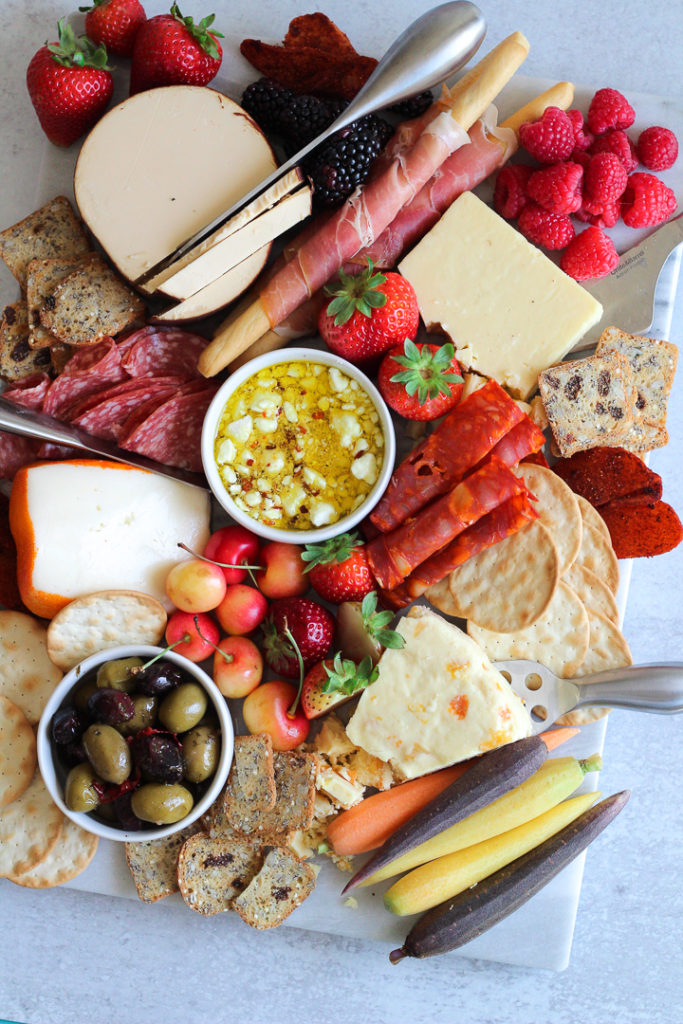 Whew! That was a lot. Now it's your turn - please tell me all your favorite cheese board things!!