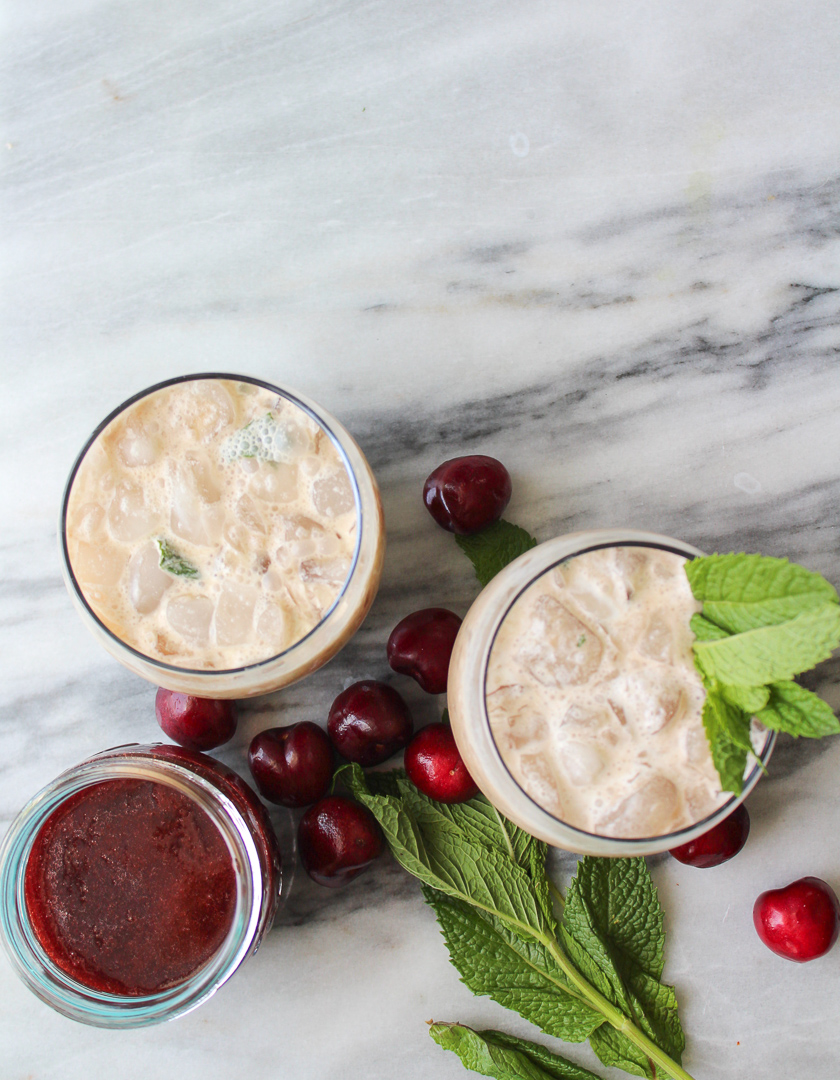 Today's a rough one. I know it. You know it. We're all in this together.
Last week was fun, but weird, but then fun again? The entire week felt like a giant Monday and Saturday rolled into one.
Which is why we need ALL the coffee today. But to keep up the fun, summer appearances we're doing it fancy. I wasn't going to talk about how this is another cherry recipe (only because I have another one coming later this week whooooops), but you're no dummy. This is obviously another cherry recipe.
I love keeping simple syrups around for many reasons, one of which is that it helps me use up extra fruit and herbs I have around. If you open my fridge at any given moment, I can promise you there will be a bottle of some sort of simple syrup around. Almost always ginger (equally good with sparkling water AND bourbon), sometimes basil (yes, basil) and now cherry!
The beauty of this cherry simple syrup is that you can use it in so many ways. Obviously, it's great with coffee. I'm currently sipping on a little cherry champagne situation. Shake it up with a little tequila and lime, or just mix it with your favorite sparkling water! OH, AND! It's not bad spooned over some ice cream.
Or so I've heard.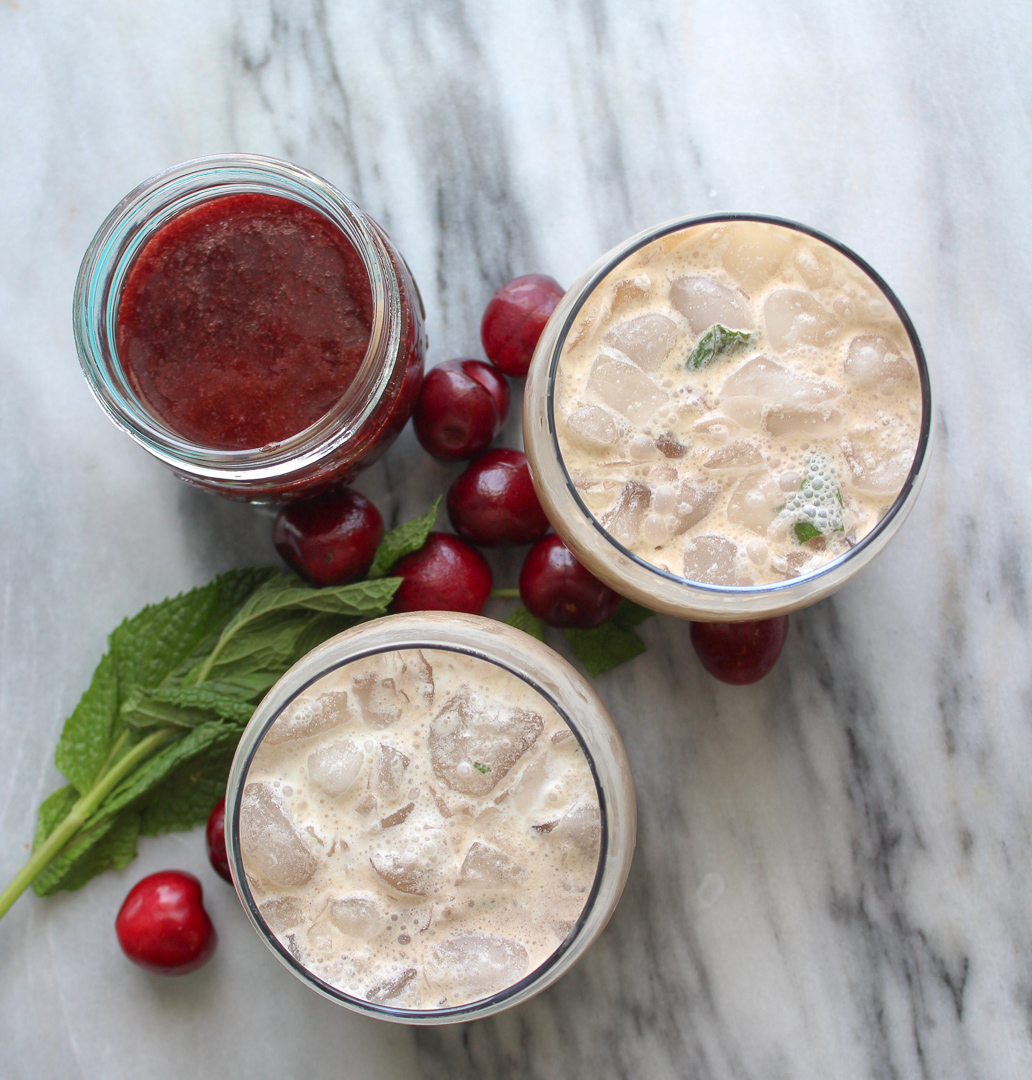 When it comes to "fancy" coffees, I normally just stick to vanilla lattes. It's a step up from my regular everyday brewed coffee, but not so crazy that I feel like I'm drinking dessert. In the fall, I'll have one or two pumpkin spice lattes because...well, just because. But, I don't actually like them (it took a very long time for me to admit this to myself).
This year, however, I found myself really drawn to the idea of cherry in my coffee. I know Starbucks has done a cherry mocha something or other before, so this isn't some new novel idea. But still. Once the idea came to me, I had to do it.
It also helped that I had roughly 5 lbs of cherries in my possession at the time.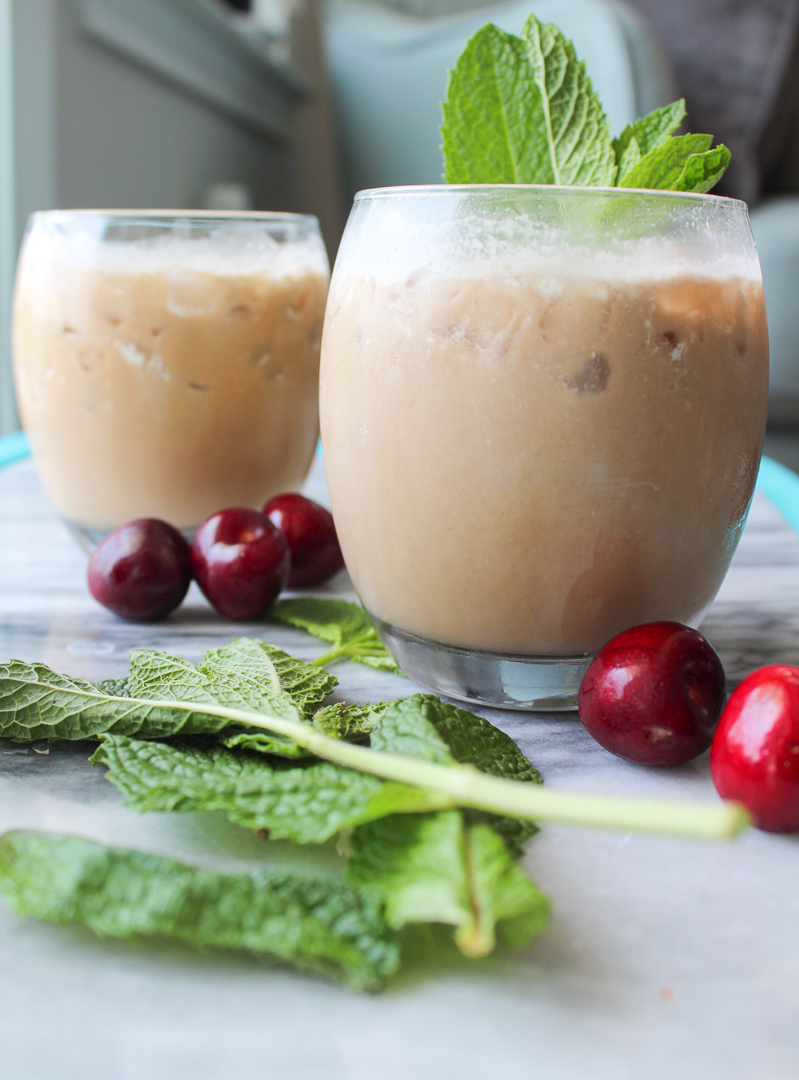 One thing I do love is mint in my coffee. Hot or cold, I love the flavor. Especially when it's fresh mint. And because I love cherries and mint together, I knew this combo would work.
Once you have the syrup (which is literally just blended cherries and sugar), you can make this iced cherry mint latte in no time at all. If you're not into lattes, you can also just add this to iced coffee or cold brew. And it should go without saying that cherry mint lattes/coffees are delicious hot too. My only ask is that you use fresh mint here - it really is the best. I like to shake mine because it helps the slightly thick syrup mix in quickly, but you can definitely just pour everything into a glass and stir it up.
But let's be real, drinking coffee poured out of a cocktail shaker is not the worst way to start your day.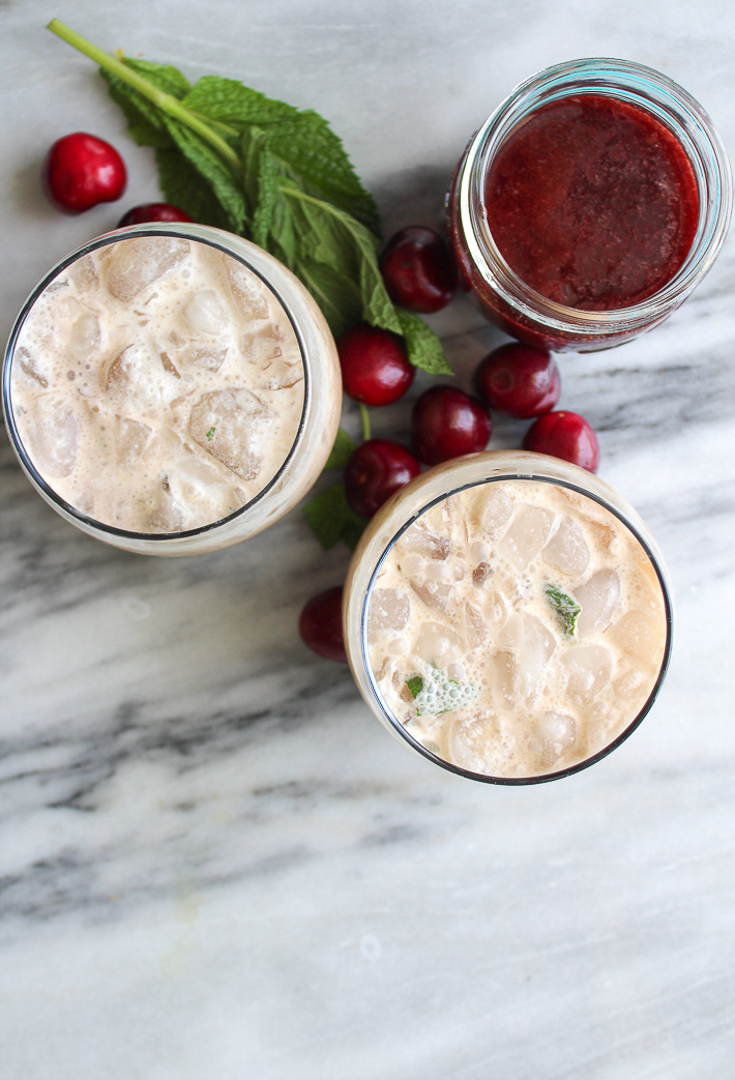 Print
Iced cherry mint lattes
---
Total Time:

5 minutes

Yield:

1

(easily multiplied)

1

x
Cherry syrup:
2 cups

cherries, pitted

1 cup

sugar
Cherry mint lattes:
Fresh mint leaves (as much as you'd like!)

2

-

3

tablespoons cherry syrup

1 cup

milk (any kind!)

1

shot of espresso
---
Instructions
Make the cherry syrup:
Add cherries to blender and blend until liquid.
Pour into a small saucepan and add sugar. Bring to a boil, then reduce heat and simmer for 10 minutes. Strain and let cool.
Make iced cherry latte:
Tear mint leaves and add to bottom of glass or shaker. Muddle a bit to bruise mint and bring out some flavor.
Add ice, cherry syrup, coffee and milk. Shake or stir together!
Notes
You can definitely do this with regular coffee instead of espresso. I love it with cold brew, and just use a 50-50 mix of cold brew and milk. Everything else stays the same.
You don't need to shake this latte, but it does help to incorporate the cherry syrup (which is thicker than most simple syrups). I also love how frothy it makes the finished drink!
If you really want to up the ante, add a tiny bit of vanilla (extract or syrup!) for the BEST flavor.