A delicious, filling taco salad made with a quick spiced ground beef mix and your favorite toppings all tossed in a spicy jalapeno ranch dressing.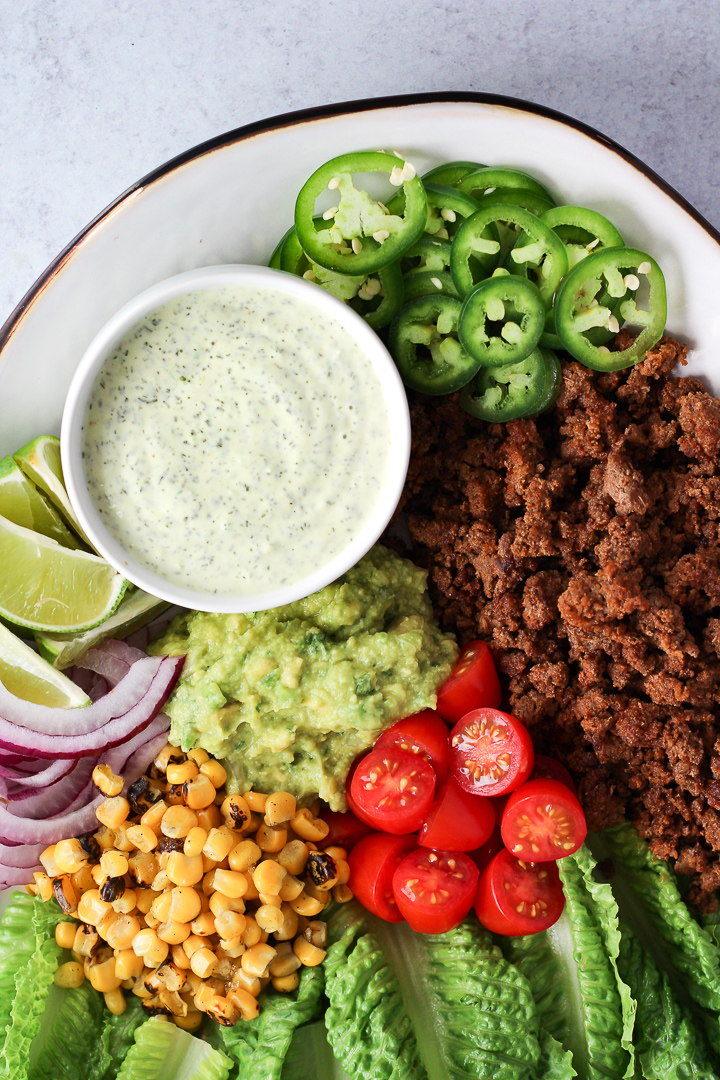 Print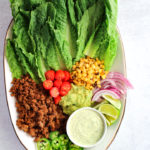 Taco salad with jalapeno ranch dressing
---
Author:

Mansee

Total Time:

25 minutes

Yield:

4

1

x
Description
A delicious, filling taco salad made with a quick spiced ground beef mix and your favorite toppings all tossed in a spicy jalapeno ranch dressing.
---
Taco meat:
1

lb ground beef or ground turkey

2

garlic cloves, minced

2 teaspoons

chili powder

1 teaspoon

ground cumin

1 teaspoon

salt

½ teaspoon

dried oregano

¼ teaspoon

smoked paprika

2 teaspoons

neutral oil 

1 tablespoon

tomato paste

¼ cup

chicken stock or water
1

egg*

¾ cup

light olive oil*

2 teaspoons

dried dill

2 teaspoons

dried parsley

½ teaspoon

garlic powder

½ teaspoon

onion powder

1

jalapeno, roughly chopped (seeds in or out - your call!)

1 tablespoon

lime juice

¼ cup

buttermilk
For the salad:
2

romaine hearts

1 cup

cherry tomatoes, halved

1 cup

roasted corn

½

small red onion, thinly sliced

1

avocado, diced (or use guacamole!)
Optional: sliced jalapeno, radish, cheddar or cojita cheese
---
Instructions
Heat a large skillet over medium high heat. Once hot, add 1lb ground beef and break up a little to get things started. Let cook undisturbed for 2 minutes. 
Flip meat over in large sections and then using a wooden spoon begin to break meat down into small crumbles. (If using ground turkey, or another lean meat, go ahead and add a little oil at this stage.)
Add  2 minced garlic cloves and 2 teaspoons chili powder, 1 teaspoon ground cumin, 1 teaspoon salt, ½ teaspoon ground oregano and ¼ teaspoon smoked paprika and stir well. Reduce heat to medium and let meat cook, stirring occasionally, until almost cooked through, about 6-8 minutes. 
Push meat aside to clear up a little space. Add 2 teaspoons oil to that space in the pan, along with 1 tablespoon tomato paste. Using your spoon, begin to break up the paste and let it fry a little in the oil for 30 seconds before mixing it back in with the meat. 
Add ¼ cup stock or water, increase heat again to medium high and let cook for an additional 2-3 minutes until meat is fully cooked and some of the liquid evaporates. 
Make jalapeno ranch dressing

Add 1 egg and ¾ cup light olive oil to a measuring cup or large, narrow jar. Using an immersion blender, trap the egg and blend for 30 seconds. Once everything looks combined at the bottom, start moving the blender up slowly to emulsify all of the oil.
Add 2 teaspoons dried dill, 2 teaspoons dried parsley, ½ teaspoon garlic powder, ½ teaspoon onion powder, 1 chopped jalapeno pepper and combine. 
Stir in 1 tablespoon lime juice and ¼ cup buttermilk.

Make salad: To create a platter salad, arrange romaine leaves on one side of large platter. Pile on taco meat, roasted corn, cherry tomatoes, onion, avocado/guac and any other toppings you want! Add bowl of dressing on the side. 
Notes
You can replace the egg and olive oil with ¾ cup store-bought mayo
The jalapeno ranch dressing will stay well in the fridge for up to a week
Prep Time:

10 minutes

Cook Time:

15 minutes

Category:

Salad

Cuisine:

Mexican
If you follow me on Instagram, you know I, on average, eat a taco salad for dinner once a week. It is quite possibly by favorite kind of salad (although this Kale Caesar comes close too!).
Along with being incredibly delicious (hello spicy ranch), taco salad is a great way to use up things you have laying around the kitchen! One of my favorite things to do is shred some leftover chicken up and quickly cook it with my house seasoning. It takes about five minutes, and then I have the perfect filling to build a taco salad around (and is a great alternative to beef if you're looking).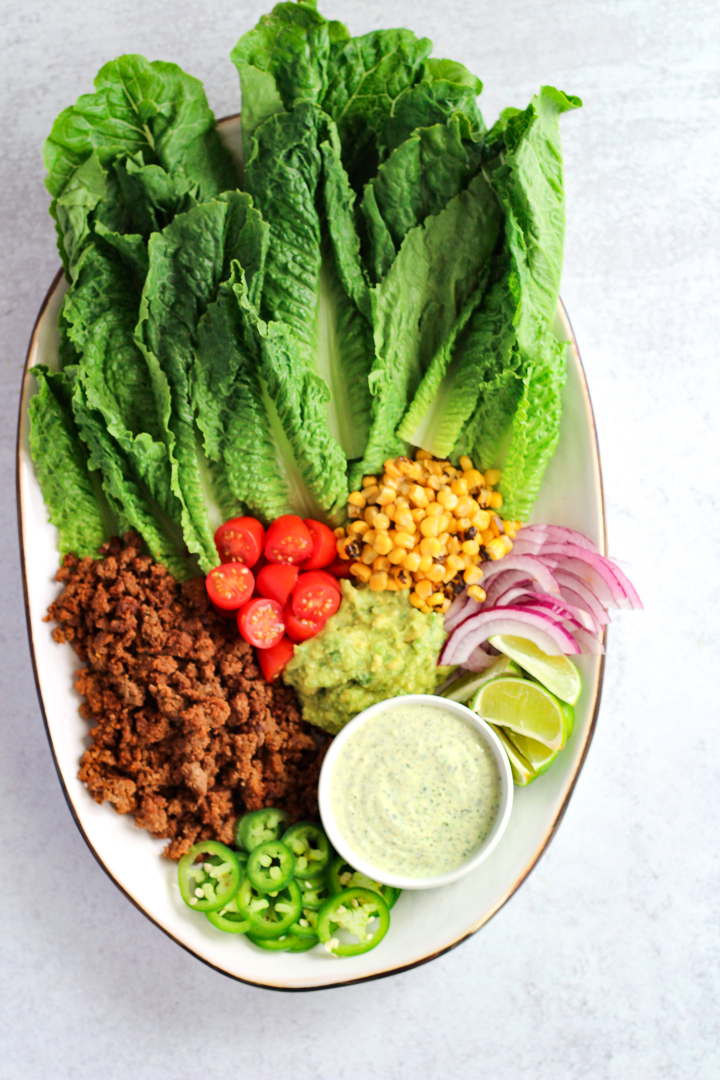 Building the perfect taco salad
So there are a few things I think you absolutely need for a great taco salad, but even then we're flexible around here:
Lettuce: I mean...it is a salad, okay? I forever love romaine lettuce for my taco salads because I want the crunch of iceberg without the iceberg-ness (this salad continues to be the only one I want iceberg lettuce in). If you prefer a more tender leaf, try butter lettuce. You want something that can hold up to a warm filling, so I'd stay away from the more delicate spring mixes.
Protein: Ground beef is of course a traditional choice, but I've made this taco salad with just about any kind of meat: Ground turkey, ground pork and shredded/chopped chicken or steak are all great. If you are vegetarian, a plant-based ground meat replacement works perfectly. Or you can roast up some cauliflower and use that! If seafood is your jam, try some shrimp. Literally so many choices!
Avocado/Guac: Yes, this is considered a NEED. Sliced avocado is just fine, but if I have the time and energy I really love a dollop of homemade guacamole to mix up in my taco salads.
Onion + Tomatoes: I need something a little fresh in my salad, so I love throwing in some halved cherry tomatoes and thinly sliced red onion.
Dressing: I am obviously partial to my jalapeno ranch dressing, but you've got options here too. Regular ranch is of course just fine, or if you prefer you can just whisk up a little lime juice and olive oil with some salt, pepper and a pinch of ground cumin. It's a delicious way to dress this salad!
Now for the things I'm REALLY flexible with...
Cheese: I know this feels blasphemous, but I don't always add cheese to my taco salad. With that said, some shredded cheddar is obviously delicious here. Or try a little crumbled goat cheese if you're feeling sassy.
Roasted corn: This one is actually kind of a non-negotiable for me because I always have a bag of Trader Joe's frozen roasted corn in the freezer and it is SO GOOD in this salad. Just warm some up and throw it in. Regular frozen corn (or canned) work too, and if it's grilling season I definitely suggest throwing a few fresh ears on the grill for this.
Sliced jalapeno: Yes, the dressing already has jalapeno but I can't help myself! I love the spicy bite of a thinly sliced fresh pepper.
Something pickled: Try some pickled red onions or jalapenos for a little vinegary twist.
Tortilla strips or chips: In a nod to those amazing fried shells taco salads used to be served in, sometimes I'll just crumble up some tortilla chips all over this taco salad. Some fried tortilla strips are great too, as are a few Doritos!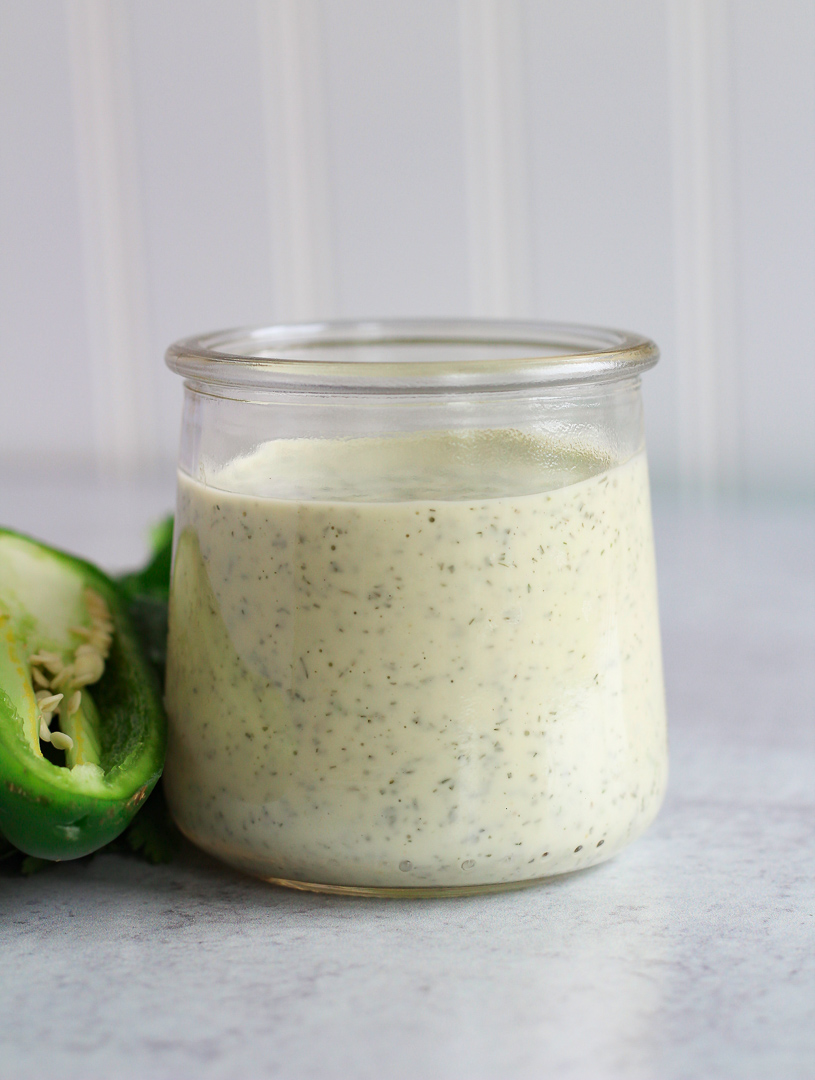 Put it all together...
Like most salads, this taco salad is mostly about assembly.
First, make your protein: In this recipe we're cooking ground beef with a mix of spices. If you happen to have my house seasoning or any kind of taco seasoning on hand, that is great in a pinch! And as we discussed above, feel free to replace the ground beef with another kind of meat or filling (the cauliflower from these chipotle cauliflower tacos would be AMAZING).
Next, get all your things together: Lettuce! Corn! Cheese (if you want it)! Get it all ready while your protein cooks. I created a platter-style taco salad here for fun, but you also know how much I adore a chopped salad so that happens a lot too.
Assemble + dress: Throw everything together and toss it with some jalapeno ranch or any other kind of dressing you want. To be honest, you could even go dressing-free with this salad! The warm ground beef + creamy avocado actually creates a slight dressing on it's own so no problem there.
Serve on it's own, or grab a few crunchy tortilla chips to dip!
Make this tonight. Tomorrow. Forever.
Super into meal salads? I got you!